The weather was pretty grim here in New York yesterday, with temperatures around 40º and a light rain (which meant I couldn't go for my daily bike ride in Prospect Park, grrrr). How grim was it? So grim that the Yankees, who were having their home opener — which had been postponed by a day due to snow on Monday — skipped the customary pregame ceremonies of having the starting lineups standing on the baselines. And so grim that Yanks infielders Tyler Wade and Brandon Drury, shown at right, wore balaclavas during the playing of the national anthem prior to the game. Hmmm, is that as bad a faux pas as wearing your cap during the anthem?
The Yanks weren't the only ones donning the cold-weather headwear. Several members of the visiting team, the Rays, also bundled up:
Note that the Rays' balaclavas had New Era logo creep, while the Yanks' had little "NY" logos. Also, in that last shot, that's Rays shortstop Adeiny Hechavarria wearing his balaclava over his cap — an unusual configuration.
Across town and a few hours later, the Mets and Phillies convened for another chilly ballgame. Once again, players on both sides added some layers: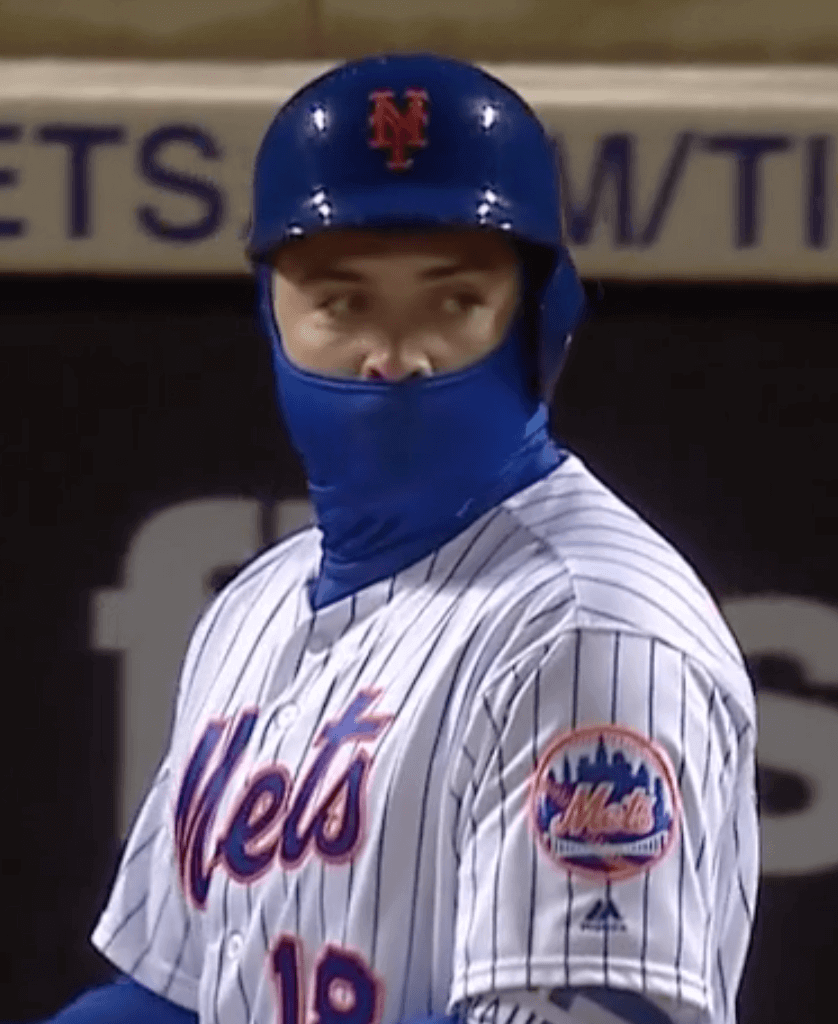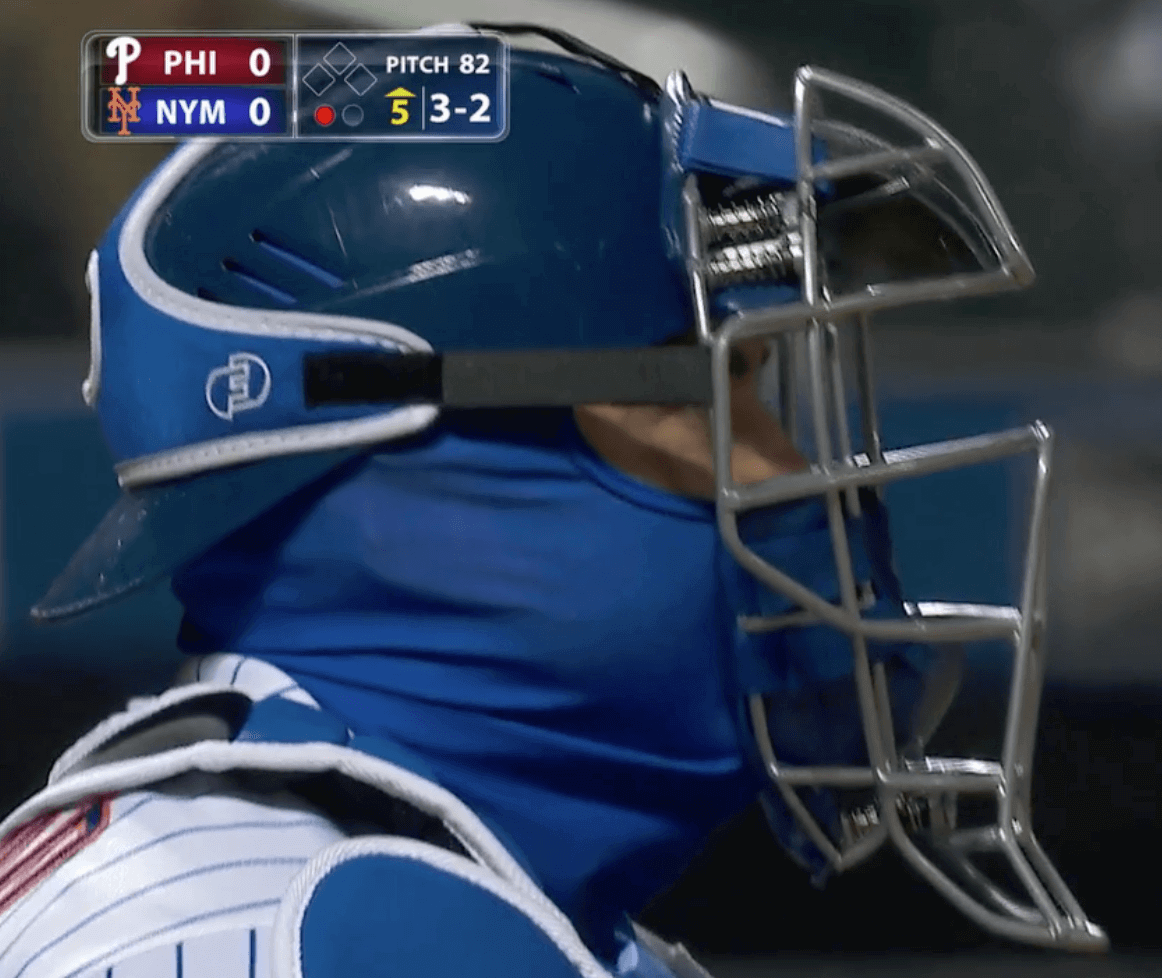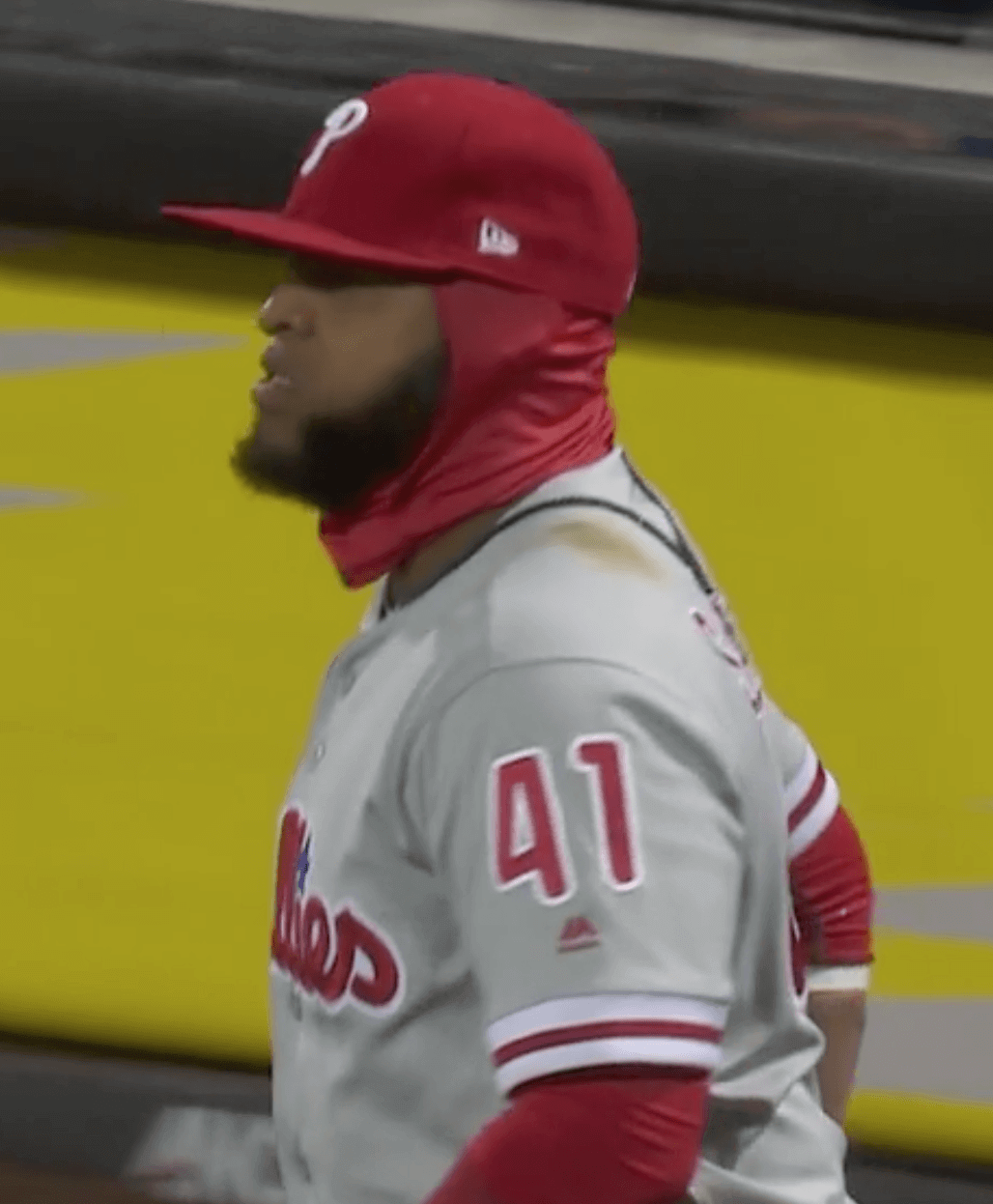 As an aside, you can see that Mets catcher Travis d'Arnaud was wearing one of those new spring-cushioned masks.
Things weren't much better in Detroit, where the Tigers hosted the Royals. In addition to the head wrappings, a photographer caught Royals third baseman Cheslor Cuthbert warming his hands in front of a heater:
Embed from Getty Images
The two teams combined for eight hits and one run in a game that was completed in a brisk 2:17. Pretty obvious that everyone just wanted to get off the field. Although the official attendance figure was 15,083, MLive estimated that no more than 3,000 hardy souls were on hand.
(Just for the record, there were also games yesterday in Miami, San Francisco, Atlanta, Houston, Arizona, Oakland, Anaheim, and San Diego, plus indoor games in Milwaukee and Toronto, so nobody had to bundle up for those.)
All of those balaclavas (balaclavae?) led the great sabrmetrician Bill James to wonder when such accessories first began appearing on the field. He suggested 2010, but I knew that wasn't right. I quickly found a photo of a 'clava-clad Devil Rays outfielder Delmon Young that's either from 2006 or '07 and said I was pretty sure there were earlier examples than that, and then Jacob Pomrenke pointed us toward Game Four of the 1997 World Series, which was played on a very chilly night in Cleveland. Check it out:
Embed from Getty Images
So was that the first on-field appearance of this type of head-covering accessory? If you know of earlier examples, please speak up.
Meanwhile, it's interesting to see that such an esteemed baseball authority as Bill James could be so wrong on something like this. It's a good reminder that number-crunchers are good at, well, crunching numbers, but uni-watching is a specialized skill that may elude even the most sophisticated statistical analyst.
(My thanks to longtime reader/pal Jerry Wolper for pointing me toward Bill James's query, and also for his daily proofreading efforts.)
• • • • •
[adrotate group="2″]
• • • • •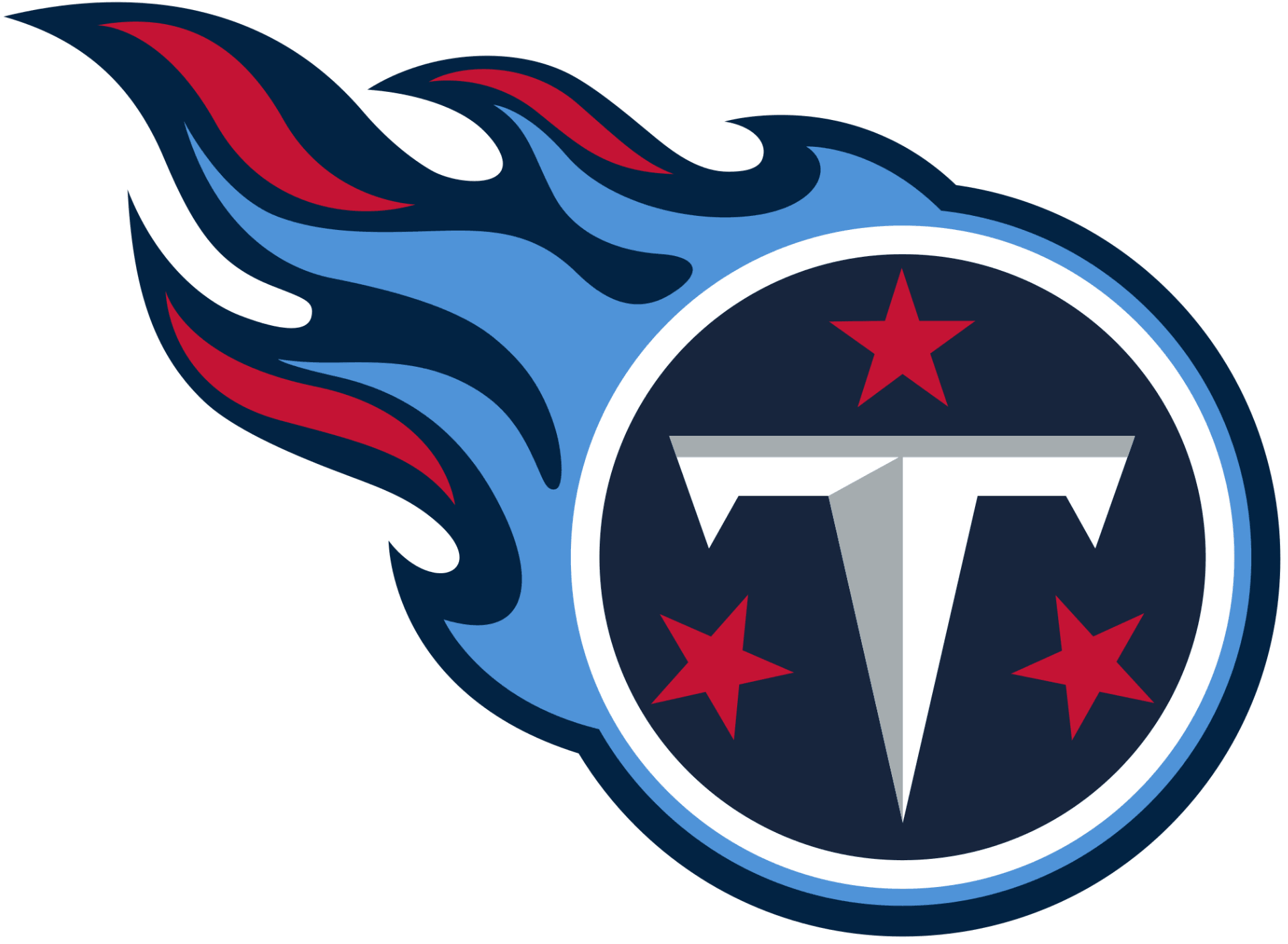 Titans unveiling tonight: The Titans will reveal their new uniforms tonight. The unveiling event will begin at 8:30pm Eastern and is scheduled to run for half an hour. I'll have an assessment over on ESPN later in the evening, and probably some additional thoughts here on the blog tomorrow.
Meanwhile, here are some related developments:
• A photo of what's purported to be the new home jersey has been circulating over the past couple of days. I haven't shown or mentioned it here on the site because I haven't been able to confirm its legitimacy, but there were reports yesterday that the NFL is investigating the source of the leak, which suggests that the jersey in the photo is legitimate. We'll all find out soon enough. In case you haven't seen it yet, here's the image:
Bruh if these leaks are actually the new @Titans jerseys I'm sad pic.twitter.com/iECyyLPgxA

— Alex Greene (@alexgreene_) April 3, 2018
• Last night Uni sleuth Conrad Burry, whose leak-related reporting tends to be accurate, posted what he claims to be the Titans' new wordmark. It matches the wordmark on the leaked jersey:
EXCLUSIVE: We've kinda already seen the Titans new logotype via the uniform teasers, but here's the full new primary mark + logotype. New version on the right, old version on the left. Note the changes in beveling detail and updated typeface for "TENNESSEE". pic.twitter.com/mPlzFrjoqk

— Conrad Burry (@conradburry) April 3, 2018
• The Tennessean, which broke the story of the NFL investigating the uni leak, interviewed me the other day on the subject of the Titans, and uniforms in general. I didn't realize they planned to run it as a straight transcript of our discussion, but that's what they did. So if you want to read a whole lot of my thoughts, look here.
• Finally, if you want to compare tonight's unveiling event to the Titans' last unveiling, here are two photos from that event, which took place in 1999. Hard to believe it's been that long (click to enlarge):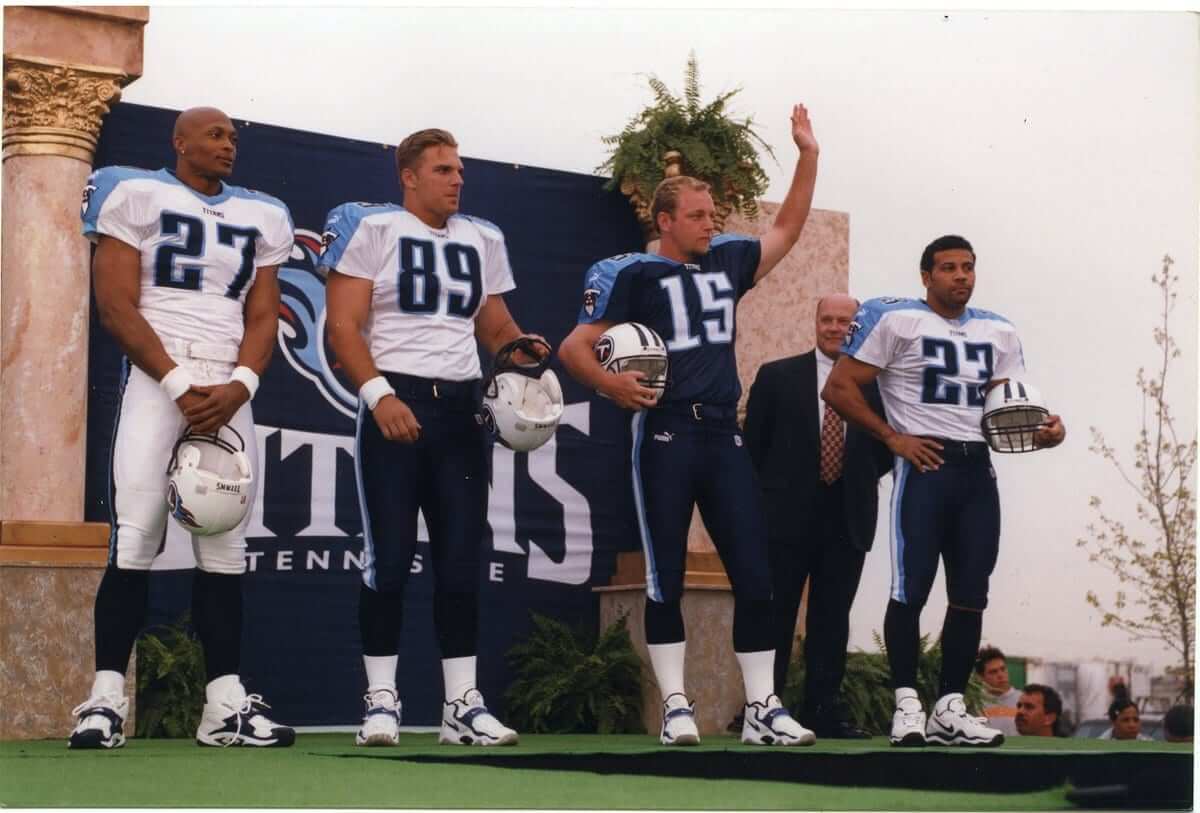 • • • • •
[adrotate group="2″]
• • • • •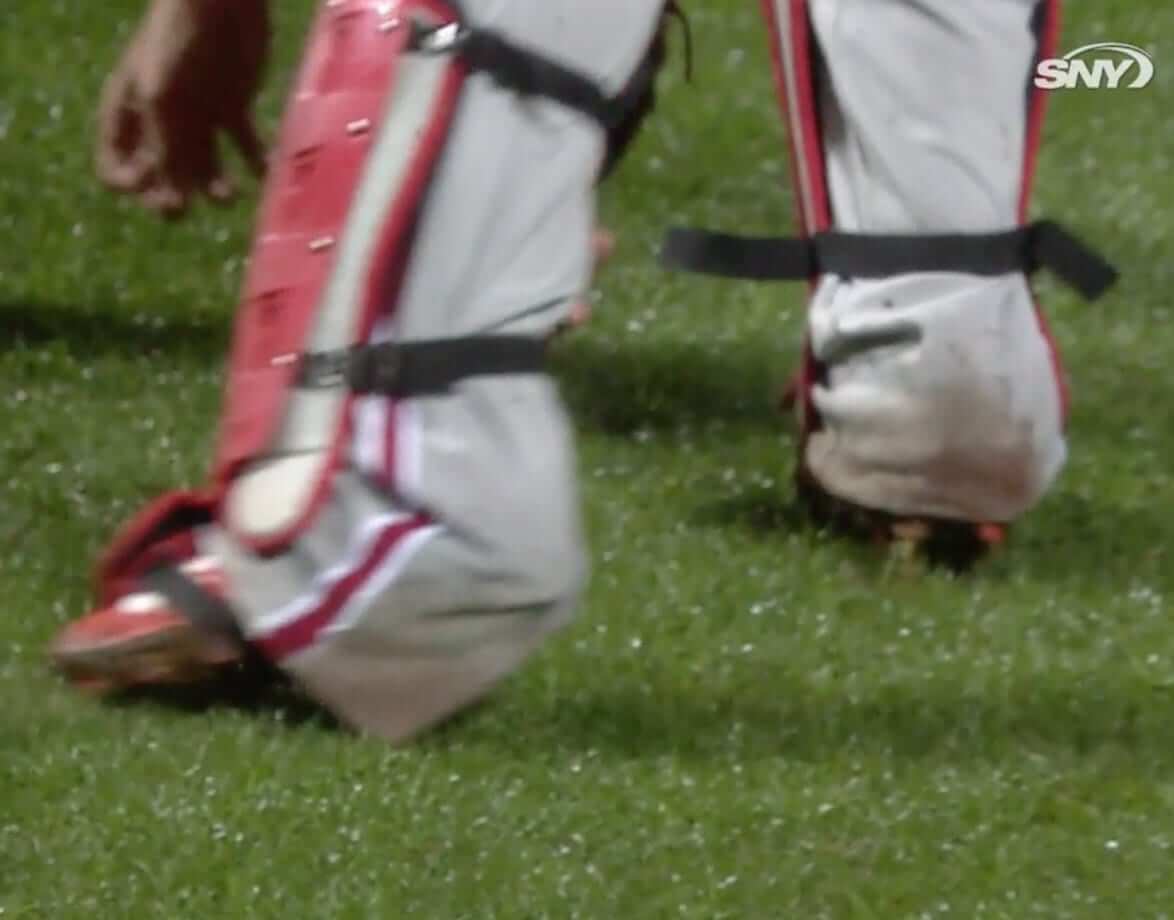 Click to enlarge
How low can you go? As I was watching last night's Mets/Phils game, there was a nice play by Philly catcher Jorge Alfaro, so they did a slo-mo replay, at which point it became apparent that he was wearing what might be the longest pants in MLB history.
Now, we all know that I prefer high-cuffed pants. But I'd like to think that even you pajamists out there would be troubled by Alfaro's stylings here. I mean, at the very least, doesn't it seem like it could potentially impede his footing? Very strange.
• • • • •
[adrotate group="2″]
• • • • •
So simple, so good: It doesn't take much to make me happy. Just be, you know, totally fucking brilliant. Is that so hard?
It not hard at all for a new Twitter project called Other Birds as the Orioles Logo, which is (a) exactly what it says it is and (b) completely awesome. You can scroll through the project here:
Note that in each case, the Orioles' accursed upside-down apostrophe is included! You have to appreciate that attention to detail — even a detail as miserable as that one.
The project, which launched just a few days ago, is the work of graphic designer named Michael Taylor, who's apparently done a lot of sports-related design, although nothing in his portfolio approaches the genius of the Orioles project. Uni Watch's highest rating!
(Big thanks to Bryan Allain for letting me know about this one.)
• • • • •
[adrotate group="2″]
• • • • •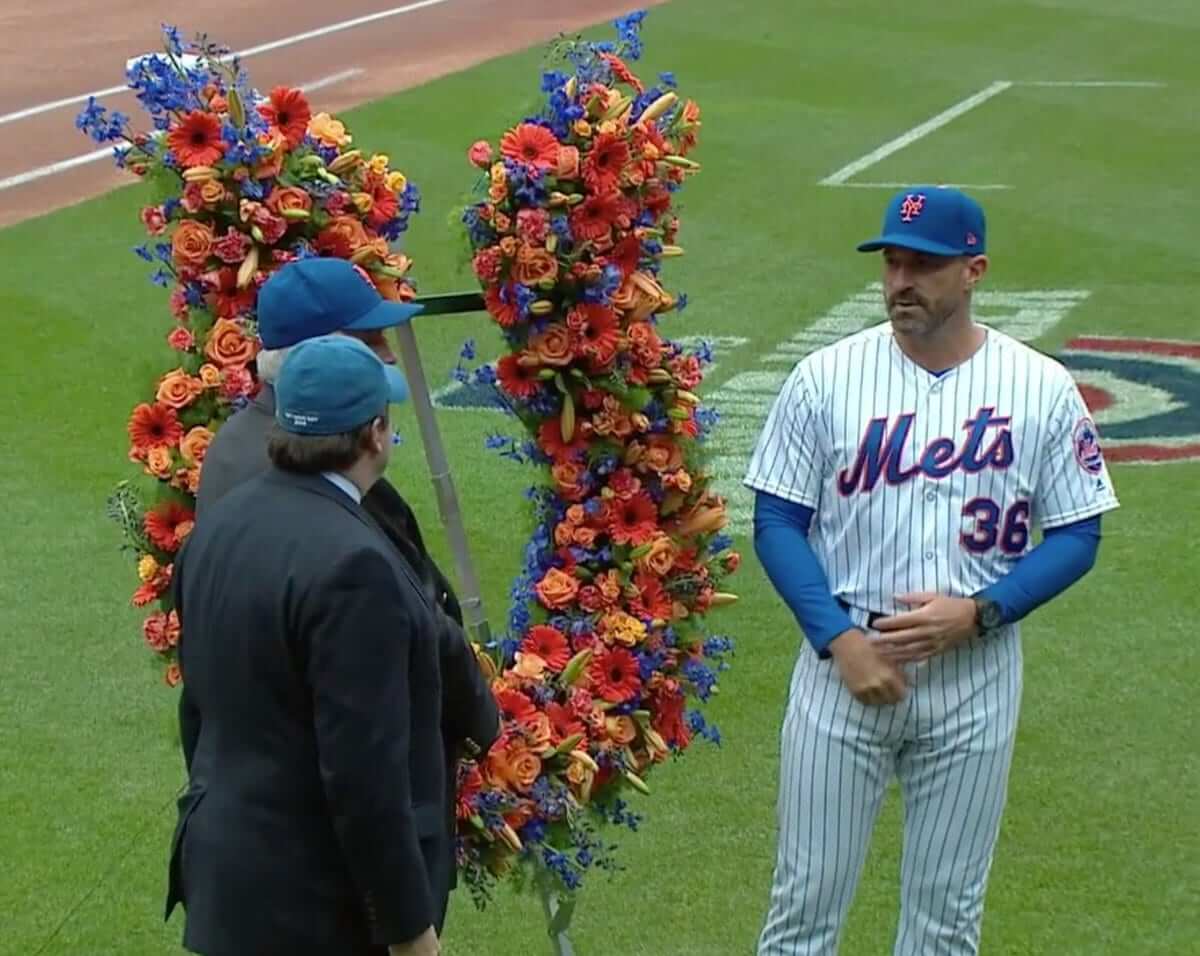 Mets/flowers reminder: In case you missed it the other day, I'm trying to gather photos of the horseshoe-shaped wreath of flowers that's presented to the Mets' manager each year on Opening Day. I have many of the years covered, but I'm missing 1965-68, 1975-79, and — here's the big gap — 1981-2007.
It would be nice if the photos showed the manager, but that's not essential. What I'm really looking for here are the flowers. If you have photos from any of the years I mentioned (including pics from old yearbooks, screen shots from videos, etc.), please get in touch. Thanks.
• • • • •
[adrotate group="2″]
• • • • •
The Ticker
By Alex Hider

Baseball News: Here's a good look at the Astros' World Series ring, which was given to players yesterday (from Ignacio). … Bryce Harper has been sporting a white glove for the Nats this season. Turns out that flashy glove was designed by a fan (from Mike Carozza). … Former Giants manager Dusty Baker has been hired by the team to be a special advisor. Yesterday, he showed up to his job in a jacket lined with his old jersey (from Andrew Baggarly). … Astros P Lance McCullers was wearing a '90s throwback cap during pregame interviews Tuesday (from Ignacio). … Fashion label Vineyard Vines has signed a merchandising deal with the Red Sox (from Tom Turner). … Flying Dog Brewery in Maryland has a new Orioles-themed beer that fans can drink at Camden Yards (from Andrew Cosentino). … Clemson wore camo caps and jerseys for Military Appreciation Day yesterday (from Scott Trembly). … The National Museum of the US Navy in Washington will have a baseball-themed exhibit from now through April 30 (from John Muir). … Brewers P Dan Jennings wears No. 38 but is still using his old No. 43 glove from when he was with the Rays (good spot by John Ewanowski). … Yankees pitching coach Larry Rothschild prefers not to wear the team's jersey (thanks, Phil).

NFL News: New numbers for Steelers DBs Joe Haden and Sean Davis (from Joe Werner). … The Bills are suing watch company Benrus, claiming that company owes them more than $1 million for advertising on giant clocks at the team's stadium. … Reader Art Savokinas found these NFL puffy stickers while cleaning out his childhood home. … Texans QB DeShaun Watson showed up at last night's Houston Rockets game wearing an old Hakeem Olajuwon All-Star jersey.

College Football News: Ohio State is known for aggressively defending its trademarks, but the school has seemed to soften that policy for former player Anthony Gonzalez, who is running for Congress and is using the school's logo in his campaign (from Jason Hillyer). … New helmet for D3 Pacific Lutheran (from Brandon Sparks).

Hockey News: Jets G Steve Mason had a helmet malfunction during last night's game and had to wear a plain white mask for the remainder of the game (from The Goal Net). … Former Red Wing Sid Abel outfitted his son in a sweet sweater, most likely taken in the '40s or '50s (from Ray Hund).

Basketball News: The Sixers unveiled a statue of Dr. J outside of their practice facility yesterday. More here (from Mike Chamernik). … Reader Alex Gerwitz has completed his color-blocked NCAA Tourney bracket. … According to Dan McNamara, Villanova finished the season 11-0 while wearing their 1985 fauxback jerseys. … Cross-listed from the NFL section: Houston Texans QB DeShaun Watson showed up at last night's Rockets game wearing an old Hakeem Olajuwon All-Star jersey. … Today is the 50th anniversary of Martin Luther King's assassination in Memphis. But the Grizzlies, who have an alternate uniform based on King's work during the 1968 Memphis sanitation workers' strike, are playing on the road tonight, not at home. Seems like an odd scheduling decision.

Soccer News: Dinamo Minsk, a soccer team in the Belarusian Premier League unveiled new uniforms for next season the other day (from Ed Zelaski). … Charlotte Independence of the USL are moving from the Sportplex at Matthew to Memorial Stadium in 2021 (from Josh Hinton). … Also from Josh: Middlesbrough FC has signed a new kit deal with Hummel.

Grab Bag: Phil Mickelson raised a lot of eyebrows yesterday by wearing a button-front shirt during a Masters practice round (from Brinke and Chris Howell). … Golfer Charl Schwartzel has signed an endorsement deal with Michael Kors (from Tom Turner). … Dallas-area sports teams have had a rough year, and The Dallas Morning News summed up fans' feelings with this graphic (from Ignacio). … The Under Armour All-America Women's Lacrosse Senior Game uses elements of a men's regulation lacrosse field in its logo (from James Gilbert). … This is a good piece on the redesign of the International Symbol of Access, aka the "wheelchair symbol." … Robert E. Lee High School in San Antonio announced earlier this year it would change its name. The school will now be called LEE (Leaders of Educational Excellence) High School, and while its sports teams will keep their name, the Volunteers, the school's new mascot will be a military service dog (from Brett Baker). … Here are all the helmets of the 2018 F1 grid (from @MisterPigz). … Here are this week's IndyCar liveries (from Tim Dunn).