Click to enlarge
When the ABA's Los Angeles Stars moved to Utah in 1970 and became the Utah Stars, they wore two flag patches on their shorts — an American flag on the left side (as shown in the photos above) and a Utah flag on the right side (as seen here). That prompted an interesting response from a local chapter of the Daughters of the American Revolution, as spelled out in this AP squib that I recently came across while researching another story. It appeared in many newspapers on Sept. 22, 1970, about three weeks before the Stars played their first regular season game: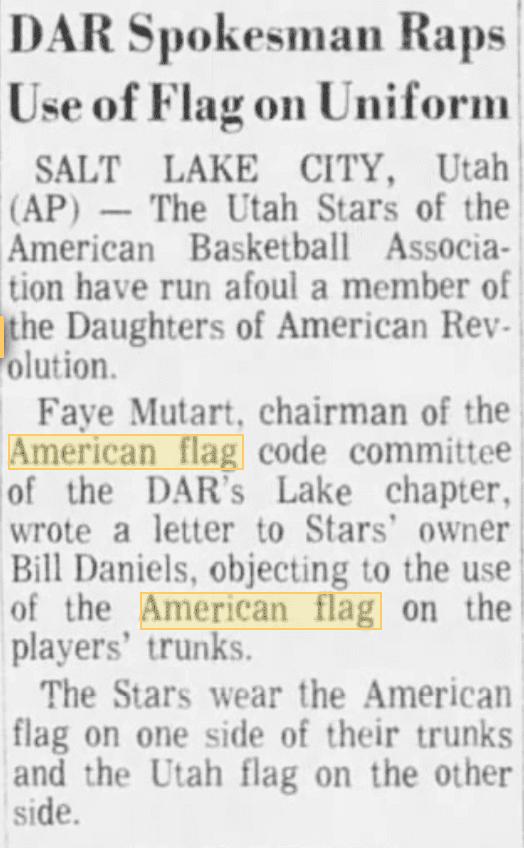 The DAR's objection was rooted in the U.S. Flag Code, which states, "No part of the flag should ever be used as a costume or athletic uniform." The Stars apparently didn't pay any mind to the DAR's request — they kept wearing the flag on their shorts for the next several years — but the episode highlights the fact that wearing the American flag on a sports uniform used to be a fairly uncommon thing. Nowadays, of course, it happens all the time, especially in the NFL (where every player wears a flag decal on the back of his helmet), college football (where flag decals aren't quite universal but are extremely prevalent), and college basketball (where flag jersey patches are very common), plus flag patches and flag-based designs routinely show up for various holidays and promotions.
I wondered what the DAR thinks about that, so I contacted their national office, where a spokesman told me (I'm paraphrasing here), "We prefer that people follow the Flag Code, but we don't engage with sports teams and ask them to remove the flags from their uniforms. If one of our chapters did that back in 1970, that was completely up to them. We have no policy on that."
Personally, I think there are lots of good reasons not to wear the American flag on a uniform, but the Flag Code is not among them. The Flag Code has no enforcement mechanism and parts of it have properly been struck down as unconstitutional abridgements of free speech. At this point it's basically a suggested etiquette protocol that we're all free to follow or ignore as we choose — and the sports world has clearly chosen to ignore it.
• • • • •
[adrotate group="2″]
• • • • •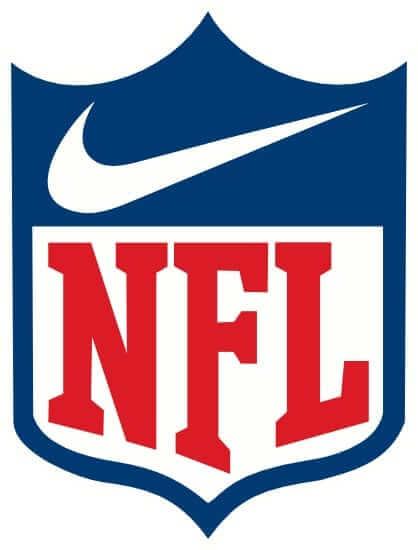 NFL extends Nike contract: Big news out of the NFL owners' meetings in Florida, as the league announced that it's extending its apparel contract with Nike. Depending on whose report you choose to believe, the new deal will run through 2028. Or maybe 2025. No, wait, 2028. Either way, for better or worse, Nike will be the NFL's uniform outfitter for the foreseeable future.
While we're at it: The NFL also instituted a new uni-related rule, as lowering your helmet to initiate contact will now be a penalty.
• • • • •
[adrotate group="2″]
• • • • •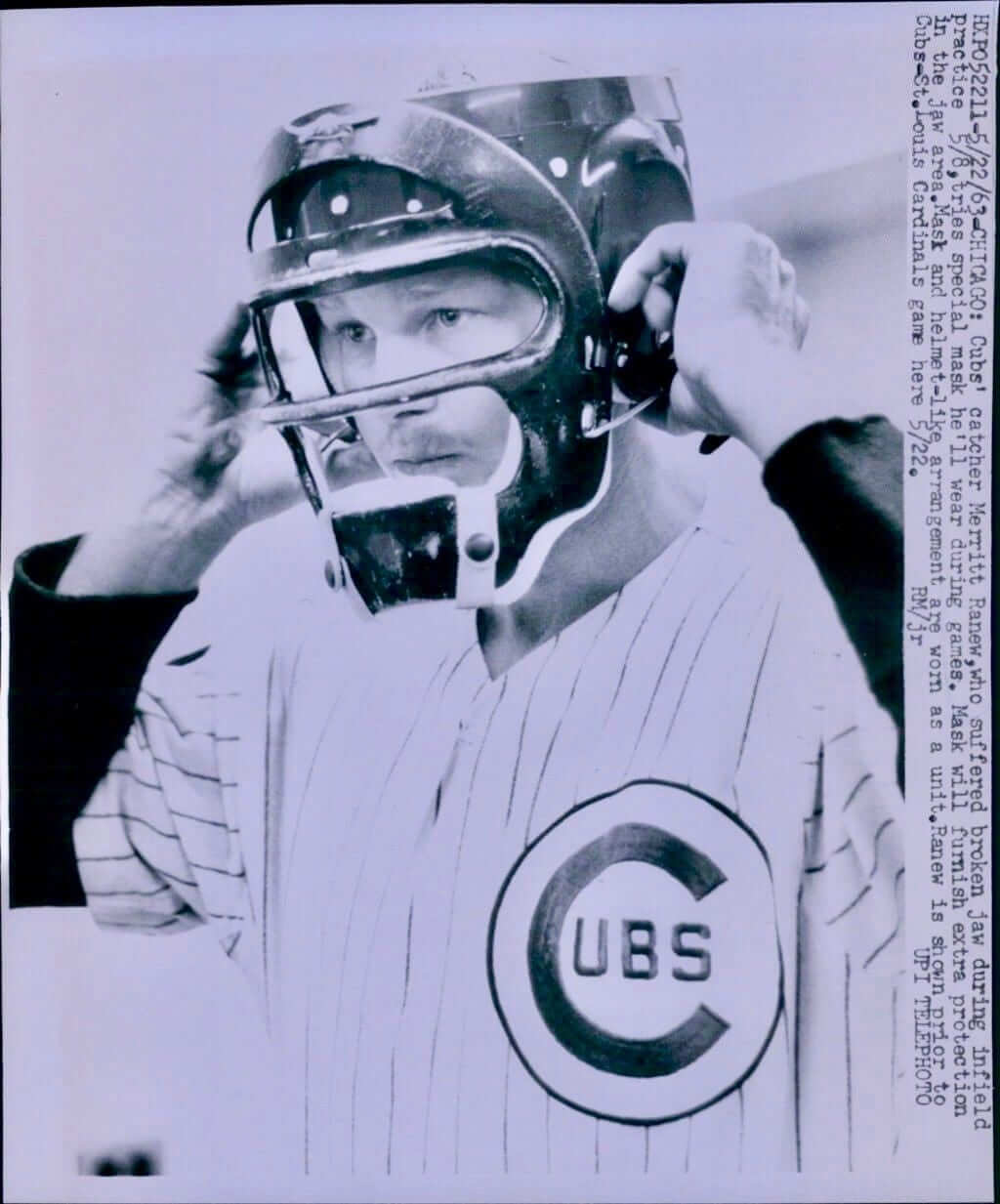 Click to enlarge
Masked man: Reader Stephen Purcell sent me this interesting UPI wire photo yesterday. It's hard to read the sideways caption, so here's a transcription:
5/22/63 CHICAGO: Cubs' catcher Merritt Ranew, who suffered broken jaw during infield practice 5/8, tries special mask he'll wear during games. Mask will furnish extra protection in the jaw area. Mask and helmet-like arrangement are worn as a unit. Ranew is shown prior to Cubs-St. Louis Cardinals game here 5/22.
The interesting thing there, aside from the explanded lower-jaw protection, is the way that mask and helmet are worn "as a unit." That's sort of like a primitive version of today's hockey-style catcher's mask, which combine the mask and helmet in one piece of equipment.
I wish we could see if Ranew wore a cap under the helmet. I'd also like to know if the mask/helmet assembly was painted in Cubs colors. So far, though, I've been unable to find any game pics showing Ranew wearing this rig.
• • • • •
[adrotate group="2″]
• • • • •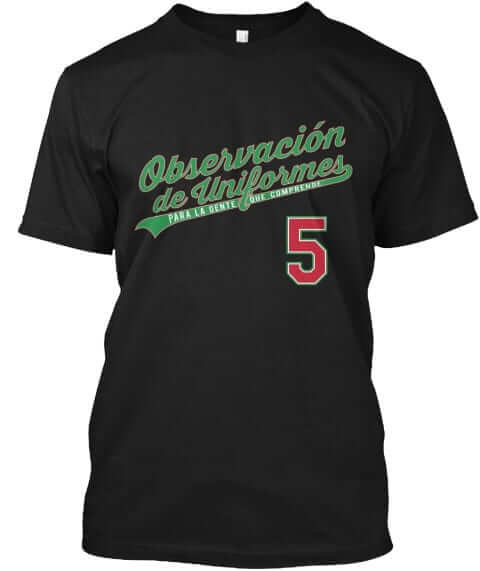 Shirt update: Don't look now, but Cinco de Mayo is sooner than you probably realize. So I've reactivated our Cinco de Mayo T-shirt, which was originally part of the 2015 Uni Watch T-Shirt Club. It says "Observación de Uniformes" (Uni Watch) and "Para La Gente Que Compreende" (For People Who Get It). It also has a "Cinco de Mayo" NOB on the back. It's available in a wide range of colors.
If you just want the Spanish-language front script, with nothing on the back, that's available here.
My thanks, as always, for your consideration of our Uni Watch merch.
• • • • •
[adrotate group="2″]
• • • • •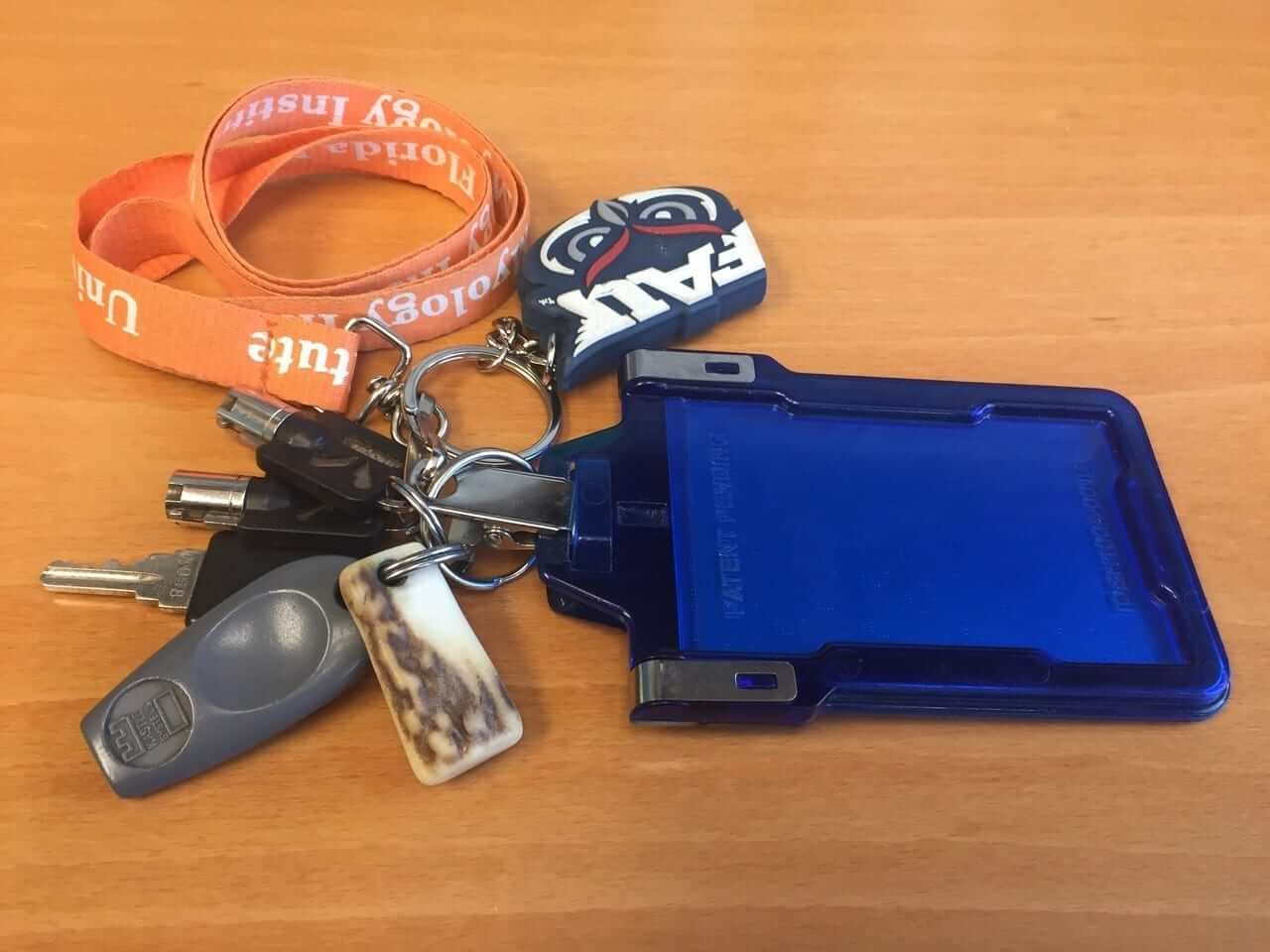 Click to enlarge
KRC update: The latest installment of Key Ring Chronicles is about a little piece of antler (that white/brown thingie in the foreground). Check it out here.
• • • • •
[adrotate group="2″]
• • • • •
Todd Radom print reminder: In case you missed it earlier this week, I've collaborated with uniform designer/scholar Todd Radom on a museum-quality art print that's similar to the T-shirt design he recently did for us. It's being produced in a limited edition of 150, with each print hand-numbered and signed by Todd and myself. And we've already sold through more than one-third of them.
The design is filled with lots of little Easter eggs that are of personal significance to Todd and me — full details here, or you can go straight to the ordering page. My thanks, as always, for your consideration.
• • • • •
[adrotate group="2″]
• • • • •
The Ticker
By Kris Gross

Baseball News: The Braves played against their prospects last night and both teams wore the same jerseys (from Big Daddy J). … This video shows every single uniform in MLB The Show 18. (thanks Phil). … Red Sox infielders have been wearing note cards under their hats to help with defensive shifts (from Todd Radom). … The White Sox have moved retired numbers from behind the plate (from Scott Held). … Harvey the Rabbit, the A's robotic ball-delivery device, is making his return for Oakland's 50th anniversary (from Daniel Diaz). … If you like ketchup on your hot dog, you won't like this White Sox T-shirt. … New home uniforms for Ohio (from Mike Ashcraft). … The Orioles will give away a Darren O'Day (O'Day-Wan Kenobi) bobblehead on May 11 (from Andrew Cosentino). … Tommy Bahama released their 2018 Major League Baseball collection (from Tom Turner). … Texas A&M and Texas A&M Corpus Christi met in a high-cuffed affair last night (from Tom Tagliabue). … Montini Catholic High School in Lombard, Ill., with some good-looking jerseys. And all high-cuffed too! (From Ryan Redbeard.) … The Yankees have been warned not to sell beer that features portraits of active players in the foam. Active MLB players are not permitted to be involved in the advertising or promotion of alcohol. … New gold-trimmed uniforms for the SoftBank Hawks (from Graveyard Baseball). … Here's a video clip on the North Carolina Baseball Museum (from James Gilbert). … Several throwback games in the works for the Orix Buffaloes.

NFL News: Jags owner Shahid Khan said the new jerseys will have "more teal." That story also informs us that the Jags' unveiling will be on April 19 (thanks, Phil). … Speaking of, the Jaguars are offering fans a chance to get a sneak peek at the unis (from @JohnEkdahl). … Uniform change for 2018: The Bears are apparently scrapping their Monsters of the Midway throwbacks and are going back to the orange throwbacks from 2004 through 2011 (from Adam Anderson). … Eagles CEO Jeffrey Lurie is working to bring back the Kelly green uniforms (thanks, Phil). … New Titans corner Malcom Butler will wear No. 21 with Tennessee (from Nathan Dearman). … Reader Bill Schaefer was collecting photos of the old Brooklyn Dodgers football team. He came across quarterback Ace Parker wearing this strange device on his leg. "It's too high to be a practical ankle brace, and too low to be a knee brace," Bill says. Anyone know anything about this? … More confirmation that the Browns will be getting new uniforms in 2020 (from Robert Hayes).

Hockey News: The Predators have THOB (Twitter handle on back) warmups (from Mick Kern). … The Arizona Coyotes are hosting a Grateful Dead night on Saturday (from @mikeobs). … Blues defenseman Joel Edmundson wore a sweet old-school hat while meeting with reporters yesterday (from Mike Dean). … Here's a great story on the AHL's Beast of New Haven, who had the most haunting logo in history (from @jeffreybigmoney).

Basketball News: The 76ers minor league affiliate, the Delaware 87ers, are being renamed as the Delaware Blue Coats — a reference to the 1st Delaware Regiment, known for wearing blue combat uniforms during the American Revolution. Here are the team's new logo, uniforms, and court design for 2018-19. … Check out these must-have Sister Jean socks (from Josh Hinton).

Soccer News: All notes from Josh Hinton: The Spanish National team debuted their "Halo Blue" away kits last night. … Leicester City FC could be moving from Puma to Adidas this summer. … Goalkeepers are not fans of the new World Cup ball.

Grab Bag: Here's what Jordan Spieth will wear at the Masters. Additionally, here's what Adidas's golfers will be wearing (from jwpatt).