As I've continued to explore the topic of road teams wearing white against the 1963 A's in Kansas City, several readers have decided to search newspaper archives for additional examples of white-clad visiting teams. Along the way, they've turned up some additional info that adds valuable new chapters to the historical record. We're going to look at some of those today.
The info in this post comes from readers Roger Cormier and Greg Mays, who found some fascinating old articles and generously shared them with me. Here's the rundown:
1. The A's did indeed encourage visiting teams to wear white in KC. A key part of this '63 A's storyline came when Uni Watch reader Jim Wagner shared his father's recollection that the A's invited visiting teams to wear white during their road trips to KC. Thanks to a UPI item that ran in The Springfield (Mo.) Leader and Press on Jan. 30, 1963, we now have confirmation of that. A's owner Charles Finley even offered to pay the extra freight costs that teams would incur from the extra uniforms (click to enlarge):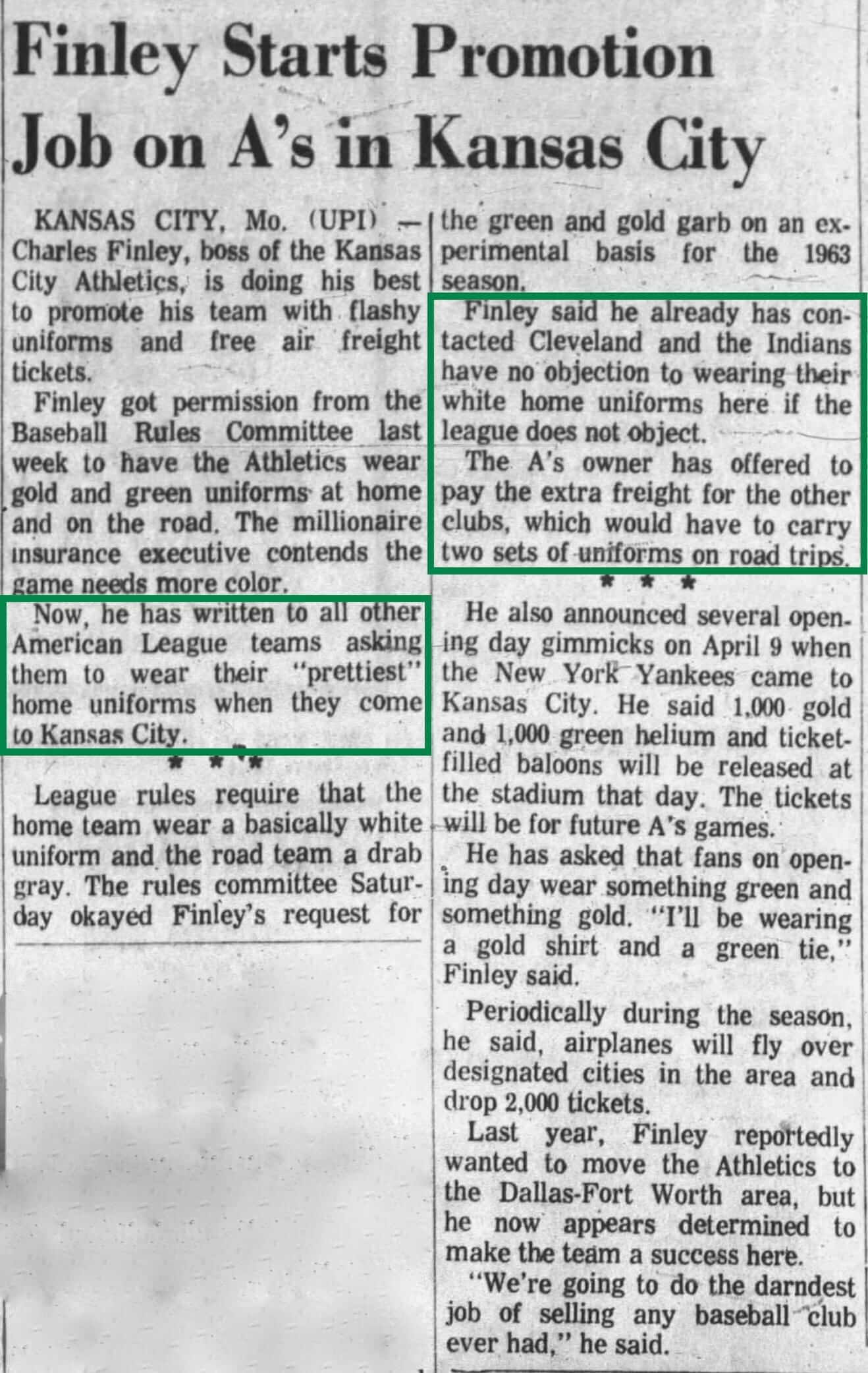 Note that Cleveland had already agreed to wear white in KC. So that pretty much confirms that the Indians were indeed wearing white in that 1963 home movie footage.
2. Finley originally wanted the A's to wear white on the road. Finley didn't just want road teams to wear white in KC — he also wanted to practice what he preached by having his own team wear white on the road. Check out this AP item that ran in several newspapers on Jan. 25, 1963: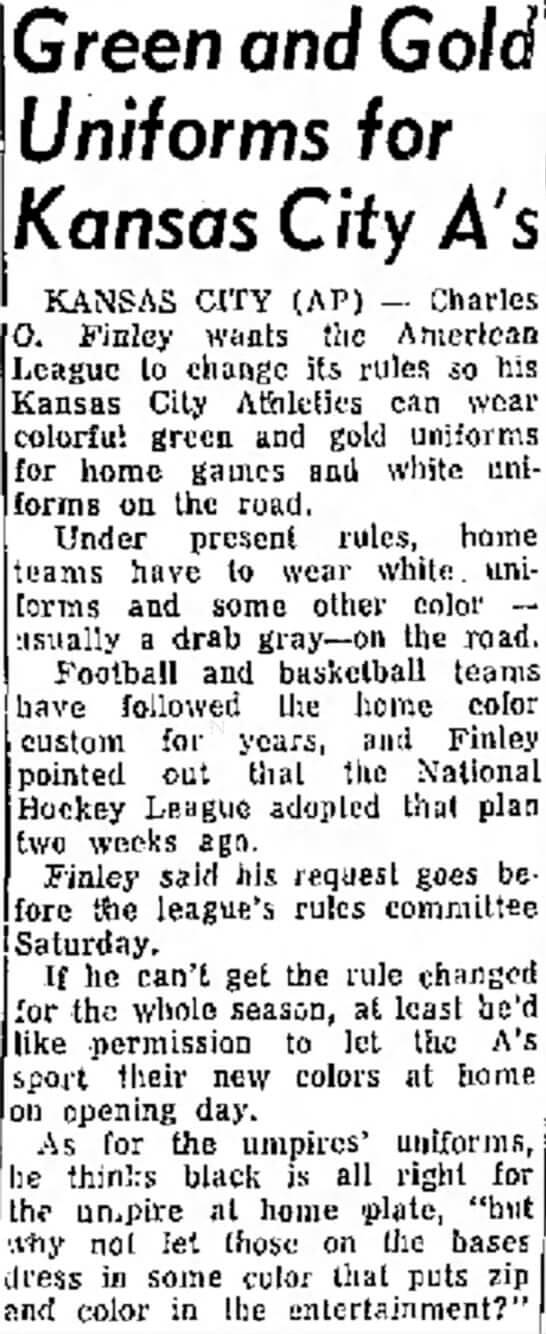 The American League granted its permission for the A's to wear green and gold at home but apparently denied Finley's request to wear white on the road, presumably because they didn't want a spate of white-vs.-white games.
3. The A's TV numbers were controversial (and pitchers didn't wear them). One unusual feature of the 1963 KC uniforms was the use of large white TV numbers on the undersleeves — a first for an MLB vest-based uniform. According to an article that ran in The Kansas City Times on March 25, 1963, the TV numbers were originally approved by the commissioner's office but were then disallowed because they ran afoul of a rule that bans decorations on undershirts. The article is a bit lengthy, but I strongly recommend reading the whole thing — lots of good stuff in there (click to enlarge):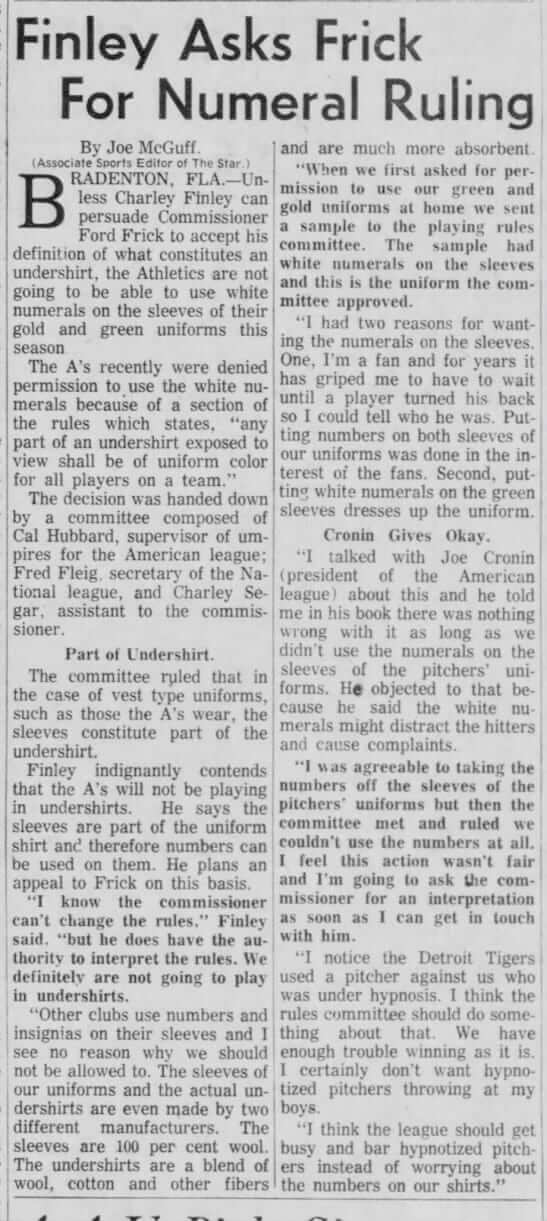 Obviously, Finley's appeal succeeded, because the A's did indeed wear the TV numbers in '63.
Another interesting wrinkle is the bit toward the end of the article about A's pitchers not wearing the TV numbers because batters might be distracted by the white numerals. I hadn't noticed this before, so I went back to that 1963 home movie footage that got us started on this whole '63 A's rabbit hole. Sure enough, the pitchers had no TV numbers — something I'd totally missed until now!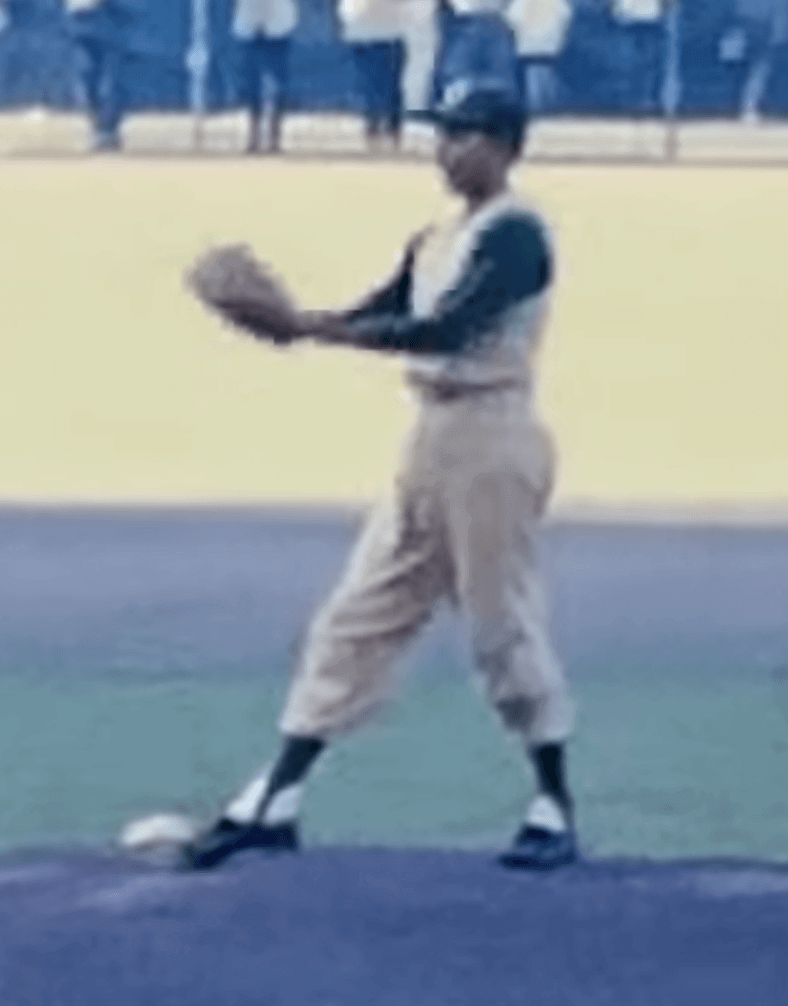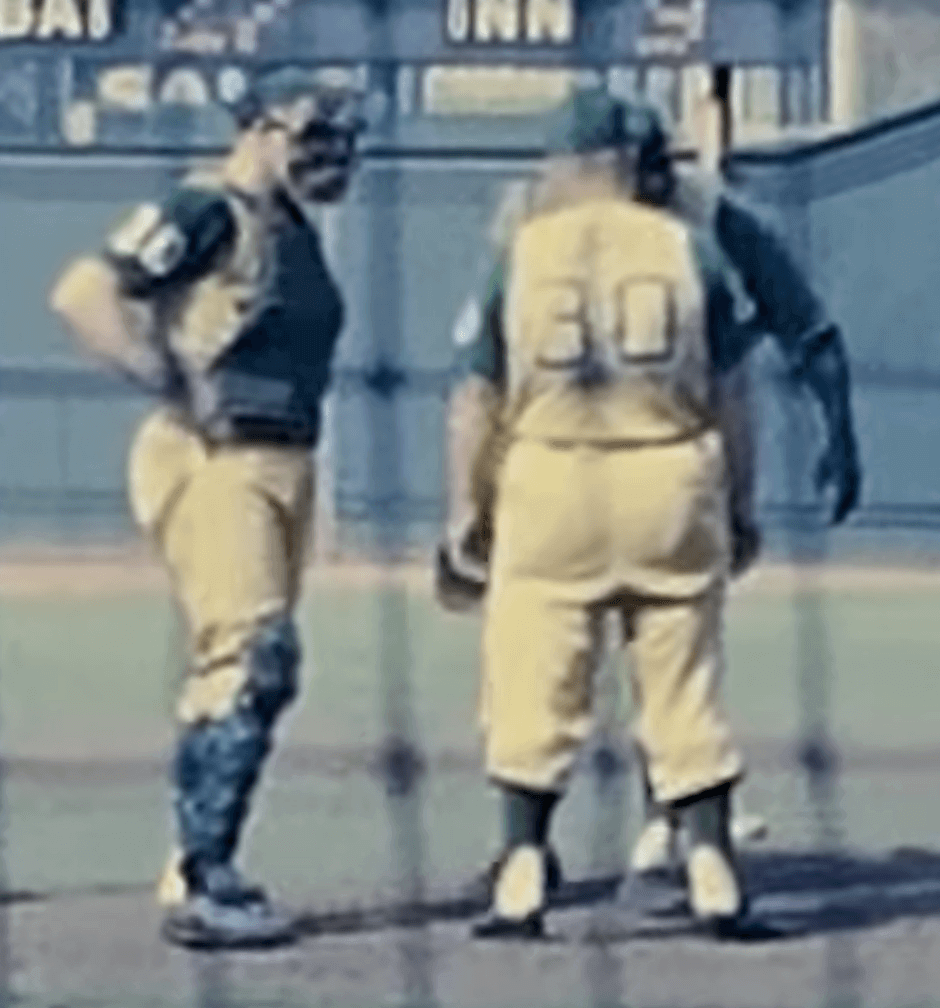 Indeed, if you look at baseball cards from this period, the pitchers don't have the TV numbers while the position players do. Again, I'd never noticed that.
4. The A's didn't add their nickNOBs until early June. I've written many times about how the '63 A's used nickNOBs, and I've often illustrated that by linking to this photo and caption. I always assumed that the NOBs were a season-long thing (because why wouldn't they have been, right?), but it turns out that the A's went NNOB until early June, at which point the NOBs were added. All of this was spelled out in a Kansas City Times article from June 5, 1963: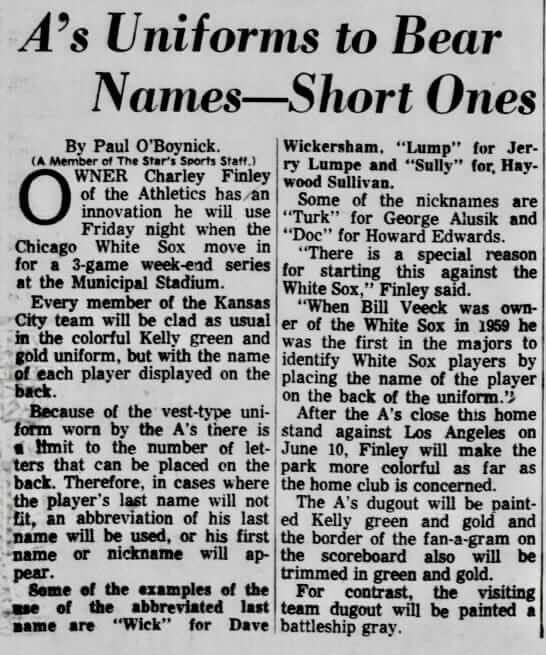 I love that Finley said he decided to introduce the NOBs for a series against the White Sox as a nod to Sox owner Bill Veeck, who had pioneered MLB NOBs. (But Finley got the year wrong — the Sox introduced NOBs in 1960, not 1959.)
Speaking of the nickNOBs, here's an excellent new photo of them (interesting to see that the bat boy is named in the caption — a rarity; click to enlarge):
As you can see, the one pitcher in that photo — Diego Segui — does not have the TV numbers, while the other players do.
5. Finley chose green and gold simply because he liked that color scheme. The A's green/gold color combo, which Finley later used when he owned the California Golden Seals, had no symbolic significance beyond Finley's personal taste: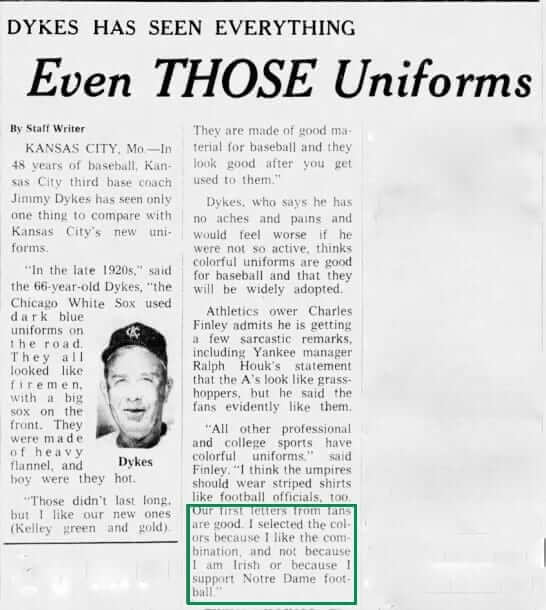 That's a lot to process, so let's stop here for today. But we're not done with this topic — next time around I'll show you some new examples of road teams wearing white in KC.
(Doubleplusthanks to Roger Cormier and Greg Mays for sharing the fruits of their diligent research.)
• • • • •
[adrotate group="2″]
• • • • •
NBA Uni Tracking

By Collin Wright
[Editor's Note: Collin is off on his honeymoon (big congrats!), so he doesn't have an updated chart this week, But before he left, he checked out the NBA's new LockerVision site, which maps out what each team wears for each game, and sent in some thoughts on that. Enjoy. — PL]
It's really interesting that the NBA is publishing this information. I looked at 20 games and compared what was shown on the LockerVision site with pictures from Getty Images and my own records. LockerVision was accurate in regards to the uniform "edition" being worn by each team in each game, but it wasn't necessarily accurate when it came to the accessories or socks being worn.
For example, here's what LockerVision shows for the March 2 game between Milwaukee and Indiana:

Those were in fact the uniforms worn that night, but the Pacers wore yellow tights (not blue), and the Bucks wore white socks (not green). In fact, my records show they've only worn white socks with the cream uniform.
Similarly, for the March 1 Lakers/Heat game, LockerVision shows the Lakers in purple tights and white socks (they actually wore white and white) and shows the Heat wearing white tights and pink socks (they actually wore black and black).
One last thing I noticed: Some upcoming games aren't yet scripted. For example, here's a Bulls/Bucks game where the Bucks image is listed as "Coming Soon."
In short: LockerVision provides good documentation for basic uniform matchups, but not for accessories.
• • • • •
[adrotate group="2″]
• • • • •
"Rain Check" print update: I'm very happy to announce that the limited-edition "Rain Check" print, designed by Todd Radom, is now available. Here's a digital rendering of it, followed by a photo (for both images, you can click to enlarge):
Notes:
• The prints are 7″ x 5″. They're being printed on Todd's museum-quality 10-color digital printer using archival pigment-based inks on archival 100%-acid-free art paper.
• This is a limited edition of 150 prints. Once they're gone, they're gone. Each print will be hand-numbered and signed by Todd and myself.
• The three ticket stubs are filled with numbers and dates that carry extra significance to Todd and myself, as follows:
First stub: The box, row, and seat numbers are all prime numbers, which I always like. And the date, May 26, is when the very first Uni Watch column was published in 1999.
Second stub: The section, row, and seat numbers match the seat where Todd sat at his very first game at Fenway Park in 1978. And the date, Aug. 22, is Todd's dad's birthday.
Third stub: The section number, 4, is for Todd's oldest daughter, Hannah, whose birthday is Feb. 4. The row number, 2, is because Todd and Hannah were both born in February. And the seat number, 11, is for Todd's other daughter, Kate, whose birthday is Dec. 11. The date, April 30, is the birthday of Uni Watch mascot Caitlin — the original Uni Cat!
• The price is $19, which includes domestic shipping. Todd, who's handling the fulfillment on this project (thanks, Todd!), is taking requests for international orders on a case-by-case basis. If you live outside the U.S. and want to order, you can get in touch with him and plead your case.
• Todd and I still have to meet up to sign all of the prints (the signatures in the images above were Photoshopped in, just to give you an idea of how it will look). That will take place either this Friday or in early April. Either way, the prints will ship out in early April.
I have tremendous respect for Todd's talent and professionalism, and it's a real privilege to collaborate with him. Hope you all like the results as much as we do.
Again, the prints are available here. My thanks for your consideration.
• • • • •
[adrotate group="2″]
• • • • •
Membership update: A bunch of new cards have been added to the membership card gallery (including Greg Lamm's card, shown at right, which is based on the Pirates' old red vest — pretty sure that's the first time we've had that request). The printed/laminated versions of these cards should mail out in a day or two.
Remember, a Uni Watch membership card entitles you to a 15% discount on any of the merchandise in our Teespring shop. (If you're an existing member and would like to have the discount code, email me.) As always, you can sign up for your own custom-designed card here, you can see all the cards we've designed so far here, and you can see how we produce the cards here.
• • • • •
[adrotate group="2″]
• • • • •
The Ticker
By Jamie Rathjen

Baseball News: The SEC is participating in an experiment where catchers wear wireless devices during conference games this season to receive pitch signals from the dugout (from Kevin Zdancewicz). … New red uniforms for Youngstown State (from Robert Hayes). The team also wears black hats and stirrups with red jerseys this season. … Here's a very comprehensive look at the evolution of the Tigers' Gothic "D" logo (thanks, Phil). … Royals P Ian Kennedy appears to have blued out the New Era logo on his hat (from Jeff Moulden). … The Alabama Sports Hall of Fame in Birmingham has some "incredible pieces of uniform history," says Stetson Pevear, including a 1939 White Sox jersey from 2B Jackie Hayes. … Iowa wears a sleeve patch of mascot Herky the Hawk batting (wearing stirrups) on at least two (white and black) of its jerseys.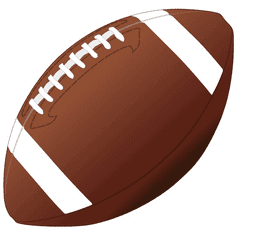 Football News: The Titans' new uniform set, slated to be unveiled on April 4, will reportedly include a navy blue helmet (from Mike Chamernik). … The Lions are looking for a practice jersey advertiser (from Brian Merlos). … The BUCS (British Universities and Colleges Sport) football Premier Division championship was color-vs.-color between Durham (purple) and Derby (orange/blue) (from @JayJayDean). The game was played at Sixways Stadium, the home of rugby union team Worcester Warriors, and the field retained some of its rugby markings. The goalposts also remained at the front of the end zone and still featured padding from rugby's English Premiership.

Hockey News: Boston University wore throwbacks for four games in a row in the Hockey East and NCAA tournaments until losing yesterday to Michigan. … Oxford and Cambridge renewed a hockey rivalry this weekend that dates back to 1885 and, as with much between the two universities, is conducted as a blue-vs.-blue matchup, though Cambridge's team uses a more conventional light blue than is commonly associated with them.

Soccer News: New NWSL kits for the Chicago Red Stars (first and second), Orlando Pride (second and goalkeeper), and Seattle Reign (first and goalkeeper). Additionally, the Washington Spirit (second) debuted the first of the remaining kits that weren't revealed in preseason. … The spate of national team kits unveiled lately coincides with the only opportunity to see them in action until late May. Some teams changed at home or when they normally wouldn't have in order to wear a new kit, including Germany (green), Mexico (white), both Italy (white) and Argentina (black), and Northern Ireland (light blue). … Speaking of national teams, here's a roundup of all the released kits for World Cup participants (from Josh Hinton). … USL team Bethlehem Steel have a numbering system that denotes players' statuses with regard to the team's MLS owners, the Philadelphia Union (from Greg Franklin). To clarify the tweet, only Bethlehem Steel players numbered 36-49 have a contract with the team. Any lower-numbered players have Union contracts and higher-numbered players are Union youth team members. … The font for Brazil's new uniforms has been revealed (from Josh Hinton).

Grab Bag: The NLL's Saskatchewan Rush wore superhero-themed jerseys Saturday (from Wade Heidt). The jerseys are to be auctioned off to benefit a children's health-care foundation. … Tris Wykes found a very cool vintage plywood roller skating sign outside a venue in Enfield, N.H. … Australia cricketer Cameron Bancroft appeared to rub the ball with sandpaper, a violation of the rules, during Saturday's third day of a Test against South Africa. He then took the sandpaper out of his pocket and shoved it down his pants before the umpires came over to talk to him. … The U.S. field hockey teams wear both red and blue in equal numbers, but the under-21 women's team managed to turn out in white with red and blue in an away game against Ireland.