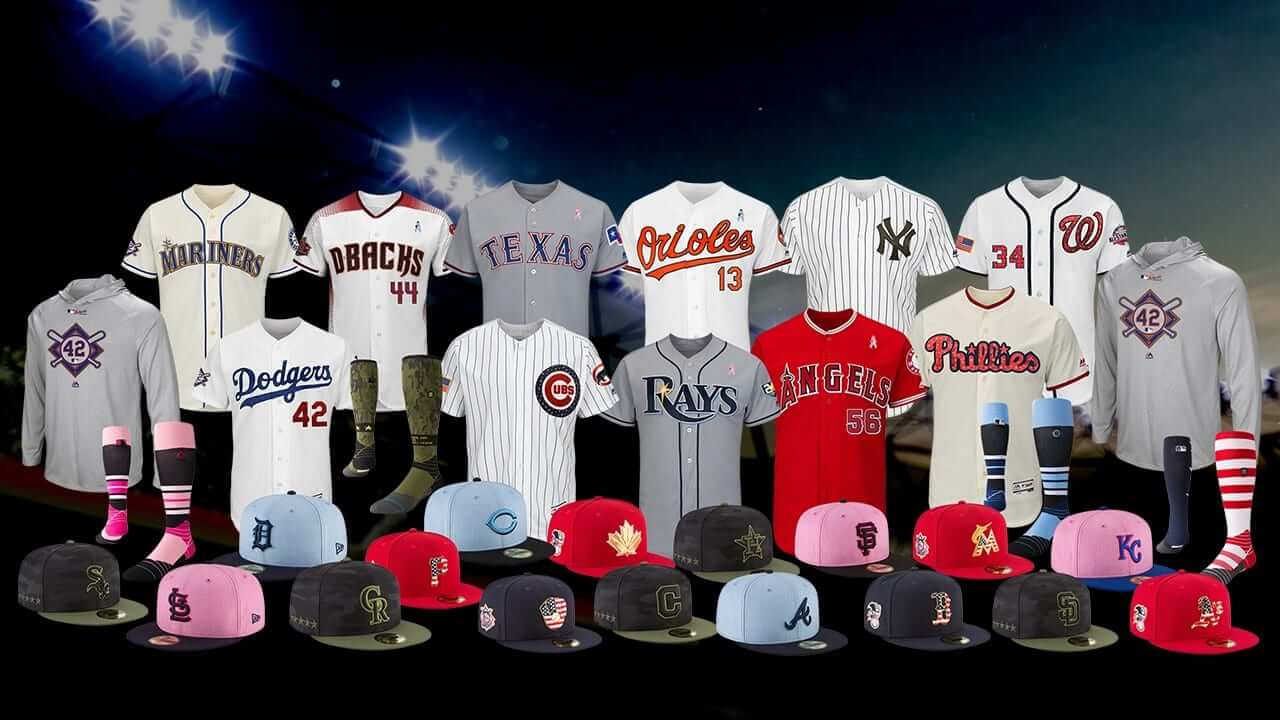 Click to enlarge
MLB revealed all of the 2018 holiday uniforms yesterday (much earlier than in previous years). SportsLogos.net honcho Chris Creamer had an advance on this one and did a really thorough job covering the basic info, so I strongly recommend that you start by checking out his report.
Once you've read and processed all that info, here are some thoughts from my perch here at Uni Watch HQ:
• I'm a big, big fan of Jackie Day, but that new "42" patch on the caps and jerseys is pretty much the dictionary definition of overkill. (On the plus side, Jackie Day falls on a Sunday this year, so every team will be playing and we won't have teams doing the 42 thing on dates other than April 15.)
• A huge relief that they've backed off of the pink- and blue-trimmed jerseys for Mother's and Father's Day (I guess sales were weak, eh?) and are going back to letting teams wear their regular jerseys with pink and blue ribbons, which is how they should have left it all along. Too bad we're still stuck with the pink and blue caps, but one thing at a time.
• The Memorial Day and Independence Day jerseys are essentially the same as last year. Have they run out of ideas, or are they opting for stability, or is this just the calm before the storm that will hit when Under Armour takes over next year?
• The league logos on the sides of the Independence Day caps seem like an odd choice. I mean, I've always liked those logos, but why use them now, for a holiday, when MLB has done its best to eliminate the separate league identities over the past two decades? There are no more separate league offices, no more league presidents, no more separate league baseballs, no more league-specific umpiring crews, and every single day has at least one interleague game. It's almost like they said to themselves, "Hmmmm, the league logos both feature an eagle — that's patriotic! Quick, put 'em on the Fourth of July caps!"
• We've seen MLB engage in bad civics before (like using camouflage to salute the military on non-military holidays), and now they've done it again with the Independence Day cap underbrims, which are imprinted with "We the People." Fun idea, except that Independence Day is a celebration of the Declaration of Independence (that's why it takes place on the Fourth of July), while "We the People" comes from the preamble to the Constitution (which was ratified more than a decade after the Declaration). But hey, they're both important documents, and who really cares about historical accuracy when you have a merchandise program to run, right?
• The Cleveland jerseys retain the standard Wahoo sleeve patch for Mother's and Father's Day but, as in past years, shift to the block-C for Memorial and Independence Day, for obvious reasons. This just reinforces why Wahoo had to go. When you can't use your basic sleeve patch for a holiday jersey, that's a sign that there's something wrong with your patch design. At least we won't have to worry about this next year.
• Fun facts: The Dodgers, Yankees, and D-backs are home for all of the holidays; the Mets, Giants, and Twins are on the road for all the holidays; and the Angels are at home for some of the holidays and on the road for others but are wearing red jerseys for all of them.
Nine days until Opening Day!
• • • • •
[adrotate group="2″]
• • • • •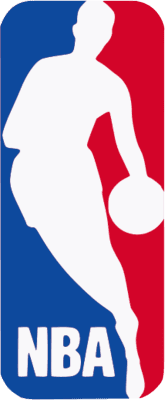 NBA uni-scripting update: Earlier this month there was that Boston Herald article that revealed the existence of a "master schedule," prepared by the NBA and Nike, to script what each team would wear for each game, right down to the color of the leggings. Now the league has decided to share that uniform schedule via a new (or at least newly public) website called LockerVision.
From a data standpoint, LockerVision is pretty great. You can go to any date in the 2017-18 NBA schedule and see what a team wore — or is scheduled to wear. For example, here's what's on top for tonight's games (click to enlarge):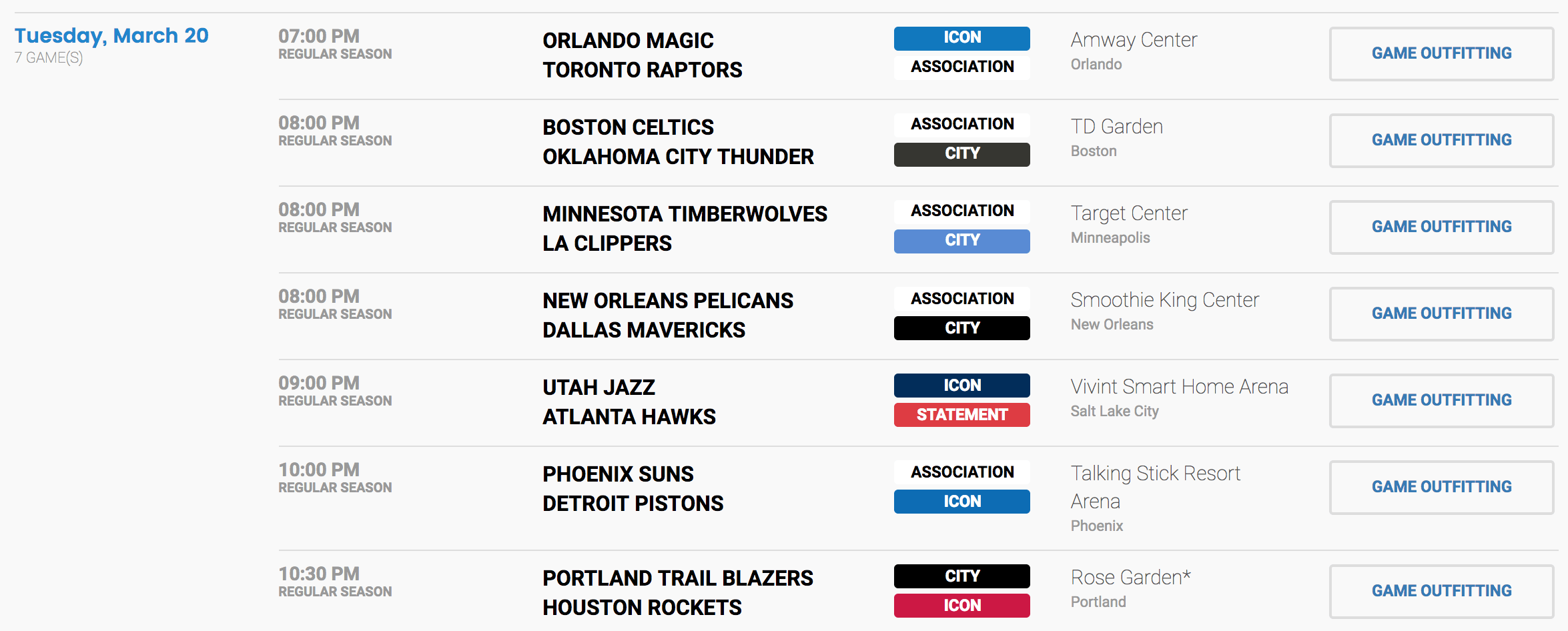 If you look in the far-right column and click on the "Game Outfitting" tab for any game, you get a pop-up window showing what each team is supposed to wear, including leggings, warm-up gear, and so on (click to enlarge):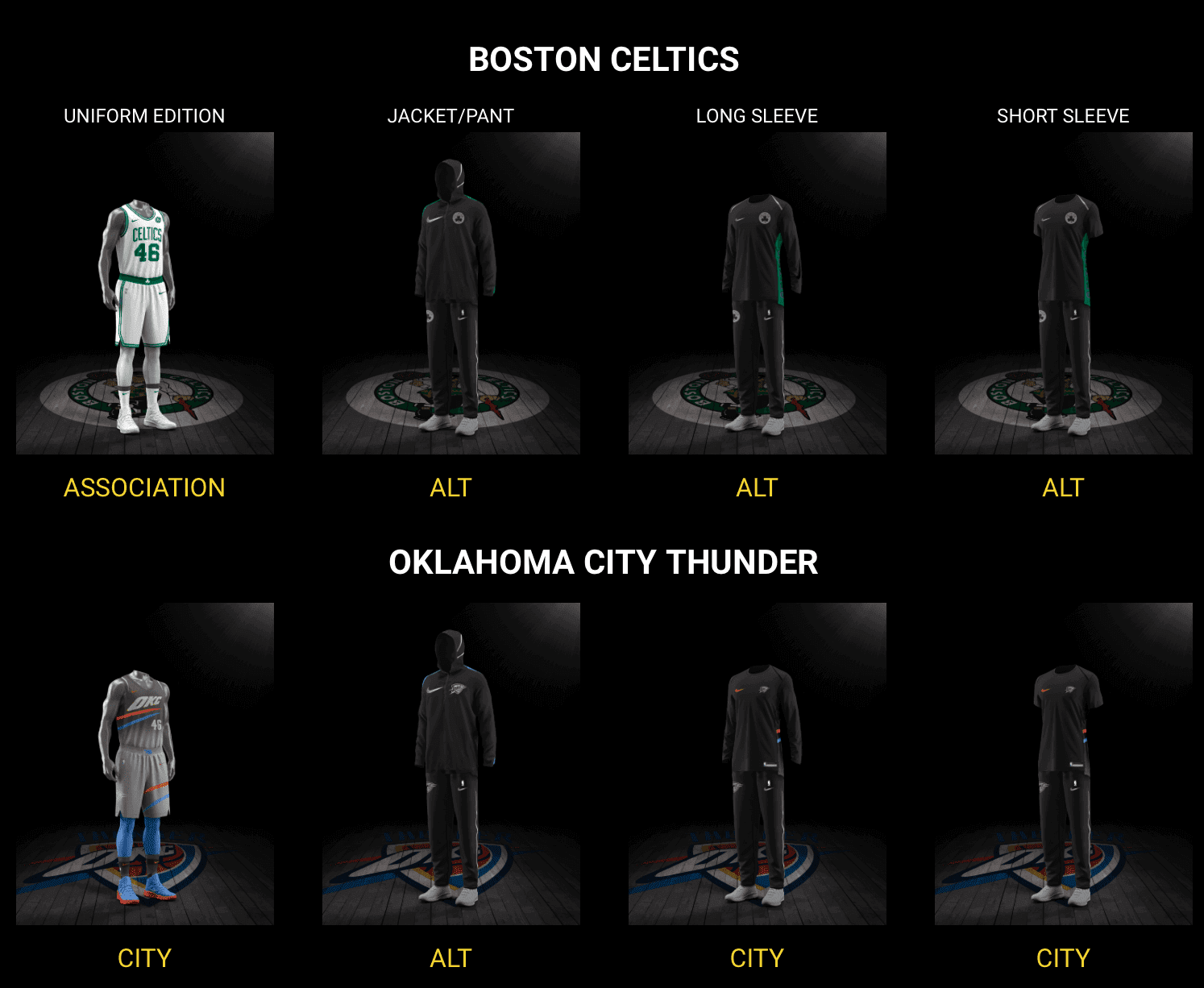 I can see positives and negatives to this approach. On the plus side, it helps teams avoid non-contrasting uniforms and also lets fans know what their favorite teams will be wearing. On the minus side, it eliminates any sense of spontaneity (so much for sticking with a certain design out of superstition, right?), seems to remove some decision-making power from the individual teams (although the Cavs say it's more of a collaboration), and there's something off-putting about all the uniforms being scripted in advance, especially by entities that primarily think of uniforms as merchandise. It may also mean that our weekly "NBA Uni Tracking" feature, written by Collin Wright, is now moot. I'll have to discuss that with Collin.
In any case, if everything's going to be scripted, you may as well make the script public, so I give the NBA major points for transparency. Wouldn't it be nice if the NFL, whose jersey schedule (but not pants) is usually settled by about Aug. 1, offered something like LockerVision?
(My thanks to Nets equipment manager Joe Cuomo, who was the first of several people to let me know about LockerVision.)
• • • • •
[adrotate group="2″]
• • • • •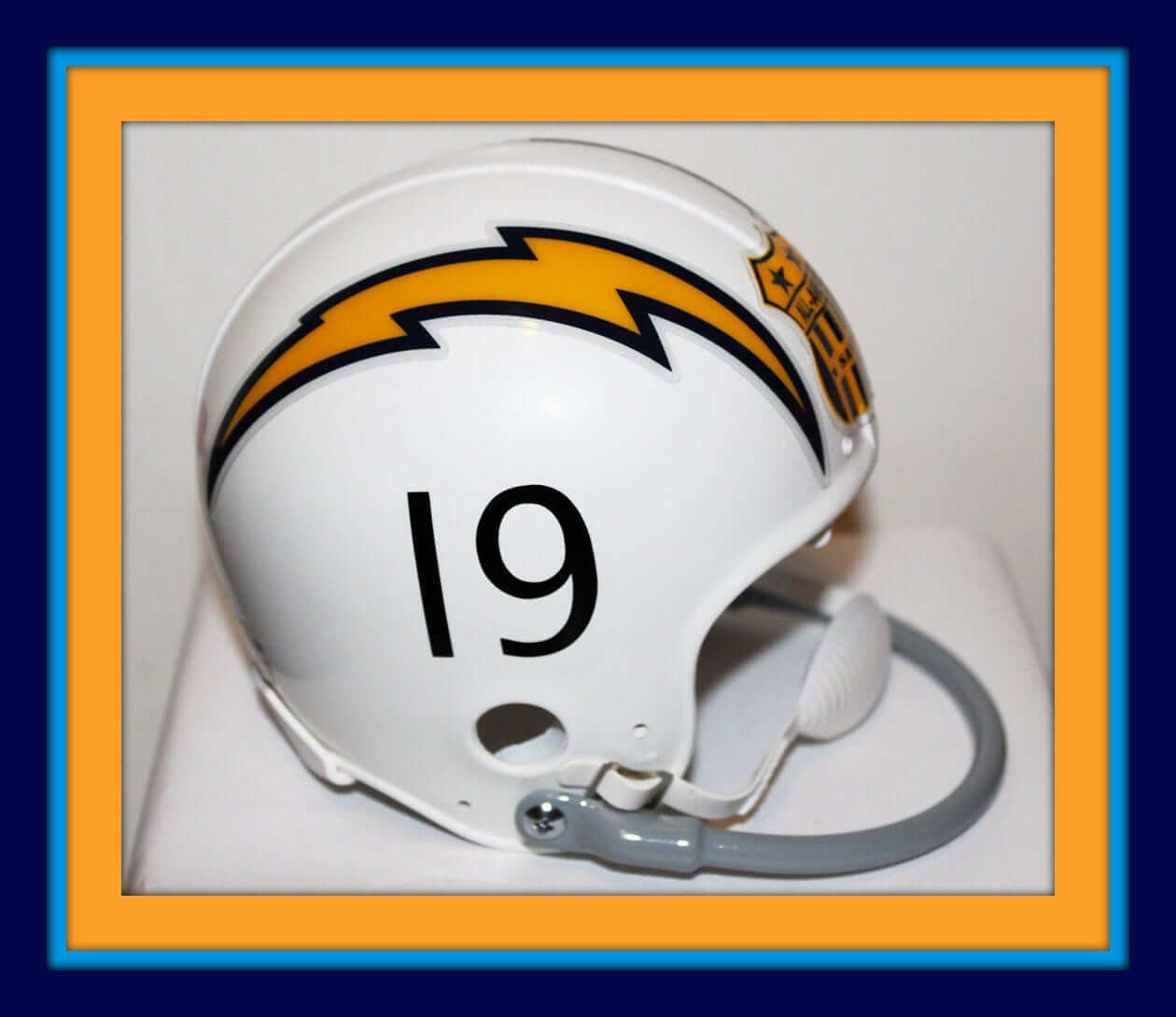 Click to enlarge
Collector's Corner
By Brinke Guthrie
This is a DIY custom San Diego Chargers mini-helmet. Great detail on this and the seller says he will put any number on there you want (although the 19 shown in the photo, for Lance Alworth, is always a good option). He includes the All-America City decal too — nicely done.
Now for the rest of this week's picks:
• One more from the Bolts: This 1970s powder blue Chargers helmet sticker comes courtesy of the coffee folks at Chase Sanborn.
• This Yankees poster was given out on Old-Timer's Day, Aug. 8, 1970, and commemorated "Casey Stengel's All-Time Yankee Team."
• Another great NFL helmet sticker collection set. Seller says late 1970s, but it's more like 1983 or 1984.
• This 1970s Baltimore Colts helmet medallion looks bright and glossy for its age.
• Check out this old 1960s Boston Red Sox lunchbox!
• Here's a lot of three 1970s NFL football dolls. No, let's say "action figures," right? Seahawks No. 80 is Largent, and I thought Cardinals No. 12 might be Neil Lomax, but he wore 15. You also get a Vikes player with no jersey number.
• This promo button from the Atlanta Falcons and Louis Rich includes the name of Falcons player John Settle. They've "Teamed Up Against Drugs."
• These NFL Los Angeles Rams "licensed" wristbands date back to their first era in the City of Angels. (Side note: Always loved that "Official Licensed Product" logo. The mark of quality!)
• Here's a San Francisco Giants patch/decal/schedule/bumper sticker set from the 1970s.
• This "Juice" T-shirt was a promo item for O.J. Simpson's Spot-Bilt football shoe line back in the day.
• Always loved the contrasting body/sleeve design for this style of MLB Diamond Collection jackets — this one is for the Phillies. Believe these were 1990s, not 1980s.
Seen an item on eBay that would be good for Collector's Corner? Send any submissions here.
• • • • •
[adrotate group="2″]
• • • • •
The Ticker
By Alex Hider

Baseball News: The Astros made note of their World Series championship on the logo sculpture in front of their spring training facility (from Ignacio). … Speaking of the Astros, they'll be selling 112 World Series fan rings today at $11K a pop (from Phil). … The Brewers re-created a scene from the movie Sandlot in honor of the film's 25th anniversary (from Tom Juettner). … Awesome pictures of old baseball equipment managers: BSmile sent along a picture of the  Yanks' Pete Sheehy from 1970, and Brian sent along a shot from the White Sox locker room in 1959. … New unis for Bravos de Leon of the Mexican League (AAA). As Cesar points out, they are ad-free, a rarity for the Mexican League. … KT Wiz,  a team in Korea's KBO league, will use artificial rain before games this season if the stadium is too dusty (from Jim Vilk). … The Yankees and Red Sox may play a two-game series next year in London, which would be an MLB first. … Alabama has already worn nine different uni combos in its first 21 games.

Pro Football News: Tyrann Mathieu will continue to wear No. 32 with the Texans (from Ignacio). … Not only is this '70s fax machine ad featuring Roger Staubach awesome, but according to Scott Criscuolo, Staubach never used that mask design. … Interesting that the 49ers Foundation doesn't use the same wordmark as the football team (from C.A. Bells). … Sir CC, the mascot of the NBA's Cleveland Cavaliers, donned a classic Browns jersey last night as the Cavs honored Joe Thomas (from Robert Hayes). … The Canadian Football League will have a new game ball next season (from Wade Heidt and Nick Maibroda).

Hockey News: The Ottawa 67s painted a four-leaf clover — not a shamrock — on the ice for their game on Sunday for St. Patrick's Day. At least they got it right on their St. Paddy's Day sweaters (from Matthew Walthert).

NBA News: LeBron James's jersey from this year's All-Star Game recently sold at auction for more than $90,000 (from Rick Mueller). … Cross-listed from the NFL section: The Cavaliers' mascot "Sir CC" donned a classic Cleveland Browns football jersey as the Cavs honored Browns offensive tackle Joe Thomas, who recently retired (from Robert Hayes).

College Hoops News: Reader Alex Gerwitz is tracking the uni color matchups throughout the NCAA tourney. Here's what he has so far. … Bryan Black has collected more than 300 D1 jerseys to "take his mind off epilepsy and onto positivity." Give him a follow (from Damon Hirschensohn). … Deadspin's David Roth went after West Virginia coach Bob Huggins and Marshall coach Dan D'antoni for their, uh, interesting sense of fashion. … UConn women's basketball star Gabby Williams got the full "athletes as superheroes" treatment in this promotional video shown during the Huskies' first-round NCAA Tournament win over St. Francis (from Kary Klismet). … Don't go to the dark side, UMBC (from Taylor Workman).

Soccer News: Puma officially unveiled 10 new away kits for national teams, four of which will be worn at the upcoming World Cup (from Phil). … Ryan found this Las Vegas Americans keeper's jersey at a sporting goods store in Detroit. The Americans only played one season in the Major Indoor Soccer League before being expelled from the league for financial problems. … Turkish club Besiktas released a special prematch shirt, inspired by their 1933 jersey (from Ed Zelaski). … New kits for Tampa Bay Rowdies of the USL (from Kody Allenson). … Minneapolis City FC of the NPSL goes by the "Crows." Their keeper's shirts have a bird print on the sleeves — thus, #MurderSleeves.

Grab Bag: Retired tennis star Bjӧrn Borg is once again advertising with Fila (from Brinke). … Chicago welcomed Roger Federer to town for the Laver Cup with custom jerseys from all six of the city's pro sports teams (also from Brinke). … The Alberta Luge Association has a pretty fun logo (from B.Q. G). … Disney is doing "March Magic" again this year, where they create sports-style logos for their theme park attractions (from Ryan Kelly). … Thursday marked the 119th anniversary of Pittsburgh naming black and yellow the city's official colors. To mark the occasion, the city shared a timeline on Twitter (from Jerry Wolper). … Here's some drone footage of the Cincinnati Gardens in mid-demolition.
• • • • •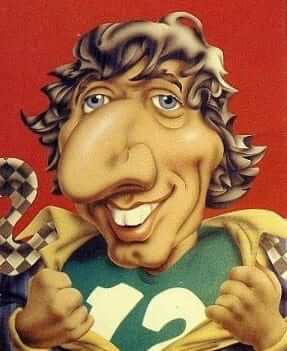 The best of the best: Back in the early 1990s, when I was working in book publishing, I edited a book called The Savage Mirror: The Art of Contemporary Caricature. One of the many excellent caricaturists featured in the book was the great illustrator Robert Grossman, who'd been active since the 1960s. I'd been vaguely aware of him (he did a lot of magazine work), but working on the book really made me appreciate how brilliant he was. He specialized in depicting politicians, although his repertoire also included celebrities, including the occasional athlete (like his rendering of Joe Namath, shown at right).
Grossman died a few days ago. As it happens, I had seen him do a live presentation just a few months ago — the first time I'd ever seen him in person, which was a genuine thrill. Seemed like a great guy. And now he's gone. (Crazy coincidence: I attended that presentation with my friend Nate, who's an animator. Just met him a year or two ago. After the Grossman presentation, he said, "Yeah, I really got into Grossman when I was in art school and I got this book called The Savage Mirror." He just about shit when I told him I had edited that book, and it was a nice shared touchstone that we both had with Grossman's work.)
Although Grossman spent most of his career depicting people, his single best-known work had no people in it: He did the famous poster for the 1980 movie Airplane! It was his idea to show the plane tied in a knot. Nearly four decades later, it still holds up, as does most of his work. R.I.P.