For all photos, click to enlarge
Back in January, I was invited to be part of a press tour of the NFL Experience, a new attraction in times Square. I mistakenly thought it was just a temporary attraction that had been set up to coincide with the then-upcoming Super Bowl, but it's actually a permanent operation with a long-term lease. And I have to tell ya, it's pretty damn good.
The guy who runs the place described it to me as "Disneyland meets the Hall of Fame," and that's a pretty fair description. There are lots of exhibits and memorabilia, but there are also lots of interactive stations where you get to do stuff — a good mix of the educational and the entertaining.
The place is too big for me to fully capture its range in a blog post. But here are some of the highlights:
1. Our first stop was a hall with a bunch of display cases — one for each NFL division — featuring team memorabilia. Lots of really good stuff here — I took a bunch of photos.
2. This same hall had a bunch of touch-screen video displays where you can cue up info on your favorite team. The wall in the background, oddly, featured a mural showing all of the Color Rash uniforms:
3. There's a theater with a surround-projection format and seats that vibrate and jolt to simulate the feel of being on the field during a game. They even have little simulated snowflakes (fauxflakes?) that cascade down to create the illusion of a snowy game. For this one, I'm going to embed some promotional B-roll footage produced by the NFL Experience staff, instead of my own photos. It doesn't have any audio, but it still provides a much better sense of what the theater is like:
4. There's an area that simulates an equipment room, with lots of gear and also lots of notices posted on the walls:
5. There are lots of interactive stations where you can do assorted fun stuff:
6. There's a carpet of artificial turf covered in Super Bowl confetti — or at least that's what it looks like. The confetti is actually a pattern that's printed onto the turf. It's very convincing!
7. There's a station where you and your friends can be photographed taking a virtual Gatorade bath:
8. I really liked the display of tickets from every Super Bowl (they also had Super Bowl rings, but those photos didn't turn out so well):
There's more, but I figure that's enough for you to get the idea (and more than enough scrolling for you to deal with). In short: I liked it, and I definitely recommend it. A fun place.
• • • • •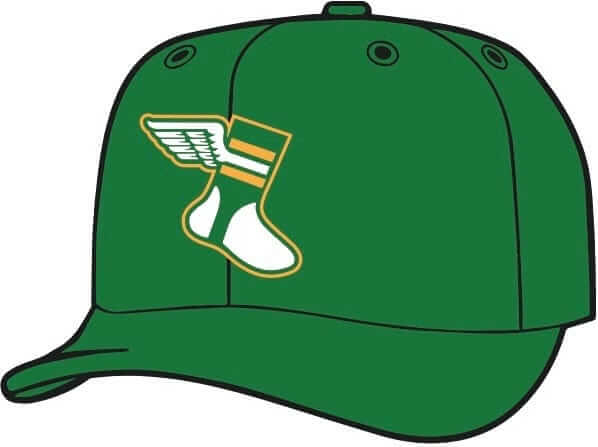 Cap update: When I announced my plan to create a Uni Watch cap the other day, a fairly large number of readers suggested that I get the caps manufactured via Ebbets Field Flannels, which makes excellent caps. So yesterday I discussed the project with EFF honcho Jerry Cohen. He was very receptive to the idea. If we were to do the cap with him, here's how it would work:
• The cap would have a classic 1950s relaxed construction, like this Seattle Rainiers cap.
• The fabric would be wool broadcloth.
• We would be able to offer the cap in fitted numeric sizes and also offer a leather strap option — so you'd get to choose whichever of those two styles you prefer.
• EFF has three different shades of green cap fabric: Kelly (which I think is too light), dark green (which I think is too dark), and "bottle green," which I think is just right. (Our cap would not have the construction or profile of that last cap; I'm only showing it so you can get an idea of the color.)
• I had wanted a grey undervisor. That will probably be possible, but not necessarily. We might need to go with a green undervisor (which I'd prefer to avoid, because I'd rather have a color that contrasts with the rest of the cap, but it wouldn't be the end of the world).
• All of the other design options I mentioned the other day — gold squatchee (which I'm pretty sure we'll do), gold brim (which I'm leaning against), script on the back (I haven't decided yet) — are available.
• The caps would not have a visible maker's mark. They would have EFF tagging on the inside.
• If I decide to go with EFF, the caps would probably be available about five weeks after I pull the trigger. If you folks are willing to pre-order, that would be nice, because it would help us know how many caps to make, and in which sizes, although pre-ordering wouldn't be a requirement.
• The caps would be made in the USA. And that leads me to…
• The caps would be sold on EFF's website at their regular cap price — $49. I realize that's more than many of you are used to paying for a cap, but EFF's quality is excellent and there's something to be said for having the caps made in America. Also, I've known Jerry for years, so I trust him to do a great job, and I like the idea of collaborating with someone who cares about uniforms as much as he does (and as much as the Uni Watch community does).
That said, I'm also considering other options, so here's another chance for you to provide some input. If you were thinking of ordering a Uni Watch cap, please weigh in here (if you have no interest in ordering a cap, please skip this poll — thanks):
[totalpoll id="94716″]
———
One thing I've learned this week is that people are v-e-r-y particular about their caps. One person says, "It better be flex-fit, or I won't buy it." Another says, "It better be fitted, or I won't buy it." Another says, "It better be New Era, or I won't buy it." In other words, no matter which route I choose, some people will be disappointed. My apologies in advance to anyone who ends up feeling that way. This is one of those situations where it's impossible to please everyone, but I'm doing my best to find the best way forward.
Meanwhile, people have also asked if we'll do alternate designs, or if we'll offer a purple version for this year's Purp Walk, or if we'll offer a visor. For each of those questions, my answer is, "Sure, that would be cool — but let's get this first cap off the ground before we worry about any of that."
Thanks for your continued input. I'm excited about how this is coming together.
• • • • •
LAST CALL for the 19Nine raffle: In case you missed it earlier this week, I'm currently raffling off a T-shirt and a pair of retro shorts from the good folks at 19Nine.
To enter, send an email to the raffle address by tonight, 7pm Eastern. One entry per person. I'll announce the winner on Monday. Good luck!
• • • • •
Membership update: Eight new designs have been added to the membership card gallery. That includes Tyler Evans's card, shown at right, which is based on the Astros' gold-trimmed championship jerseys — a rare case of a membership card being based on a jersey that hasn't yet been worn on the field.
The printed/laminated versions of these cards should mail out by tomorrow.
Remember, a Uni Watch membership card entitles you to a 15% discount on any of the merchandise in our Teespring shop. (If you're an existing member and would like to have the discount code, email me.) As always, you can sign up for your own custom-designed card here, you can see all the cards we've designed so far here, and you can see how we produce the cards here.
• • • • •
The Ticker
By Kris Gross

Baseball News: Mike Trout is the latest to add a face guard to his helmet (thanks Paul). … Sluggerrr, the Royals mascot, still has the 2015 World Series Champions patch on his jersey (from @UntillTheNight). … Birmingham is sometimes known as "B-Ham," so the Birmingham Barons, Double-A affiliate of the White Sox, will wear ham on their jerseys on Aug. 25. … The New Hampshire Fisher Cats, the Blue Jays' Double-A team, will play as the Mountain Men on July 8. … Vanderbilt went all-high-cuffed Wednesday night (from Edwin Bonner). … Speaking of, the Collinsville softball team is doing it right (from David Stephens). … For NYC-area residents, Green-Wood Cemetery in Brooklyn is conducting a tour of baseball greats who are buried in the cemetery on March 31. … Former Mets 3B Ed Charles is usually associated with having worn No. 5, like in this famous photo. But here's a shot of him wearing No. 24, which he apparently wore for only 10 days in 1967.

NFL News: Newly acquired Washington QB Alex Smith got his first uniform — in the old template (from Andy Johnson). … The Jaguars' two-tone helmet isn't dead yet! (From Brett Baker.) … New Broncos QB Case Keenum won't get to wear his old No. 7 in Denver, because of some guy named John Elway (thanks Brinke). … Some other Keenum notes: He tweeted a photo of himself wearing an Elway jersey as a kid. And his Twitter picture is him in a Photoshopped Broncos jersey (from Kary Klismet). … The Chiefs will likely have five wide receivers wearing numbers in the 10s for the upcoming season (from Joshua Brisco). … This incredible piece of artwork features the date, score, and opponent of every game in Eagles history. You can see a larger version of it here (from John Kelemen). … What if the Jags had come into existence in the 1970s instead of the '90s? Here's a great concept of what their helmet might have looked like. … Looks like former Eagles K Tom Dempsey had some sort of little strip or plate added to the crown of his helmet. Here's a closer look. Anyone know what that's about?

College Football News: This just seems wrong: The rings for Texas A&M Commerce's DII National Championship feature the Under Armour logo (from Christian Berumen).

Hockey News: The Capitals' Stadium Series jerseys will be worn at least one more time this season. The team will be wearing them next week (from our own Jamie Rathjen). … Nevada basketball will play their first round game in Nashville, and the Predators welcomed them with a custom sweater (from Damon Hirschensohn). … St. Paddy's Day jerseys tonight for the Tulsa Oilers (from Mike Iles).

NBA News: The Windy City Bulls — that's Chicago's D-League affiliate — will wear G.I. Joe-themed jerseys tomorrow night. … Nike sold a pair of Kobes that came with a four-leaf clover plus Kobe's logo to commemorate the Lakers beating the Celtics in the 2010 Finals (from Jorge Cruz).

College Hoops News: Loyola Chicago had a huge conference patch on their shorts yesterday (from Robert Hayes). … Stephen F. Austin wore black last night against Texas Tech (from Chris Mycoskie). … As Bryan Molloy points out, Rhode Island's shorts look like the team is wearing fanny packs. … Here's an awesome graphic featuring all tournament teams' mascots fighting for the National Championship trophy (from Vasav Swaminathan). … Long shorts are out and short shorts are in at Michigan (NYT link; thanks, Paul). … Cross-listed from the hockey section: Nevada basketball will play their first round game in Nashville, and the Predators welcomed them with a custom sweater (from Damon Hirschensohn).

Grab Bag: This is really cool: The city of Pittsburgh tweeted a photo of the original color fabric swatch that established black and gold as the city's official colors. Those colors, of course, were later adopted by the city's sports teams (from Jerry Wolper). …Rickie Fowler will wear Arnold Palmer-themed shoes for the Arnold Palmer Invitational this weekend (from Chris Howell). … Ray Hund passes along this old ad that tries to draw families home by watching TV. Four of the six things that "took the family away from home" are sports. … Is the Brannock Device underseeded in this "Mundane Madness" bracket of ordinary and underappreciated items? (From Ryan Friedman.) … The Baltimore Sun has created a bracket for local Maryland beers (from Andrew Cosentino). … That's not all for brackets, especially if you love animals (from Andrew Hoenig). … Nike announced last night that the company's president has resigned amidst reports of improper workplace behavior.