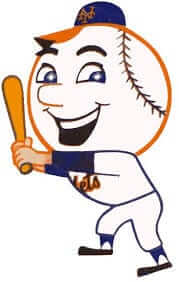 As longtime readers are aware, I've been trying for years to determine the identity of the artist who created Mr. Met — not the live mascot but the cartoon character, who made his debut on the cover of the Mets' 1963 yearbook. That yearbook also included a page introducing the new character, but no artist was credited and the Mets no longer have any idea who created the little fella.
In 2012, I did an ESPN column about a New Jersey artist named Charles Palminteri, who in the early 1960s had created a very Mr. Met-like character for a Rheingold beer ad campaign. Palminteri said Rheingold never used the character, at least not that he was aware of, and he said he had nothing to do with the final version of Mr. Met that debuted in the '63 yearbook. It was unclear whether the artist who created the final version (who, based on further research that I did in 2015, may have been the late cartoonist Al Avison) was inspired by Palminteri's drawings or if both artists just happened to come up with the same basic concept of a baseball-headed character.
Today we have another piece of the puzzle. It comes from reader Dennis D'Agostino, who recently directed me toward something the rest of us had missed. While it's true that Mr. Met debuted on the front cover of the '63 yearbook, he also appeared on the back cover — in a Rheingold ad. Check it out (click to enlarge):
Now let's take a closer look at the bottom of that ad: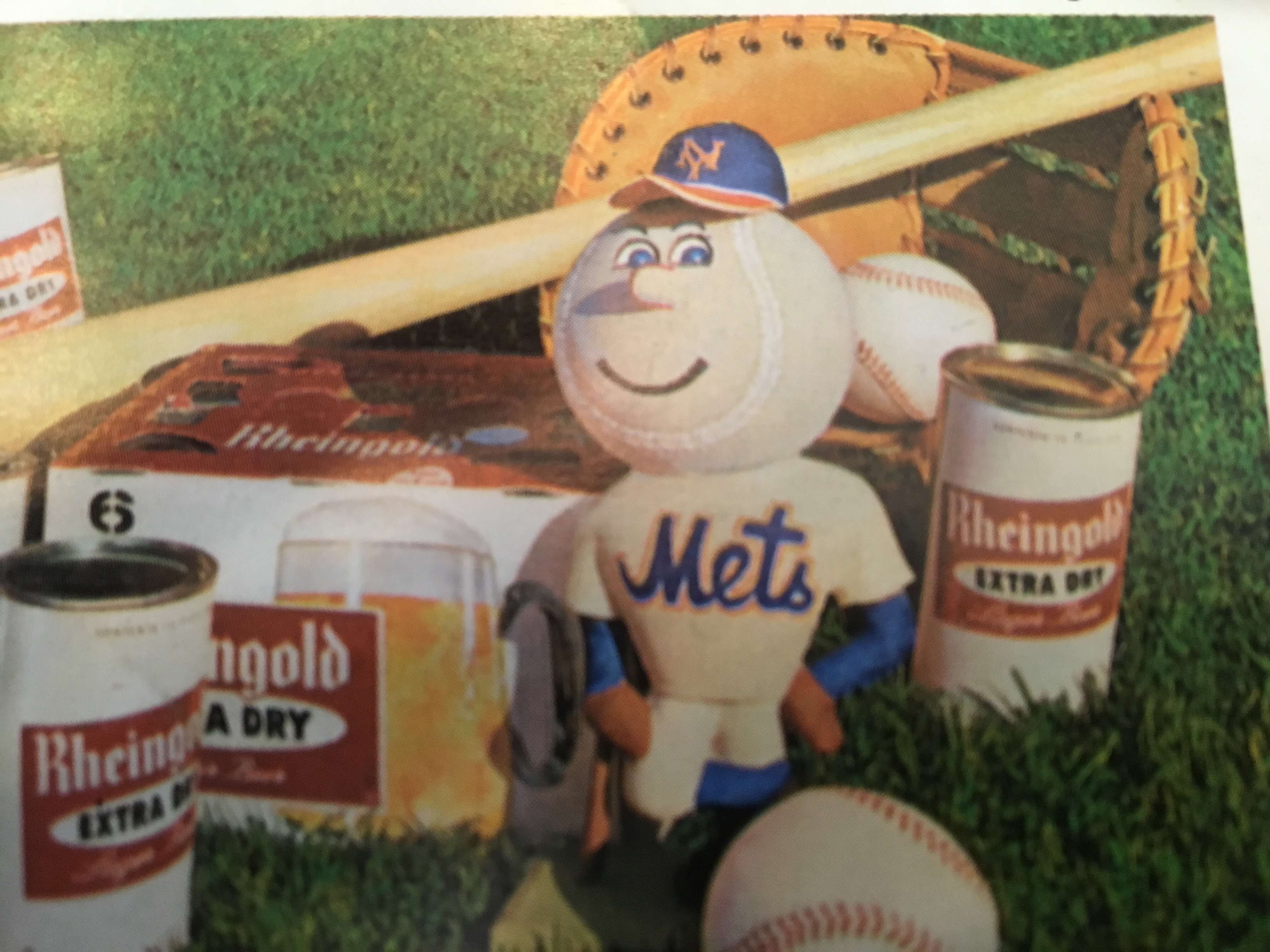 Palminteri is now his mid-80s but is still active in the art and design worlds, so I got in touch with him and showed him the Rheingold ad. He said he'd never seen it before, but he was happy to see that Rheingold apparently made use of his drawings after all.
But does the character in the ad look more like Palminteri's drawings or like the official Mr. Met cartoon? Let's look at all three versions side by side (click to enlarge):
On the one hand, the Rheingold version has an orange-brimmed cap, a non-pinstriped uniform, a broad chest, and (I think) baseball diamoned-shaped pupils, just like the official version of Mr. Met. On the other hand, the Rheingold character has close-set eyes and a slightly goofy face, more like Palminteri's version.
This Rheingold ad discovery still doesn't resolve the question of who drew the final version (although, again, I have strong reason to believe that it may have been the late cartoonist Al Avison). But I think this makes it much less likely that Palminteri and the mystery artist coincidentally came up with the same idea. I now strongly believe that Palminteri's original drawings, which were created for Rheingold, served as the basis for the final version of Mr. Met.
Little by little, we're getting there. Big thanks to Dennis D'Agostino for bringing the Rheingold ad to my attention and adding this piece to the puzzle.
• • • • •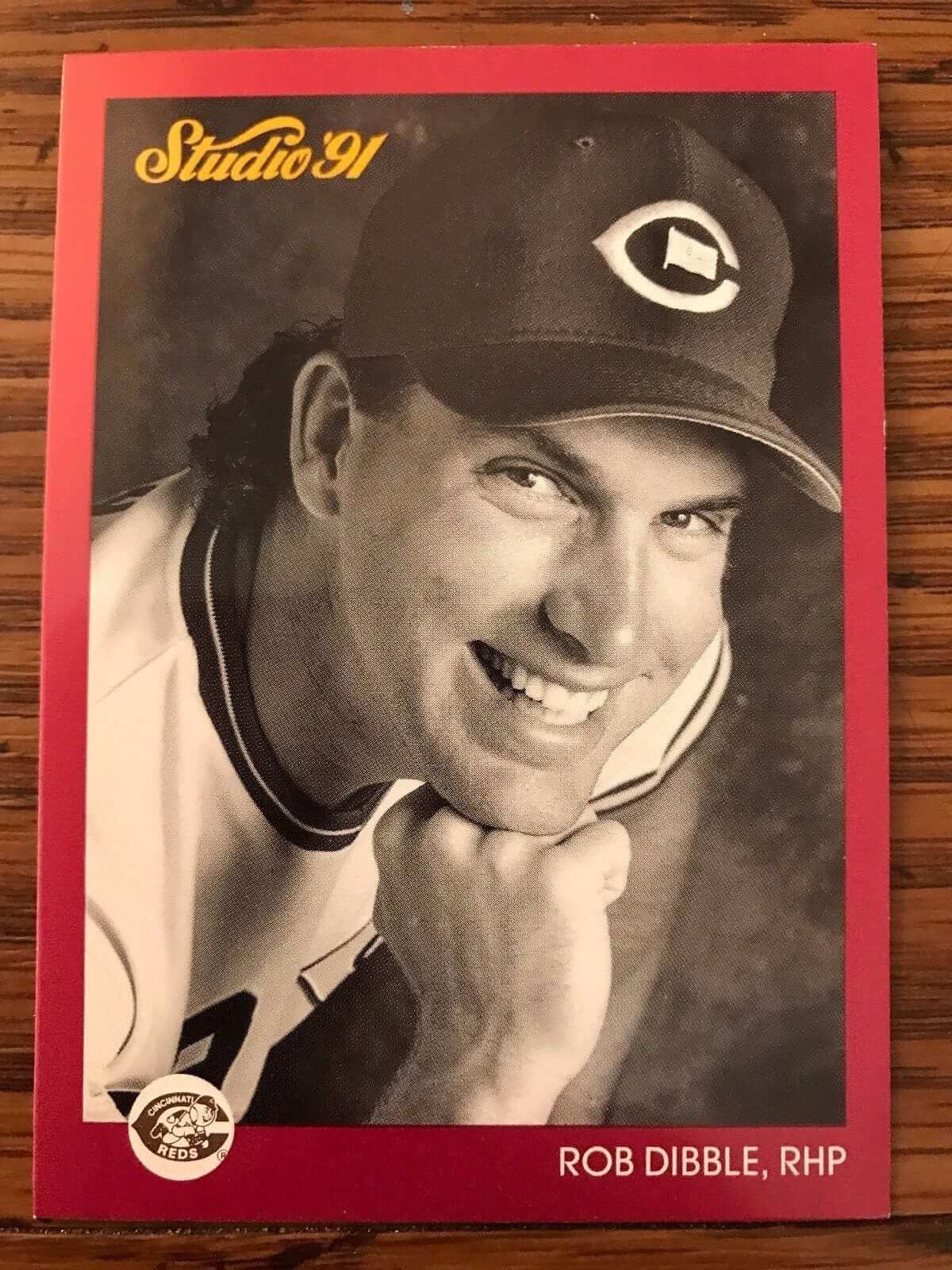 Pin update: We may have a new addition to our roster of MLBers who've worn pins on their uniforms, as Noah Petro spotted the Rob Dibble baseball card shown at right (which you can click to enlarge). It shows Dibble wearing an American flag pin in the exact same spot where Sam McDowell had worn one — in the center of his cap's wishbone-C.
The question, though — at least for me — is whether Dibble ever wore the pin during a game, not just for a baseball card photo shoot. Personally, I don't think he did. Some photo research failed to turn up any pin-clad photos of him. Also, I saw him pitch quite a bit during his career, and I have no memory of the pin, which I would surely have noticed.
So for now I'm putting him in our pinned MLBers gallery, but with a bit of an asterisk. I've reached out to Dibble and will let you know if I learn more.
Update: Just heard back from Dibble. He said he wore the pin in spring training, but not during the regular season. I'd say that's enough to merit inclusion on our pinned roster.
• • • • •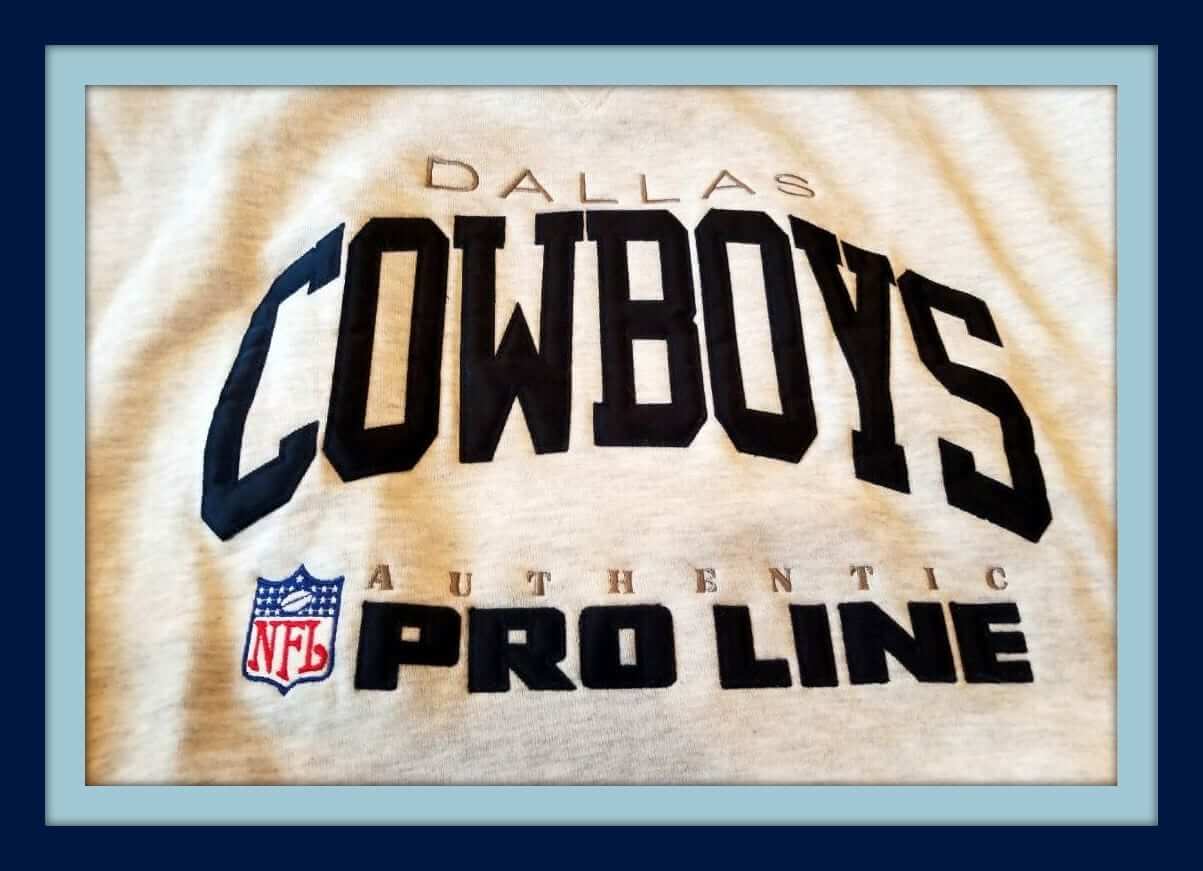 Click to enlarge
Collector's Corner

By Brinke Guthrie
For pure comfort, you couldn't beat Russell Athletic's NFL Pro Line sweatshirts from the 1990s — this one for the Dallas Cowboys. Had one just like this but in navy. That's all embroidered on there, by the way — no screen-printing.
Now for the rest of this week's picks:
• This 1970s bumper sticker proclaimed you were one of Cleveland's CAValry.
• Ack! Check out these great two-bar 1980s NFL helmet stickers from Hallmark. Here's another set just for the 1971 World Champion Colts.
• How about these 1970s baseball, hockey, and football radios! The football one sure looks like Namath, and the hockey one is positively Bobby Clarke. Can't tell who the baseball player might be, can you? Looks like all three of these are in working condition, and in great shape cosmetically.
• This 1970s San Francisco 49ers travel/duffle bag is in great shape, and shows the helmet with a white facemask.
• Here's a 1970s NFL logo ashtray. No teams, just the NFL shield.
• These 1960s NFL "metal coasters" were lids from the tops of Hormel meat tins — including the ill-fated Browns "CB" logo.
• This 1970s Cricket table lighter includes all MLB team logos.
• This wooden footlocker was endorsed by the NFLPA — no official team logos or jerseys on this one. Players include Alworth, Butkus, Page, and Lamonica.
• This 1970s Chicago White Sox thermal mug features Bill Melton, Chuck Tanner, and Wilbur Wood.
• Can't say I've seen one of these before: a T shirt with art from a Topps baseball card wrapper on the front.
• • • • •
New raffle: As we shift into March Madness season, the good folks at 19Nine have generously offered to provide one set of retro shorts and one T-shirt to a lucky Uni Watch reader.
To enter, send an email to the raffle address by this Friday, 7pm Eastern. One entry per person. I'll announce the winner on Monday. Good luck!
• • • • •
Uni Watch Hit Parade: Yesterday I became aware of an absolutely killer track by a South Korean band called Say Sue Me. I'd never heard of them before, and some further investigation reveals that most of their material is a bit more twee than I generally care for, but their new single, "B Lover," is an absolute monster of power pop perfection. I played it five or six times in a row yesterday, and today's forecast calls for more of the same. Dig:
• • • • •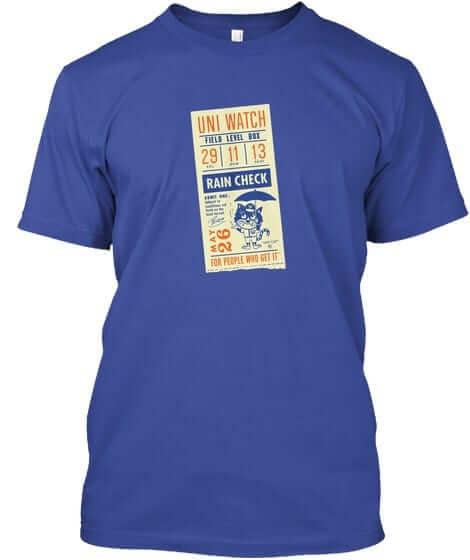 T-shirt reminder: Just a few days left to get our latest limited-edition Uni Watch T-shirt, designed by the great Todd Radom. It comes in a wide range of colors (including deep royal, as shown at right; click to enlarge) and is available from now through this Thursday, March 15. You can order it here. If you want a color or style that isn't shown, get in touch and I can take care of you. My thanks, as always, for your consideration.
• • • • •
The Ticker
By Alex Hider

Baseball News: Angels superstar Mike Trout was hit in the head by a pitch on Sunday, and says he'll try using a face guard on his helmet (from @HatOnHeadWear). … The Astros visited the White House yesterday, and presented President Trump with a No. 17 jersey (from Gregory Zitelli and Justin Zayid). … Oakland Raiders punter Marquette King visited A's camp and wore a Raiders helmet while taking BP (from Ignacio). … Folks are struggling to read the names and numbers on the Cubs spring training unis (from Bob Gassel). … Check out the Petco Park bobblehouse that Jeff Stranger got for his birthday! More on Bobblehouse here. … The Cardinals posted this great video about the woman behind the "birds on bat" logo (from @mrmichael21). … Per our discussion about ripped pants yesterday: It seems not even the Babe himself was immune to torn trousers (from BSmile). … The Rochester Red Wings will wear Star Wars unis on May 4 (from G. Mittelstaedt). … Speaking of the Red Wings, they're suing a local company for making "Rochester Red Beams" apparel (from Matthew Cole). … Frank McGuigan found this Oneonta Tigers baseball while cleaning out his closet the other day. The team was a short-A affiliate for the Tigers based in upstate New York before relocating after the 2009 season. He says he originally found the ball while cleaning out a used ball bin in a Little League clubhouse in New Jersey. … Brad Blunt found this awesome Nashville Sounds polo at a Houston thrift store. … The Cincinnati Bearcats have a new 1950s throwback jersey in honor of Sandy Koufax, who played for the 'Cats for a few seasons. … Stetson Pevear spotted this vintage Alabama baseball jersey at the college's Gorgas House Museum. More on the jersey's owner here.

NFL News: The Titans barely teased their new jerseys in a video yesterday (from Phil). … Cross-listed from the baseball section: Raiders punter Marquette King visited the Oakland A's spring training and took batting practice in a Raiders helmet (from Ignacio). … This photo from a 1959 Giants game featured a player with a backwards helmet number (from Topher Davis and Jason Simpfenderfer). … Brady Phelps shared this photo of a custom-painted Jaguars surfboard. … Free agent QB Case Keenum was at the Houston Rockets game last night and was wearing a T-shirt with a throwback Rockets logo (from Ignacio).

Hockey News: As mentioned in the Ticker yesterday, the Penguins wore St. Paddy's day warmups on Sunday. Interesting that the jock tag on the jerseys identifies them as "authentic game jerseys," considered they weren't worn in a game (from Joseph Pitirri). … We've got a good ol' fashioned nickname fight! Ryan Hartman joined the Predators at the trade deadline. He always went by "Hartsy" with his old team, the Blackhawks — but "Hartsy" was already claimed by the Predators' Scott Hartnell. … The jersey that Alex Ovechkin wore during the Caps' outdoor game earlier this season had three fight straps built into it (from Casey). … This hockey team in Beijing modeled their sweaters and logo after the Minnesota North Stars. Even better? According to Timothy Chiu, the character on the sweater, 北, translates to "north."

NBA News: Bucks PG Brandon Jennings's NOB was riding pretty low last night. Here's Khris Middleton's NOB for comparison (from Marcus Messer). … The Hawks have an in-game promotion where fans get to play against streetball legend Hot Sauce one-on-one. ESPN reporter Darren Rovell gave it a shot while wearing a Domnique Wilkins-era jersey — and era-appropriate shorts length to boot (from Mike Chamernik). .. Remember when the Delaware 87s of the D-League wore SpongeBob uniforms earlier this season? Well, the guy who is playing SpongeBob in a Broadway version of the show got his hands on those unis (from Hit The Glass). … Cross-listed from the NFL section: NFL QB Case Keenum was at the Rockets game last night and was wearing a T-shirt with a throwback Rockets logo (from Ignacio).

College Hoops News: The Washington Post put together shareable GIFs of all 68 mascots from this year's tourney. … The 2004 McDonald's All-America game featured both JR Smith and Josh Smith, so the latter went FNOB during the game (from Glen Brockenbush).

Soccer News: Poland's kits for the World Cup have leaked (from Ed Zelaski). … Here's a list of the top 15 kits in the history of Italy's Serie A (from Jeff Benzos). … Southampton wore special kits with extra red for their match against Newcastle this weekend. The backs of the kits are usually white (from Alex Evans).

Grab Bag: It looks like the Ohio Machine of Major League Lacrosse will have new jerseys this season (from John Flory). … The Toronto Rock of the National Lacrosse League wore 20th anniversary unis on Saturday, including red helmets (from Wade Heidt). … The United States Patent and Trademark Office unveiled a new patent grant design cover at SXSW over the weekend (from Adam Herbst). … It's March, so you know what that means: bracket season! Here's a "Great American Sandwich Showdown" bracket (from James Gilbert). … Yesterday's Google Doodle was dedicated to William Henry Perkin, a chemist who discovered the first synthetic dye. The dye's color? Purple. Sorry, Paul (also from James Gilbert).