By Phil Hecken
Follow @PhilHecken

A couple weeks ago I featured colorizer Matt Olbert who is one of several great colorizers out there (a few of whom I've featured on this blog). There are a couple of other fantastic artists out there as well, and the gentleman you are about to meet today, Mark Truelove, is one of them (I'd actually used one of Mark's colorizations earlier this year in a section about football played in baseball stadia). I'd been meaning to feature Mark fully on here, and today's the day you'll get a taste of the man's immense talent.
We'll start with a quick Q&A and then let's take a look at some of the wonderful colorizations Mark has done.
• • •
Uni Watch: OK, standard question first — are you a Uni Watch follower (and if so, for how long?) and what first brought you to the blog?
Mark Truelove: I came across Uni Watch a few years back when I started colorizing baseball photos. It turned up in a lot of my internet research and I loved a lot of the old B/W photos that were posted there along with the insight into them.
UW: How old are you and where are you from?
MT: I am 47, originally from England but I have lived in British Columbia, Canada for the past 16 years
UW: As readers know, I've always loved colorizations, and featured many (including at least one by you so far — in conjunction with Ronnie Bolton) on the blog. How long have you been doing them?
MT: I have been colorizing for 5 years and I have been doing baseball photos for about 2 years
UW: Your colorizations are really sharp — I'm guessing you use Photoshop for these? If not, what other program(s) do you use?
MT: Yes, they are all done in Photoshop.
UW: What attracted you to colorizations?
MT: I have always loved history and I was investigating my own family history when I saw a colorized photo someone had done online. I had lots of B/W photos of my family and I wanted to see them in color. So, I started researching how to colorize and then did all my family photos.
UW: Your twitter handle is @BaseballInColor, so obviously you specialize in that. I know you've done other sports (I ran at least one football colorization you'd done). Do you also colorize non-sports photos?
MT: Most of my paid work is non-baseball related. With the 100 year anniversary of the end of WW1 coming up, I have been doing quite a few projects involving the colorization of WW1 photos with a book coming out later in the year. I also colorize lots of vintage Canadian photos covering all sorts of topics (@canadiancolour)
UW: What's been the most difficult or challenging photo?
MT: The toughest baseball photo has been the outside shot of Shibe Park due to the number of people in the photo [We'll see that below, in a sec — PH]. Trying to get enough color variety into the crowd was challenging.
UW: Earlier this week, Joe Pines posted a great black and white photo of the New York Giants in spring training and I challenged colorizers to tackle it. You did, and quickly! How long does something like this take? What photo has taken you the longest?
I had some free time over lunch so here ya go… pic.twitter.com/oWy9W1Vm1P

— BaseballInColor (@BaseballInColor) March 7, 2018
MT: The NY Giants in spring training took about 45 mins. It was a simple photo with a straightforward background. The outside shot Shibe Park took the longest to do – probably about 8 hours work in all spread over a few evenings.
UW: How long did it take you to "learn" to colorize — and is it self-taught, or did you take any classes or have teaching/tutoring?
MT: I am mainly self taught but I often scour the web for new techniques/painting tutorials. Coming from a science background I have often needed to look up various artistic concepts and techniques. You can learn the basics of colorizing in under an hour. To get better at it can take a while…after 5 years I am still learning, developing new skills, and looking at photos in a different way. That is one of the reasons I like to colorize – each photo can require a different technique and is a chance to learn something new whether it be a new way of doing something or a new bit of history. I am pleased with how my crowd colorizing has been developing recently.
UW: Where can we see more of your work? Do you have a website or blog? We can obviously follow you on twitter @BaseballInColor, but do you have any other social media presence(s)?
MT: I have a Facebook account and for my non-sports/Canadian photos twitter: @canadiancolour, Facebook or www.canadiancolour.ca
UW: Great and thanks, Mark! OK, let's see a sampling of your work with some descriptions.
• • •
For all photos below you can click to enlarge. I'll include the single colorized image inline, with a link to the "before/after" images so you can see the tremendous amount of work that Mark puts into each of these.
+++++++++++++++
Title: "Harvard" Eddie Grant, NY Giants, 1913
Source: Library of Congress
Eddie was one of eight MLB players to die in WW1. I've done a lot of WW1 photos for another project so it was nice to tie two aspects of my colourizations together.
Click here for the before/after.
+++++++++++++++
Title: Walter Johnson signing a baseball for some young fans c.1940
Source: Library of Congress
What a great day this must have been for the kids to meet such a star! I thought this was a great photo that captures a wonderful moment.
Click here for the before/after.
+++++++++++++++
Title: Babe Ruth unconscious after he ran into a wall at Griffith Stadium, while trying to catch a foul ball – Jul 5 1924
Source: Library of Congress
Again a great crowd shot with lots of nice details, for some reason I am really happy with how the soda bottles turned out!
Click here for the before/after.
+++++++++++++++
Title: Graham McNamee of W.E.A.E broadcasting World Series, 10/5/24
Source: Library of Congress
I love photos of crowds, reporters, photographers — the people surrounding the game.
Click here for the before/after.
+++++++++++++++
Title: Philadelphia Athletics dugout prior to start of Game 1 of 1914 World Series at Shibe Park, Oct 9
Source: Library of Congress
An awesome shot of the A's lounging around in their dugout. Loved the coats and the crowd assembling in the background.
Click here for the before/after.
+++++++++++++++
Title: Shibe Park – Game 1 of the 1914 World Series
Source: Library of Congress
I thought this would take way too long to color but I could just imagine the excitement of the crowd and the atmosphere there so I did this one over a few of evenings.
Click here for the before/after.
+++++++++++++++
Title: Game 4 of the 1903 World Series between the Pittsburg(h) Pirates and the Boston Americans. October 6, 1903, Exposition Park
Source: Boston Public Library
Even in black and white it looks like you are right there in the crowd. The background crowds were a challenge but rewarding to do.
Click here for the before/after.
+++++++++++++++
Title: Ty Cobb, Detroit Tigers, c. 1914
Source: Library of Congress
A great shot of Ty Cobb in front of the dugout with the crowd behind watching him. It would have been great to be there and to watch him play.
Click here for the before/after.
• • • • •
Wow! Thank you so much Mark. These are tremendous. I'm sure we'll be seeing more of your terrific work on Uni Watch in the future.
Well readers? What do you think?
.

.

Kreindler's Korner
I had the distinct pleasure of featuring the wonderful artwork of artist Graig Kriendler on two occasions over the summer and fall of 2017.
For those who don't wish to click the links, Graig paints baseball heroes (and regular guys) from the past, and is an immense talent.
Occasionally, I will be featuring his work on Uni Watch.
Here's today's offering (click to enlarge):
• • •
Title: "The $20,000 Roomate"
Subject: Ernie Banks, September, 1953
Medium: Oil on linen
Size: 18″ x 24″

This classic image of Ernie has always appealed to me for a number of reasons. One of the main reasons being that great zipper-front Cubs jersey. Though the pinstriped version of the late '50s became de rigueur, there's something about the previous designs that have always seemed extra cool to me. Maybe it has something to do with the fact that Banks started his career in them? Either way, mixed with that classic Cubby blue, you can't go wrong. Also worthy of note, Banks' gold tooth! I don't think he had it for too long after coming up to Chicago.
• • •
Thanks, Graig! You can (and should!) follow Graig on Twitter.
.

.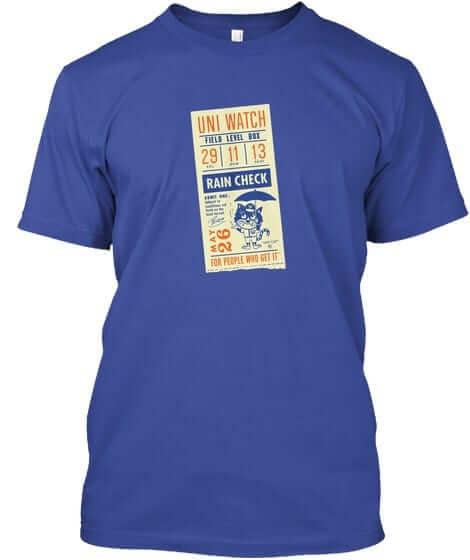 And now a few words from Paul: Hi there. Here are a few reminders:
• In case you missed it on Friday, I had a(nother) major announcement about Uni Watch's future.
• Our latest limited-edition Uni Watch T-shirt, designed by the great Todd Radom, is now available. It comes in a wide range of colors (including deep royal, as shown at right; click to enlarge) and is available from now through next Thursday, March 15. You can order it here. If you want a color that isn't shown, get in touch and I can take care of you. My thanks, as always, for your consideration.
• I had two ESPN columns this past week — one with the results of the Jags redesign contest and another about notable uniforms in Big East hoops history. Enjoy.
We now return you to your regularly scheduled Phil-'er-up!
.

.
Uni Watch News Ticker
By Phil

Baseball News: Whoa — check out this DC Comic from 1992 featuring the Wizard of Oz (aka Ozzie Smith) on the cover! (from Team Brown Apparel). Looks like Tony the Tiger is out there too. … "Sinatra's drinking team patch" read the title of the e-mail from William Yurasko. Inside it read, "Francis Albert with Lasorda in 1977. That patch on Sinatra's jacket needs to be resurrected (responsibly)." Here's a look at that drinking patch at full size. … Normally we love it when players go high cuffed. However, we may have to make an exception in Hunter Pence's case, who at least is a bit self-deprecating in this regard (from Jenks McGee). Pirates fans may not want to click on this link. … Check out the beautiful sweater being worn by Pete Alexander — circa 1911, on the Phillies (from Bruce Menard). It didn't take long for Chris Whitehouse (a/k/a ManCave Pictures) to colorize this gem. … In Astros camp, several players were wearing these shirts yesterday. They read: "Back to Back 2018: A Crush City Film" (from Eric Olson). … After his famous stint w/ Durham, helping to cultivate Nuke Laloosh, Crash Davis was released by the Bulls. He signs and ends the season w/ the @GoTourists and breaks the MiLB HR record before retiring. 6/16 the Tourists celebrate Crash w/ these throwback jerseys (from MiLB Promos). … Francisco Lindor's jersey did not make it to Peoria, but he found a nice replacement in time for the game. He wore No. 69 (h/t Mike Chamernik and Cleveland Rocks). … This season the East Marietta National Little League celebrates the 35th Anniversary of the 1983 World Series Championship team with commemorative shoulder patch and "SOUTH" jerseys for all of this season's teams (from Richard Musterer). … There were some gaffes at Steinbrenner Field yesterday. First the lineups shown on scoreboard were from the end of the Yankees game on Wednesday vs PHI. Then Mets 3B Coach Glenn Sherlock's MLB logo on his pants was falling off (from @UntillTheNight). … Northwestern debuted some new white tops for their home opener yesterday (from #B1GCats Baseball). … Another MLB Pin? "Seeing the feature on Cam Miller's work on Uni Watch (yester)day reminded me to send in a photo from a tweet of his I saw recently," says Joanna Zweip. "It features a Reds player wearing what may be a pin on his cap. A nice intersection of 2 recent Uni Watch features–Cam Miller and MLBers wearing pins!"

NFL News: At Ocean Sun Casino in Panama City, there's a poster advertising an NFL package while showcasing an Ohio State Nike pro-combat jersey (good spot by Colin Dilworth). … Check this out — a sideline judge (?) appears to be holding a different sort of down and distance marker: Submitter Ray Hund says, "Love the 'Drive Started' (with an arrow pointing to the exact spot) sideline marker."

College Football News: "I decided to purchase a rain check t-shirt, which reminded me of some 1957 Wisconsin Badgers football tickets I found curbside while working for a municipality just outside of Green Bay (I work for the Village of Allouez Street department)," says Kurt Rozek. "The graphics on the tickets are super cool, although I think they'd be considered politically incorrect these days. I had them framed along with a 1957 Badgers program a few years ago." … The Iowa Hawkeyes will be the first football team in the United States to wear brand new helmets designed to properly absorb impact. They are made by Riddell. … I'm just gonna leave this here (from Paul Friedmann).

Hockey News: Check this out: The FBI using last years Predators jersey & Secret Service has a Kings template for a charity hockey game (from Lee Wilds). And here are more pictures of the uniforms at last night's FBI-Secret Service game at the Washington Capitals practice facility in Arlington, VA: FBI and Secret Service (from David Raglin). … Every minor league hockey team seems to be sporting "Don Cherry tribute" jerseys these days. The latest was the Victoria Royals, who wore those on Friday night. … "I saw the Flaming Lips last night in Asheville, NC," writes our pal Michael Princip. "Bass player Michael Ivins was wearing a Carolina Hurricanes alt jersey." … The WHL Moose Jaw Warriors wore special jerseys and a goalie mask for "Snowbirds Night" — Wade Heidt notes this year's jersey pays tribute to the Moose Jaw-based Snowbirds, also known as the Royal Canadian Air Force 431 Air Demonstration Squadron. They also pay tribute to Canada's World Junior team that won gold at the 2018 IIHF World Juniors. You can read more here. … Reader Will Scheibler saw the posting of a Winnipeg Blue Bomber sweater in yesterday's ticker. He says, "I picked up a couple Winnipeg hand-knit sweaters in later 2017 at a local thrift store. Winnipeg Jets and Winnipeg Blue Bombers. … The Ohio State women's team stacks the back helmet numbers. Submitter Patrick Thomas says, "I've never seen that done before. Also pictures are some pretty not great uniforms."

NBA News: The great Donovan Moore from ColorWerx asks, "Not sure if already covered, but apparently the NBA has altered their Conference logos to wordmarks (to reflect the current overall branding)."

College Hoops News: Yesterday, there was a confusing uniform-scoreboard situation in Vermont vs UMBC. Vermont wearing yellow but UMBC the yellow scoreboard (from Kyle Lubitz). … Providence Coach Ed Cooley ripped his pants during the Villanova game and turned into a basketball coaching MacGyver (from Jim Vilkanova). … I don't know much, but I'm pretty sure this isn't the Georgia Flag emoji they're looking for here (from Jared Law).

Soccer News: Southampton's primary kit is white and red on the back but it was all red yesterday to avoid clashing with Newcastle's white and black. Also red socks and shorts were worn (from @brianspeaksnow). …Timothy Weah made his debut yesterday for PSG (Paris Saint Germain), but apparently he doesn't get a name on his shirt (from Ed Żelaski). … It was Christmas in March yesterday as the New York/New Jersey Red Bulls and Portland Timbers played a color rash green vs. red game (from ajb).

Grab Bag: Paul's favorite non-sports piece of equipment (maybe even his most favorite device ever), the Brannock Device — soon to be featured on the uniform of (or in a promotion by) a minor league baseball team — has been spotted in the wild in the famous Atlanta Bar, Vortex! (from Kyle Caffrey). … This poster of the Leroux's Wonderful Bicycle Monkeys is, well, wonderful. Submitter Mike Rosenberg notes, "It may only be tangentially related to sports but I just hope you all get as much enjoyment out of this poster as I do." … Here's a closeup of the Port Adelaide guernsey showing the ad, league and maker branding along with the team badge (from James G.). This is Port Adelaide Power in an alternate. It's basically grey for grey's sake since the team colors are black, teal and white. "Good show of the ads all over foreign sports league unis & what could happen to US leagues," he adds. … The Parkland, FL, Stoneman Douglas lacrosse team's helmets include the names and photos of the recent 17 shooting victims. Here's more on that. … Packers (Grambling/Georgia) "G" in the TV show Batman? Holy Schnikey! Eagle Eyed Alan Kreit spotted this on a police car as the Caped Crusader looks on.
.

.