Here's New Boston being introduced … in Ohio uniforms? Due to a mixup, the Tigers are wearing Bobcats jerseys in the game. Both New Boston and South Webster brought white jerseys to The Convo. An interesting sight! (Love the handshakes in the intro!) pic.twitter.com/oSwJUmhgvI

— Ben Spicer (@BSpicerTV) March 4, 2018
Bizarre scene last night in Ohio, where the state's Division IV basketball tournament was being played. Due to a miscommunication, two schools that were scheduled to play each other — New Boston and South Webster — both showed up with their white uniforms. Since the tournament is being played at Ohio University's arena, the decision was made to have New Boston swap out their white jerseys for Ohio U.'s black ones. The video embedded above shows the New Boston squad being introduced prior to the game. (As a bonus, New Boston's team is called the Tigers, and Ohio is the bobcats, so there was a feline connection.)
If you look closely at the video on full-screen, it appears that the Ohio jerseys all have a Russell Athletic maker's mark, which means they're from last season. Ohio has switched to Adidas this year. Interesting that they had the old jerseys lying around. (New Boston's uniforms are made by Nike, so the jerseys and shorts had mismatched logo creep in addition to mismatched colors.)
In addition to the mismatched jerseys and shorts, most of the Ohio jerseys had NOBs, so the New Boston players were wearing the Ohio players' names on their backs. In this next photo, for example, you can see one of the New Boston kids wearing the jersey of Ohio forward Sam Frayer, and another one wearing the jersey of Ohio guard Mike Laster. It's worth noting that Frayer is 6'8″, 240 pounds, and Laster is 6'5″, 200 pounds, so their jerseys were a bit big on the New Boston kids (click to enlarge):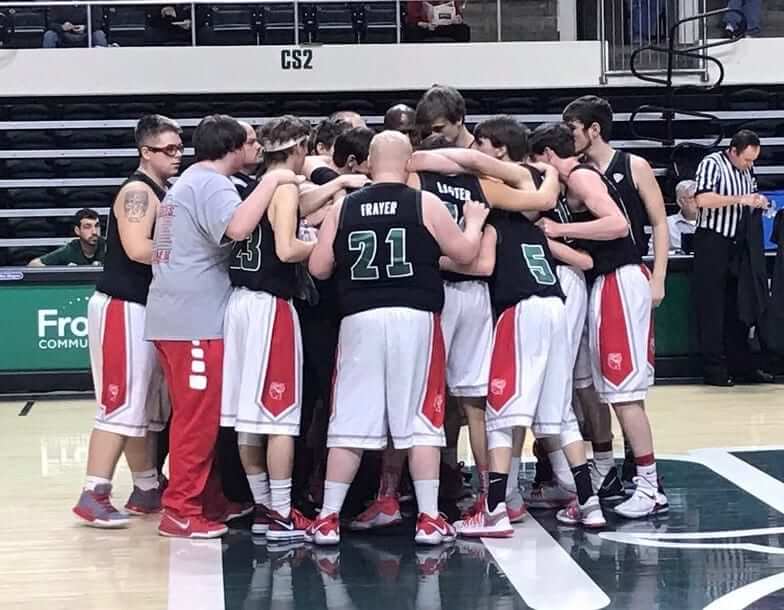 Since the jerseys were from last year, some of them were for Ohio players who are no longer active. Here, for example, is a kid wearing the jersey of former Ohio forward Kenny Kaminski, who graduated last year and reportedly went off to play pro ball in Spain (click to enlarge):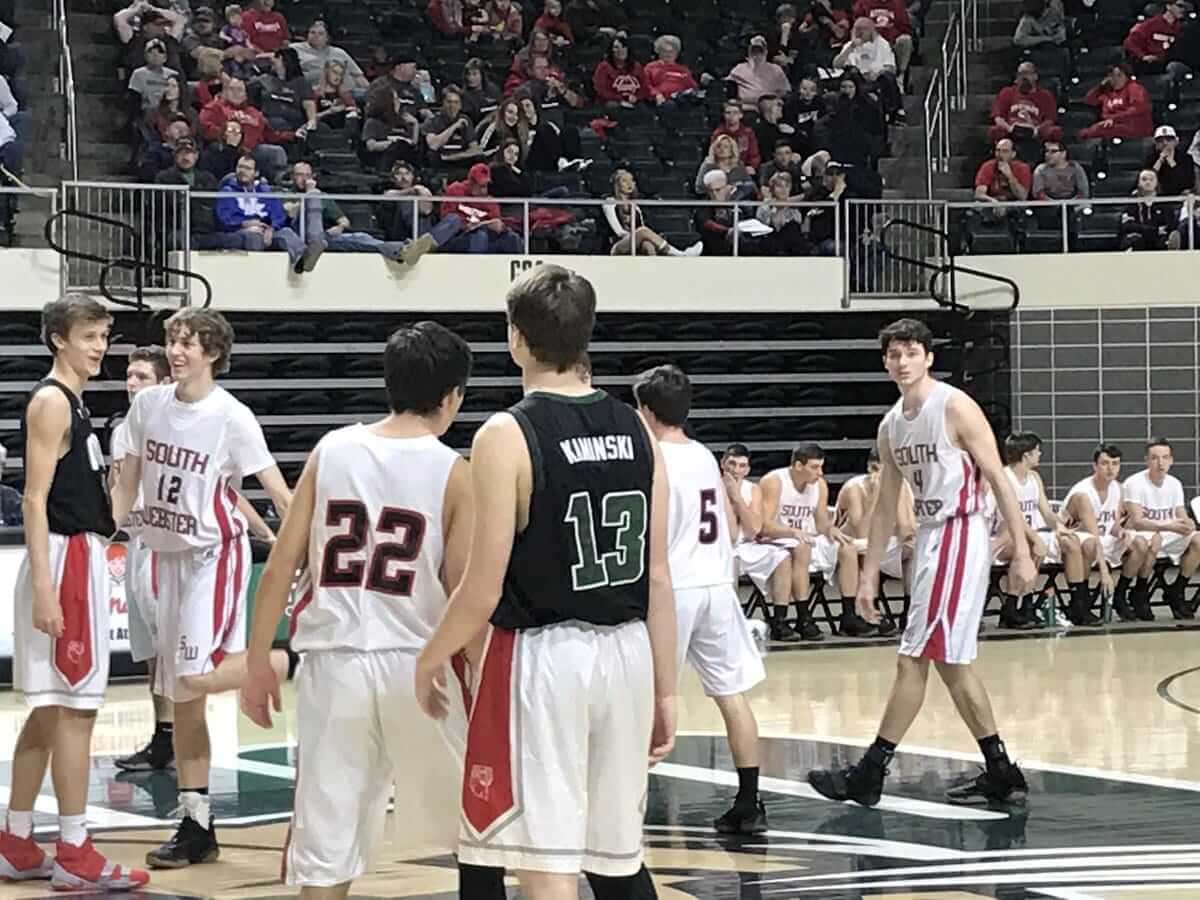 Obviously, the mix-up could have been avoided with some basic due diligence and preparation, but I love it when this type of thing happens. It makes for a good story, and it was probably a thrill for these kids to wear college uniforms, even if only for one game. Most of them will never play D-1 ball, so this may be as close as they ever get. (Insert obligatory Russell Athletic joke here.) Seriously, good for them.
One final note: The opposing team, South Webster, is called the Jeeps. I mentioned them in my recent piece about Lou Gehrig's Jeep pin. Unfortunately, as you can see in that last photo, their uniforms do not include either the word "Jeeps" or a depiction of a jeep. Dang.
(Video by Ben Spicer; still photos by Lukas Moore; my thanks to Jake Young and our own Alex Hider for letting me know about it.)
• • • • •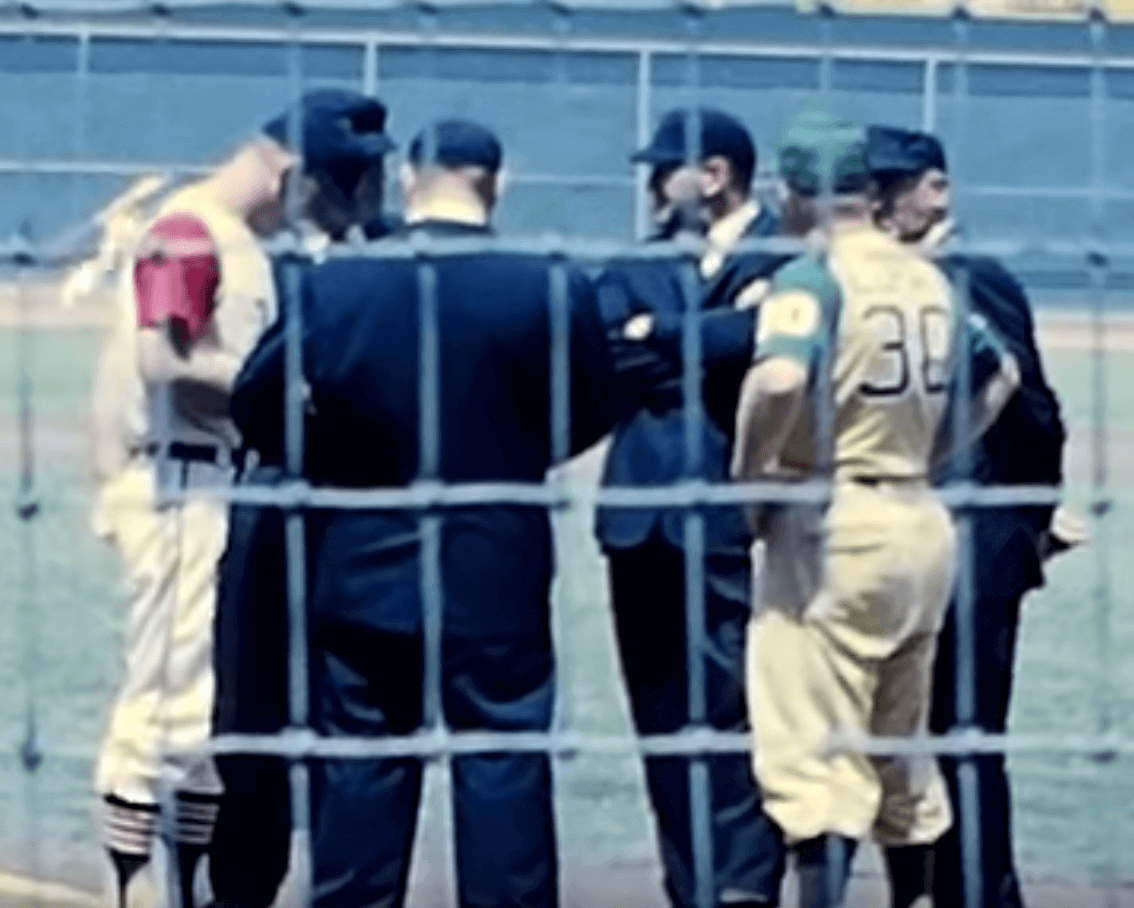 A's/Indians update: In Friday's post about some 1963 home movie footage, I mentioned that it looked like the Indians may have been wearing their white home uniforms, rather than their road greys, for a game in Kansas City (or maybe it just looked that way because of the lighting, and/or because of the limitations of home movie film, etc.).
Now we have some new info from reader Jim Wagner, who checked in with the following:
I sent Friday's entry to my dad, who grew up in Kansas City rooting for the Athletics. I wanted to pass along his response, which might help clear up the white-or-grey mystery:

"Thanks, that did bring back memories. The Indians were wearing their home uniforms. With no interleague play, teams came for more than one series each year. The A's would invite the visitors to wear their home uniforms for one of the series. They did this for a couple of years."
Faaaascinating. I've never heard that before. If it's true, then there are presumably photos out there showing other visiting teams wearing white in KC in 1963 or '64. Let's see if we can find any!
Meanwhile, speaking of the '63 A's, for several years I've been linking to this newspaper clipping showing some of the team's nickNOBs and FiNOBs. Now reader Bob Gassel has provided a much cleaner version of the photo: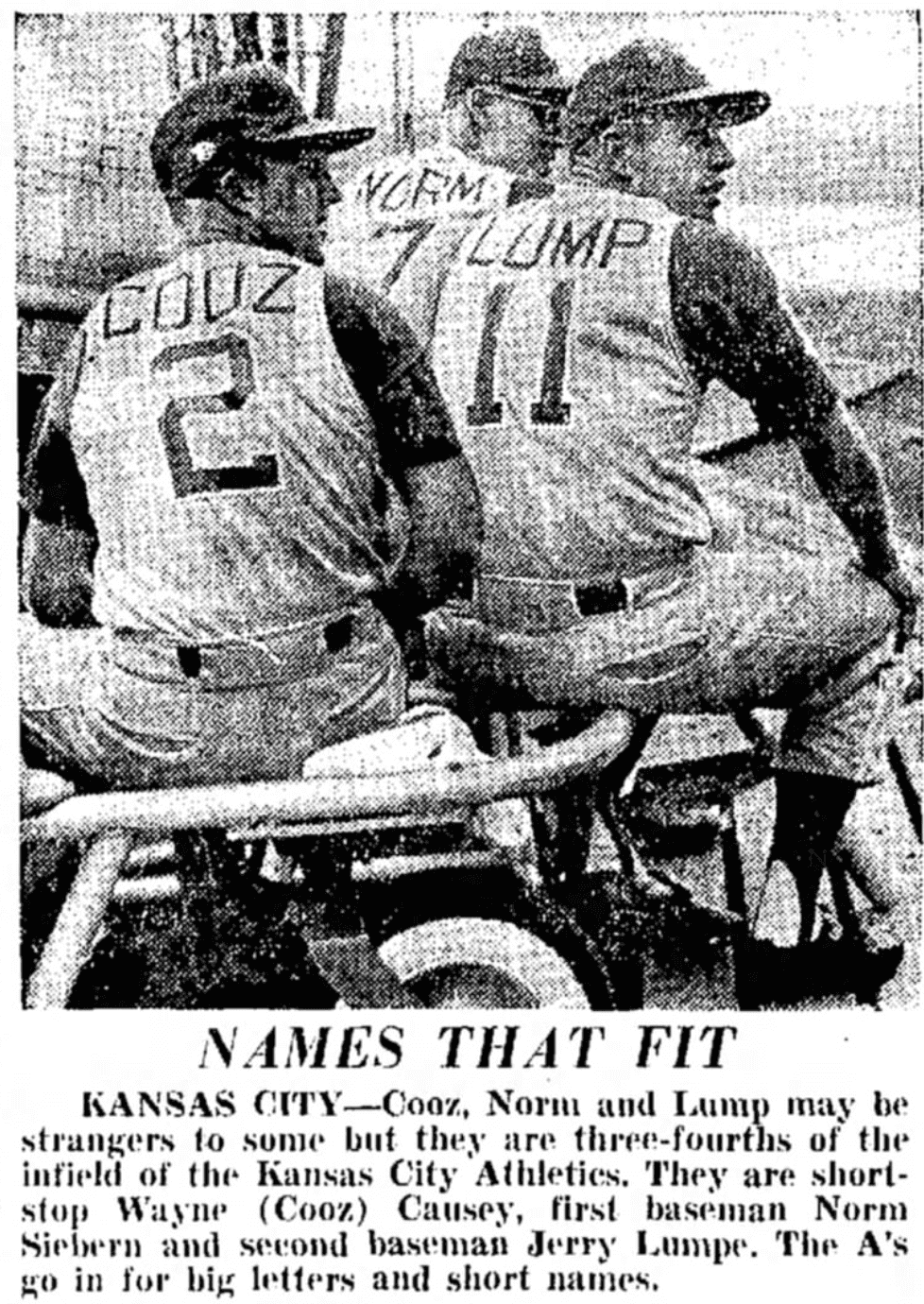 • • • • •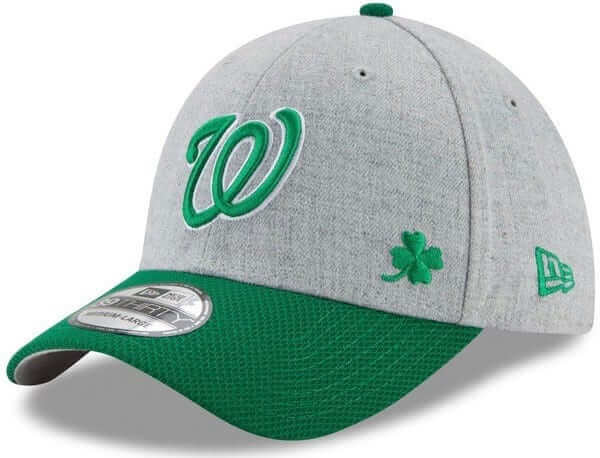 Clover watch: Reader Bryan Martin Firvida notes that a lot of MLB's St. Patrick's Day merch from New Era (shown at right) and Under Armour is saddled with a common but important error:
They used a four-leaf clover in their designs (a general symbol of good luck and has nothing to do with Ireland) instead of the three-leaf shamrock, which is a symbol of Ireland because St. Patrick, Ireland's patron saint, is said to have used the shamrock to explain the Holy Trinity.

It would be great if these big companies spent a little more time learning and researching instead of just kicking out anything green and calling it "Irish."
For the record, the on-field caps that will be worn for spring training games on March 17 have the proper three-leaf symbol.
• • • • •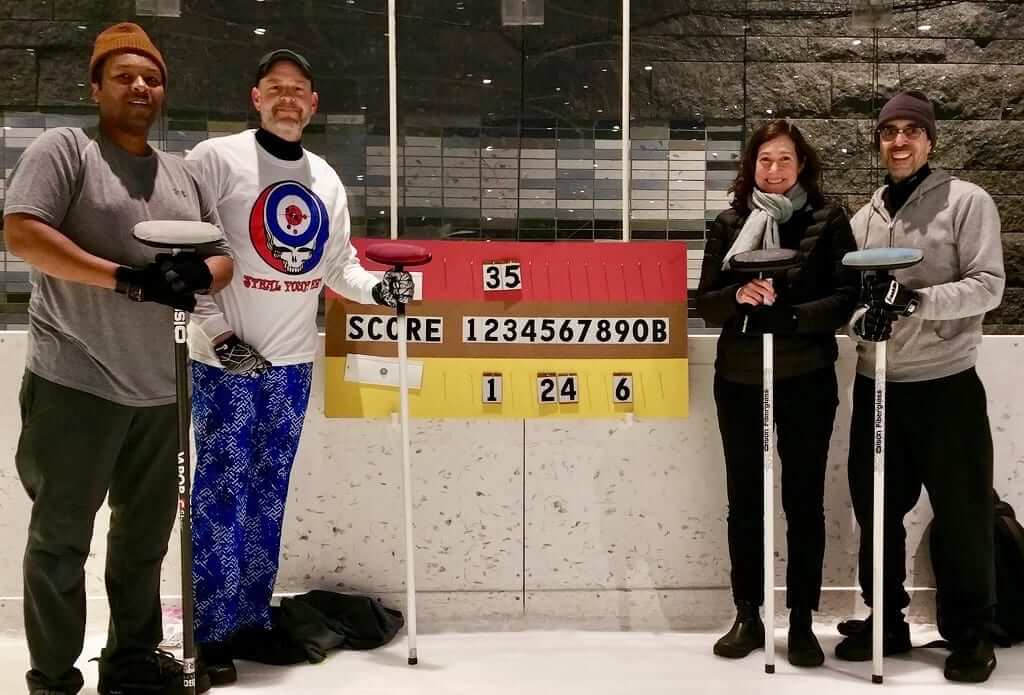 Curling update: My curling season ended in January, but Phil's team needed a sub last night, so I stepped in. As is often the case, Phil wore some eye-catching pants, but this time they were overshadowed by his shirt. Here's a closer look: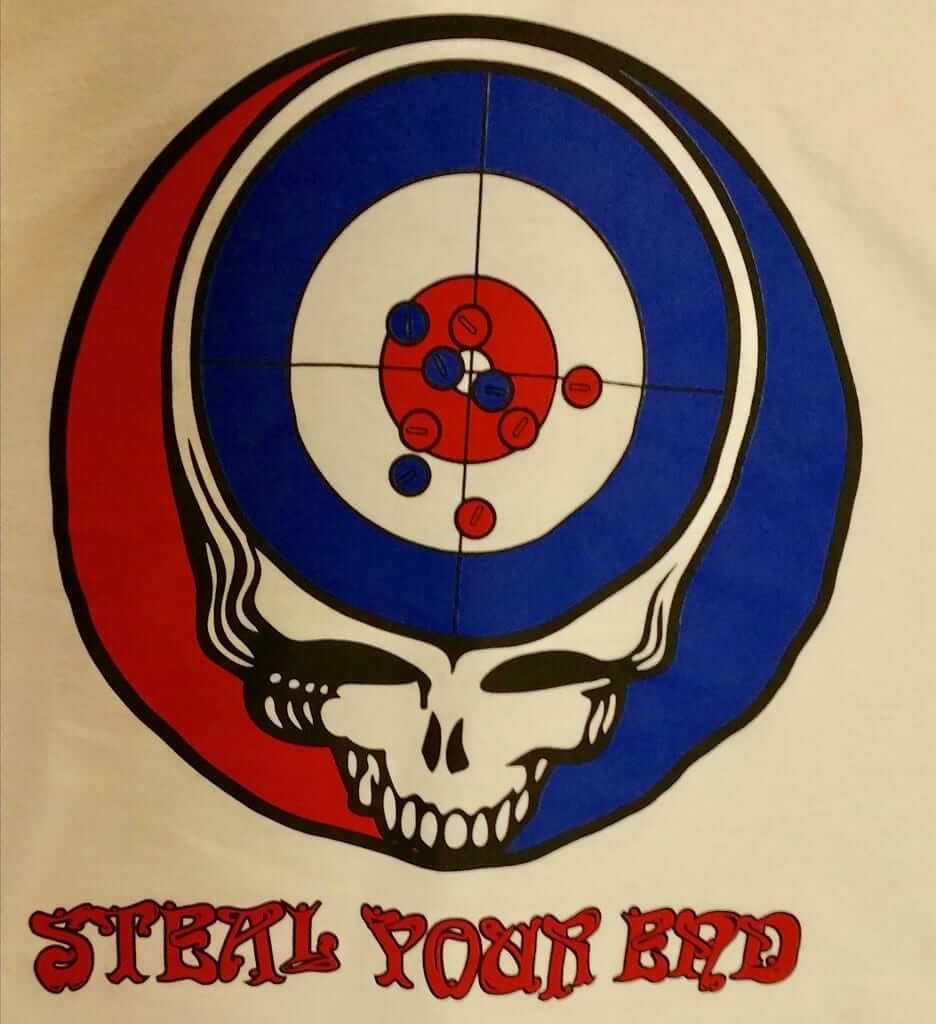 That's a reference, of course, to this Grateful Dead album (and to the curling move of "stealing" an end by scoring points despite not having hammer). I'm not sure how many Deadheads besides Phil are into curling, but it's still a cool design!
• • • • •
NBA Uni Tracking: Collin Wright's usual Monday report on the latest NBA uni tracking numbers has been delayed. We should have it tomorrow. Thanks for your patience.
• • • • •
The Ticker
By Jamie Rathjen

Baseball News: New pinstriped uniforms for Florida (from @ChristophersZen). … Southeastern Louisiana wore camouflage yesterday against LSU (from Trevor Wilson Patton). … ESPN anchor Chris Berman was an honorary manager for the Giants yesterday and wore No. 83 in honor of his late wife (thanks, Brinke). … New logo, colors, and uniforms for Korean team Lotte Giants (from Dan Kurtz).

Hockey News: The Moncton Wildcats (QMJHL) threw back to the AHL's Moncton Hawks, who played in the city from 1987-94 (from Wade Heidt). If the logo and jerseys look kind of familiar, the team was indeed an affiliate of the Jets for its entire existence. More video here. … The podcast Super 70s Sports recently did an interview with Peter Good, the designer of the Whalers logo (from K.C. Kless). … A Calgary boy who was spotted wearing a makeshift DIY Flames jersey was given a real jersey after a photo of him began circulating on social media (from Ted Arnold).

Basketball News: Color-on-color between Cincinnati and Wichita State (thanks, Alex). … Alabama F Donta Hall wears mismatched shoes (from Mike Barnes). … Scotland's team for the upcoming Commonwealth Games played a blue-on-blue game against British Basketball League team Glasgow Rocks. The Scotland number font is borrowed from that formerly used in the country's soccer leagues.

Soccer News: German team 1. FC Köln have worn a total of seven different kits this season. Kits four through seven are a special shirt for Europa League games, a throwback, a black/neon/neon combo featuring last season's third shirt, and a second black kit last week, the latter two because of color clashes that couldn't otherwise be solved. … Mexican teams have a practice of giving their youth team players three-digit numbers that, as we can see, don't fit on the substitutes board (from @g_malcs). The practice starts with a range of 281-305 or so for under-20 teams, as with Club América midfielder Aldo Cruz here, while lower age groups wear numbers in the 300s and 400s. … New York City FC striker David Villa honored Spanish striker Quini, who passed away last week, before the team's game in Kansas City (from @BandaBear15). Quini played in his homeland for Sporting Gijón and Barcelona from 1968 to 1987. … Cross-posted from basketball: The number font used in Scotland until the end of the 2014-15 season is currently worn by the country's basketball team.

Grab Bag: UK bookmaker Ladbrokes says it may have to cut the amount it spends as a naming-rights advertiser if the country's government limits how much can be bet on betting machines. … Two Australian Football League items from @TheBigJamesG: There was a color-on-color preseason game between Gold Coast (in red) and Geelong. That's referring to their shorts: AFL teams tend to wear colored shorts at home and white away, with a change of guernsey as third choice. In the same game, Geelong wore sleeved guernseys, rather than sleeveless. … Staying in the Gold Coast, with the Commonwealth Games to be held there next month, South Africa unveiled field hockey uniforms and other athletes' gear for the competition. … The NLL's Colorado Mammoth became the the latest team in the state to wear state flag-colored uniforms (from Wade Heidt). … Among the Americans at last week's track cycling world championships in the Dutch city of Apeldoorn, Chloé Dygert appeared to have Red Bull as an individual helmet advertiser, which set her apart from the rest of the women's team pursuit team.