Judging by a tweet that was issued yesterday, the Titans will apparently be revealing their new uniforms on April 4. We already knew that the unveiling would be in April, but I had assumed it would be timed to coincide with the NFL draft, which begins on April 26, so the early-April date is a surprise, at least to me.
The Jaguars have also said that their unveiling will take place in April, and I had once again assumed that this was code for "at the draft." But hey, maybe not.
Speaking of the Jags, today is the final day to enter our Jaguars-redesign contest. Entries are due at 7pm Eastern tonight. Full details here.
• • • • •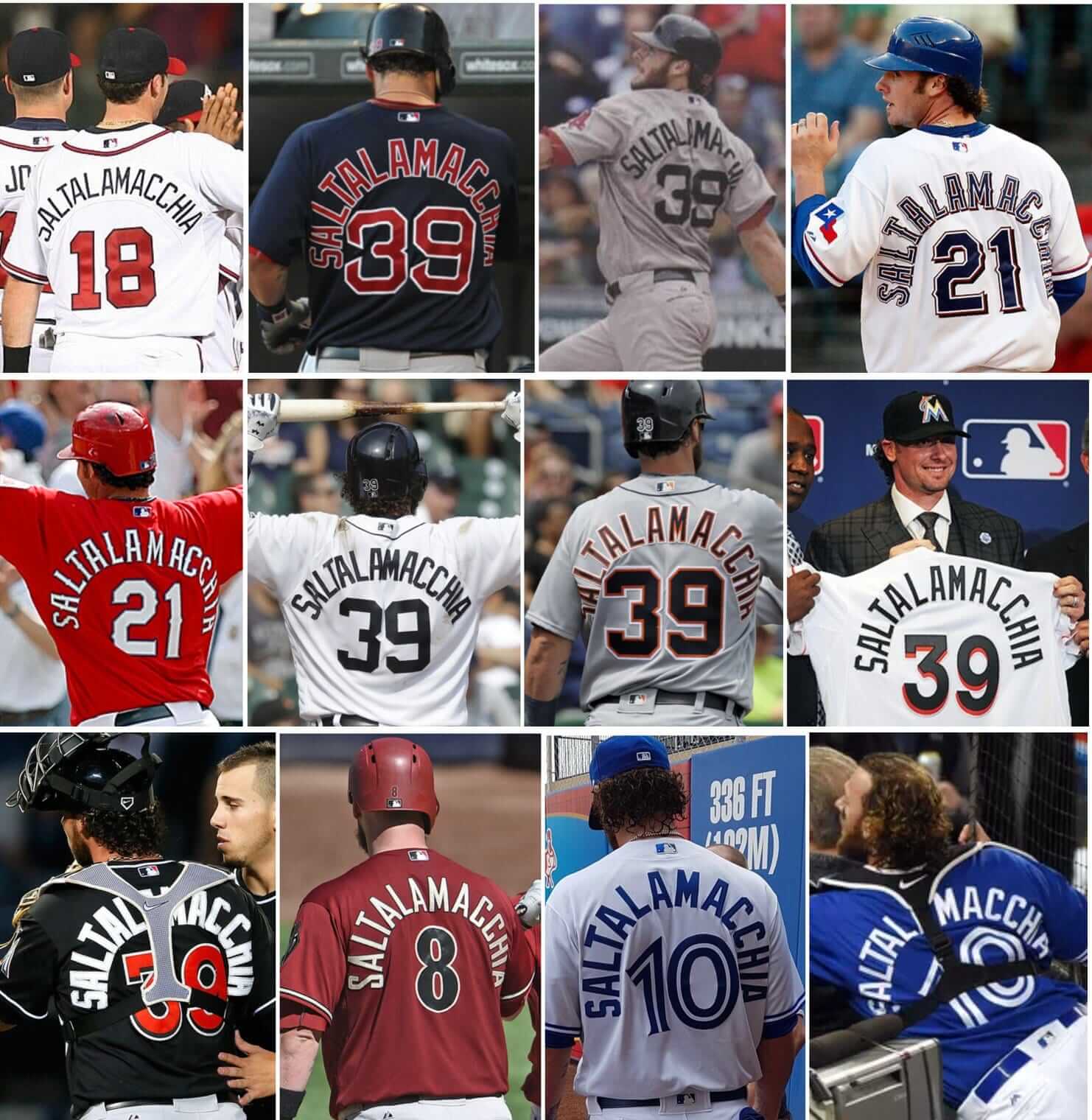 Name game: With Kansas City Chiefs offensive lineman Laurent Duvernay-Tardif bidding to become the first athlete to have "M.D." added to his NOB, my latest ESPN column takes a look back at many notable moments in NOB history (including the many attempts to fit Jarrod Saltalamacchia's name onto a jersey, as shown above). Check it out here.
• • • • •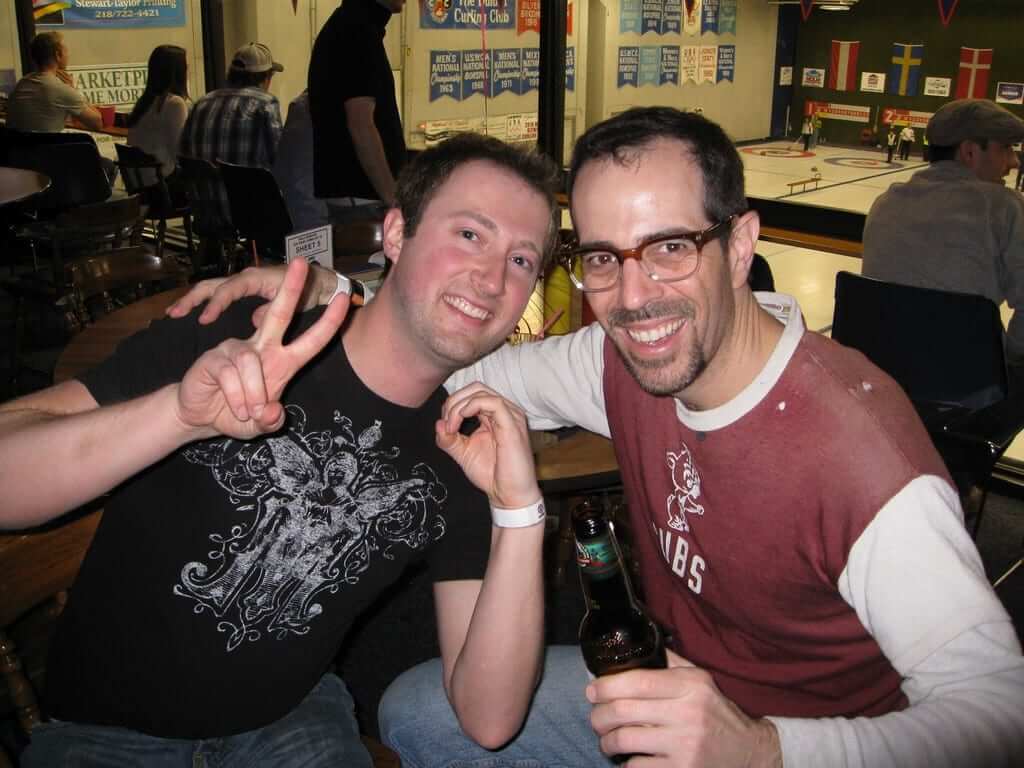 Photo by Jack Kirr; click to enlarge
Do you believe in miracles? Eight years ago, some guy from Duluth named Tyler George emailed me out of the blue and asked if I wanted to write a story about curling. After I convinced my ESPN editor to let me do it, Tyler arranged for me to take a few lessons in New Jersey from a world-class Canadian player named Dean Gemmell. Then I went out to Duluth, where Tyler gave me some additional lessons and let me play in a bonspiel (and where I wore a great curling sweater that Phil got me as a birthday present).
I had a great time, wrote a fun article, and later signed up for curling when leagues became available here in Brooklyn — all because of Tyler. That's him posing with me in the photo above, during my Duluth visit back in 2010.
This year Tyler made the U.S. Olympic curling team. After a shaky start, he and his three teammates are now one victory away from winning the gold medal. I couldn't be happier for them, or prouder to have been brought into the curling fraternity by such a great guy.
The championship game will be late tonight, at 1:35am Eastern. I'll definitely be staying up to watch.
• • • • •
The Ticker
By Kris Gross (except 'Skins Watch, by Paul)

'Skins Watch: The Agua Caliente Clippers of Ontario — that's the L.A. Clippers' D-League affiliate — will hold Native American Cultural Night on Monday. The team will wear uniforms featuring a basket weave pattern similar to those used by the Agua Caliente Band of Cahuilla Indians, and there will be ceremonies and performances honoring the tribe.

Baseball News: Here's a good look at the Roy Halladay patch the Blue Jays will wear this season (from Derek Marusyk). … The Twins and Minnesota Gophers played in an exhibition game yesterday and went color on color. Additionally, the Twins debuted their new matte helmets (from Osterbuer Sellers, Sam Fredin). … Giants broadcaster Mike Krukow's very bad solution to speed up games: Take ads out of the commercial breaks and put them on the uniforms (thanks Phil). … Texas flag-themed socks for Rangers OF Willie Calhoun on picture day (from Mike Klug). … A slew of number changes for the Mariners (from Tim Dunn). … Troy Tulowitzki – the newest Blue Jays pitcher? (From Mike Chamernik.) … Because of new P Yu Darvish wanting his usual No. 11, the Cubs now have two pitchers with single-digit numbers (from Chris Pisciotti). … New pinstriped uniforms for Illinois (from Erickson). … No NOBs for Loyola, but they do have a giant wolf head on the back of their jerseys (from Fletcher Mackel). … Jonathan Shaw spotted these full-blown G.I. Joke unis — pants as well as jerseys — for Southeastern Louisiana.

NFL News: ESPN's QB carousel lets you put free agents and rookie quarterbacks in different uniforms (from Jeff Perilman). … Mark Johnson spotted this maker's mark inconsistency on a 1994 Niners photo. … Following up on Paul's piece on the Packers logo from yesterday, Larry Morris sent in photos of the plaques he owns with the old logo. … We need more FNOBs, as Billy Joe of the 1966 Dolphins modeled here (from John Schaefer). … Here's the story behind why the NHL's Buffalo Sabres used a Bills jacket at two Winter Classics (from Steve). … The Packers have begun to replacing the turf at Lambeau (from Mike Chamernik). … See this long-sleeved Browns jersey with the contrasting yoke? Brad Grzyb says he recalls seeing Browns players wearing it on the sidelines during the Butch Davis era, possibly only 2003 and maybe even only during the preseason. "It was worn on the sidelines by players that weren't playing in the game, but this is the only photo I've been able to find," he says. Anyone know more?

College Football News: A Reddit user has done the math on which directionally named schools are most directionally correct (thanks Alex Hider). … In a graphic revealing next year's schedule, the MAC used Utah's alternate white helmet (from @BBgunn42).

Hockey News: Goalie Petr Mrazek wore his Red Wings pads in his debut with the Flyers (from Bill). … The Panthers replaced board ads with tributes to Stoneman Douglas High School last night (from Jerry Wolper). … Here's a good story on one fan's most prized possession — a 1958 Bobby Hull jersey (from Brinke Guthrie). … Cross-listed from the football section: Here's the story behind why the Sabres used a Buffalo Bills jacket at two Winter Classics (from Steve). … The Saginaw Spirit of the OHL will wear neon jerseys for their annual "Hockey for the Homeless" game on March 3 (from Jason Lewis). … We've got a super uni mixup as Jarome Iginla is wearing a Avalanche helmet, Kings pants, and a Providence Bruins jersey (from Shawn Humphrey).

NBA News: The Mavs will wear a "Mr. C" jersey patch to honor original team owner Don Carter, who passed away last week (thanks Phil). … New Cav Larry Nance Jr. announced he'll start wearing his dad's No. 22, which had been retired, next week. The retired No. 22 banner will still hang in the rafters (from Mike Chamernik). … Here's a weird one: Kelly Oubre of the Wizards was spotted untying Cavs G Rodney Hood's sneaker (from Mike Chamernik).

College Hoops News: Northwestern wore senior night uniforms last night, inspired by the seniors and the city of Chicago. The pinstripes are made up of words and numbers, although I'm not able to gather the theme. … BFBS for College of Charleston last night, and for TCU tomorrow (from Nic Crocitto, Daren Stoltzfus). … We have a missing NOB from last night's Florida/Tennessee game (from Derek Brownlee). … The South Carolina and LSU women went color-on-color last night (from Joshua Meetze). … SEC Network's starting five graphic for Auburn featured three different jerseys (from Griffin Smith).

Soccer News: San Antonio FC has unveiled their primary kit (from Aaron Zamora). … A new home kit for Sacramento Republic FC of the USL (from Ed Zelaski). … Due to Östersunds FK's kits clashing with Arsenal's home kit, both teams wore away kits (from Colin Dilworth). … A South American soccer player used the corner flag to defend himself (from Mike Chamernik)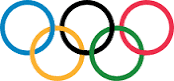 Olympics News: One of the Canadian women's hockey players is catching heat for removing her medal during the presentation ceremony (from Kary Klismet).

Grab Bag: The Marlboro e-cigarette will be a new car advertiser on the 2018 Ferrari F1 car (from Doug Kalemba). … Who says only teams can celebrate with anniversary logos? Scott Rogers says the U.S. Africa Command, "the most recently established of the Defense Department's regional combatant commands," is celebrating their 10th anniversary. … Highland Brewing in Asheville, N.C., has a redesigned logo (from Matthew Moss). … Two golf items from Zachary Loesl: Rickie Fowler attracted some attention by wearing a pineapple-themed cap, and Tiger Woods wore a ribbon on his cap to support the Florida school shooting victims.