For the past seven years, I've had the fun of attending the taping for the Puppy Bowl and the Kitten Halftime Show. The taping of this year's installment, which will air on Super Bowl Sunday (or, if you prefer, Puppy Bowl Sunday), took place last October. I shot a bunch of photos and videos, and also conducted this interview with longtime Puppy Bowl referee Dan Schachner. Enjoy:
Uni Watch: What's new at the Puppy Bowl this year?
Dan Schachner: Many, many things. First of all, there's the new set, which we're obviously really excited about. And we have a whole crop of new barnyard animals as our sideline correspondents and cheerleaders. I have an assistant this year — a sloth.
UW: Is that a first?
DS: I had a skunk assisting me two years ago, but we had to get rid of him because he refused to wear pants. But sloths are more hygienic, and they like to stay up in the trees, on branches, so he'll get a bird's-eye view of the whole situation.
UW: Right, or a sloth's-eye view. Now, I understand that this is a female sloth. How do you feel about working with a woman?
DS: I'm all for it. In fact, to tell you the truth, I didn't know about that until this moment, but that's great. We are equal opportunity animal employers here at Puppy Bowl. Additionally, I wanted to mention that I'm fostering one of the puppies in the Puppy Bowl this year — her name is Biscuit — but I can assure you and your readers that there will be no favoritism. I shall remain impartial!
UW: Any changes to your uniform this year?
DS: Yes! Instead of looking like an old-school high school football ref, with the white knickers, this year we're going with black slacks, like an NFL ref.
UW: Why the change?
DS: Well, when you're dealing with dogs, there can be a lot of, you know, surprises, and black hides that a lot better. In essence, it'll cut down a lot on our dry cleaning bills. White pants — or white anything, really — is a mistake when you're working with dogs. We should have changed to black a long time ago.
UW: Same basic striped jersey?
DS: Yes. And possibly a hat this year.
UW: Have you done that in the past?
DS: Only for photo ops, but not on the set.
UW: Now, I've heard that some of this year's puppies are deaf and/or blind [this is an Animal Planet initiative to get people to think more about adopting special-needs animals, which often go unclaimed at shelters — PL]. How are you going to deal with puppies who can't obey your commands if they can't hear and/or see them?
DS: We actually had three special-needs pups last year. And if you watch last year's Puppy Bowl, they did amazing. And even if they can't see or hear my signals, I'll have treats on hand, and dogs always respond to treats.
UW: I've also heard that some of this year's puppies are from Puerto Rico [this was to help rescue puppies that were stranded or left homeless after last year's hurricane — PL]. So, have you been brushing up on your Spanish?
DS: Si, Señor. "El puperino" is a new term I'll be using a lot. "Venga aqui," that means "Come here." "Primer down" is a first down. Actually, the Puerto Rican puppies, much like most Puerto Rican people, tend to be fluent in both languages. But just in case, I'm ready with the Español.
UW: Last question: What if some of the puppies decide to kneel — or lay down, or roll over, or just wander off the set — during the national anthem?
DS: Any kind of kneeling, staying, or rolling over, we give treats for. Remember, these guys aren't trained, so basically, any movement that isn't leaping at my face, or wrestling with each other and creating havoc, we like that.
———
Shortly after I interviewed Dan, I got to meet his assistant — the sloth. This was one of the best and most amazing animal encounters I've ever had. First, here are a few short video clips of the sloth and its trainer (yes, the first one is vertical, sorry, but you'll want to watch all of these — trust me):
After answering some questions, the trainer let the sloth crawl around the room for a bit, which was completely amazing. Check this out (once again, you'll want to watch the whole thing — trust me):
As for the Puppy Bowl itself, here's some footage of the "game" as it was being staged on the set. As always, the room was silent (well, except for puppy toys and barks) — all the sounds and narration are added during post-production:
You may have noticed a puppy with a wrinkly face who was a bit slower-moving than the others. That's a Shar Pei named Mr. Wigglesworth, and I can tell you right now that he's likely to be a star of this year's Puppy Bowl production. While the other puppies were romping around, he decided to lay down for a nap, which led Dan to assess a penalty for excessive snoozing:
They apparently didn't like how that played out, so the director had Dan do the penalty spiel again. Fortunately, Mr. Wigglesworth hadn't budged an inch, so it was easy enough to recreate the scene:
And while we're at it, here's a bit of footage from the Kitten Halftime Show:
Getting to attend the taping is always a blast (seriously, do I have a great job or what?), but it's important to remember that the Puppy Bowl promotes animal rescue. All of the puppies and kittens appearing in the game are from shelters, and all will be adopted. Big ups to Animal Planet for the great work that they do, and big thanks to them for once again inviting me to be on hand.
• • • • •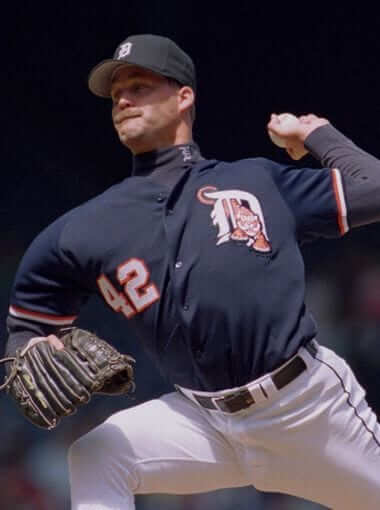 Another holy grail crossed off the list: Yesterday's Ticker included a link to a lengthy slideshow showing the evolution of the Tigers' uniforms through the years. Reader Steve Vibert found something lurking deep within that slideshow: a rare color photo showing the navy alternate jersey that the Tigers wore for exactly one game (against the Red Sox on May 7, 1995; the photo at right can be clicked to enlarge).
We've seen a grainy black-and-white version of that photo in the past, but I've never see a color game shot before. Big thanks to Steve for spotting it and bringing it to my attention.
• • • • •
"What's It Worth?" reminder: In case you missed it last week, we announced a new partnership with Grey Flannel Auctions. If you have a potentially valuable collectible, GFA will appraise it at no charge, and with no obligation. Think of it as an online version of Antiques Roadshow. Full details here.
• • • • •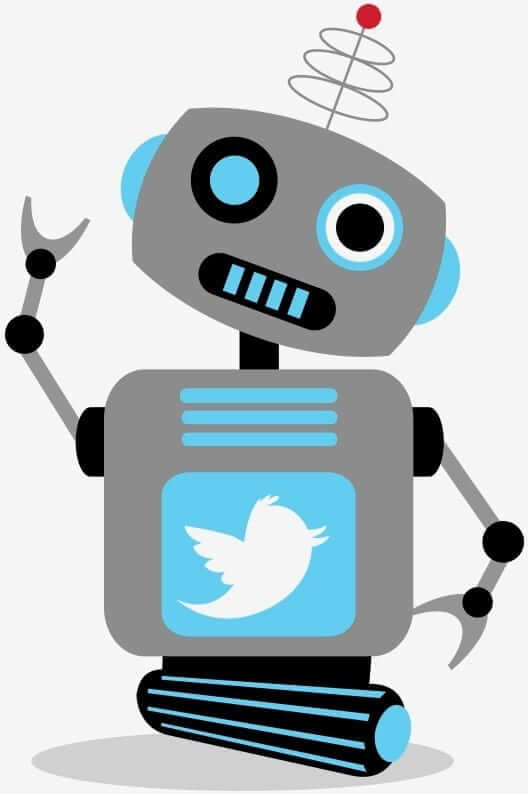 Twitter bot-ulism: If you want to see a good snapshot of what's wrong with, well, our entire society, check out this extremely well-reported and cleverly formatted New York Times piece on a company that sells fake Twitter followers in the form of bots. While you probably knew such companies existed, you most likely had no idea how it all worked or how widespread the practice has become. Can't recommend this article highly enough.
While the company clearly appears to be engaging in fraud and identity theft (after the article was published, the New York State attorney general announced that he'd be opening up an investigation), what I find most upsetting about all this is not the criminality or the lack of ethics. It's the rise of the "influencer economy," in which numbers of social media followers, whether real or imagined, have somehow become a sort of currency or capital. This all feels tied in somehow with the rise of things like reality TV, celebrity culture, and, of course, corporate culture (which is what ultimately drives all of it).
The whole thing feels gross, and seems like a symptom of a much greater rot at the core of our society. I'm not sure what to do about it, but I haven't been able to stop thinking about it since reading the article.
• • • • •
The Ticker
By Alex Hider

Baseball News: After the announcement about Chief Wahoo's impending retirement, Cleveland.com speculated what changes could be in store for the Tribe's unis (from Jason Hillyer). … The Hall of Fame class of 2018 posed in those cheesy Hall of Fame jerseys yesterday. They'd look much better in any of these jerseys (from Jeff Ash). … Babe Ruth in a bathing suit? Babe Ruth in a bathing suit (from BSmile). … Andrew Harris found this 1971 piece about the Phillies in the SI Vault that discusses change (especially in uniforms and stadia) in that era. … Puerto Rico has unveiled the uniforms they'll wear in the 2018 Caribbean Series (from Max G.). … Speaking of the Caribbean Series, this is what Mexico will be wearing (also from Max G.). … New uniforms for the Hanshin Tigers. … Very cool looking 3-D helmet logos for Holy Cross High School in Queens.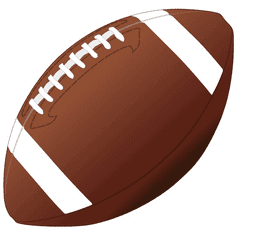 Football News: If the Patriots win on Sunday, Tom Brady is going to take his jersey home, lest it get stolen again. If they lose, he says it's going in the garbage (from Mike Chamernik). … The Today Show had a silver Eagles helmet on set yesterday (from Paul Bastia and Curtis Galvin). … Seahawks S Earl Thomas was wearing a Saints jacket during the Pro Bowl on Sunday (from Christopher Jowdy). … Speaking of the Seahawks, a package thief in Washington got some help from an accomplice in a Russell Wilson jersey the other day (from Jimmy Wong). … The last time the Super Bowl was played in Minnesota, Washington K and Minnesota native Chip Lohmiller took a few of his zubaz-clad teammates ice fishing (from Tommy Turner). … Kary Klismet sends along this story about the National Collegiate Football Hall of Fame in New Brunswick, New Jersey, which was never built.

Hockey News: The Canucks will wear Chinese New Year sweaters during warm-ups on Feb. 17 (from Graham Maclagan). … The Hurricanes owner hinted yesterday that the team could one day play in Hartford Whalers throwbacks. The Whalers moved to Raleigh in 1997 (from Mike Chamernik). …  The Brandon Wheat Kings of the WHL will wear special Canada jerseys in support of Western Manitoba Cancer Care Centre on Feb. 9 (from Wade Heidt). … The Wheeling Nailers will wear 90s Night uniforms on Friday (from Matthew T. Farrier).

NBA News: The Wizards debuted their "District of Columbia" jerseys last night (from @HitTheGlass). … Blake Griffin will wear No. 23 with the Pistons. He wore No. 32 with the Clippers, but the Pistons have retired that number in honor of Richard Hamilton. Unsurprisingly, his new jersey is selling fast (from Mike Chamernik). … All Star weekend is coming up, so you know what means: New sneakers (from @VerbDC). … Celtics coach Brad Stevens was caught in a pose that matched a fan's T-shirt the other night (from Paul Friedmann). … You can now buy a dog bed shaped like an NBA baseball cap in your favorite team's colors (from Jason Hillyer and Ignacio). … The Jazz debuted their new red rock-inspired uniforms and court design last night (from Warren Junium).

College Hoops News: New Mardi Gras unis for Tulane. More shots here and here. … The North Carolina women went BFBS for a Twitter video yesterday (from James Gilbert). … The Chapel Hill Fire Dept. uses its own version of North Carolina's ram logo on its trucks (from Jorge Cruz).

Soccer News: Minneapolis City SC has unveiled their third kit for next season (from Rob Liebhart). … Las Vegas Lights FC, a USL expansion club, will unveil their new home kits on Feb. 7 (from Kody Allenson).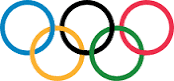 Olympics News: The IOC has banned Reuters from covering the Opening Ceremony after one of its reporters leaked photos of the Olympic Cauldron (from Kary Klismet). … This slideshow shows the evolution of style in the Winter Games (from Phil).

Grab Bag: Golfer Wesley Bryan will play a Taco Bell ball this weekend at the Waste Management Phoenix Open (from Zachary J. Loesl). … Former Indianapolis 500 Rookie of the Year Jerry Sneva died on Saturday. His obit made sure to mention that he often swapped equipment with his teammates during his rookie season, and his troubles finding a sponsor (from Tim Dunn). … Lots of uni shenanigans at the Bandy World Cup in Russia, where most players' NOB are in the Cyrillic alphabet while others have Latin alphabet NOB (from Ken April). … New lacrosse helmets for Cleveland State (from Ed Zelaski).