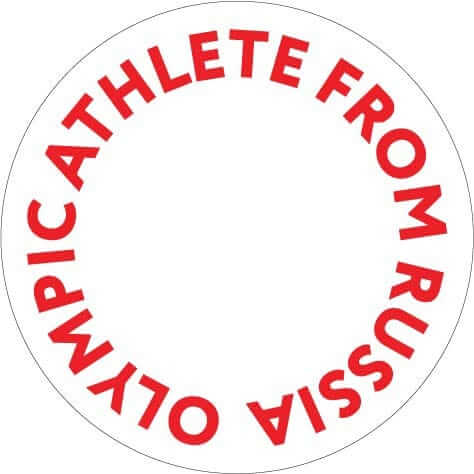 As you're probably aware, Russia was banned from the upcoming PyeongChang Winter Olympics due to a doping scandal, but individual Russian athletes may be permitted to compete as independent "Olympic Athletes from Russia," or OARs, if they can demonstrate that they're clean. Yesterday we got the first indication of what those athletes will be permitted to wear.

First, the International Olympic Committee (IOC) released the logo shown at right. That logo, along with the words "Olympic Athlete from Russia" and/or the letters "OAR," may appear on the uniforms worn by the approved Russian athletes. If the logo looks really plain, well, that's the idea — they don't want to glorify Russia.
Still, I've heard from many people — people who know more about the international sporting scene than I do — that the inclusion of the word "Russia" is going to be a major sore point for many nations and their athletes, because it somewhat defeats the purpose of banning Russia from the Games. Independent athletes at previous Olympics have worn uniforms without any country identifier. The rumor supposedly floating around is that the IOC didn't want to omit the word "Russia" for fear that Russian athletes would boycott the Games altogether.
The IOC also announced a list of uniform OAR uniform guidelines. Among the highlights:
• When using the "Olympic Athlete from Russia" wording, the type size must be consistent throughout. Although not explicitly stated, the clear intent here is to prevent the word "Russia" from being larger than the other words.
• Wording should be in English and should be — I love this — "as generic as possible."
• Uniforms must be rendered in one or two colors. This seems specifically intended to prevent a design using the three colors of the Russian flag.
• Similarly, any use of blue or red "may not be in exactly the same pantone" as the official Russian flag colors. The IOC is suggesting darker shades of those colors.
• Any spot that would normally have a coat of arms or a national team logo must instead have the new OAR logo.
That still leaves lots of questions. First and foremost, who will design the OAR uniforms? According to this item, "Kit designs are currently being drawn up by individual Russian national [sport] federations before being sent to the IOC for approval." And once the designs are approved, who will manufacture them? Will there be a single manufacturer, or will it vary by sport? According to this story (NYT link), Nike is unlikely to be involved except for hockey, where Nike is the official outfitter.
Speaking of hockey, the OAR hockey jerseys that supposedly leaked earlier this week (we linked to that item in yesterday's Ticker) are probably not legit, because they don't have the OAR logo, although they could presumably replace the skater's silhouette with the logo.
The whole thing sounds like a clusterfuck. But hey, what would the Olympics be without a clusterfuck? At least the Russian figure skaters won't be affected, because they just wear costumes, although they're presumably have to stick to the two-color limit. It's unclear whether they'll be banned from using music by Russian composers, like Stravinsky or Balakirev.
• • • • •
LAST CALL for the year-end raffle: Today is the final day to enter the annual year-end raffle. I will stop accepting entries at 7pm Eastern tonight. Full details here. The winners will be announced on Christmas Day.
• • • • •
Just in time for Christmas: Lots of people, myself included, have been getting something special in the mail over the past few days — the Uni Watch Athletic Club shirt designed by Bryan Molloy. Here's the full package, including the custom-designed mailer in the top-left corner (for all of these photos, you can click to enlarge):
In case you've forgotten or need a refresher, this design is based on the design for this year's Purp Walk shirt, which in turn was based on the New York Athletic Club logo.
The front of the shirt has the winged stirrup foot on the upper chest, plus this photo also shows the custom hangtag (attached with color-appropriate bakery twine, don'tcha know):
The back has the full-size UWAC logo in all its glory:
And then I also got the bonus sticker (left) and magnet:
Tremendous job by Bryan with this project. Also, he and I have been thinking that the winged stirrup logo would look good in some other applications — including on a baseball cap. More on that soon.
• • • • •
One-two-three-four!: Everyone's favorite (okay, only) hockey-rock band, the Zambonis, have a new song, called "Joey Saves (Dee Dee Scores)." It's a tribute to the Ramones, and I'm proud to have the song's video making its world premiere here on Uni Watch. If you've ever wanted to see an animation of Johnny Ramone shooting a hockey puck with his guitar — well, you probably didn't realize you wanted to see that, but it's still pretty cool. Dig:
A vinyl 7″ will be released in a few months, but for now you can support the Zambonis by downloading the tune here.
• • • • •
The Ticker
By Paul

'Skins Watch: Walter Goldbach, who drew Chief Wahoo when he was a teen-ager, died last week (from Jason Hillyer). … The Springfield Thunderbirds — the AHL affiliate of the Florida Panthers — will wear Springfield Indians throwbacks, complete with an Indian head jersey crest, on Jan. 6 (from Steve Forni).

Baseball News: Here's a old article indicating that the first "Hit/Error" scoreboard indicator was installed at Sportsman's Park in St. Louis in 1938. The article also states that yellow baseballs and batting helmets were proposed for that year but not pursued (great stuff from Jerry Wolper). … Here are Nos. 5 and 6 in Phil's Negro League uni ranking countdown. … With the upcoming NHL Winter Classic being played at the Mets' ballpark, New York Rangers goalie Henrik Lundqvist's leg pads and catching glove for the game features the Mets' skyline logo background (from Mike Engle). … Here's a pretty easy MLB uni number quiz (from Derek Linn). … Check it out: Reggie Jackson, then with the A's, on the Cincinnati Bengals sideline during a Bengals/Raiders playoff game (from Douglas Ford). … Back in the day, MLB teams sometimes played midseason exhibition games against their minor league affiliates. Russ Havens has ticket stubs from several of those games, including the Orioles vs. the Rochester Red Wings, the Angels vs. the Salt Lake Gulls, the Red Sox vs. the Trenton Thunder, and the Reds vs. the Denver Zephyrs. … Looks like something went seriously awry with this Australian Baseball League coach's jersey (from Tom Pope).

NFL News: Good article on the Cowboys' chief brand officer (NYT link), who happens to be owner Jerry Jones's daughter. … papaceelo notes that Bucs QB Jameis Winston didn't have his usual captaincy patch for Monday night's game against the Falcons. … Cross-listed from the baseball section: Reggie Jackson, then with the Oakland A's, on the Bengals sideline during a Bengals/Raiders playoff game (from Douglas Ford).

College Football News: Here's a look back at Auburn's Peach Bowl uniform history. … All of Pitt's graphics for National Signing Day use a throwback motif. Hmmmmm.

Hockey News: Cross-listed from the baseball section: With the Winter Classic set to be played at the Mets' ballpark, Rangers G Henrik Lundqvist's leg pads and catching glove for the game features the New York Mets' skyline logo background (from Mike Engle). … Ron Liebhart notes that former NHLer and current Asian Leaguer Matt Dalton is another goalie who routinely uses a backwards stick blade. … Check out this 1979 Oilers/Canucks preseason game footage. "Oilers have mismatched pants, some players in white helmets, and all Oilers players are NNOB," says Stephen Schapansky.

Basketball News: I didn't realize this until Michael Raskin pointed it out the other day, but every single NBA arena has a corporate-advertised name, except for Madison Square Garden. Gross. … Good analysis of how the Celtics (and the NBA in general) became a lifestyle brand (NYT link). … Now that Kobe Bryant has had two numbers retired, here's a piece speculating on who might be the next NBA player with two retired numbers. … Spalding made a pair of black basketballs to give to Kobe Bryant. … LaVar Ball, father of Lakers G Lonzo Ball, wants to launch a new pro basketball league, with a silhouette of a dunking Lonzo serving as the logo. Key quote from LaVar: "We don't need a logo of a guy dribbling. Nobody does that anymore." … Looks like the Rockets and Warriors went color vs. color back in the day. Judging by the uniforms, that game had to be from somewhere between 1969 and '71. … Throwbacks tomorrow for Old Dominion (from Ted Chastain).

Soccer News: The latest MLS expansion team will be in Nashville. No word yet on the team name, colors, or even when its first season will be (from Wade Heidt). … "Sandro Wagner, a forward from TSG Hoffenheim, will be joining Bayern München in the winter transfer window," says Anthony Zydzik. "He chose jersey No. 2, which is unusual for a non-center back to wear. He says he chose it because there weren't many numbers available to choose from, and he liked the symbolism of it being his second stint at Bayern."

Grab Bag: Senators in Malaysia think that AirAsia's new uniforms are too revealing. … New uniforms in the works for the Mozambican police. … New uniforms for the Victoria and Albert Museum in London. … New uniform outfitter for Major League Rugby (from Andrew M.). … Love this 1920s maps showing sheep and wheat production in Australia. How often do you see a map with "Some Sheep" and "No Sheep" labels? (Big thanks to @OlegKvasha). … Here's a review of 2018 world tour cycling kits (from Mitch Teich). … The founders of chess.com tried to see if it's possible to play a game of chess while sitting like the figures shown in the new 2018 World Chess Championship logo.