It's that time of year again — the time when I give something back to you folks, literally. Or, if you prefer to be more cynical about it, the time when I clear out all the freebies that have accumulated in my apartment over the past year. Either way, it's the day I run a big raffle that all of you can enter.
As in past years, some of you may recognize a few of these items as gifts that you thoughtfully sent my way over the past 12 months. I realize regifting may seem tacky, but sometimes I have duplicates on certain things, or I don't have room for everything, or something is too big or too small for me to wear, or I've gotten some enjoyment out of an item and am now ready to let someone else enjoy it. No offense intended, and I hope none taken. Thanks for understanding.
The listings that follow are pretty self-explanatory, except for this: For shirts and jerseys, you'll see a size followed by a measurement (L, 21″, for example). In each case, that's the tagged size followed by the pit-to-pit measurement across the chest.
Ready? Here we go:
1. A complimentary Uni Watch membership card.
2. A reproduction 1958 Army football football helmet, autographed by Heisman winner Pete Dawkins, courtesy of Gridiron Memories.
3. A painted bat of your choice from the Mitchell Bat Co..
4. A "Roots of Seattle Hockey" T-shirt of your choice from Rocco'Shop.
5. A 16″ BobbleDugout of your choice from BobbleHouse Industries.
6, 7, and 8. A 2018 calendar of your choice from Asgard Press. They're giving away three calendars, and each one is a separate prize.
9. An Alltimers VIP Lounge hockey jersey. Huge maker's mark on left sleeve, "League Player" on the other. Blank on back. 50, 22-3/4″.
10. Same as above, but 52, 24″.
11. A New York Rangers cap. Mesh fabric. NHL logo on back. L/XL.
12. A Harlem Globetrotters jersey. No. 1 on back. L, 24.5″.
13 and 14. A pair of Jacob deGrom giveaway jerseys. Sublimated graphics. deGrom's name and number on the back. Annoying ad on right sleeve. XL, 24″. Each jersey is a separate prize.
15. A pair of Uni Watch socks that a manufacturer prepared for me as a sample. Tried on once, for about 45 seconds. Sublimated graphics look badly distorted when socks are worn. Magnifying glass logo on the back. A one-of-a-kind collector's item.
16. A pair of Hartford Whalers socks. Graphics repeated on the other side.
17. Three StripeRite sock prototypes that were created for our review as we were setting up the StripeRite project. The white stripes are not truly white — more of a heathered light grey. Not sure how the Pirates sock ended up with that color but hey, that's why you go through the prototyping process.
18. A four-pack of Adidas low-rise socks.
19. A Mets "New York" giveaway T-shirt. Annoying ad on the back. XL, 23″.
20. A Jose Reyes giveaway T-shirt. Annoying ad on the back. XL, 23.5″.
21. A Jacob deGrom giveaway T-shirt. Annoying ad on the back. XL, 23″.
22. A Uni Watch 2017 Purple Amnesty Day shirt. Blank on back. Sorry, no hangtag or sticker — just the shirt. M, 20″.
23. A SportsLogos.net 20th-anniversary patch, which I believe was made by the Emblem Source.
24. A pair of Adidas running shorts. Extremely lightweight. M, 7″ inseam.
25. A "The Mets" snapback baseball cap, based on the Metropolitan Museum of Arts' cap.
26. A Mets giveaway T-shirt. Slightly less annoying ad on the back. L, 21.5″.
27. A pair of "9" front-jersey numerals. Glacier twill pattern, just like the Mets used during the black drop-shadow era, but without the orange border. Perfect for the Turk Wendell DIY jersey you've been planning to make. Numerals are 4-1/8″ high.
28. A pair of Dodgers 3-D batting helmet logos — one rigid (like the ones they wore for the first part of 2016) and one flexible (like the ones they've worn since then).
29. Some sort of New England Patriots mini-uniform kit. I have no idea what this is supposed to be for, but several of the pieces appear to have some sort of adhesive on the back.
30. Same as above, but for the Atlanta Falcons.
31. A $20 gift card for Hari Mari, which is a flip-flop brand.
32. An Adidas backpack, or knapsack, or sport sack, or whatever they're calling them these days. Solid black on the other side.
33. A Jim Palmer giveaway throwback jersey. Palmer's name and number on the back. Sublimated graphics. M, 22″.
34. An Orioles "My Home, My Team" T-shirt, supposedly designed by pitcher Bud Norris. Blank on back. M, 19.5″.
35. An Orioles T-shirt featuring Manny Machado and Jonathan Schoop. Photo is blurry; shirt is not. Blank on back. M, 18″.
36. A Washington Capitals "#RockTheRed" rally towel.
37. A pair of vintage bowling alley service manuals — one from 1949, the other from 1971. Interior pages feature lots of tech diagrams.
38. An Adidas zip-front hoodie. Large maker's mark on left sleeve. Blank on back. Zippered pockets. M, 23.5″.
39. A Richmond Flying Squirrels giveaway T-shirt, designed by longtime Uni Watch pal Rob Ullman. Annoying ad on back. XL, 23″.
40. An Ardillas Voladores T-shirt (that's Spanish for "Flying Squirrels"). Mexican flag-themed colors. Blank on back. L, 21.5″.
———
And there we are. To enter the raffle for these items, here's whatcha do:
1) Send an email to the raffle address. If you're having any trouble with the link, it's uniwatchraffle at gmail dot com.
2) In the body of the email, please indicate (a) your name and shipping address and (b) your top 10 prize choices, in order of preference, by number. If you're only interested in, say, seven items, then just list your top seven choices; if you want to list more than 10, you can do that too, but I don't really expect anyone to go that far. I'll do my best to accommodate all the winners' choices.
3) One email per person. Overseas readers are welcome to enter, although I may ask you to chip in on the shipping charges if you win something heavy. Entry deadline is next Thursday, Dec. 21, 7pm Eastern. The winners will be announced on Christmas Day.
Again, my thanks to all of you who contribute in various ways to Uni Watch. I wish I could provide gifts for all of you — honest.
• • • • •
ESPN update: My ESPN column on figure skating costumes, which I thought was going to run yesterday, was pushed back to today. It's available here.
• • • • •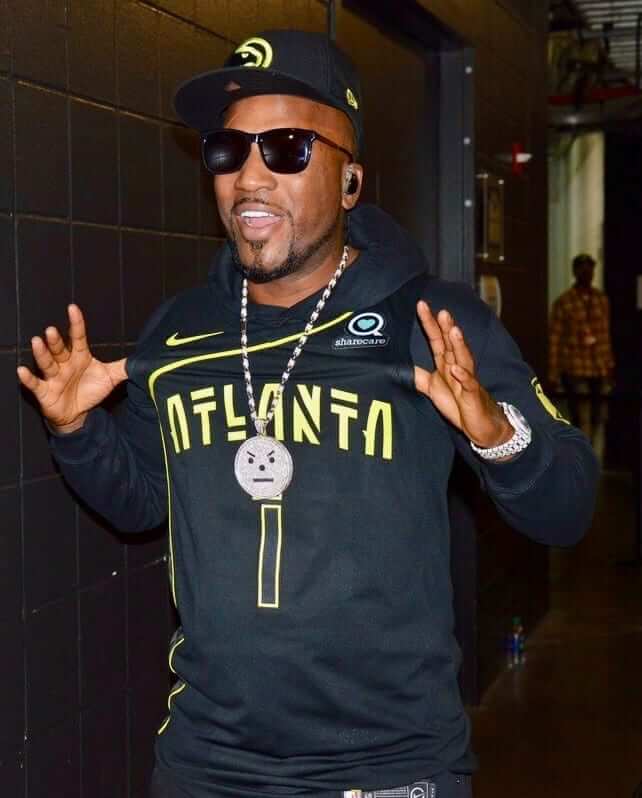 Lots of NBA news: The Hawks became the first NBA to officially unveil their second alternate jersey by having the rapper Jeezy wear it during a halftime performance last night (click photo at right to enlarge; here's the rear view). No word yet on when this uniform will make its game debut.
Meanwhile, NBA uni sleuth Conrad Burry obtained video game screen shots that appear to show 28 of the 30 new alternates. It's always good to have a healthy skepticism about video game leaks, but Burry is usually pretty reliable about this stuff, and the Hawks design matches the one that was unveiled last night, which suggests that these are probably legit.
It's a lot to process, but here are some quick thoughts on the more notable designs:
• Everyone's been expecting the Cavs to wear something featuring "The Land," and now they've gone ahead and done it:
• The Knicks' design is a shout-out to the New York City Fire Department:
• The Celtics' design appears to have a subtle parquet floor pattern (which is a nice touch but dressing this team in grey is still a huge mistake):
@UniWatch leaked Celtics jersey has their parquet floor design. pic.twitter.com/mGvwGtQzhM

— Josh Coole (@Coolwhp21) December 14, 2017
• The Grizzlies' design is based on signs from the 1968 Memphis sanitation workers' strike, a landmark civil rights moment:
The Grizzlies City uniforms are based on the Memphis Sanitation Strike of 1968 @conradburry pic.twitter.com/RjIuhihcPg

— Jonathan (@realjonathanp) December 14, 2017
• The Magic's design appears to have a sublimated pattern showing the Milky Way, or the cosmos, or something like that:
• The Pelicans are going with a Mardi Gras-style design. I don't understand the misaligned numerals, but I'm sure we'll be hearing the "story" behind that design element soon enough:
• Has there ever been a DC-based team that wore "The District of Columbia" on its jerseys? There is now, thanks to the Wizards' new design:
• Looks like the Bucks are going with a cream uniform — an NBA first, I'm pretty sure:
• I have no idea why the Jazz are going with an orange design, but I'm sure we'll find out soon:
Update: Reader/commenter Joey pointed us toward this explanation for the orange jersey.
• The Kings' design is sure to be polarizing, but I kinda like it:
• Ugliest design of the bunch is probably the Mavs' — woof:
You can see cleaner versions of all 28 of the leaked designs here. I'll have more to say about these when they're officially released and we can see the shorts that go along with them.
• • • • •
Uni Watch Hit Parade: Back in the 1990s, Mike Janson was in an indie-rock band called the Lynnfield Pioneers. I never much cared for them, but these days he's fronting a new band called Scupper, and holy shit are they good. Their debut album, Some Gauls, is one high-velocity earworm after another. If you like Guided by Voices, you'll like this. Hell, if you like good rock and roll, you'll like this. Enjoy.
• • • • •
The Ticker
By Paul

Baseball News: The Tigers will retire the numbers of new Hall of Fame inductees Jack Morris and Alan Trammel in August. … South Carolina's baseball team has a new website with a page devoted to uniforms (from Joel Mathwig).

NFL/CFL News: The Colts and Broncos went mono-blue vs. mono-orange last night, and it was one of the better-looking Thursday-night pairings. Additional photos here. Interestingly, most of the Colts wore the new jersey template, but a few players, including RB Frank Gore, wore the old version with the Nikelace. … We already knew the Lions were planning to wear their ugly mono-grey Thursday-night uniforms for tomorrow's game against the Bears. Now it turns out that Bears will be wearing their navy jerseys (and maybe pants as well — not sure about that part). So this will be an NFL rarity: a game with neither team wearing white, and not on a Thursday (from Adam Grad). … The team hoping to bring a CFL team to Halifax has trademarked the term "Atlantic Schooners" (from Wade Heidt). … According to this item, the 1950 and '51 Packers used repurposed helmets that had originally been used by the Colts. The Colts didn't like them and sold them to Green Bay, where the players had to repaint them themselves (thanks, Phil). … Bills QB Tyrod Taylor appears to have a new facemask. Here's the old one for comparison (from Michael LaFave). … Disappointing news out of KC, where the Chiefs will go mono-red against the Chargers tomorrow night (blame Phil).

College Football News: Reprinted from yesterday's comments: MGoBlog, a UMich-centric sports site, has published its annual list of "translated" college football bowl game names. It uses the common name of each bowl, without the corporate gobbledygook, and even includes a ad-less logo for each. … Here's how SDSU's jerseys look with the Armed Forces Bowl patch. … New bowl patches for Appalachian State, Auburn, FAU, and Notre Dame, too (from John Miller, @DallasEmpire78, Jake Elman, and Matt Bond, respectively). … Oregon is going mono-neon with chrome helmets for tomorrow's Las Vegas Bowl. … The four CFB teams will once again have the diamond version of the Nike logo. … New bowl patch for USC, too. … I love this old photo of a kid with a go-kart wearing a Michigan-style winged helmet (from Ray Hund).

Hockey News: Ugly sweater jerseys tomorrow for the Reading Royals (from David Fine). … Sens goalies Craig Anderson and Mike Condon have new masks for tomorrow's NHL100 Classic (from James Beattie).

NBA News: The Magic's NBA 2K League team will be called Magic Gaming. Here's a look at five of the other team logos. … The 2021 NBA All-Star Game will be hosted by the Pacers (from Josh Claywell). … Celtics G Kyrie Irving wore shoes with little lobsters on them the other day. … The Sixers' red alternates — the ones with the chest script that looks like it says, "Suxers" — will reportedly make their season debut tonight (from Uni Watch alum Mike Chamernik). … Two nights after Wizards G Kelly Oubre wore a Supreme leg sleeve, Cavs G J.R. Smith wore a Supreme arm sleeve. According to this item, he did it "because I thought it looked dope and matched our uniforms" (from Chris Perrenot and Jason Hillyer).

College Hoops News: UMKC has some great pinstriped uniforms for Kansas City Day. It doesn't specifically say they're based on the unis worn by the KC Royals of the old Negro Leagues, but it sure has that feel (from @powerandfinesse).

Soccer News: Anyone know more about these sports bra-like thingies that some soccer players wear under their jerseys? (From Chuck Johnson.)

Grab Bag: The car brand Mini has a new logo. … The U.S. Army is testing a new combat uniform. … This is so awesome: There's a new-ish book called Alternative Moons, which consists of photos of very moon-like objects — all of which are actually pancakes. Genius! (From my old pal the Rev. Nørb.) … Interesting look at the bulletproof clothing industry (from Tommy Turner).