Am I the only one who thinks @cj_wentz's mic sticker is off-center? @UniWatch @PhilHecken #SundayNightFootball pic.twitter.com/SrhJfmegUZ

— Tyler (@TylerRGoldberg) December 4, 2017
During last Sunday night's Eagles/Seahawks game, a reader named Tyler Goldberg sent me the tweet shown above. Although the image is somewhat distorted, he's right: The green dot sticker on Eagles quarterback Carson Wentz's helmet, which indicates that his helmet is wired for radio reception, was off-center. It was positioned above the second "1," while the American flag was above the first "1." That's unusual — the green dot is usually centered on the back of the shell.
This raises a bunch of questions, so let's take them one at a time. First question: Is this a new thing for Wentz? Answer: No — his green dot has been off-center for a while now, as you can see in these photos from earlier in the 2017 season: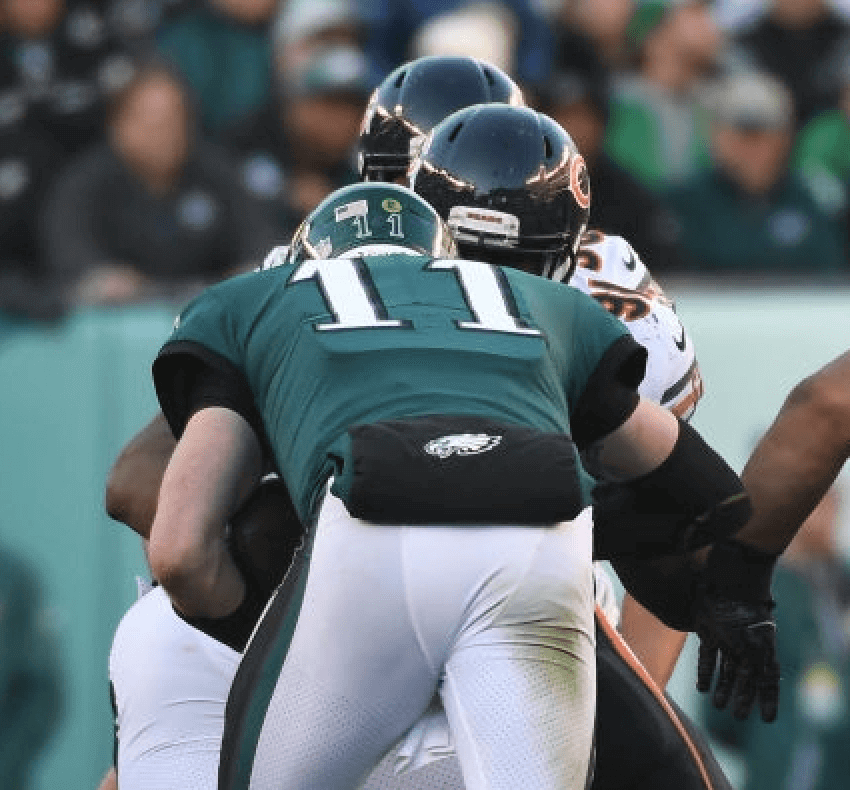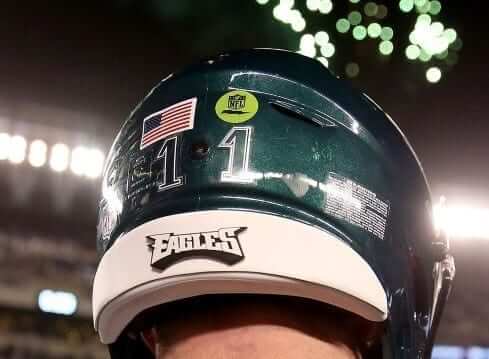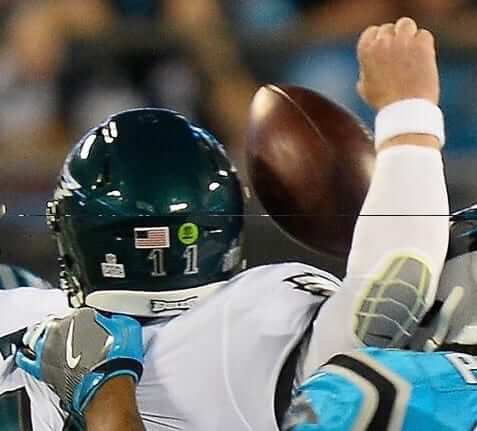 Second question: What about the radio helmets worn by the Eagles' defensive captains? Did they also have the off-center green dot? Answer: Yes, at least for this season.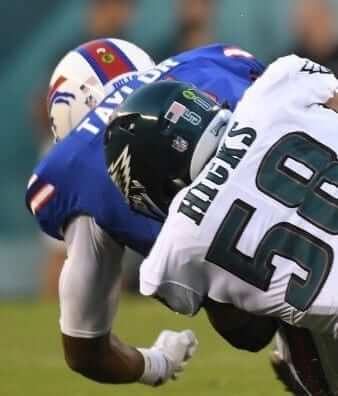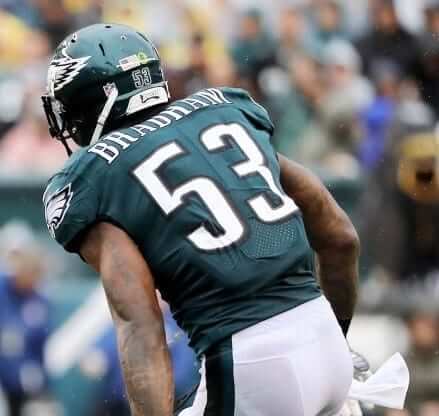 Third question: What about prior to 2017? That's a particularly good question because most NFL teams were wearing the American flag on the right side up until this year, when they moved it to the left. How did the Eagles handle that? Answer: They had the flag on the right, but the green dot was centered, as you can see in these photos from 2016 and 2015: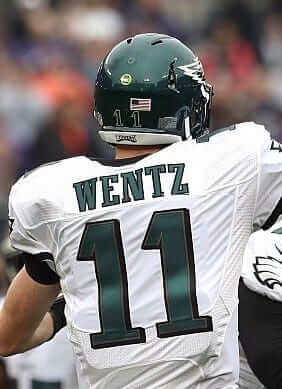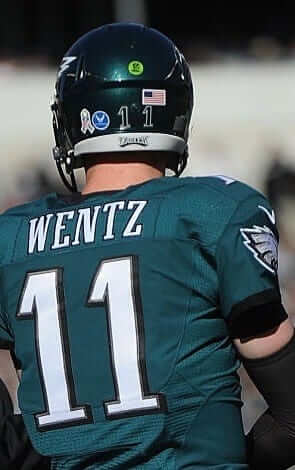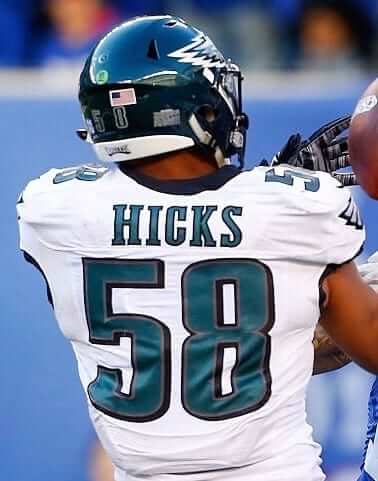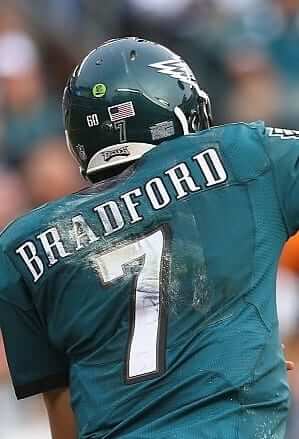 So there you have it: The Eagles changed their green dots from centered to off-center this season and none of us even noticed!
Do any other teams go off-center with their green dots?
(Big thanks to Tyler Goldberg for getting this ball rolling.)
• • • • •

A Cowboys first … sort of: The Giants are wearing their mono-white Thursday-night uniforms at home this Sunday against the Cowboys (yet another spread of the Rash, although a fairly benign one). That means the 'Boys will have to wear their navy jerseys — but with a twist. As was first reported last week, they've decided to pair the navy jerseys with their white Thursday-night pants.
Key passage from that last link:
The decision to wear white pants is based on a couple of different factors. Several veteran players, like Dez Bryant, have lobbied over the years for the navy/white combination because they think it will look good. Dallas Cowboys Merchandising agrees with the sentiment and knew this Game 14 scenario with the Giants wearing all-white Color Rush uniforms provided a unique opportunity to try the new color combination.
The article also states that this will be the "first time in team history" that Dallas has worn navy over white, but there's a big asterisk to that claim. Gridiron Uniforms Database researcher Bill Schaefer provided these photos from a Cowboys/Rams preseason game that took place on Aug. 17, 1965, and it sure looks like Dallas was wearing navy over white (click to enlarge):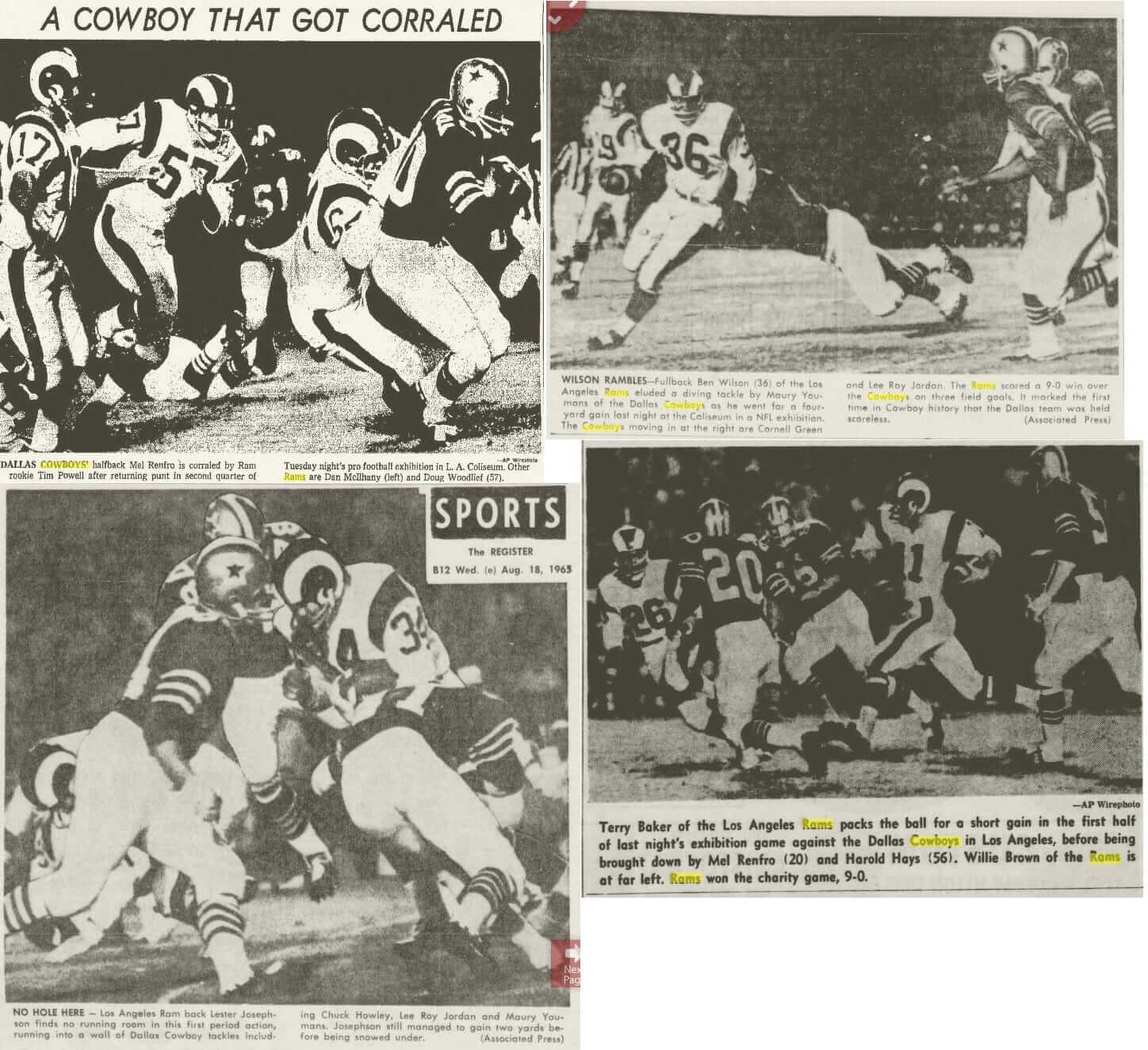 Granted, preseason isn't the same thing as a game that counts in the standings. But it's still very interesting to see that the Cowboys experimented with this uniform combo more than 50 years ago.
• • • • •
Gift Guide reminder: In case you missed it yesterday, my annual Uni Watch Holiday Gift Guide is now available for your enjoyment.
• • • • •
Membership update: If you want to order a Uni Watch membership card and have it arrive in time for Christmas, I strongly urge you to order it this week.
You can also order a membership gift voucher, which your lucky recipient can redeem at any time.
Remember, a Uni Watch membership card entitles you to a 15% discount on any of the merchandise in our Teespring shop. (If you're an existing member and would like to have the discount code, email me.) As always, you can sign up for your own custom-designed card here, you can see all the cards we've designed so far here, and you can see how we produce the cards here.
While we're at it: If you want a Uni Watch mini-helmet to arrive by Christmas, you should order it by the end of next week. And if you want me and/or Phil to sign your mini-helmet and get it back to you in time for Christmas, you should probably order it now. Details on how to get your helmet autographed can be found here.
• • • • •
The Ticker
By Alex Hider

Baseball News: New logos and uniforms for the Class A Hudson Valley Renegades (from Eric C. Leach). …  Angel Stadium in Anaheim is hosting football for the first time in decades, as the Eagles will use the field to practice before taking on the Rams this weekend. Note the uncovered warning track in the back of the end zone (from Blake Fox).

NFL News: Cross-listed from the baseball section: The Eagles are in LA this weekend to play the Rams and chose to practice at Angel Stadium in Anaheim. Note the uncovered warning track in the back of the end zone (from Blake Fox). … The Saints and Falcons will both be participating in Color Rash this Thursday (from Phil). … Eli Manning's jersey sales have surged since he was benched last week (from Phil). … Here's a great video that follows the Chargers' equipment staff to a road game (from Mike Chamernik). … Former FB Reggie Brown played for the Seahawks from 1996-2000. For at least his final two seasons in Seattle, Brown used three initials on his NOB, despite being the only Brown on the team with a first name that started with an R (from David Hein). …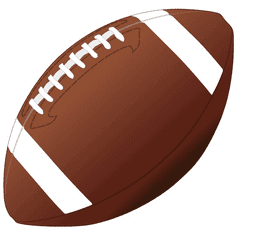 Other Football News: The Heart of Dallas Bowl recently used an outdated Utah logo in a promo graphic (from @QuinneyUte). … The Carolina Cobras will begin play as a National Arena League expansion in Greensboro, North Carolina team beginning in 2018. A team with the same name previously played in Raleigh and Charlotte from 2000-2004 (from Scott M. Trembly).

Hockey News: Devils D Josh Moore took a puck to the head last night and lost his helmet decal in the process. Don't worry, he got a new one (from Jay Mazzone). … Couple of vintage items sent along by Ray Hund: this awesome Gerry Cheevers bobblehead (complete with mask) and this table hockey puck (not often you see those up close). … Looks like Tim Hortons locations across Canada had trouble sorting their doughnuts between CFL logos and NHL logos yesterday (from Jim Wooley and Scott Elder). … The Des Moines Buccaneers of the USHL will wear ugly sweater jerseys on Saturday (from Derek).

College Hoops News: West Virginia went GFGS last night (from @cDubya212 and A.D. Hale). … Texas and Florida A&M played a BFBS-on-dark green matchup the other day (from Gavin Lane). … Phoenix's Talking Stick Resort Arena hosted a couple of college basketball games last night. Instead of installing a new court, arena employees just put painter's tape on top of the Suns' court (from Chris Pastore).

Soccer News: The MLS put together a timeline of all the jerseys worn during the MLS Cup since 1996. … A designer and soccer enthusiast designed a USMNT jersey "for the people" in the wake of the team's failure to qualify for the 2018 World Cup (from Graeme Bice). … Juventus has asked Juventus Bucharest, a team in Romania's top league, to change its team name and crest (the two teams are not affiliated).  Juventus Bucharest will change its name to FC Colentina (from Josh Hinton). … Crystal Palace has announced plans to renovate its stadium (also from Josh Hinton). … New home and away jerseys for Keene FC (from our own Kris Gross).

Grab Bag: Yesterday, the IOC announced that Russia was essentially banned from the 2018 Winter Olympics. However, individual athletes can still compete under the Olympic flag and wear "Olympic Athlete from Russia" uniforms. Here's what previous neutral Olympic uniforms have looked like. … This column argues that the Army — the military branch, not the football team — needs a throwback uniform (from Tim Dunn). … This piece helps break down which jersey you should buy for the Canadian sports fan in your life (from Phil). … New York Uni Watchers will certainly appreciate this video detailing the awning typography on Upper East Side apartment buildings (from Fred Nicolaus). … Nike is building a new flagship store in New York (from Tommy the CPA). … Houston Baptist University has signed a new agreement with Under Armour (from Chris Mycoskie). … Sad day in Cincinnati, as the old Cincinnati Gardens' iconic lettering has been removed. The building, which was once home to the NBA's Cincinnati Royals, is slated for demolition later this month. The good news is that the letters will be moved to the nearby American Sign Museum (a must-visit if you're ever in town).