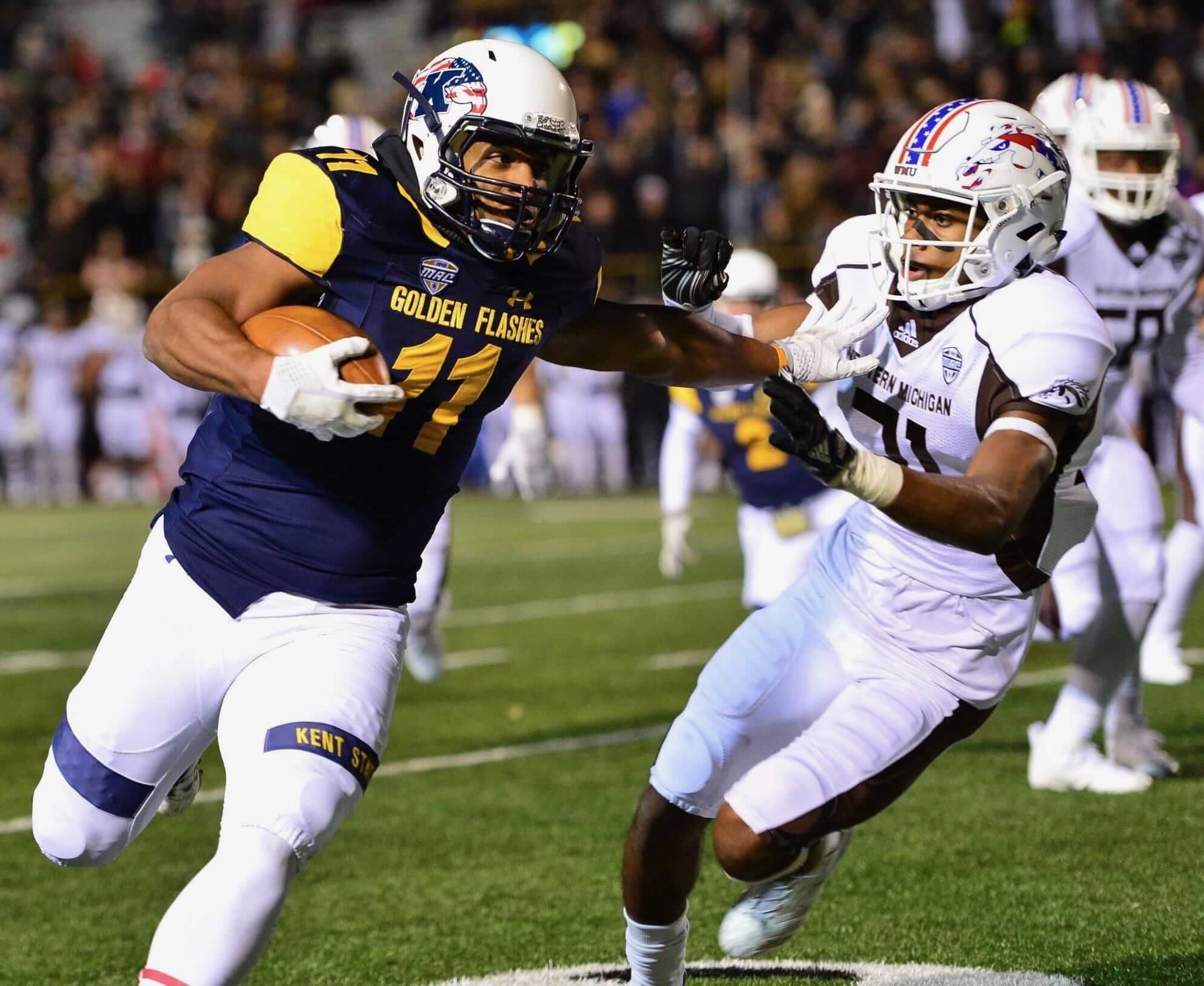 Click to enlarge
Veteran's Day is this Saturday, so college football teams are trotting out all the usual moves, beginning with last night's game between Kent State and Western Michigan, which featured both teams wearing stars/stripes helmet designs. (As an aside, WMU was wearing white at home.)
We'll see a lot more of this in the days to come. Here's a sampling:
• When Northern Illinois hosts Ball State tonight, NIU's helmet logo will get the stars/stripes treatment. The glossy, gaudy logo decal looks particularly absurd against the matte black helmet (click to enlarge):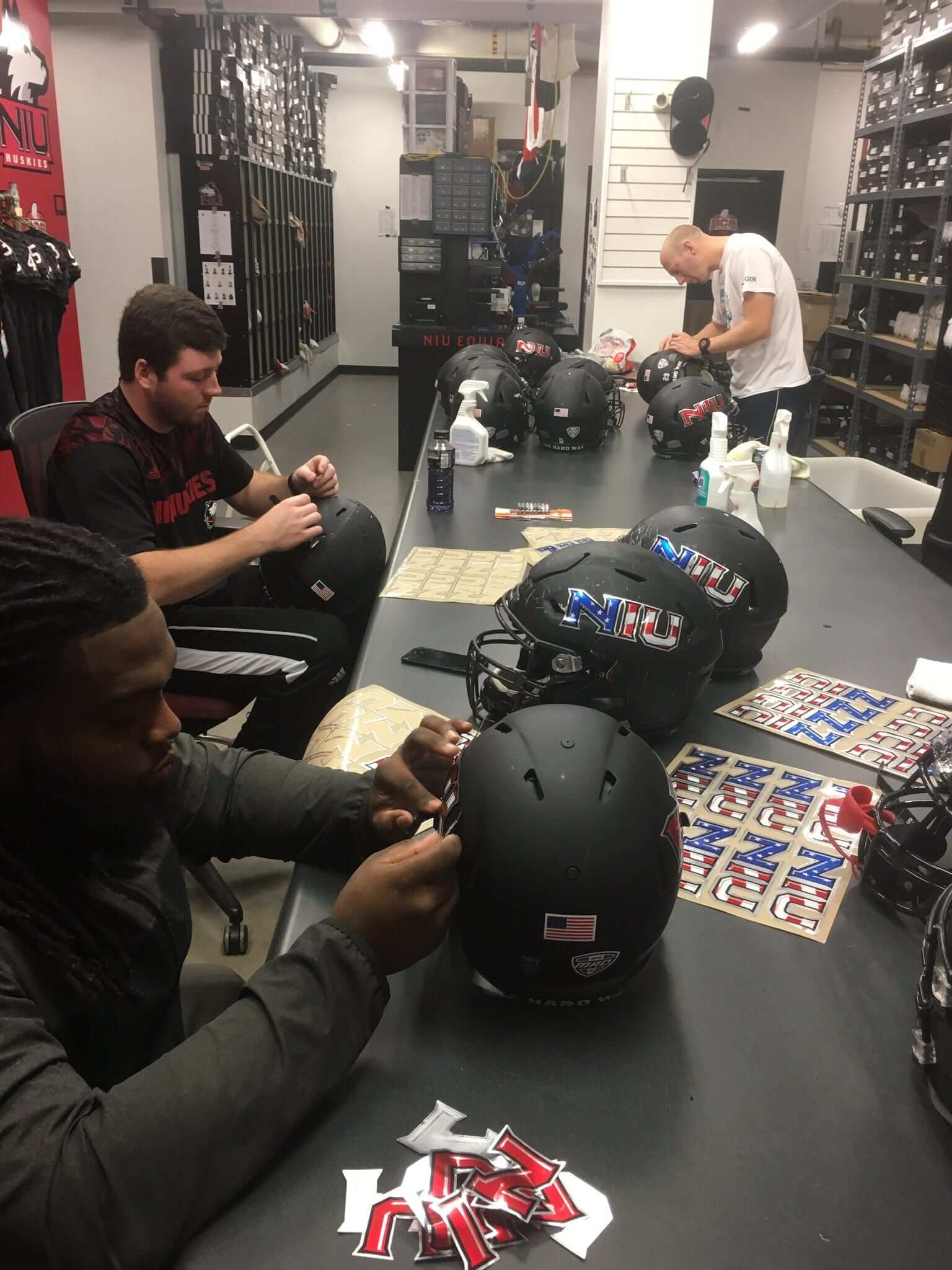 As for Ball State, they've gone stars/stripes in past years, but it appears that they won't be doing that tonight. Why does Ball State hate our veterans?
• Another team putting a glossy stars/stripes logo on a matte black shell: UNLV, which will be hosting BYU tomorrow night.
UNLV Rebels Veterans Day Weekend helmet @PhilHecken @UniWatch @HelmetAddict pic.twitter.com/wqKg8DPGM5

— Maximiliano (@CouvillierMax) November 8, 2017
• Ole Miss will be going stars/stripes for Saturday's game against Louisiana-Lafayette:
Excited to honor our military with first-time helmet decal this Saturday. #OleMissWarriorWeek #HottyToddy pic.twitter.com/ijfxQHvzxl

— Ole Miss Football (@OleMissFB) November 8, 2017
• Incarnate Word, an FCS school, is giving the camouflage treatment to its pants and helmet logo for Saturday's game against Central Arkansas (click to enlarge):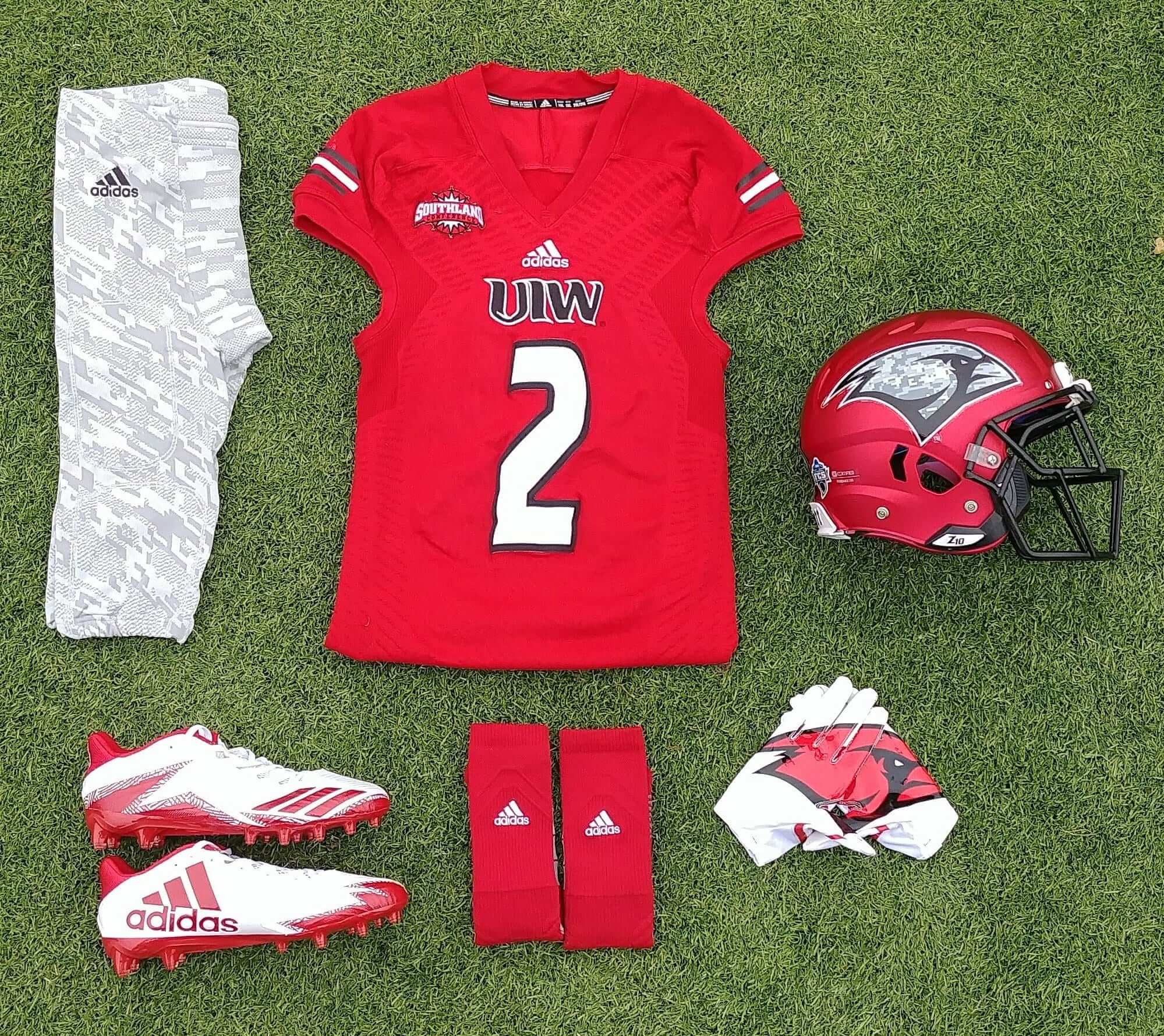 • Texas is taking a more subtle approach. For Saturday's game against Kansas, the names of the military branches will appear on the nose bumpers and the names of UT students who've served will be on the neck bumpers (click to enlarge):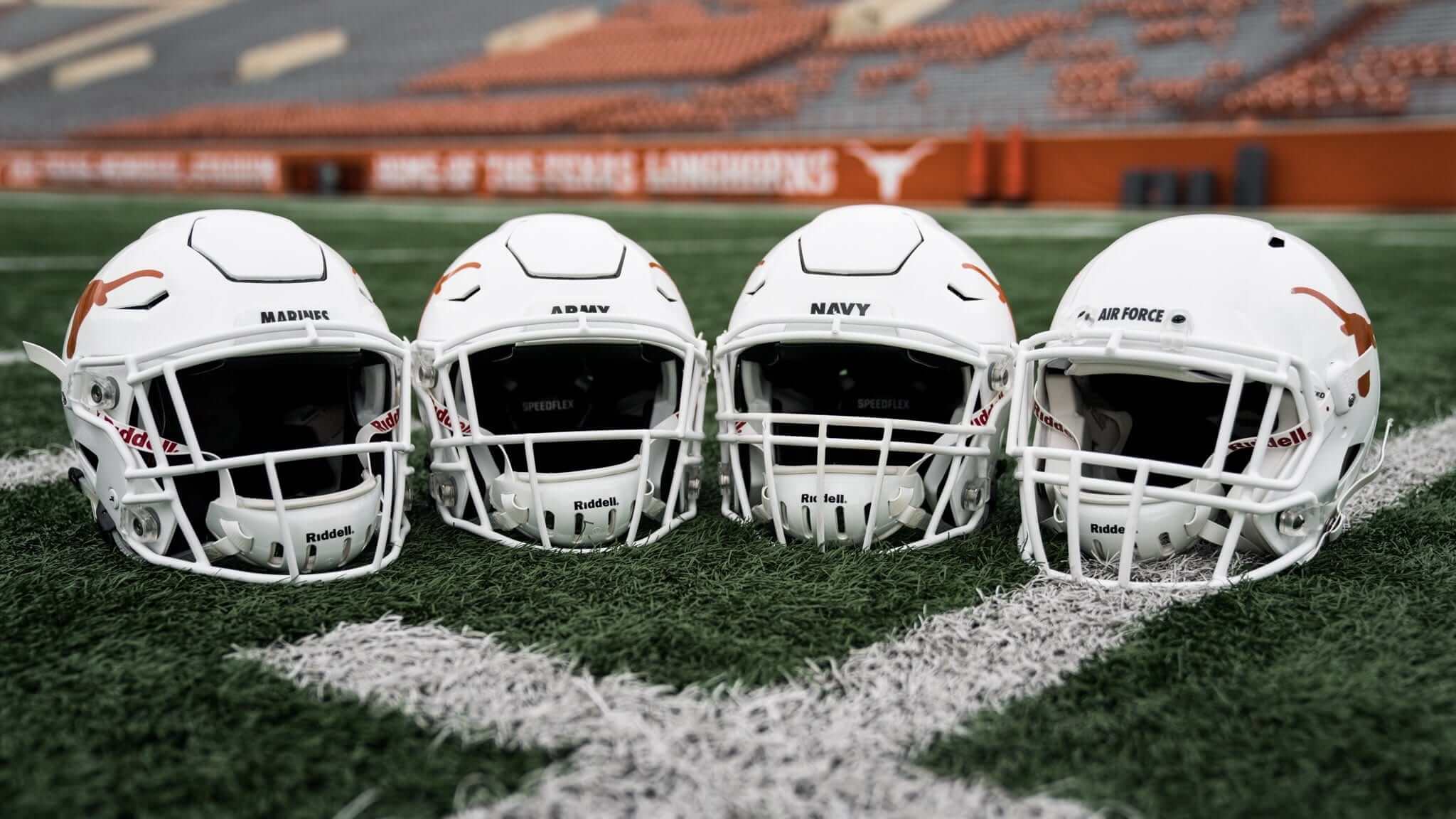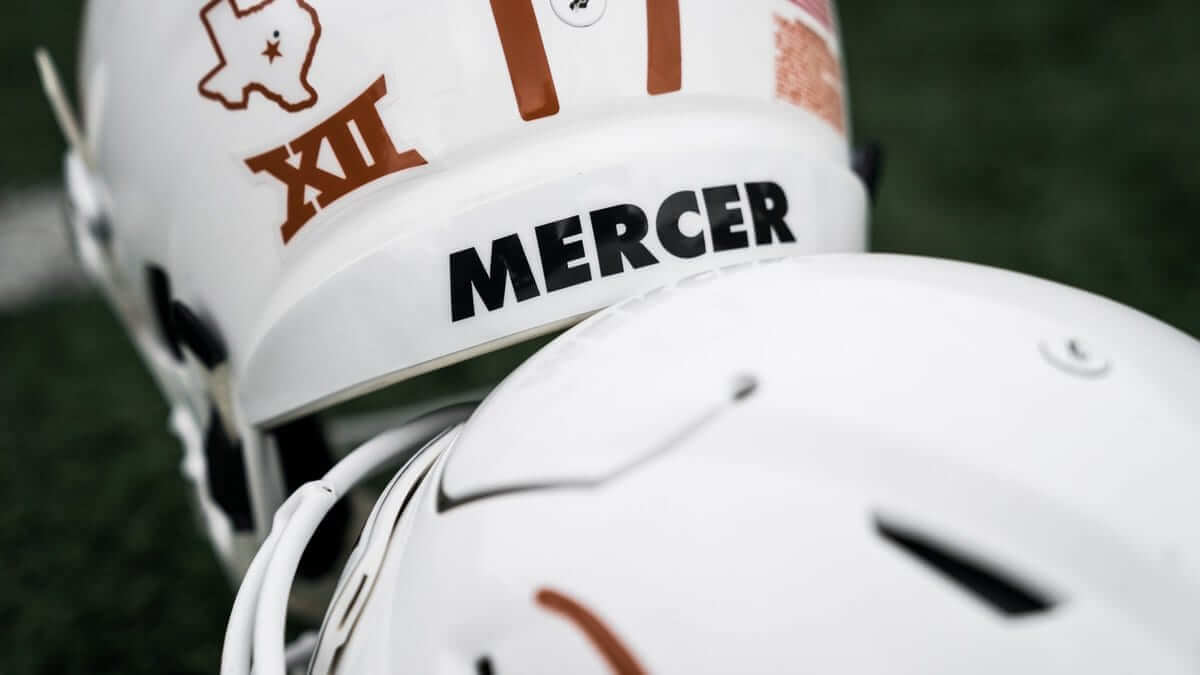 • And then there's Vanderbilt. For Saturday's game against Kentucky, each player will wear a fallen service member's name as the NOB, with the deceased's military branch appearing as a jersey patch. Of course, saluting fallen soldiers would be more appropriate for Memorial Day, not Veteran's Day, but whaddaya gonna do.
DEEP WATER with @Medals_ofHonor on Saturday for #SaluteToSevice. Names on the back will feature fallen soldiers with their military branch patch on the front. pic.twitter.com/RQhtuxsVMP

— Vanderbilt Football (@VandyFootball) November 8, 2017
I'm sure there are plenty of other military-tribute uniforms that I missed. If you know of any, feel free to post them in the comments.
(My thanks to Max Herz, Chris Mycoskie, @CakewithaJ, @CouvillierMax, and Phil for their contributions.)
• • • • •
Membership update: A few new designs have been added to the membership card gallery (including Brian O'Neal's card, shown at right, which is based on the Cubs' late-1970s road uni). I have several open slots in this batch, which I plan to send to the printer early next week. New orders welcome!
Remember, a Uni Watch membership card entitles you to a 15% discount on any of the merchandise in our Teespring shop. (If you're an existing member and would like to have the discount code, email me.) As always, you can sign up for your own custom-designed card here, you can see all the cards we've designed so far here, and you can see how we produce the cards here.
• • • • •
The Ticker
By Paul

'Skins Watch: The San Diego State University Senate — a group comprised of professors and other staffers, but not students — has approved a non-binding resolution to retire the school's Aztec mascot (from Dave Wilson).

Baseball News: Reprinted from yesterday's comments: Here's a video compilation of MLB players wearing the wrong uniform element (from Mark in Shiga). … The latest franchise in the Prospect League — that's a summer wood bat college circuit — will be called the Hannibal Hoots (from Kevin Eckhoff).

NFL News: "On his weekly radio show, Texans head coach Bill O'Brien was asked, 'What is your favorite uniform combination?'" says Greg Patton. "He never revealed his favorite, but he made it clear that he hates the white-over-white look. Surprisingly, he loves the Color Rash. He also likes the blue pants with the red alternate. It's all at the 20:37 mark here." … Sensational artwork in this 1968 NFL TV viewer's guide. Definitely worth clicking on the thumbnails to take a closer look (big thanks to Ray Hund). … With the Seahawks set to go mono-neon tonight, here's a look at the team's uniform history (thanks, Phil). … My two favorite teams are a combined 1-16 and are playing each other this Sunday. Fortunately, I have better things to do that day.

College Football News: Throwbacks on tap tonight for Pitt. … SUNY-Buffalo has added a #MACtion nose bumper decal, although you can still the Riddell logo bleeding through (from Will Edge). … Dartmouth has added a Fenway Gridiron Series decal for tomorrow's game against Brown. … CMU RB Jonathan Ward had an off-center NOB last night, or maybe jersey was just stretched out of alignment (from Joseph Lombardo).

Hockey News: Love this shot of Gordie Howe apparently wearing someone else's pads! Note the crossed-out No. 22, replaced by Howe's No. 9 (from Brian Wulff). … The QMJHL's Gatineau Olympiques will play the OHL's Ottawa 67's outdoors in Ottawa on Dec. 17. "The rink will already be there for the NHL Habs/Sens outdoor game, so the juniors will take advantage and host a game," says Wade Heidt. … Also from Wade: The Canadian teams are all wearing poppy helmet decals in advance of Remembrance Day, as seen here on the Canadiens, Flames, and Maple Leafs.

NBA News: The Nuggets are doing some sort of ABA/'70s promotion tonight. No throwback unis, or at least I don't think so (they're not among the eight teams slated to wear throwbacks this season), but G Jamal Murray has some pretty cool sneakers for the occasion (from Aaron Kastner). … It's not unusual to see the Celtics and Lakers going green vs. yellow. But it's unusual to see it taking place at Boston Garden, which is what happened last night. … Whoa, look at these vintage NBA Starter jackets!

College Hoops News: "I can't speak to what the jerseys look like, but the Loyola Greyhounds at least have new shorts this year for the both the white and gray sets," says Joe Hilseberg. "I know, because I put all of the Patriot League patches on them last night! Their first game is Friday against Northwestern, so we'll see the tops then." … Latest step in the sad march toward Idiocracy: The WVU/Pitt rivalry series now has a corporate-sponsoredadvertised name. Douchebags (from Nelson Warwick).

Soccer News: Our own Jamie Rathjen reports that England and Wales will be wearing poppy armbands on today and tomorrow (along with England's opponents, Germany). "The reason it's an armband instead of a patch is that the four UK teams (which also include Scotland and Northern Ireland) attempted to wear them last year to get around a FIFA rule prohibiting political statements on uniforms, but they all got fined anyway, so they worked out the armbands as a compromise."

Grab Bag: Here's a timeline of Aussie rules football logos (from Jeremy Brahm). … Nike's new contract with the U. of Washington includes a new clause that allows a watchdog group to inspect Nike's overseas factories. "Many other colleges and universities around the country are expected to follow," according to the article (from Markus Kamp). … Non-sports throwback: Yesterday was HBO's 45th birthday, so the network was using its old logo (from Robert Hayes). … New logo for the city of Raleigh, N.C. (from James Gilbert). … Holy moly, check out these amazing color photos from the 1939 World's Fair here in NYC (big thanks to my ESPN colleague Dave Wilson). … Not sports-related, but this piece on the year in push alerts is a great piece of interactive media design.