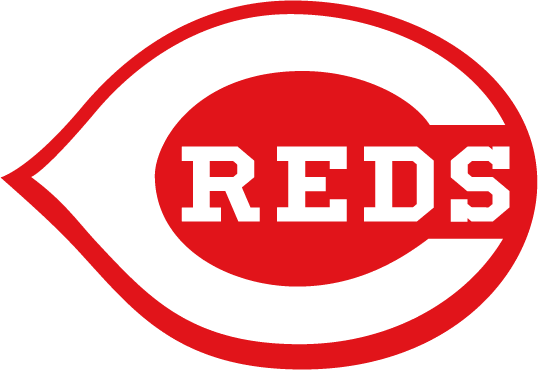 Time for a trip down another rabbit hole today, people. This one involves a four-season stretch in Reds history, from 1968 through 1971.
Let's start by consulting Dressed to the Nines. If you look at Marc Okkonen's renderings for those four seasons, you'll see that the "Cincinnati" lettering and front numbers on the road jerseys has white outlining. It's a little hard to see on those thumbnail images, but it's more apparent if you click on one of the individual years. I asked Hall of Fame curator Tom Shieber, who administers Dressed to the Nines, if he could check Okkonen's original renderings, and he confirmed to me that Okkonen included white outlining on the road typography for all four of those seasons.
Here's a photo of Pete Rose from that period, with the white outlining plainly visible:
Embed from Getty Images
But reader Brice Wallace recently pointed out something I hadn't been aware of: When the Reds made it to the 1970 World Series, they wore road jerseys without the white outlining. Here are some photos from that Series: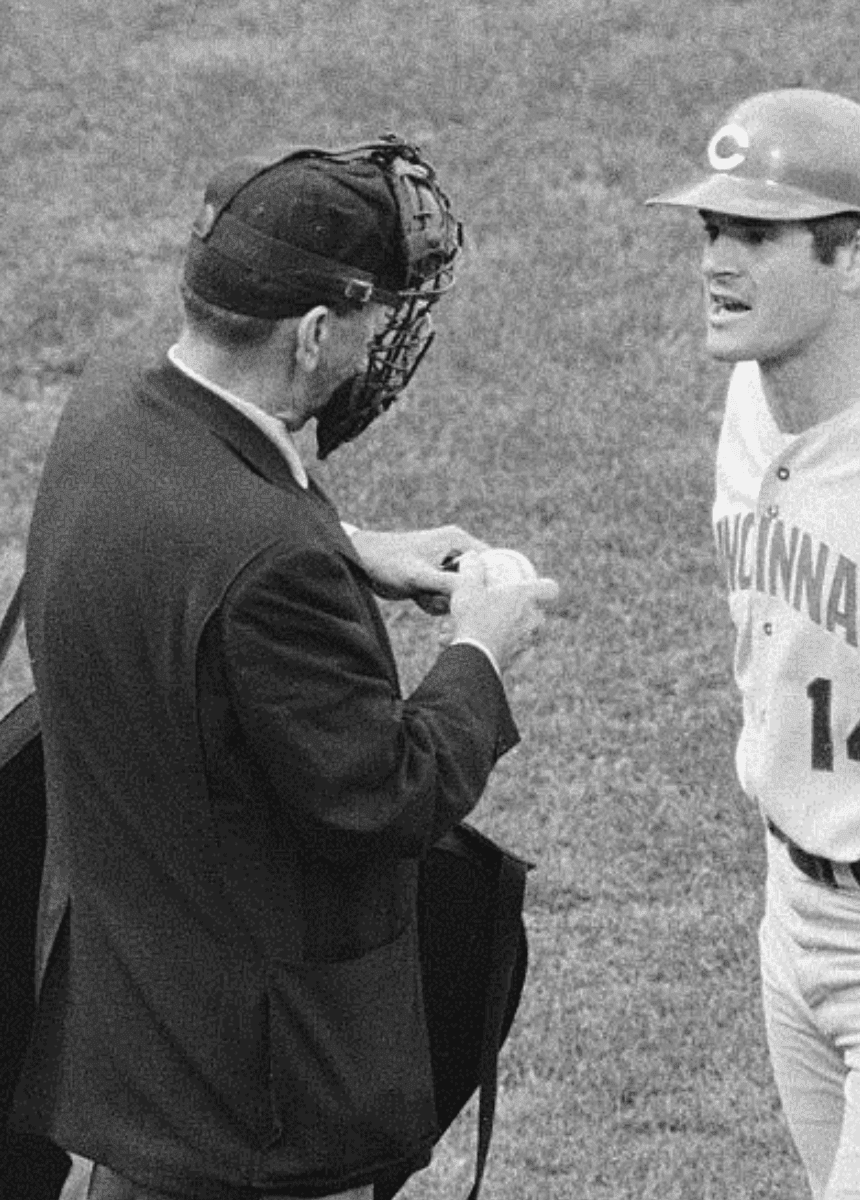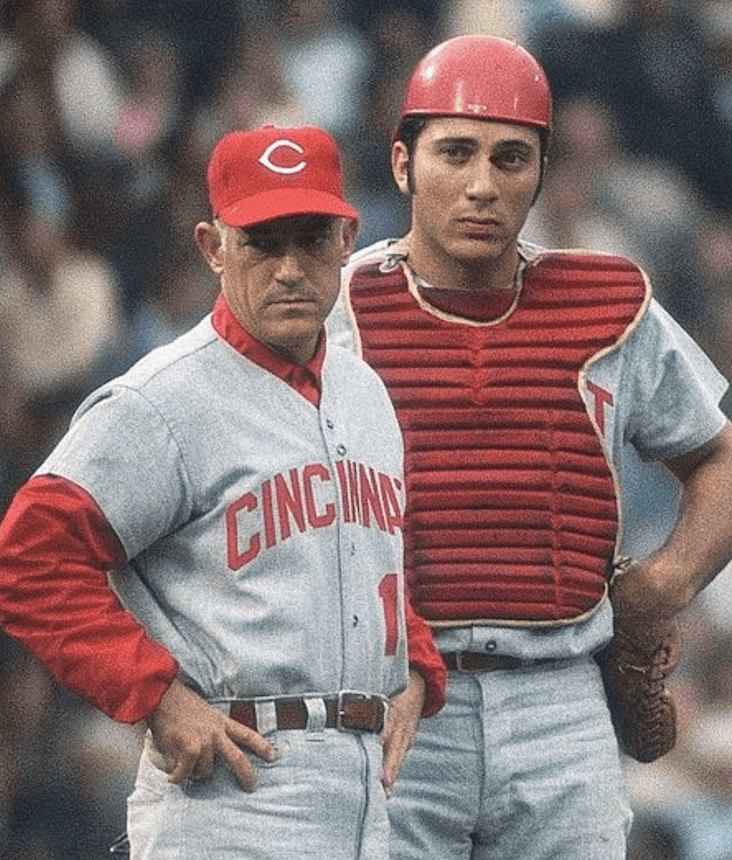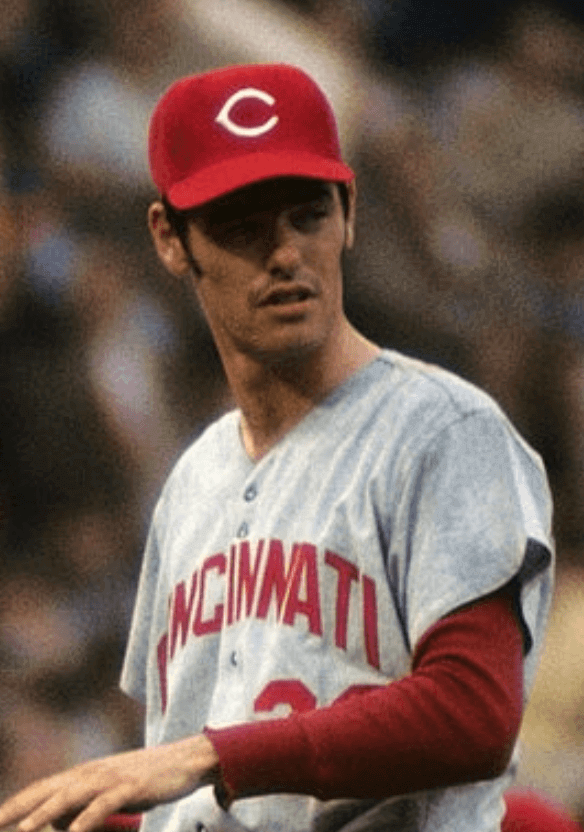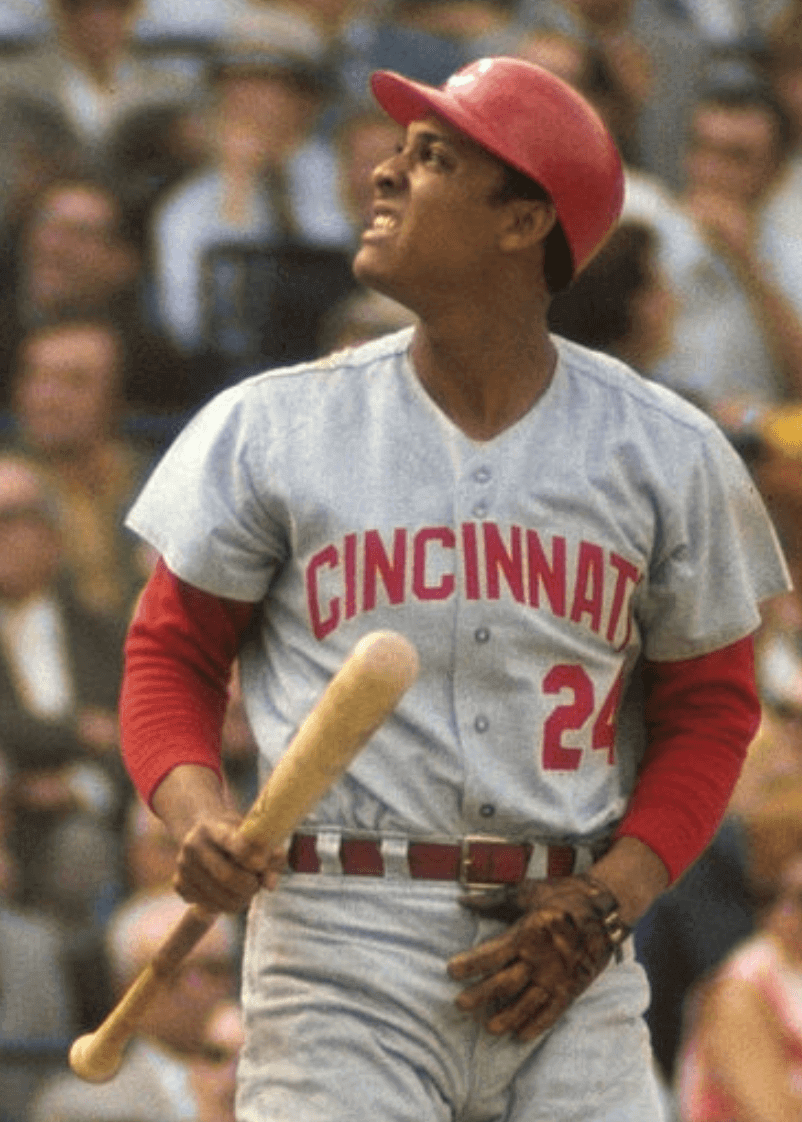 At first I thought Brice had come up with a major historical find. But then I checked Bill Henderson's guide and found that he had already documented this anomaly and I just hadn't noticed (click to enlarge and look in the lower-right corner):
The Reds aren't the only team to have changed their uniforms for the World Series, of course. Off the top of my head, I can think of these:
• The 1917 White Sox wore star-spangled World Series uniforms to support America's entry into World War I.
• The 1959 White Sox wore white stirrups, instead of their usual black, in the World Series (although, as we discussed earlier this year, they only did it for part of the Series).
• The 1969 Mets wore the MLB centennial patch on the left sleeve. But when they got to the World Series, they moved the patch to the right sleeve.
Did I miss anyone?
(And as a footnote, we know that the 1951 Dodgers were planning to add red numbers to their jerseys for the '51 Series, but Bobby Thomson had other ideas about that.)
Okay, so that could have been that — but there's more. As I looked for photos for this entry, I found some additional shots of the 1968-71 Reds wearing road jerseys without the white outlining — shots that were clearly not from the 1970 World Series.
Here are a bunch that were obviously taken at Wrigley Field. Getty, whose dates are notoriously unreliable, lists some of them as being from the "late 1960s" and others from "circa 1971." But given the camera vantage point, it's a near-certainty that they're all from the same game (click to enlarge):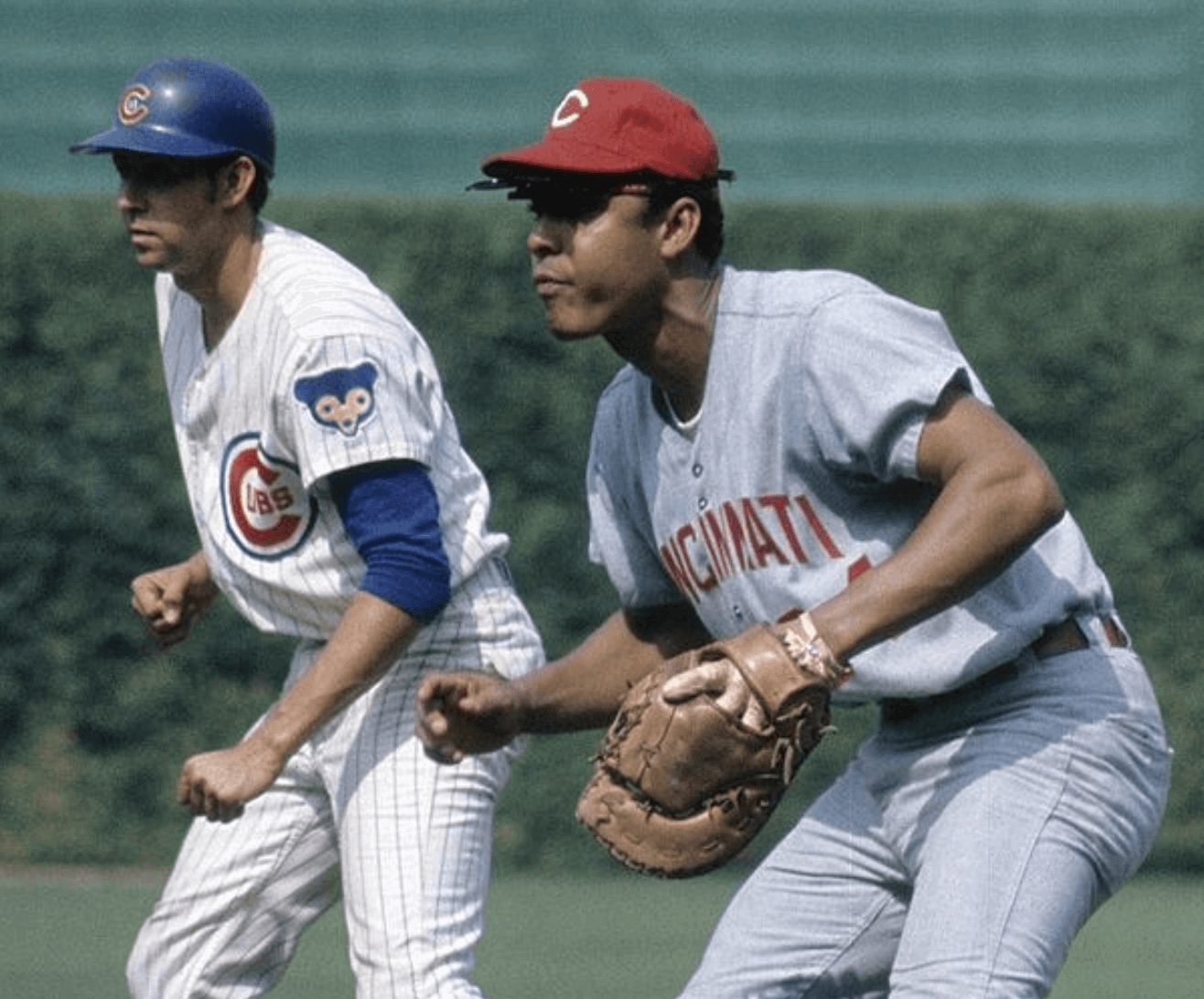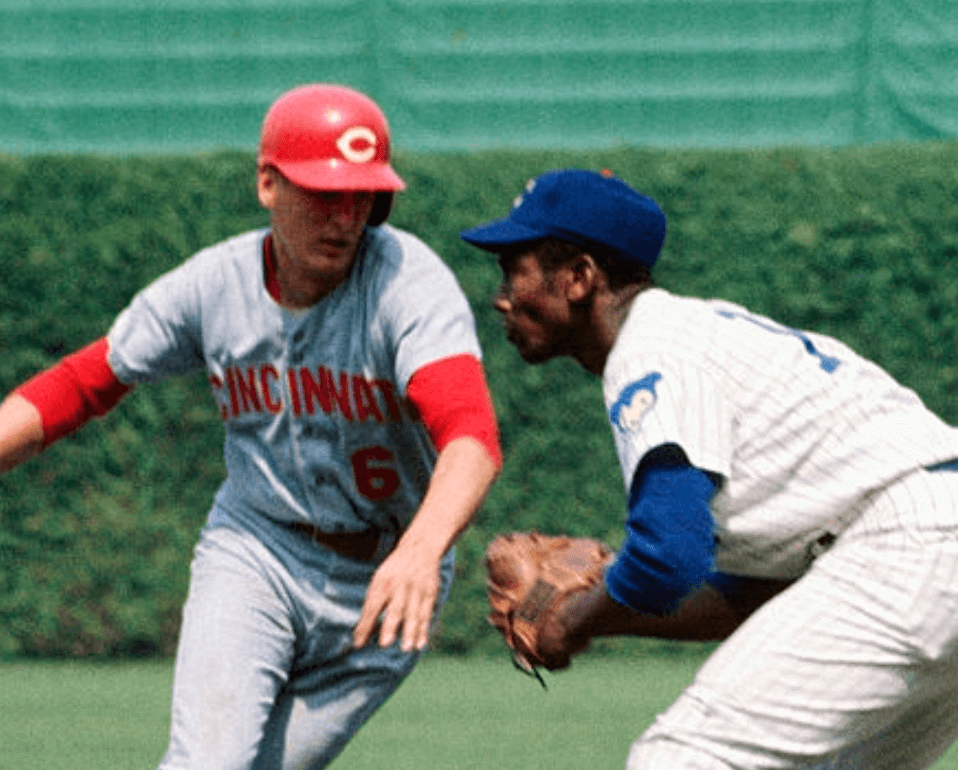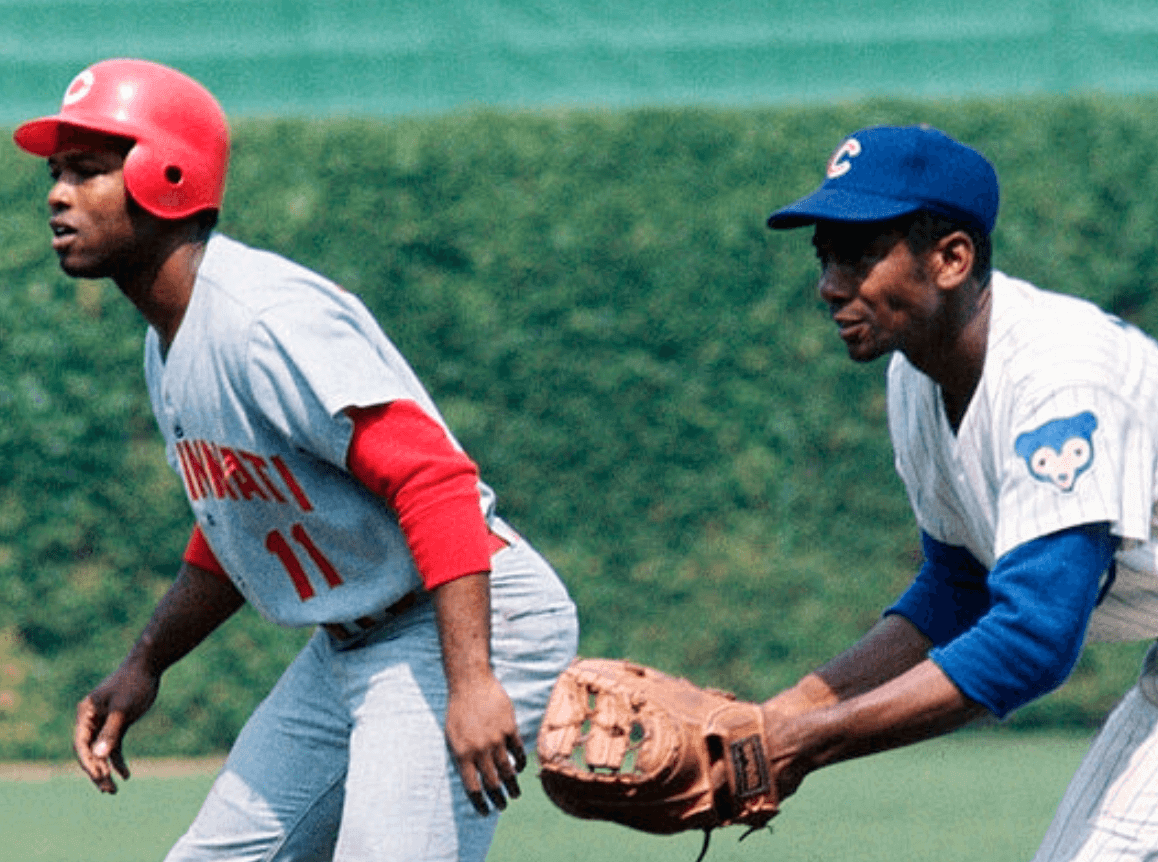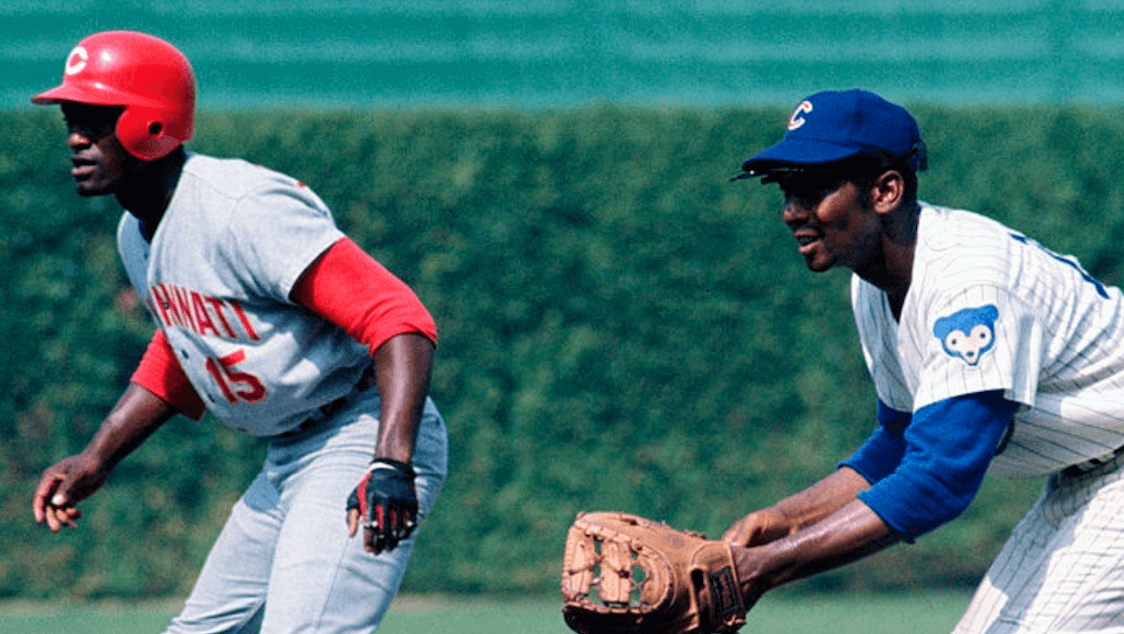 The baserunner in that last photo is a young George Foster. He didn't join the Reds until 1971, and the Reds changed to polyester pullovers in 1972, so these photos have to be from '71. So I think we can definitively say that the Reds wore road jerseys without the white outlining for at least part of the 1971 season.
Next, here's a shot of Pete Rose. The date and location are unspecified. Does anyone recognize that screen in the background?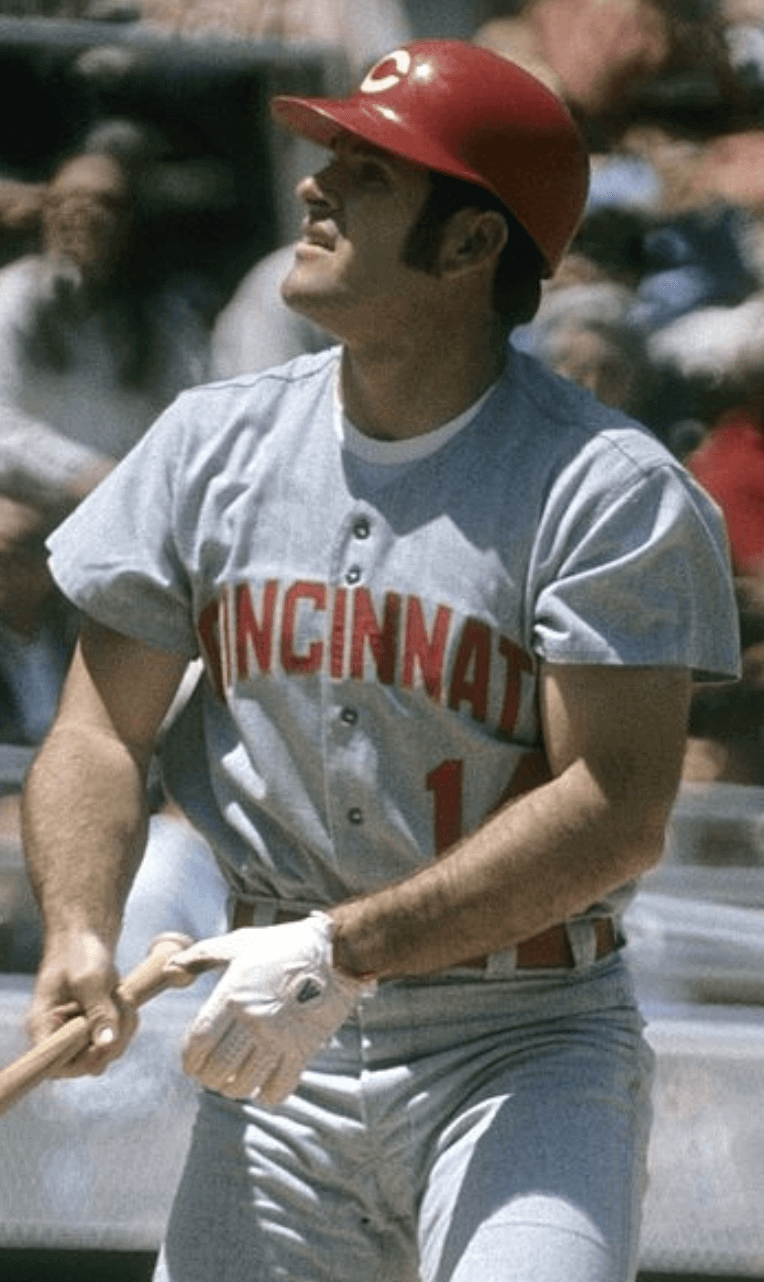 According to Getty, these next two shots were all taken on May 26, 1971, at Three Rivers Stadium in Pittsburgh. All you Pirates fans out there, do you recognize the dugout?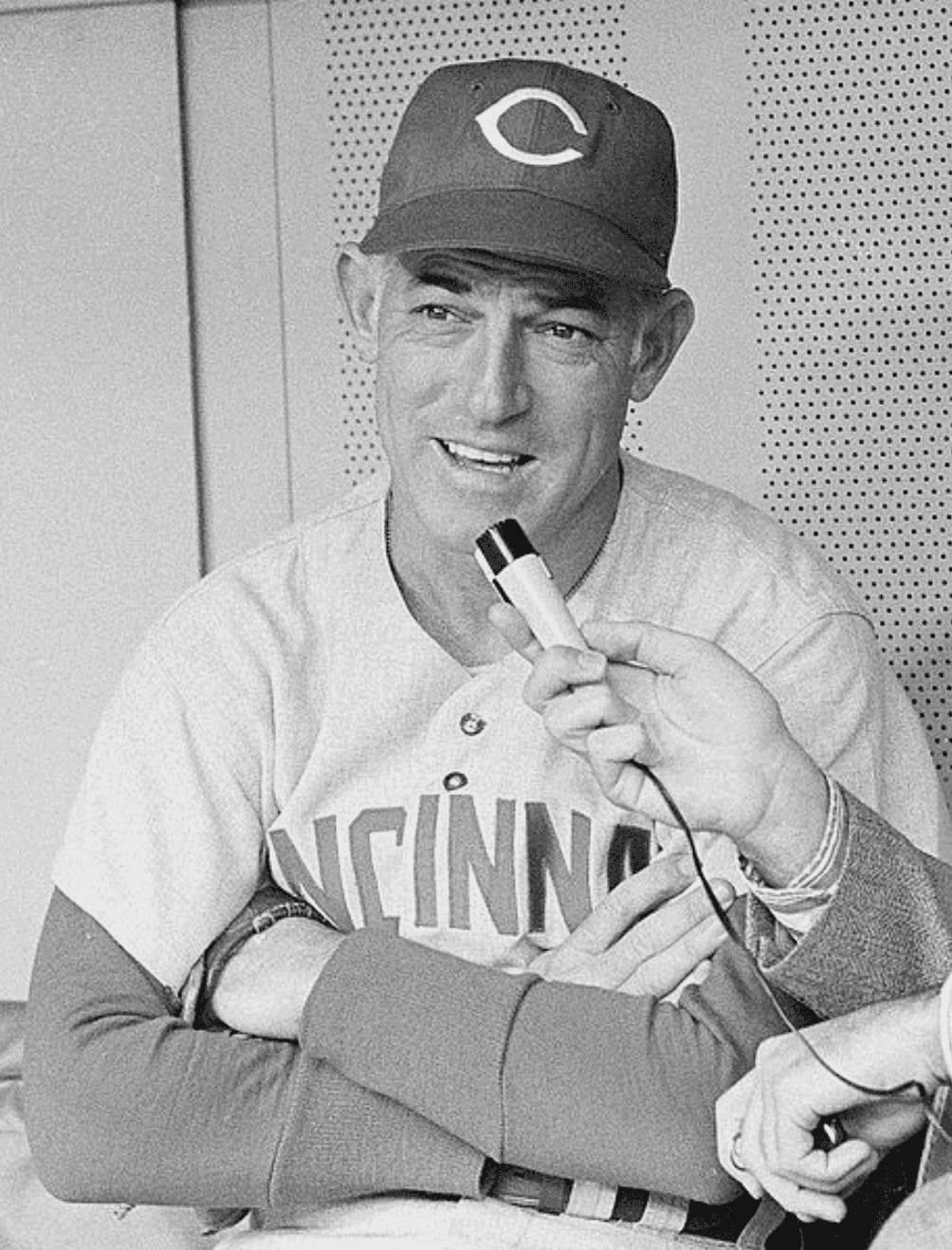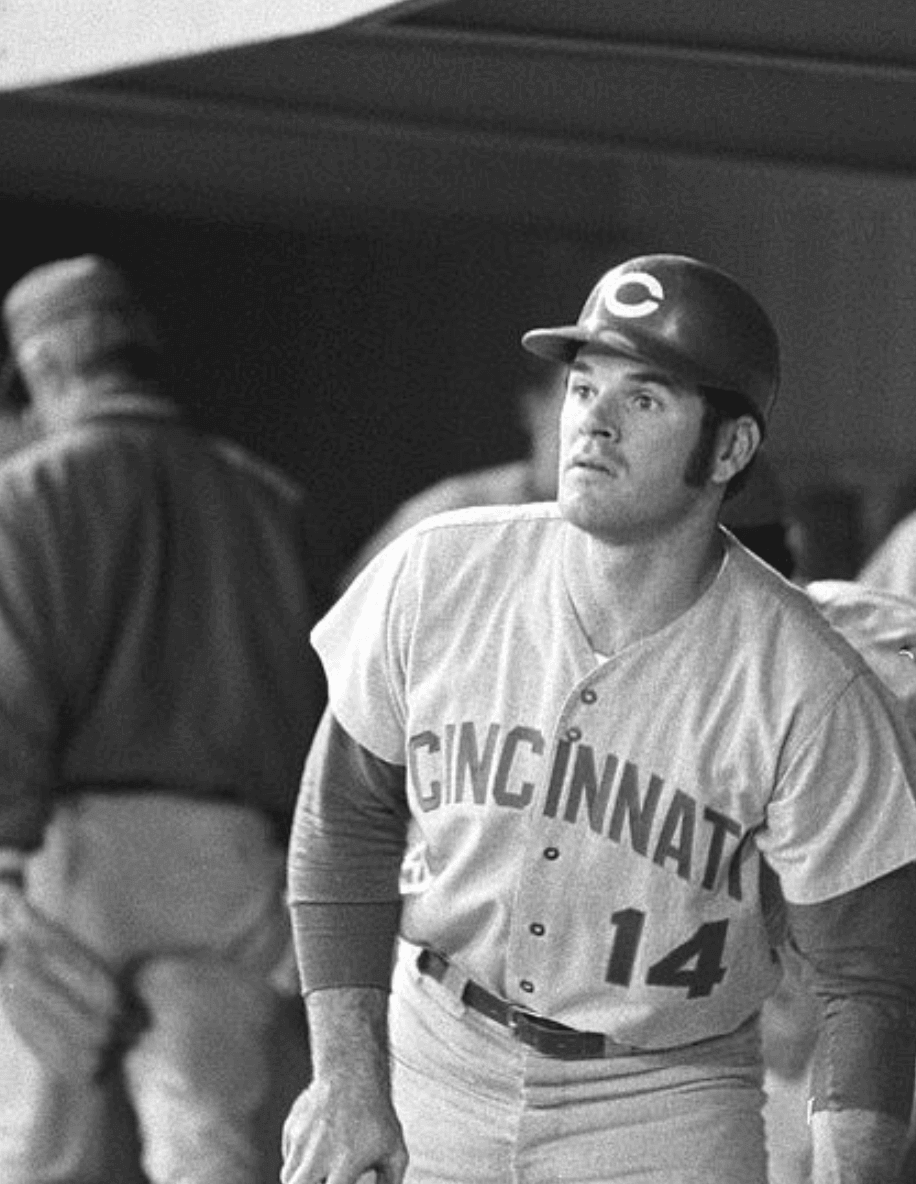 This next one is also supposedly from Three Rivers, from the following day — May 27, 1971. And in this case, the backdrop makes it pretty clear that this was indeed taken at Three Rivers (click to enlarge):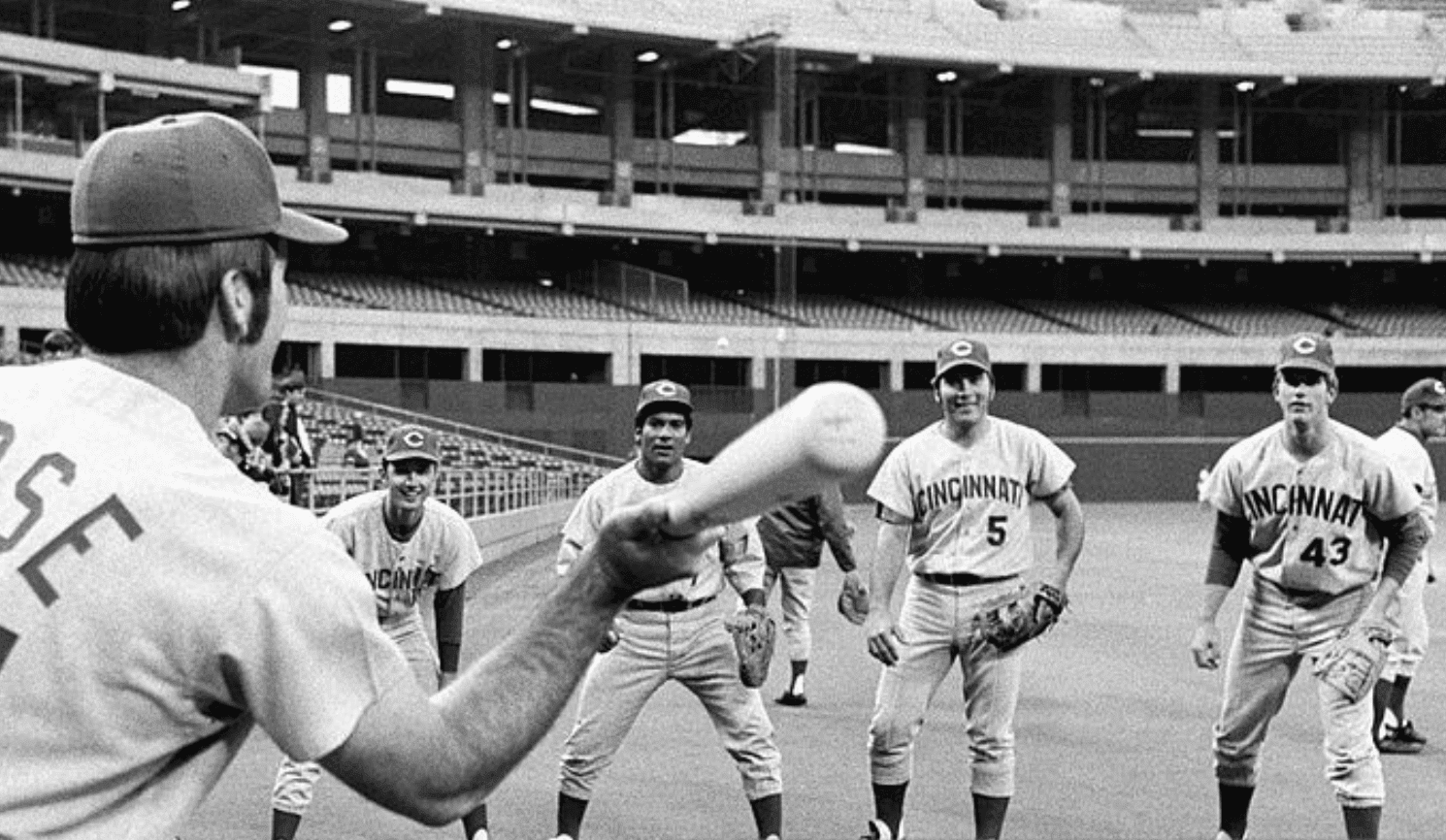 The Reds did indeed play in Pittsburgh on May 26 and 27, 1971. So this is further evidence that they went without white outlining for at least part of the '71 season. Makes me wonder if they did it all season long, but I've so far been unable to find any other game photos from that season. Anyone..?
Getty says this next one is from Vets Stadium in Philly "during the 1970s." Does anyone recognize the dugout bench?
Embed from Getty Images
Finally, there's this shot of Johnny Bench — no date or location indicated: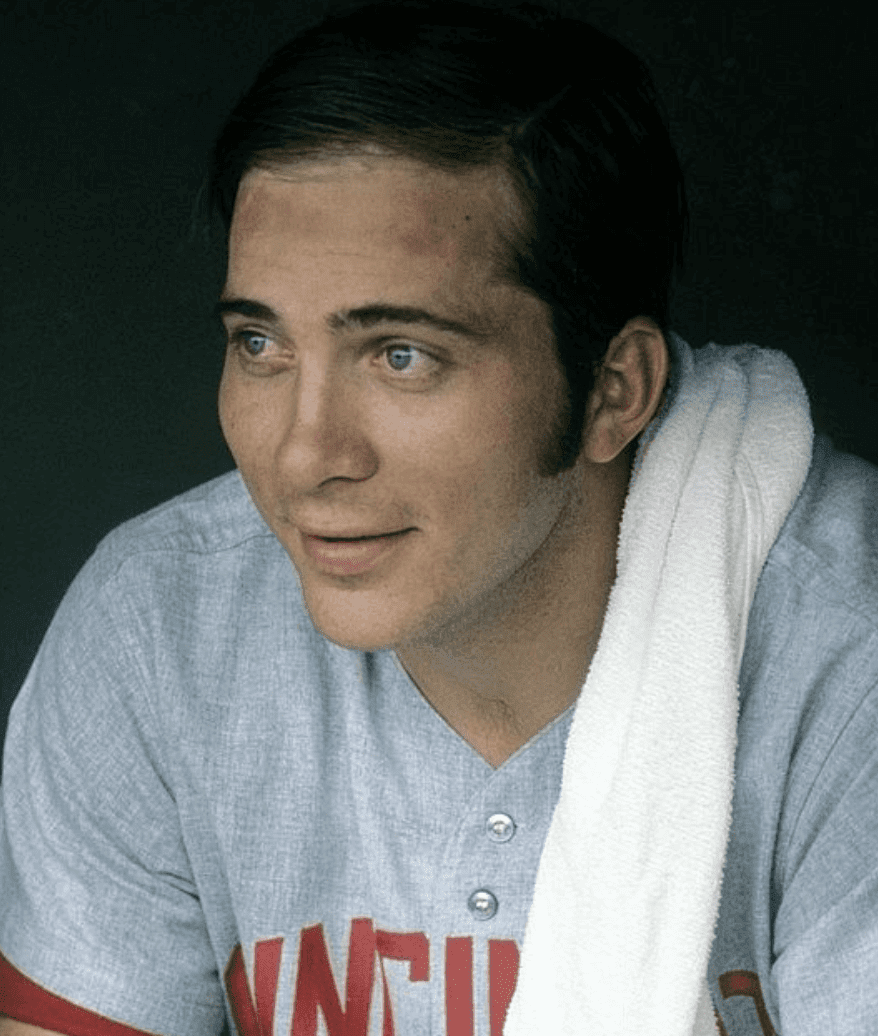 So for now we can say that the Reds went without the white outlining in the 1970 World Series and for at least part of the following season. Hmmmm.
Update: Right after I published this entry this morning, I noticed something. Let's look again at that page from Bill Henderson's guide:
As you can see, those jerseys all have white outlining on the letters, but not on the numbers. But Okkonen shows the outlining on the letters and the numbers. And if we look again at that Pete Rose photo from the beginning of the entry, the outlining was clearly on the numbers:
Embed from Getty Images
Now, the jerseys in the Henderson guide could have gone through several cycles of use. They could have been worn by multiple players, repurposed for the minor leagues, and so on. And in those cases, the front numbers could have been replaced, which could lead to inconsistencies.
All in all, I'd say this period in Reds history merits further study.
(Big thanks to reader Brice Wallace for getting the ball rolling on this one.)
• • • • •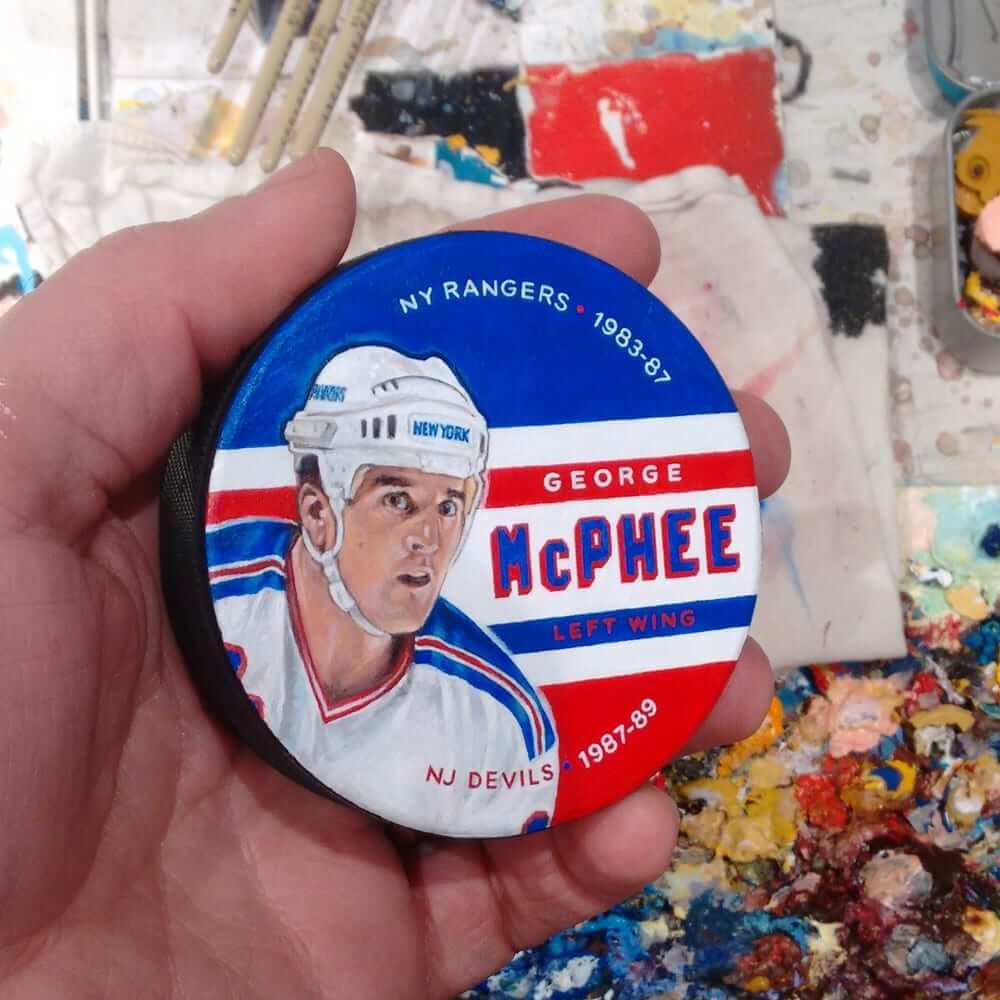 Rubber biscuit: Sean Kane, who's best known for his sensational custom-painted baseball gloves (and secondarily for designing our latest limited-edition Uni Watch T-shirt), is branching out with a new offering: painted hockey pucks. As you can see above, the results are spectacular. They should make great gifts for hockey fans.
To learn more about Sean's painted pucks, look here.
• • • • •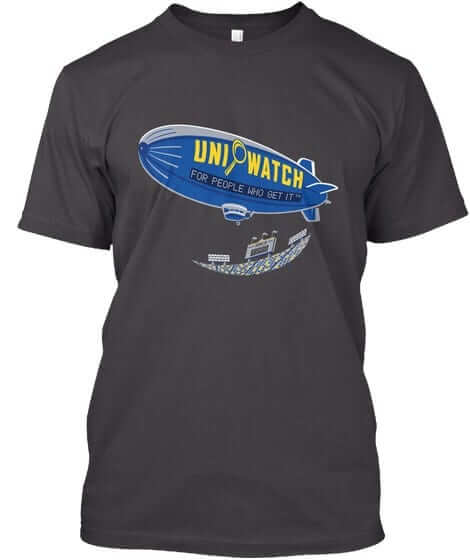 T-shirt reminders: Just a few days left to get our latest limited-edition shirt from the Uni Watch Artist's Series, designed by the great Sean Kane (shown at right; click to enlarge). It's available here through next Monday, Oct. 9. Additional info here.
We also have a bunch of new Naming Wrongs designs. Check those out here.
• • • • •
The Ticker
By Kris Gross

Baseball News: Red Sox P Joe Kelly's postseason cap patch was peeling off last night (from Sean). … Nationals OF Bryce Harper, a Las Vegas native, will wear #VegasStrong cleats for tonight's NLDS game against the Cubs. … The on-field NLDS logo at Nationals Park is being prepared. … Speaking of the Nats, here's a great story on those who sell knock-off gear outside Nationals Park, and how they get away with it (from William F. Yurasko). … Diamondbacks coach Ariel Prieto caused a stir by wearing an Apple Watch during the NL Wild Card Game on Wednesday night. The watch could conceivably be used to steal signs, but Prieto said it was on airplane mode during the game. … New jerseys for University of Maine (from Matt Aber).

NFL News: Here is your Color Rash matchup from last night between the Pats and Bucs. Additional photos here. … Anyone else annoyed by the differing stripe width on the Patriots unis? (from @jeffisrael25). … Riddell created a "Franken-helmet" for Peyton Manning, with elements from the Colts, Broncos, and Tennessee.

College Football News: For the first time ever, Oklahoma will go mono-red on Saturday. You can see more in this video (from Darrell Hatfield, Kevin C. Burns). … Akron will wear 1986 throwback unis this weekend. Here is a side-by-side of this week's helmet and the 1986 version. … We have uni combos for TCU, North Carolina, and Miami (from James Gilbert, Adam Apatoff). … Cross-listed from the NFL section: Riddell created a "Franken-helmet" for Peyton Manning, with elements from the Colts, Broncos and Tennessee. … Maryland and Rutgers will play a football/wrestling doubleheader at Yankee Stadium next month. It's called the "Battle in the Bronx" and has its own logo (from Matt Shevin). … For the third time this season, Virginia Tech CB Greg Stroman will wear the honorary Frank Beamer No. 25 (from Andrew Cosentino). … Paul Friedmann passed along this look at the Williams College equipment room from 1963.

Hockey News: The Hurricanes shared a photo of the "C" being stitched on their red jerseys, before announcing their captains for this season (from @OlegKvasha). … The Senators and Capitals wore Bryan Murray memorial helmet decals to honor the former coach and GM (thanks Phil). … The Tucson Roadrunners of the AHL will wear Darth Vader-themed jerseys on Dec. 23.

Basketball News: Xavier unveiled their first road throwback uniforms. More details here (from Mike Vulanich). … New home uniforms for Monmouth (from Brandon). … Suspended Louisville coach Rick Pitino reportedly received 98% of the cash from the school's last deal with Adidas.

Soccer News: Scotland wore their pink kits yesterday to avoid clashing with Slovakia's white shirts (from Taylor Ericson). … Oh boy. German amateur team SV Oberwürzbach has a new jersey advertiser: porn star Lena Nitro (from Tim Elmore). … Minneapolis City SC of the NPSL have a new kit provider (from Ed Zelaski).

Grab Bag: Here's an inside look at stadium workers and the sometimes unseen jobs they perform (thanks Brinke).