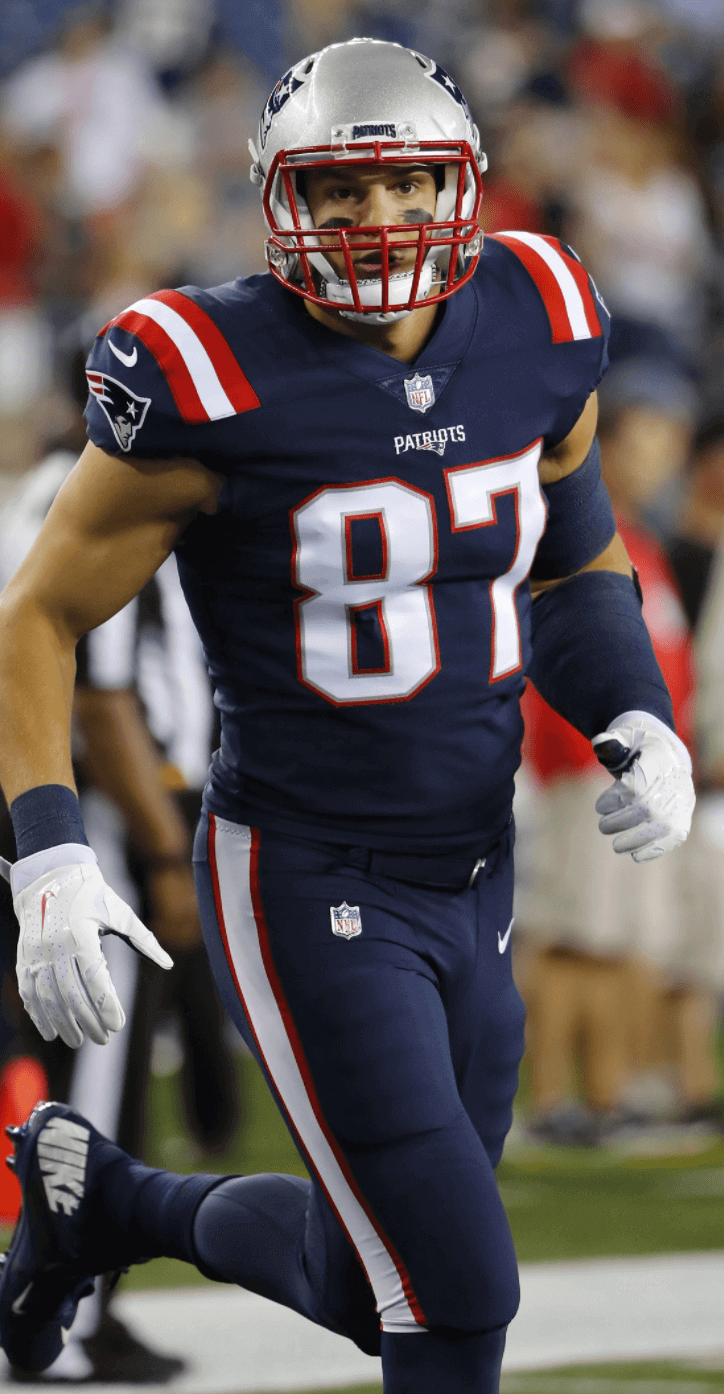 Yesterday's Ticker included the news that the Pats will be wearing mono-white with a new set of white pants for tonight's game against the Bucs. But as several readers pointed out to me, the Pats also announced something that wasn't in the Ticker: They'll be wearing their mono-navy Color Rash uni — the same one they wore last season for a Thursday-night game against the Texans (shown at right; click to enlarge) — when they host the Falcons on Oct. 22.
That's a Sunday.
You know, up until now I've been able to deal with Color Rash by mentally slotting it in its own little Thursday-night box and then ignoring it. Sure, most of the uniforms suck, but I live in New York City, where there's almost always something more interesting to do on a Thursday night than sit on my ass watching a football game. So I've made it a point to find other things to do with my Thursday evenings. (Tonight, for example, I'm going to the movies.)
But if the Rash is going to start spreading to Sundays, that's gonna be a problem. It's like a virus that was safely locked away in a lab, but now there's been a security breach and we could end up with a pandemic. If teams start treating the Rash designs as just another alternate look that they can trot out whenever they please, that's seriously bad news. Do you really want to see the Seahawks in mono-neon on a Sunday? Or the Bills in mono-red? Or the Vikings in mono-purple? Keep that on Thursdays where it belongs.
(Some of you may be thinking, "This isn't news, because the Lions are wearing their new mono-grey Rash design on Dec. 16, which is a Saturday." But those Saturday games are actually considered to be part of the NFL Network's Thursday-night schedule, so they'll feature the Rash.)
Two additional thoughts: First, the Pats' navy Rash jersey has no TV numbers. When's the last time that happened for a non-throwback, non-Thursday game?
Also, it's worth noting that if the Pats were dying to go mono-navy on a Sunday for some reason, they didn't need to spread the Rash. They could've just worn their navy home jerseys with their navy road pants. There's even precedent for it — they went mono-navy for a 2002 game against the Broncos:
That's an awful look, of course. But so is the Rash version. So why bother to spread the Rash when they could just wear their navy primaries? I'm sure jer$ey $ale$ have nothing to do with it, right?
• • • • •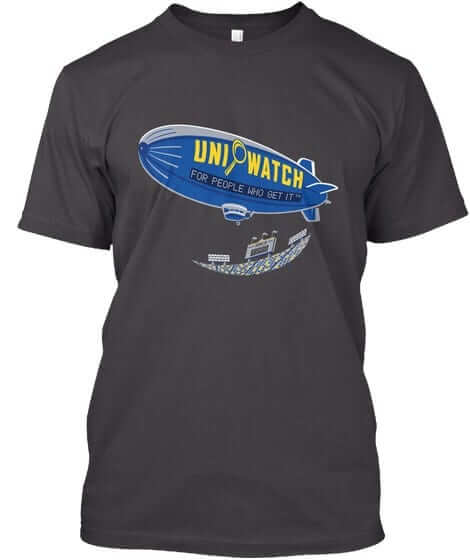 T-shirt reminders: In case you missed it last week, our latest limited-edition shirt from the Uni Watch Artist's Series is by the great Sean Kane (shown at right; click to enlarge). It's available here through next Monday, Oct. 9. Additional info here.
We also have a bunch of new Naming Wrongs designs. Check those out here.
• • • • •
The Ticker
By Paul

'Skins Watch: The official village seal of Whitesboro, N.Y., which appeared to show a white man assaulting an Indian, has been revised. … An Oregon high school has changed the name of its sports teams from Indians to Mustangs, but its new mascot logo includes some Native American elements (from Dylan Darling).

Baseball News: Yankee Stadium has lots of extended netting during batting practice, but not during games. That will change next year, when they install permanent extended netting. … Here's a write-up of the recent Army/Navy 1917 throwback game. Additional photos here (from @vossbrink). … New Era is doing a bunch of MLB caps with menswear designer Todd Snyder (from Tommy Turner). … Reader Tim Arzaga is conducting an online poll about the Padres' team colors. … Here's something I didn't know: When the Indians make it to the postseason, they add extra seats in the aisles. "Season ticket holders in aisle seats aren't happy," says Robert Hayes.

NFL News: According to this story, the Colts had initially prepared a No. 16 jersey for Peyton Manning during the lead-up to the 1998 NFL Draft, because that's the number he wore at Tennessee. But Manning wanted to wear No. 18, because his father had worn it in college and his brother Cooper had worn it in high school, so the Colts had to get an 18 jersey made at the last minute and have it flown to the draft (from Andrew Walker). … Check out this old shot of Lions TE Charlie Sanders. See how his front numbers had white outlining on the outside but not on the inner borders. The TV numbers have the full outlining, however. Also, the sleeve striping is two-color — white for the thin stripes and silver/grey for the center stripe. The photo is from a 1972 preseason game, and sure enough, the Gridiron Uniform Database says that was a preseason-only jersey design (from Gene Sanny).

College and High School Football News: Yesterday's TIcker reported that UNLV and SDSU would be wearing red ribbon helmet decals for the victims of this week's Las Vegas massacre. I had assumed that this would be a small ribbon on the back of the helmet, but it turns out that the ribbon will be the main helmet logo, at least for UNLV. There's also talk of having a ribbon on the jerseys (from @MarkJar07). … Here are this week's uni combos for Vanderbilt, Texas State, and Virginia Tech (from Phil, Michael George, and Andrew Cosentino). … Here's a good piece about Iowa State's assorted logos, including the new cyclone/Bugle logo they debuted last week. Good stuff. .. Purdue will honor former coach Joe Tiller, who died last weekend, by wearing throwback helmets and a memorial decal (thanks, Phil). … New navy jerseys for Stony Brook (from Patrick Muffley). … Here's a weird one: A high school team in Texas is using the NHL's Buffalo Sabres' old "Buffaslug" logo on their helmets (from Tris Wykes). … Blake Gillikin punts for Penn State and brother Tyler is the long snapper at Northwestern. With those two schools playing each other this weekend, Blake and Tyler's mother will be wearing a PSU/NU Frankenjersey (from Blake Fox). … Georgia Southern has been dealing with some NOB font inconsistencies.

Hockey News: With the NHL season opening last night, we finally got our first on-ice look at the Oilers' new orange home uni, which they had avoided wearing during the preseason. … Speaking of the Oilers, they've also changed their home chinstrap color. … The Blues are adding a memorial helmet decal for former player Noel Picard, an original Blue who died last month (from Brendan Mongey). … One of the people killed in the Las Vegas massacre earlier this week was a Kings employee. She's being honored with a memorial helmet decal (from @j_foreigner). … Blackhawks LW Bryan Bickell, who signed a one-day contract with the Chicago so he could retire as a member of the team, wore a Reebok jersey to his retirement presser. … The Milwaukee Admirals will go G.I. Joke on Nov. 11 (from @NicholasOfMKE). … Vietnam War-themed jerseys upcoming for the Bakersfield Condors. … New third jersey for the Clarkson women's team (from Cap Carey). … LGBT pride jerseys this weekend for Miami of Ohio (from James Hoppe). … The menswear label Joseph Abboud will provide custom suits for 20 NHL coaches (from Tommy Turner). … Cross-listed from the football section: The Sabres' old "Buffaslug" logo is being used as the helmet logo for a high school football team in Texas (from Tris Wykes).

Basketball News: Here's a piece on how the Mavs' infamous "trash bag" uniform became a collector's item (from Phillip Foose). … A Knicks blogger has gone into considerable detail trying to prove that the team is using a new shade of orange. I initially didn't buy it, but Robert Silverman has convinced me. … The WNBA's Los Angeles Sparks, who had declined to be on the court for the playing of the national anthem during the first four games of their championship series against the Minnesota Lynx, stood on the court for the anthem prior to last night's decisive Game Five. … I haven't had time to fact-check this, but Quentin Medeiros says every NBA team participating in the first four days' worth of preseason games wore white socks, except for the Magic. … Duquesne, which had been outfitted by Adidas, is now with Nike.

Soccer News: France's pre-match World Cup jersey has leaked (from Stephen Santangelo). … Interesting note from our own Jamie Rathjen: "Washington Spirit (NWSL) midfielder Joanna Lohman posted a picture of her Spirit change shirt from this past season on Twitter. The catch is that she suffered a torn ACL 20 minutes into the first game of the season in April, so this is a shirt that she never wore on the field. Don't know how often we get to see something like that."

Grab Bag: A female Iranian chess champion who was shunned in her homeland for refusing to wear a hijab while playing will play in the United States instead. … Really interesting piece on a conceptual artist who uses sports jerseys and balls in his artwork. … A Pittsburgh columnist says things were better before fans started wearing jerseys, and I couldn't agree more (from Adam Greenberg). … This is pretty awesome: About 150 people tried to draw famous brand logos from memory (from the Tugboat Captain).