By Phil Hecken, with Paddy Watson
Follow @PhilHecken

You folks may recall I had done a post a few months ago with Henry Yu on the Japanese baseball experience, and at the end of the article, I asked if any other fans wanted to share their experiences. I had a back-and-forth with Paddy Watson, who was very interested and who crafted the article you're about to read. I had hoped to run this during my August weekday run, but (as you know), the Nike/NBA reveals put a crimp in those plans. So, today, I'm happy to share Paddy's story (click on any photo to enlarge).
• • •
In Grade 8 Social Studies each student in my class had to do a project on one aspect of culture in another country. I did what I always did in junior high school and tried to figure out how I could get my work done, get a good grade, and connect it to sports. The result was my "Baseball in Japan" project. Two decades later, I call Tokyo home. I am now a teacher, not a student, yet I still haven't lost interest in the unique culture that is baseball in Japan. I have attended games at the Seibu Dome (now the
MetLife Dome
), the Tokyo Dome, and Meiji Jingu Stadium. I have seen the majority of the 12 NPB teams, having seen the Lions, Swallows, Giants, Hawks, Buffaloes, BayStars, Carp, Marines, and Eagles live.
In March I had the unique opportunity to volunteer at the World Baseball Classic games held at the Tokyo Dome. The Japanese fan support was great. Fans wore a lot of Japan specific gear, but also wore a lot of NPB clothing featuring players that had been picked to represent Japan. The scenes during the Japan games were typical, in that there were brass instruments and drums to go along with the fan chanting that soundtracked each at bat. Usually the outfield is split with the diehard fans from each team occupying one half. At the WBC, the whole outfield was diehard Samurai Japan fans. This made everything louder and more spectacular looking when the fans did things like coordinate having all the fans sit and stand in alternating patterns.
Many of the tickets for sale for these games came with merchandise. This is common in Japan. Often there are two prices for tickets, one with some kind of "gift" or merchandise and one without. For the WBC, there were packages that included replica jerseys, authentic jerseys, hats, towels, and even watches. Generally, there is an area outside of the stadium where fans show their tickets and pick up the goods due to them. In addition, for the WBC there were many tents set up selling Japan merchandise. Interestingly, the Japanese players chose not to wear the New Era caps they were made at a previous WBC so for this year's tournament I was told they were not produced, though I did see New Era Japan team caps being sold online through the MLB Shop online. So the caps styled like the ones the players wore were Mizuno, as was a lot of the other replica gear. There was also a line of Under Armor merchandise, none of which the players wore.
As is often the case with team merchandise for the NPB, the replicas are quite affordable and the authentic merchandise is very expensive. I find that the replica jerseys are like better versions of the giveaway jerseys from MLB teams. The authentic jerseys are better quality but they are usually at least 5-6 times higher in price. To give you an idea, the Mizuno replica hats were about 40USD, while the authentic versions (which were the same material) were about 130USD. NPB team hats are usually priced this way as well. I personally buy a lot of baseball hats and like to get the on-field New Era caps for my favorite MLB team and have no idea why anyone pays for the authentic versions of the NPB caps. If you want something different you can go for more novelty, like this Giabbit (Giant + Rabbit) hat I'm wearing or a Tokyo Swallows hat like my friend Tasuku is in.
Some parts of the fan experience I really enjoy are the fact that you can bring your own food and drink to the game, which also seems to make the prices more reasonable inside the stadium. You can even bring your own cans of beer to the game, you just have to pour them into a paper cup when you enter the stadium. If you're lucky, like my friend Naoto, your daughter will even pour your beer into the cup for you. You might also catch a choreographed dance routine on your way into the stadium.
</img src="https://c1.staticflickr.com/5/4469/23538337938_9b2bdc3a8c_k.jpg" width="100%">
The seventh inning traditions are also really cool, with some teams having flag routines, many shooting off balloons that are sold before and throughout the game, and the Tokyo Yakult Swallows fans performing a song and dance routine with their team's famous mini umbrellas. In Tokorozawa station, which is a major train hub for Saitama and getting to Lions games, station employees update the score for the Lions game each day on a scoreboard whiteboard.
One less fantastic part of the fan experience is that it seems Japanese teams are less inclined to postpone season opening games. An off day is not often scheduled for the day after the season opener like in North America, so teams really want to get the game in. This isn't a problem at the Tokyo Dome because it's a dome, or at the Seibu Dome, which has a dome roof although is open to the elements on all sides. It is a problem at Meiji Jingu, where we saw the Swallows open the year against the BayStars. It poured rain and was freezing the entire game, as my girlfriend and her mother can attest to. They could barely hold onto their beers but they managed to keep a smile on their faces.
One interesting aspect of Japanese baseball is the way the NPB does some throwback games. This year I saw the Nippon Ham Fighters play part of their two-game series at the Tokyo Dome, which was their home from 1988-2003. The team now plays in Hokkaido. The team played as the Flyers, one of their previous names, in their previous stadium. Think, the Washington Nationals playing a series as the Expos in Montréal. Moving games around the country is quite common in Japan and allows people to see pro baseball, or their favorite team, in cities they don't usually play. Before this particular game, the first pitch was thrown out by an old player.
As they do in Japan, there was also a hitter to mime a swing for the ceremonial pitch, who was also a former player. To my delight, the two old men participating wore full uniforms, and not just the throwback uniforms used in the game, but throwbacks to the specific uniforms each wore when they played. Many throwback games even use previous sponsors, which is interesting because I can't see that happening as much in western sports and also because it goes to show how intertwined team identity and sponsorship/company ownership are in Japanese baseball. Here's one of the Fighters mascot, in a Flyers shirt and myself supporting the Lions.
Each year, teams in the NPB also have festivals or weeks they have special events going on. These feature special uniforms, that are usually only worn during that time period and can be quite a departure from their standard uniforms. An example is the Saitama Seibu Lions, who primarily wear navy blue and white. Over the past three years the team has worn, yellow (to honor specific trains), turquoise, and red as part of their team festival.
Living in Tokyo, I often see fans travelling to games wearing their favorite team's gear. Many fans are very dressed up, but many also go directly from work for the 6pm start times. It is not uncommon to see people in suits with their team's towel draped around their neck headed to the game (often late because they can't leave work early enough to get there). NPB gear for sale is not nearly as omnipresent as MLB gear is in big cities in North America. Some teams do have specific stores, such as the Seibu Lions, who have a shop inside of the Seibu department store in Ikebukuro. Other than that, there are some specific shops like "Selection", which specialize in fan apparel and sell loads of MLB, NBA, NFL, and NHL gear, but also carry a ton of NPB clothing.
At the stadium, many kinds of goods are for sale. Towels are popular, and new editions come out throughout the year. There are also a lot of collaborations. For example, this year many teams have merchandise featuring Detective Conan from the popular manga Case Closed. There is also gear available with minions on it. Snoopy is also a popular choice. I remember during the soccer World Cup in 2014 when I first came to Japan you could buy the national team jersey with an image of Snoopy added to it. I can't help but feel the Grade 8 me would approve of this kind of culture!
• • •
Great stuff, Paddy, thanks for sharing!
.

.
Classic Ballpark Scoreboards
Our scoreboard creator Gary Chanko, after a long hiatus, has returned to grace us with "Series IV" in the set of Classic Ballpark Scoreboards. This feature will occasionally appear on weekends.
Here's Gary (click on image to enlarge):
. . . . . . . . . .
Classic Ballpark Scoreboards – Series IV
by Gary Chanko
Previously in Classic Scoreboards we visited two of the Twin Cities historical sports venues — Metropolitan Stadium and the Metrodome Dome. In this edition we'll look at the predecessor to Metropolitan Stadium built over a century ago: "soggy, foul, rotten and thoroughly wonderful Nicollet Park." – description by notable Minnesota sports journalist Dave Mona, Beyond the Sports Huddle: Mona on Minnesota, (Mona, 2010, p.110)
Nicollet Park

Baseball Home of: Minneapolis Millers (1896-1955), Minneapolis Millerettes (All America Girls Professional Baseball League (1944)
Football Home of: Minneapolis Marines; Minneapolis Red Jackets (Early NFL) (1920s), Augsburg University (1946-1950)
Opened: First Game, June 19, 1896
Closed: Last Game September 28, 1955
Demolished: 1955
Built in less than a month
In May 1896 the land housing the minor league Minneapolis Millers downtown ballpark, Athletic Park, was sold. The Millers had just 30 days to relocate to another location.
Remarkably, Nicollet Park (originally named Wright Field) was constructed in just three weeks while the Millers completed a road trip. The ballpark would experience several renovations and expansions during the following decades, including a major one in 1911. This photo from late 1930s or 40s shows the original center field scoreboard, still in place as a backdrop, along with the manual right field scoreboard.
For a comprehensive history of Nicollet Park, check out this SABR article, this brief summary and this pictorial overview.
The Scoreboard
The illustration depicts the center field scoreboard as it might have appeared in the mid 1920s. I say might have because there is sparse information about this scoreboard structure. And, unfortunately, there is no available color photography from this era. So the scoreboard and outfield wall colors simply represent reasonable guess work.
Notably missing from the scoreboard layout is an inning by inning line score. My thought is the line score was located on a separate scoreboard along the right field wall. Photos from the 1930s and later do show such a structure, but when it was originally operational is not known.
In later decades the old center field scoreboard remained in place providing a batters' backdrop.
The Minneapolis Journal advertisement dominates the scoreboard. The two names appearing near the bottom, Ed Walker and George Edmond, are assumed to be prominent sports writers for the paper. A bio reference to George Edmond was found but, no information about Ed Walker.
A Few Things to Know
• Nicollet Park was selected by General Mills to first introduce the Wheaties Breakfast of Champions slogan in 1933.
• More than a dozen future Hall of Famers played and coached as Minneapolis Millers in Nicollet Park, including Ted Williams, Willie Mays, Monte Irvin, and Ray Dandridge.
• After departing Nicollet Park in 1955, the Millers played the next five seasons in their new minor league ballpark – Metropolitan Stadium!
~ ~ ~ ~ ~ ~ ~ ~ ~ ~
If anyone is interested in purchasing
a digital copy of these posters
, Gary is working on an online purchase option. In the interim you can contact him directly at
Classicscoreboards@gmail.com
.
.

.
What They're Wearing Today…
The following is a list of some (though by no means all, obviously) uniforms, patches or helmets teams have announced for their games today.
• • • • •
ASU going gold/white/maroon this weekend vs. Stanford via @sundevilcole7 https://t.co/ESJpD5eCKp pic.twitter.com/lzfogfoAlO

— Phil Hecken (@PhilHecken) September 29, 2017
• • • • •
Week 4: Houston combo. @PhilHecken @UniWatch #HTownTakeover pic.twitter.com/a5BEhtt8SY

— Ignacio (@igTXSalazar) September 29, 2017
• • • • •
UNIFORM REPORT #GGWW pic.twitter.com/YQzWwIDdpV

— Clemson Football (@ClemsonFB) September 29, 2017
• • • • •
Classic look for a classic Big Ten showdown. #B1GCats pic.twitter.com/Ca5QS9HSi2

— #B1GCats Football (@NUFBFamily) September 27, 2017
• • • • •
Gophers Unveil Salute to Service White Helmets https://t.co/1qcnDaOkRA

— Phil Hecken (@PhilHecken) September 29, 2017
• • • • •
All white everything for @DartFootball #uniswag pic.twitter.com/xUJlY4FBvM

— UNISWAG (@UNISWAG) September 29, 2017
• • • • •
Game 5️⃣ | Uniform Combo

Carolina Color Rush #OriginOfFlight#GoHeels #BeatGT pic.twitter.com/NjQrnBnGF5

— Carolina Football (@TarHeelFootball) September 28, 2017
• • • • •
Uniform Report: #NCSTvsCUSE#IronWolf is

⛓️ #1Pack1Goal pic.twitter.com/L6OhkJuSkE

— NC State Football (@PackFootball) September 28, 2017
• • • • •
Saturday we will honor our 1972 Boardwalk Bowl Champion team with these helmet decals! #UMass #UniteTheMasses #TBT pic.twitter.com/I7C6ccScIM

— Mark Whipple (@CoachWhipUMass) September 28, 2017
• • • • •
New helmet decal celebrates @NBATVAhmad's induction into @Vikings Ring of Honor. #GoDucks pic.twitter.com/8vOZm9W0bM

— GoDucks (@GoDucks) September 28, 2017
Oregon Ducks Helmet Decal Celebrates Ahmad Rashad's Vikings ROH Induction https://t.co/ayQPMGPLqD

— Phil Hecken (@PhilHecken) September 27, 2017
• • • • •
Here come the Tigers! pic.twitter.com/UZgxQJpMiT

— LSU Football Equip (@LSUFBEquipment) September 28, 2017
• • • • •
Stanford wearing green ribbon for sexual assault awareness. pic.twitter.com/oUnyfY6PSK

— Paul Lukas (@UniWatch) September 28, 2017
• • • • •
Game 5⃣ • Uniform Reveal#BeatClemson pic.twitter.com/rsnbZpRT9G

— HokiesFB (@HokiesFB) September 27, 2017
• • • • •
Penn State will wear numbers on the side of their helmets vs. Indiana, pulling inspiration from the 1959-61 & 1967-74 teams.#IUvsPSU pic.twitter.com/2Wt4fJaT9L

— Penn State Football (@PennStateFball) September 28, 2017
Penn State shows up-close look of retro uniforms for Indiana game https://t.co/rVfBKaz8i3

— Phil Hecken (@PhilHecken) September 27, 2017
Learn more about the inspiration behind our Generations of Greatness uniform. ⬇⬇⬇ pic.twitter.com/BYsbYmfOtJ

— Penn State Football (@PennStateFball) June 15, 2017
• • • • •
Look what came in today pic.twitter.com/fdksJH3V3d

— Texas A&M Equipment (@TAMUequipment) September 27, 2017
• • • • •
@PhilHecken @UniWatch bgsu helmets for this week pic.twitter.com/9XQmcyYhd5

— Nike (@NikeNBA12) September 27, 2017
• • • • •
Smoke. pic.twitter.com/zn37ku2eI0

— Tennessee Football (@Vol_Football) September 26, 2017
• • • • •
Getting ready for #GTWhiteOut Saturday at Bobby Dodd!! Need a great crowd for a key Coastal game!! #TogetherWeSwarm pic.twitter.com/8RPSrMLSd8

— Paul Johnson (@GTPaulJohnson) September 26, 2017
• • • • •
UAB to wear children's names on jerseys https://t.co/Rip7hnEP2M

— Phil Hecken (@PhilHecken) September 26, 2017
First helmet done for Saturday throwback time @UNISWAG @UniWatch @USMGoldenEagles @SouthernMissFB #97CUSACHAMPS #SMTTT pic.twitter.com/eH0TWHlTZc

— SouthernMissEquip (@SouthernMissEQU) September 25, 2017
Off this week, then we are going to break out the 97 Throwbacks for our home game 9/30 #oldschool #SMTTT @SouthernMissFB @UNISWAG @UniWatch pic.twitter.com/uEgW06haax

— SouthernMissEquip (@SouthernMissEQU) September 20, 2017
• • • • •
Battle armor pic.twitter.com/QBlU4Jv8Wo

— Gamecock Football (@GamecockFB) September 29, 2017
.

.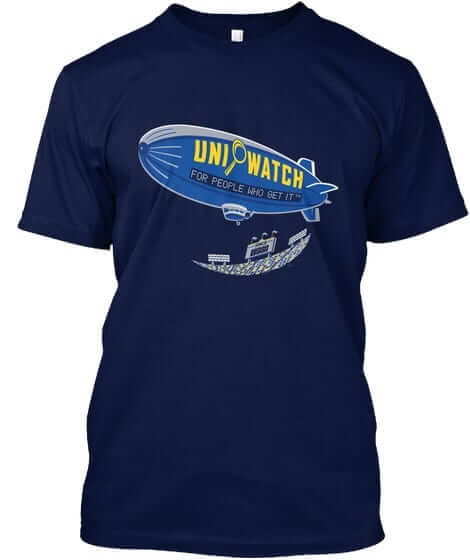 And now a few reminders from Paul
Hi there, in case you missed Friday's entry, here are three things you should know about:
1. The annual Uni Watch NHL Season Preview is now available, with all of the uniform changes for the coming season. Check it out here.
2. Our latest limited-edition shirt from the Uni Watch Artist's Series is by the great Sean Kane (shown at right; click to enlarge). It's available here until Oct. 9. Additional info here.
3. We also have a bunch of new Naming Wrongs designs. Check those out here.
.

.
The Ticker
By Anthony Emerson

Baseball News: The MLB has revealed the 2018 Little League Classic logo, to be played between the Mets and Phillies (from Michael Baron). … The statue of Dick Howser at Kauffman Stadium features Howser in Pony cleats (from Ryan Atkinson). … As part of a "hazing" ritual, Reds rookies wore full uniforms to go buy their veteran teammates coffee from a Wrigleyville Starbucks (from Michael Hersch). … Mike Chamernik with an excellent find: the MLB links to every player's walk-up song on its website. I wonder which team has the best taste? … The Museum of Modern Art in Manhattan sells a New Era 59Fifty Yankees cap with the museum's logo embroidered on the right side (from Steve Flack). … Also listed in the hockey section: The Cardinals wore Blues-themed batting practice jerseys last night (from Mike Judy). … New Era teamed up with TCU to turn old game-worn baseball jerseys into caps. First time I've ever seen anything like this (from Ivor van Esch).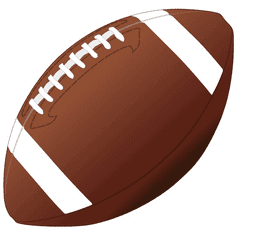 Football News: Paul is quoted in this Denver Post article about Colorado State and Colorado's alternate uniforms. … Gene Sanny sends along this super cool story about WFL alum Rocky Long's old suspension helmet. The best part is when Long, now the head coach at San Diego State, shows his players the helmet, and they can hardly believe that a helmet with such little padding was actually used in a game. Gene also found a picture of Long wearing the helmet in question during a WFL game. Highly recommended. … The Jets are going all-white at home and the Jags are going all-black on the road for this Sunday's game (from Clint Richardson). … The Browns are going mono-white again, but they're mixing it up with some brown socks this week (from Robert Hayes). … The Panthers will go mono-white in New England and the Eagles will go with the midnight green jersey and white pants against the Chargers (thanks, Phil). … GFGS vs BFBS for a high school game in Florida. That's Manatee High of Bradenton in grey and Alonso High of Tampa in black (from Chris Ashley). … The DuBois (Pa.) Area School Board is donating old high school football jerseys to Texas schools that lost equipment due to Hurricane Harvey (thanks, Phil). … This is also in the hockey section: Northmont High School in Clayton, Ohio uses the Tampa Bay Lightning logo on their football uniforms (from Mike Miller). … Mizzou football posted a gallery showing how their equipment staff prepares for games (from Dan Szy). … Gilbert Lee noticed some serious number spacing issues on Jason Witten's generic jersey in a Geico commercial.

Hockey News: Cross-listed from the baseball section: The Cardinals wore Blues-themed batting practice jerseys last evening (from Mike Judy). … Cross-listed from the football section: Northmont High School in Clayton, Ohio uses the Lightning logo on their football uniforms (from Mike Miller). … Jace Rauman noticed that the CCM logo on the boards at the University of Wisconsin's LaBahn Arena is much thinner than the one found on CCM's website. Could a change be in the works? … @StevePasz purchased a commemorative puck featuring the Red Wings' Little Caesar's Arena inaugural season logo, but the logo was missing the name "Little Caesar's Arena." Honestly, I'd be happy it wasn't included. … Professional hockey is returning to Portland and the new team's name has been announced — The new team will be called the Maine Mariners.

Basketball News: Charles Citrin found some egregious Air Jordan logo creep on a Hornets T-shirt, presenting the Air Jordan logo as if it's an official Hornets logo. Other teams have a similar shirt featuring the Nike logo. … A Los Angeles Times columnist agrees with Uni Watch: Ads on NBA uniforms are dreadful and motivated by greed (from Matthew Wolfram and Kevin Weir, who both sent this in). … The Centrum Arena, the home of the Southern Utah University Thunderbirds, has been renamed to the much less cool and much more awkward America First Credit Union Event Center. I'm still calling it the Centrum (from Joel Mathwig).

Soccer News: Conrad Burry got a look at the USMNT's 2018 World Cup jersey and made this mock-up. … Italy's 2018 World Cup jersey has been leaked, confirming that the FIGC will have a new crest. … Other 2018 World Cup leaks include a very nice Ivory Coast kit. … Argentine side River Plate has launched their new home kit. More pics here (from Ed Żelaski). … New kits for Mexican side Santos Laguna. … I think we've seen this before, but just in case: Scottish team Celtic FC will wear patches commemorating National Famine Memorial Day, a holiday in Ireland to remember the victims of the Irish Potato Famine of the mid-19th century. Both Celtic FC and their weekend opponents Hibernian were founded by Irish immigrants to Scotland, though Hibernian will not wear the patch (thanks, Phil). … The UNC men's soccer team gave head coach Carlos Somoano a jersey with the number "100" in honor of Somoano's 100th win as a head coach (from James Gilbert).

Grab Bag: Sad news: Russell Athletic has announced they will cease the production of athletic uniforms (from Phil). … Texas Track & Field has launched their new uniforms in a Twitter video. … Employees of American Airlines are suing the manufacturer of their new uniforms, which allegedly caused illness. Over 3,000 flight attendants and 200 pilots have formally complained. … Police had to come to a British school to calm a situation involving parents of children sent home for not wearing proper uniforms and the administrators who sent the children home.
.

.