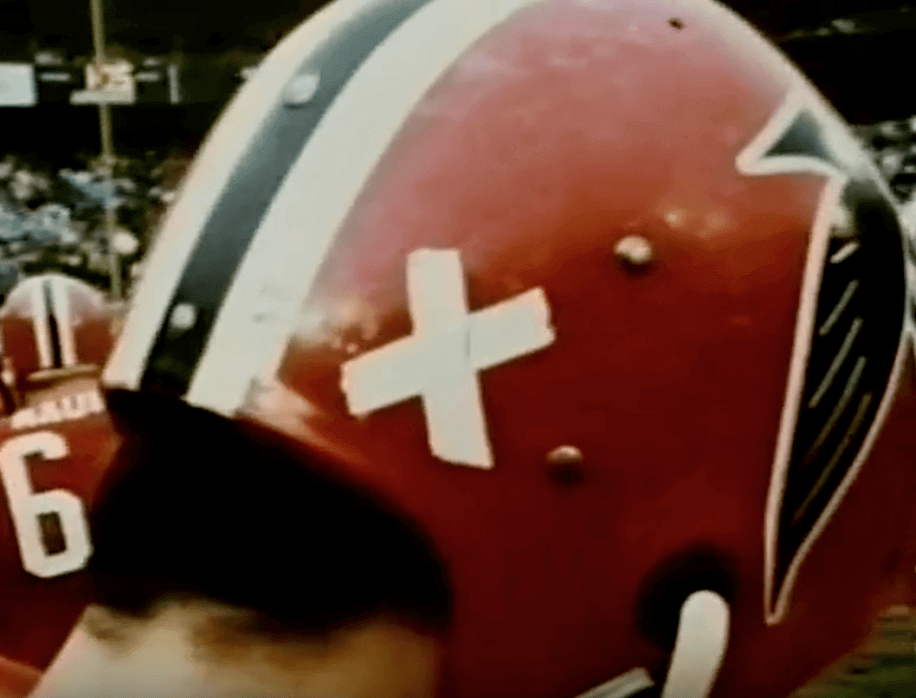 The image shown at right is from the Falcons' home opener in 1971. What's with the white "X" on the helmet? The answer to that question provides a nice little uni-related storyline that I hadn't been aware of until reader Bill Kellick recently brought it to my attention.
Here's the deal: In the 1971 NFL draft, Falcons coach Norm Van Brocklin chose a bunch of largely unknown players from smaller colleges, and a local newspaper referred to it as the "Brand X draft." You don't hear the term "Brand X" anymore, but it was commonly used in advertising back in those days, usually referring to a nameless or generic product (i.e., "Here's how our name-brand product performed against Brand X").
As it turned out, 10 of Van Brocklin's draftees made the 1971 roster, and three became starters: wide receivers Ken Burrow and Wes Chesson, and cornerback Tom Hayes. For these rookies, "Brand X" became a badge of pride, and the three starters all wore white "X" marks on their helmets, like the one shown above, for that home opener.
When preparing this post, I originally had some video footage that showed all three of the X-clad players and provided a bit of the backstory, but that video has since been removed from YouTube. Grrrr. Here's hoping it reappears at some point.
I did some additional research but couldn't determine if the seven non-starting rookies wore the "X." It's also unclear whether this was just a Week One thing or if it extended deeper into the season. Anyone..? (At the very least, the term "Brand X draft" was used for awhile. On Oct. 3, prior to a Week Three game against the Lions, Van Brocklin said, "[The rookies] have made our Brand X draft look pretty good." But it's not clear whether the players were still wearing the white tape on their helmets at that point.)
Of course, they'd never get away with any of this in today's NFL. But it's a nice little story from yesteryear.
(Major thanks to Bill Kellick for schooling me on this one.)
• • • • •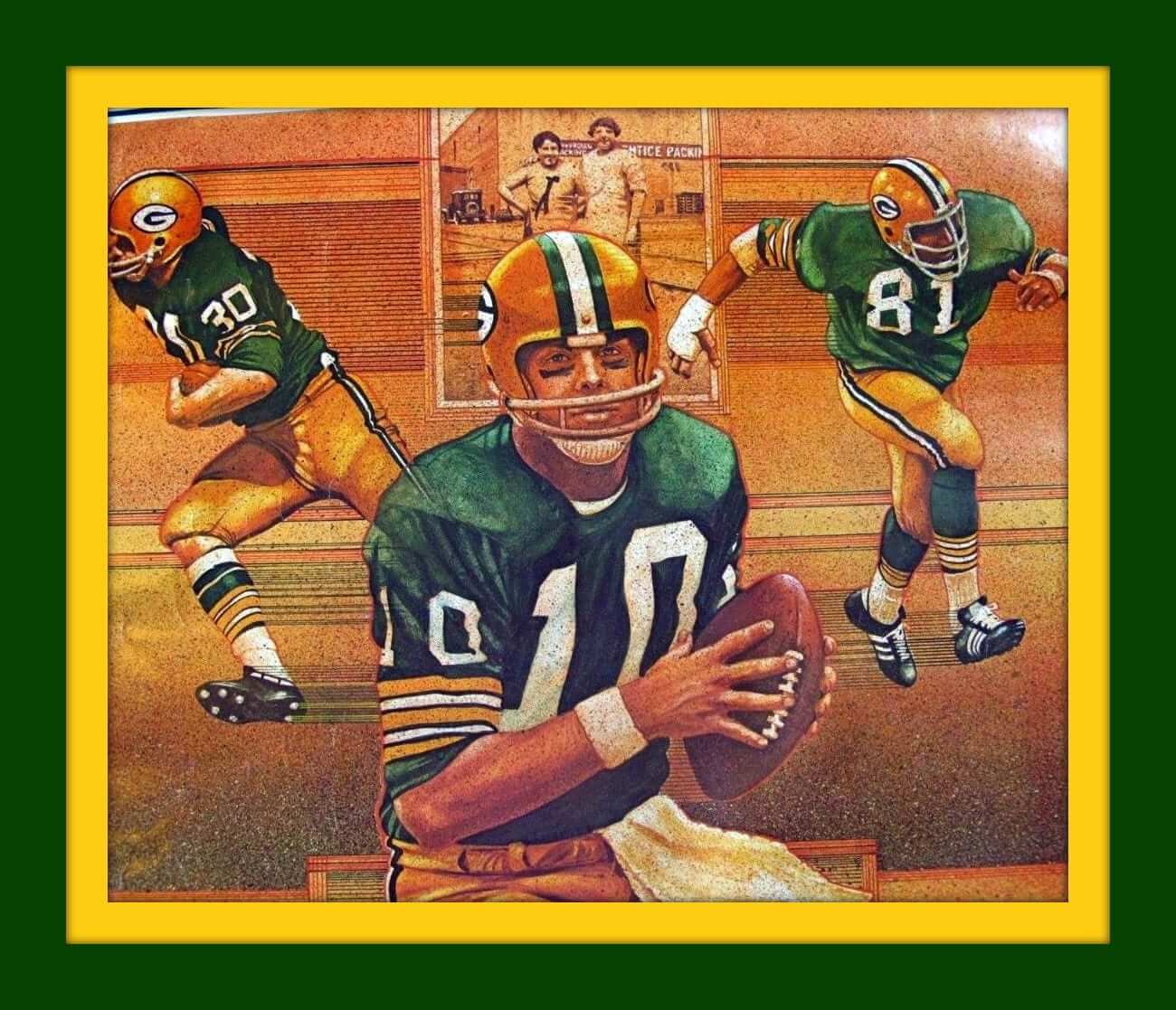 Click to enlarge
Collector's Corner
By Brinke Guthrie
While Dave Boss (gasp) is correctly referred to as The Master around these parts, the poster series from Damac can't be overlooked. Boss was retro, while the artists who drew for the Damac line were much more contemporary, as we see here on this 1979 Packers poster featuring quarterback Lynn Dickey.
Now for the rest of this week's picks:
• Here's another Damac poster, this one by Chuck Ren, for the Seattle Seahawks.
• And believe it or not, there seems to be wallpaper consisting of those vintage Damac designs!
• Look how simple this San Diego Rockets pennant is. It looks like it was hand-drawn! Probably a stock illustration that was used by many different teams.
• We all know how the (pick your own descriptor here) black 49ers uniforms look, but Starter was putting the team in black years ago with this team jacket. A prediction of things to come.
• This 1970s Miami Dolphins Riddell helmet plaque is in great shape.
• Another helmet plaque here, and this Cleveland Browns version comes with the ill-fated "CB" logo.
​
• Here's a big lot of 1970s NFL helmet fridge magnets!
• A Tony Dorsett four leaf clover lottery ticket scraper? Perfect for key chains! It's "3 in 1." What?
• I've followed the Cowboys off and on for decades, but until now, I never knew their early logo was referred to as "Cowboy Joe," as on this drinking glass.
• Absolutely perfect condition for this 1970s New York Jets helmet bank. This is one of the helmets that were given away all over the country by banks. The Jets one is interesting due to the placement of the decal, which should be more slanted in keeping with the helmet profile.
• We've all seen the black NFL thermal mug from the late 1960s and early 1970s- but this is the first time I've spotted an ice bucket with the same design.
• Here's a miniature New York Jets beer stein, noting that they were "Super Bowl III" champions. But not wearing that helmet!
• Nice artwork on this 1967 8mm Football Thrills "home movie" of the 1967 Playoff Bowl.
• • • • •
The Ticker
By Alex Hider

Baseball News: Uniform designer Todd Radom has been ranking the top 30 logos in MLB history throughout this season on the Baseball Tonight Podcast. Yesterday, he finally completed his list. Can you guess which logo was in the top spot?

NFL News: A member of the Falcons' digital media staff tweeted yesterday the team had some "uniform news" coming this week (from Blake Pass). … One Cowboys player wore cleats with the Tasmanian Devil cartoon character during warm-ups yesterday (from our own Kris Gross). … From Sunday: Odell Beckham Jr.'s cleats included the phrase "No FG club. Not now. Not ever." (from McGrit). … Washington CB Josh Norman wore a Mexico men's national soccer team jersey during postgame interviews on Sunday (from Ryan). … Former Packers players were at Lambeau Field on Sunday and their polo shirts looked like they were a distinctly non-Packers shade of green (from Jeff Ash).

College Football News: In response to Arkansas wearing Cowboys-themed unis at JerryWorld over the weekend, a Texas A&M fan blog mocked up some Aggies/Houston Oilers unis just for fun. The photos even circulated on Reddit and other social media sites as if they were real (from David M.). … Southern Miss's throwback helmets are ready to go for this weekend. … In this graphic of Penn State RB Saquon Barkley, his helmet striping is cut off a bit short (from JJ). … The ACC Tracker has been updated through week four.

Hockey News: The Golden Knights have embedded the names of their season ticket holders into their home ice Additional info here. … The Lightning will retire No. 4 for former C Vinny Lecavalier (from Moe Khan). … A former assistant equipment manager for the Reading Royals of the ECHL is accused stealing team equipment of and selling it on the black market (from John Muir). … Freshmen on the University of Alaska-Anchorage hockey team dressed up in full uniform for a UAA volleyball game over the weekend (from Zeke Perez Jr.).

Basketball News: Carmelo Anthony showed up to Thunder media day wearing a hoodie under his jersey. … The Sixers have a No. 0 and a No. 00 on their training camp roster (from Jackie Treehorn). … One Bulls player went through media day in a jersey that was blank on the back — no number, NNOB. … In this video posted to Twitter, Celtics G Kyrie Irving is wearing red-trimmed shoes that he likely wore with the Cavaliers (from @SidDidWhat). … Members of the All Blacks, New Zealand's national rugby team, were working out in NBA jerseys the other day (from Paul Friedmann). … Xavier plans to unveil new new uniforms shortly (from David Fleck).

Grab Bag:  Switzerland's home kit for the 2018 World Cup has been leaked (from Josh Hinton). … Virginia Tech will unveil a new university logo today (from Andrew Cosentino). … Yesterday's note about cycler Peter Sagan holding on to the rainbow jersey prompted  JohnMark Fisher to send along this Wikipedia article that explains the jersey colors in cycling. … Rand Martin was at RF McDougall's in eastern Washington recently, and noticed the bar was adorned with brightly painted apple crate labels.