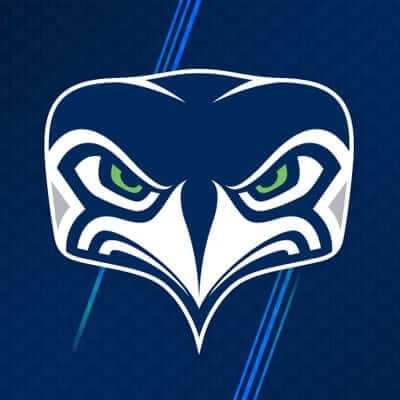 In yesterday's Ticker, I linked to a photo of a Seahawks cap with a logo I'd never seen before. That photo, which was originally posted on the team's Instagram page, was apparently the "soft launch" for a new secondary logo that was officially announced last night on the Seahawks' Facebook page. It's already being used as the team's social media avatar on Facebook, Twitter, and Instagram, although it's not yet clear whether it'll ever be used on the field. Like, are they going to try to put it on the front of the helmet somehow?
I hope not. Seriously, it's hideous. Compare it to the side-view logo on which it's based (click to enlarge):

The bird on the left looks like a serious bird of prey — steadfast, resolute, determined. The one on the right looks more like prey — square-faced, thin-beaked, scrawny. It looks like an ostrich! And I'm not the only one who thinks so:
Seahawks new alternate logo was inspired by… pic.twitter.com/tYASXD4IEZ

— Ronnie Wellington (@ronn_wellington) September 6, 2017
That was one of many amusing comparisons people made regarding the new logo. Twitter pretty much had a field day with this one. Here are some of the reactions:
I… I just don't know what to think about this new #Seahawks logo. pic.twitter.com/2jVVsPaIUk

— Stephen Cohen (@scohenPI) September 6, 2017
New Seahawks logo looking like a librarian who is disappointed in you because you turned your books in past their due date pic.twitter.com/OVrfw0YdgH

— Natalieeeee (@MsNatalieHughes) September 6, 2017
If you flip the alternate Seahawks logo, it looks like a pug with a mohawk. pic.twitter.com/qqvUKI4zQ8

— Ryan Nanni (@celebrityhottub) September 6, 2017
Moral of the story: The Seahawks should stick to what they do best (i.e., wearing lots of ugly neon green, wearing greys that look like poorly laundered whites, etc.) and leave the new logos to someone like the Chargers.
• • • • •
NFL preview reminder: In case you missed it yesterday, my annual NFL season preview, with all of the uniform news for the coming season, is now available over at ESPN.com.
Raffle reminder: Also from yesterday, I'm currently raffling off a bunch of cool Hartford Whalers items. Full details here.
• • • • •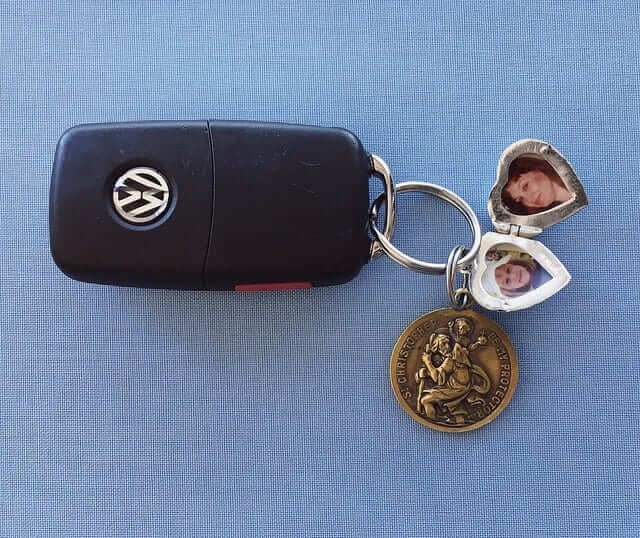 KRC update: The latest installment of Key Ring Chronicles is about a woman who has two items on her key ring — one from each of her grandmothers. Check it out here.
• • • • •
Membership update: As is usually the case, membership enrollments slowed down during my annual August break from the site, but we did add one more batch of cards to the membership card gallery (including Anthony Scandiffio Jr.'s card, shown at right, which is an NNOB version of a Team USA jersey from the 1996 World Cup of Hockey).
I have a bunch of open slots on the current sheet of cards and plan to send it to the printer this Friday. So if you sign up today, you should get your card without much of a wait.
Remember, a Uni Watch membership card now entitles you to a 15% discount on any of the merchandise in our Teespring shop. (If you're an existing member and would like to have the discount code, email me.) As always, you can sign up for your own custom-designed card here, you can see all the cards we've designed so far here, and you can see how we produce the cards here.
• • • • •
The Ticker
By Alex Hider

Baseball News: The Mariners will be wearing "Los Marineros" jerseys on Saturday, and the team will also give away a Robinson Cano bobblehead that features him wearing the jersey (from Tim Dunn). … Orioles prospect Austin Hays will wear No. 18 when he makes his debut (from Andrew Cosentino). … Gordon Blau took this shot at an old-time base ball game at the Mountain Athletic Club in Fleischmanns, New York. Check out the knob on that bat! … The Braves have Clemson-themed merch for tonight's game.

NFL News: Reports indicate that the Cowboys will only wear blue jerseys three times this year (same as last year), despite the team's equipment manager saying he would campaign them to wear blue at home more often (from Jason Eudaley Brown). … Based on the Bills' promotional schedule, it looks like they'll wear throwbacks on Oct. 29, and it appears that the league will be reprising the "My Cause, My Cleats" program on Dec. 3 (from F Free and Spencer Seaner).

College Football News: Virginia Tech will wear white "Hokie stone" helmets this weekend against Delaware (from Andrew Cosentino). … North Texas is going black-white-black this weekend (from Garrett Gough). … Air Force has already unveiled their new alternate helmet, and is leaking the various new decals throughout the week. … Georgia Southern teased the special helmets they'll wear this weekend for Military Appreciation Day yesterday. … We may have mentioned this before, but Stony Brook has white lids this year (from Eric Wright). … Tennessee made a floating "Power T" with helium-injected foam before Monday's game against Georgia Tech (from Aaron Roggensack). … New band uniforms for Alabama (from College Marching Bands). … Looks like North Carolina is going to re-up with Nike (from James Gilbert).

Hockey News: The Rangers have a new red line design that incorporates a silhouette of the team's shield logo (from Patrick Thomas). … Ryan Seacrest and Kelly Ripa donned Rangers sweaters during an interview with Henrik Lundqvist yesterday (from Chris Flinn). … According to a video tweeted by the Stars, the anniversary patch the team will wear this season will be a chromaflex patch (from Patrick Thomas). … Like many other NHL teams, the Capitals are still wearing Reebok practice jerseys (from Evan Knode). … The Kalamazoo Wings of the ECHL will wear Mighty Ducks (the movie) jerseys on Dec. 22. … New Star Wars jerseys for the Cincinnati Cyclones (from Everett Fitzhugh). … Here's a new Vegas Golden Knights goalie mask.

Basketball News: Video game leaks point to the Thunder wearing a navy and orange alternate this season (from Travis Singleton). … More video game leaks: Terry Rozier of the Celtics will be going with RNOB (from Cole Pessolano). … Awesome move by UCLA: They're going old school with their new court design (from Dalton). … ICYMI from the College Football section: Looks like North Carolina is going to re-up with Nike (from James Gilbert).

Soccer News: Alex Hunter is the fictional footballer featured in FIFA 18's Career Mode. In this year's game, players can have Hunter sign with the LA Galaxy, so the team has started selling Hunter's jersey at their team shop (from Jose Palacios). … There was a yellow-on-yellow match in the first qualifying round of the FA Cup between Horsham and Ashford United on Saturday (from Doc Serph). … The Australian Mens National Team, usually referred to as the Socceroos, appears to have added a corporate advertiser to its nickname (from Shane Bua).

Grab Bag: Venus Williams lost an earring during the US Open last night, and Petra Kvitová took off her headband halfway through the match (from John Furstenthal). … The Brazil women's volleyball team must have run out of zs, because they used a 2 on one player's NOB (from Timmy). … The demand for Adidas Yeezys, the coveted and rare signature shoe for rapper Kanye West, has spawned a massive footwear black market.