[Editor's Note: Paul is on his annual August break from site (although he's still on the clock over at ESPN and may be popping up here occasionally), and Phil is off this week. Today's content was written and coordinated by assistant editor Mike Chamernik. Paul will return to take over the site this Friday, Sept. 1.]
By Mike Chamernik
Color Rush has spread to college football. Yesterday it was revealed that Michigan and Florida will wear monochrome uniforms for their season opener at Dallas's AT&T Stadium on Saturday.
Michigan says that its uniform commemorates the 150-year anniversary of adopting maize and blue as school colors. The Wolverines have worn maize jerseys with blue numbers once before, way back in 1928 for a game against Navy. This will be the sixth time since 2011 that Michigan has worn an alternate uniform, including mono-blue, and the first time the uniform was produced by Jordan Brand (ugh).
Florida is going with a "flooded" blue uniform, in Nike lingo, which includes blue gloves, cleats, socks, and wristbands. The Gators have worn mono-blue dozens of times over the last decade, but each time they wore contrasting orange and white accessories.
More photos of the uniforms can be seen here.
• • • • •
Bucks Return to Their First Home: The Bucks are celebrating their 50th season this year with a new throwback uniform and a regular season game at the MECCA Arena, which still stands across the street from their current home, the Bradley Center. This morning, the Bucks will unveil the uniform, which is officially designated the "Classic Edition" in new NBA-Speak, and announce the date and opponent for the game.
Most known for its colorful and imaginative court, the Bucks played at the MECCA from their inaugural season in 1968 up through 1988. It currently serves as the home for UW-Milwaukee basketball, so while it is certainly a smaller venue at only 11,000 seats, it shouldn't have to be modernized that much for an NBA game.
This is not the first time that a team has reopened a former home for a ceremonial regular season game. Thirteen years after they moved out and months before the arena's closing, the 76ers held a game at the Spectrum in March 2009. The Lakers did something similar with the Fabulous Forum that same year, but in the preseason. Can anyone else think of any regular season examples from any of the four major sports?
• • • • •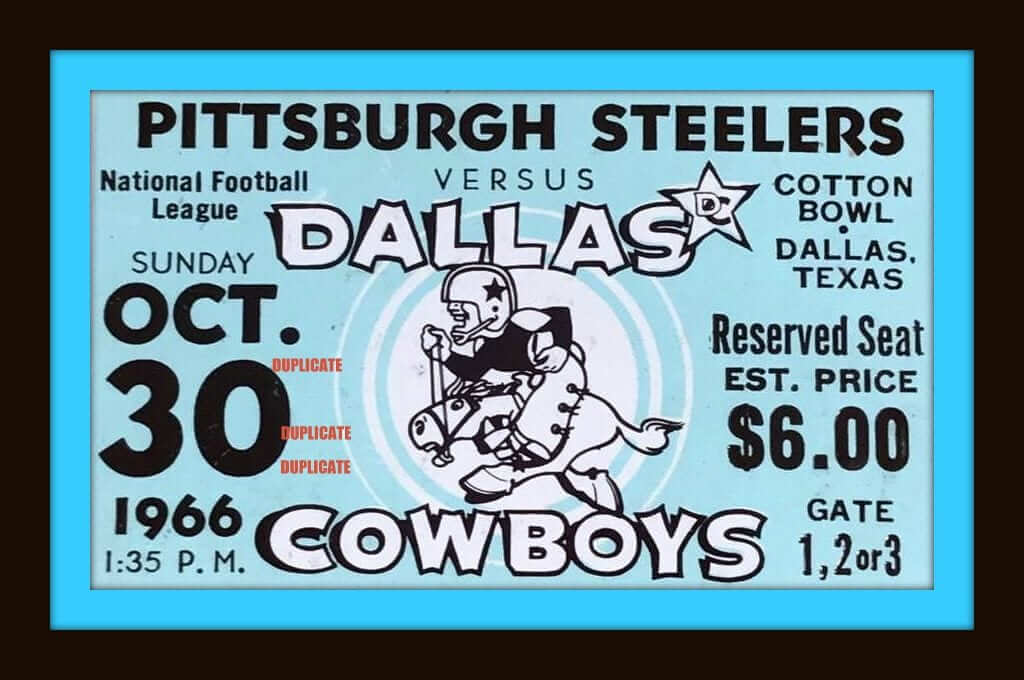 Click to enlarge
Collector's Corner
By Brinke Guthrie
I wish the Cowboys would bring back this logo (and fix the color scheme, but that's another rant). As I recall, it was still in use when I moved to Dallas in 1971, five years after the game featured on this ticket stub. A reserved seat at the Cotton Bowl was just six dollars, and you'd be right around the 30-yard line or so! I bet the seats at JerrahWorld are a bit more expensive
Now for the rest of the week:
• One more Cowboys item: McFarlane really nailed this pose of QB Roger Staubach complete with the bicentennial red stripe. Two quibbles: Roger was wearing white Adidas that fall, and the company didn't quite get the star logo on the box. Minor quibbles, though — a great likeness.
• The great Jerry West, he of the NBA logo, seems to have held a basketball camp back in the day, and he called it Camp Wahoo. Guess the Cleveland Indians were okay with it.
• Here we have a nice-looking pair of Chicago White Sox, er, socks. Sponsored by your friends at Clorox, they're 16-17″ in length with navy stripes and that modern batter logo they used.
• The cover of this 1969 Bengals press guide touted that fancy new stadium that was going up in Bengal Land down on the river in another season.
• Boston Bruins fans will wanna wax up their skates with a can of Phil Esposito hockey boot wax.
• If you were a member of the NFL Super Pro Club, I guess you got one of these Frisbees.
• Here's a 1970s 49ers helmet plaque from Sears. In fine shape except for a little spot right by the back of the helmet.
• Now, this auction is just for the box, which contained a 1960s Wilson NFL uniform set. Ninety dollars is a bit steep for an empty box, but you can't deny that the artwork is terrific: John Brodie, Bob Griese, and Gale Sayers!
• Now look how jaunty this Pittsburgh Pirate looks on this 1970s belt buckle.
• Staying in the Steel City, this 1970s Steelers serving tray appears to be in excellent shape.
• Far OUT, dude! Check out this 1970s Peter Max–style football scarf on Etsy, from reader Jon Solomonson, who added "I'll just have to imagine my own team's players on this generic scarf."
Follow Brinke on Twitter.
•  •  •  •  •
Help Wanted: Paul here. Would you like to work long hours for low pay? Have you always fantasized about having one of the internet's most persnickety readerships pointing out your every misspelling and grammatical error? Does typing three periods in a row, many times per day, sound like your idea of fun?
If this sounds like you, then I may have just what you're looking for. Due to some reshuffling of responsibilities around here, I'm currently in the market for a new Ticker intern. Here are the basics:
1. The job will require you to be on Ticker duty at least one weekday per week (and possibly two, if things work out), roughly from 8am to 9:30pm Eastern. You'd be assigned to the same weekday(s) each week. Being "on Ticker duty" means (a) monitoring all the email sent to the Uni Watch email account and all the mentions on the Uni Watch Twitter account; (b) compiling all of that content into the Ticker that will run on the following day, and having it ready and waiting for me when I wake up in the morning; and (c) evaluating which emails and/or tweets, if any, need to be forwarded to me (which is arguably the most important part of the job). You don't have to be glued to your computer all day long, but you do need to check those email and Twitter accounts at least every 90 minutes or so, just in case there's breaking news or something that needs immediate attention.
2. Once you get settled into Tickering, there will also be the opportunity (and occasionally the need) for you to write non-Ticker content.
3. The gig comes with a small stipend that is completely insufficient to cover the work involved, which should be an excellent introduction to the financial realities that await you in the larger world of journalism.
4. All of the following are required:
• A detail-oriented mindset.
•  A knack for critical thinking.
•  Excellent writing and grammar skills.
•  Excellent organizational and multi-tasking skills.
•  Excellent communication skills.
•  A strong working knowledge of Uni Watch.
• A strong working knowledge of pro and college sports.
•  A strong sense of responsibility.
•  Some experience with HTML.
5. Any of the following, while not necessarily required, would be a big plus:
•  Some experience and/or education in journalism.
•  A decent working knowledge of AP style.
•  Some knowledge of, and enthusiasm for, graphic design.
•  Some experience with WordPress.
•  A dry sense of humor.
•  A college major that is not sports marketing.
6. Although most of the people who've filled this position in the recent past have been young people looking to jump-start their media careers, I'd also be happy to work with someone older. There's no minimum or maximum age.
7. You may have noticed, or at least intuited, that the Uni Watch team is currently comprised exclusively of straight white males. In a perfect world, I would prefer to have a more diverse roster. That's not to say I'll pick a less-qualified candidate just for the sake of diversity, but if you think you have the chops and you fall outside of our current narrow demographic range, I'm definitely encouraging you to apply.
Still interested? If so, drop me a line. Your email should include (a) a few paragraphs explaining who you are and why you're the right person for the job; (b) some suggestions for how Uni Watch could be improved (other than by hiring you); (c) links to two pieces of published writing you've done; (d) which weekday you'd prefer for Ticker duty, if you have such a preference; and (e) something else — surprise me.
I apologize in advance for not being able to respond to each applicant personally. Please don't follow up with additional emails asking if I received your first note — if you're in the running, you'll definitely be hearing from me. Thanks!
•  •  •  •  •
Naming Wrongs update: Paul here (again). Hockey season is fast approaching, so we have a bunch of new shirts for arenas that have been saddled with stupid corporate names. One at a time:
The Kiel Center: We have a standard typographic treatment, available in blue with gold lettering, blue with gold/white lettering, white, and grey, and there's also an arched treatment ("Which I did just … because," says designer Scott M. X. Turner), also available in blue with gold lettering, blue with gold/white lettering, white, and grey (for all photos, click to enlarge):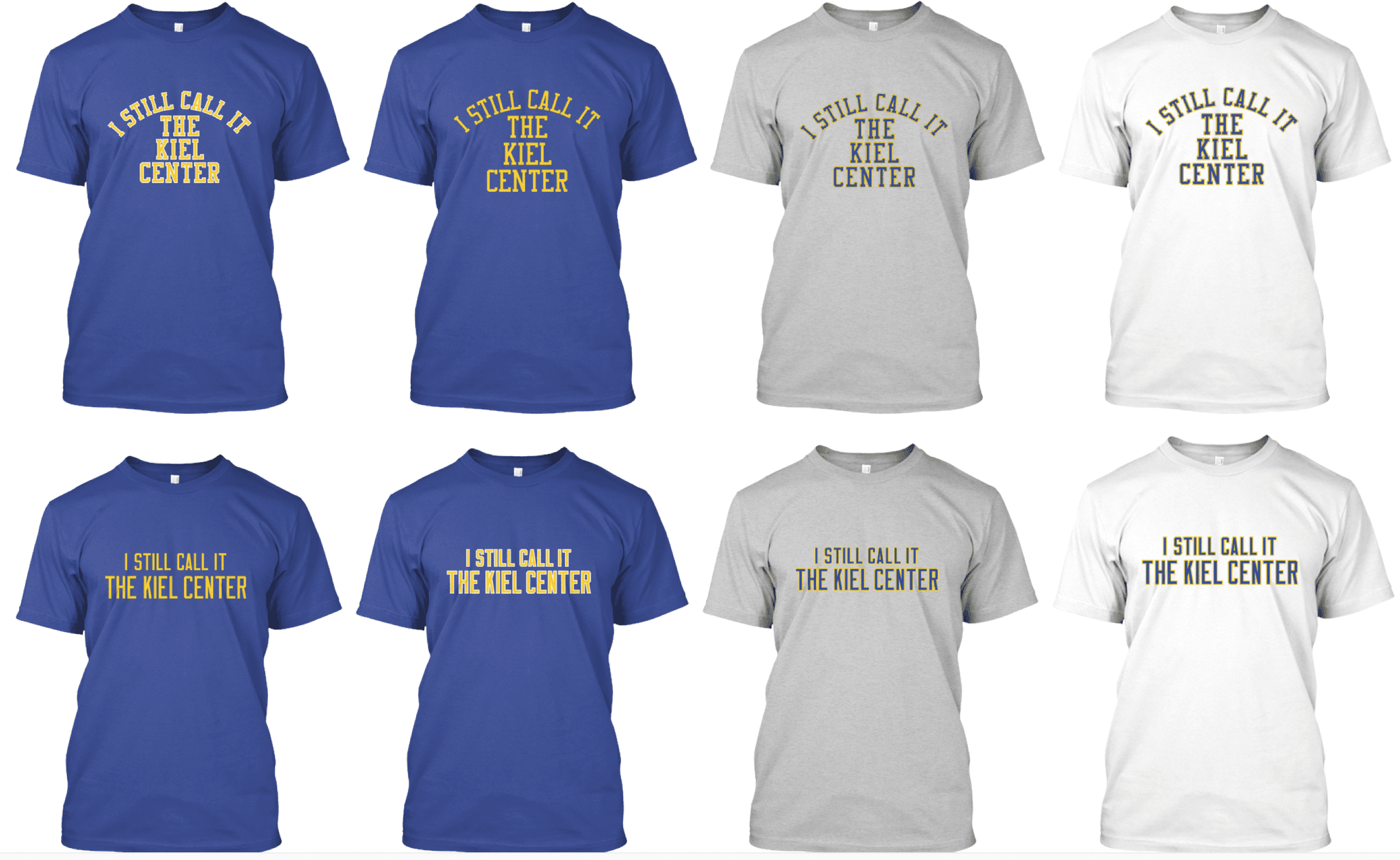 The Ice Palace: This one's available in blue, black, and grey:
The Pond: Only two versions of this one — eggplant and grey: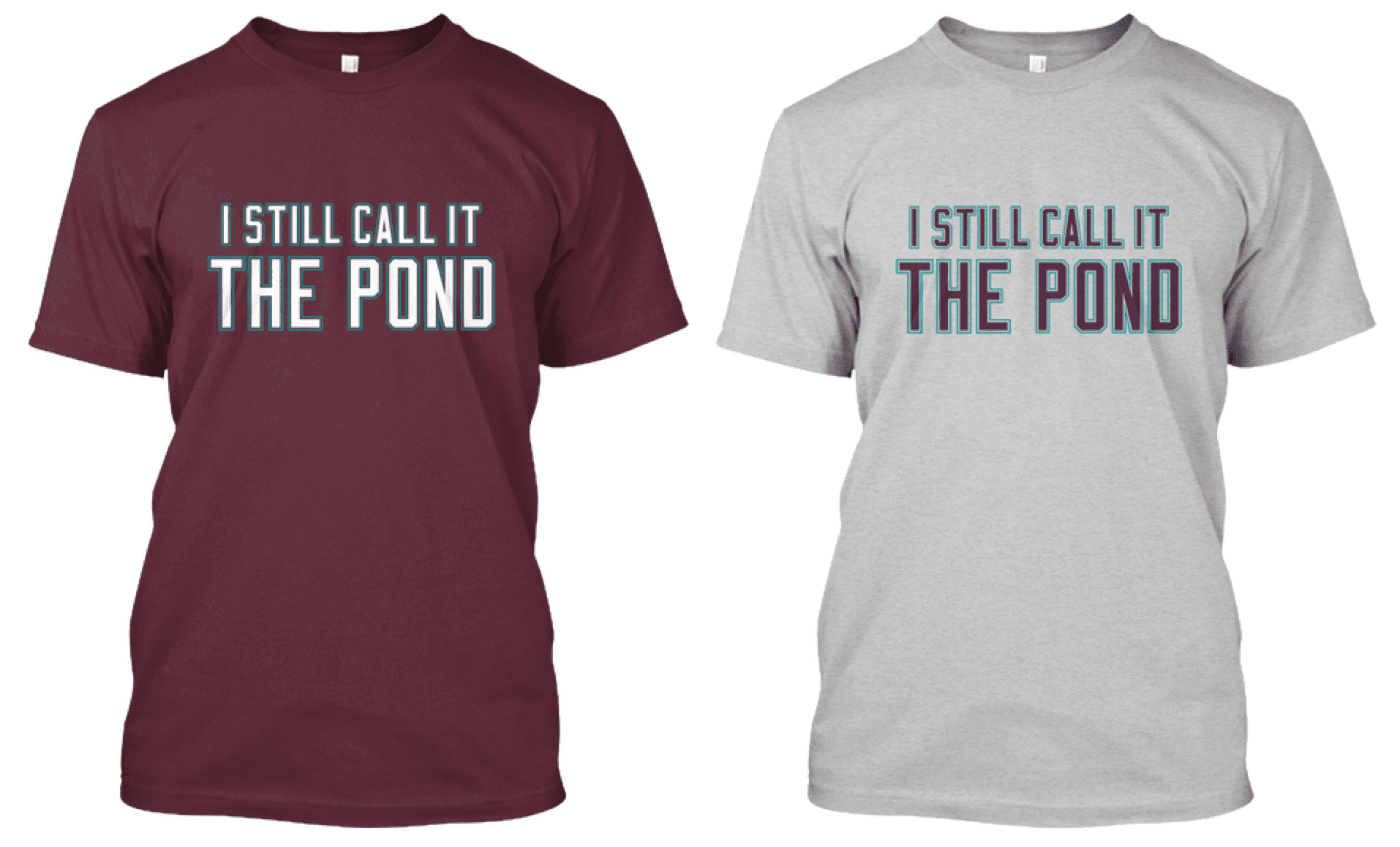 Civic Center: In case you missed it on Friday, we also have this treat for Whalers fans, available in green, navy, white, and grey: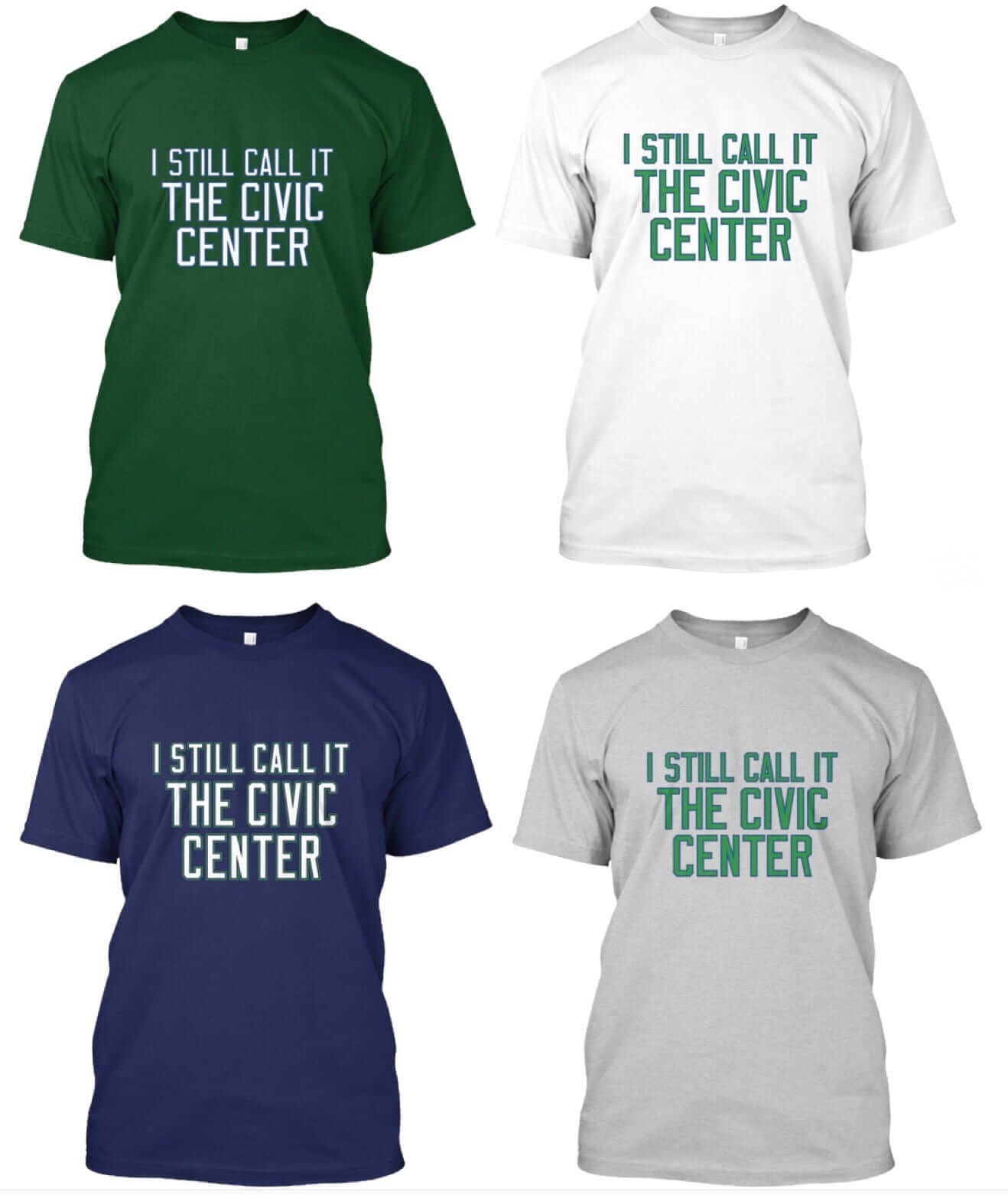 And as long as we're talking NHL arenas, remember that we also have shirts for the Forum (in English and in French!), Boston Garden, and the Igloo, among many others.
All of these designs are now available in the Naming Wrongs shop. They're also cross-listed in the Uni Watch shop, where card-carrying members can get 15% off. (If you're a member and need the discount code, send me a note and I'll hook you up.) My thanks, as always, for your consideration.
•  •  •  •  •
One last word from Paul: Big thanks to everyone who left kind comments on yesterday's post about Tucker. It's been a difficult time, and I truly appreciate the support.
• • • • •
The Ticker
By Mike Chamernik

Baseball News: This week's Rangers-Astros series will be relocated to Tropicana Field in St. Petersburg, Fla., due to Hurricane Harvey. … Lady Gaga wore a personalized Cubs jersey when she performed at Wrigley Field this past weekend. … The Rochester Red Wings will wear photo collage jerseys for Fan Appreciation Day next Monday (from Phil). … The Nationals will give out Bryce Harper Starting Lineup figurines before today's game (from Robert Hayes).

NFL News: Hurricane Harvey has forced Thursday's Cowboys-Texans game to be moved from Houston to Dallas. … Fox has introduced a minimalist score bug. … Seahawks players talked about trying the new Vicis helmet, which is designed to better protect against head injuries (from Brinke). … In the early 1970s, prolific DC Comics artist Jack Kirby was commisioned to create a series of NFL-themed characters (from @colbydlong).

College Football News: Syracuse will wear an orange "Mac" memorial patch for Dick MacPherson, who coached at the school during the 1980s. He died earlier this month (from @PhillyPartTwo). … Duquesne will have black and gold "DR" decals this season in memory of Steelers chairman Dan Rooney. He attended the school and helped fund the football program. … Fisher (Ill.) High School places its logo, an aggressive bunny, on the front of its helmets, rather than on the sides (from Craig Choate).

Hockey News: The Flyers will retire Eric Lindros's No. 88 on January 18. … The Rangers will retire No. 19 in honor of Jean Ratelle, a center during the 1960s and 1970s, on February 25. … The Bruins' Charlie McAvoy used tape to improvise his sock stripes for the NHLPA Rookie Showcase.

Basketball News: Take a look at some of the logo concepts the Suns had in the works back during their 1992 redesign (from Patrick Thomas). … The Cavaliers have a logo for a tryout for their G-League team, the Canton Charge. … New home uniform for Bradley's men's team. Also, the women's team has a new black uni (from Joe Ringham).

Grab Bag: New gray unis for Georgetown men's soccer (from @BoyGeniusLA). … Trevor Bayne and Ricky Stenhouse Jr., both members of Roush Fenway Racing, will have throwback paint schemes for this weekend's NASCAR race. … New cross country uniforms for Ole Miss (from Gregg Elkin). … If you like curling, then you'll enjoy an old ad for a home curling rink, and this artistic print of the 1st Scotch Curling Cup in 1959 (from Will Scheibler). … New logo for Alvernia University. … Amazon officially acquired Whole Foods yesterday, so some of grocery chain's butchers formed Amazon logos out of ground beef.
• • • • •
Our thoughts today are with the people of Houston and the surrounding area affected by Hurricane Harvey. Here's hoping they're safe, and that they see some relief soon.