@UniWatch @PhilHecken Celebrating '82 tonight. The year Schmidt didn't have his jersey on baseball card picture day. pic.twitter.com/4zLZdBgZLL

— Frank McGuigan (@FrankMcGuigan) July 15, 2017
[Editor's Note: Paul is on his annual August break from site. Deputy editor Phil Hecken is in charge from now through Aug. 25, although Paul is still on the clock over at ESPN and may be popping up here occasionally.]
By Phil Hecken, with Frank McGuigan
Follow @PhilHecken

"Why is today's splash photo a tweet?" you may ask. The answer lies below.
Back on July 14th, when the Phillies were about to play a throwback game against the Brewers (wearing their powder blue road uniforms from 1982), Frank McGuigan (a Uni Watch reader and ticker contributor) tweeted to Paul and me a 1983 Donruss baseball card featuring Mike Schmidt, only Schmidt wasn't wearing his regular #20, but instead was photographed in what appears to be uniform number 37. Frank's text accompanying the baseball card said, "Celebrating '82 tonight. The year Schmidt didn't have his jersey on baseball card picture day."
Intrigued at this potential "uni mystery" I asked Frank if he knew more and if so, would he be able to elaborate. He didn't let me down! Below, then, is the story of how Michael Jack Schmidt came to wear the "wrong" jersey on his 1983 Donruss card. Here's Frank:
• • • • • •
Mike Schmidt? Hammerin' Hank? The Homerun King?
by Frank McGuigan
In 1986, at the end of sixth grade, I had a new neighbor move in across the street from me. His name was, and still is, Rob Tola. My baseball card collecting had been very light up until that point in my life. I had a small box of various cards that I kept in my closet. Rob, on the other hand, had been collecting for quite some time. His welcome-himself-to-the-neighborhood gift to me was ripping me off of my Wade Boggs and Tony Fernandez 1984 Fleer cards. He salivated once he got a gander of what I had in the box. He gave me seven crappy cards that included an unmint 1984 Topps Pete Rose and a 1986 Topps Don Baylor. He sold Baylor to me by telling me he was going to break the Major League HBP record; also that he was trading me SEVEN cards for just two. No, I'm not still bitter.
Anyway, for Christmas that year my parents bought me a complete set of 1986 Topps cards, which Rob repeatedly asked me to break up to trade him Don Mattingly and Eric Davis. I didn't fall for it. But, that is the year that my card collecting got off the ground. I wised-up a bit and hit the ground running. Of course, this was also about the time baseball cards flooded the market and started to ruin the hobby. Give me a 1987 Topps name and I can tell you what the card looks like.
Mike Schmidt was my favorite player as a kid. So, I made it a quest to obtain every Mike Schmidt baseball card I could get my hands on. Rob and I went to baseball card shows, collectibles stores"¦ any place we could get our hands on some cards. It was during one of those trips to a baseball card show that I obtained the 1983 Donruss Mike Schmidt.
That night, armed with new cards, Rob and I began reorganizing our card books in my room, as we had done quite frequently. We took a closer look at the Donruss card and wondered whose jersey Schmidt was wearing on this card. This being 1987, we did not have the luxury of the internet. I had an electronic paperweight called the Commodore 64. And we sure as hell weren't stepping foot in a library. But as it turned out, I had all the information in my room that would allow us to make an educated guess.
I attended a few Phillies games each year and I always made it a point to, at the very least, get a yearbook every year. Most all card collectors knew back then that anything on a particular year's card had all of the previous year's info on it, including the picture. Many times, the pictures appeared to be from the previous year's Spring Training. If my memory serves me correctly, the Phils wore their regular uniforms during Spring Training games back in the 80s. So, we went to the 1982 yearbook. All we knew was the jersey appeared to be number 37 and the name on the back was short and ended with a G.
From here it was a rather simple process. We went straight to the team picture looking for anyone with those credentials. Only one guy popped up. It was Batting Practice Pitcher, Hank King. We had no idea who he was. He appeared nowhere else in any publication. However, we only had a short name that ended with a G. Because for some reason, the Phillies weirdly wore their team jackets for that year's team picture and King had his zippered all the way to the top. Thanks, Hank.
We did not know if King even had a jersey. Did they give one to a Batting Practice Pitcher who made $15 a day? They are not officially recorded in team number history in the media guide for the Phillies. So, we took a shot and went to the 1983 yearbook.
Thankfully, in the 1983 team picture, the Phils ditched the jackets. And there was King again in the picture, clearly wearing a jersey. However, the number on the jersey is blocked by Alejandro Sanches sitting in front of him. But that is a good thing, because as I recently discovered, Stan Bahnsen was issued number 37 when he came up to the Phils on September 1, 1982 and King probably had a different jersey by then. It does prove though, that King was issued a jersey and was most likely wearing one under that jacket in the 1982 team photo.
There are a few people out there who believe, or want to believe, that Schmidt is wearing a Ryne Sandberg jersey on the card. Sandberg had a cup of coffee with the Phils in 1981 and wore number 37, before Dallas Green fleeced the Phils that winter as General Manager of the Cubs . However, the G in Sandberg would have come much farther past the 7 on the back of the jersey. Plus, why would the Phils carry around a Sandberg jersey on the road with them the next season? It's not a Sandberg jersey.
For close to 30 years, there had been no official confirmation that this is Hank King's jersey, or why Schmidt was even wearing it. It was just a very educated, common sense guess on our part. Was he just taking BP in a t-shirt when the Donruss people showed up for a picture? I could hear them asking him to get his jersey on and him saying, "I'm Mike Schmidt. I'm hitting right now. I'm not going back to the locker room and getting my jersey. Hank, give me your jersey." Or maybe he wanted to pay homage to the man who was his long-time BP pitcher since 1975?
After tweeting the card on July 14th, I began to re-research the card to see if I could come to any definitive conclusion. I found a couple other people who appear to have done the same detective work Rob and I did. Again though, no story as to why he's wearing it.
Additionally, we believe back in those days, jerseys were recycled and not kept by players when they left the team. So I checked the heights and weights of Sandberg, King and Bahnsen,on Baseball Reference to see if they'd all potentially fit the same jersey: Sandberg 6'1", 175; King 6'2", 195; Bahnsen 6"2, 185. Certainly seems plausible. And the timeline of when it's believed the picture was taken indicates that number 37 was available for King (January 27, 1982 to September 1, 1982).
I was able to find Hank King on Facebook, and I did reach out to him for confirmation and the story. However, my message has not been read yet. It does not appear Hank has been active on Facebook for quite some time, so it may not come to fruition.
Rob and I also reached out to Phillies broadcaster, Tom McCarthy. On home weekends, McCarthy and Mike Schmidt work the television broadcasts for the Phillies. I have gotten responses from McCarthy before. But at the time, the Phillies were on the road. We figured we'd probably have to wait until they were back home for any chance at a response. We decided reminding him while he was broadcasting with Schmidt was the best course of action. McCarthy is a uniform nut like us, so he could be on top of it.
And then it happened. At 9:56 PM on July 22, 2017, we got confirmation from the man himself, via Tom McCarthy.
The jersey Mike Schmidt was wearing was in fact Hank King's. The Phillies went on the road and forgot to take Schmidt's jersey with them. What? Now, if I were a real reporter, and not just a fan tweeting a broadcaster during a game, I would have had a ton of follow-up questions. For instance, of all the people's jersey's to forget, how could it be the one of the reigning two-time MVP and future Hall of Famer? Seems to me King's jersey would be the more acceptable one to forget. Also, why of all days, did Donruss choose to use the picture from that day for his baseball card? Was this a regular season game? The list goes on.
However, even without all the additional answers, there are three major developments that were resolved here. First, Mike Schmidt is wearing Hank King's jersey on the card. Second, He was wearing it because the Phillies simply forgot to bring his to a road game. Finally, and most importantly, I did reobtain the Wade Boggs and Tony Fernandez 1984 Fleer cards in a trade for a 1987 Topps Jose Canseco. They remain in my card book to this day.
From the Phils 2004 Media Guide:
You can follow Frank on Twitter @FrankMcGuigan; Additional articles on Hank King can be found here, here, and here.
• • • • • •
Great research, Frank! And thanks for solving another "uni mystery" out there. Well done, sir.
New NBA Uni Update
On Friday, several teams unveiled new uniforms for the 2017-18 NBA Season. Johnny Ek showed you two of them (Lakers & Spurs) on Saturday, but in case you missed it, here's who unveiled on Friday:
Clippers
The Icon » Redefining the Future. pic.twitter.com/Ip31qXqQC1

— LA Clippers (@LAClippers) August 11, 2017
New Wave uniform, ready to go Clipper Nation pic.twitter.com/KICrRbAHch

— Blake Griffin (@blakegriffin32) August 11, 2017
Fans first. #ClipperNation pic.twitter.com/89ckgBGyoG

— LA Clippers (@LAClippers) August 11, 2017
Side-by-side comparison of Clippers' old and new white uniforms. pic.twitter.com/gqi2AFczPm

— Paul Lukas (@UniWatch) August 11, 2017
Clippers' primary colored uniform (formerly road) changing from red to blue. pic.twitter.com/9KuX6BB04l

— Paul Lukas (@UniWatch) August 11, 2017
Leaks of Clippers design proposal in 2015 included a blue uniform that was never used (left). Similar to new blue uniform (right). pic.twitter.com/yDblx3ySHL

— Paul Lukas (@UniWatch) August 11, 2017
• • •
Spurs
A classic, evolved.
@BP3 & @Dwhite921 showcase our new Spurs x Nike threads » https://t.co/3nlKoaxTne pic.twitter.com/x7hzdokqyE

— San Antonio Spurs (@spurs) August 11, 2017
Wow the @spurs went crazy with their new look. (Also I'm not sure if these guys are real.) pic.twitter.com/IMqkVowIIV

— Taco Trey Kerby (@treykerby) August 11, 2017
The Icon. pic.twitter.com/HWXA6WNKpu

— San Antonio Spurs (@spurs) August 11, 2017
Side-by-side comparison of Spurs' old and new white uniforms. pic.twitter.com/VoTTzFpnES

— Paul Lukas (@UniWatch) August 11, 2017
Side-by-side comparison of Spurs' old and new black uniforms. pic.twitter.com/5mDQraoiex

— Paul Lukas (@UniWatch) August 11, 2017
• • •
Nets
New beginnings. #WeGoHard pic.twitter.com/HG6648ARrA

— Brooklyn Nets (@BrooklynNets) August 11, 2017
Breaking down the elements

⚪️⚫️ » https://t.co/tnGAGiKUXN pic.twitter.com/p1v9w5SIL6

— Brooklyn Nets (@BrooklynNets) August 11, 2017
Side-by-side comparison of Nets' old and new white uniforms. pic.twitter.com/LIl1RNt61k

— Paul Lukas (@UniWatch) August 11, 2017
Side-by-side comparison of Nets' old and new black uniforms. pic.twitter.com/gnBfKXe49O

— Paul Lukas (@UniWatch) August 11, 2017
• • •
Dallas Mavericks uniform for 2017-18 compared with last year pic.twitter.com/iYd8yC3Gl5

— Chris Creamer (@sportslogosnet) August 11, 2017
Side-by-side comparison of Mavericks' old and new white uniforms. pic.twitter.com/yw4jt3bNYT

— Paul Lukas (@UniWatch) August 11, 2017
Side-by-side comparison of Mavericks' old and new blue uniforms. pic.twitter.com/upR2zla30O

— Paul Lukas (@UniWatch) August 11, 2017
• • •
Lakers
Updating a timeless look: https://t.co/3XscgG4lzu

— Los Angeles Lakers (@Lakers) August 11, 2017
@UniWatch #Lakers releasing three jersey reveals as opposed to all teams showing only two. pic.twitter.com/81ZxmsNYHT

— Mandy Lopezâ"¢ (@2EP0L) August 11, 2017
Griffins Jersey Contest Reminder – TWO Days Left
In case you missed it, I'm again hosting a jersey design contest in conjunction with the Grand Rapids Griffins (an AHL affiliate of the Detroit Red Wings). All the details are contained in this post.
The deadline for getting your submission in to me is this TUESDAY August 15 (at 6:00 pm Eastern Time), and we'll have reader voting on the concept jerseys beginning on August 17th! Last year we had 85 entries and I'd expect we'll equal or surpass that this year. Prizes include a custom jersey based on your design and tickets to the game that the Griffins will be playing in the jerseys you designed!
NEW StripeRite discount: Paul here. From now through the end of the month, you can use the discount code uniwatch to get a 15% discount on any orders from the first, second, and third batches of StripeRite socks. The code is good through Aug. 31.
Word to the wise: We have low stock on most of the designs from the first two batches. Once those are gone, they are likely gone for good.
•  •  •  •  •
Titans redesign reminder: Paul here (again). Today is the next-to-last day to submit entries for my Titans-redesign contest. Full details here.
•  •  •  •  •
Naming Wrongs update: Paul here (still). Last week I told you about some new Naming Wrongs designs for Boston Garden, the Metrodome, the Aud, and Foxboro. Today I have a new batch to tell you about. One at a time:
Igloo: I was excited to do some designs for the Igloo, in part because "igloo" is such a fun, playful word. Scott Turner did a nice job of capturing that in the shirts that we're offering. First we have a basic type version, available in four designs: black with gold type, black with gold/white type, grey, and — my favorite — navy: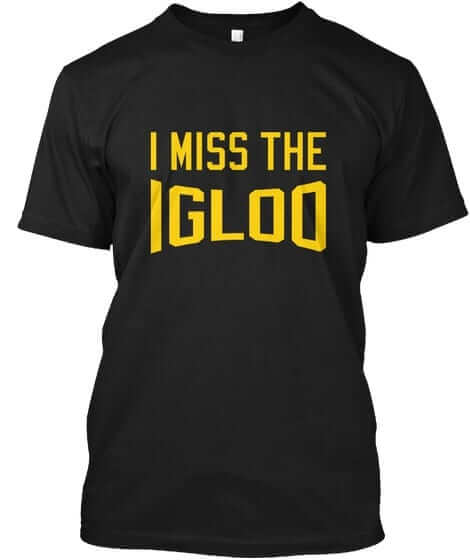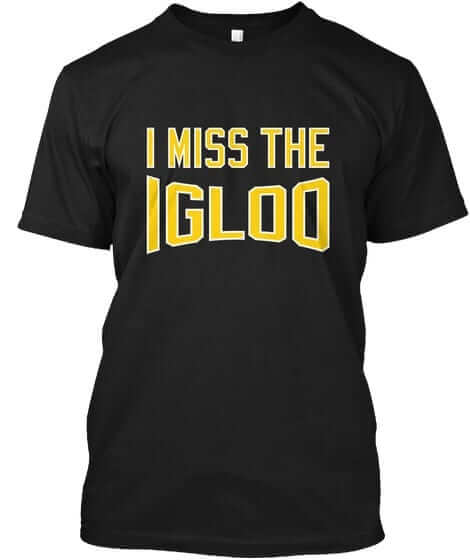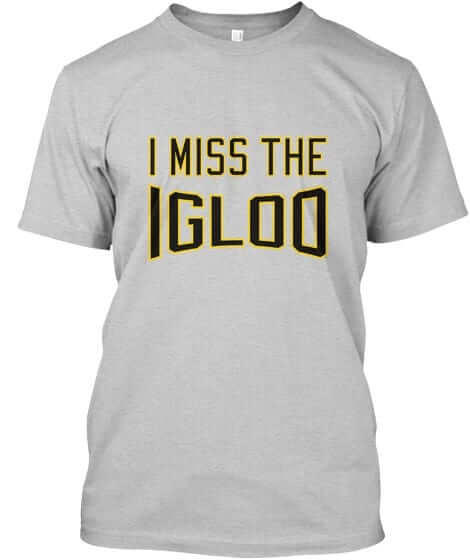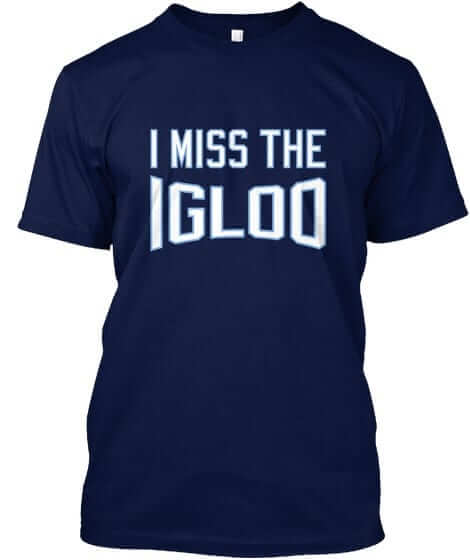 Then we have an illustrated version, available in seven treatments: black with white type, black with gold type, gold, navy, grey with black type, grey with light blue type, and grey with navy type: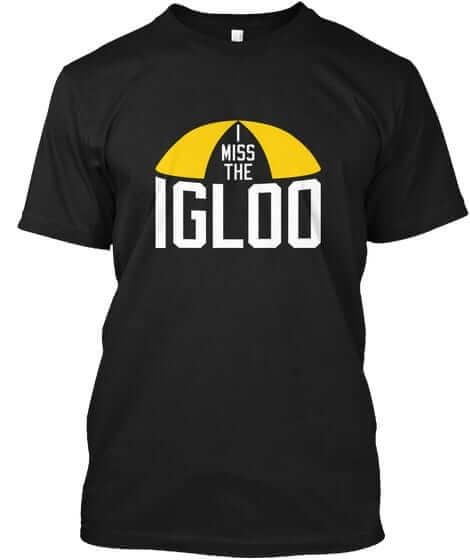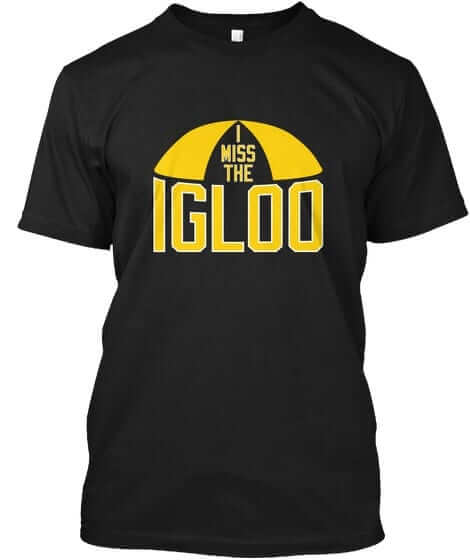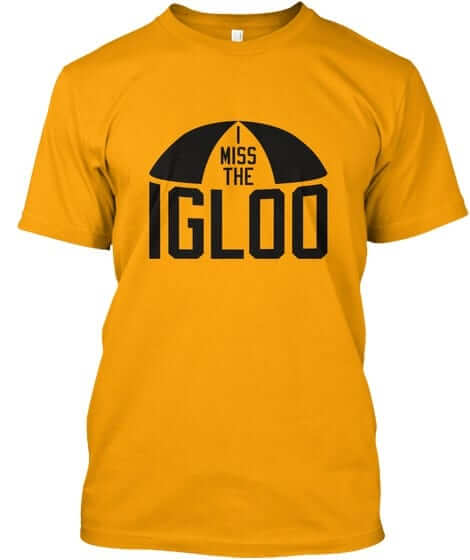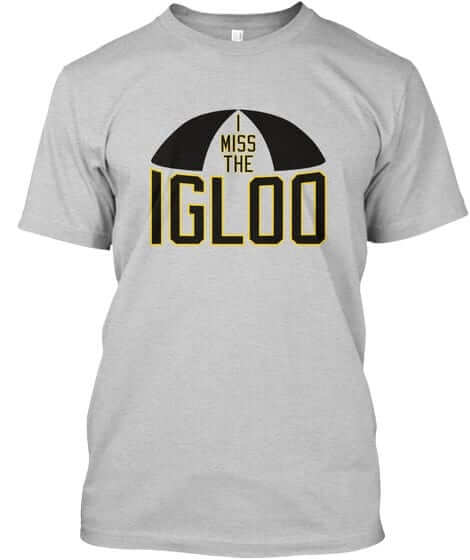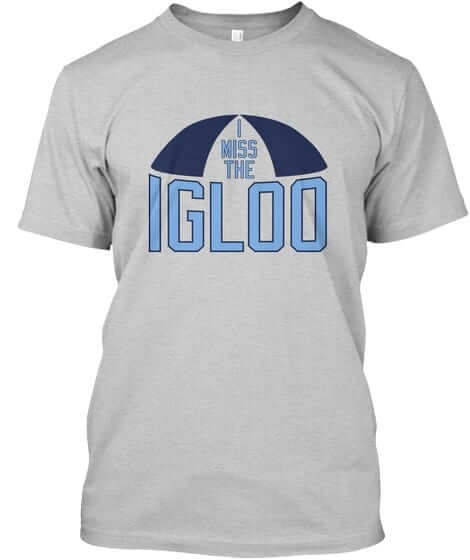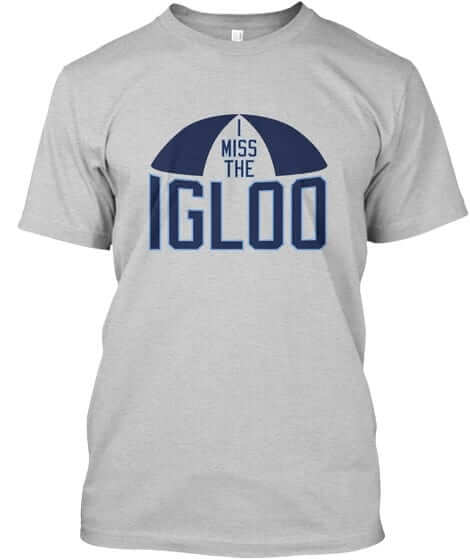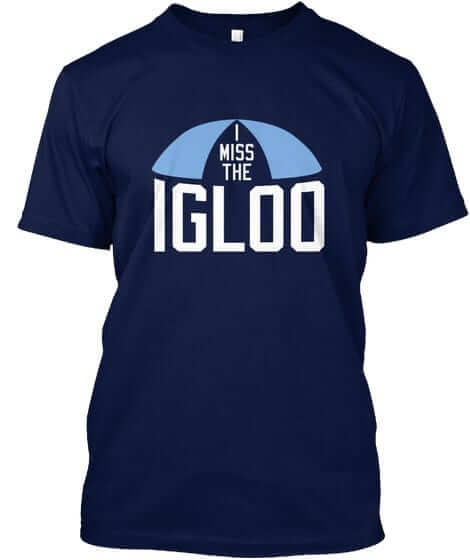 Forum: We wanted to do a series of shirts for the Forum. They're available in English (red, white, and grey) and French (once again in red, white, and grey):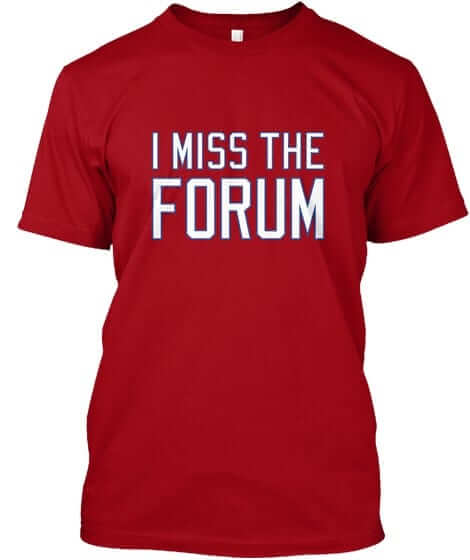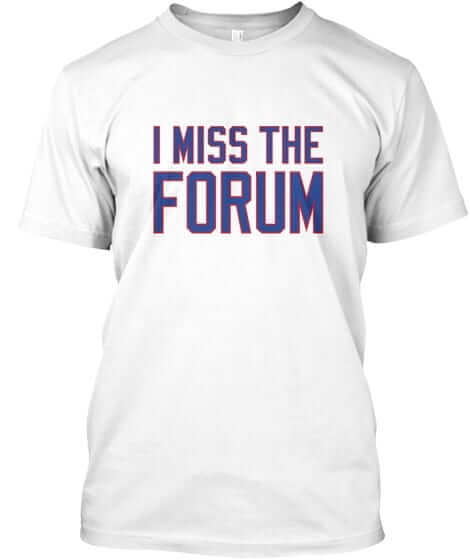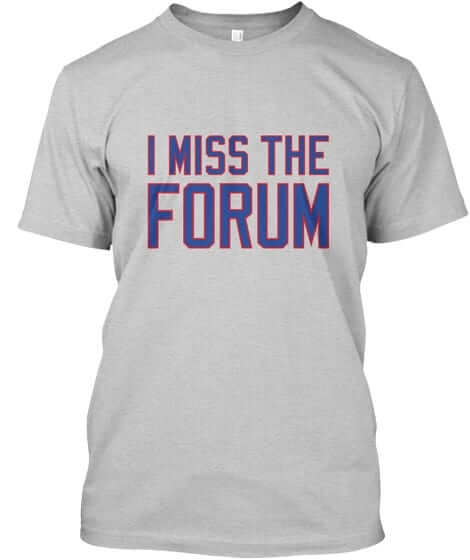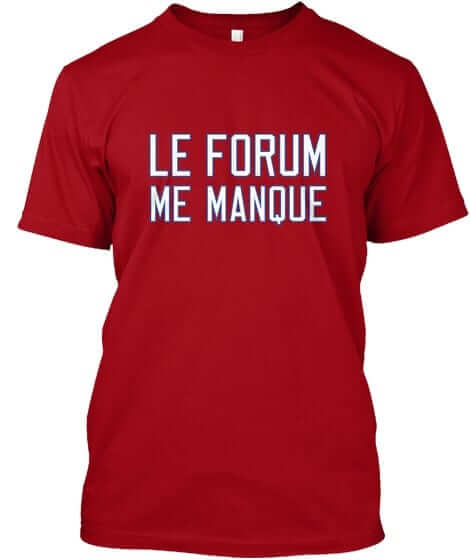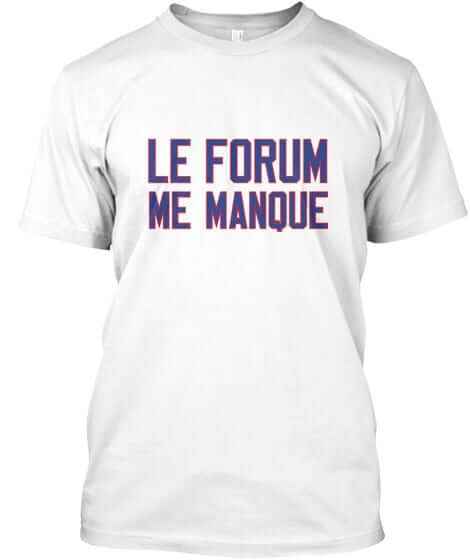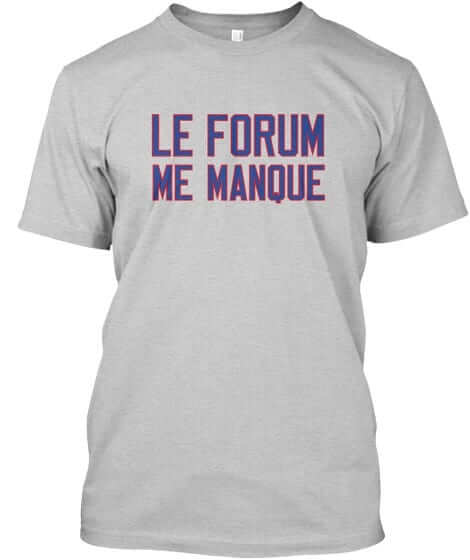 Rainbow Dome: I had previously announced the launch of a bunch of designs for the Astrodome. At some point we added some designs with rainbow striping, which I don't think I ever formally announced, so here they are, in navy, white, and navy with striped lettering: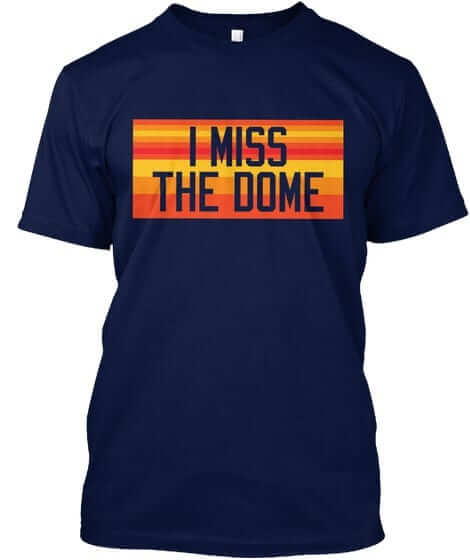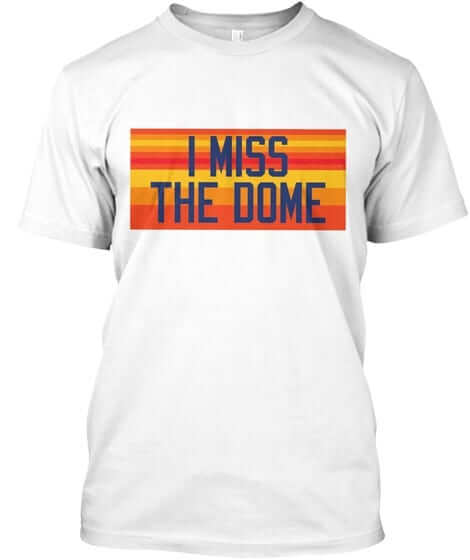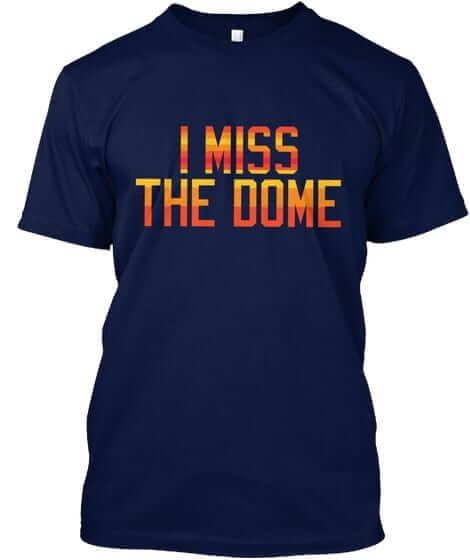 All of these designs are now available in the Naming Wrongs shop. They're also cross-listed in the Uni Watch shop, where card-carrying members can get 15% off. (If you're a member and need the discount code, send me a note and I'll hook you up.) Major, major thanks to my collaborator, Scott M.X. Turner, who's been working really hard on these.
The Ticker
By Alex Hider

Baseball News: ICYMI: The  Reds and Brewers wore Negro League throwbacks on Saturday. …  Sounds like Indians players enjoyed wearing  blood-clot throwbacks this weekend almost as much as we enjoyed looking at them (from  Jason Hillyer). … Unfortunately, the Tribe and Rays played a much more drab blue-on-blue game yesterday (from Robert Hayes). … Matt Garza must have missed a button yesterday (from David Hartman). … The Cubs and Diamondbacks went color-on-color last night (from  Scott Criscuolo). … Speaking of,  the Orioles and A's went  color-on-color on Saturday night (from  Andrew Cosentino). … Pro Football Journal found this shot of Rangers pitcher David Clyde wearing  painted blue cleats in 1973-74. Anyone know if this was commonplace for the 1970s Rangers? (From  Alex Melendez). …  The Jacksonville Jumbo Shrimp wore jerseys designed by artist Guy Harvey yesterday (from  Vincent Wong). … Check out these Perfect Game USA helmets (from Megan Brown).

Pro Football News:  The Seahawks took the field yesterday wearing a memorial decal for Hall-of-Famer Cortez Kennedy, who died in May (from  Big Ed). …  This piece breaks down why some members of the Washington Redskins  chose not to wear Nike cleats (from  Tom Turner). … Color-on-color last night between the Edmonton Wildcats and the Calgary Colts of the  Canadian Junior Football League (from  Wade Heidt).

College/High School Football News:  Looks like Western Michigan may be taking a more traditional approach to their jerseys this season (from The Beer Baron). …  The Citadel will have  updated jerseys  this season (from  Will Chitty). … New jerseys this season for Valdosta State University (from  Chris Chao). … Texas has the old NFL logo displayed in its new football facility (from  Alex). …  New uniforms for  Chaparral High School in Arizona (from  John Germinaro").

NBA News:  ICYMI: The NBA has  updated the championship collar tab  on the back of jerseys. …  A towing company in Orlando is  poaching the Magic's logo (from Jon  Solomonson). …  The Minnesota Lynx unveiled a new logo on Saturday, and it takes inspiration from the Timberwolves' new logo (from  Kevin Brown). … Lots of good stuff in this old Knicks/Celtics photos: Taped ankles in Chuck Taylors, and an old-school knee brace. But the best part?  Tom "Satch" Sanders tattered Celtics shorts. "Back in the day when team ownership announced to its players that they were going to get "new" uniforms, they actually meant new uniforms," said  Ray Hund.

Soccer News:  In an El Clasico matchup yesterday, Barcelona wore their traditional blues while Real Madrid wore  teal change kits. It's almost like two teams going blue-on-blue in Game 7 of the World Series (from  Rip Van Whiskey). … Speaking of El Clasico, one fan had the audacity to take both sides (from Kieran Canning). …  The keeper for Lille OSC was red-carded yesterday, so one of the players already on the pitch had to take over in net. Because he had to wear the keeper's jersey and didn't have time to change shorts, he had  mismatching numbers (from  Robert Porch). … Loja CD, a fourth-tier team in Spain, wore jerseys with shrimp on them yesterday (from  George Rafael).

Grab Bag:  I think Paul would agree with this article from an August 8th, 1903, issue of The Afro-American: "For purple is the most dangerous color there is." (From Jim Nedelka).  …  It's not often you see numbers featured so prominently on the front of a hockey jersey. These shots of the Boston Bruins were taken in either the late 1930s for early 1940s (from  Back Afta This).