Click to enlarge
[Editor's Note: Paul is on his annual August break from site. Deputy editor Phil Hecken is in charge from now through Aug. 25, although Paul is still on the clock over at ESPN and may be popping up here occasionally.]
By Phil Hecken
Follow @PhilHecken

The Washington Wizards were the latest team to unveil their new, ahem, white and red uniforms yesterday, and like several others before them, there are relatively few changes from their last set. This is not necessarily a bad thing at all, as the Wizards (after seemingly years in the uni-wilderness) have finally gotten a pretty solid set together. I will no longer use Nike-speak marketing terms to describe the unis, but you can see how they're designating the white and red unis below.
The Icon Edition. #DCFamily pic.twitter.com/jQDE7w1BuN

— Washington Wizards (@WashWizards) August 3, 2017
The Association Edition. #DCFamily pic.twitter.com/8b9cxixrPA

— Washington Wizards (@WashWizards) August 3, 2017
Unfortunately, relatively few "photos" (staged mockups) accompanied this release but here are a few close up looks at the elements on the white uniform (for all photos below, you can click to enlarge):
And here's a look from one of those NBA2K18 games:
The white uniform (still) has the "Wizards" wordmark across the chest, and the number font is slightly smaller than last year. Someone who's supposed to be on vacation already did up a nice Old/New graphic:
Comparison of Wizards' old (left) and new white uniforms, with new smaller number size. pic.twitter.com/x14vr39xjw

— Paul Lukas (@UniWatch) August 3, 2017
There were almost as few photos of the red uniform to be seen, although we do get a view of the "1" collar patch showing how many NBA championships the team has won:
Once again, very few noticeable changes (other than the smaller front number) for the red uniform.
Comparison of Wizards' old and new red uniforms, with new smaller number size. pic.twitter.com/hHFEBu6eE7

— Paul Lukas (@UniWatch) August 3, 2017
Of course, we haven't seen a good view of the back of the uniform, but like others, the arm stripes truncate midway down the back — although due to the style (and the 'nameplate' type feature on the back of the uniform) these don't look as bad as say, the Bulls. Still, the 'signature' element of these unis remains, reminding us of who makes them in the same way the Nikelace did.
The Wizards did not give as an indication of whether they plan to designate the white or red uniform as "home" or "away", although if protocol is any indicator, the red jersey retains "Washington" and was worn on the road last season, while the white uni keeps "Wizards." If you're interested in the corporate-speak description of each…
White:
The Association Edition uniform pays homage to one of the most exclusive clubs in basketball. Every year approximately 400 players earn the right to put on the NBA uniform. The one thing that every team has in common is the white uniform that represents the association.
Red:
The Icon Edition uniform represents each of the unique franchises. Each team has its own identity, one that separates them from the other 29 franchises in the league. This edition pays tribute to the iconic nature of each franchise in the league.
If you're saying, "well that can apply to ANY team, not just the Wizards," you'd be right, but there it is on the Nike/Wizards site. Funny how they couldn't be bothered to come up with "personalized" slogans for each team.
The remaining two uniforms will of course be released at a later date. The WaPo had a good writeup on those:
The Wizards' other two designs will be revealed at a later date, so it remains to be seen whether one of Washington's other designs will resemble the "Stars and Stripes" alternate uniform the team introduced before last season. After wearing the patriotic alternates to honor a different branch of the military for six home games during the regular season, the team decided to wear the stars-and-stripes jerseys for every home game in the postseason. Fans loved the jerseys so much that the team sold out of its entire supply of retail inventory before the playoffs began. The Wizards also had a blue alternate jersey, which was introduced before the 2014-15 season.
I think we're all hoping one of their two alternate uniforms are the "stars and stripes".
Once again, we saw the release of a uniform sans an ad patch. And once again, we caution you that just because there is no advertiser on the unis yet, it doesn't mean there won't be once the season begins. Time, as always, will tell.
So…the new uni parade marches on. Next up — maybe the Cavs? Some teams seem to promote their upcoming release the day before, others are more secretive. Either way, it seems as though we'll be getting a slow bleed of these for a good chunk of August, rather than (like the NFL in 2012) all at once.
Click to enlarge
Vilkmas In July Winners
A couple weekends ago, I ran a post with Jimmer Vilk, "Vilkmas In July" in which our favorite Akronite raffled away five of his most prized possessions. I promised I'd be back in August with the winners. And here we are. I'll let Santa Vilk take it from here.
• • •
Vilkmas in July Winners
by Jimmer Vilk
Last week as Phil gave me a rolling total of the Vilkmas emails, I predicted we'd get 140. So close…we got 142, and a large majority were for the Home Run Derby jersey. I'm guessing if the Padres had gone with their current design and colors, we would have gotten WAY less. #BringBackTheBrown
Anyway, same as before, I wrote down the names and put them in a can. After shaking and stirring, here are your Vilkmas in July winners:
Yinzer-ish stocking – Joe Owen
Tampa Bay Bandits shirt – Brad Eenhuis
Golden State Warriors "Authentic Fan" shirt – Michael Douglas (very nice guess on my favorite Warrior…he chose Chris Mullin, but the correct answer is Manute Bol)
2016 Home Run Derby AL jersey – Chris Dahl
Pittsburgh Pirates centennial yearbook and photos – Matt Maldonado
Thanks again to all who entered. Congrats to the winners, whose stuff should sent out in the coming week. If you didn't win this time, December will be here before you know it!
• • •
Thanks Jimmer!
I recently was informed another of our regulars, R. Scott Rogers, has an item he'd like to raffle off to another lucky reader. I'm not quite sure how I'll do that (I don't want 142 e-mails for one item — but it's a doozy), so I'll let you guys know next week about that one. Till then…everyone who sent in — thanks — congrats if you were a winner, and if not, we'll have a bunch more swag to give away before the year is over, so keep on trying!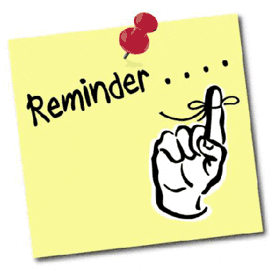 Reminders from Paul: Paul here, with a few reminders about some stuff you may have missed:
1. I have a new ESPN piece that tells the previously untold story behind the design team that created the Astros' rainbow uniform. I'm really happy with this one, and I've also received a ton of positive feedback (thank you!). If you haven't seen it already, I invited you to check it out here.
2. I'm running a new ESPN contest to redesign the Titans. Details here.
3. Yesterday we launched our latest limited-edition Uni Watch Artist's Series T-shirt, designed by the great Rob Ullman. Here's the base design (click to enlarge):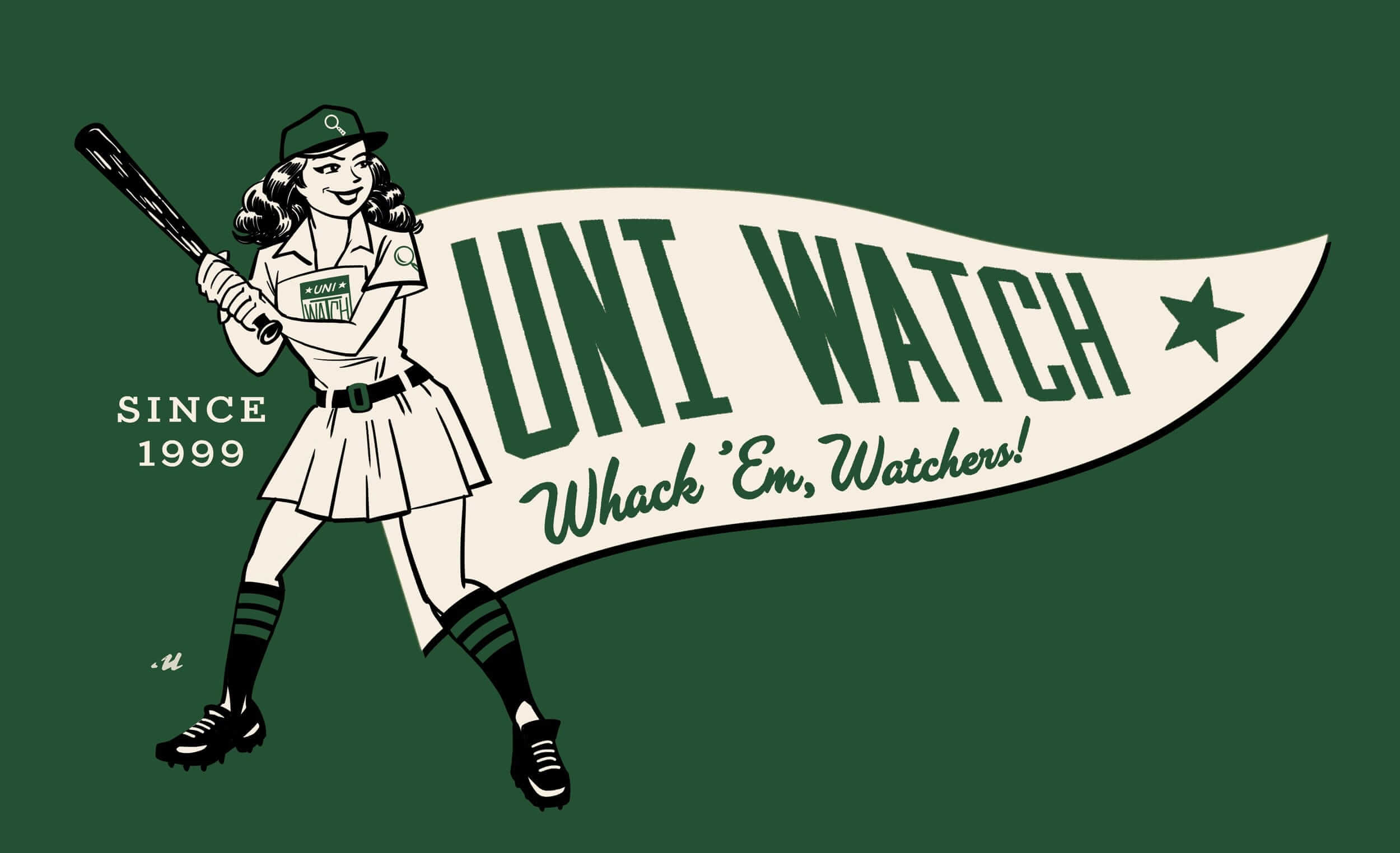 It's available in a bunch of colors. Full details here, or just go straight to the ordering page. It's also available in women's tees.
4. We also launched a bunch of new Naming Wrongs shirts yesterday, all of them pertaining to Seattle. Get the full scoop here, or just go straight to the Naming Wrongs shop.
That's it. Thanks!
Griffins Jersey Contest Reminder
In case you missed it, I'm again hosting a jersey design contest in conjunction with the Grand Rapids Griffins (an AHL affiliate of the Detroit Red Wings). All the details are contained in this post.
The deadline for getting your submission in to me is August 15 (at 6:00 pm Eastern Time), and we'll have reader voting on the concept jerseys beginning on August 17th! Last year we had 85 entries and I'd expect we'll equal or surpass that this year. Prizes include a custom jersey based on your design and tickets to the game that the Griffins will be playing in the jerseys you designed!
The Ticker
By Paul, pinch-hitting because Alex got the day off for his birthday (happy birthday, Alex!)

Baseball News: There's apparently a high school softball team out there with sideways numbers (from Eric Moats). … The Kalamazoo Growlers will wear jerseys this Sunday featuring handprints from local children's hospital patients. … The Columbia Fireflies will once again pay tribute to Prince with their "Purple Game" promotion. Additional details here (from John Katz). … Cubs C Alex Avila, recently acquired from the Tigers, is still wearing his Detroit gear (screen shot by Jeff Stark, although many other readers also called this out). … The Nats will now have a Skittles-branded advertised rain tarp (from William Yurasko). … The Lehigh Valley IronPigs will become the Lehigh Valley Barbeque on Aug. 11 (from Patrick Carmosino). … Reds OF Billy Hamilton appeared to get the size sticker from his batting helmet stuck in his hair last night (good spot by Zack Tanner). … Oh wow, check out this old photo of the Astrodome under construction (from Phil Gammage). … The protective plastic flap Josh Donaldson attached to his batting helmet when he returned from the disabled list in May is gone.

NFL News: The Hall of Fame Game was last night, so we finally got to see Nike's new tailoring cut in action, as worn by the Cowboys and Cardinals. Additional photos here. … This is pretty cool: a rendering of the Eagles' old logo, comprised of the names of every player ever to suit up for the team (rendering by @phillywordart, brought to my attention by John Keleman). … Secaucus High School in New Jersey calls its teams the Patriots, and in recent years they've managed to poach Pat Patriot and Flying Elvis. What no tricorn hat? (From @JRen). … Holiday treat: The Chargers will wear their powder blues on Thanksgiving Day against the Cowboys.

College Football News: New secondary logo for Texas State (from Josh Claywell). … New 70th-anniversary patch for Air Force. … Arkansas State has a new logo marking the 10th anniversary of the team's name change from Indians to Red Wolves. It will not be worn as a patch or decal, but the team does plan to have new uniforms this season. Photos to follow soon. … Rutgers has new black alternates, which will be worn on Nov. 4 against Maryland at Yankee Stadium. … Florida QB Malik Zaire talked a bit about how he prefers longer jersey sleeves (thanks, Phil). … We've known for a while that Navy had new uniforms this year, but now we've finally gotten a decent look at them (Phil again). … New helmets for Colgate (from Spencer of Austin).

Hockey News: Buried within this story is the news that the Hurricanes' 20th-anniversary logo will appear at center ice and as a helmet decal this season (from Al Hood). … New Vegas-themed mask for Marc-Andre Fleury (from James Beattie).

Basketball News: The Timberwolves will unveil their new uniforms next Thursday. That will also presumably provide our first look at their Fitbit ad patch, which was announced but has not yet been revealed. … A video game screen shot appears to show the Nets' new black uniform (from Zachary Atwood). … New uniforms for the Australian national team (from Ash N). … New court design with "Hokie Stone" border for Virginia Tech (from Alex Jabs). … The new Suns jerseys have not been revealed, but Jared Dudley says they are dropping a couple of colors, adding new jersey.

Soccer News: "The 1st and 2nd Bundesliga in Germany are allowing each club to have its own advertising sleeve patch for the first time this season," says A.J. Zydzik. "The last few seasons all the clubs had a patch from Hermes, a logistics company, instead of cutting their own deals. Borussia Dortmund's sleeve patch will be an ad for the auto manufacturer Opel." … New away kit for Sampdoria (from Ed Å»elaski"). … New away kit for AFC Bournemouth (from @Ty13rGross). … " Liverpool Ladies FC has a separate deal from Liverpool FC," says Chris Cruz. "Whereas the men's team has a uni advertising deal with Standard Chartered, the ladies' team has a deal with Avon. This is a departure from how other clubs (Chelsea, Man City, etc.) have the same ads on both the men's and women's jerseys."

Grab Bag: Fun fact: In 1970, Richard Nixon had White House security staff wear palace guard-like uniforms but later scrapped the idea after the attire was ridiculed (from J. Williams). … Olympic Stadium in Montreal is now being used to house refugees seeking asylum.

What Paul Phil did last night is doing tomorrow: Hey there.
I pretty much never do a "What Phil Did…" — especially since I don't really do much (at least that is worth talking about on Uni Watch). But tomorrow (as I have done every first Saturday in August for the past 10 or so years), I have five works being exhibited at Guild Hall in East Hampton, at an event known as the "Clothesline Sale."
Dan's Papers — the local paper everyone reads — bills the event thusly:
Fine art will be within reach Saturday, August 5 from 9 a.m. to 5 p.m. at the 2017 Clothesline Art Sale. The sale, which began in 1946, will feature hundreds of works of original art by East End artists. Prices start at $75 and cap at $2,200, with all proceeds split 50/50 between the artist and Guild Hall. The Clothesline Art Sale is made possible by an amazing group of dedicated volunteers.
It's a pretty fun time, and I don't do it to make any scratch (in fact, I'd need to sell two of my works just to break even this year), so I'm hoping at least two folks will enjoy my submissions this time around. If you're curious, here's what I'm putting in the show this time around:
They're all framed up, of course, and in some cases cropped slightly to fit a 11″ x 14″ mat. Not that I think we have a lot of readers who hit the Hamptons on the weekends, but if you do, stop by Guild Hall on Saturday. There's a shit-ton of art for sale (much of it is way better than what I'm putting in the show) and some of it is actually reasonably priced.
Wish me luck!
And that's it for me for this week. Big thanks to Paul for pitching in bigly even though he's on vacation! Johnny Ek will take you through the weekend, and I'll be back again on Monday.
Peace.