Click to enlarge
[Editor's Note: Paul is on his annual August break from site. Deputy editor Phil Hecken is in charge from now through Aug. 25, although Paul is still on the clock over at ESPN and may be popping up here occasionally.]
By Phil Hecken
Follow @PhilHecken

Without too much fanfare, the Chicago Bulls revealed their new 2017-2018 uniforms yesterday. Well, they revealed two of their new uniforms — the "Icon" and "Association" sets. As has been the practice with these NBA/Nike rollouts, teams are only revealing a white and primary color uniform for now; they'll reveal their "alternate" uniforms at a later date. As was the case with several teams so far, there is not much difference between these uniforms and the red and white set the Bulls had worn previously.
Let's look at the new white uniform first, which the Bulls are dubbing the "Association" jersey.
FIRST LOOK: Say hello to the Chicago Bulls @Nike Association jersey, which will serve as our primary road uniform this upcoming season. pic.twitter.com/Q2c0bqDNcj

— Chicago Bulls (@chicagobulls) August 2, 2017
Here are some closeups (click to enlarge):
For comparison, here's how the previous jerseys looked:
As you can see there aren't many changes. The front of the jersey (save for the addition of the swoosh) remains virtually identical, right down to the red/black/white/black/red striping. "BULLS" is still in red with a black outline. The back is slightly changed: NOB has now gone from red letters/black outline to a solid black font. Also, and for some strange reason, the shoulder striping truncates midway down the shoulder. This looks awful at first glance, and I don't imagine it will look any better over time. The other (minor) change is the new "Titles" patch on the collar, which (in the Bulls case) lists the #6.
But scroll back up to that tweet for a second — note the verbiage: Say hello to the Chicago Bulls @Nike Association jersey, which will serve as our primary road uniform this upcoming season. (emphasis mine). To my knowledge, the Bulls are 1) the first team to actually declare a primary home or road uniform, and 2) the WHITE jersey will be their PRIMARY ROAD jersey. Does that mean the Bulls are aware that other teams will be declaring a color uniform to be their "primary" home? Since (I believe) home teams get to choose the jersey color they will wear, it sounds like the Bulls are planning on bringing their white uniforms on the road a lot — meaning either they know (or think they know) most home teams will choose to wear color uniforms this season.
Moving on to the red uniform, as with the white, they've designated a status ("primary home") and are dubbing this their "Icon" jersey:
FIRST LOOK: Introducing the official Chicago Bulls @Nike Icon jersey, which will serve as our primary home uniform this season. pic.twitter.com/OtMRZww8Mu

— Chicago Bulls (@chicagobulls) August 2, 2017
Like the white jersey, this one has relatively minor changes from the prior uni set. Here's some closeups:
And for comparison, the prior set:
Not too many changes with the red uniform as well — the front is nearly identical, save for the swoosh. The back has the same minor differences as did the white: different championship neck tag, truncated sleeve striping, and the NOB goes from black lettering with a white outline, to a solid white lettering.
As with the Hornets earlier this week, one glaring omission (thankfully) is the lack of an advertiser patch. This does not mean, of course, that the Bulls will go through the entire season without one — just that they do not (as yet) have an agreement in place with an advertiser. Whether they will by the time the season starts still remains to be seen.
Conrad Burry (who has been on top of all of the NBA uni changes, and has made some fairly accurate predictions based on supreme sleuthing/insider[?] information) tweeted out these additional factoids:
JUST IN: From the Bulls, more (small) detail images of the full uniform. I like the "4 Stars" on the waistband. pic.twitter.com/OYqFlRDkUn

— Conrad Burry 🔴🐐🎨 (@conradburry) August 2, 2017
So the waistband has four stars (one assumes to mimic the flag of Chicago), but other than that, it looks like the pants have remained unchanged as well.
Here's a closeup on that "fact" sheet:

One final note: the Bulls put the new "home" (red) jersey on the iconic statue of Michael Jordan earlier yesterday:
Both new uniforms will be on sale to the public beginning September 29 "" stay tuned right here for more. pic.twitter.com/QkROOeOxK0

— Chicago Bulls (@chicagobulls) August 2, 2017
After all these years, Michael Jordan — perhaps the greatest spokesperson/pitchman the world (certainly Nike) has ever seen — is finally wearing a Bulls jersey adorned with his beloved swoosh. Funny though, with that statue basically serving as the basis for the "Jumpman" (Jordan) logo, the Bulls would end up wearing Nike (as opposed to the Hornets, who do have the Jumpman — of course, MJ owns the Hornets, so that makes sense).
The Bulls had solid red and white unis before the uniform manufacturer switch, so it's good to see them basically unchanged. Of course, there are still (at least) two more uniforms yet to be unveiled, so we don't know what's coming. I don't mind the non-outlined NOB, but the truncated shoulder striping on the back looks like shit unfinished. I'm sure Nike will say the "cut of the jersey" precludes the striping from going fully around the arm holes, but to me this reeks of them wanting to add a "signature" element (like the Nikelace on the old-style football jersey) that didn't need to be done.
Your thoughts?
The unveiling parade continues, as today the Wizards are next up. I'll have coverage of that on Friday. And it appears as though the Cavs are up to something soon. Guess time will tell on that one. Here's all the new releases so far.
Meanwhile — the guy who's supposed to be on vacation has been somewhat busy. Here's Paul with just a couple words:
•  •  •  •  •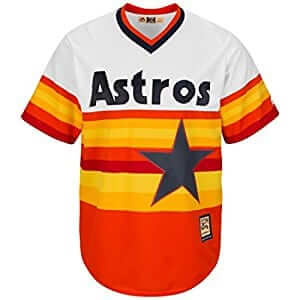 And now an important word from Paul: In late June I did an ESPN piece delving into some little-known facts about the Astros' famous rainbow uniforms. At one point in the piece, I lamented that we don't know who actually created the design, or if those people are even still alive.
The good news is that most of them are still alive. The better news is that I recently interviewed a bunch of them and pieced together an oral history of how this uniform — still every bit as radical today as when it debuted more than 40 years ago — was created. It's up now on ESPN.
It's a fascinating story — one that's never been told before. I loved working on it, I'm totally geeked out now that it's been published, and I think you'll really enjoy reading it. Again, you can check it out here.
•  •  •  •  •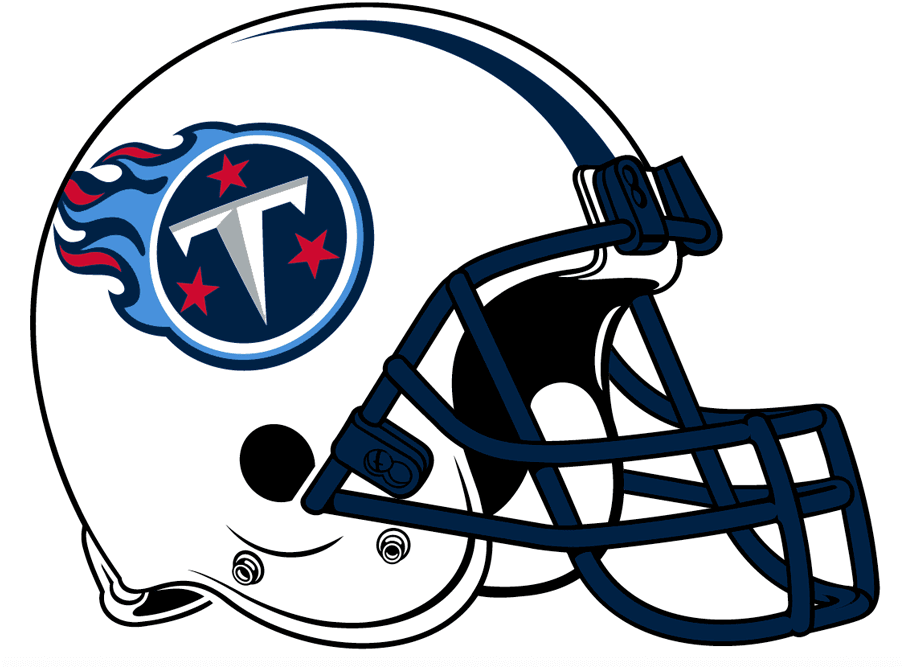 Another important word from Paul: As you've probably heard by now, Titans owner Amy Adams Strunk has announced that the team will have new uniforms in 2018.
That means it's time for our latest Uni Watch design challenge over at ESPN. The official contest announcement is here, so you can bookmark that if you want, but I'll repeat the ground rules here:
•  Your entry must include a primary logo, full home and road uniforms (helmet, jersey, pants, socks), and a solid-colored uniform for Thursday-night games. If you like, you can also include secondary logos and a throwback or alternate uniform, but those aren't required.
•  You can maintain some of the team's current elements (the helmet logo, say, or the color scheme) or change everything. Up to you.
•  Your designs can be created in any digital or analog medium (Illustrator, Photoshop, crayon, whatever) and can be submitted in any standard digital format (JPG, PDF, TIFF, etc.). You can also create a video presentation, upload it to YouTube, and submit the YouTube link as your entry.
• The files you submit should be named after yourself (PaulLukas.jpg, for example). If you're submitting multiple files, please either number them (PaulLukas1.jpg, PaulLukas2.jpg, etc.) or use some other designation (PaulLukas-homeuni.jpg, PaulLukas-logo.jpg, etc.). Files that don't follow this format will not be considered.
•  In keeping with longstanding Uni Watch chromatic policy, entries with even a hint of purple will not be considered.)
•  Email your entry to Uni Watch HQ (please note that this is a new email address created specifically for my design contests; please do not use the usual Uni Watch contact adsress). If you have more than one concept, feel free to enter as many times as you like.
Deadline: Tuesday, Aug. 15, 7pm Eastern.
The best entries will be showcased in one of my upcoming ESPN columns. Good luck!
•  •  •  •  •
And yet another word from Paul: I'm happy to announce that our latest limited-edition T-shirt in the Uni Watch Artist's Series is now available. It was designed by the awesome Rob Ullman, whose illustration work has been featured here on the site many times over the years.
Here's the base design, followed by some of the many color options we're offering (for all of these, you can click to enlarge):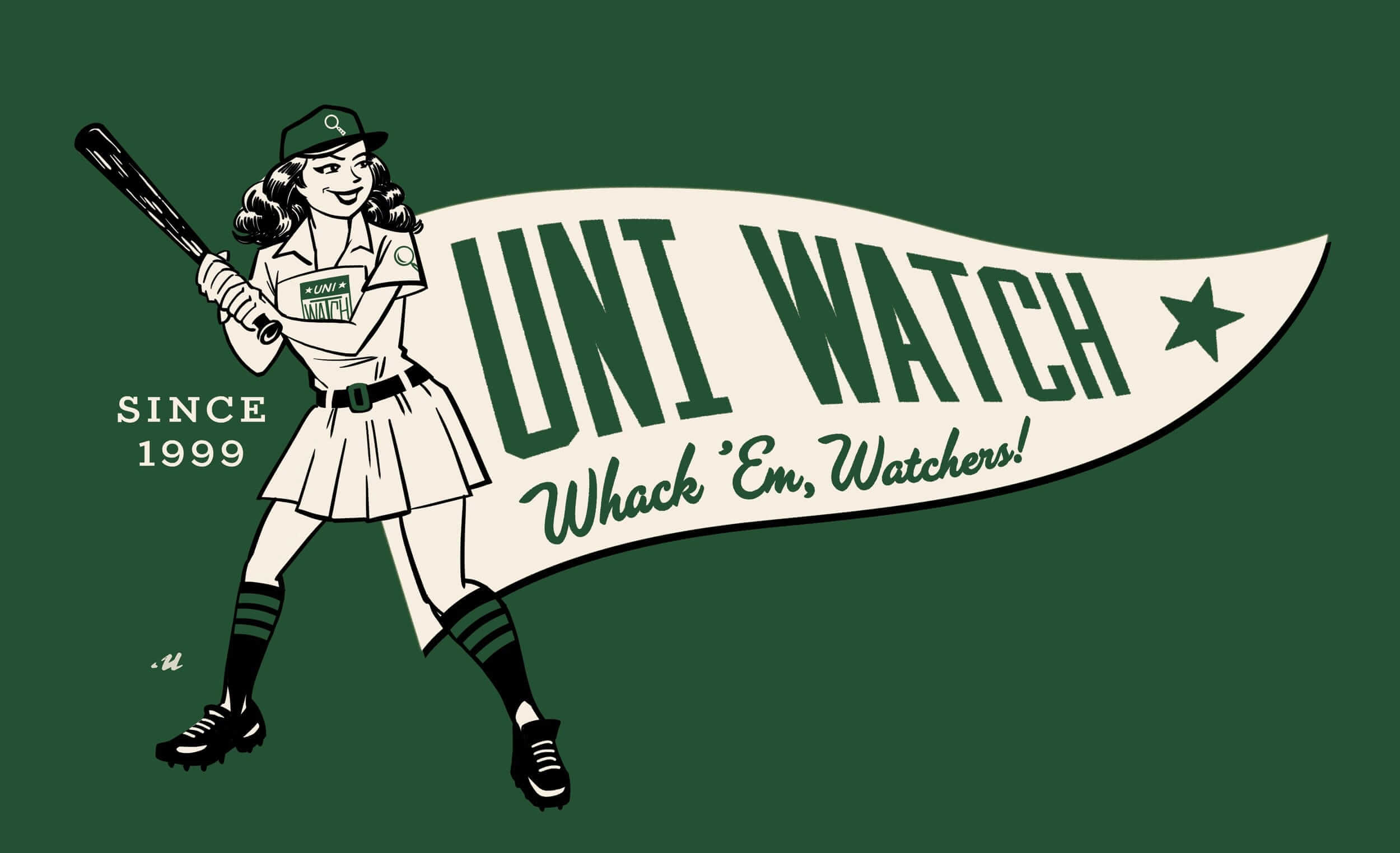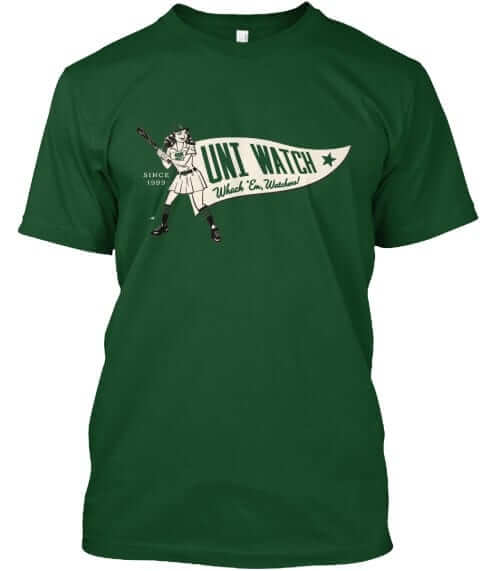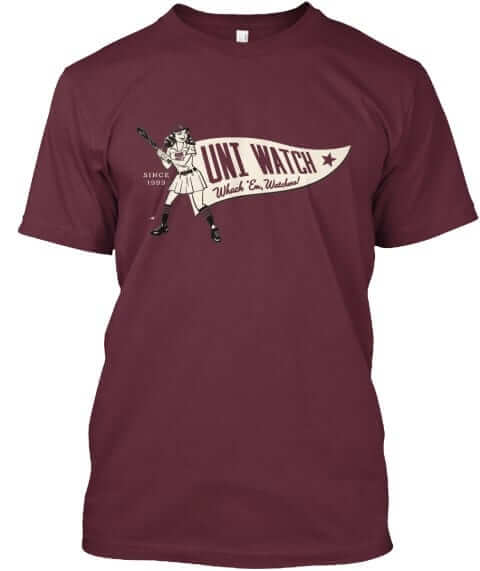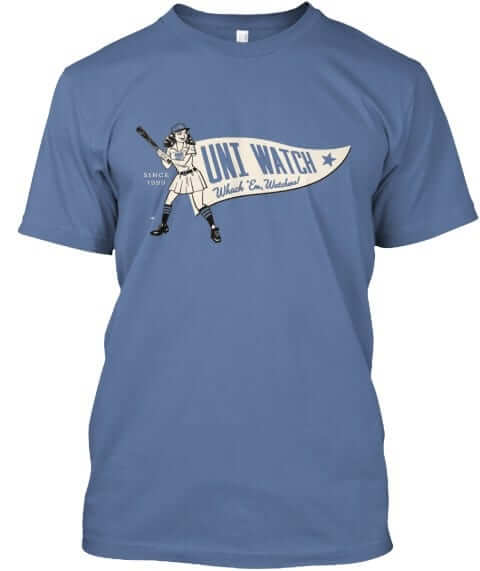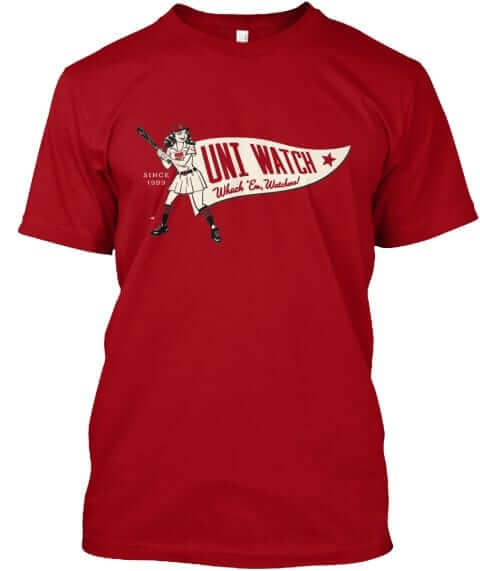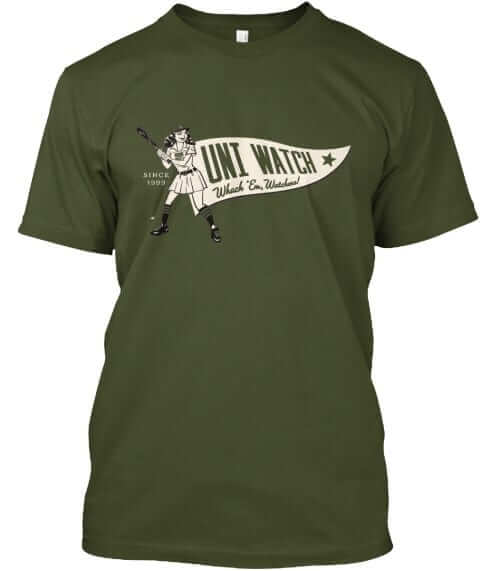 Nice, right? There are a few other colors available as well. I love the retro style and the old-school "Whack 'Em, Watchers!" slogan, which is the kind of thing that passed for marketing back in the day. "I wanted to do something that was both expected and unexpected," says Rob. "It encapsulates many of my favorite things, from concise, simple graphics, to baseball stirrups, to A League of Their Own."
My favorite element of the design is a small detail that's easy to overlook. Check out the chest logo: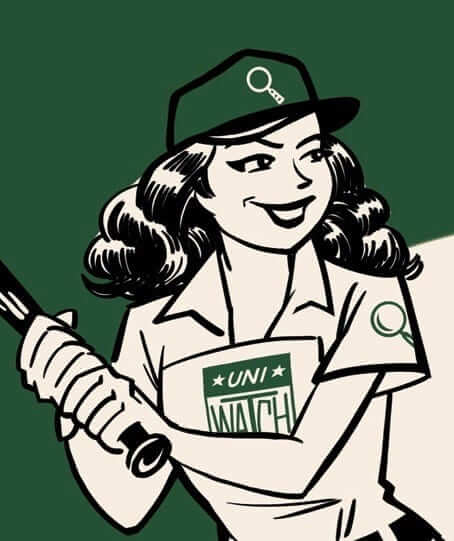 That, of course, is a riff on the old All-American Girls Professional Baseball League logo, which did indeed appear on the league's uniforms — usually as a sleeve patch but sometimes on the chest. And of course that logo was itself a riff on the various Hale America patches. I'm pretty pumped to see the words "Uni Watch" in that format, even if it's only a small part of Rob's design. Might have to have that made into a real patch!
The shirt is available here until the end of next week, plus I've created a separate link for women's tees. Card-carrying Uni Watch members can get 15% off; if you don't already have the discount code, get in touch and I'll hook you up. My thanks, as always, for your consideration.
•  •  •  •  •
And still more stuff from Paul: We've been getting some Naming Wrongs requests from Seattle fans. As it turns out, Scott Turner, who designs all the shirts (and also designs all of our membership cards), lives in Seattle, so he was excited to tackle this one. Seattleites, these are for you (click to enlarge: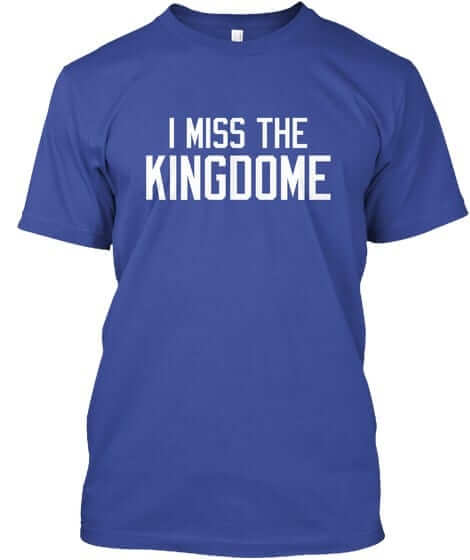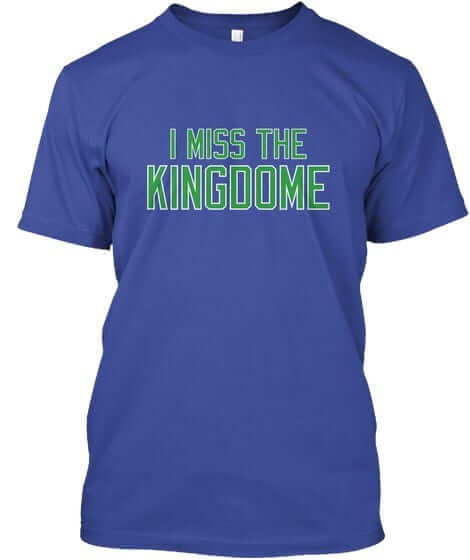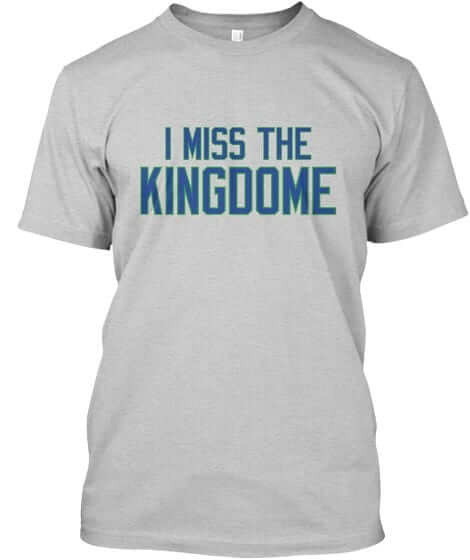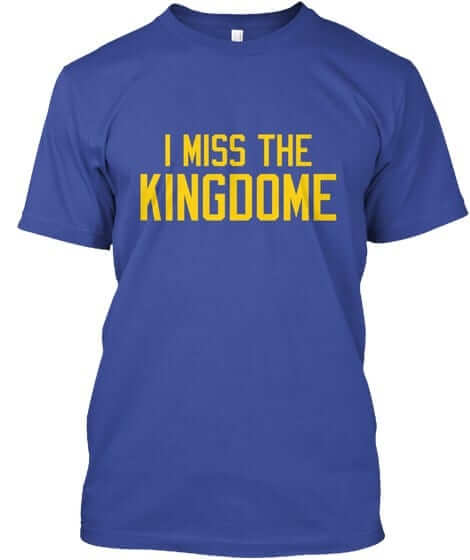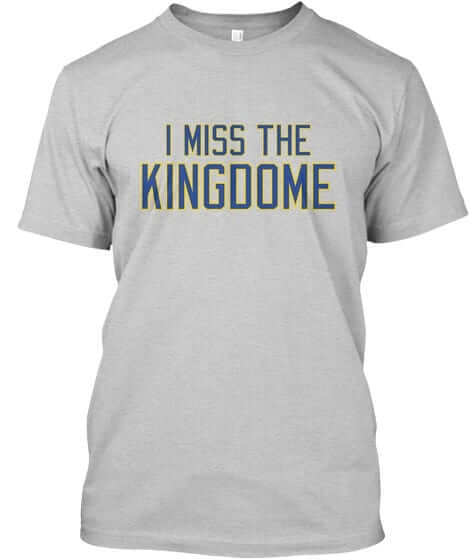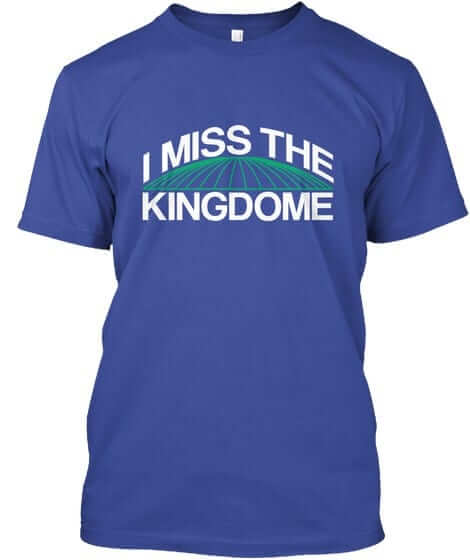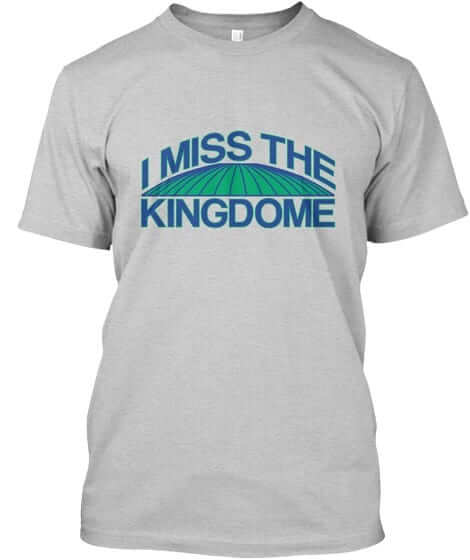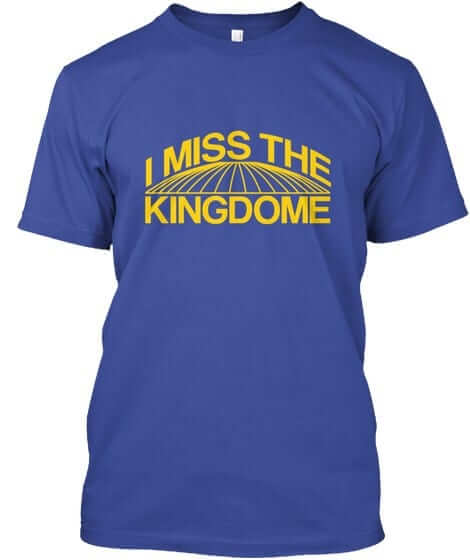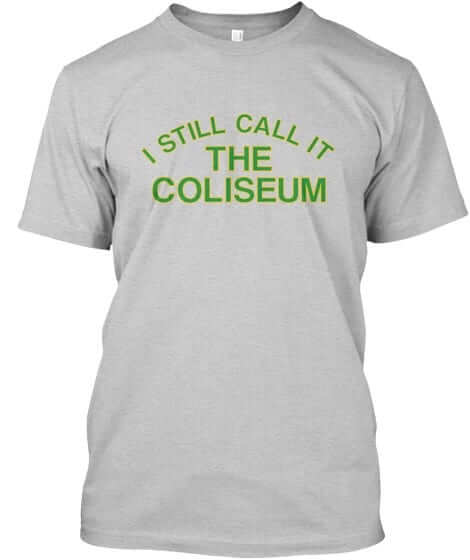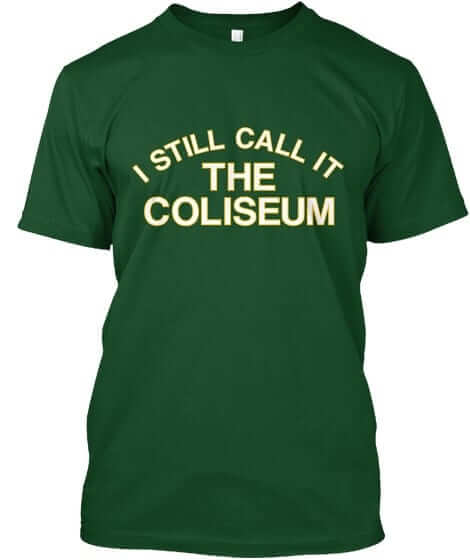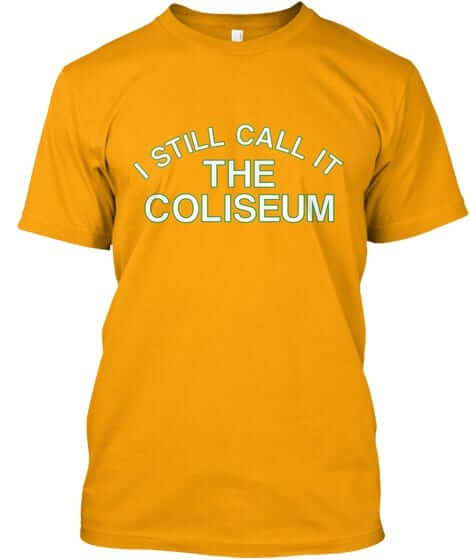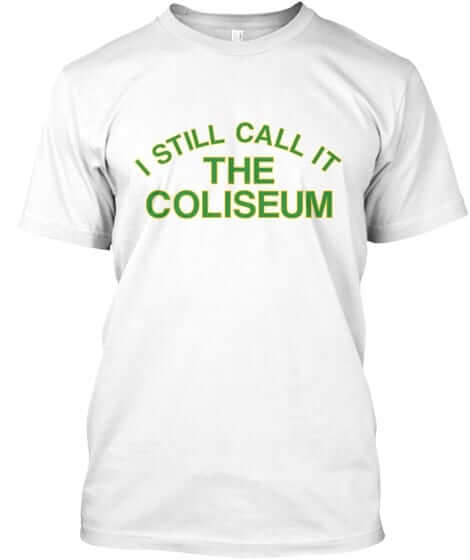 All of these designs are now available in the Naming Wrongs shop. They're also cross-listed in the Uni Watch shop, where card-carrying members can get 15% off. (If you're a member and need the discount code, send me a note and I'll hook you up.)
•  •  •  •  •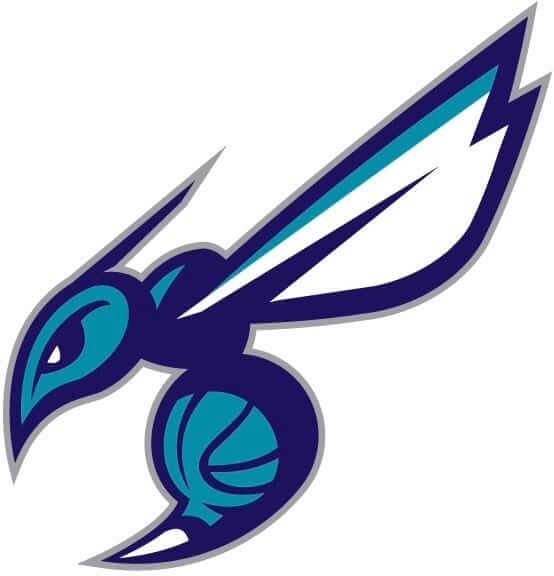 Paul really needs to shut up already: Yes, I'm still here, with one last note: I was interviewed yesterday by the guys who do the Locked on Hornets podcast. We discussed the team's new uniforms, the new Nike rollout, how the Hornets basically created the purple/teal craze of the 1990s, and more. It was a really good discussion. I'm told that an edited version of it will be available here at 8am Eastern, with the full unedited version available an hour or two after that here. One of those versions — I'm not sure which one — should also show up at some point in the morning at the top of this list.
There was at least one bit of news that I hadn't been aware of: The podcasters said the Hornets plan to reveal their two alternate uniforms "by the end of the summer," which is earlier than I had expected. We shall see.
Okay, that's (finally) it for me today. One last time: Check out the Astros story! Thanks.
•  •  •  •  •
Griffins Jersey Contest Reminder
Phil here.
In case you missed it, I'm again hosting a jersey design contest in conjunction with the Grand Rapids Griffins (an AHL affiliate of the Detroit Red Wings). All the details are contained in this post.
The deadline for getting your submission in to me is August 15 (at 6:00 pm Eastern Time), and we'll have reader voting on the concept jerseys beginning on August 17th! Last year we had 85 entries and I'd expect we'll equal or surpass that this year. Prizes include a custom jersey based on your design and tickets to the game that the Griffins will be playing in the jerseys you designed!
•  •  •  •  •
The Ticker
By Mike Chamernik

Baseball News: The Padres wore their 1990s throwbacks yesterday. Their caps don't have the New Era logo, unlike other teams (from Phil and Danny Forrest). … After getting hit by a pitch in his first at-bat last night, Mariners SS Jean Segura wore teammate Guermillo Heredias's elbow guard (from @SafecoAtHome). … Cardinals catcher Yadier Molina put his mother's name, Gladys, on his elbow guard strap (from @sportshuman). … Puerto Rico has long been a popular winter ball destination for MLB players, including three hall of famers back in the 1970s (from Douglas Ford). … Cody Walker was watching a Braves-Phillies game from August 1981 and he noticed that Braves batters had bow ties on their helmets, next to the "A" decal. Does anyone know the significance behind that? … This is from Brinke: "Longtime San Jose Mercury News sportswriter (and a friend of mine) Mark Purdy is retiring, and the Giants presented him with a jersey (last) nite." Brinke adds that he was given #44 since he was the person who coined the phrase "McCovey Cove," outside AT&T Park.

NFL News: Dennis Ryan, a Vikings equipment manager, created the first helmet visor in 1984 for a player who had recently suffered a fractured orbital socket. Ryan was inspired by the design of motorcycle helmet visors (from Taylor Nicolaisen). … Giants WR Odell Beckham Jr. is wearing a Joker-themed visor for OTAs. I bet Dennis Ryan didn't envision that 33 years ago (from Phil).

College Football News: Ara Parseghian, the coach who won two national championships at Notre Dame, died yesterday. According to this video clip, Notre Dame will have nose bumpers that read "Ara" this season. Last year, the team had "Irish" on the bumpers (from @CBusIrish). … Minnesota will wear its anthracite uniform this year for the first time since 2015. … New teal jerseys for Coastal Carolina (from CoastalCSN). … New unis for Northern Colorado. … Georgia State has transformed Turner Field into a football stadium. The school bought the stadium from the Atlanta Braves last year for $30 million. … Georgia Southern switched to matte-finish helmets this year. Numbers will be added once season starts. … Michigan's phone wallpaper shows a white uniform paired with yellow socks, while last year they wore white socks (from @bh5773). … Oklahoma coach Lincoln Riley hinted that the Sooners will have new alternate uniforms (from Phil).

Hockey News: The Devils will retire No. 26 for Patrik Elias. … The Iowa Wild revealed a new logo to commemorate five seasons in Des Moines. … During their inaugural season in 1967-68, the Penguins had adopted a living penguin mascot named Pete.

Soccer News: For last night's MLS All-Star Game against Real Madrid, Tim Howard wore a goalkeeper jersey that was based on what former US men's team keeper Tony Meola used to wear (from Josh Kail). … New home and away kits for Sheffield Wednesday (from Josh Hinton). … The Seattle Sounders are looking for a new jersey advertiser for after the 2018 season (from @Qazmonavt). … Last November, a plane crash in Colombia killed 71 people, including players, coaches, and guests of Brazil's Chapecoense soccer team. The club will have 71 stars on their jerseys this season in memory of the victims (from Jason Hicks). … MLS and Adidas extended their partnership through 2024. Adidas has been involved with the MLS since the league launched in 1996, and has been the official outfitter of every MLS team since 2004 (from Phil). … New kits for Ireland (from Phil).

Grab Bag: New court for Drexel basketball. … UCLA teased its new women's volleyball unis (from Phil). … New secondary logo for Texas State. … New logo for the city of Woodstock, Ga.