Click to enlarge
Greetings from balmy Las Vegas, where I had dinner last night with longtime reader Kaine Messer, who flashed his official Uni Watch membership card at the table (based on the late-'90s Angels uniforms, don'tcha know). His Cali-themed card notwithstanding, Kaine turned out to be a passionate advocate for Las Vegas, schooling me in the city's various ins and outs, all of which provided an excellent grounding for my visit here. (He also turned out to be a really nice guy and a very enjoyable dining companion. Thanks again, Kaine!)
As for dinner, we ate at the aptly named Prime Rib Loft, where we both opted for the titular menu item. I went with the largest size they offered, mainly because it comes on the bone:
Meeting Kaine and eating prime rib were two of the three major pleasures I had here yesterday. The third was a visit to the National Atomic Testing Museum, which traces the history of the nearby Nevada site where several nuclear weapons were tested in the 1950s and '60s. Faaascinating stuff.
I'll be visiting another museum this morning: the Neon Museum, where I'll be taking a tour of the "boneyard" — the place where old neon signs go to die. I'm pretty excited about that one.
After that, I'll shift into NHL mode and get ready for tonight's unveiling. My understanding is that the event itself will begin at 8pm Eastern, but that the actual unveiling won't be until about two hours after that. I'll likely be tweeting a fair amount, so you can follow me to stay in the loop. At some point, though, I'll be interviewing a bunch of NHL and Adidas people, and then writing at least one ESPN story. Not sure when those will be published, but it'll probably be pretty late. Should be a fun night — see you then.
•  •  •  •  •
Click to enlarge
Let's try this again: What you see above is a Riddell 3-D scanning gadget showing a scan of me. I was wearing a tight black hood thingie because they wanted to get the exact contours of my head. This is the part of the process for Riddell's new Precision-Fit helmet program, which produces custom-made interior padding for a precise fit between player and headgear. I've written a new ESPN piece about this, which I think you'll find interesting. It was actually posted yesterday, but I didn't get a chance to link to it because I spent most of the day on an airplane and then running around. Check it out here.
•  •  •  •  •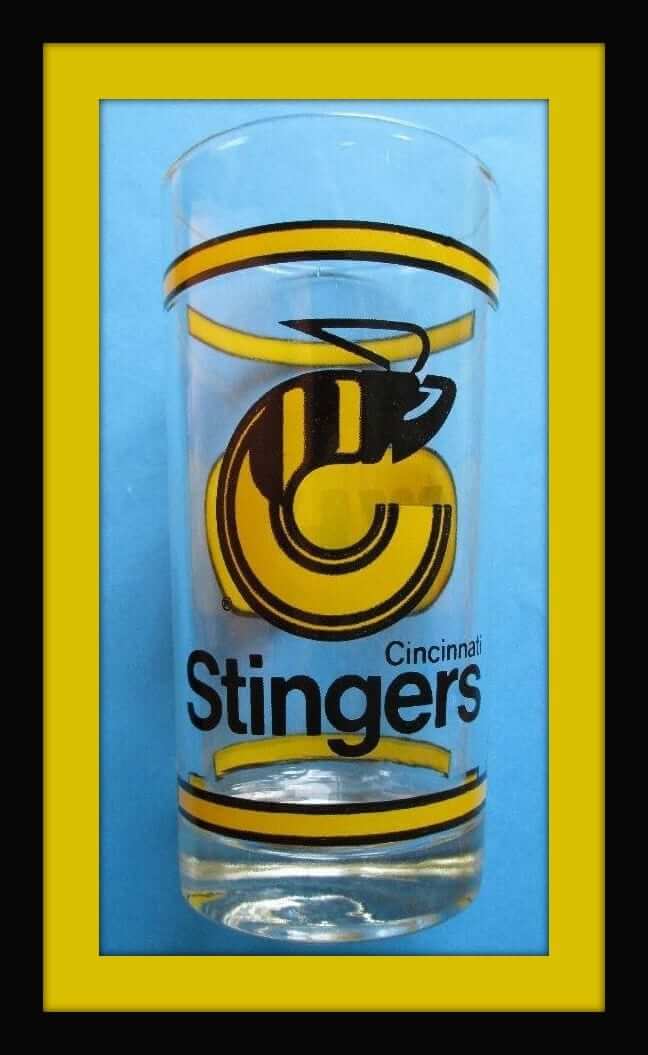 Collector's Corner
By Brinke Guthrie
With Paul sizzling in Las Vegas for tonight's NHL/Adidas rollout, I thought it appropriate to go all-hockey for this week's installment of CC. I really got into hockey with the minor league Dallas Blackhawks and Cincinnati Swords, and then with the WHA's Cincinnati Stingers when they debuted (I was at their first game over 40 years ago). Here we have a Stingers promo glass sponsored by 700 WLW radio. I have one of these myself, sitting right here. The seller wants a ton for it — maybe a set of four for not nearly as much works better for ya. Those also show the WHA player logo, and no radio sponsor.
Now for the rest of our hockey picks:
•  Look at this Original Six patch from the Toronto Star Weekly.
•  Nice-looking 1970s NHL lunchbox. Is that Espo on the front?
•  Get lotsa snow in Winnipeg, eh? Then you'll need this 1980s Winnipeg Jets Booster Club ice scraper.
•  Whaler fans! We know you're still out there, so how about this 1979 Whalers/NHL pin?
•  Always liked how Indy's WHA team was called the Racers, which of course rhymed with their Pacers basketball team, much like New York's Mets, Jets, and Nets. If you were a Racers Hockey Nut, this bumper sticker is for you.
•  Excellent artwork on this 1960s "All-Star Canadian Hockey" tabletop game from Munro and Sears.
• And yes, I had to look up the difference in spelling of "Canadian" vs. "Canadien" when I came across this 1960s Canadiens Stanley Cup pennant.
• Here's a terrific 1970s Aladdin Thermos for The National Hockey League.
• Ah, the magnificence of the Quebec Nordiques logo is showcased on this practice-worn jersey. One of my very favorite hockey logos, along with the earlier mentioned Stingers, Racers, Jets, Whalers, and the…
• … Atlanta Flames. Here's that simple yet so effective logo on a collectible puck. (Another thing about this logo: It was cost-efficient to reproduce, because it was just one color.)
•  And we close out this week's CC with a set of 1970s NHL coasters, including the K.C. Scouts and the California Golden Seals.
•  •  •  •  •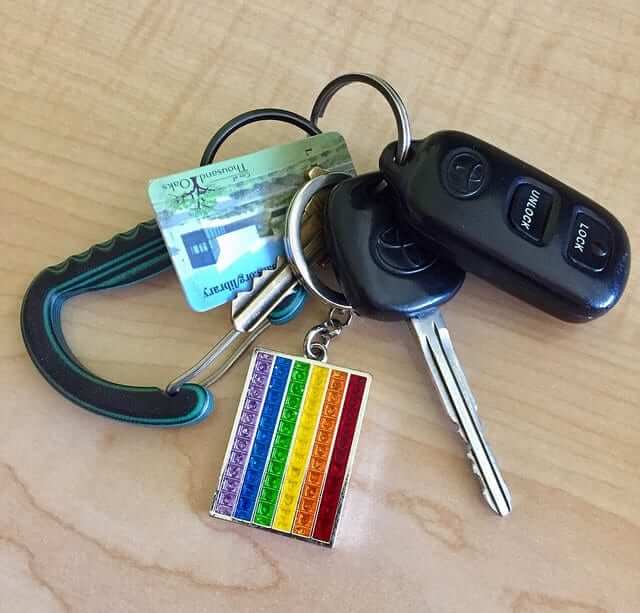 KRC update: The latest installment of Key Ring Chronicles is about a rhinestone rainbow key tag. Check it out here.
•  •  •  •  •
The Ticker
By Mike Chamernik

Baseball News: After the final out of the 1967 World Series, third-base umpire Augie Donatelli snatched Cardinals infielder Julian Javier's hat off of his head during St. Louis's victory celebration. The moment has long been a part of Uni Watch lore. Though Donatelli is dead, a St. Louis Post Dispatch reporter spoke with Javier and Donatelli's family members to find out what happened to the cap. It's a cool story, highly recommended (from Scott Fite and Kyle Sawyer). … The Braves' uniforms have been roughly the same since 1987, but the chest wordmark used to have a much steeper upward slant. You can see the progression of their jerseys in this video (from Austin Gillis). … The Astros team in Josh Claywell's local Little League uses the current hats with the former logo on the jerseys. Plus, unless that kid has a specialized helmet, the Rays team uses a paw print decal. … The Lafayette Aviators will wear Harry Potter jerseys this Friday (from Forster Keenoy). … Nike hats sold at the College World Series in Omaha have inner bands with a Nebraska outline pattern on them (from Aaron Maisel). … The Nationals will hide 10 prize-filled "dragon eggs" around the DC-Maryland-Virginia area in advance of Friday's Game of Thrones Night against the Reds (from Phil).


NFL & College Football News: The Supreme Court ruled that the law that barred the 'Skins from registering their name as a trademark is unconstitutional, which means the team will likely be able to retain trademark protection after all. … Here's a good story on Dick Honig, the man behind an officiating apparel company that was basically the Nike of the referee world. He had more than 400,000 clients (from James Gilbert). … Georgia Tech will find a new apparel manufacturer after its deal with Russell Athletic ends next June (from James Gilbert). … New field for Nebraska Kearney (from Jason Johnson). … Rams fans are apparently unhappy with the current state of the team's uniforms (from Brian Rouse). … Riddell is opening its largest football helmet plant so far in Ohio (from Jason Hillyer).

NBA News: De'Aaron Fox, a prospective top-five pick in Thursday's draft, said on the Ryen Russillo Show that he wears No. 0 because he fears no one. He will wear the number in the NBA if it's available on his team (from Andrew Cosentino). … Despite the new corporate partnership, NBA's development league will not be known as the Gatorade League, only the G-League (from @HitTheGlass). … A couple summers ago, Chris Creamer of SportsLogos.net theorized that roundel logos were becoming popular again because they work well as social media icons. Robert Hayes notes that after the Twitter update, several NBA team's new-ish logos fit perfectly within the circular profile picture space.

College & High School Hoops News: New court for Kent State (from Mary Lynn Delfino). … New court design for Waukegan (Ill.) High School, my alma mater. The Dawg Pound, as it's known, is the most intimate high school gym in the northern Chicago suburbs.

Soccer News: Adidas has given four national teams (Faroe Islands, Armenia, San Marino, Luxembourg) the same kit, just with different badges (from Josh Hinton). … New kits for Swansea. Here's a video of the unveiling (from Terry Mark). … New home jersey for Benfica (from @MikeD3783). … San Francisco City FC of the Premier Development League will wear Pride jerseys on Sunday.

Grab Bag: The logo for next year's Kentucky Derby has been revealed. … Ben Hayden makes an interesting observation: Three of the four Detroit major pro teams will have new uniforms next season. The Lions unveiled a new set a few months ago, the Pistons recently changed their logo, and the Red Wings and the rest of the NHL are touching up their unis (only the Tigers have kept the status quo). He asks if any other city has had three or more uniform/logo changes in one year. Does anyone know? … New logo for the U.S. Ski Team (from Matt Hughes). … The NHL apparently has its first player with two consecutive Ys in his surname (from Alex Hider).