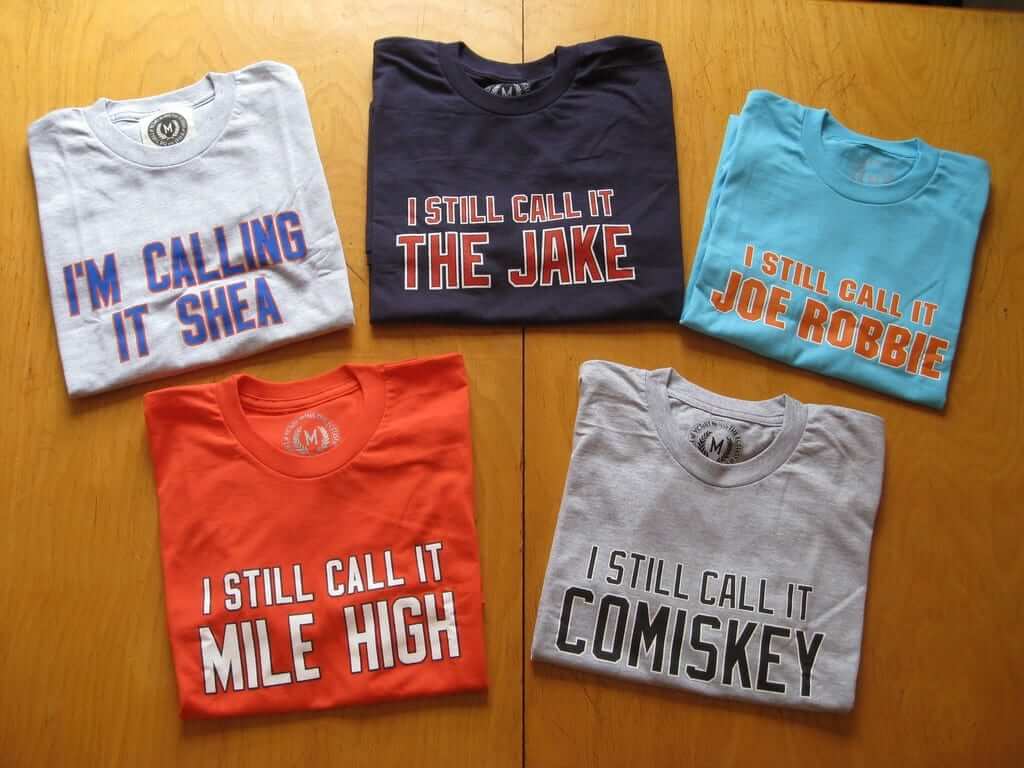 Click to enlarge
As longtime readers may recall, back in 2009 I partnered with the apparel brand No Mas and the Brooklyn musician the Rev. Vince Anderson to create a T-shirt that said, "I'm Calling It Shea," which was our response to the Mets selling off their new ballpark's naming rights. The shirt was so successful that we launched a line of similar shirts (shown above) under the banner Naming Wrongs.
The Naming Wrongs project eventually stalled, as No Mas prexy Chris Isenberg moved on to other things (he now runs Doubleday & Cartwright, the design firm that created the Milwaukee Bucks' current look). But people still remember Naming Wrongs. Every time a stadium or arena gets a new corporate-advertised name, I get emails from people who ask, "Are you going to do a new shirt?"
And now I can finally say yes. I'm happy to report that I've made arrangements to reactivate Naming Wrongs. And not a moment too soon — with corporate influence and advertising continuing to worm their way into every nook and cranny of the sports world, Naming Wrongs feels like a small but meaningful act of resistance.
Our own Scott M.X. Turner is handling the typography on the new product, and the shirts will be sold via Teespring. Since Teespring prints on demand, this means we'll never be out of stock, which was sometimes a problem with the No Mas product.
So what will we be offering? For starters, we're bringing back the five original Naming Wrongs shirts. But we've tweaked the typography and added some additional color options. Here's what we'll have (for all of these, you can click to enlarge):
Not bad, right? We're also planning on a bunch of new designs. You can probably guess what some of them will be (we have a pretty long list), but I'd also like to hear your suggestions: What other designs should we do? Send your ideas here. We'll do our best to act upon people's requests.
You probably have some questions, so let's shift into Q&A mode:
When will the new versions of the five original designs be available again?
Probably in a week or so. We're just getting a few things set up before we launch.
What about the new designs?
I hope we'll have at least a couple of them ready to go along with those five . And then we'll continue adding additional ones as time allows.
Will these be limited-edition shirts, or will they be available indefinitely?
I plan to keep them in print for the foreseeable future.
Will the shirts have anything on the back?
No.
Will long-sleeved versions be available?
In most cases, yes. Sweatshirts and hoodies, too.
Will the 15% discount for card-carrying Uni Watch members apply to these shirts?
Yes. The Naming Wrong product will have its own Teespring shop, but the shirts will also be cross-listed in the Uni Watch shop, where the discount will apply.
Why do some of the shirts begin with "I'm Calling It…" and others have "I Still Call It…"?
We use "I'm Calling It" for new buildings with corporate names, and "I Still Call It" is for old buildings with new corporate names.
I just thought of a shirt you should do and I don't feeling like scrolling back up to that email link you gave earlier. Can you give it to us again?
Sure. If you have a good idea for a Naming Wrongs shirt we should do, please send it here.
The San Francisco Giants play in AT&T Park, but I still think of it as Pac Bell Park. Will you do a "I Still Call It Pac Bell" shirt?
No. We won't do any designs that honor previous corporate-advertised facility names. We'll only do shirts that honor non-corporate names.
Will you do shirts for corporate-renamed college football bowl games?
Possibly. But one thing at a time — we want to get the stadium/arena shirts up and running first.
Who's this Vince Anderson guy you mentioned?
The Rev. Vince Anderson is a Brooklyn-based musician. He was the one who came up with the phrase, "I'm calling it Shea," so none of this would have happened without him. He's given his blessing to the project's revival.
———
I think that's it. I'll let you know when the shirts are ready for ordering.
•  •  •  •  •
Keeping up with the Joneses: Way back in 2007, I wrote about how Bear Bryant, who coached Kentucky in the early 1950s, had twins Larry and Harry Jones wear Nos. 1A and 1B. Now Twitter user @ItsTheBigFish has found a video (shown above) that provides us with several seconds' worth of footage of Harry.
Okay, so he's just walking onto the field with the rest of the team, but still — pretty cool to see!
•  •  •  •  •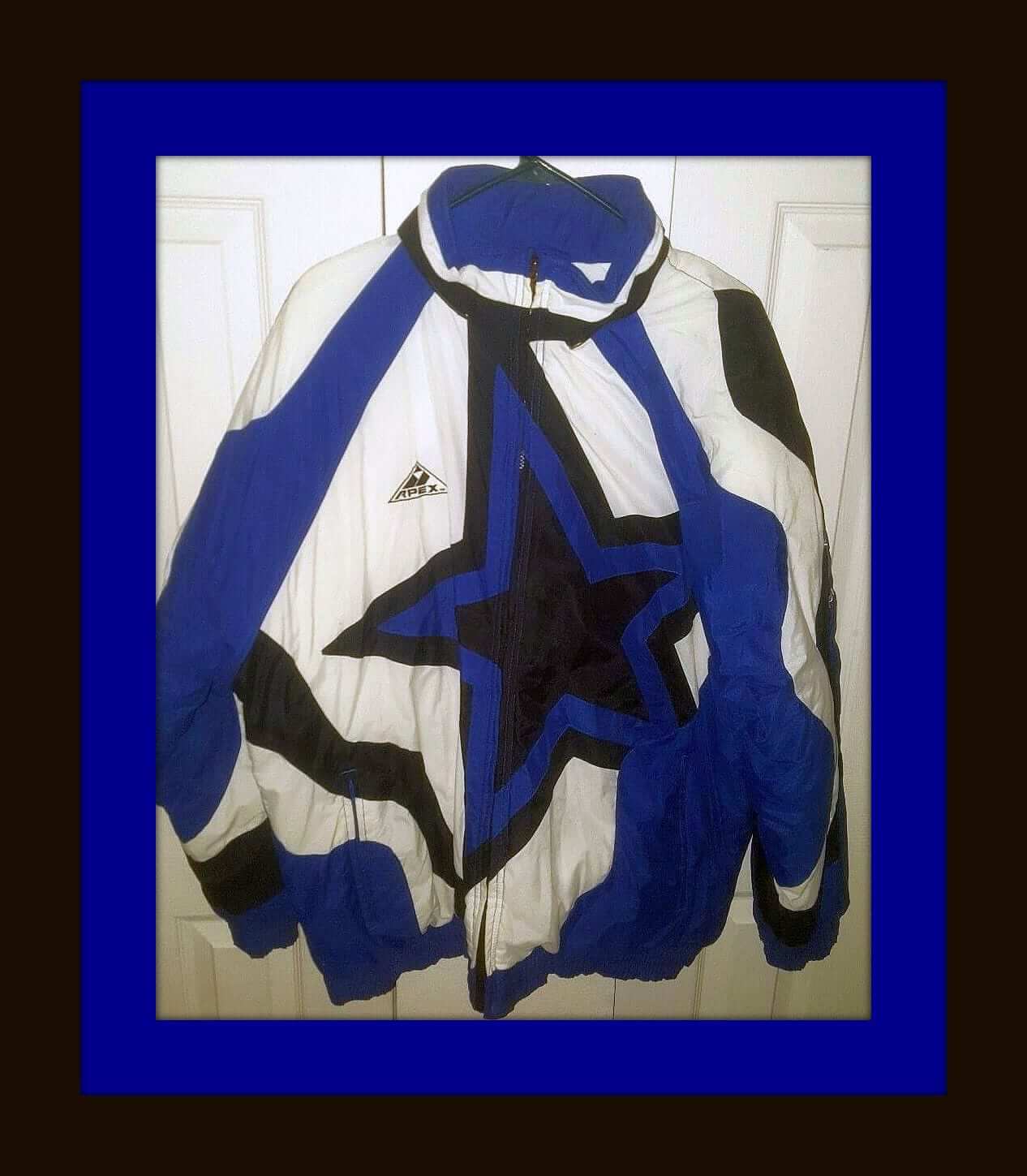 Collector's Corner
ӬBy Brinke Guthrie
Starting things off this week with a vintage Apex parka for the Cowboys. I had this one! One of many Apex-Cowboys items I had — a contact at Apex kept me well outfitted with massive freebies. Those were the days. Loved the design, but the weird thing about this one was it attracted lint like you couldn't imagine. Wear it for awhile and you'd need a lint roller to pull off all the hair and miscellaneous detritus. But like I said, I couldn't beat the price.
Now for the rest of this week's picks:
•  Here's the box for a 1970s NFL gumball helmets goalpost kit. Can't decide if that's Herschel or Walter Payton on the box lid.
•  How about this 1960s Vikings bucket cap made by Sta-Well. Nice old-style NFL shield on there.
•  The Warriors are cleaning up once again in the playoffs, so we've got this 1970s Warriors/Rick Barry poster from Spalding. Always saw "Advisory Staff" on ads for the major sports back then. What did an adviser do other than get paid and pose for photos? [I believe that was the earlier version of what's now known as a "brand ambassador." "" PL]
•  Vintage NFL team name fonts galore on this 1970s Sears NFL lampshade.
•  Is it me, or does the Colt on this 1960 Baltimore Colts sticker look like he's had one too many energy drinks?
•  Here's a 1977 NFL Action Team-Mate Playbook. It goes along with guys like this Fran Tarkenton figure.
•  They didn't quite get the helmet right on this 1960s Jets button right, did they?
•  They used the Saints' short-lived black helmet on this 1960s Chase & Sanborn coffee mug.
•  This auction for this 1968 Westclox Team-Mate Baltimore Orioles pocket watch ends tonight, so move fast. Looks to be in perfect shape!
•  Freshen-Up gum presents your 1978 NFL Rookies of the Year Media Guide.
•  Gonna say Tommy Casanova of the Bengals at the top of this 1978 NFL Pocket Schedule from the United Way. Boy, it was brutal at Miami University (Oxford, OH) in the fall of 1978, what will all the Browns fans also going to school there. The games between the two teams were taken rather seriously in the basement TV room of Reid Hall.
•  •  •  •  •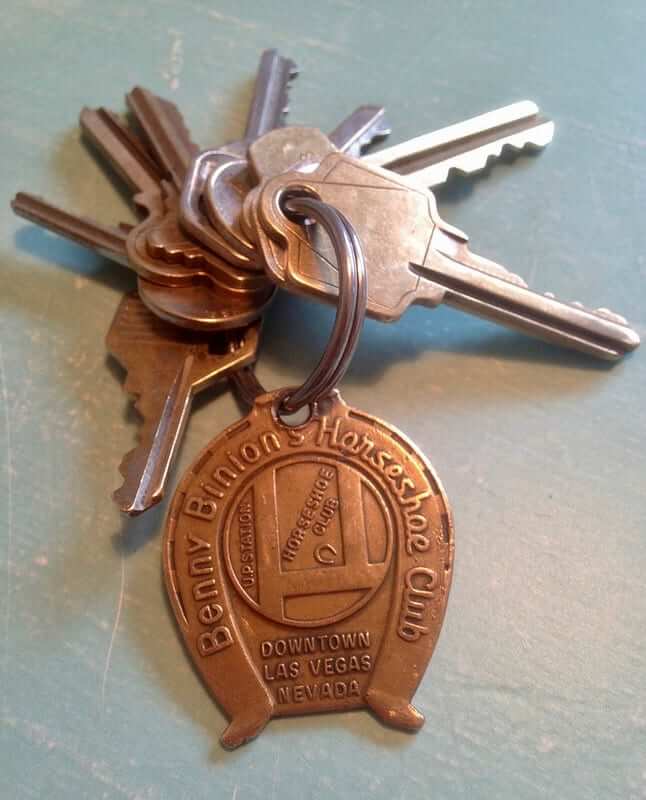 KRC update: The latest installment of Key Ring Chronicles is a really good one. It's sort of about a key fob promoting a Las Vegas casino, but it's also about a really interesting family business that manufactured novelty key ring item. Check it out here.
•  •  •  •  •
The Ticker
By Paul

Baseball News: Mississippi and Auburn both wore throwbacks the other day. Note the captain's "C" for Mississippi 2B Tate Blackman (from Clint Richardson). … Inconsistent pants striping for the Reno Aces (from @AZJoshM). … New minor league promotion: Race around the bases while carrying a giant toothbrush. … Uniform designer/historian and longtime Uni Watch ally/pal Todd Radom has been doing a series of podcasts with ESPN's Buster Olney. … Pirates INF Gregory Polanco has a new pair of custom-painted cleats that pay tribute to Royals P Yordano Ventura (from Megan Brown). … The Durham Bulls will be wearing Durham skyline jerseys on June 8. As you can see there, the promotion includes something called "Runaway" and shows a logo of a kid with a bindle, so I initially thought, "Oh, this must be in conjunction with a charity that helps runaway children." But no — Runaway is actually a Durham-based clothing brand that uses runaway-kid imagery in its branding. Can you fucking imagine? … Check out this shot of NBA great Kareem Abdul-Jabbar and actors Charlie Sheen and Billy Barty wearing unusual Dodgers uniforms (from Pat Costello). … Also from Pat: Who's that in the Globetrotters uni? None other than Baseball Hall of Famer Ferguson Jenkins. Here's a watermarked color image from the same photo shoot (from @ProFootballJournal). … Check out the inconsistent underbrim colors in this 1986 Astros shot (from Johnny Garfield and @ProFootballJournal).


Pro and College Football News: During a 1969 Broncos game, a fan snuck into the manually operated scoreboard and changed some of the lettering (from @BroncosQBclub). … Boise State will unveil new uniforms this afternoon (thanks, Phil).

Hockey News: I usually think it's best to support one's own team without trashing the opposing team. But I'll make an exception for this: A bunch of live penguins mucking up a Senators-like logo (from Bryan Justman). … The latest corporate theater absurdity: Former Tennessee Titans RB Eddie George and current Titans QB Marcus Mariota showed up at last night's Ducks/Preds game in Nashville and were given Predators jerseys — and Mariota's had Nike logo creep. That's a Nike logo on a Reebok jersey. Douchebags (from Lee Wilds).

Soccer News: Reprinted from yesterday's comments: New kits for Zambia. … New home kit for Ajax. … New third kit for Manchester United. Additional info here. … New home kit for CSKA Moscow. … New home kit for Club America.

Grab Bag: Novak Djokovic has signed a new deal with Lacoste (thanks, Brinke). … Oh man, I love a good infinite regression (big thanks to Jay Sandora). … New uniforms for Anaheim's motorcycle cops (from Richard Paloma). … Oh man, look at these completely amazing photos of bowling alleys in Germany. Spectacular stuff (big thanks to my pal David Brown). … Here's a look at USA Rugby's new Adidas-made uniforms (from Tim Dunn).