A few weeks ago I did an ESPN column about NBA team captains who've worn a "C" on their jerseys. Today I want to turn our attention from the hardcourt to the diamond.
"¨MLB, like the NBA, does not maintain an official database of players who've worn a captaincy designation. My own mental database includes the following players (for many of these photos, you can click to enlarge:
1. Barry Larkin, Reds. I always liked how the Reds gave Larkin a wishbone-C.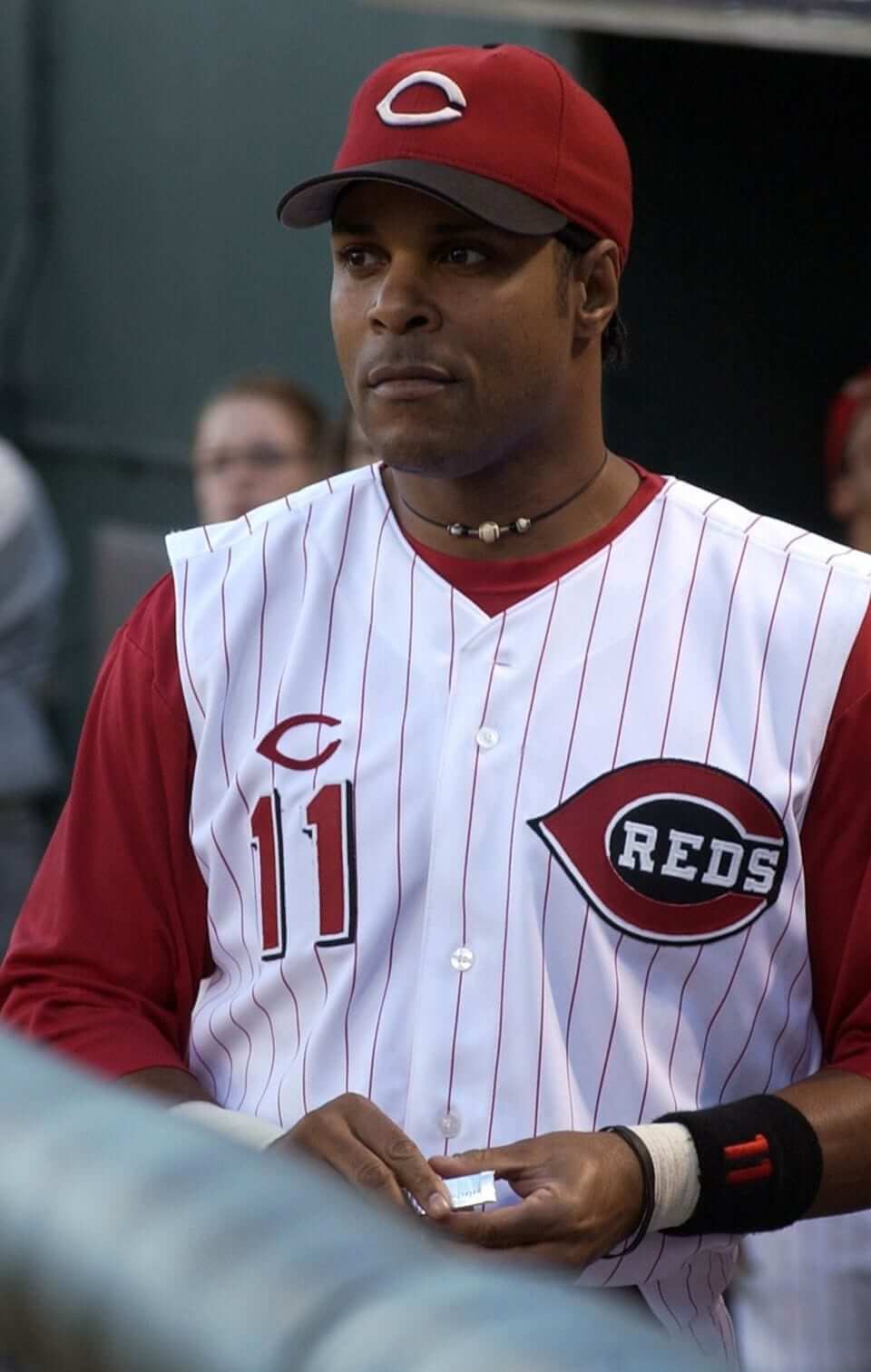 2. Keith Hernandez, Mets. Hernandez wore the C in 1987. But when Gary Carter was named co-captain the following year, Hernandez removed the C. (Carter himself never wore the C, perhaps because it might be confusing to have a catcher named Carter wearing a C on his chest.)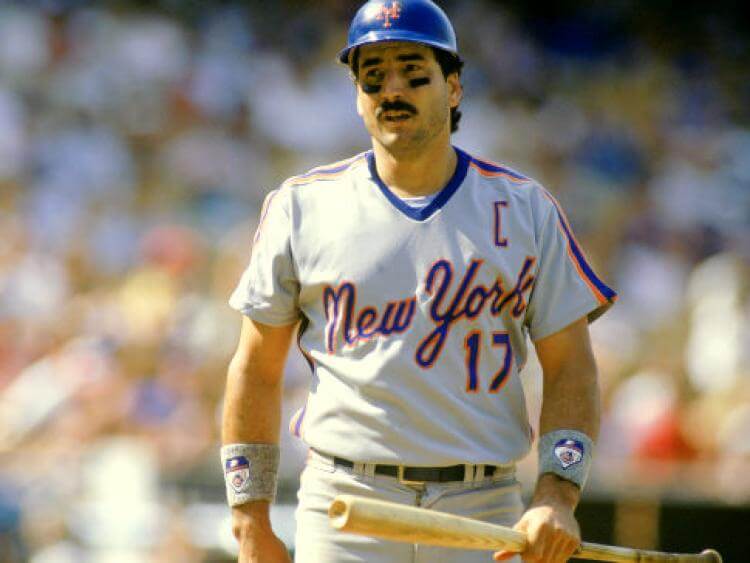 3. John Franco, Mets. It's unusual to see a reliever serving as a captain, and even more unusual for a reliever to wear the C, but Franco checked both of those boxes for the Mets.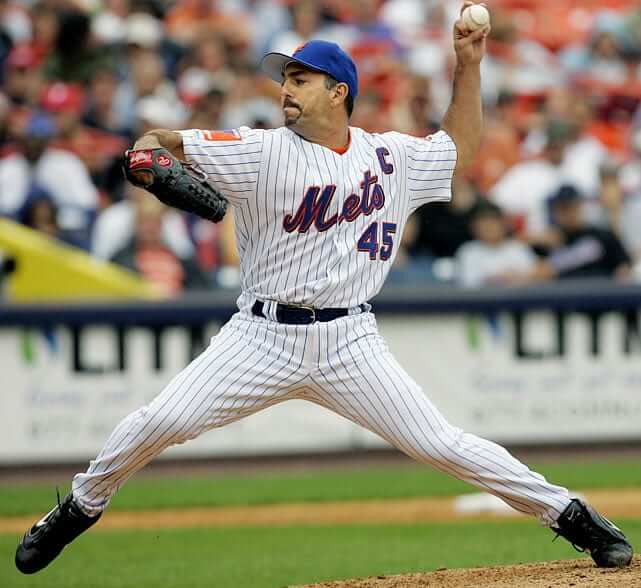 4. Jason Varitek, Red Sox. The Sox gave Tek a C after re-signing him to a new contract prior to the 2005 season.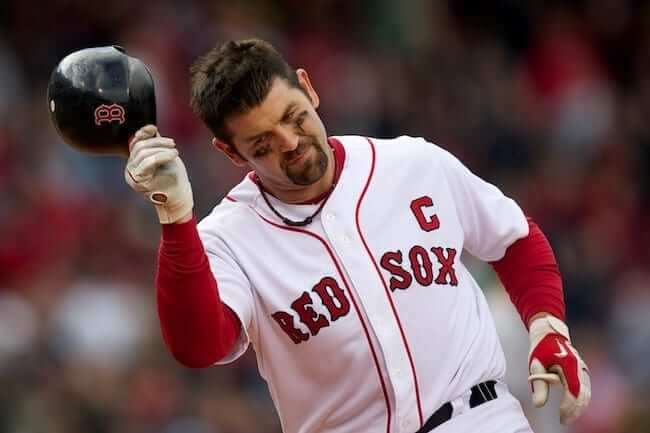 5. Mike Sweeney, Royals. During a period when the Royals didn't have a whole lot to feel good about, they did their best to promote Sweeney, who put the "C" in KC for many years.
6. through 9. Sammy Sosa, Mark Grace, Kevin Tapani, and Rick Aguilera, Cubs. In 2000, Cubs manager Don Baylor decided to name four captains — one apiece from the infield, the outfield, the starting rotation, and the bullpen. The weird thing is that they wore the C on the right sleeve, and many fans no doubt mistakenly thought it stood for either "Chicago" or "Cubs." (I had trouble finding good C-inclusive photos of Tapani and Aguilera, but you can just barely see their Cs in the pics that follow.)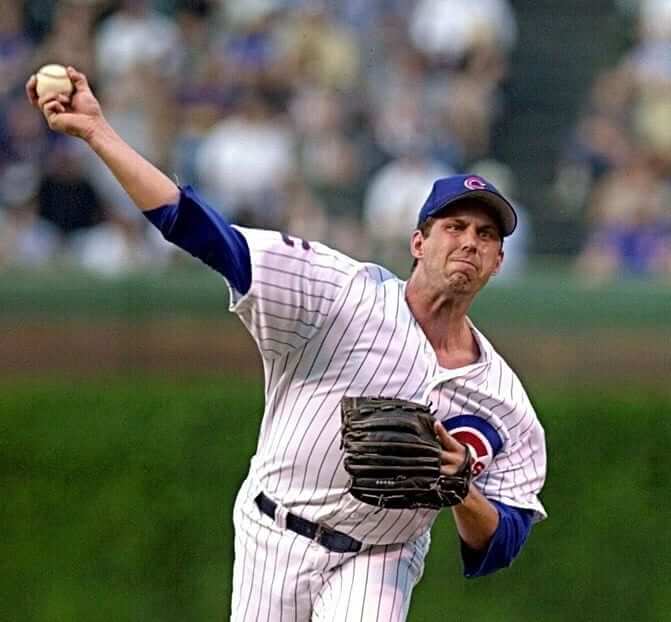 ———
And that's it. It's a surprisingly short list, no? Until I started spelling it out, I didn't realize how short it was, and now I'm kind of stunned that there have been so few C-clad MLBers. Also, this list spans a relatively short period of time, from 1987 (Hernandez) through 2007 (Sweeney). Was Hernandez really the first MLB captain to wear a C? That seems absurd, but I can't think of an earlier example.
Did I miss anyone? I feel like I must have. If so, let me know. (Of course, there have been plenty of team captains who didn't wear the C — Derek Jeter, David Wright, and Paul Konerko are three recent examples — but that's a whole different category and not uni-relevant.)
•  •  •  •  •
Purp Walk wrap-up: Big thanks to everyone who made our annual Purple Amnesty Day so much fun. I processed lots of purple-centric membership card requests (Scott Turner will get working on these pronto, and I'll start showcasing them on the site soon), and we sold — get this — 134 shirts, which is 50% more than we sold in the last two years combined. An amazing total for a one-day sale. I'm really happy for our shirt designer, the great Bryan Molloy, who put so much work into this one and got to see it pay off in spades. Take a bow, Bry — you deserve it.
I also appreciate all the kind words that so many of you offered regarding the site's 11th anniversary. Shall we go for 12? Only 364 days until Purp Walk 2018!
•  •  •  •  •
LAST CALL for the movie contest: In case you missed it over the weekend, Phil is running a new contest to create an updated design for a jersey featured in a movie. All the details are in this post.
The winning designer will get a custom-sized version of his or her jersey, produced by our friends at Garb Athletic. The deadline is tonight at midnight Eastern, so get crackin'!
•  •  •  •  •
The Ticker
By Mike Chamernik

Baseball News: Astros INF Jose Altuve wore teammate Carlos Correa's arm guard yesterday (from @SteveinLC). … Rays 2B Brad Miller used his Mother's Day weekend bat on Monday and got three hits. MLB promptly told him that pink bats were no longer allowed. … The Giants will unveil a plaque for Barry Bonds on the team's wall of fame in July. … Single-digit pitcher alert! That's Jo Jo Romero of the Class A Lakewood BlueClaws (from Kevin Clark). … In 1970, Richie Hebner of the Pirates changed his number from 20 to 10 when Three Rivers Stadium opened during the season. He knew the team wanted to retire No. 20 in honor of hall of famer Pie Traynor, who spent his entire career in Pittsburgh. After a slump, though, Hebner changed his number back to 20 before the season ended. Then, when the club officially retired Traynor's number after his death in 1972, Hebner switched to No. 3 (from Jerry Wolper). … Indians P Johnny Allen wore an enormous overcoat in the dugout to keep warm back in the 1930s (from Ed Hughes). … Matthew Rogier plays on a baseball team in Paris called the Patriots. The team has filed a lawsuit over intellectual property against a new far-right political group called "Les Patriotes." Here's a news clipping, and rough translation from Matthew, on the suit. … Jarrod Saltalamacchia is back down in the minors, with the Buffalo Bisons. He still has the super-long NOB, of course, but it is no longer arched (from Phil Walck). … The St. Paul Saints of the American Association named their new live pig mascot Alternative Fats (from Andrew Hoenig). … The 1973 American League Red Book contains a section on team uniforms and insignias. Judging by the length of those blurbs, a picture really does say a thousand words. As for the book itself, each year MLB produced Red (AL) and Green (NL) Book media guides that contained stats and historical information. They were discontinued in 2016 (from Kevin Vautour). … As you can see at certain parts of this video, the New Britain Bees use umpire cams during their home game streams (from Scott Markiewicz). … The Kane County Cougars and Beloit Snappers went green vs. green yesterday (from Melissa Lockard). … Interesting hyphenated NOB for new Rangers P Austin Bibens-Dirkx. … It's standard for the visiting team's logo to appear atop the visiting dugout at PNC Park, but they're using an outdated Nats logo. … Willie Stargell's widow is selling off his memorabilia, including his 1979 MLP award and World Series ring (from Mike McLaughlin).


Pro & College Football News: The Houston Gamblers of the USFL had oddly-shaped 8s on their jerseys (from Gene Sanny). … Broncos WR Rick Upchurch wore a plain blue helmet during a 1975 game against the Chiefs. "Pat Summerall explains on the video that the helmet was plain because Upchurch had split his regular helmet 'wide open' on an earlier kickoff," explains Jon Michael Smith. He got a new helmet with a decal for the second half. … Former Browns WR Michael Jackson died last week. During his first two years in the league in 1991 and 1992, Jackson wore No. 1 because numbers 80 through 89 were unavailable (No. 82 was unused, though not officially retired, for Ozzie Newsome). Eventually, No. 81 opened up, and the league forced him to switch for the 1993 season. The NFL eventually allowed receivers to wear Nos. 10 through 19. … New uniforms for UAB (from Phil). … Check this out: Marcus Allen wore a Raiders helmet with a black facemask in the 1983 Pro Bowl (great find by Gene Sanny).

Hockey News: The numbers on Erik Karlsson's helmet didn't match the font or placement of the numbers on the rest of his Senators teammates' helmets (From Chris Ramirez). … The Senators gave fans these rally towels for last night's game.

NBA News: What is this? Brett Knowles spotted a new Suns logo. … The artist Asur continued her tradition and drew illustrations depicting the essence of the conference finals matchups. … At one point in the mid-1980s, the "K" in Ralph Sampson's "Rockets" chest insignia didn't match the size of the rest of the letters (from Andy Silvester). … What's your favorite Detroit Pistons logo? Unfortunately the dribbling piston man they used in Fort Wayne was not an option. … Kinda looks like one of the letters on LeBron James's jersey was out of alignment last night.

Soccer News: New logo for Sydney FC (from Ed Å»elaski). … FC Cincinnati, whose colors are orange and blue, wore black during last night's U.S. Open Cup game against AFC Cleveland, who wore blue (from Brian Henke). … Nicolas Lombaerts was presented with a hybrid jersey based on the many jersey designs he's worn during his 10-year stint playing for Zenit (from The Boot Room). … New kit for Borussia Dortmund.

Grab Bag: New uniforms for Great Britain's track and field team (from Jonathan Bean). … One observer thinks that uniform ads are "inevitable" for other major sports such as MLB and the NFL (from Phil). … New volleyball uniforms for the national teams of Belgium, Germany, Iran, Qatar, and the Netherlands (from Jeremy Brahm). … Very clever (and delightful): a yellow "wet floor" hazard sign shaped like a banana peel (from @generationink). … Here's the 2017 style guide for the US Formula 4 series (from Dane Drutis). … Some of the biggest music stars of today, including Kanye West and Justin Bieber, have made concert merch cool again. … Scott Rogers says his local supermarket in Madison, Wis., sells "Home" shirts featuring the colors of the four major teams in the state: the Packers, Brewers, Bucks, and Badgers. I'm just happy the Bucks were included, because they usually get the shaft in these types of things. … Police officers in Western Australia will wear uniforms and drive cars that feature Aboriginal art motifs for National Aboriginal and Islander Day Observance Committee Week (from Gary Chanko). … New logo for the city of Beloit, Wis. … New uniforms for the Washington State Patrol (from Paul Deaver).