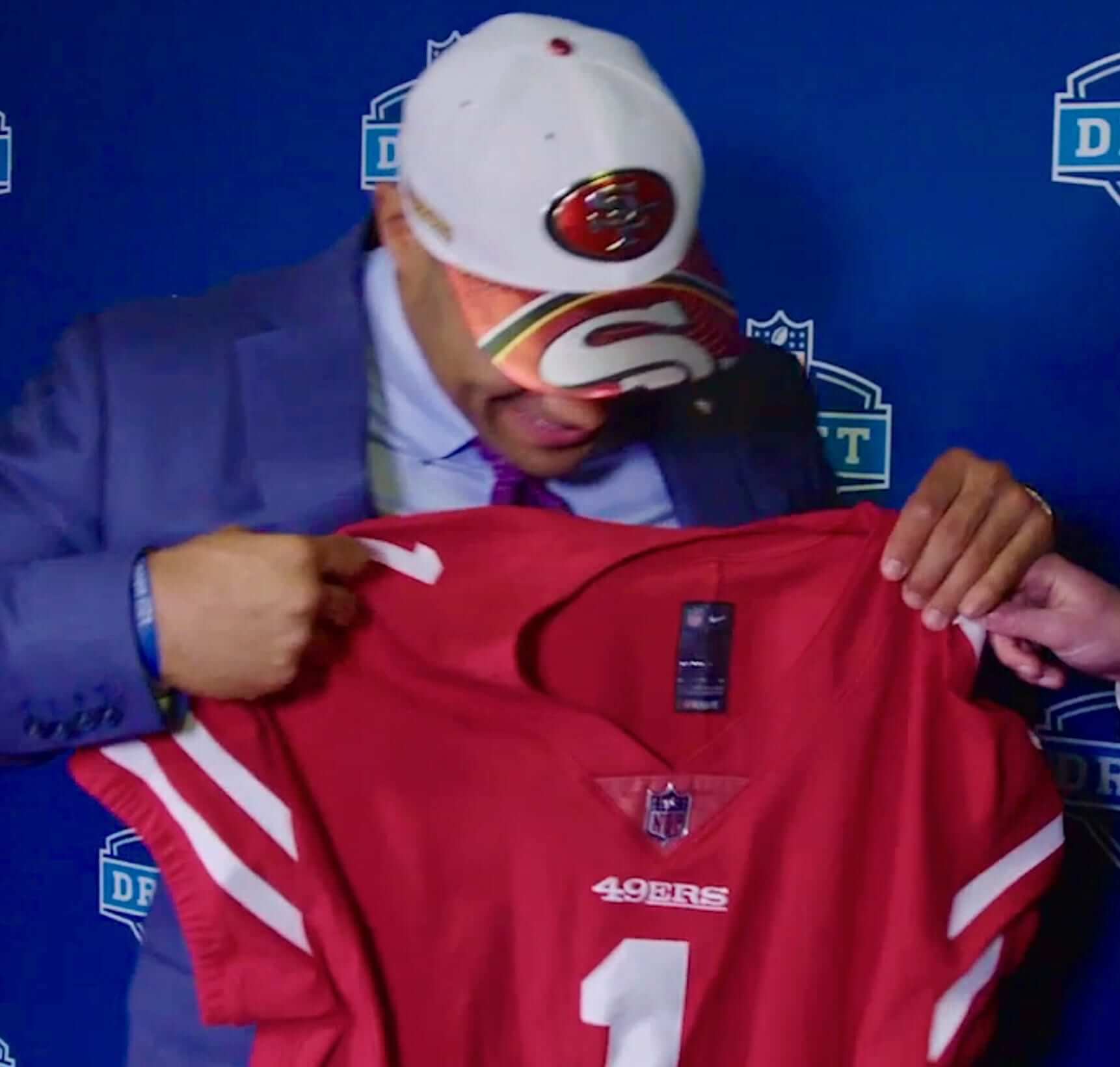 The one bit of significant uni-related news that emerged from last night's NFL draft came when the 49ers selected defensive lineman Solomon Thomas with the third overall pick. As you can see above, Thomas was presented with a Niners jersey rendered in Nike's new tailoring template (the one with the cringe-worthy name that I'll do my best never to spell out on this website). While the collar is a big improvement over the Nikelace, the big news is over on the sleeves, which now have two stripes instead of the usual three.
Here's another view: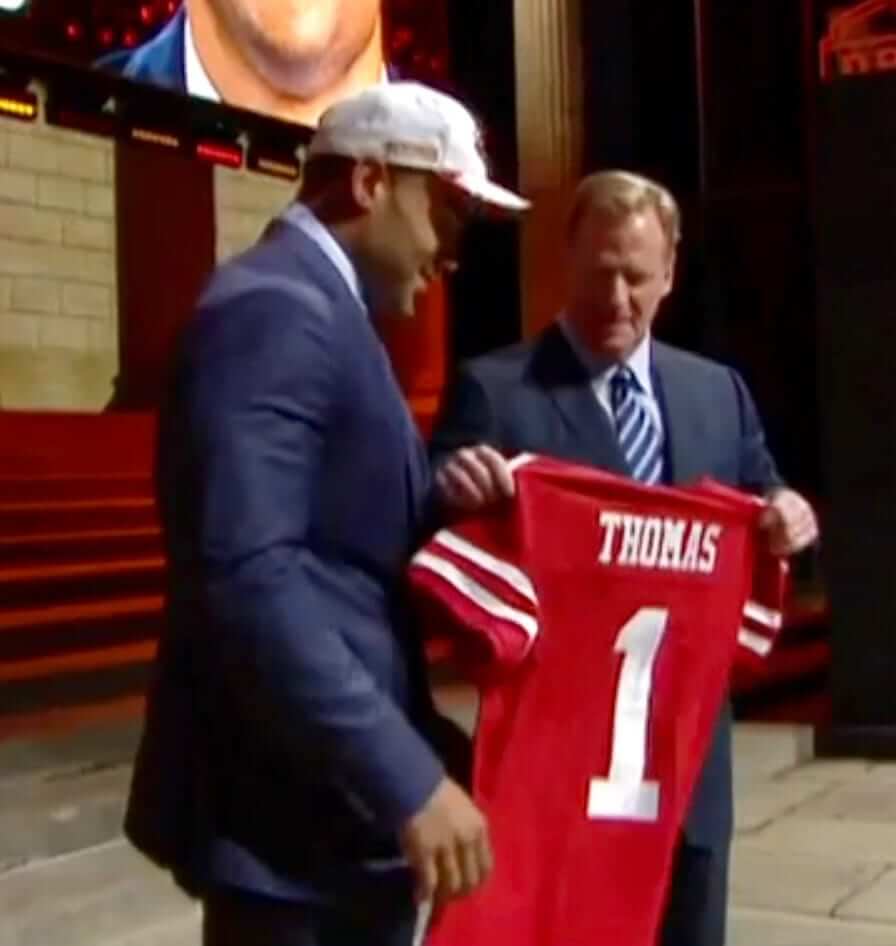 Sure enough, Niners retail jerseys with the new template show only two stripes. Retail jerseys in the old template have had two full stripes and one truncated stripes.
The reality, of course, is that almost nobody on the Niners has worn three stripes on the field in recent years, and many players haven't even worn two full stripes (click to enlarge):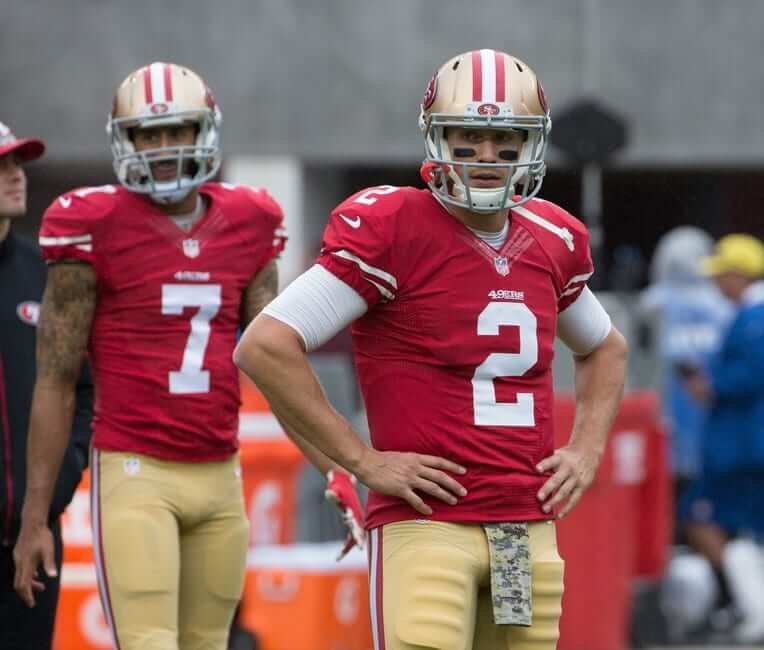 I still don't understand why Nike can't give the Niners three full stripes (they seem to manage it for the Bears without any problems), but whatever — it looks like they'll only have two from now on.
Other notes from the draft:
•  Following up on yesterday's post, the Browns are indeed still using the old jersey template, as you can see in this photo of top overall pick Myles Garrett: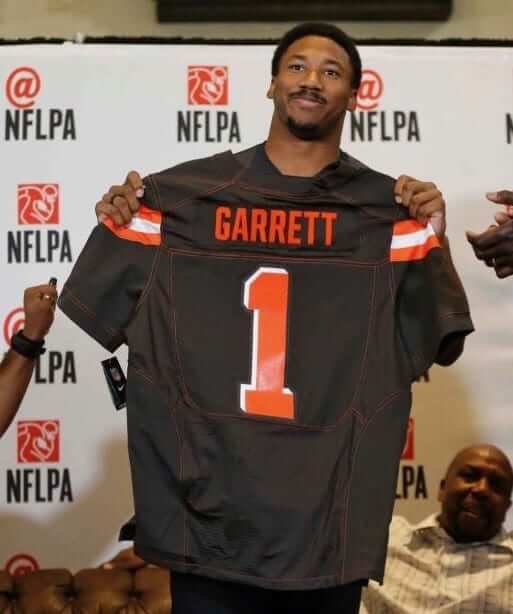 Note all the contrast-colored topstitching on the seams — the new template doesn't have the seams in those areas. In yesterday's comments section, reader Clint Richardson speculated that this may be the reason that the Browns are sticking with the old template: The contrasting stitching was billed as a major design element of this uniform set (it supposedly symbolizes Cleveland's blue collar work ethic or some storytelling bullshit like that), but most of that stitching would disappear with the new template. So the Browns are stuck with the older template (including the Nikelace, ugh) because of nonsense design feature that nobody liked or cared about to begin with. Perfect!
•  Steelers employees all wore green ribbon/pins and green neckties for Dan Rooney. Here's a closer look at the ribbon/pin.
•  Jaci Wilson, the granddaughter of Hall of Fame defensive back Larry Wilson, was at the draft, wearing her grandfather's old Cardinals jersey.
•  •  •  •  •
ESPN reminder: In case you missed it yesterday, my latest ESPN column looks at the MLB uniform protocol of teams wearing their team name on their home whites and their city/state name on their road greys. Has that always been the rule? And which teams don't follow it? Which teams should follow it? Get the full scoop here.
•  •  •  •  •
New T-shirt reminder: In case you missed it earlier this week, our latest T-shirt in the Uni Watch Artist's Series, designed by the great Scott M.X. Turner, is now available, and it's a doozy.
Here's the concept: If Uni Watch had a bowling team, what would the team be called? The Athletic Aesthetics, of course! And what would the team wear? A classic bowling shirt with chain-stitched embroidery, of course!
Scott's T-shirt is based on that idea, with a simple "Uni Watch" insignia faux-chain-stitched on the front-left chest and a spectacular design faux-chain-stitched on the back (for all of these images, you can click to enlarge):
How great is that?! An anthropomorphized magnifying glass wearing a ballcap and stirrups — tremendous! The graphics really capture that old-school bowling shirt style, too. Even better, the design works well in a wide variety of shirt colors. Here are some of the ones we're offering (there are several more on the sales listing page), just to show how flexible the design is:
Like all of our Artist's Series shirts, this one is a limited edition, available until late next week. You can order it here. My thanks, as always, for your consideration.
•  •  •  •  •
The Ticker
By Paul

Baseball News: Expect to see several more MLB teams switching to 3D helmet logos shortly. … The Mahoning Valley Scrappers will change their name to the Packards for one night in August (from Ryan McNaughton). … No photos, so I can't confirm, but Matt Brown says the Double-A Erie Seawolves have not yet worn a white or grey jersey this season — just black and red softball tops. Not sure if that's really so unusual in the minors, though. … Single-digit pitcher alert! Julio Urias made his season debut yesterday with the Dodgers, once again wearing No. 7 (from @LAUrbanLegend). … Oregon softball's new uniforms have a punching Puddles (from Mark Johnson).

NFL News: The swimwear brand Schwimmer has come up with with a line of bathing trunks in NFL team-color pairings (from Nathan Haas). … Sports Illustrated ran a cover showing how NFL prospect Leonard Fournette would look in various NFL jerseys. The funny thing is, he's wearing No. 7 in all of those shots — that's his college number, but Fournette is a running back, which means he couldn't wear that number in the NFL (from Chris Mycoskie).

College Football News: A recruit may have leaked a new Oregon helmet. … All the visting teams on SUNY-Albany's 2017 home schedule have blue-centric color schemes (from Justin Berger).

Hockey News: Dunkin' Donuts is selling a travel mug with the Penguins' 50th-anniversary logo. But instead of the four Stanley Cups that normally appear on the logo, it shows four stars (from Mike, who didn't give his last name).

Soccer News: Nashville Soccer Club has its first jersey sponsor advertiser (from Ed Å»elaski"). … Inaugural home and road kits for Asheville City. … New home kit for Japan (from Josh Hinton). … Also from Josh: AFC Bournemouth of the EPL has signed a kit deal with Umbro. … And one more from Josh: Man City's new away kit has leaked. … So has Juventus's new jersey (from Mikey Traynor). … New uniforms for Chattanooga FC (Ed Å»elaski" again). … New kits for Detroit City FC: home, road, and charity (from Ryan Keberly).

Grab Bag: Three new bridges with eye-catching designs are being built in NYC. … USA Curling is holding a design contest to create a new pin for the 2018 Olympics (from R. Scott Rogers). … Speaking of curling, there's a team in Houston with tequila sunrise jerseys (from Garret Heinrich). … Here are the Indy car liveries for tomorrow's Phoenix Grand Prix (from Tim Dunn). … First responder-themed jerseys tomorrow for the Iowa Barnstormers, an arena football team (from Luke Teeselink). … Speaking of arena football, the AFL has a new 30th-season logo. … The U.S. Open golf trophy has 12 hidden meanings (thanks, Phil). … Under Armour's stock price spiked yesterday. Why? Because the company lost less money than had been expected, whee! Among the problems: Steph Curry's shoes aren't selling (thanks, Brinke).