Technically speaking, Opening Day was on Sunday. But yesterday was the real Opening Day (or as longtime Uni Watch reader/pal Robert Marshall calls it, the "holiest of holies") for most teams, and there were lots of uni-notable details on display. Dig:
•  The Braves waited until Opening Day to unveil their new 3D helmet logo. I've known about this one for a few months but was sworn to secrecy.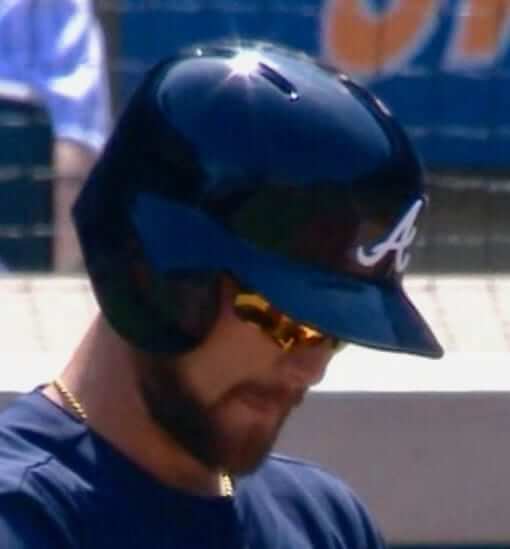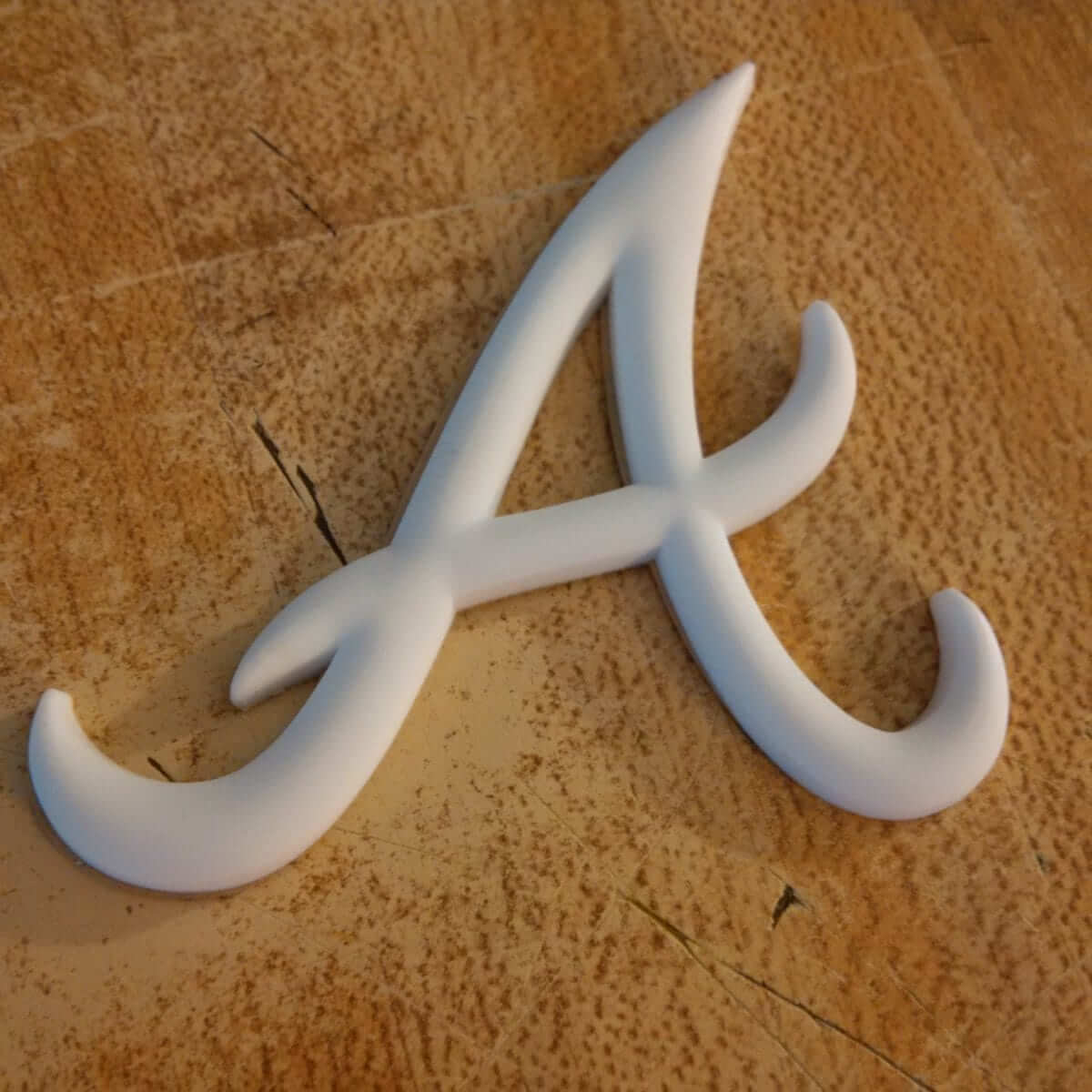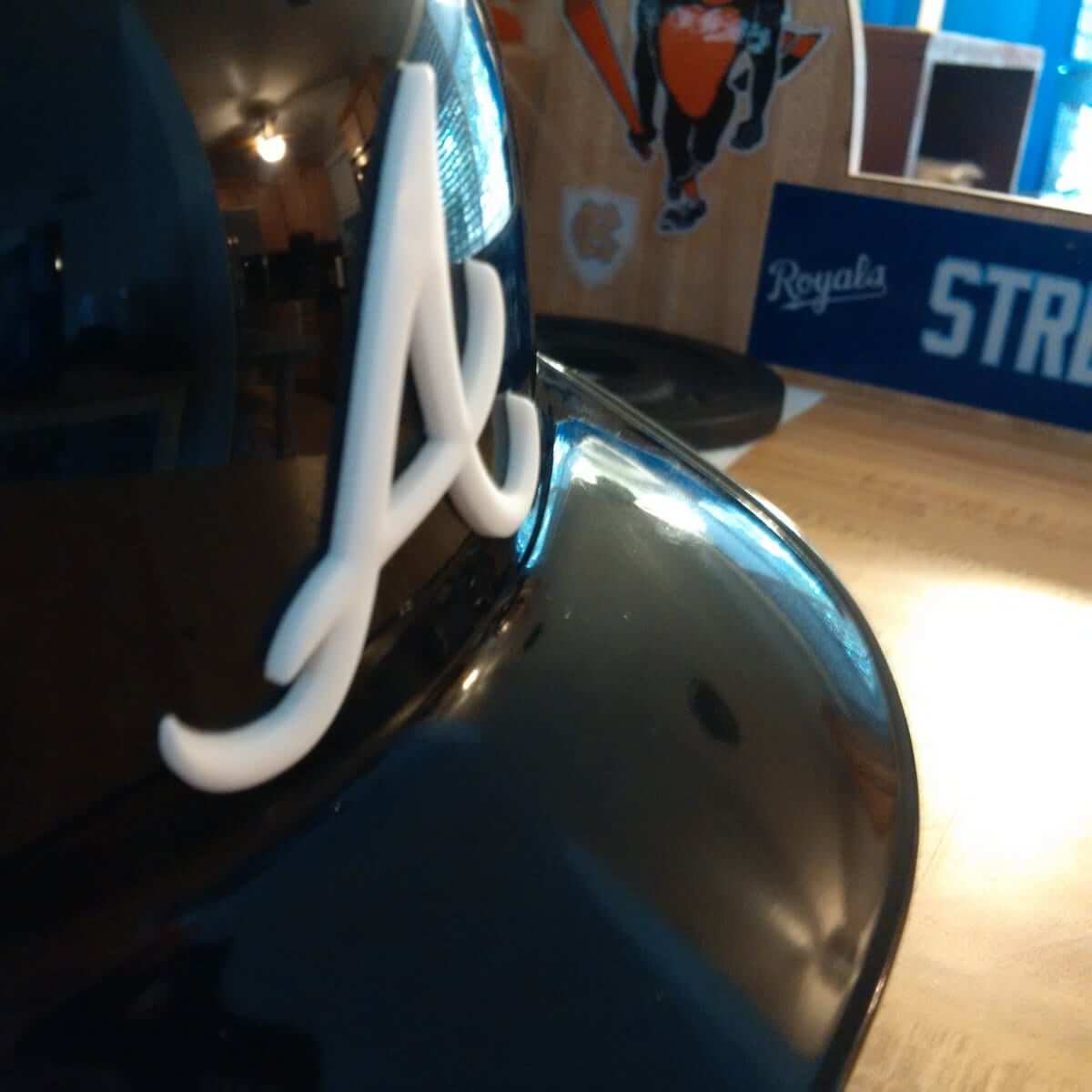 •  The Nats also went 3D with their helmet logo yesterday. They'll have a separate version for their road helmet. Again, I knew about this one well in advance but couldn't say anything.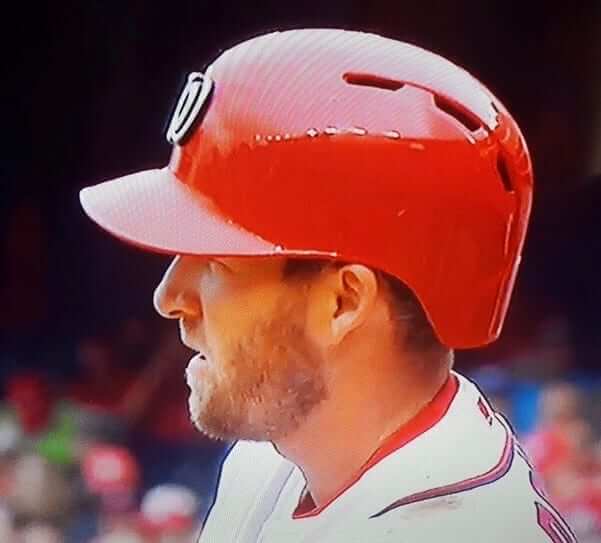 For those keeping score at home there are now six teams wearing 3D logos (all except the Dodgers are new for 2017): Braves, Cardinals, Dodgers, Nats, Rangers, and White Sox. I know there have been other teams tinkering with the 3D option, so this list may still grow in 2017.
And while we're at it, there are now 12 teams wearing matte helmets (teams in italics are new additions for 2017): Diamondbacks, Dodgers, Giants, Mariners, Marlins, Orioles, Padres, Pirates, Rangers, Rockies, White Sox, and Yankees (road only).
•  Speaking of helmets, the White Sox have changed the numbers on the back of theirs. The numbers used to be outlined but now they're solid white:
In addition to matte shell & 3D logo, Chisox also changing number style on helmet. Old version on left, new on right. (h/t @estrucan_raider) pic.twitter.com/XExMgdof1o

— Paul Lukas (@UniWatch) April 3, 2017
•  Several Mets players wore blue cleats, including starting pitcher Noah Syndergaard.
•  The Twins added a "YL" memorial patch for pitching prospect Yorman Landa. My understanding is that this patch was only for the season opener and will not be worn for the rest of the year (click to enlarge).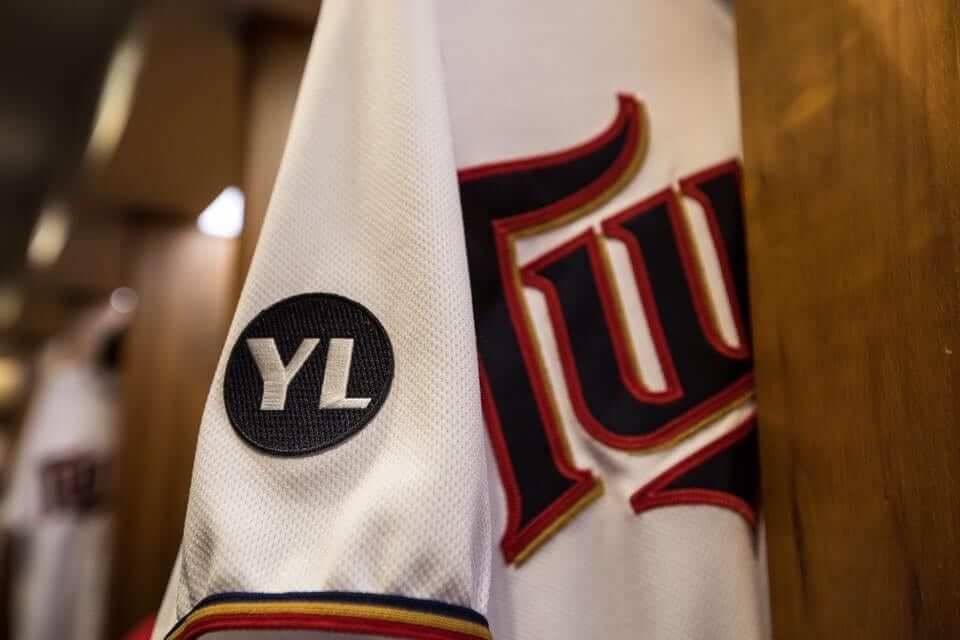 •  Speaking of memorials, there had been talk that the Tigers might change their Mike Ilitch memorial patch from the one they had been wearing in spring training, but they stuck with the same design. They also used the patch design as the basis for a pattern mowed into the outfield grass at Comerica Park (an interesting move given that the Tigers are currently on the road and won't have their home opener until Friday).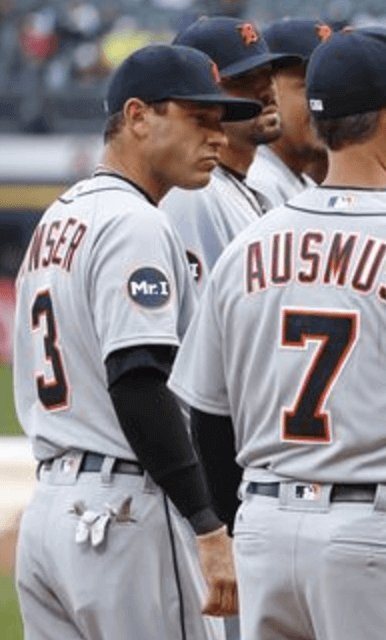 Comerica Park pays tribute to Mike Ilitch with Mr. I cut into the grass. pic.twitter.com/SDgsLkrbzJ

— Roop Raj (@rooprajfox2) April 3, 2017
•   Some of the Rangers were wearing these crazy lone star-themed socks: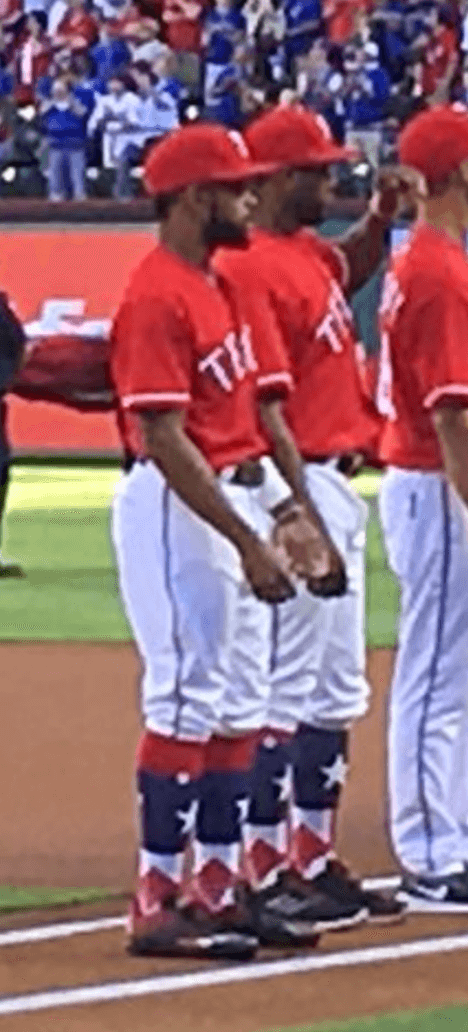 As the season unfolds, we're going to be seeing lots of other new sock designs (a bunch more of them have just been added to Stance's online shop), although they won't all be as bold as that Rangers design. Here are some that debuted yesterday:
you'll see new socks from #Reds players who wear their pants up. There's another version w/ Mr Redlegs head pic.twitter.com/slH5hQvE6v

— C. Trent Rosecrans (@ctrent) April 3, 2017
@PhilHecken @UniWatch The Twins Stance socks pic.twitter.com/meCN4MvS6C

— Chris Howell (@ChrisHHowell) April 3, 2017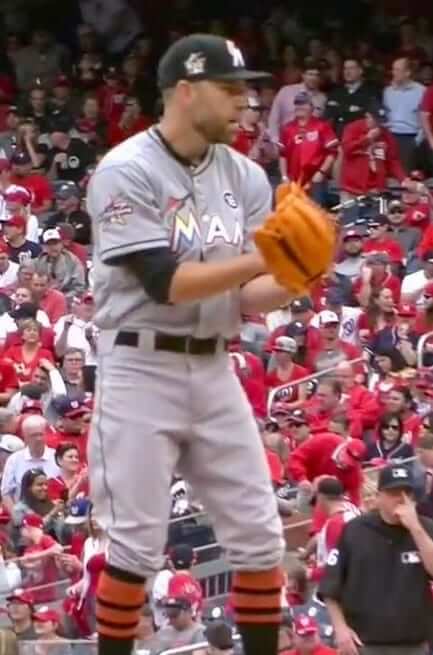 •  As you can see in that last photo, the Marlins are wearing an All-Star Game patch on their caps in addition to the one on their sleeves. I had previously reported on the sleeve patch but not the cap version.
•  Here's a weird one: Pirates reliever Felipe Rivero was apparently wearing a watch when he entered the game. He took it off and put it in his back pocket before starting to pitch.
Did Felipe Rivero just take the mound wearing an Apple Watch? He removed it before throwing a pitch. @UniWatch pic.twitter.com/Nt7gHPiiVP

— Zack Tanner 🌹 (@ZackTanner) April 3, 2017
•  I've noted before that Welington Castillo is among the handful of MLB catchers who wear their catching helmets with the brim facing forward. But it's a lot more noticeable now that he's with the Orioles, because the brim is contrast-colored: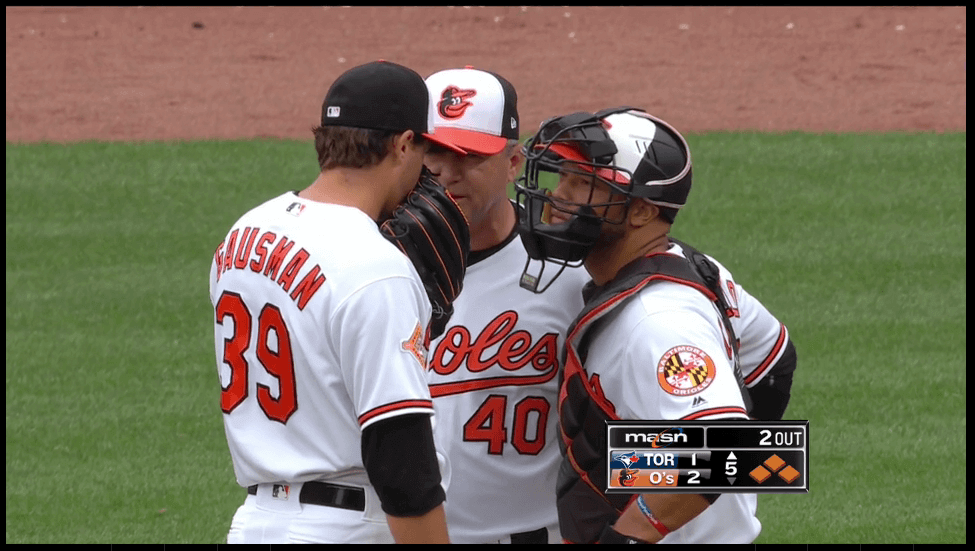 •  Most teams have the players line up along the baselines for their Opening Day pregame introductions. But the Orioles always have them line up along the infield instead, making it look like the infield is playing in to cut off a run at the plate:
•  Speaking of the O's, here's a good look at their new matte helmet and their Camden Yards 25th-anniversary patch, both of which made their on-field debut yesterday:
•  The Rangers debuted their new matte helmets and 3D logo, and Rougned Odor wasted no time in gunking up his helmet with pine tar.
New helmet prep 101!! pic.twitter.com/nze1UBedsC

— Texas Rangers (@Rangers) April 3, 2017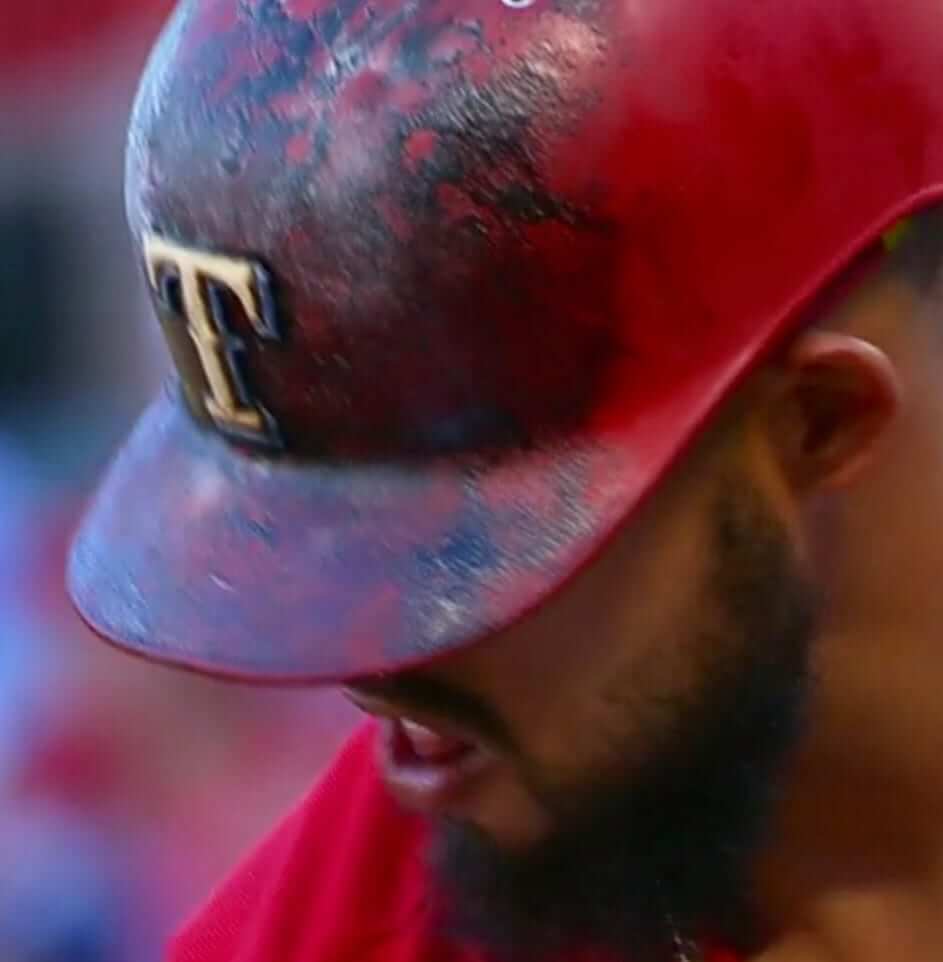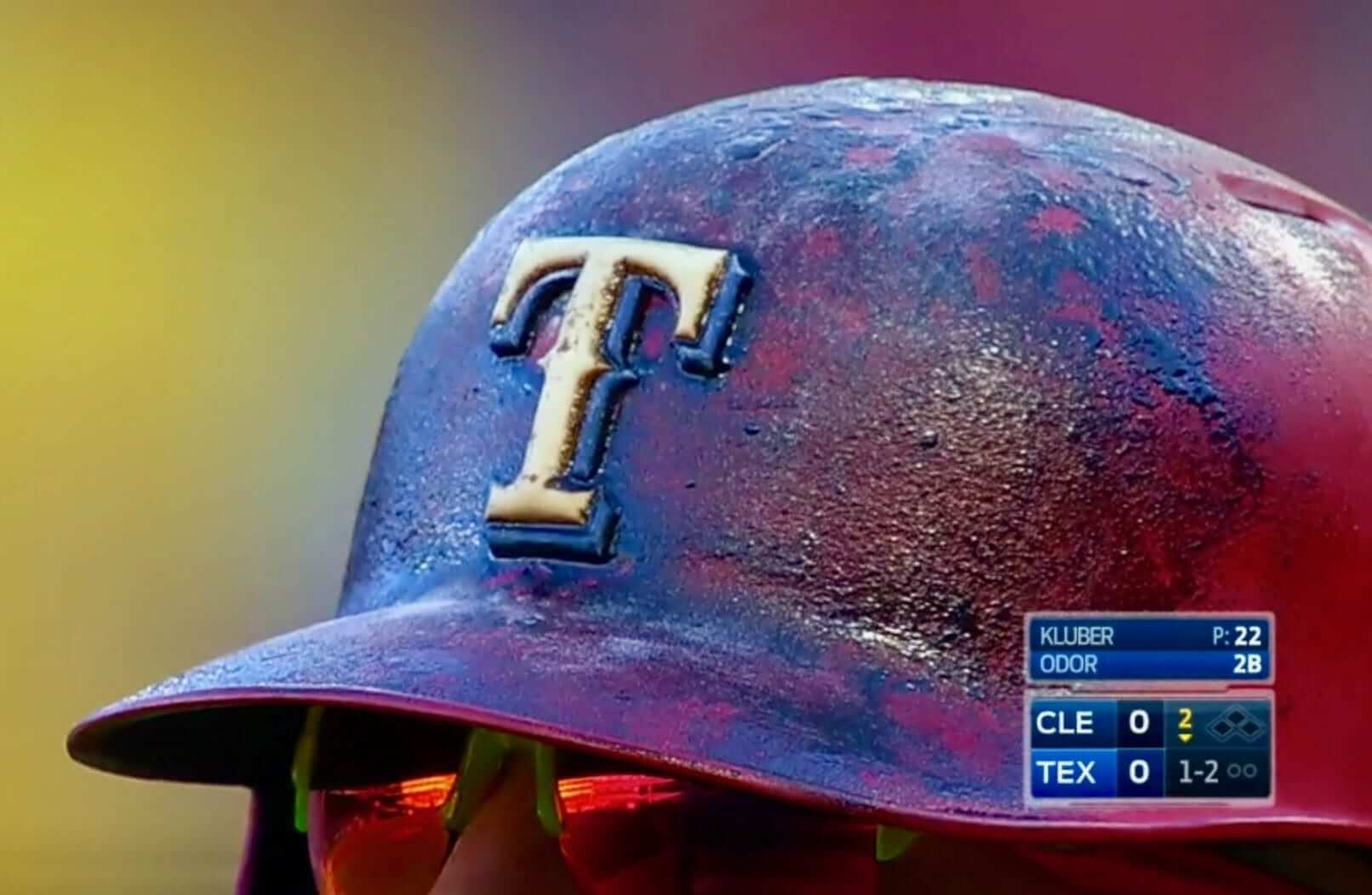 •  Odor also has some funny ideas about what to do with his jewelry during a game: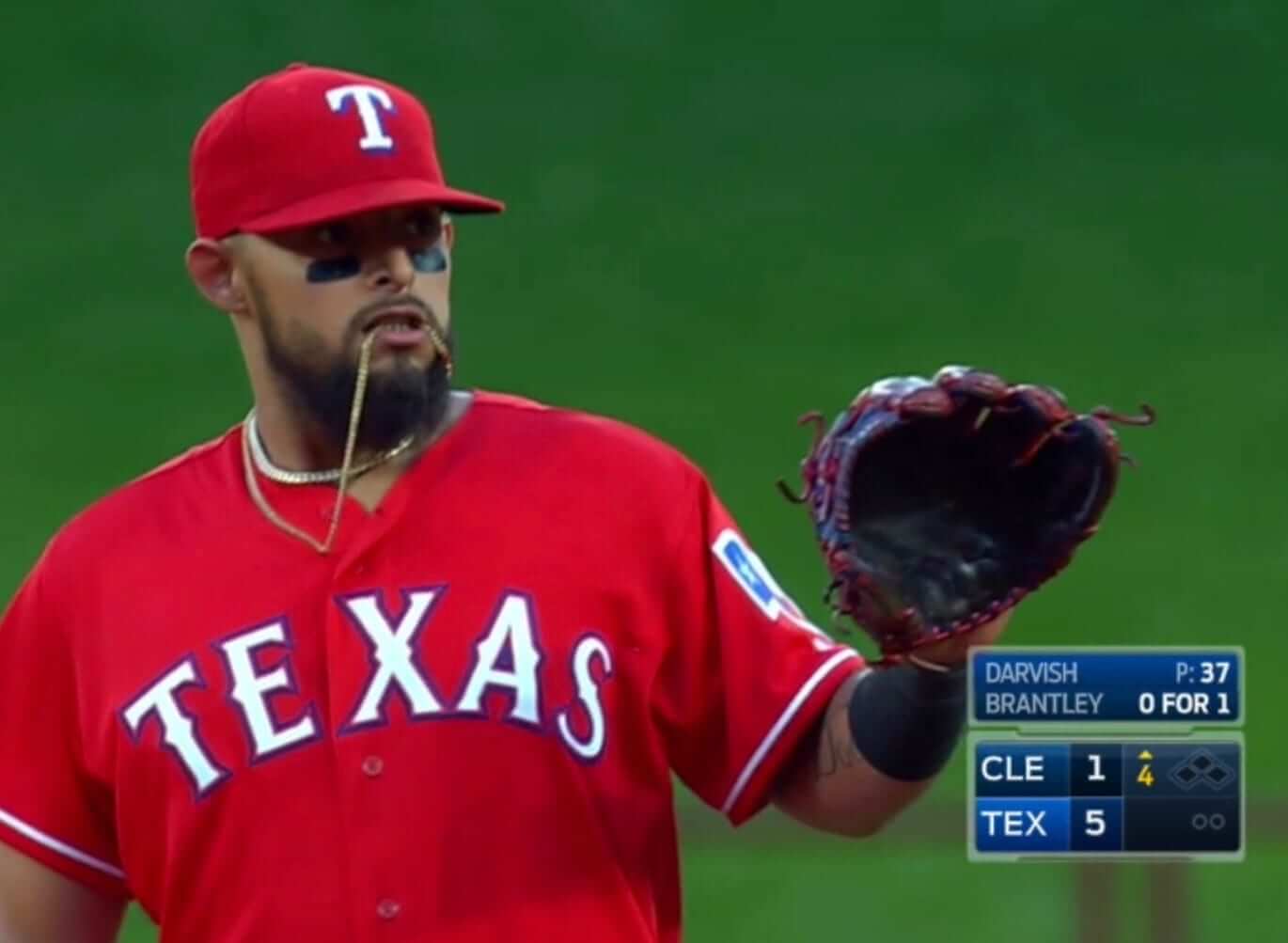 •  Rangers third base coach Tony Beasley sang the national anthem — in uniform! (Further info here.)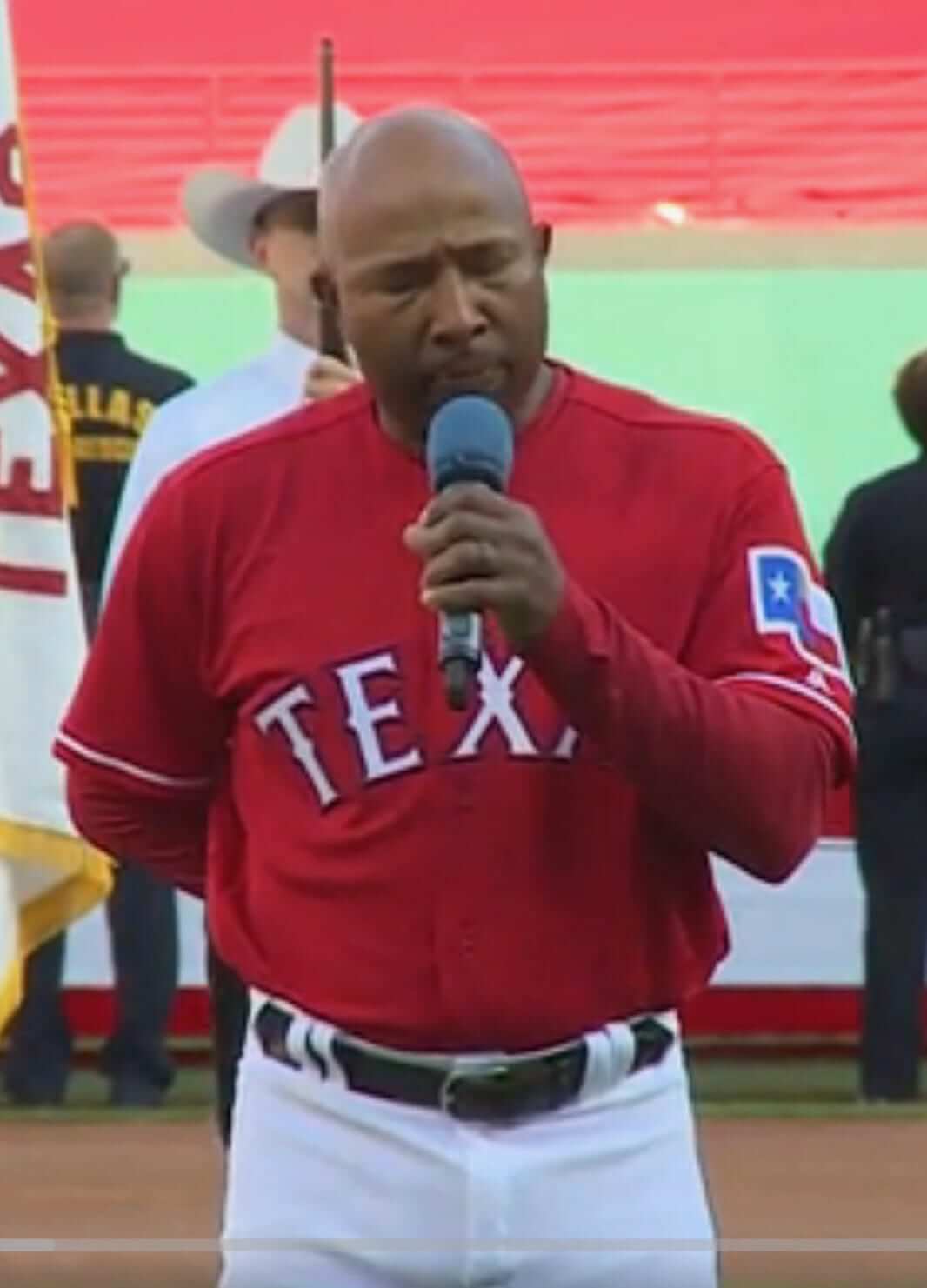 •  Cleveland rookie Yandy Díaz, making his MLB debut, did the old trick of impaling his pant cuffs on the his back spikes, which is supposedly banned (although it's never enforced).
•  Lame-o move in Houston, where the Astros put this year's marketing slogan on the back of the mound. Let's hope (a) that this was just a one-game thing, and (b) that it doesn't catch on with other teams.
•  A's pitcher Chris Bassit somehow got away with wearing a cap that didn't have the shameful New Era logo creep:
@UniWatch #Athletics pitcher Chris Bassit # 40 sans New Era creep on his cap during player intros tonight pic.twitter.com/G9VVj2Z8Ab

— Richard Paloma (@RichPaloma) April 4, 2017
•  Finally, you may have noticed the umpires wearing an "RG" sleeve insignia. That's in memory of former American League umpire Russell Goetz, who died last month.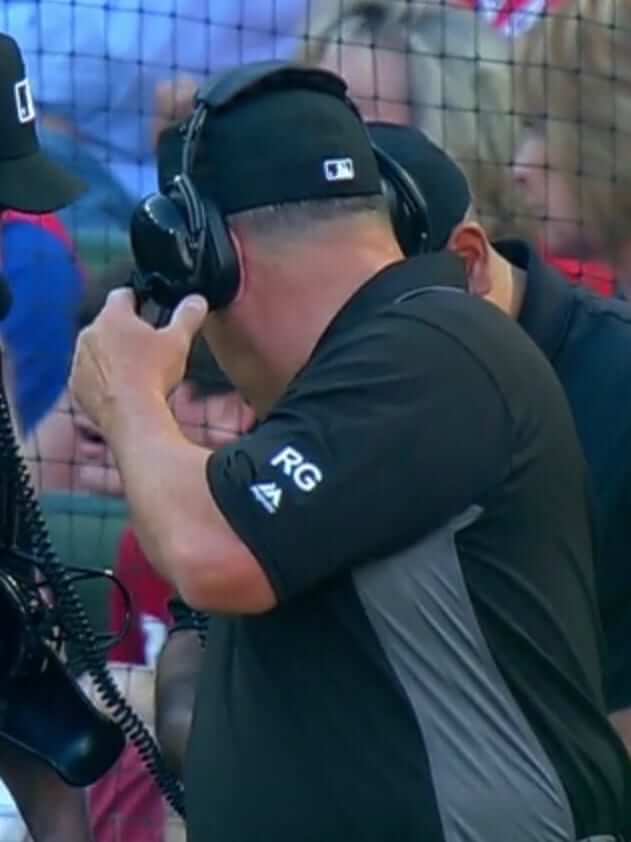 (My thanks to all contributors and apologies for not keeping track of your names. It was a hectic day!)
•  •  •  •  •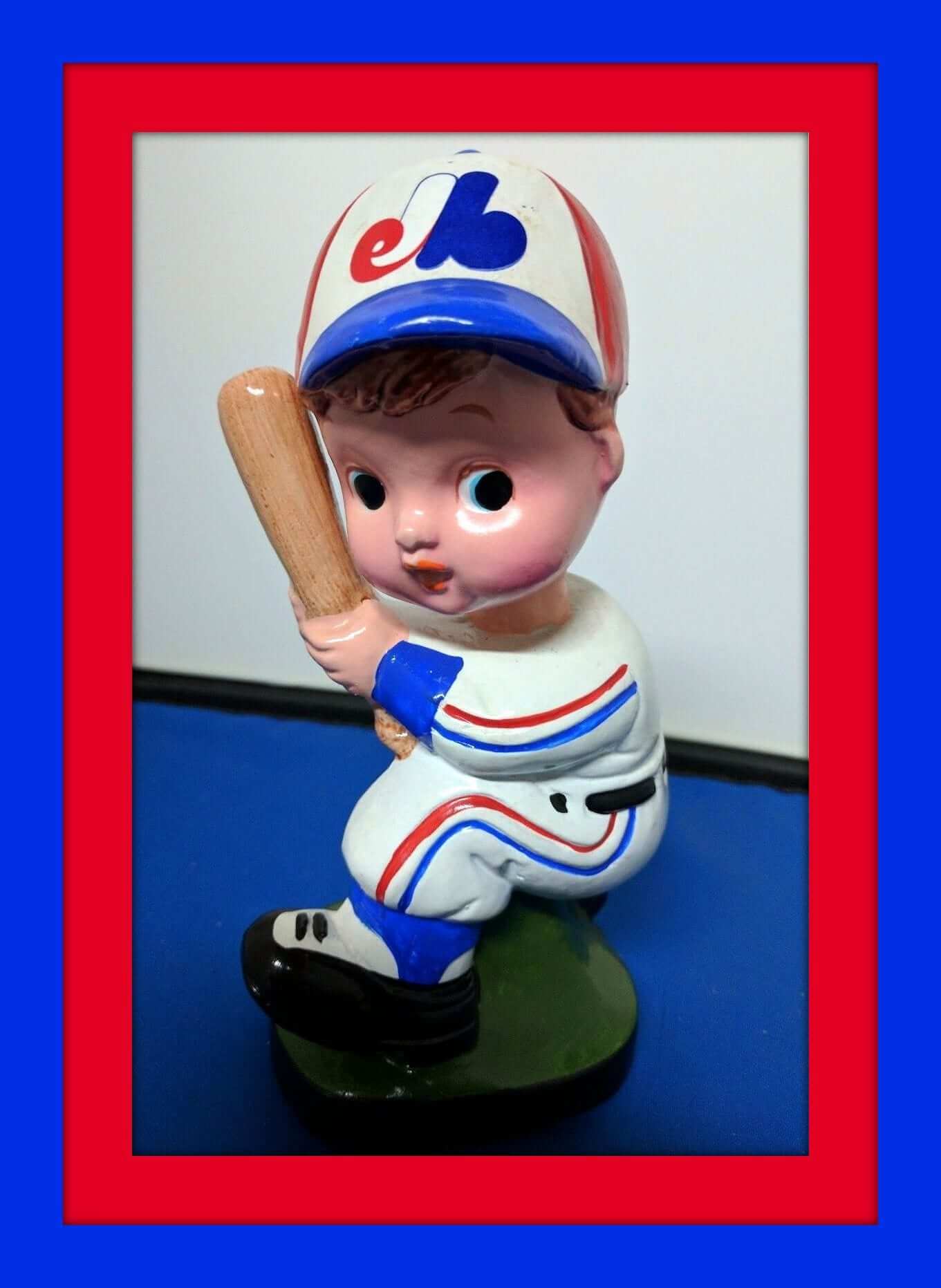 Collector's Corner
By Brinke Guthrie
All baseball this week to celebrate the start of the season! Let's start things off with this super-looking 1970s Expos bobblehead. Never seen this pose before! We've also got this vintage Expos record album en Français, with some great cover art! Not sure what the deal is with this one — doesn't look like the players were singing on it or anything. Qui sait?
Now for the rest of our Opening Week picks:
•  Here's another Brooks advert from back in the day, in poster form. Bird Fidrych and George Brett among the stars that were wearing "America's Great Athletic Shoes."
•  This Billy Martin Oakland A's T-shirt is courtesy of the now-defunct Oakland Tribune, proclaiming "Good News!"
•  Another one from the Swingin' A's era: their yearbook for 1971 says "Swing 'N' Run In '71!"
•  Here's a batch of 1970s Chicago White Sox thermal mugs.
•  Staying in Chicago, we have a set of four Chicago Cubs milk glasses.
•  One more Cubs item (heck, they're the champs, let's give 'em some love): this inflatable beach ball. It says "1970s era" on the listing, and comes sponsored by Heileman's Old Style beer.
•  This (early?) 1970s Reds kid's T-shirt says "Cincinnati Stadium" on it. The Reds have played in lots of ballparks (including the fancifully named Palace of the Fans), but never in anything by that name.
•  Check out the cover art on this 1963 Los Angeles Angels yearbook!
•  This 1960s San Francisco Giants drinking glass is in great shape for its age.
•  Interesting rendering of the New York skyline on this 1960s Mets mini pennant.
•  And we wrap up with a submission from reader Jacob Sherman, who found these excellent Astros coasters, each with its own swizzle stick!
•  •  •  •  •
T-Shirt reminder: In case you missed it last week, our latest limited-edition T-shirt in the Uni Watch Artist's Series is by the great Larry Torrez (aka Eltee of DC). In the spirit of his Meatscots caricature series, he's imagined a fictitious Japanese baseball team called the Kyoto Yakitori, whose mascot is a baseball-playing samurai with a sword that serves as a baseball bat and as a yakitori chicken kebab skewer (click to enlarge):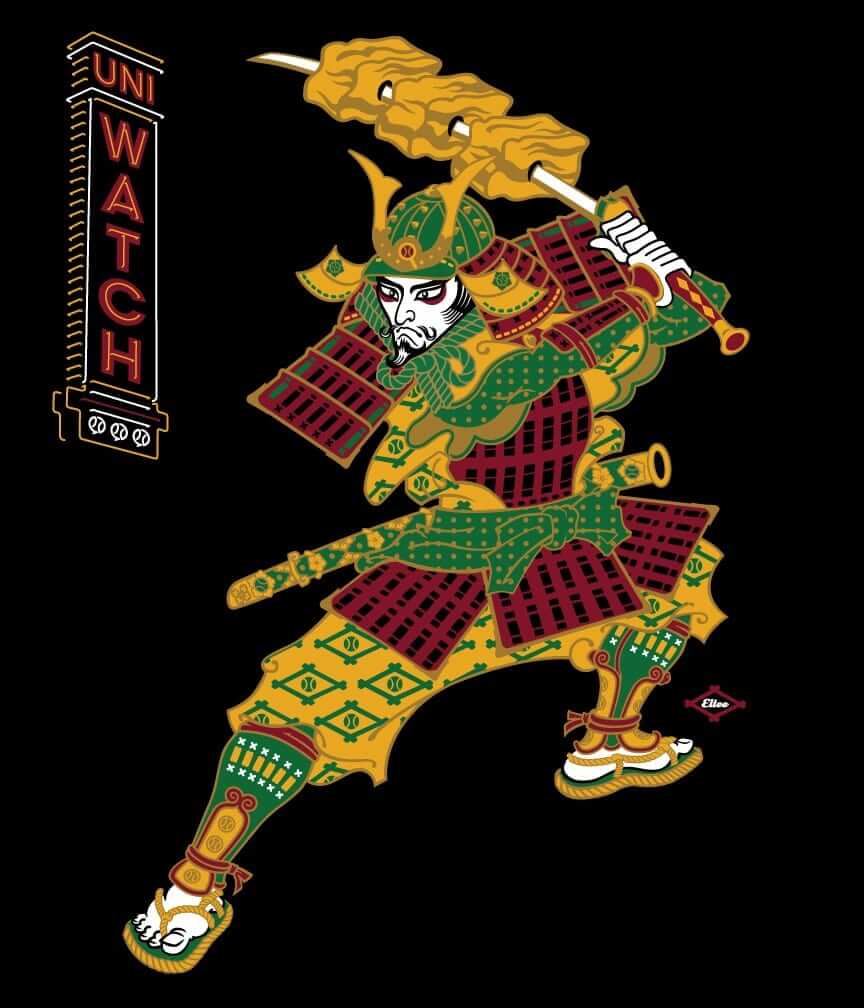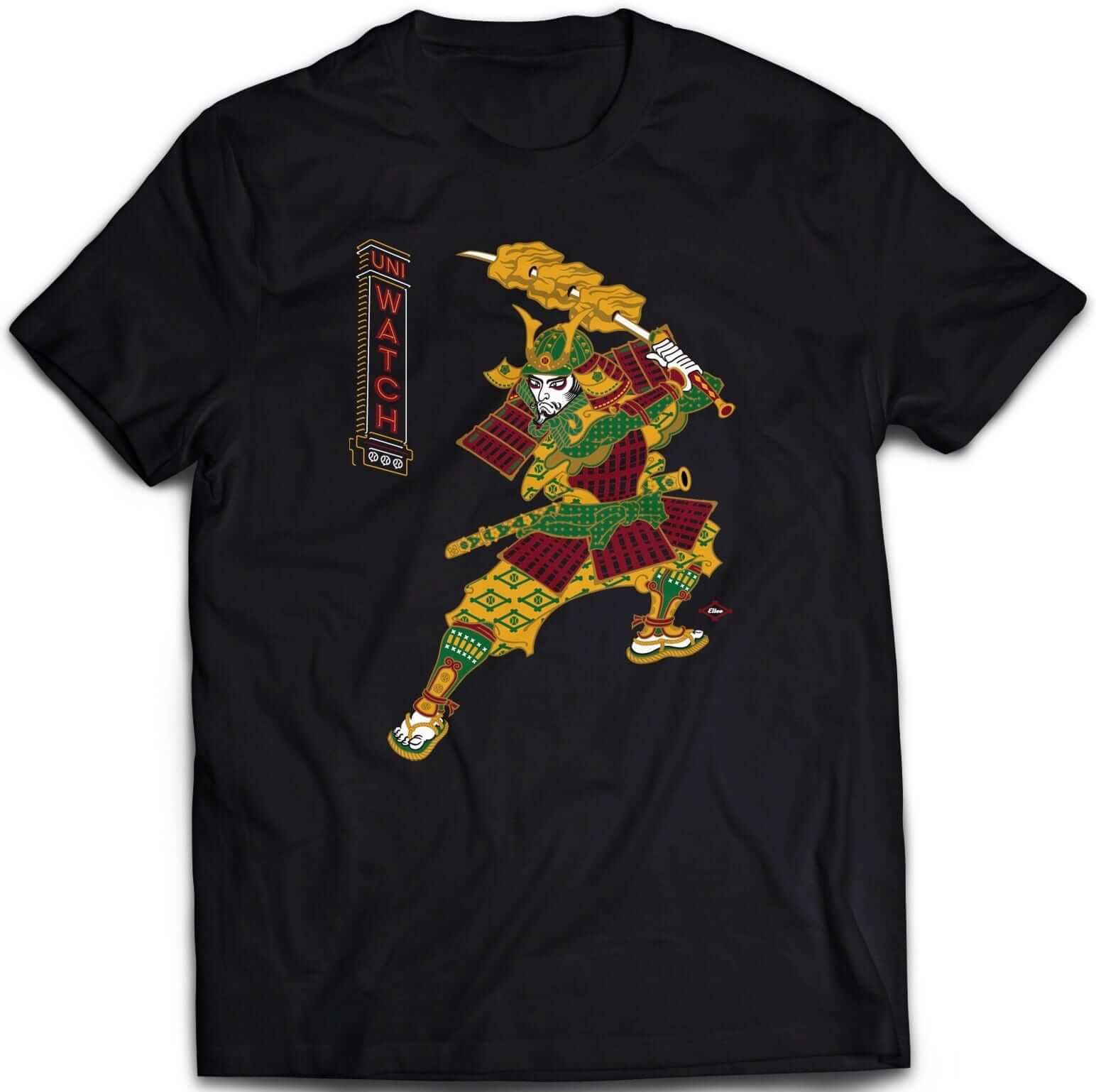 It's available in three different black short-sleeve options (two of which come in sizes up to 5XL) and one long-sleeve option (up to 5XL). plus I've also made the design available as a sticker.
Some of you have also asked why I'm okay with this design if I have issues with Native American-based sports designs. That's a perfectly valid question, and I've created a separate page to address it. Look here.
The shirt is available here through this Thursday, April 6. My thanks, as always, for your consideration.
•  •  •  •  •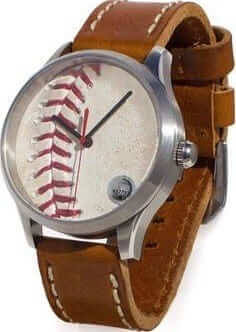 New advertiser shout-out: In my 2016 holiday gift guide, I singled out the excellent jersey-lined wallets made by the California company Tokens & Icons. In addition to the wallets, they make all sorts of cool gift items out of repurposed sports materials: wristwatches, cufflinks, bottle openers, and more.
T&I doesn't usually advertise, but they got a bit of a sales bump from my gift guide mention, so they got in touch and wanted to know more about Uni Watch. Over the past few months I've gotten to know T&I founder Ward Wallau and sales director Milan Micich, both of whom are really interesting guys. They're smart, funny, and creative — my favorite combination. And they totally Get Itâ"¢. Ward has even ordered a Uni Watch membership card for himself, and I'm hoping to meet up with them during their next trip to New York.
In the meantime, I'm happy to announce that T&I will be advertising with Uni Watch for most of the rest of 2017. I'm proud to have them as represented on the site, and I hope you'll consider them for your shopping needs. Thanks.
•  •  •  •  •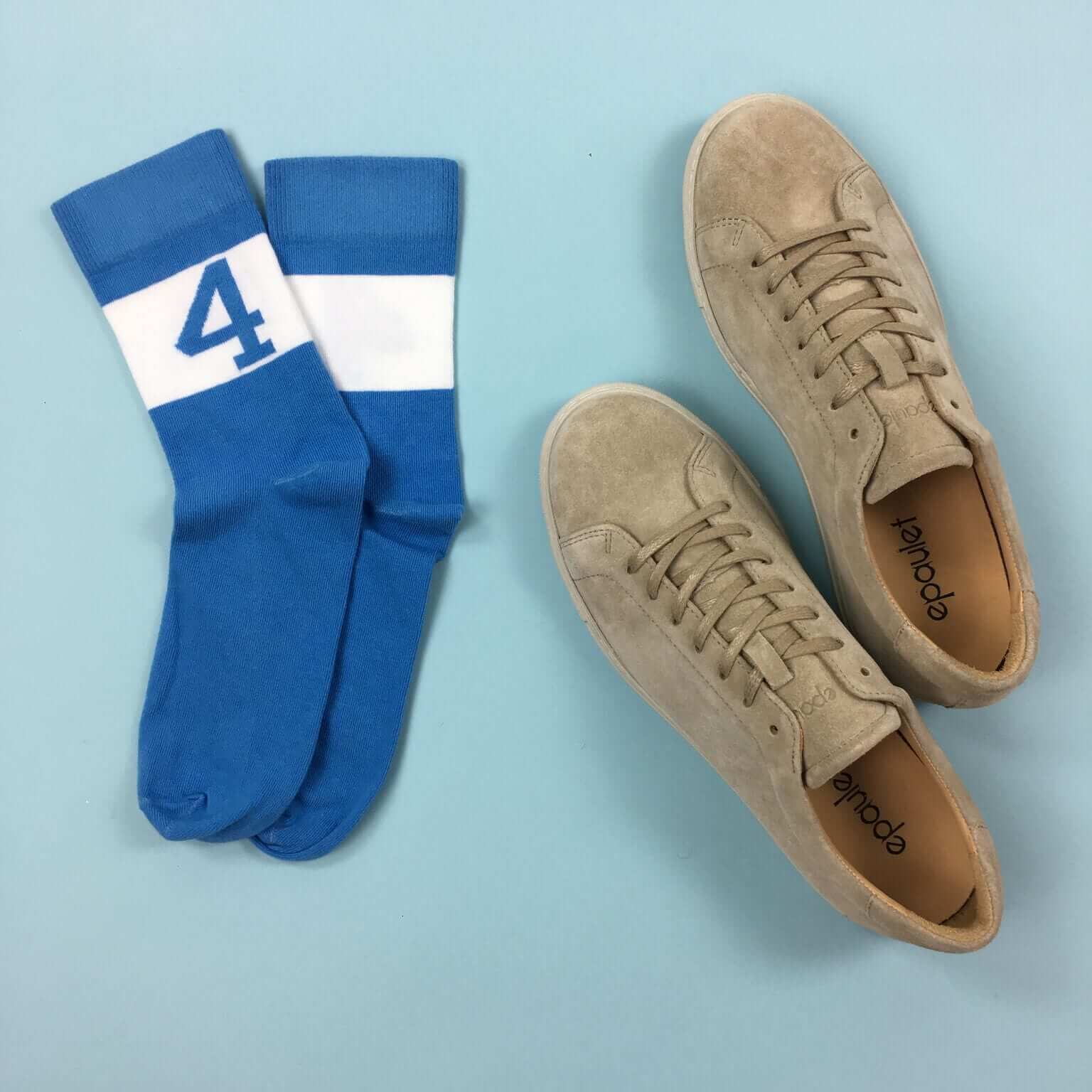 StripeRite sale: We're continuing our sale on StripeRite socks. From now through April 7, use the discount code FINALFOUR to get 10% off. This applies to any order from our first or second batch of StripeRites. Thanks for your consideration.
Contest reminder: I'm running a new ESPN design challenge to redesign the Raiders for their move to Las Vegas. Full details here.
•  •  •  •  •
The Ticker
By Mike Chamernik

Baseball News: Cubs 2B Javy Baez says he missed a sharply hit grounder on Sunday night because the ball blended in with a white banner ad behind home plate. … Hip hop artists helped make MLB caps fashionable, and they really like to rep their favorite teams. … Back in the 1980s and '90s, 7-Eleven produced baseball trading card coins. Peter Fredrickson still has his collection. … Here's a good view of how Hall of Fame outfielder Richie Ashburn wore protective padding under his Phillies cap (from @uniformcritic, via Phil). … Passengers in Mets apparel get priority boarding on Delta flights out of the New York City airports for the next week and a half. … A New York City Council member is proposing legislation that would require the Mets and Yankees to extend the protective netting in their respective stadiums. MLB policies already recommend that netting extend 70 feet in each direction from home plate. The NYC teams both comply with that, but the new legislation, if approved, would require the netting to extend 90 feet.

Pro Football News: A few weeks ago Will Scheibler found that the Ottawa Citizen newspaper held a new logo contest for the CFL's Ottawa Rough Riders in 1989. He was able to obtain a newspaper account of the contest, which includes designs from the other finalists.

Hockey News: The rock band Weezer is selling four different hockey-style jerseys for their Canadian tour (from Michael Perri). … New cream alternates for the Cobourg Cougars, a Jr. A team in the OJHL (from David Foot).

Basketball News: Gonzaga's Nigel Williams-Goss was missing his Final Four patch last night. So were a few other Zags players (from @WhoIsJoeyBoom). … The UNC and Gonzaga student sections were given towels that had the Final Four's court design on them (from James Gilbert). … A pro wrestler in NXT named Kassius Ohno wears NBA throwback-inspired personalized jerseys, including ones based on the designs of the Kings, Sonics, and Dream Team (from Yancy Yeater).

Soccer News: Puma will be the new kit supplier for the German club Borussia Mönchengladbach starting in 2018-19 (from Ed Å»elaski). … Here's what it would look like if European soccer clubs were American football teams (from @cesarcu52). … The uniform company Capelli Sport will be the new supplier for the USL's Harrisburg City Islanders (from Ed Å»elaski).

Grab Bag: For more than a decade, an anonymous vigilante has been going around Bristol, England, and fixing punctuation on store fronts and street signs. Here's a video about him. He uses stickers, not paint, to make his edits (from Pete Woychick and Oscar Raab). … Alex Shuman recently went duckpin bowling at a charming place called Perillo's Bowl-O-Drome in Waterbury, Conn. "Sadly, the owner is closing the place for good May 22," he says. … Residents of Orlando, Fla., are being asked to vote on a new flag design (from Evan Birchfield).