By Phil Hecken
[Editor's note: Today we have a great guest entry by Ray Hund who has written about his quest to find the "perfect" baseball card. Enjoy. As a post-script, I'll be asking you guys if you have one — this could possibly be a recurring feature if there is interest — PH]
The Perfect Baseball Card
By Ray Hund
This may sound far-fetched, but I believe that one baseball card comes as close to perfection as any piece of printed cardboard is likely to ever get.
To make this even more implausible, I'm not necessarily considering condition as part of the criteria. Obviously, a clean, crisp, centered card is better than a creased, off-center, scuffed card — but not always. My 1955 Topps Ernie Banks has been ripped in half, taped back together, and had one corner burnt to a crisp — but to me it's just gorgeous. There's a poignant, coming-of-age story behind that undying card.
So if I'm not looking at condition as a way of obtaining cardboard perfection, what am I looking for, then?
First, let's make it easier by setting up some boundaries. Narrowing down the time period is a good place to start. Between 1957 and 1973, the Topps Trading Card Company issued baseball cards nationally, one series at a time. 1957 is the first year they cut their cards 21/2 X 31/2 inches, which is now considered the standard size. Then, in 1973, Topps decided to release the entire set all at once, thus ending the intrigue of the sometimes rarer high-number cards of the last few series — rare because these boxes of cards didn't always make it to the local ma & pa corner store so late in the season for a variety of reasons. My ma & pa store was Senne's, and my high numbers are few and far between.
So the lone perfect card, as I'm defining it, exists somewhere in this time frame, because it's a regular issue, standard size, high number card.
Here's my complete criteria for the perfect baseball card:
• 1. Player had great regular season stats the year the card was issued
• 2. And made a World Series appearance with a notable performance
• 3. Card features an excellent view of the team's uniform. The uniform on the card must accurately reflect the uniform the team wore during the season
• 4. No background imperfections — like other players lingering about, batting cage netting, palm trees, or other distractions
• 5. Card is a high number — it appeared in one of the last two series
• 6. The photo represented on the Topps card is a one-time photo, unlike some photos of players which were used multiple years
• 7. The Topps card design for that year is generally accepted as being one of their better efforts.
• 8. The photo captures something of the essence of the player
First, let's look at a card that misses the mark, but could have been great.
In 1966, Frank Robinson was traded by the Cincinnati Reds to the Baltimore Orioles. He responds by winning the triple crown and MVP. The Orioles, in turn, win the pennant and the World Series. All Robinson needed to do to meet my criteria was have a nice, clean photo wearing an Orioles uniform, and be a high number card with something of his essence lingering in there somewhere. Unfortunately, this is where it all falls apart for his 1966 card. Back then, Topps, as a precaution, took many head shot photos of players not wearing baseball caps — just in case they were traded at the last minute. This practice allowed them to put the player on the correct team on the card without having to worry so much about depicting the wrong uniform, which still happened at times. Because he had just been traded, Robinson — in perhaps his greatest year as a pro — gets issued a truly unremarkable, cap-less, head shot on a card with a bland design, thus failing to meet all the above criteria.
Some of you are no doubt questioning the whole essence thing by now. What do I mean, exactly, when I say essence?
Here's another example that might help answer that question.
In 1967, the Topps Bob Gibson card comes close to meeting all the above criteria, but misses because it's a low number card (210) and because Gibson is (don't laugh)…almost smiling. Yep, that's right — it misses the mark because it doesn't reflect the essence of Bob Gibson. Intimidation. Had his face featured a scowl — perhaps like the one Frank Robinson's working on in his1966 card — it would be the perfect card for me. I mean, look at the background. It's not spring training. It's an actual ball park — nothing unnecessary or distracting going on back there. Perfect. And '67 is a popular Topps design, although the facsimile autographs muss things up for me on occasion. Fortunately, Gibson's autograph is thoughtfully placed and doesn't obstruct the view of anything — like the uniform. Great look at the uniform. And he's not misrepresented in a blue cap like Ray Washburn of the same year. Really, a half smile and low number keep it from perfection.
Run through the years 1957-1973 and you will see for yourself how difficult it is to find a Topps card that meets my, albeit, eccentric criteria.
In fact, there's only one.
The 1971 Topps Roberto Clemente card — #630.

Keeping it simple, he batted .341 that year, with 13 homers and 86 RBI's. He was the World Series MVP. Although Clemente's star shined in the 1960 World Series, he is often forgotten in that one because of the dramatic walk off series winning home run by Bill Mazeroski, And the 1960 Topps set was not designed to be uniform friendly with its horizontal design. In the 1971 World Series, Clemente finally got his due. He just dominated. And what a great card.
The '71 cards show the Pittsburgh Pirates wearing their new knit uniforms on cardboard for the first time. They were the first team in the major leagues to sport them. These uniforms actually debuted the previous year at the inauguration of their new ballpark, Three Rivers Stadium. And Clemente wears it well.
He is perfectly framed. The background free of obstructions. The card's black border and yellow letters for the team name, while not intended, are the team colors. The facsimile autograph is harmlessly positioned. Best of all, though, is his expression. To me, the '71 card captures the essence of his public persona — intensity.
When I was a kid growing up in the Chicago area, we went to Wrigley Field to see the Cubs play the knit Pirates (the Cubs were still wearing flannel at the time). It was our first time sitting in the right field bleachers because we wanted to see Clemente up close. We were surprised when some of the "Bleacher Bums" started to harass him, and shocked when they began insulting him by calling him derogatory names. To my amazement, he never flinched. In fact, he backed up to the ivy on a deep fly ball and gracefully made an extremely difficult catch look easy, right in front of his tormentors. Then, after making the catch, as he nonchalantly strolled away from the wall, he turned his head and glanced back in our direction, giving us a look. It was the only time he made eye contact with us that day. The look was neither threatening or forgiving. It was just…intense. For reference, it's on the '71 card.
• • • • •
Phil here. Thanks, Ray! What a great idea (and stories)! I'd have to think long and hard on what I'd consider my "perfect" baseball card — I might not use all your guidelines, but I think they're an excellent start.
What about you readers? What say you? Do you have a "perfect" card? Could you come up with one?
Think about it, and please shoot me an e-mail (Phil.Hecken@gmail.com) if you have a "perfect" card (and hopefully an image) with a brief writeup — you don't need to get as in-depth as Ray, but certainly feel free to elaborate like he has. I'd like to run some of these as sub-ledes (or perhaps a feature piece with several) in the future, if there is interest.
Don't let me down. Feel free to name you perfect card down below, and please give Ray a nice thanks for a great article!
And Now It's Time For A Poll
Folks, please take 10 seconds to vote in this (completely unscientific) poll. I'd love to have the Uni Watcher point of view on this too:
OK Kids, Time For a Poll:

Matte Helmets for baseball:

— Phil Hecken (@PhilHecken) April 1, 2017
And now a few words from Paul…
Contest reminder: In case you missed it during the past week, Paul is running a new ESPN design challenge to redesign the Raiders for their move to Las Vegas. Full details here.
• • • • •
T-Shirt reminder: Paul here. In case you missed it over the past week, our latest limited-edition T-shirt in the Uni Watch Artist's Series is by the great Larry Torrez (aka Eltee of DC). In the spirit of his Meatscots caricature series, he's imagined a fictitious Japanese baseball team called the Kyoto Yakitori, whose mascot is a baseball-playing samurai with a sword that serves as a baseball bat and as a yakitori chicken kebab skewer (click to enlarge):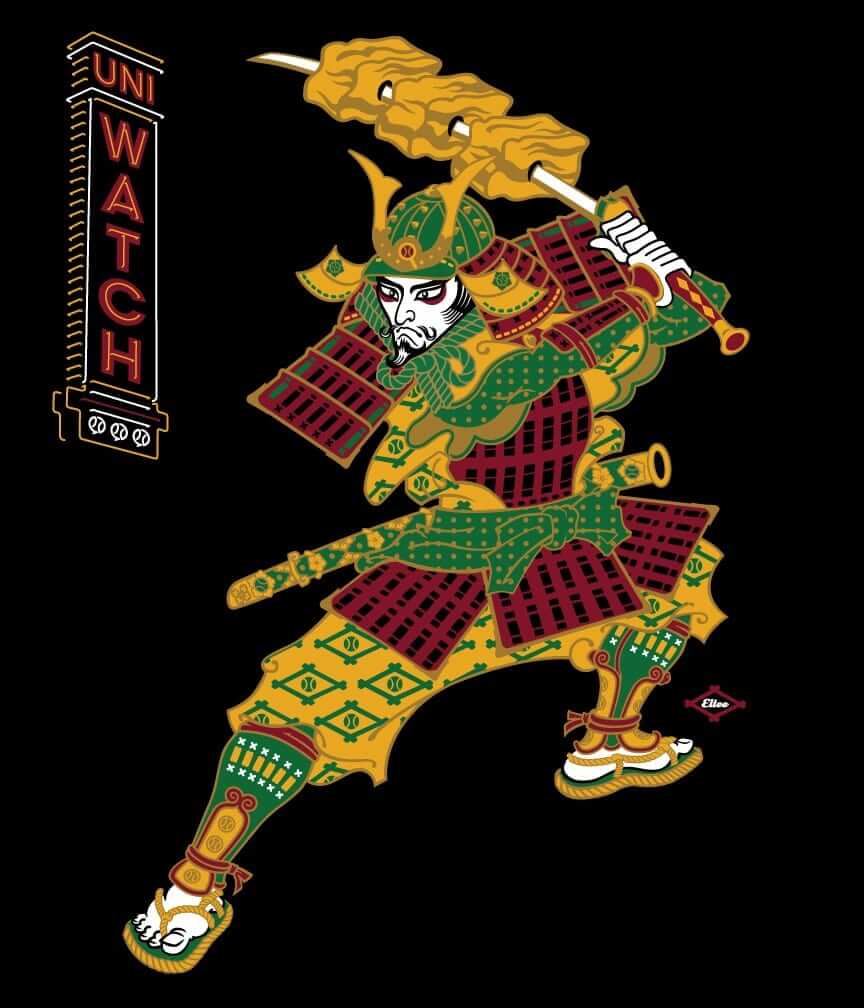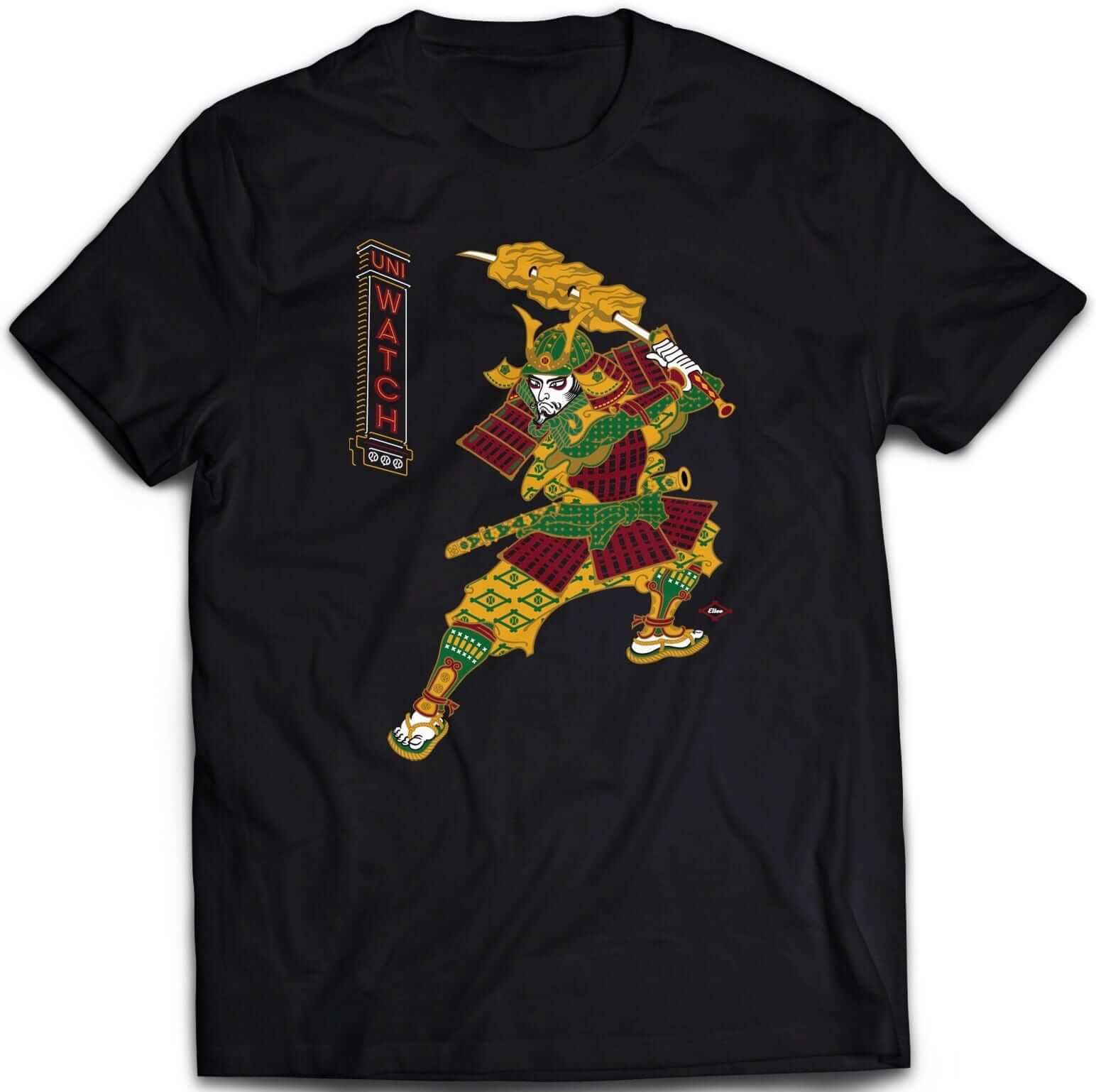 It's available in three different black short-sleeve options (two of which come in sizes up to 5XL) and one long-sleeve option (up to 5XL), plus I've made the design available as a sticker.
Some of you have also asked why I'm okay with this design if I have issues with Native American-based sports designs. That's a perfectly valid question, and I've created a separate page to address it. Look here.
The shirt is available here through next Thursday, April 6. My thanks, as always, for your consideration.
• • • • •
Uni Watch News Ticker
(Post April Fools Day, so…some items *may* not be *legit*…just sayin')
By Phil

Baseball News: "The Nats should take the suffering out of replay by playing Fugazi's Waiting Room," says William Yurasko. "Let's make Nationals Park sound more like DC!" … Former #Expos and current broadcaster Derek Aucoin has a pretty cool lining in his jacket (from James Beattie and also Ted Arnold). … The latest team to introduce matte batting helmets: the Texas Rangers (from Bob Harry). Those also have the raised/3-D logos (h/t TJE). I love it (from Brad Holmes). … Sensitive Cubs fans have an answer for feisty Sox fans (from Gruncle Pooch). *ahem* The Saint Paul Saints will go by 50 different names this season (from St. Paul Saints). … Great Hollywood Stars program cover from years back (obviously deflecting some criticism of the team wearing, um shorts). As always, from Bruce Menard. … Also from Bruce, the Boston Red Sox once painted the Fenway Park "Green Monster" red in an effort to break "The Curse of the Bambino." I'm pretty sure at least one of those is real. … Fletcher Keel thinks these Reds "Futures" uniforms are pretty cool. … Yesterday, Bryce Harper was described as looking like Captain America (from J Werth's Beard). And he "has the cleats to match". … This isn't exactly "new" news, but during yesterday's Pirates/Blue Jays game, in back to back at bats, two Pirates sported two different sock styles (grabs by Marty Yaskowich), who says, "Never seen back to back to players in an MLB game, both sport the stirrups but different designs… is this a Pittsburgh thing or a spring training thing?" No. It's a Stance thing. … Add the Seattle Mariners to the list of teams sporting matte helmets (h/t many tweeters). Also sent to me from the Mariners. According to Kevin Martinez, the Mariners Marketing VP, those will be worn both home and road. The Sunday helmets (fauxback in royal and gold) will remain shiny. … In addition to their matte/raised decal helmets, the Rangers also have new batting practice tops/pullovers. Number on the sleeve. No name on the back (h/t TJE). … The Miami Hurricanes wore some new "mesh" unis last night (from Adam Apatoff). … Check out the custom cleats Kevin Pillar will be rocking on opening day (from Megan Brown). … Yesterday, LSU softball wore special teal helmets for Strikeout Ovarian Cancer (from Clay Bess). … Even though the answer is revealed (or rather, the question), I'm sure most Uni Watchers could get the Jeopardy Sports app Final Jeopardy answer (from Ted). … Literally, a swinging friar: "I thought you would enjoy this shot from a baseball practice at Brophy Prep in Phoenix," writes Andy Moeschberger. "The caption on facebook said: 'Some days your players take their theology assignments very seriously'." … Early Brewers prototype? "Reading this story from the Baseball Hall of Fame I saw what appears to be a prototype Milwaukee Brewers jersey I'd never seen before, have you?" says Casey Common. "Caption says it belonged to Steve Hovley and the tag says '1969' — number placement is the same as the Pilots so they apparently replaced the Pilots logo with the block M."

NFL News: From the "remember what day yesterday was" files…the Packers proposed a slight change to their road unis. … "In honor of the 24th anniversary of the Patriots switching from "='Pat Patriot' to the current 'Flying Elvis', Boston's top radio show, Felger and Mazz, did something rare on Friday: put aside their bitching (kinda) and had a spirited NFL uniform debate. Pretty enjoyable segment from a great program," says Michael Gagnon. "Side note: ask anyone under 35, Flying Elvis > Pat Patriot any day. One is synonymous with greatness, the latter; futility." … *Ahem* The CFL announced Las Vegas Posse throwback jersey night for 2017. *more here*. … Not sure if we've had this particular one before, but here are all 32 NFL helmets transformed into Star Wars hats (from B. Darby). … Browns fans (and their trucks) are apparently all over the country. That was spotted in New Jersey (from Matthew). … Some of you (*coughTheJeffcough*) may like color vs. color in the NFL, but it looks like shit in the Indoor Football League (from Ryan Wozniak).

Hockey News: The AHL Syracuse Crunch wore "Slapshot" Johnstown Chiefs jerseys the other night. Submitter Rob Yasinsac writes, "Since Syracuse was actually represented in the movie, they should have gone with Syracuse Bulldogs jerseys!" … "Not only is Elias Lindholm wearing an NFL-branded undershirt, but it uses the NFL logo that was replaced in 2007," notes Cory Lavalette". … The Boston Bruins had abanner giveaway yesterday. It shows David Krejci in the current sweater, but his pants have the pre-2007 logo (good spot by Char Broil 4-Lyfe!"). … Penn St Goalie Peyton Jones uses a modified football receiver glove under his goalie glove for extra padding (nice spot from The Goal Net). … Also from TGN, the former Chicago Blackhawks emergency back up from Temple had to suit up for the Philadelphia Flyers last night. The Blackhawks helmet was gift. … That previous bit was precipitated by this frightening scene where Michal Neuvirth collapsed, which meant replaced he in goal by Anthony Stolarz, who was called up from Lehigh Valley of the AHL earlier in the day when starting goalie Steve Mason was ill (thanks to Sarah Becchio).

NBA News: *ahem* Looks like the Orlando Magic will introduce a new alternate uni next season. … From Tommy Turner, here's a good article on Walt "Clyde" Frazier on his signature shoes and legendary style. … The Atlanta Hartsfield Jackson Airport is using an outdated Hawks logo on ATL grill signage (from Jorge Cruz).

College Hoops News: Whoa…check out this spectacular Oregon warm-up jacket from 1939 (that comes from Paul). … Apparently Duke is not happy with shirt company producing anti-Grayson Allen tees (so unhappy, in fact, the University sent a cease and desist letter to company cashing in on its athlete). From Brinke, via Paul. … Whoops, early on in last evening's First Final Four Game, SCar's PJ Dozier was already missing his Final Four patch (good grab by Ray Garofalo III"). As expected, later in the game, still more were missing (from Dave Doop). … Just in case the CBS guys calling the games didn't know where to sit, someone put their NOBs on their chairs (from James Gilbert). … This is pretty cool — a graphic of the championship trophy and draw sheet on the bottom of the scoreboard at the NCAA Final Four (from Chris Viel). … "The Oregon Ducks sure didn't hold back on any branding opportunities in Phoenix for the Final Four," notes Damon Hirschensohn". But apparently it's no big deal. … Hmmmm, did South Carolina warm up in garnet but play in black? (from Matt Dotson). … Jimmer Vilk released his 10 & 2 yesterday, but I'm wondering if last evening's Oregon/UNC game might have made the top 10. Great looking game (from Funhouse).

Grab Bag: "My daughter will be a freshman this fall, and initially bit on this post she received via email today," says Brent Kivell. "Nicely done by the U." (Note, if that link doesn't show anything odd, click here — I tweeted UM's joke out yesterday — also check out the comments: that seemed to fool a LOT of people). … Gilbert Baker, the guy who created the rainbow flag, has passed away (thanks, Paul). … Lotus sent an April Fools' press release about race helmets for cats and it was awesome. … Here's a look at the new track uniforms for Christian Academy of Indiana (from Steve Wagner). … From Brinke comes this Business Insider article, "How Nike became one of the coolest and most valuable brands in the world." … *ahem* Steve Stern was watching golf and notes that in 1969, "the Bob Hope Desert Classic golf tournament, Feb. 5-9 in Palm Springs, (had) red sand traps on par-5 holes, white on par-4 and blue on par-3. For color TV, of course. The greens will remain green." Steve adds, "Was watching today and for some reason thought about this, which was in 1969. I could only find one picture. I'm sure there are others." … "Visiting the National Mustard Museum in Middleton, Wisconsin, I came across a couple of baseball/mustard items," says R. Scott Rogers. "The first, a Cleveland Indians mustard bobblehead with a Chief Wahoo base but a cursive-I cap. The second, two mustards produced by former mostly-Brewers player "Stormin'" Gorman Thomas."
And that's it for today. Big thanks to Ray Hund for a great article (and hopefully some fodder for future "perfect" baseball cards). Please send me your thoughts on this (link at the end of the lede) and hopefully this can become a future discussion piece (or sub-ledes).
Everyone have a great Sunday — for today is the penultimate best day of the year (the best being tomorrow, the "real" opening day PLUS the NCAA final). But (thanks, MLB) we get not one, not two, but THREE (Yanks/Rays, D-Bax/Giants and your SNB — Cubs/Cards) official games today. I love this time of the year. And the Masters starts Thursday. Hockey & Hoops playoffs are coming up too. And (hopefully) the weather (at least for many of us) will start turning nicer.
What a time to be alive.
You fine folks have a great week, I'll have the winner of the Redesign The USA Uni/Jersey/Cap next weekend too. Until then…
Follow me on Twitter @PhilHecken.
Peace.
.. … ..
"So, I saw the sneakers that dissolve in 36 hours, and my first thought was 'Cool. Untraceable shoes to wear in the commission of an horrific crime.' I have issues."
— Jon Rose