Click photos to enlarge
Way back in the day, the NFL used to put out all sorts of cool promotional publications, many of them with beautiful illustrations. I was lucky enough to get several of these while I was growing up, including the American Express NFL Playbook from 1973 (taught me so much about football!) and the Sunoco NFL Action stamp album from 1972 (which I had, and then lost, and then a Uni Watch reader generously gifted me a vintage copy a few years back).
But I was too young to encounter another beautiful publication: The Professionals Look at Pro Football, a 40-page item that was produced by NFL Properties in 1967 in conjunction with the paper company Kimberly-Clark. Both organizations got something out of the deal: Kimberly-Clark used the publication to showcase some of its high-quality paper stock (paper manufacturers often partnered with other companies this way, so they'd have something flashy to show to new printing clients), and the NFL got a nice promotional piece to distribute.
I'd never seen or even heard of The Professionals Look at Pro Football until reader Dennis Jones got in touch to let me know he'd recently found a copy of it while cleaning out his dad's house. The premise of the publication is simple: 16 players — one from each NFL team at the time — were asked to provide their thoughts about playing football. Some, like Bears running back Gayle Sayers and Cowboys defensive tackle Bob Lilly, were established stars and went on to become Hall of Famers; others, like Steelers cornerback Brady Keys and Saints running back Don McCall, had lower profiles and are largely forgotten today. Meanwhile, various illustrators, artists, and photographers were hired to create the imagery that accompanied each player's text.
The NFL was in full mythmaking mode here. Some of the pull quotes are embarrassing and cringe-inducing, especially given what we know about football and brain disease ("If a man doesn't get hurt in the game, he hasn't been playing hard enough" and "You've got to punish your opponent. You've got to make him think that to try you is a mistake," that sort of thing), but that was par for the course 50 years ago. In any case, many of the photos and, especially, the illustrations are sensational.
Dennis has scanned the entire publication, one page at a time, and grouped the scans into this Flickr set. If you want to read the text, use those scans — the text is crisp and clear.
But many of the standout illustrations and photos were formatted as two-page spreads. Dennis couldn't fit two pages at a time on his scanner, and the images don't have the same impact when they're broken up into two separate scans, so I asked him to take photos of the two-page art pieces. Those photos are shown below. The text isn't as crisp, and there's some glare on some of the photos, but at least you'll get a better sense of the two-page images (if you can't see the slideshow, click here):
Great stuff. I wish the NFL — or any sports organization — would commission this type of top-notch artwork nowadays. Kimberly-Clark even provided art and production notes here and here.
Incidentally, this booklet seems like it would be right up "Collector's Corner" columnist Brinke Guthrie's alley, right? So I checked with him and was surprised when he said he'd never seen it either. It appears to be a genuine collector's item.
(Big thanks to Dennis Jones for sharing this item with me.)
•  •  •  •  •
MLB preview reminder and updates: In case you missed it yesterday, the 19th annual Uni Watch MLB Season Preview is now available. Enjoy.
There are also some late-breaking items that either didn't make into the preview or were added fairly late in the day yesterday, so you may have missed them:
•  The Reds, much like the Pirates, are changing the cap that's worn with their camouflage alternate jersey, switching from a camo cap to an olive cap:
Reds replacing cap worn with camouflage alternate jersey this season. Old version on left, new on right. pic.twitter.com/Xo8RWWaW3e

— Paul Lukas (@UniWatch) March 29, 2017
•  The Cardinals will mark the 50th anniversary of their 1967 championship by wearing '67 throwbacks on May 16. The jerseys will include a patch that wasn't part of the original '67 uni:
Commemorative 1967 World Champions 50th Anniversary @cardinals patch released today @UniWatch pic.twitter.com/d2CXVsGsD8

— Jordan Hofeditz (@jhofeditz) March 29, 2017
That patch, incidentally, is based on the Cardinals' press pin from the '67 World Series.
•  The Phillies will be adding a memorial patch for former skipper Dallas Green. It will make its on-field debut at the team's home opener on April 7. No visuals yet.
•  A report from several weeks ago indicates that the Twins will be wearing a memorial patch for pitching prospect Yorman Landa for their season opener on April 3, and possibly for the rest of the season. No visuals yet.
•  The Rangers will retire Ivan Rodriguez's No. 7 on Aug. 12.
•  •  •  •  •
T-Shirt reminder: In case you missed it earlier this week, our latest limited-edition T-shirt in the Uni Watch Artist's Series is by the great Larry Torrez (aka Eltee of DC). In the spirit of his Meatscots caricature series, he's imagined a fictitious Japanese baseball team called the Kyoto Yakitori, whose mascot is a baseball-playing samurai with a sword that serves as a baseball bat and as a yakitori chicken kebab skewer (click to enlarge):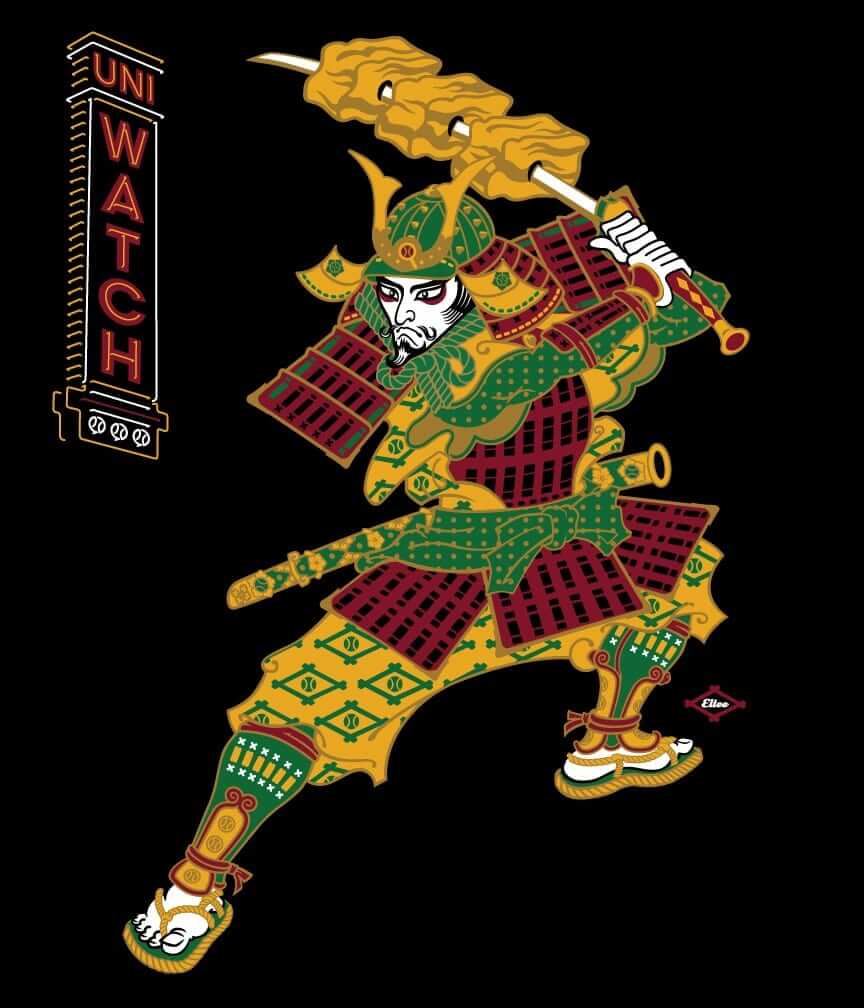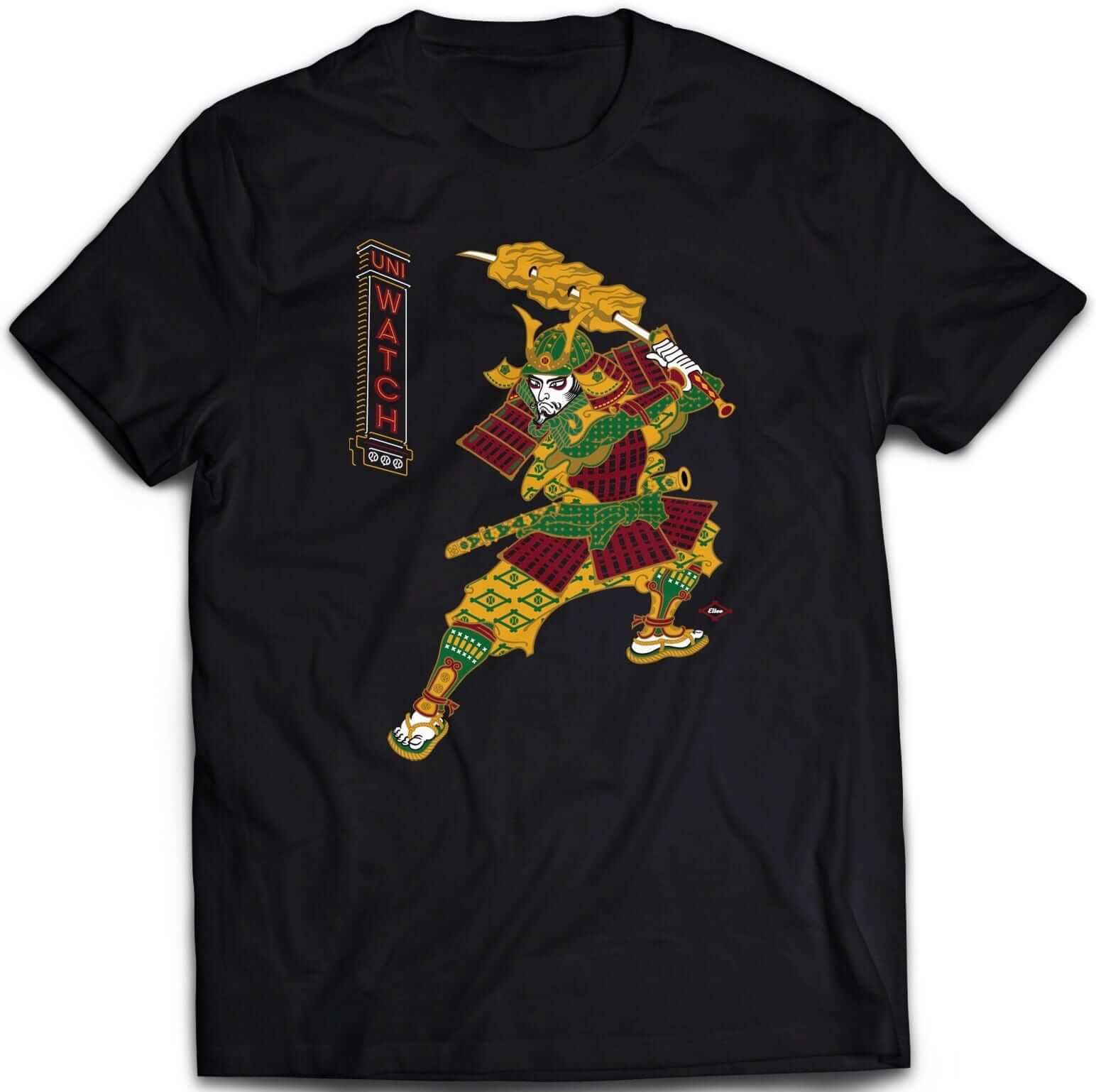 It's available in three different black short-sleeve options (two of which come in sizes up to 5XL) and one long-sleeve option (up to 5XL). Plus I've also made the design available as a sticker. Haven't done that before with any of our T-shirt designs — let's see how that goes.
Some of you have also asked why I'm okay with this design if I have issues with Native American-based sports designs. That's a perfectly valid question, and I've created a separate page to address it. Look here.
The shirt is available here through next Thursday, April 6. My thanks, as always, for your consideration.
•  •  •  •  •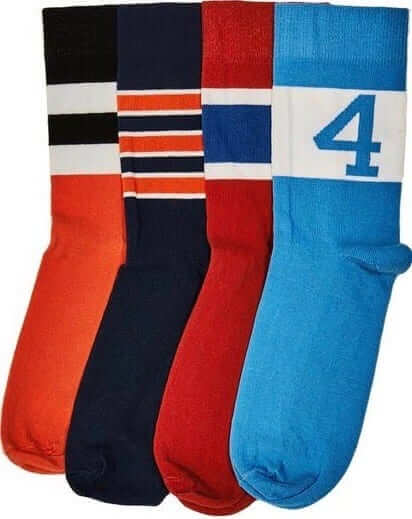 StripeRite sale: In honor of North Carolina making it to the Final Four, nicely symbolized by our Carolina blue sock with the "4" on it, we're running a sale on our StripeRite socks. From now through April 7, use the discount code FINALFOUR to get 10% off. This applies to any order from our first or second batch of StripeRites. Thanks for your consideration.
Contest reminder: We're running a new ESPN design challenge to redesign the Raiders for their move to Las Vegas. Full details here.
Signal Flare: If you're a sneakerhead and a Size 9, drop me a line. Thanks.
•  •  •  •  •
The Ticker
By Mike Chamernik

Baseball News: Teams announced their promotional schedules yesterday. Among the many highlights is the Giants' reversible Warriors knit hat giveaway in late April. … The White Sox had to use smaller NOB lettering on a jersey for Bastian Schweinsteiger, who plays for MLS's Chicago Fire. … The Washington Post made a cool "coloring book" animated graphic featuring the key player for each MLB team this year. … New two-tone hat for Villanova (from Michael Geddes, via Phil). … The baseball team at Wharton (Texas) High School uses an upside-down Expos logo, which looks like a "W" (from Mike Knapp). … The Buffalo Bisons will wear 1987 throwbacks on Opening Day (from Pat Quinn). … The Round Rock Express has six specialty jerseys for this season, including one fauxback inspired by the Rangers, their parent club. All the jerseys can be seen here. … Tonight, a Jacksonville news station will air a segment on how the minor league Jumbo Shrimp got their name and visual identity (from WB Young).

NFL & College Football News: The Lions may have leaked their new uniforms in an email to season ticket holders. More info here. It's tough to see, but it looks like there will be "Lions" lettering on the right sleeve, which probably won't look great (from Phil and many readers). … The Pontiac Silverdome will finally be demolished. The Lions last played there in 2001, and has since become a popular site for urban exploration. … New helmet for Elon (from @synoptico).

Hockey News: The Oilers will wear their orange alternate jersey at home during the playoffs, and then that jersey will become their new home jersey next season. The Oilers are making the switch to welcome a new era.

Basketball News: The Knicks wore their throwbacks last night. … Nets guard Jeremy Lin has names of family members inscribed on his custom Adidas shoes. … Players in the McDonald's All-American game last night wore a special edition of James Harden's new shoe. … The Pelicans put all the jerseys for the 2016-17 Louisiana state basketball champs on display at their arena. … Blake Griffin wore a custom pair of Jordans last night that will be auctioned off to benefit a children's cancer charity. The shoes were designed by Griffin and an 11-year old Children's Hospital of Los Angeles patient. … The website for a news station in Madison, Wis., has two screw-ups: An outdated Bucks logo and a Michigan logo for an item about Michigan State (from Tyler Davis). … Today's issue of USA Today includes some graphics that make it pretty clear what the editors think the NCAA tourney is really about (from Jorge Cruz).

Soccer News: FC Barcelona will wear a commemorative jersey in May to celebrate the 25th anniversary of their first European Cup win (from @the_boot_room). … FC Isloch Minsk teased a new advertiser for their new jerseys (from Ed Å»elaski). … A new bust of Cristiano Ronaldo looks both horrifying and nothing like him.

Grab Bag: This is tremendous: A few decades ago, gangs in Chicago would wear colorful varsity-type sweaters with their logos and symbols on them. Many more photos here (thanks, Thomas Juettner). … An artist in Iceland embroiders flora and fauna designs on sportswear logos (from Jason Torban). … Spider-Man's new suit has an array of advanced features and gadgets (from Brinke). … New home jerseys for Jamaica's Rugby (from Josh Gardner). … This neat chart shows all the colors used by transit lines in cities across U.S. and Canada (from William Yurasko).