St. Paddy's Day came a bit early last night in New Jersey, as the Devils held to their annual tradition of wearing their green-trimmed throwbacks for the holiday. Lots of additional photos here.
The Devils aren't the only NHL team to have celebrated the holiday a bit early (although they're the only one to have done with their game uniforms). Several teams have worn green jerseys for pregame warm-ups over the past week:
The @NHLBlackhawks donned green St. Patrick's Day jerseys in pre-game warmup at United Center. #MINvsCHI pic.twitter.com/D3RGpoR2iK

— NHL Public Relations (@PR_NHL) March 12, 2017
Only home game on St. Patrick's Day week? We celebrate early! 🍀🍻🍀

🎟- https://t.co/2QTDzYI4W1#WPGvsNSH pic.twitter.com/W0ounKBFYr

— Nashville Predators (@PredsNHL) March 13, 2017
#NHLBruins wearing their St. Patrick's Day green jerseys for warmups. 🍀 pic.twitter.com/dbgsBZWI7a

— Boston Bruins (@NHLBruins) March 11, 2017
The holiday will be extended by a day in Toronto, where the Maple Leafs will wear Toronto St. Patricks throwbacks for Saturday night's game against the Blackhawks:
The @MapleLeafs will pay tribute to one of the earliest eras of the club's history by wearing St. Pats uniforms on March 18. #TMLtalk pic.twitter.com/2gpyUjhlj5

— Leafs PR (@LeafsPR) February 21, 2017
There'll be a lot more green today, and not just on the ice. On the hardcourt, the Celtics and Bulls will both wear their St. Paddy's Day uniforms. And on the baseball diamond, lots of teams will be wearing green caps (like the Pirates) and green jerseys (like the Royals).
But the most interesting bit of holiday accessorizing may have come from White House budget director Nick Mulvaney. If you watch the video clip below and click on the full-screen button, you'll see that he appeared to have a pocket full of shamrocks — like, real shamrocks, plucked from the earth, not just plastic representations — during a press briefing yesterday
OMB Director on Pres. Trump's hopes for budget: "More money for defense, more money for border enforcement, more money for law enforcement." pic.twitter.com/h2Ci5JaS8X

— ABC News (@ABC) March 16, 2017
As for me, green has been my favorite color since I was a little kid, so there's always lots of green here at Uni Watch HQ — green sofa, green sheets on the bed, green towels in the bathroom, green wall tiles in the kitchen, lots of green clothing, and a green car parked outside. Enjoy the holiday, and I'll see you next week.
(Big thanks to our own Alex Hider for spotting the shamrocks in Mulvaney's pocket.)
•  •  •  •  •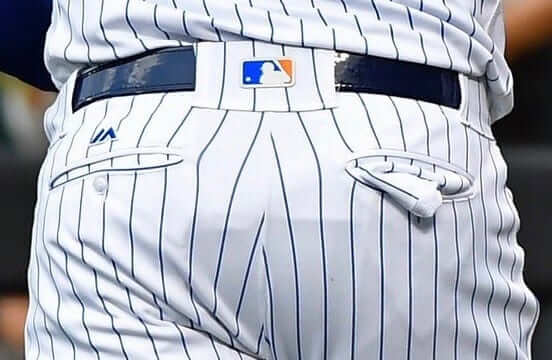 New ESPN column: Between assorted makers' marks and the many iterations of the MLB logo (including the Majestic and MLB logos on the pants, as shown above), today's ballplayers are wearing more logos than ever before. My latest ESPN examines how these logos have spread across the uniform over the past generation, and assesses which ones are relatively harmless and which are more odious. Check it out here.
•  •  •  •  •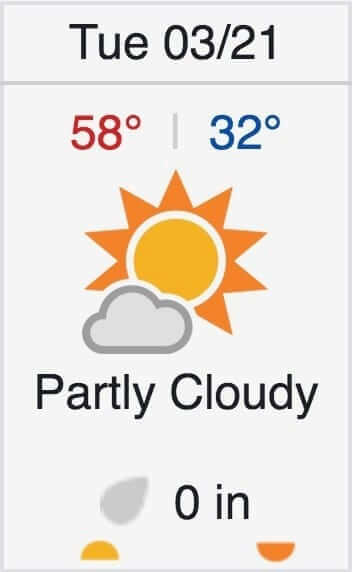 Please do a rain dance for me: For one of my early birthdays "" I think when I turned 8 or 9 "" we had some sort of outdoor activity planned. But it rained, and I was inconsolable. My father, thinking quickly, made up a very sweet lie: "Don't you know? Rain on your birthday is a sign of good luck in the year ahead."
Since then, it has rained, snowed, hailed, or otherwise precipitated every single year on my birthday (which, when you think about it, isn't so surprising when your birthday is March 21 and you've always lived in New York State). It's something I've come to look forward to "" my annual sign of good luck, and a nice reminder of my father.
As you can see at right, it appears that the streak may be broken this year. Makes me worry about what lies ahead for the next 12 months.
•  •  •  •  •
The Ticker
By Paul

Baseball News: Myrtle Beach High in S.C. uses the Brewers' "mb" logo. … We've already seen the Mariners' 40th-anniversary sleeve patch. Turns out they'll also be marking the anniversary on their caps (from Ben Matukewicz). … Here's a good team portrait of the Reds' winter basketball team from the 1970s. … UCF's outdoor party deck, which is not within the confines of the ballpark, bans non-Coke beverages. Douchebags (from @intheballparks). … Baseball and barbecue: The Charlotte Knights will become the Pitmasters for one night in July (from James Gilbert and David Perlberg). … Here's a look back at the Brewers' 1994 makeover, which was designed by longtime Uni Watch pal Todd Radom (from Nick Postorino). … Speaking of Todd, SportsLogos.net has posted an excellent article about his White Sox season ticket project. Recommended. … Awesome shot of Braves great Eddie Mathews and his young son both wearing No. 41 uniforms. I like the piping on the back pocket flaps, too. When were flap pockets replaced by welt pockets on baseball pants? (Photo from BSmile.) … Tigers 3B Nick Castellanos has his son's name on his glove. … In addition to his much-publicized neon compression sleeve, Mets OF Yoenis Céspedes likes to wear a neon necklace with a "52" pendant. The Mets are featuring that accessory on a giveaway T-shirt this season.

NFL News: In the past, RB Latavius Murray has worn No. 28 in honor of Fred Taylor. But he just signed with the Vikings, so he'll change numbers out of respect for Adrian Peterson, who wore 28 for the Vikes (thanks, Mike).

Hockey News: Check it out: Teemu Selanne wearing a Jets uni with a red helmet. "A bit of googling brought up this fascinating message board thread that seems to tell pretty much the whole story," says Daniel Estabrooks. … During a recent Flyers game, Wayne Simmonds scored two goals and appeared to score a third, prompting fans who thought he'd scored a hat trick to throw nearly 400 caps onto the ice. But the goal had actually been scored by teammate Jakub Voracek. In a very cool move, Voracek has now purchased the same number of caps and donated them to a children's hospital (from Tris Wykes). … The Oakley logo from Islanders C Anders Lee's visor fell off and lodged on his jersey (from David Blum).

NBA News: The Knicks wore their blue "Nueava York" unis at home last night, with the visiting Nets wearing white on the road (from Zach Loesl). … Also from Zach: The Raptor and Thunder went black-vs.-blue in Toronto.

College and High School Hoops News: Back in 2013 I ran an entry about reader Nic Schultz's interesting NCAA bracket, which he used to track his family's picks. Here's this year's version. … Sign of the times: The NCAA tourney started out with a color-on-color game — Notre Dame and Princeton (from Andrew Cosentino). … Who's that in the old Creighton uni? None other than future baseball legend Bob Gibson (from BSmile). … Ah, March Madness — so much fun (from Jerry Nitzh). … A ref barred a Maryland high school student from playing in her team's regional final because the student, who's a Muslim, was wearing a hijab (from James Gilbert). … Bucknell wore sleeves yesterday. … Here's a short video clip showing the NCAA patches being applied to Wisconsin's jerseys (from Blake Geschke). … Dalton State is an NAIA school in Georgia. Their team is called the Roadrunners. Check out their awesome NOB (from Kevin Rieger). … Nevada, playing in the NCAA tourney for the first time in a decade, wore their "Battle Born" alts (from Damon Hirschensohn).

Soccer News: Whoa, check out these old tobacco trading cards featuring British soccer mascots (at least one of which is rather unfortunate). They're part of a set recently digitized by the NY Public Library (from Steve Andersen). … Vfl Wolfsburg will celebrate the 20th anniversary of being promoted to the Bundesliga by wearing a special kit against Darmstadt this weekend (from Anthony Zydzik).

Grab Bag: New charity jersey for Bath Rugby. "This one-off shirt replaces the club badge but not the club's main advertiser — shows what's more important," says @Stumpy7780. … Interesting video report on what happens when two countries have the same flag design (from Will Shoken). … Here's a pretty cool map of America comprised of regionally appropriate team logos. Yes, you could quibble with a few of the logo placements, but it's still a pretty good job (map by Dan Boyer, brought to my attention by Andrew Greenblatt). … Brutal rugby kit clash in a NRL match, as the Panthers and Tigers wore nearly identical black/white gradient jerseys (from @fbjim_).