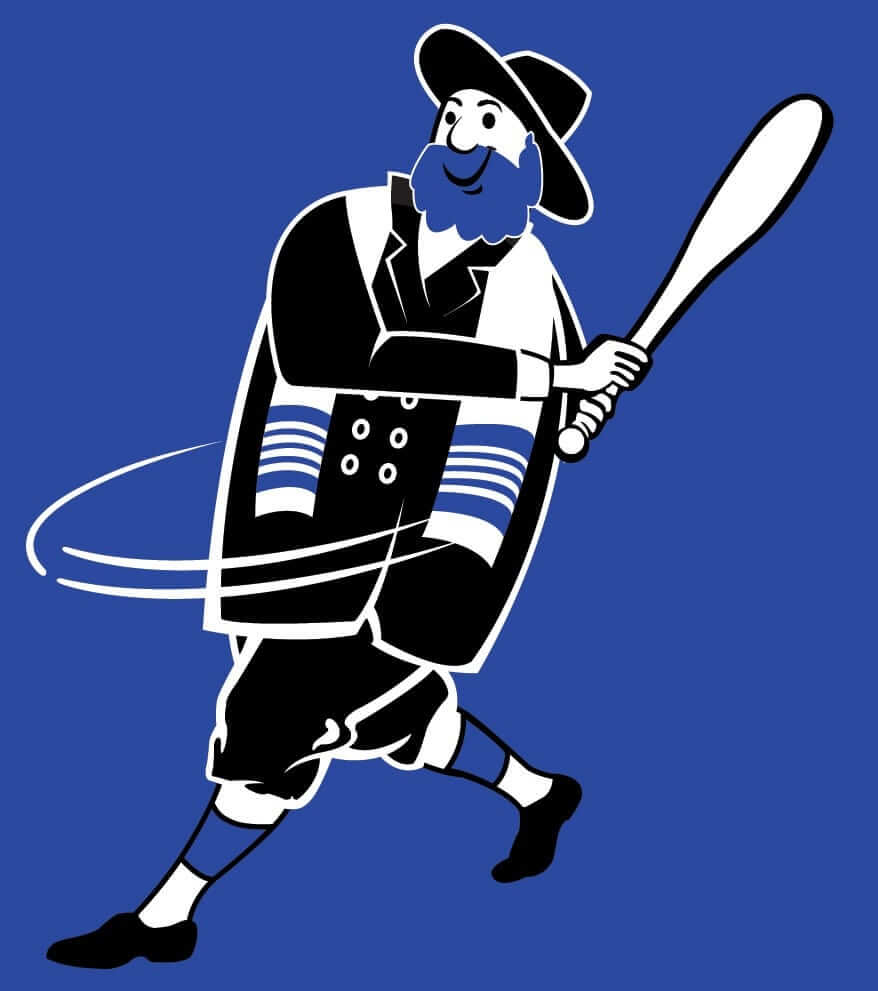 [Today we have a guest article by Mickel Yantz, who's going to tell us about an excellent WBC-related project he's been involved with. — PL]
By Mickel Yantz
For a couple of years I've been a freelance artist for an Arizona-based company called America's Finest Apparel, creating unique sports-themed shirts. Most of them feature Day of the Dead-style sugar skulls with sports themes. (Sugar skulls originated as actual skull-shaped sugar molds decorated with colorful frosting every year on the Day of the Dead holiday to honor loved ones who've passed on.)
Throughout my partnership with America's Finest, I've talked with Steve, the company's owner, about his background in sports media and some of his friends. One friend who he mentioned last year was Cody Decker, a minor league ballplayer who's also on Team Israel's roster for the World Baseball Classic. I followed Decker on Twitter and saw how entertaining he is with his fans and teammates. At one point he even had a fun back-and-forth with William Shatner.
This year Decker was signed to a minor league deal by the Brewers, who apparently gave him a cap with the Barrel Man logo, and Decker asked his Twitter followers to explain the logo to him because he wasn't familiar with Barrel Man. Plenty of fans replied back to him. (It turns out it was the Brewers' 2013 spring training cap.)
A few weeks later, Steve — the America's Finest owner — texted me a picture of the full-body version of Barrel Man and asked, "Can you make this into a swinging rabbi?" It was certainly the most unique request I'd ever received from him. He didn't say what it was for, but I remembered Decker's tweet and knew Decker was playing for Team Israel, so I thought there might be a connection there.
Here's the funny part: Steve didn't realize that my day job is working as the curator at the Sherwin Miller Museum of Jewish Art in Tulsa. We have an exhibition opening this April about Jewish ballplayers, called Chasing Dreams: Baseball & Becoming American, which is coming to us from the National Museum of American Jewish History in Philadelphia, and I've been in touch with the Israel Association of Baseball to procure a Team Israel uniform for us to display in conjunction with the exhibit. So I was definitely in the right frame of mind to create the "Barrel Rabbi" illustration.
I worked on the design and sent it over to Steve, who then added some lettering to spell out "Jew Crew" and put it on a T-shirt. He let me know it was for Decker and Team Israel (my understanding is that Decker requested 40 shirts to give to his teammates as gifts, with permission for America's Finest to sell sell the shirt on its website) but asked me to keep it quiet until the reveal. Two weeks later I checked Twitter and saw that Decker had posted a photo of the shirt in Phoenix after meeting his teammates:
#TeamIsrael is ready for the WBC! Thank you to @AF_Apparel for hooking us up with the best shirt!#JewCrew pic.twitter.com/BePRLv8Qgu

— Cody Decker (@Decker6) February 25, 2017
Team Israel has surprised everyone in the World Baseball Classic by sweeping the first round Pool A and moving on to the second round in Tokyo. Along the way, the swinging rabbi shirt has shown up at various press conferences and in other social media posts.
I have an exciting job promoting and sharing Jewish cultural history and heritage with museum guests, but this is the first time I've found myself contributing to that history. One of the "Jew Crew" shirts will even be on display in my museum's upcoming baseball exhibit, so my side gig and my day job will be merging into one.
———
Paul here. Good stuff, right? I love Mickel's design. My only quibble is that the swinging rabbi would be even better if he were based on the Padres' swinging friar. Meanwhile, if you're interested in purchasing the "Jew Crew" shirt, it's available here.
•  •  •  •  •
When the look goes beyond the uni: Remember Batting Stance Guy, who mimicked various MLB players' batting stances? Former D-League player Brandon Armstrong has developed a similar shtick for NBA players. In the video shown above, he captures many of the physical nuances of LeBron James, James Harden, Steph Curry, Russell Westbrook, and Carmelo Anthony. It's all pretty great.
There's further info here, and you can see Armstrong's YouTube channel here.
•  •  •  •  •
Contest reminder: In case you missed it over the weekend, Phil is running a contest to design new World Baseball Classic jerseys and caps for Team USA. All the details are in this post. Get your designs in to Phil.Hecken@gmail.com by this Friday, March 17, midnight Eastern. Get crackin'!
•  •  •  •  •
Culinary Corner: NYC was supposed to get a serious blizzard yesterday. As you've probably heard, the storm turned out to be a lot less severe than had been predicted, at least here in Fun City, but the Tugboat Captain and I weren't taking any chances. We decided to spend most of the weekend cooking something that would sustain us while we rode out the storm: a gumbo.
The impending snowpocalypse wasn't our only motivation. I'd been wanting to make a gumbo all winter long. And while we sampled two very nice gumbos during our recent visit to New Orleans, neither one quite achieved the upper-echelon flavor explosion that I've experienced with some gumbos in the past. I felt like we could do better.
I had a very good recipe for us to use, too (if that link doesn't work for you, try this instead). As you can see, it calls for a shitload of ingredients, including a whole duck, a whole chicken, a pound and a half of shrimp, pheasant sausage, and a ton of vegetables. Takes all day to prepare, too. But it's worth it — I had made it once before, in 1998, and it was amazing.
So that's how we spent a good chunk of our weekend. We did make some adjustments to the recipe, though:
•  Instead of pheasant sausage, we used andouille.
•  Instead of using chicken or vegetable stock, as the recipe calls for, we used the shrimp shells to create a shrimp stock, which formed most of the liquid in the gumbo. (We also used the duck bones to create a duck stock and used a little of that in the gumbo as well. And by "we," I really mean the Captain, who did all of the stock-related work.)
•  A gumbo starts with a roux, which is flour cooked in fat (which in this case was mostly duck fat that rendered out while we were cooking the duck). The usual way to do this is to stir the roux in a saucepan on the stove and watch it darken as the flour cooks over the course of a half-hour or so. It works fine, but it's tedious and you tend to get splattered a bit by the hot fat. Some websites suggest toasting the flour by itself on the stovetop, without any fat, and then adding the fat and letting the roux cook in the oven. Neither of us had ever tried that before, but we were intrigued, so we decided to give it a go.
First we put a cup and a half of flour in a pot over medium heat and stirred it to keep it from burning. It felt sort of weird — who cooks flour all by itself? — but as the Captain noted, "I've toasted other grains, so why not flour?" After a few minutes, it began to smell nutty and roasty-toasty, so we removed it from the heat. It had gotten every-so-slightly browned, as you can see here — regular flour on the left, toasted flour on the right (click to enlarge):
Then we added the rendered duck fat (plus a bit of vegetable oil, because we didn't have quite enough duck fat to reach the specified amount) and stirred to blend in the flour. The resulting mixture was a light tan:
Then we covered the pot and put it in the oven. The idea was that the flour would continue to cook, darkening the roux to a deep chocolate color. It did darken somewhat, but not enough — or at least not fast enough — so the Captain took it out of the oven and finished it on the stovetop, stirring (i.e., the normal way of making a roux). Eventually it reached a nice, deep shade of brown:
The rest of the process involved mixing the roux with the stock, adding the vegetables, adding the protein (duck, chicken, andouille, shrimp), and several hours' worth of simmering, all of which made the house smell soooooo good. Unfortunately, I didn't take photos of any of that, so you'll have to use your imagination.
Between the shopping for ingredients, roasting the duck and the chicken and then picking the meat off the bones, peeling the shrimp, and all the rest, the project took a good chunk of Saturday and all of Sunday. It was finally ready to eat at about 7:30pm on Sunday, and we invited two friends over to share it with us. It did not disappoint — one of the better gumbos I've ever had, and definitely better than the two gumbos we ate a week earlier in New Orleans (which is no surprise, since neither of those included duck, or had a roux made with duck fat).
Quick tangent: Back in the late 1980s I was a book editor. Some of the books I worked on were cookbooks, and some of the cookbooks were about soup. My boss at the time, a very smart lady, hated having to approve the cover designs for these books because photos of soup always looked like, as she put it, "puke in a bowl" (I actually worked on that book). Nearly 30 years later, I'm always haunted by my former boss's words when I try to photograph soup. With that proviso in mind, here's how the gumbo turned out:
Looks pretty good, right? We had a lot of leftover servings (which, as you'll recall, was the whole idea). In fact, I'm going to have some gumbo as soon as I finish typing this.
But before I do that, I should mention that the Captain did way more of her share of the work on this project. She chopped all the vegetables, made the shrimp and duck stocks, monitored the roux, and a lot more. I did some work, but not nearly as much as she did (in part because I was busy trying to finish writing the massive travelogue entry that ran on the site on Monday, and in part because she's just far more kitchen-adept than I am). So the credit for the gumbo's success really belongs to her. Take a bow, sweetie.
•  •  •  •  •
The Ticker
By Alex Hider

Baseball News:  The Rockies celebrated Pi Day lining up in pi uni-number order — or so it initially appeared. The photo was actually a doctored version of the shot that appears at the top of their Twitter page.  … Speaking of the Rockies, do their color changes a signal for an upcoming redesign? (From Perry Sailor.) …  Kind of hard to see, but this may be the stars and stripes caps MLB teams will wear this year (from J.K.). …  Francisco Lindor usually wears striped stirrups with the Indians, but has been wearing  solid Stance socks for Puerto Rico in the WBC. …  Dusty Baker is a treasure trove of baseball stories, and he had a lot of good stuff to say about baseball bats yesterday. … Robinson Canó's captain's C looks to be a lighter shade of blue than the rest of Dominican Republic's jerseys (from Brian Bomser). …  Matthew Prigge  wrote a couple of posts on Brewers unis of the past. According to him, the team's '78 home set was supposed to include NOBs, but owner Bud Selig nixed the idea because he didn't like the way the letters looked against pinstripes. … With much of the east coast under snow, Michael Clearly sent along shots of  Mel Parnell, Mickey Mantle, and Chris Speier balling in the snow. …  Cool move by the St. Paul Saints, who will be honoring Mary Tyler Moore with a hat giveaway this season. It's meant to look like the same one she tosses during the opening credits of her show (from Patrick O'Neill). … Akron RubberDucks players got rings for their 2016 Eastern League Championship last night (from CN). …  St. Joseph's College in in Indiana has some awesome posters for each home series this season (from Eric Bunnell). … Good-looking color-on-color game yesterday between Motlow Community College and Calhoun Community College (from Motlow Baseball).  …  Matt Ryburn  sends along this photo from the Atlantic. It was taken at Irwinville Farms in Georgia, though the player remains unidentified. The photographer, Roy Stryker, told his editors not to run a photo by punching a hole through the negative. A whole gallery of these photos is available here. … Japan's WBC team has a raised helmet logo (from Jeff McClure).

NFL News: Packers RB and former WR Ty Montgomery says he'll continue to wear No. 88 next year (from  Brad E.). … New Rams signing Kayvon Webster was wearing a cap with a gold-trimmed logo yesterday, instead of the team's new blue/white logo (from  Moe Khan). … NFL Network reporter Jason LaCanfora shared a photo of his old pair of Baltimore Colts gloves on Twitter yesterday (from  Patrick Sesty). … Check out this Miami Dolphins basketball program from 1974. According to  Francisco Monteagudo, former and then-current Fins players used to hoop against high school and city teams during the offseason. … Here's an article about the '57 Steelers that includes some great helmet and facemask photos (from Bill Kellick).

College and High School Football News:  Texas Tech coach Kliff Kingsbury is not allowing his team to wear its logo until they "earn" the right to wear it (from Edside Manor). …  Awesome find by  Bill Moss, who sent along this  color clip from the 1940 Rose Bowl. Appropriately, Michigan and USC went color-on-color. … North Carolina celebrated Pi Day yesterday (from  James Gilbert). … New helmets for Warner Robbins High School in Georgia (from Doug Hazard).

Hockey News: On Monday I said that a James Harden/LeBron James frankenjersey may have been the strangest I've ever seen. We might have another contender: Panthers/Leafs (from  Brett Kirkham). … Taylor sends along photos from this  black-on-blue matchup between the Kings and Jets, possibly from 1988-89. Anyone know anything about it?

Basketball News:  Here are new NBA   socks for St. Paddy's Day. The Bulls and Celtics will be wearing them as part of their holiday uniforms later this week. … Great looking  color-on-color  game in the NBA last night between the Cavs and Pistons (thanks  Mike). …   ESPN mixed up St. Mary's and Mount St. Mary's on their website last night (from Eddie Lee). …  Not sure if we've brought this up before, but  Michigan's DJ Wilson wears some really short shorts (from  Max Weintraub). … March Madness means T-shirts with unimaginative slogans are in season (from  James Gilbert). … The public radio show Marketplace had an excellent report last night about the D-League G-League (from Andrew Cosentino). … TNT broadcaster Lewis Johnson was using a mic cube with a "Sager Strong" message (from Zach Loesl). … Also from Zach: Wake Forest and Kansas State went grey vs. purple last night.

Grab Bag: Liverpool will wear a 125th-anniversary crest on their kits next season (from  Moe Khan). …  Cal Lutheran University has a  new logo (from  Andrew Luttrell). …  Not often you see pink on the racetrack. That car is owned by team Force India in F1. Drivers Sergio Perez and Esteban Ocon will also wear pink helmets. … Disney has made  logos for 18 of its attractions for a "March Magic" promotion (from  Yancy Yeater). … The officers at the Los Angeles County Sheriff's Department are switching from silver belt buckles to gold — at a cost of $300,000 — in order to have the buckles match the officers' badges (from Matt Shevin). … The amazing Japanese artist Gaku carves some very intricate designs into foodstuffs (from  James Gilbert).