Click to enlarge
If you're even a casual fan of 1980s punk rock, you're probably familiar with the artwork of Raymond Pettibon, the brother of Black Flag guitarist and SST Records founder Greg Ginn. Among other things, Pettibon designed Black Flag's now-iconic "four bars" logo, and he also did the artwork for tons of Black Flag record covers and gig posters, along with album artwork for other bands.
Somewhere along the way, Pettibon left punk rock behind and improbably became a Very Big Deal in the art world. He's now the subject of a massive retrospective exhibition at the New Museum here in NYC, which I checked out over the weekend. The show, which extends over three floors of the museum, features over 800 pieces, most of which are grouped by theme. One of those themes is baseball — turns out Pettibon is a big fan. (A few years ago he was commissioned to do a big baseball-themed piece for the High Line in Manhattan.)
The Bob Gibson piece shown above was my favorite of the baseball pieces in the New Museum show, but there were lots of others, most of them excellent. This next one is somewhat uni-related, or at least it references sanitary socks (click to enlarge):
Want to see more? I took photos of all of the baseball-related pieces and gathered them into this slideshow (if you can't see the slideshow below, click here):
As for the rest of the exhibition, it showcases Pettibon's excellent knack for creating social commentary by skewering cultural totemic figures (Superman, Elvis, the Marlboro Man, Mickey Mouse, various presidents, Gumby, etc.), and his longstanding fascination with sex, guns, war, and surfing, among other tropes. I'm pretty sure every single piece included text, which makes the exhibit somewhat exhausting. You can't just look at the images; you have to read and process the messaging. Pretty great stuff, though — highly recommended for anyone in or visiting NYC between now and April 9.
Here are some additional pics I took (this set includes the baseball pieces shown above, sorry for the duplications; if you can't see the slideshow below, click here):
•  •  •  •  •
Click to enlarge
KRC update: The latest installment of Key Ring Chronicles is about a guitar pick holder. Check it out here.
•  •  •  •  •
T-shirt reminder: In case you missed it last week, our latest T-shirt, designed by the great Todd Radom, is now available. Check it out (click to enlarge):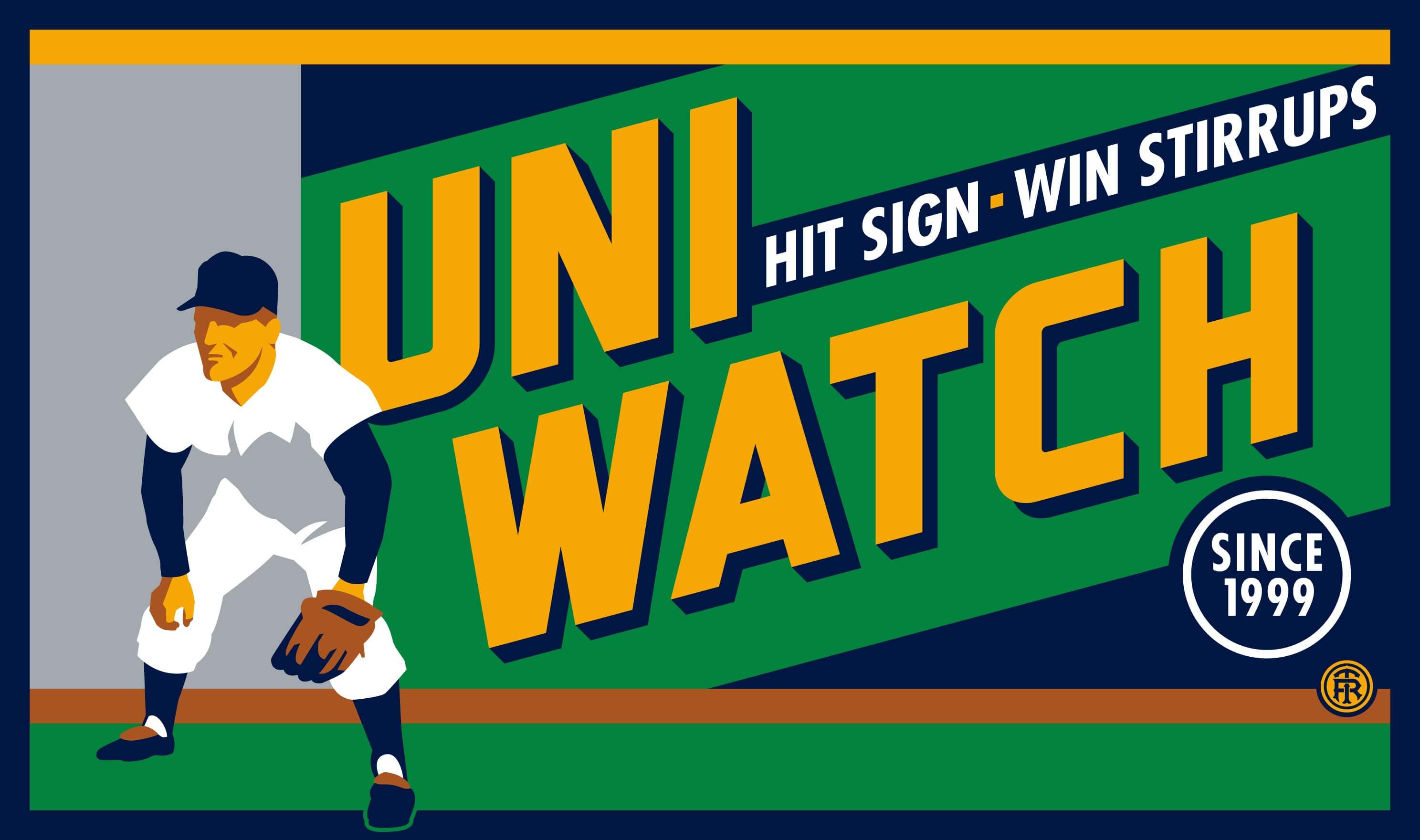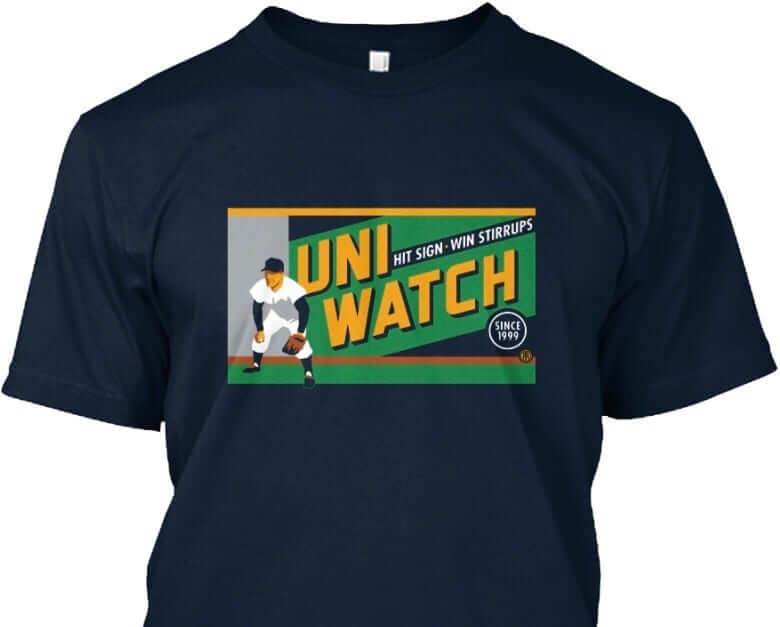 The design takes inspiration from the old Abe Stark sign at Ebbets Field, which read, "Hit Sign, Win Suit." Please note that we're using the shirt fabric color to fill in the dark portions of the design — the outfielder's cap, sleeves, stirrups, and shoes, and the dark parts of the sign behind him. We think it looks best on Teespring's dark navy shirt, which is the version shown above. But you can also order the shirt in black (yes, go ahead and make all your BFBS jokes), in which case the design will look like this: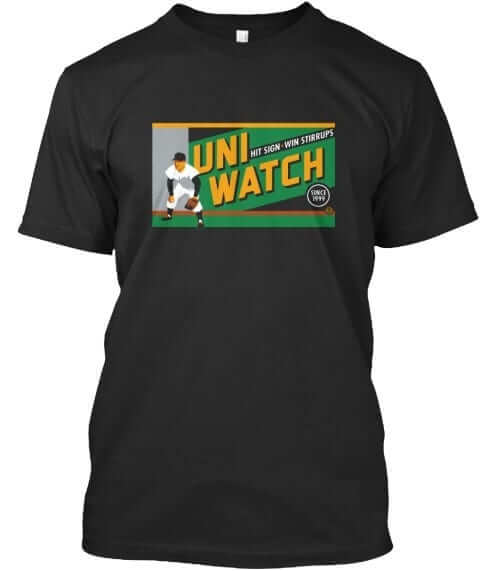 There's also an American Apparel short-sleeved version and a long-sleeved version, both of which come in a slightly lighter shade of navy. You'll be able to see all of this on the ordering page. Just make sure you choose the shirt and color you like best.
The shirt is available here through this Friday, March 3. My thanks, as always, for your consideration.
•  •  •  •  •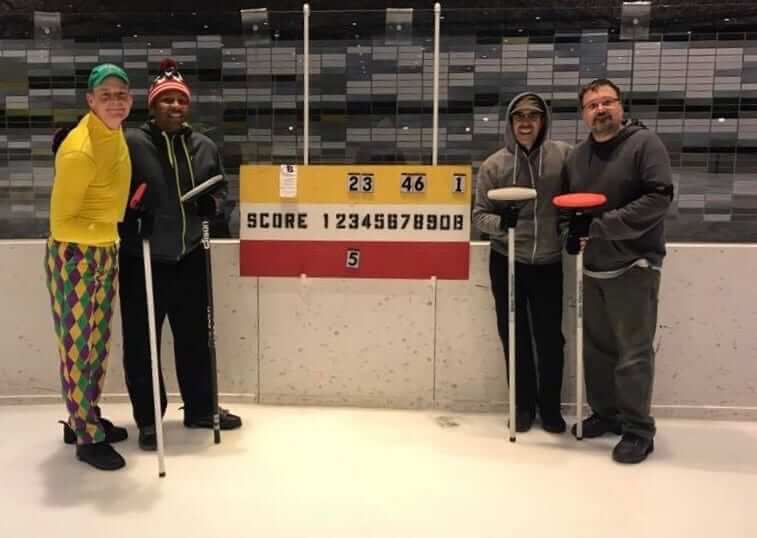 Curling update: After more than a month away from the ice, I made a cameo appearance at curling last night, rejoining my old team for a satisfying 8-3 victory. As you can see, Phil broke out the Mardi Gras pants for the occasion (and holy shit did he curl well last night — great job, skip!).
•  •  •  •  •
Uni Watch movie recommendation: Most of the movies released early in the calendar year tend to suck. January and February are basically the dumping ground for studios to unload their stinkers, because they know everyone's gonna be busy with the Oscar-nominated movies.
But every now and then there's a really good early-season movie, and there happens to be one right now: Get Out, which I saw a few nights ago. As you've probably heard, it's a horror movie with race-commentary overtones, or maybe it's the other way around. Either way, it's really good — smart, clever, and creepy in more ways than one. No uni-related content, unfortunately, but hey, you can't have everything. Don't miss. Here's the trailer.
•  •  •  •  •
The Ticker
By Alex Hider

Baseball News:   The Blue Jays' Spring Training caps and jerseys are different shades of blue (from Josh Kail). … Speaking of the Jays:  Ouch. Now, that's a jersey typo. Might fly in Montreal, but definitely not in Toronto. … A poll reveals that most Cardinals fans (mistakenly)  believe the team should wear navy caps on the road (from Nathan Ahle).  … Looks like Javyz Baez was wearing Jason Heyward's wristband yesterday. Baez wears  No. 9 (from  Joe Ringham). … Lots of retro logos on this jersey up for sale on eBay (from  Robert Hayes). …  William Howard Taft has officially retired from the Nationals' Racing Presidents (from  Tommy). … Check out this awesome Brewers Sausage Race-inspired soda display in Milwaukee (from Nicole Haase). … The Binghamton Rumble Ponies will be wearing Twilight Zone jerseys on July 7. Good move by Rod Serling's hometown team (from  Tweeds Tweets). … Mississippi State wore white-on-white pullovers yesterday (from  Chase Tettleton). … Slick new cream homes for Utah (from  Trent Kanphus). … Ole Miss wore their gorgeous powder blues for the second straight Sunday (from  Brad Logan). … Nice striped stirrups for UNLV (from  Jeffrey Seals). … TCU wore throwbacks yesterday against Arizona State, which went gold over gray (from  Kurt Crowley). … New unis for Amherst Steele High School in Ohio (from  Matt Roz). … Here's something surprising: A 1961 photo from Angels spring training camp — their inaugural season — that shows players wearing caps without the telltale halo (from from BSmile, cap spot by Steve Tilders).

Hockey News:  The Chicago Tribune is still using the Sabres' Buffaslug logo (from  Jake Taco). … Brian Delpozo recently got this Islanders jersey as a gift "" a jersey the Isles haven't worn since 2010. Brian says his girlfriend bought it new on clearance from a Lids store on Staten Island that is set to close. "It dawned on me then that these jerseys have probably been moving from store to store since at least the 2010 season if not longer, most likely backlogging orders," he says.

NBA News:  The Nuggets and Grizzlies went color-on-color last night (from Hit the Glass). … So did the Pistons and Celtics (from Pepperoni). … But those games were just runners up. The Pels and Thunder took home the award for the best looking color-on-color game of the evening (from Matty). …  Kevin Spradlin points out that the ESPN app uses new  logos  and old color schemes for a number of NBA teams. … The 2003-04 Pistons championship banner doesn't use an era-appropriate logo. Two years after their championship, the Pistons moved away from their horse-head logo to the more traditional look they have today.

College Hoops News:  Michigan State wore their Michigan Agricultural College unis against Wisconsin yesterday.  … Louisville broke out throwbacks  against Syracuse yesterday (from Mark Ament). …  Rough-looking dark grey-on-green game between George Washington and George Mason yesterday (from  Gregory Koch). … Xavier wore their "Runnin' Muskie" throwbacks against Butler. … Nebraska wore their alternate red jerseys yesterday (from Nick Knihnisky"). Illinois wore grey in that game, making it color-on-color (from David Westfall).  … Houston wore white on the road against Memphis, which went BFBS. Memphis also gave away school-branded earbuds to the first 5,000 students …Columbia wore baby blue at home on Saturday, with Penn wearing white on road. Turns out wearing color at home on Saturday is a common Ivy League thing (from  James Ketterner). …  Not much color in this color-on-color matchup  between Oregon and Stanford from  Saturday (from  Andrew Cosentino).

Soccer News: Toronto FC has  unveiled its kits for 2017. …  New kits for Grand Rapids FC of the National Premier Soccer League (from  John Chapman). … It appears Southampton's keeper had an off-center NOB yesterday in their match against Manchester United (from  Bryant). … 1967 throwbacks on tap for Queens Park Rangers. "Commemorative throwbacks are not something we see much of here in the UK," notes @the_boot_room.

Grab Bag:  Oscars uni-watching: Several nominees and attendees at last night's Academy Awards event wore blue ACLU ribbons. Blue is the color of the longtime civil rights organization's logo. … NASCAR driver Brennan Poole wore a replica of the helmet Luke Skywalker wore in Star Wars: A New Hope during the Xfinity Series race at Daytona yesterday (from  Phil). … The Baltimore Brigade of the Arena Football League will wear these sweet-lookin' lids during their inaugural season (from  Cesar). …    The  Saskatchewan Rush of the National Lacrosse League wore superhero jerseys on Saturday for charity. More on that here (from  Wade Heidt). …  The Refinery Hotel in New York is taking a vote to determine the  uniforms for the wait staff  of its rooftop bar.  Vote here   (from  Tommy). … Lots going on in this logo for Dr. Phillips High School in Orlando, Florida (from  Dustin Semore). … Looks like Dartmouth lacrosse player Mike Richardson used a stencil to create a cross in his eye black for a recent game (from Tris Wykes).
•  •  •  •  •
Happy birthday to longtime Uni Watch pal/supporter (and now Uni Watch T-shirt designer) Todd Radom. Enjoy your day, Todd!