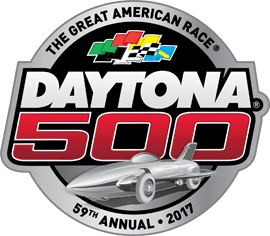 [Editor's Note: With the Daytona 500 set for this Sunday, today we have a guest entry from Joseph Dawisha, who's going to bring us up to date on the new paint schemes in this year's race. "" PL]
By Joseph Dawisha
A new era in NASCAR will begin this Sunday with the 59th running of the Daytona 500. NASCAR is looking to reach a younger audience, which explains why Monster Energy is taking over the premier series sponsorship and a new race format is being implemented. Many of the new paint schemes on the track this season reflect that goal as well. Today we'll look at some of the new primary schemes set to run in the great American Race and throughout 2017.
•  No. 1, Jamie McMurray "" Cessna/McDonald's Chevy. For the past two years, the 1 team has combined its two primary sponsors for the Daytona 500 scheme. They continue that trend this year with the Cessna/McDonald's Chevrolet.
•  No. 3, Austin Dillon "" Dow Chevy. Austin Dillon's 3 car no longer has the geometric style of previous years. It now has a more simple, mostly black scheme.
•  No. 4, Kevin Harvick "" Jimmy John's Ford. With Stewart Haas Racing moving over from Chevy to Ford, the only change on Harvick's Jimmy John's scheme is to match the contour of the new body. The big change for Harvick comes in his Busch and Busch Light schemes, both of which match the new logo and can design for Busch Beer.
•  No. 6, Trevor Bayne "" Advocare Ford. In his fourth year under Advocare sponsorship, Trevor Bayne will run a colorful yet simple scheme. The colors and styling represent the various flavors and packaging of Advocare Spark.
•  No. 10, Danica Patrick "" Aspen Dental Ford. Just a couple weeks ago, Patrick's primary sponsor, Nature's Bakery, dropped out due to a breach-of-contract lawsuit. Aspen Dental has stepped in to fill some of the races originally scheduled for Nature's Bakery. They bring a sleek, tooth fairy-themed scheme for the 500 and beyond.
•  No.11, Denny Hamlin "" FedEx Toyota. For the first time since 2005, black is no longer included in the 11 car's main colorway. It has been replaced with an extra dose of Paul's favorite color and a touch of orange.
•  No. 14, Clint Bowyer "" Mobil 1. The newest member of Stewart Haas Racing gets a clean and simple Mobil 1 scheme for 2017. Bowyer's SHR teammates (Harvick, Busch) will all run the same scheme in different colors sometime this season.
•  No. 19, Daniel Suarez "" Arris. Following Carl Edwards's unexpected retirement, 2016 Xfinity series champion Daniel Suarez will take the reins of the 19 car. His 2017 car is a watered-down version of Carl's 2016 Arris "Surfboard" paint scheme.
•  No. 20, Matt Kenseth "" DeWalt. With DeWalt covering most of Kenseth's 2017 races, the sponsor returns to a basic "standard" style paint scheme (unlike his 2016 FlexVolt and patriotic schemes).
•  No. 24, Chase Elliott "" NAPA. In his sophomore year, Chase Elliott will keep his 2016 scheme with an additional touch of yellow.
•  No. 31, Ryan Newman "" Caterpillar. Unlike any other CAT scheme in recent history, Ryan Newman's 2017 ride will use white as its primary color and significantly reduce the once-primary yellow color.
•  No. 48, Jimmie Johnson "" Lowe's. Despite ditching the iconic yellow door numbers that Jimmie used in 6/7 Championship seasons, the 48 car will once again have neon yellow highlights. The last time yellow was found on the primarily blue scheme was in 2008.
•  No. 55, Michael Waltrip "" Aaron's. In his final Daytona 500, two-time winner Michael Waltrip will run a scheme that's a tribute to his career in NASCAR. The car includes a photo collage of images from Michael and his brother Darrell's NASCAR careers.
•  No. 77, Erik Jones "" 5-Hour Energy. Cup Series rookie Erik Jones will run a sleek 5-Hour energy paint scheme for most of the season.
•  No. 78, Martin Truex Jr. "" Bass Pro Shops. With only a few changes, the neon orange and camouflage return to Truex's Bass Pro Shops scheme for 2017. In two years of sponsorship, this is the third different primary scheme for BPS on the 78 car.
•  No. 88, Dale Earnhardt Jr. "" Nationwide Chevy. Nationwide has had three paint schemes in as many years. For 2017 they ditch the primary silver color and go with a clean, retro white and blue look.
———
Thanks, Joseph. Everyone enjoy the race on Sunday.
•  •  •  •  •
ESPN reminder: In case you missed it yesterday (and you probably did, because it didn't post until late in the afternoon), my latest ESPN column looks at five things we've learned so far from the NBA's uniform ad program. Check it out here.
RSS update: For those of you who've been having trouble with the Uni Watch RSS feed, webmaster John Ekdahl says to try this or this, both of which appear to be working. Let me know if you have any further problems. Thanks.
•  •  •  •  •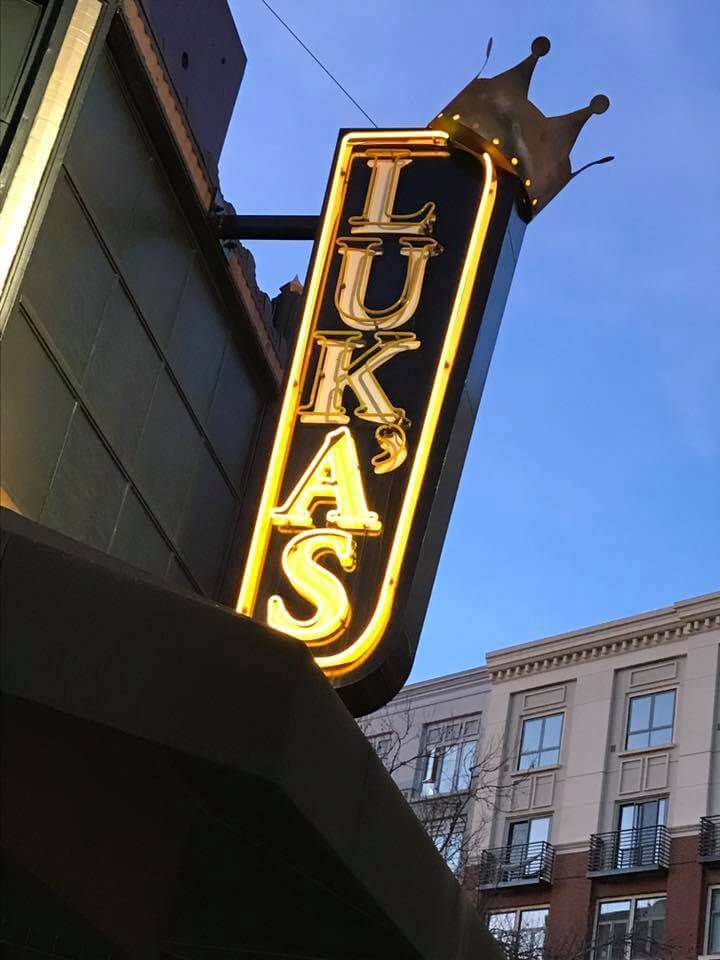 And the crown is a nice touch: My friend Tom Lupoff just told me about this sign for a bar called Luka's (see above), which is in his hometown of Oakland. Not bad, right? It's not often that I get to see my surname on display like that.
Okay, so there's that pesky apostrophe, but it's so badly placed that it's easy to ignore it. All of which recalls a topic we explored in 2015: the eternal conundrum of where to put the apostrophe in a vertically lettered sign.
•  •  •  •  •
T-shirt reminder: Our latest T-shirt, designed by the great Todd Radom, is now available. Check it out (click to enlarge):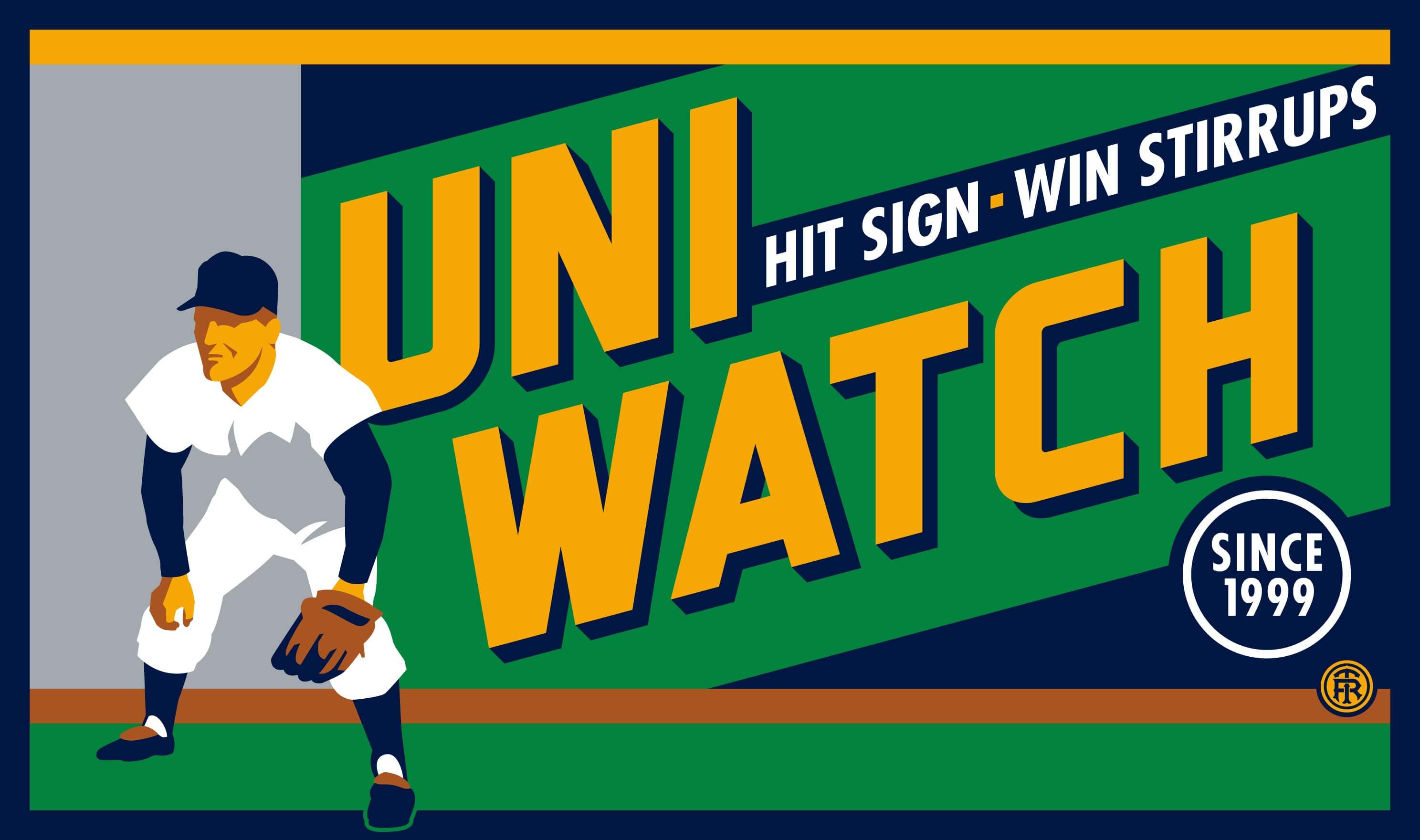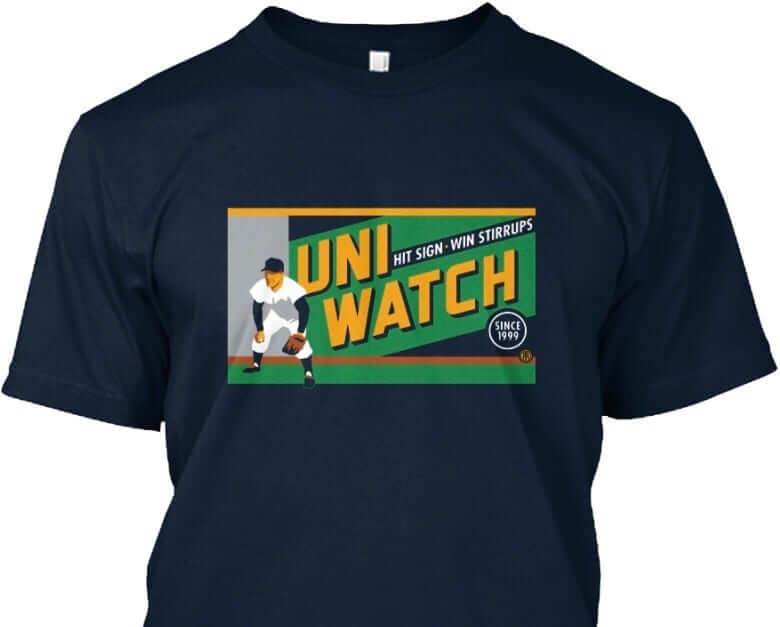 The design takes inspiration from the old Abe Stark sign at Ebbets Field, which read, "Hit Sign, Win Suit." Please note that we're using the shirt fabric color to fill in the dark portions of the design — the outfielder's cap, sleeves, stirrups, and shoes, and the dark parts of the sign behind him. We think it looks best on Teespring's dark navy shirt, which is the version shown above. But you can also order the shirt in black (yes, go ahead and make all your BFBS jokes), in which case the design will look like this: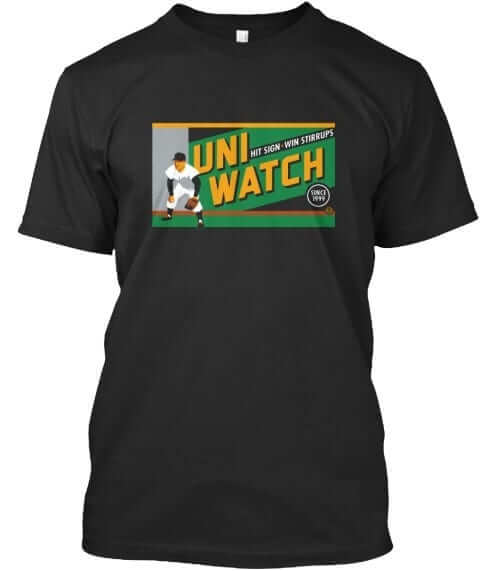 There's also an American Apparel short-sleeved version and a long-sleeved version, both of which come in a slightly lighter shade of navy. You'll be able to see all of this on the ordering page. Just make sure you choose the shirt and color you like best.
The shirt is available here through next Friday, March 3. My thanks, as always, for your consideration.
•  •  •  •  •
The Ticker
By Paul

Baseball News: The Pirates have changed the name of their spring training ballpark from McKechnie Field, named in 1962 after former manager Bill McKechnie, to LECOM Park, after the Lake Erie College of Osteopathic Medicine. Problem is, nobody told Bill McKechnie's daughter, who was not happy about her father's moniker being removed from the facility (thanks, Mike). … New name, but less drama, for the Mets' spring ballpark as well. … Here's a round-up of the latest Brandiose slop this season's MiLB makeovers (thanks, Phil). … The White Sox will retire Mark Buehrle's No. 56 on June 24. … Some Iowa players wore gorgeous striped stirrups, while others went with pajama pants, for the team's home opener the other day (from Jesse Gavin). … The World Baseball Classic had advertising on players' jerseys and helmets in 2013, and they're doing it again this year (from Jesse Agler). … New Royals- and Monarchs-themed package design for the KC-based Boulevard Brewing Company's KC pils beer (from Sean Patton). … Whoa, some players in Indians camp appear to have vertically arched NOBs (from Robert Hayes). … Here are the Bowie Baysox's original logo specs from 1993 (from Blake Pass).

NFL News: Check out this 1973 footage of Broncos DL Pete Duranko. He appears to have had his tailbone pad attached to a belt or girdle. I always thought those pads snapped into the pants (good spot by Scott Mason). … We've all seen helmet carts before, but did they all come complete with the suspension webbing like this 49ers model? (From Bill Kellick.) … If you miss Giants Stadium, there's a 20′ x 17′ replica of it in Blairstown, N.J. (from Jon Volpe).

College and High School Football News: A university in Wales has a football team whose helmets use Auburn's logo (from Andrew McCain). … A beautiful 1909 Alabama letterman sweater is up for auction (from Mark McCollister). … Jerry Kulig recently visited the College Football Hall of Fame in Atlanta, where a few uni-related items caught his eye. "This is Willie Totten's jersey from Mississippi Valley State," says Jerry. "He threw a lot of passes that were caught by Jerry Rice. They probably chose those unique shoulder numbers due to no TV exposure. And this is a repro of a 1962 helmet that Navy wore against Army. It reads 'Beat Army' in Chinese, designed to mock the Army's then-famous swarming defense, nicknamed 'The Chinese Bandits.'" … The National Federation of State High School Associations has approved a bunch of football rules changes. Key passage: "[E]ffective with the 2021 season, 'the jerseys of the home team shall be a dark color that clearly contrasts to white.'" A source quoted in the article explains, "The committee revised the rule to provide schools and manufacturers more clarification regarding the game's current trend of utilizing lighter gray shades." … There's a new Virginia Tech uniform tracker on Twitter (from Andrew Cosentino).

Hockey News: NHL and AHL team logos reimagined as My Little Pony characters, and put on T-shirts? Sure, why not (blame Rob S.). … P.K. Subban of the Predators warmed up with rainbow-themed pride tape on his stick for the Preds' "You Can Play" night (thanks, Alex). … The Flyers surprised two local youth teams by showing up at their rink and providing them with Stadium Series jerseys with the youth players' NOBs (from John McMunn).

NBA News: The Pistons are announcing some sort of partnership with Ford this afternoon, but it will apparently not involve a jersey ad. … "Looks like the Celtics experimented with a new number font late in the Bird/McHale era," says Matt Simpson. "Here's the traditional font, here's Bird with the traditional font while McHale has a different font, and here's the whole team with the new style." … Boogie Cousins apparently chose to wear No. 0 with the Pelicans to symbolize his "new life" with a new team (from Zach Loesl). … The Cavs wore burgundy at home last night, with the Knicks wearing white on the road (thanks, Mike). … The Pelicans wore their sleeved purple Mardi Gras jerseys last night, with the Rockets wearing white on the road.

College and High School Hoops News: Oh man, look at the awesome Idaho State jersey the defender is wearing in this photo (big thanks to Sean L). … Dustin Semore was watching footage of the old Bobby Knight chair-toss incident and noticed that someone at the scorer's table appears to have been wearing a zebra-striped pinny. … Moorehead State has a very busy court design (from Justin Schmidt). … A guard on the Northwestern women's team was bringing the ball up the court and stopped to tie her sneaker, leading to a steal for Rutgers (thanks, Mike). … According to a video report on this page, short shorts are becoming a trend for Iowa high school teams (from Jesse Gavin).

Soccer News: The Columbus Crew will announce a new jersey sponsor advertiser today at 11:30am Eastern (from Paul Zielinski). … New "heritage kit" for the Seattle Sounders. … Speaking of the Sounders, championship stars will now appear on their replica jerseys, not just on the authentics (thanks, Phil). … Also from Phil: Toronto FC's home jerseys were briefly leaked.

Grab Bag: Interesting times in the newspaper biz: The Washington Post has a new motto, and The New York Times has a new marketing catchphrase. … The police department in Newtown, Conn., is changing its uniforms from grey to dark blue. … The Mirfield Stags, a rugby league club located in Patrick Stewart's hometown, have been wearing Star Trek: The Next Generation-themed jerseys (from our resident rugby expert Eric Bangeman). … The city of Orlando has announced a contest to design a new city flag (from Tom V). … A United Arab Emirates figure skater competing at the Asian Winter Games wore a hijab on the ice.