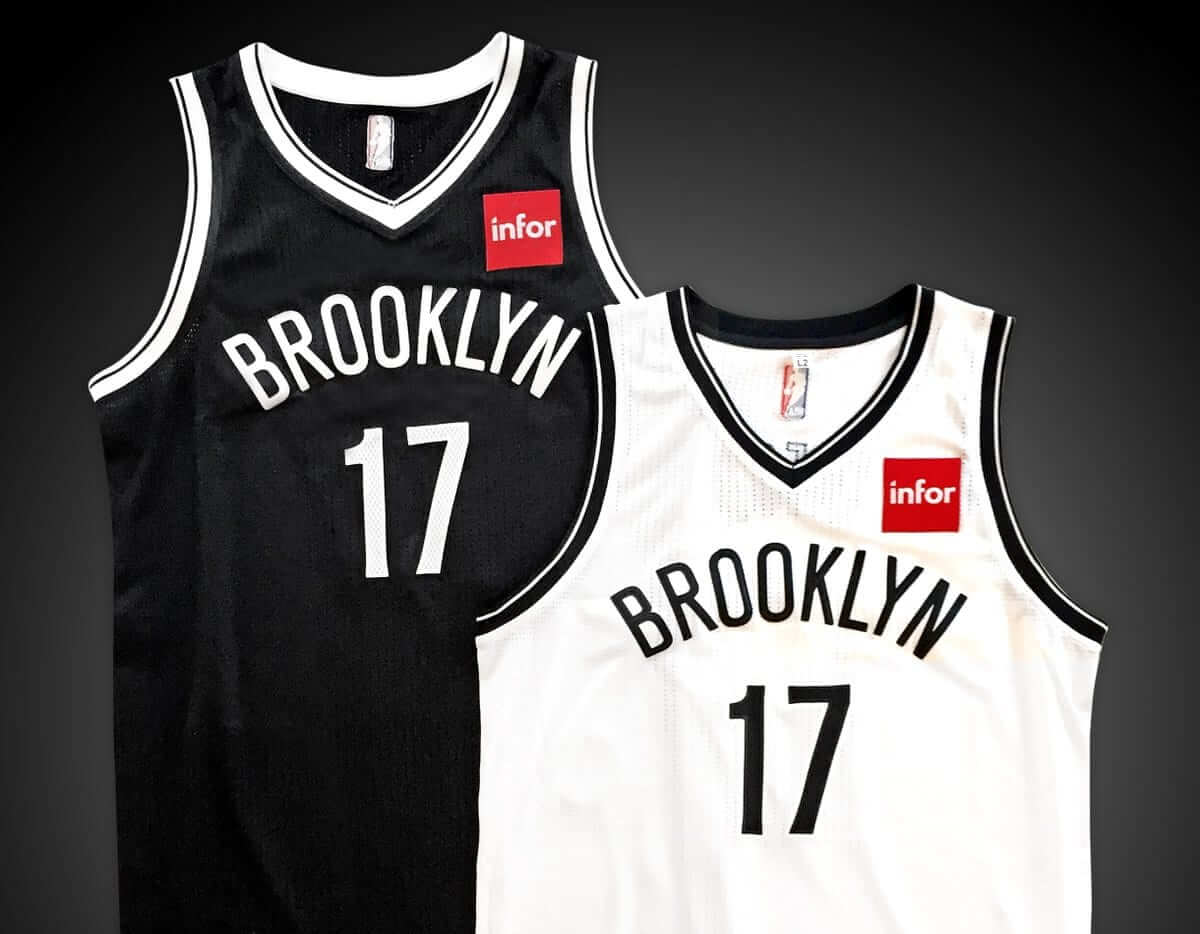 Click to enlarge
Shortly after I posted yesterday morning's Uni Watch entry, the Nets became the latest NBA team to announce that they'll have a uniform advertiser next season. They're going with the software company Infor.
ӬSome thoughts:
•  I confess that I'd never heard of Infor until yesterday. I don't know if that says more about me or about them. Either way, I guess you could say the ad is already working, because I know about them now.
• Just like the Celtics' GE partnership, this move shows how wrong I was in assuming that all of the NBA ads would be for lifestyle brands. Instead, the GE and Infor advertising deals both call for the companies to provide data-analytics services to the respective teams. I'm still pretty sure we'll see a lot of lifestyle companies getting on board, but maybe tech/data services will also end up forming a significant category among the advertisers.
•  The Nets have made a big point of being tied to Brooklyn. They use "Brooklyn," rather than the team name, on their home and road jerseys (and on several of their alternates as well), they've gone out of their way to make Brooklyn-made food and beverages available at their arena, and so on. So is Infor a Brooklyn-based company? Nope — their headquarters are in Manhattan. I wonder how hard, if at all, the Nets tried to land a Brooklyn-based advertiser.
•  Unlike the ad patches for the 76ers, Celtics, and Kings, all of which were rendered in or near team colors, the Infor patch clashes badly with the Nets' color scheme. Just about any ad patch would have ruined this uniform's minimalist design, but the non-team color makes it a lot worse.
•  Related to the above: Several readers (including Tim Forster in yesterday's comments section) have already wondered if the red patch will become the tail that wags the Nets uni dog. In other words, how long before the Nets have a red-accented or even solid-red jersey, just to go along with their sponsor advertiser?
•  This is the first square NBA uniform advertisement we've seen, and it's clear that square is the worst possible shape for these ads. It just doesn't fit well in the allotted space and encroaches too close to the chest mark. Which I guess is great news for the advertiser but not for the rest of us.
•  I live about nine blocks from the Nets' arena. Guess I'm gonna be seeing a lot of Infor billboards in the neighborhood. Sigh.
Meanwhile, last night Bloomberg reported that the Cavs have inked a uni-advertising deal with Goodyear (which is headquartered in Akron — LeBron James's hometown). Neither the team nor the company would comment, but Bloomberg is the kind of media company that wouldn't publish this kind of story unless their sourcing was airtight, so you can believe this one.
As the news spread last night, a few fans mocked up what the Goodyear logo might look like on the Cavs' uniforms:
@PhilHecken @UniWatch my best guess at what the patch we'll see next year will look like. Could be better, could be worse. Meh. pic.twitter.com/QDgqzqaaE5

— Joe Gemma (@JoeDGemma) February 9, 2017
@UniWatch @PhilHecken @sportslogosnet Here's a mockup I made. pic.twitter.com/IGfItGhLyv

— Robert Hayes🐧 (@GuitaristRobDog) February 9, 2017
@hoops78910 @PhilHecken @UniWatch @sportslogosnet Here's an updated mockup with just the logo then. pic.twitter.com/8RZTICLuW0

— Robert Hayes🐧 (@GuitaristRobDog) February 9, 2017
•  •  •  •  •
Click to enlarge
Chargers contest results (finally): After several delays, the results of our Chargers-redesign contest (submissions for which included Alex Rocklein's design, shown above) are finally available — enjoy.
•  •  •  •  •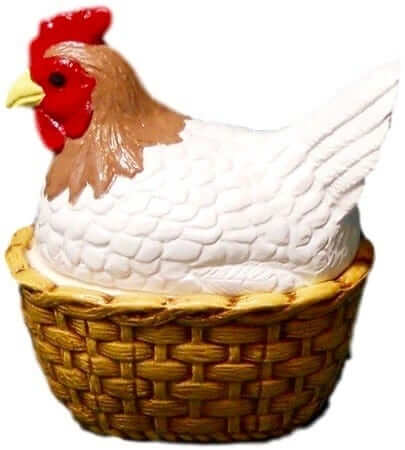 Basket case: When I was a kid, we'd often go to restaurants whose menus featured Fried Chicken in the Basket (and sometimes Fried Shrimp in the Basket as well). We all know what that is: fried chicken served in a plastic basket, sometimes with French fries.
As I got older and learned to understand the difference between definite and indefinite articles, I became intrigued by the wording. Why was the chicken always described as being in "the basket" rather than simply "a basket"? It was like we were all supposed to know which basket it was in. Not just any basket — the basket. It made no sense at all, and maybe that's why I liked it so much. Later, in the mid-1990s, I wrote an article about odd menu-wording conventions and spent a few paragraphs talking about the whole "the basket" thing.
Yes, there are other food names that use the definite article, like corn on the cob and oyster on the half-shell. But those names refer to something that's part of the food itself, not to an external item like a basket.
All of which brings me to last night, when I was going through the menu at a Brooklyn diner and saw the following: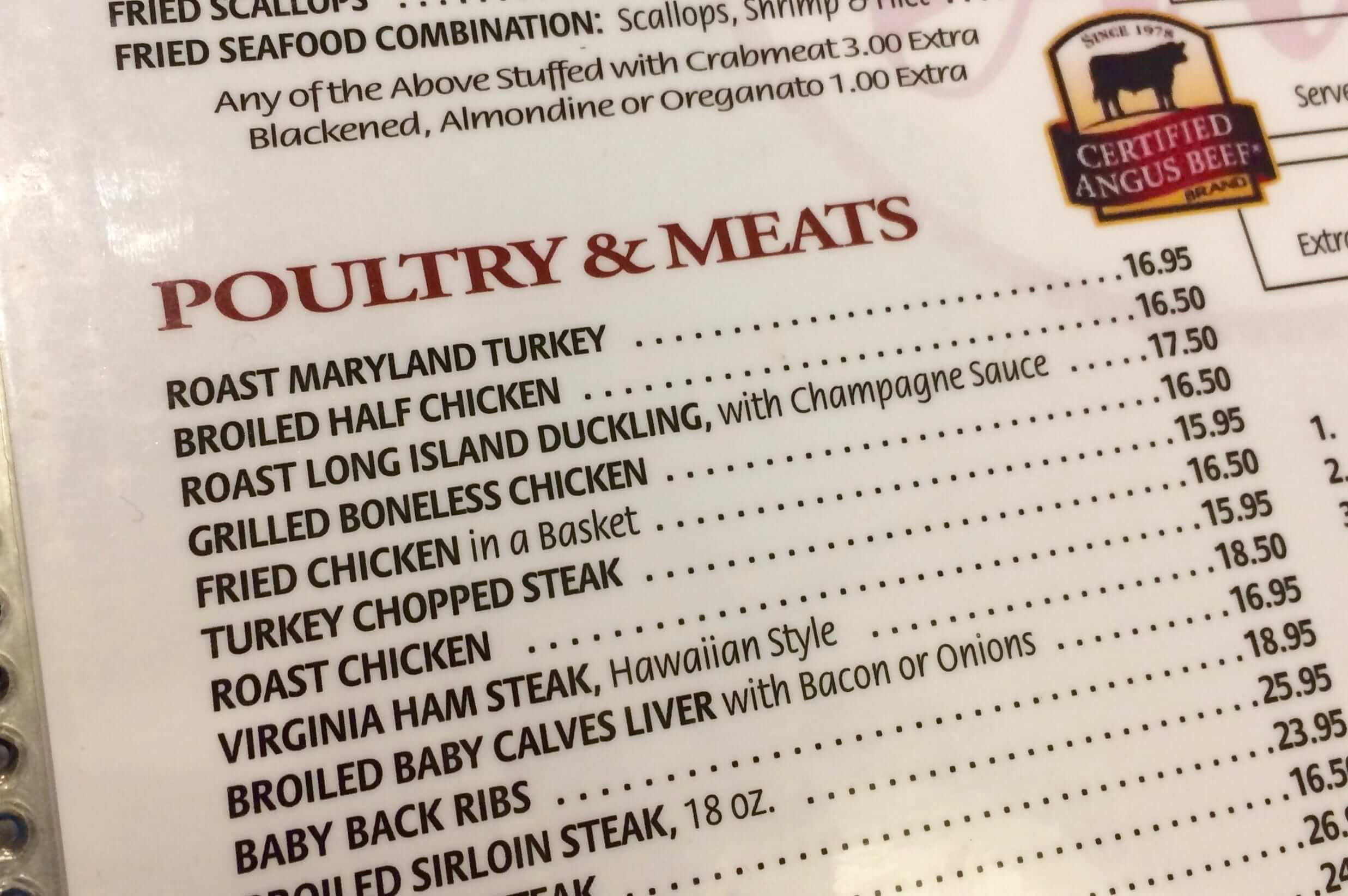 And there it is: "a basket." Pretty sure I've never seen it styled that way before. It definitely makes more sense, but somehow it's not as satisfying. Now it's just any old basket, not the basket. Pfeh.
(Footnote: I got a pork sandwich.)
•  •  •  •  •
The Ticker
By Mike Chamernik

Baseball News: The Reading Fightin Phils will wear Whoopie Pie-themed jerseys for a game in August. The cake-like cream sandwich originated in the region (from Patrick O'Neill). … The Sacramento River Cats will wear A League of their Own-themed jerseys in September (from @SFGiantsTorture). … A gang in Chicago has a sign that looks like the Mariners' trident logo (from Steve Johnston). … Today LSU will reveal eight uniforms that honor the program's 124-year history (from Jeremy Poursine).

NFL News: A toy company is selling mini replica helmets in teams' secondary colors. Kurt Crowley likes the Saints' black version. … Arm pads were pretty intimidating 40 years ago. Ray Hund found a bunch of examples. Interesting that nobody wears them today — players all go bare-armed. … Looks like Hall of Fame offensive tackle Anthony Munoz had a tilde on the NOB of one of his Pro Bowl jerseys. From what I saw, he didn't have one on his Bengals jerseys (from @LouiseBrooksFC). … San Diego residents want to change the name of Charger Boulevard (from William F. Yurasko). … People who worked security at the Super Bowl grabbed "Atlanta Falcons Super Bowl Champs" merch.

Hockey News: A note in this game story says that tonight the Panthers will wear white at home for the first time in years (from @tubby34). … The logo and uniforms were unveiled for the Jacksonville IceMen, an ECHL team that relocated from Indiana (from Aaron Scholder). … Here are some neck ties made of game-worn Rangers and Yankees jerseys (from David Firestone). … A Canadian man was pulled over for trying to clear a snowy street with a Zamboni. Sounds like the opening to a joke, right? (From Ted Arnold). … A member of the UAE women's national team wore a Caps jersey and practiced with the team (also from Ted Arnold).

Basketball News: A D.C. hoops blog wonders why the Wizards still have that name (from William F. Yurasko). … Another BIG3 team name and logo has been revealed: The Trilogy. … The Bucks announced that their new D-League team will play in Oshkosh, Wis., next season (from JohnMark Fisher). … NBA guard Shelvin Mack's high school retired his jersey. Yes, Bryan Station once used that wacky font (from Josh Claywell). … The Bucks are selling some cool merchandise based on the 1977 NBA All-Star Game, which was held in Milwaukee. While that beer mug logo is awesome, the Gothic lettering on the East's jerseys is even better (from @NYisBLUE). … A team at the Hoophall Classic wore jerseys with a lowercase cursive-with-spaces double-decker typeface (from @LouiseBrooksFC). … Here's Nevada's new "Battle Born" uniform on the court (from @micahsoga). … Yesterday's Ticker mentioned that Jonas Jerebko of the Celtics had suffered a broken nose and would start wearing a mask. And sure, enough, he wore one last night (from Stephen Hayes). … Auburn wore their alternate "Tigers" uniforms Tuesday night, the first time the team has ever worn its name on a uniform (from Clint Richardson).

Soccer News: Most MLS teams will roll out new uniforms for the 2017 season. The Houston Dynamo will unveil a new kit tonight (it may have already leaked), Sporting Kansas City will introduce new primary kits tomorrow, and Orlando City SC will reveal their new kits on the 17th (from Kenneth Turner, Ryan Burchett, Phillip Foose, Robin Murphy, and @bdh_photos). … The company that holds the naming rights for FC Nürnberg's stadium is letting fans hold a crowdfunding campaign to rename it to Max-Morlock-Stadion, which honors one of the best players in club history (from James Gilbert). … The seats at the Deepdale stadium in Preston, England, show the faces of famous Preston North End players (from Ben Traxel).

Grab Bag: Adelaide Crows player Heather Anderson wears pink protective headgear to help her visually-impaired mother identify her (from Graham Clayton). … A few local groups are fighting a Vermont high school's decision to drop the "Rebels" nickname (from John Pritchard). … Under Armour CEO Kevin Plank, whose company has had its credit rating cut to junk status, says he's excited that a pro-business president is in the White House. He called President Trump an asset, to which Stephen Curry, UA's most visible athlete, responded: "I agree with that description, if you remove the 'et'" (from Tommy Turner). … UNC student managers put decals on the men's lacrosse team's new helmets (from James Gilbert).
•  •  •  •  •
Today is the Tugboat Captain's birthday, so I'm going to be very busy tonight. Apologies in advance to any Ticker contributors whose submissions might get lost in the shuffle.