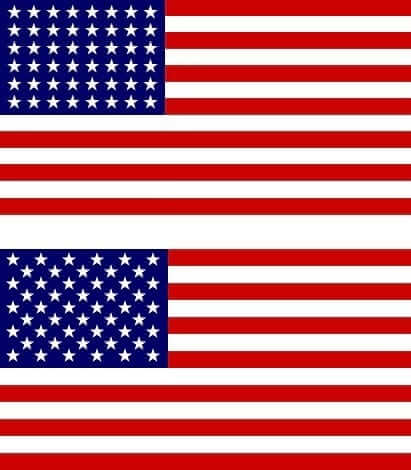 At right are two American flags. The top one is a 48-star flag, which was used from 1912 through 1959; beneath it is the more familiar 50-star flag, which was adopted after Alaska and Hawaii joined the union.
It's hard to tell the difference between 48 of something and 50 of something, but it's easy to tell the difference between these two flags because of the difference in the way their respective stars are arranged. The stars on the 48-star flag are aligned in six identical rows, while the stars in the 50-star flag are sequenced nine rows of alternating lengths — a six-star row followed by a five-star row. You don't have to count the stars in order to tell which flag is which.
All of which leads us to a back-and-forth I had during the third quarter of the Super Bowl with longtime Uni Watch reader Marty Buccafusco (who's from Georgia and was, obviously, rooting for the Falcons). Here's how our exchange went:
.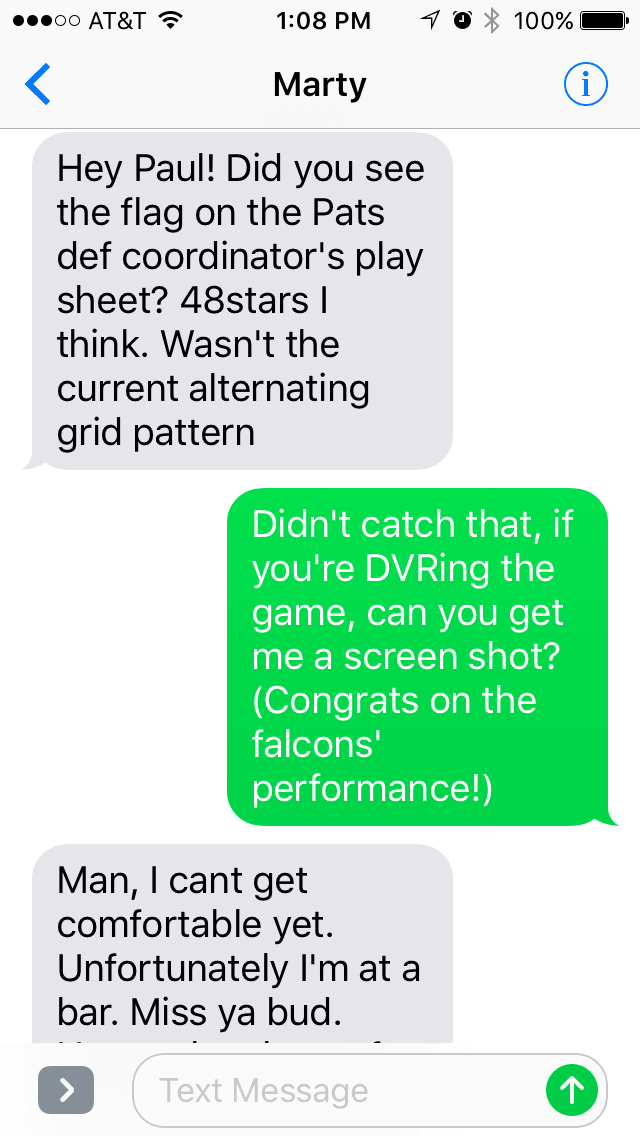 The Pats defensive coordinator Marty was referring to is Matt Patricia. But Marty wasn't in a position to get a screen shot, and neither was I, and the end of the game got pretty intense, so the issue of Patricia possibly having a 48-star flag on his play-calling card got lost in the shuffle. I had already forgotten about it by yesterday afternoon, when reader Bryan Duklewski posted the following item in yesterday's comments:
I didn't pause the game to get a screen shot, but sometime in the third quarter the camera zoomed in on Patriots defensive coordinator Matt Patricia. Patricia held his play card up to cover his mouth, as most coordinators do, and I noticed that he had a 48-star American flag on his play card. This is instantly noticeable because the stars on the 48-star flag are aligned, instead of offset like on the 50-star flag. It looks like this has been the case all year.
That was the kick in the pants I needed to investigate further. I couldn't find any photos of Patricia from Sunday's game that provide a glimpse at his play-calling card. But here's a shot from New England's Dec. 12 game against the Ravens, along with a close-up of the flag: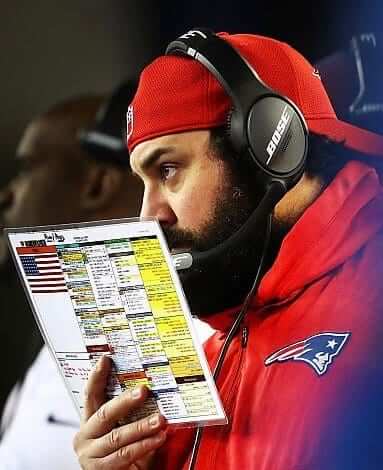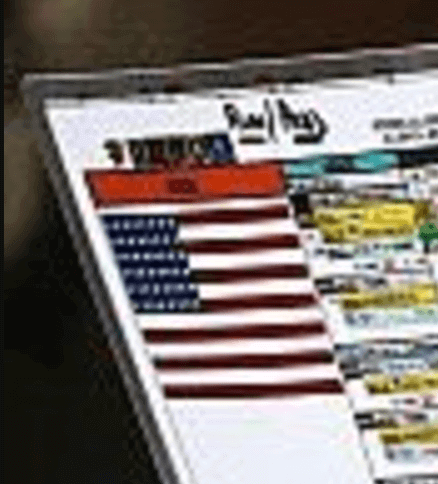 Yup, that's a 48-star flag. Want to see another example? Here's a shot of Patricia from New England's Oct. 23 game against the Steelers, along with another close-up:
Faaaaascinating. I tried to find out if anyone has ever written about this but came up empty — apparently nobody has ever noticed before. I already know from past experience that I won't get an answer from the Patriots about this one, at least not now. They're too busy planning their victory parade and all that. Maybe I can get an answer about this (and also about Bill Belichick's pullover with the Pats logo removed) at some point in the spring. Stay tuned.
One other note about Patricia: When the Pats arrived back in Boston yesterday, he was wearing a T-shirt that depicted NFL commish Roger Goodell as a clown.
Meanwhile, I'm very pleased to see that at least two Uni Watch readers are attuned to the nuances of American flag design. Nice work, Marty and Bryan!
•  •  •  •  •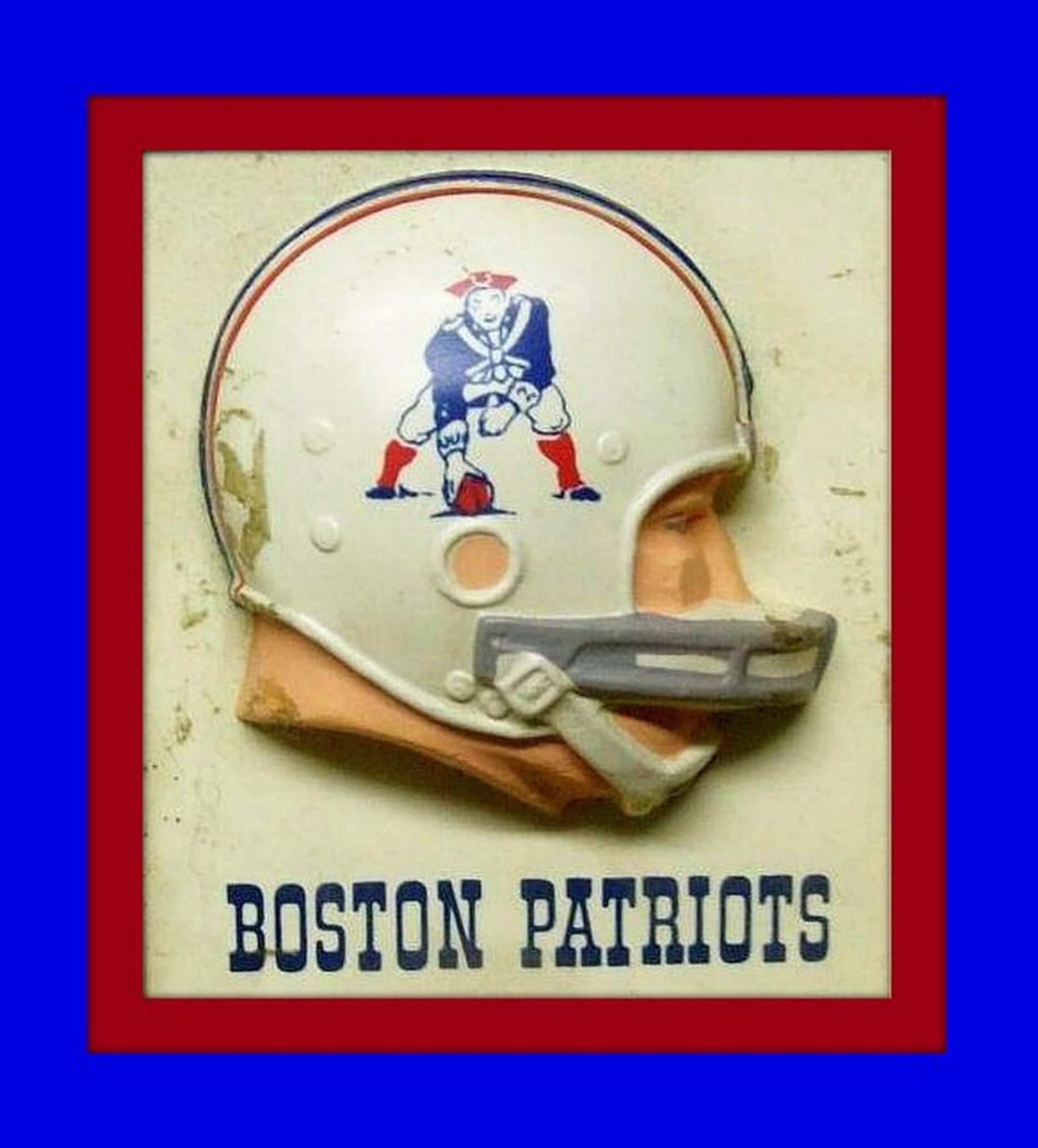 Collector's Corner
By Brinke Guthrie
If you read the NFL section in Saturday's Ticker, you may have seen that there's a seller on eBay who has a big selection of Technigraph helmet plaques, including this small 3-by-3.5-inch size Boston Patriots plaque. (That seller also has a rare black Saints helmet plaque.) Another eBay seller also has a Atlanta Falcons plaque for sale.
Now for the rest of this week's picks:
•  One more Pats item: this classic 1960s poster.
•  Here's an interesting-looking thermal mug for "Super Bowl '73." No league branding, no Roman numeral. And the QB is wearing No. 29!
•  Check out this 1960s Boston Red Sox lunch box!
•  Yes, friends, the merch-verse used to include shorts, as was the case with this 1970s-80s pair of 49ers shorts, made by Champion.
•  I remember seeing these Vikings sweatshirts! I recall thinking that the large "M" and the large "V" looked rather dorky, and here they are. This is another item made by Champion, which did quality NFL work back in the day.
•  One more Vikings/Champion item for you. Do you think those jersey numbers need to be a bit bigger?
•  Have we ever seen a NFL helmet decal — in this case for the New York Football Giants — with the chinstrap featured so prominently? [That's definitely a new one to me. "" PL]
•  One more Giants item — a vintage mug with "art like Dave Boss."
•  Staying with New York football, here's a vintage 1960s Jets pennant, and the player is wearing pink or red. Note the plane that looks like a fighter jet, shooting footballs. And New York's "picture newspaper," The Daily News, loved those Jets and said so on this 1970 button.
•  This 1970s MLB edition Lionel train car included logos for all then-current teams.
•  Always wondered about the font they used on this late-1960s Cincinnati Bengals gumball helmet. Just didn't get it right.
•  When you're making an NFL glass for the Steelers and you've only got red and black to work with for colors, the trio of hypocycloids in the Steelers logo are gonna be red!
•  •  •  •  •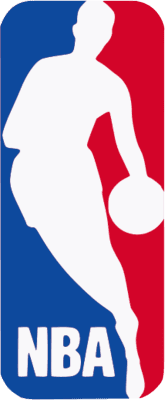 Zach's NBA Report
By Zach Loesl
Two of last night's games were color-on-color: Suns vs. Pelicans in New Orleans and Wizards vs. Cavaliers in Washington. I am a huge fan of color-on-color when there is one very light color and one dark color. This way, there is noticeable contrast between the colors, and the matchup looks great on television.
The Grizzlies once again wore their Martin Luther King-themed uniforms, forcing the San Antonio Spurs to wear white on the road.
I'm not a big sneaker-head, but when a player's shoes feature a unique design, I'm definitely a fan. Case in point: Dwight Howard of the Hawks wore shoes honoring MLK during last night's game against the Jazz. (Getty Images always does a fantastic job of getting zoomed-in shots of of the players' footwear.)
The Kings have an advertisement for DraftKings on their backboard post. Hmmm, Draft Kings and the Kings — seems like a natural pairing. (Also: In that same photo, look at Ben McLemore with those Northwestern-striped socks!)
Finally, I've noticed that the Knicks are the latest team to feature advertising on top of the scorer's table.
Zach's NBA Report will be appearing periodically on the site after busy days on the NBA schedule.
•  •  •  •  •
Chargers-redesign update: I'm now told that the results of our "Redesign the Chargers" contest will run on ESPN either tomorrow or Thursday. Sorry about the delay, but it's out of my hands. The ESPN football editors want to focus on the Pats' parade, the new 49ers coach, etc. Lesson learned: In the future, I should avoid running NFL-related contests around the time of the Supe.
You can still see all of the redesigns that were submitted here. Thanks for your patience.
•  •  •  •  •
The Ticker
By Mike Chamernik

Baseball News: The Marlins will wear a black and white No. 16 chest patch for Jose Fernandez this season (from Phil). … The A's will hold a ceremony on Opening Night to rename their field "Rickey Henderson Field." … Last week it was announced that new Twins pitcher Matt Belisle will wear No. 9, becoming a rare single-digit pitcher. Kenny Kaplan has known Belisle since the early 1990s, so he asked about the switch. Belisle responded: "Simply just liked the number and there were not many choices. I didn't realize people would make such a big deal over it. It's just a number." … New grass is being laid down at Minute Maid Park. … A Cleveland Spiders entry was named the winner of Cleveland Scene's Redesign the Tribe contest (from Ben Peters, the winning designer). … "The 1970 Reds spring training program artwork of Riverfront Stadium in Saturday's Ticker shows a field orientation that was different from the real thing," says Brice Wallace. "The baseball diamond 'pointed' downstream, not toward the city. The drawing likely was based on early renderings and models." … Mimicking the pros can get expensive. An unnamed reader says that his son's youth team has practice uniforms, along with home, road, and alternate game unis. "Throw in the mandatory matching custom embroidered gear bag and we have nearly $1,000 invested in an 11-year-old's baseball season," he says.

NFL News: Here's an early look at next year's Super Bowl logo (from @r_vela01). … Some stores in Georgia had Super Bowl title merch ready on Sunday night (from Charlie Richards). … A design studio imagined how football helmets might evolve by 2030 (from Dan Kennedy). … Much like the Golden State Warriors, the Falcons blew a big lead with a championship at stake, leading to this logo concept (from Matt Dudreck). … Here's a cool animated graphic that shows the history of Super Bowl halftime shows (from Andrew Hoenig). … The Connecticut company that makes Super Bowl championship apparel for the Patriots has a phantom "perfect season" shirt on display.

Hockey News: The studio that redesigned HC CSKA Moscow's logo and uniforms gave a deep dive into the design process (from YinFeng Shao). … Arizona Cardinals WR Larry Fitzgerald wore skates for the first time during a practice with the Coyotes. … The Panthers' equipment manager did a Q&A on Reddit. … Here's a rare shot of a mask that Penguins G Tom Barasso wore for only one game in 1992.

Basketball News: The D-League's Delaware 87ers will wear stars and stripes uniforms this Friday for First Responders Night. … Kansas and Kansas State went blue-vs.-grey last night. Since K-State has bluish-purple accents, it was a little tough to tell the teams apart when I was watching. … Nevada will wear black "Battle Born" unis on Wednesday against rival UNLV (from @micahsoga). … Holy Cross and Bucknell went purple-vs.-orange last night (from @_cap22).

Soccer News: New secondary jersey for the Chicago Fire (from @bdh_photos). … New third jersey, it seems, for USA Soccer (from Paul Lewis Jr.). … New uniforms for the Vancouver Whitecaps. That "rain" jersey is really something (from Vancouver resident Wafflebored).

Grab Bag: The Rutgers athletic program will switch from Nike to Adidas this summer (from Phil). … Air Jordan 1 golf shoes with a Michael Jordan Bulls color scheme are coming out this Friday (from Phil). … A self-taught graphic artist designed a new logo for a village in Florida. … New logo for the TV network Bravo.