The second Super Bowl I ever watched was SB VII in 1973 — Miami vs. Washington. I was only eight years old at the time, so maybe I can be forgiven for not noticing one of the game's more uni-notable aspects: Washington quarterback Billy Kilmer played the entire game without a chinstrap! (You can see a larger version of the photo above here, and there are lots of additional photos of Kilmer from that game here.)
Kilmer was one of several players, including several quarterbacks, who routinely went strapless back in the early 1970s. Another was Bears quarterback Bobby Douglass, who rushed for a QB-record 968 yards in 1972 without a chinstrap — which sometimes left him without a helmet: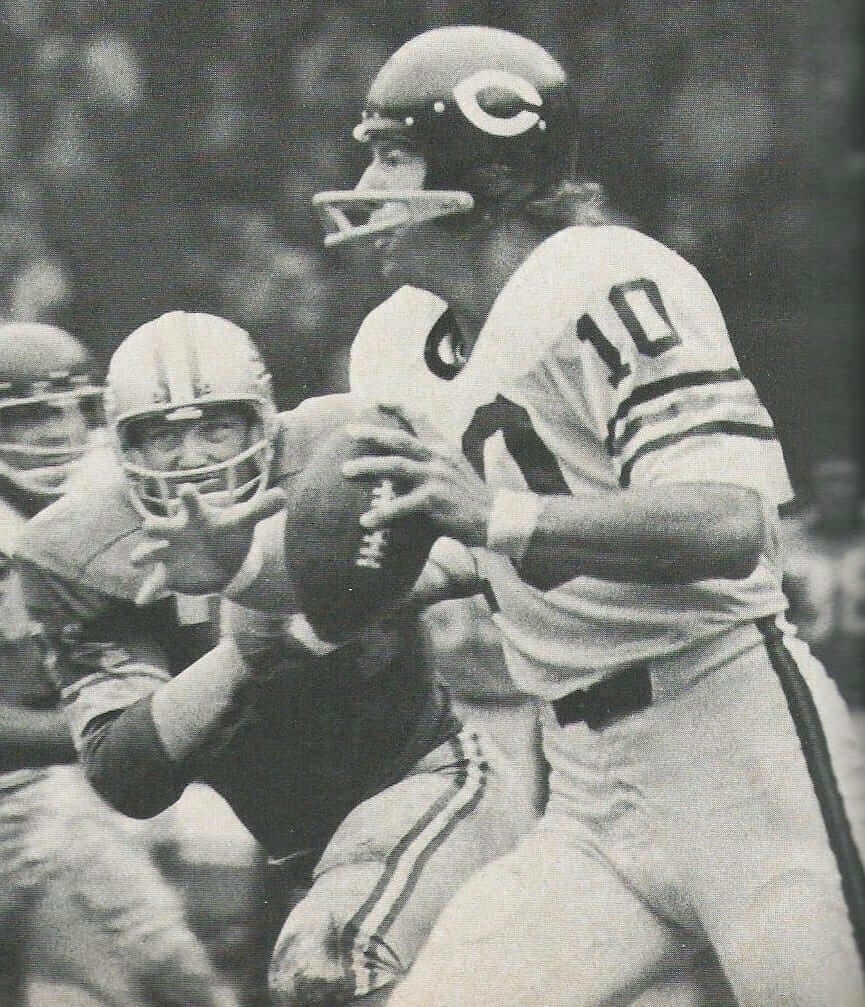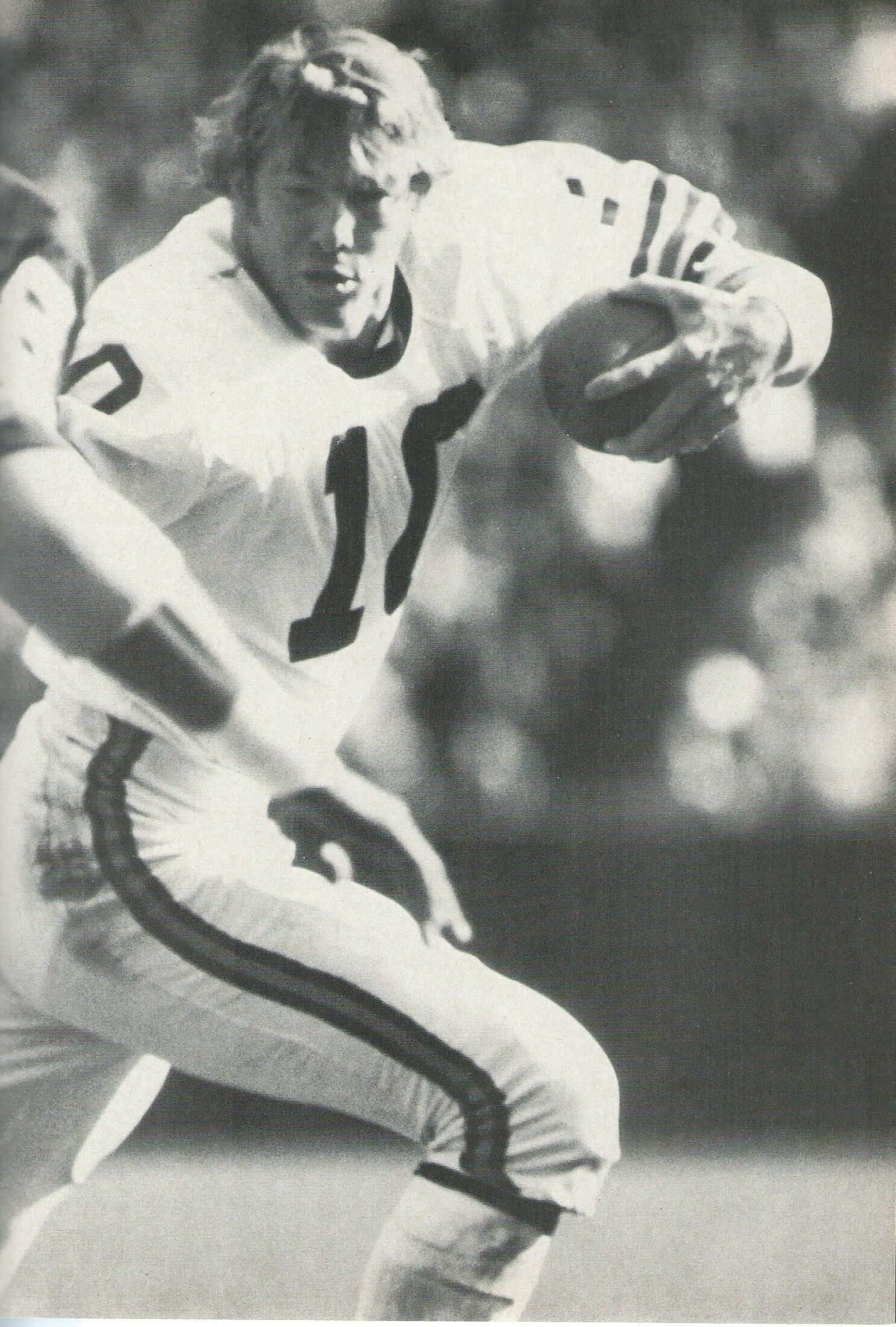 Steelers quarterback Terry Bradshaw also played without a chinstrap in 1972. In fact, he was strapless when throwing the pass that resulted in the famed "Immaculate Reception" play in December of that year. It's a little hard to see that in video of the play, but you can see Bradshaw wearing his strapless helmet while consulting with coach Chuck Noll during a timeout just prior the play (if the video doesn't start at the right spot, skip ahead to the 3:24 mark).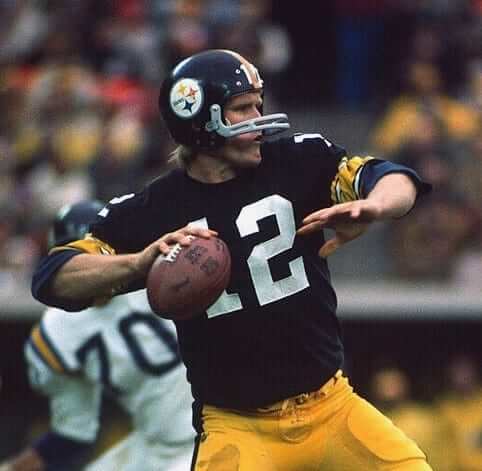 (As an aside, I specifically remember that Bradshaw's teammate Joe Gilliam would sometimes line up under center with his chinstrap unbuckled and just dangling on one side, but I've been unable to find photographic evidence of this. Anyone..?)
But going strapless wasn't limited to quarterbacks. The most famous example is probably Hall of Famer Don Maynard, who eschewed chinstraps but kept his headgear secured to his noggin by having special cheekbone-level inserts added to his helmet, as seen here (click to enlarge):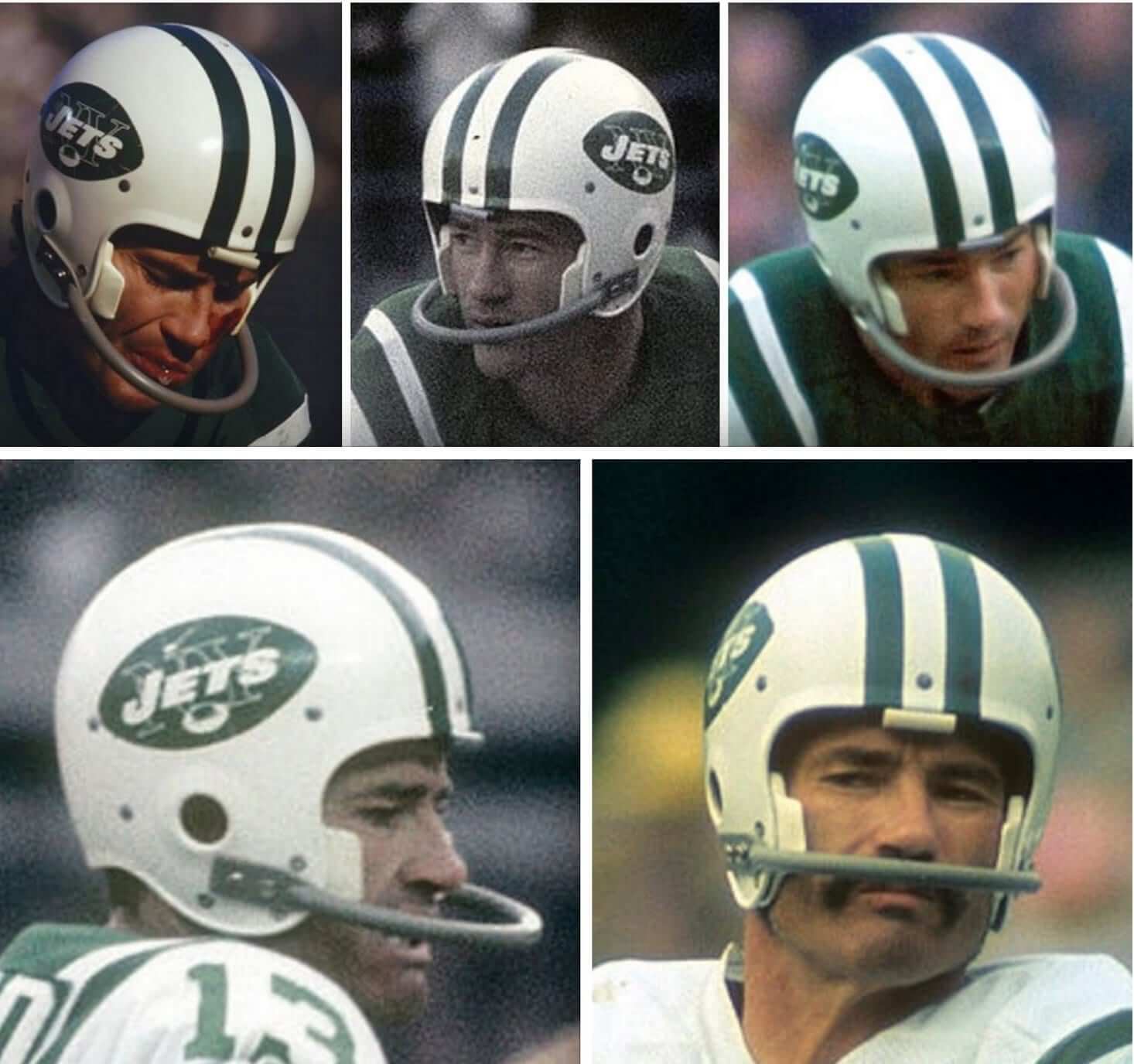 The folks at Schutt have told me that Maynard's inserts were the inspiration for the little stabilizer tabs on several of their helmets. (Of course, Schutt helmets also have chinstraps, but it's interesting to hear that a modification from half a century ago could influence a contemporary helmet design.)
I'm sure there have been lots of other players who didn't wear chinstraps. Feel free to list them in today's comments.
(Big thanks to reader Ray Hund for suggesting this topic, and for supplying some of the photos.)
•  •  •  •  •
NFL color shifts, continued: Yesterday I reported that the Lions will be updating their shade of blue and promised that I'd have more news soon regarding NFL color updates. Today I'm making good on that promise.
The Saints are changing their shade of gold, from Pantone 7501 to Pantone 467. Old version on the left, new on the right: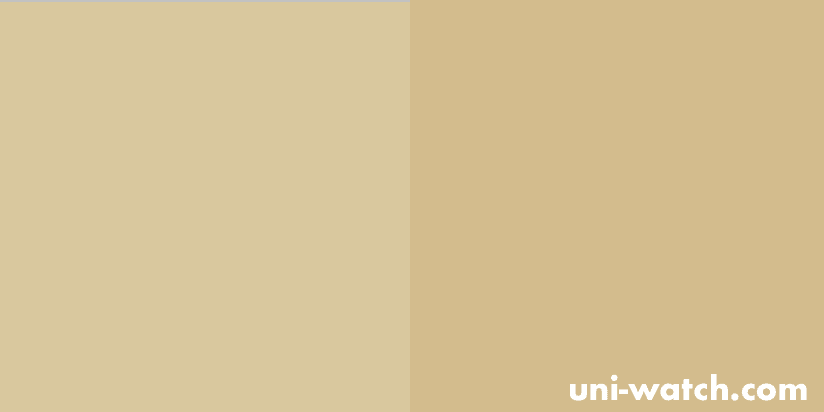 In addition, Washington is updating its shade of burgundy, from Pantone 195 to Pantone 7421. Old version on the left, new on the right: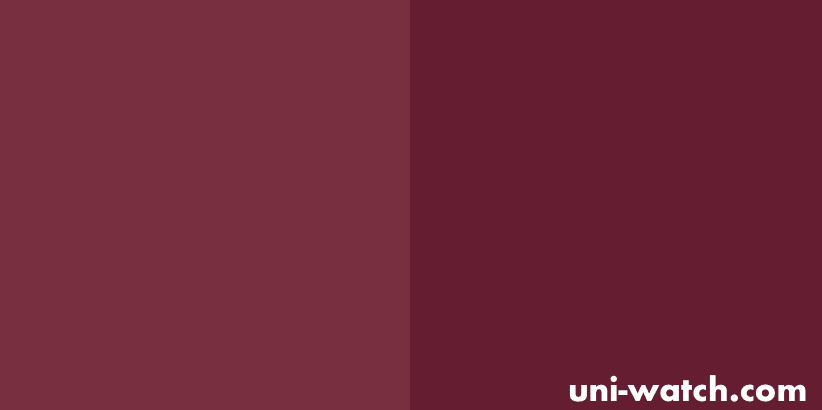 Some of you may be saying (as several people said yesterday regarding the Lions' color shift), "That old color doesn't even look like what they've been wearing!" To which I reply, look, I'm just telling you what the changes are to the official color specs. If they haven't been matching the old spec particularly well, maybe that's why they're changing the spec.
Meanwhile, a document began circulating on Twitter yesterday indicating that the Rams are eliminating gold from their logo: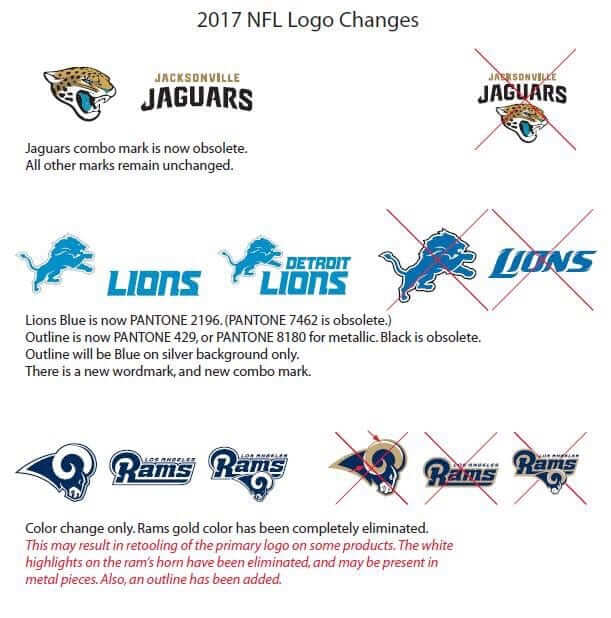 I can confirm that the document is legitimate (as you can see, it confirms the Lions info I provided yesterday). What I have not confirmed is whether this means the Rams will have new uniforms in 2017. It seems like they would — like, if you eliminate a color from your logo, you're probably going to eliminate it from your wardrobe as well — but I want to stress that I do not have confirmation on that. So let's not go all crazy about that just yet.
•  •  •  •  •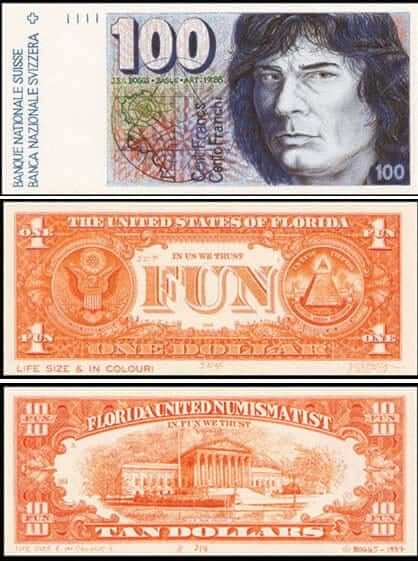 Boggs update: Earlier this week I wrote about the recent death of one of my heroes, the artist J.S.G. Boggs, who specialized in creating clever facsimiles of currency and then "spending" them via a form of barter that doubled as performance art.
As I mentioned in that spiel, I first learned about Boggs via a 1992 documentary film called Money Man. I couldn't find any sign of the film on YouTube, but someone in Tuesday's comments section pointed out that the entire movie is available on demand on Vimeo.
I watched it last night — first time I'd seen it since it came out — and was blown away, again, by how good it is. Thought-provoking, entertaining, and fascinating. It's an hour long, costs $2.99, and is totally worth it. Uni Watch's highest rating. Don't miss.
•  •  •  •  •
The Ticker
By Paul

'Skins Watch: Here's one I missed from last week: A bill introduced in the Massachusetts state legislature would effectively ban Native American team names and mascots from public schools (from Ilana Hardesty). … It takes a special kind of chutzpah to combine the worst team name with the worst team logo.

Baseball News: If you read yesterday's post prior to 2:45pm Eastern, you may have missed this update: I initially said that the new BP jerseys did not have a zippered collar, but it turns that that they do. The zipper is cleverly hidden, like on a pair of jeans (big thanks to Seth Bernstein for setting me straight). … Gross: a bunch of MLB caps lined up to show off their new New Era logo creep. … Blue Jays P Ryan Tepera explained why he wears No. 52 (thanks, Mike). … The latest ingenious DIY design from Wafflebored is this jersey for a fictitious team called the Toothed Whales. Look how the zipper becomes the "teeth" for the Whale logo — brilliant! … The letters and numbers on this year's spring training jerseys are full of sublimated gewgaws (from Shaun Meulmans). … Here's a Mets item I hadn't seen before: a Shea Stadium-shaped ashtray, present in 1964 to President Johnson from stadium namesake Bill Shea (from BSmile). … Yesterday we showed the Lowell Spinners' new logos. Today we have their new caps (from Steve in Florida). … Here's some inside info on the Memphis Redbirds' recent redesign (from Kyle Martin). … Home improvement jerseys upcoming this summer for the Frederick Keys (from John Cannon). … Lots to like in this shot from the 1964 MLB All-Star Game. First, there's the Reds' drop-down NOB, as modeled by then-skipper Fred Hutchinson. Small number plus lengthy surname equals seriously jarring look! Also, look at Ken Boyer's red helmet — it has the blue logo, a topic we recently explored in depth (from Erik Spoonmore).

NFL News: The Lions had previously announced that they'd be unveiling new uniforms on April 13. Now they're saying that the new set will include four uniforms. That presumably means home, road, throwback, and Color Rash. … The Massachusetts State Police have Patriots patches for the Super Bowl (from Steve in Florida). … Here's a long article about how NFL fan jerseys are made. … This article about the Raiders' potential Las Vegas lease includes the following: "The lease makes clear that the Raiders would be considered the primary user of the stadium. This would allow the franchise to accept or reject any potential UNLV football game times and dates, or other collegiate bowl games or showcase neutral-site contests. The terms also stipulate that 'under no circumstances shall field markings for the (Raiders) games be diminished or compromised in any way by the presence of collegiate football games of any kind.' It recalls the unintentional comedy of the field-sharing arrangement at Sun Devil Stadium between host Arizona State University and the Arizona Cardinals. On weekends when Arizona State played at home on Saturday and the Cardinals came in the next day, the image of Sun Devil mascot Sparky often could be seen at midfield sticking his trademark pitchfork through the head of the painted-over Cardinals logo" (from Jerry Wolper). … Little-noted fact that I hadn't thought about in a while until Eric Wright reminded me: The Bengals didn't have TV numbers up through 1979. … Felipe Carranza has a Pat Patriot bike helmet. … This year's Super Bowl jersey patch is the first one in five years that doesn't depict the host stadium. … Here's a piece on the evolution of NFL cheerleader uniforms (thanks, Phil). … Arthur Savonikas has this cool NFL pencil set. Note that the Steelers helmet faces the opposite way from all the others, so they could show the helmet logo on the proper side — a nice touch. … Blast from the AFL past: Love this shot of Texans owner Lamar Hunt and Oilers owner Bud Adams wearing team logo blazers (from Pro Football Journal). … Here's an infographic on what happens to Super Bowl winners the year after they win the championship. … The movie Invincible supposedly takes place in 1976 — so how did the Eagles' current logo sneak in there? That logo debuted in 1996. … Similarly, a player in the movie Friday Night Lights, which is set in 1988, was wearing a base layer with the Under Armour logo, which didn't yet exist in '88.

Hockey News: The Penguins have unveiled their Stadium Series uniform (from Jay Polzer). … And here's Pens G Matt Murray's Stadium Series mask and pads (from @zrich529). His fellow netminder Marc-Andre Fleury has a new mask as well (from Patrick Gallagher). … The Blues retired Bob Plager's No. 5 last night. As has become standard in such instances, the team wore his name and number during pregame warm-ups. Then they wore their Winter Classic throwbacks for their game against Toronto (from Brendan Mongey).

NBA News: Here are this season's 10 best-selling NBA jerseys. … The Wizards and Lakers went color vs. color, with the Wiz wearing their Chinese New Year uniforms. Similarly, the Rockets and Hawks went color vs. color, with Houston honoring Chinese New Year (from Zach Loesl, whose new NBA column will return next week).

College Hoops News: Here are one observer's picks for the best college basketball uniforms. … Cleveland Cavaliers coach Tyronn Lue, who played college ball at Nebraska, had his Cornhuskers jersey retired last night.

Soccer News: All 10 teams of the National Women's Soccer League will wear a Lifetime channel logo patch on their right sleeve. That move comes as part of the league's new equity deal with A+E Networks, which runs Lifetime (from Saurel Jean). … Really interesting article about how the Tulsa Athletics — a team in the low-level National Premier Soccer League — ended up in a trademark spat with the Oakland Athletics. Recommended reading (big thanks to Christopher Walters).

Grab Bag: New logo for the British newspaper The Sun. … New logo for the Ohio amusement park Cedar Point. … And so it has come to this: "How to Wear a Sports Jersey Without Looking Like an Idiot." Oddly enough, the article does not simply consist of the sentence, "Don't wear the jersey to begin with." … Here's a deconstruction of what the Tesla logo means. … Here's a preview of the helmets and firesuits for the 2017 NASCAR season (from David Firestone). … New license plate design for the state of Illinois. … Cheerleading could become an Olympic sport.
•  •  •  •  •
Okay, that's a wrap. Enjoy the Supe on Sunday, and don't forget to watch the Puppy Bowl during halftime. Lady Gaga says she won't be wearing a meat dress, so it's not like you'll be missing anything.