For all photos, click to enlarge
When I was growing up in the 1970s, our house was full of old copies of magazines like Pro Sports, which had been left behind by my older brothers. I pored over all of them (and still have some of them), absorbing various details about the uniforms.
I don't recall having seen the issue of Pro Sports shown above, but reader Ray Hund recently came across a copy of it, and he came up with two interesting finds.
First: If you look for photos of the black helmets that the Saints wore in the 1969 preseason, you'll generally find the same shots over and over again — this one, this one, this one, and this one (which also shows an official wearing short pants and stirrups!). But that issue of Pro Sports has a shot I hadn't seen before: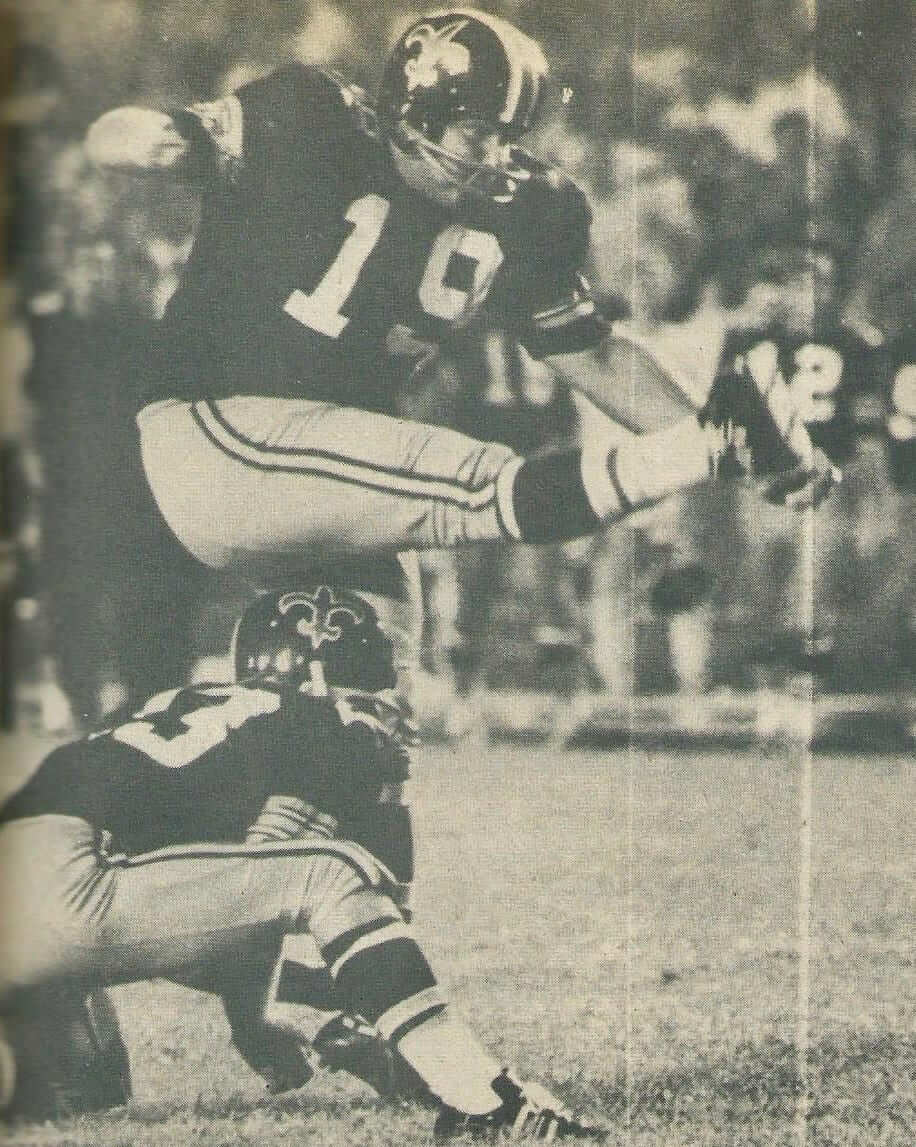 You probably know this, but just in case: The Saints had worn their familiar gold helmets during their first two seasons but were planning to go with the black helmets in '69. In a move that's never been satisfactorily explained, they somehow neglected to tell the NFL office, which put the kibosh on the color change and insisted that they go back to gold when the regular season started. They've continued to wear gold lids ever since.
That photo is also notable for showing kicker Tom Dempsey wearing a classic two-bar facemask. Photos of his signature career moment — the then-record 63-yard field goal he kicked against the Lions in 1970 — show him with a different mask, so that's the one I always associate with him. (Of course, as we recently discussed, another Saints player — quarterback Archie Manning — was the king of facemask switcheroos.)
Speaking of facemasks, that same Pro Sports article with the Saints/Dempsey photo also had this shot of Lions kicker Errol Mann and holder Wayne Rasmussen: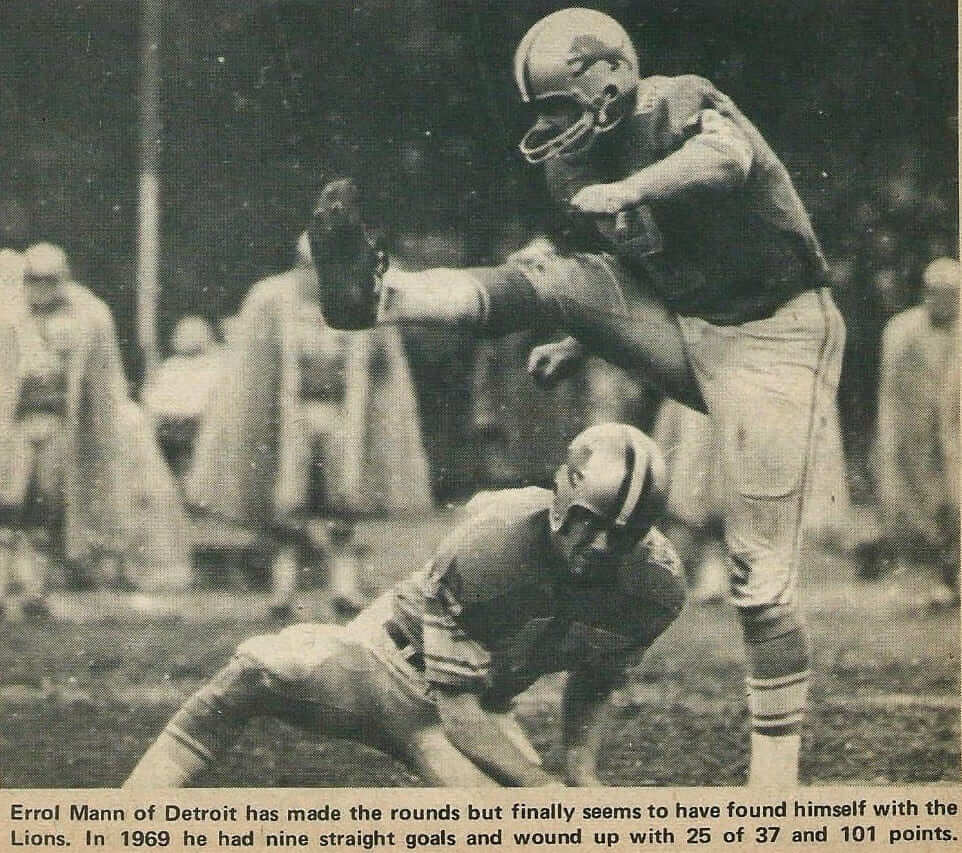 As you can see, Rasmussen was playing without a facemask. That wasn't unheard of for placekick holders in the 1960s — you can see Steelers holder Dick Hoak going maskless, for example, in this 1967 footage (if the video embed below doesn't start at the right spot, go to the 1:55 mark):
But if you look again at the photo of Mann and Rasumussen, you can see the NFL 50th-anniversary patch on their shoulders, which clearly dates this photo to 1969 — pretty late in NFL history to see a mask-free player. That might be the latest example I've ever seen of an NFL player without a facemask.
(My thanks to Jerry Wolper for his assistance with this section.)
•  •  •  •  •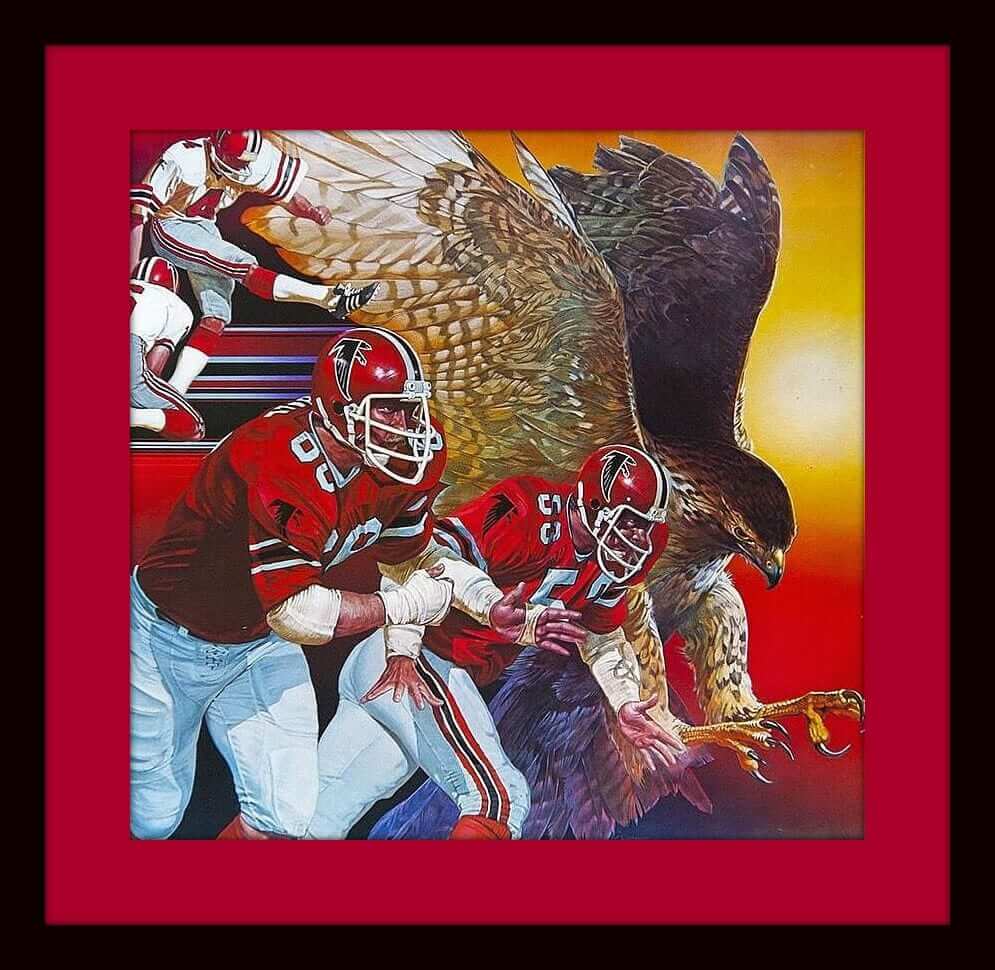 Collector's Corner
By Brinke Guthrie
Big Game LIâ"¢ is coming up on Sunday, so this week we're focusing on the two teams involved, the Pats and the Falcons. First up is this 1979 Falcons poster that fairly pops with contemporary graphics. A beauty!
Now on to the rest of the week:
•  Here's an iron-on Patriots transfer — with a silver helmet, no less.
•  This 1960s Falcons milk mug is priced to move!
•  This 1970s vintage Patriots helmet bank has held up well. Not the usual helmet back we've seen, either — those have a distinct metal facemask that's different from what's shown here.
•  Those glossy-enameled helmet medallions from the 1970s sure hold up well. My Bengals and Cowboys ones still look brand-new, as does this Atlanta Falcons version. Still has the strip on the back, ready to peel off and stick on.
•  Pat Patriot ready to snap the ball on this 1970s jacket made by Chalk Line.
•  Here's a Falcons helmet pencil sharpener, MOC (mint on card) from 1970, and they wanted just 29 cents for 'em back then!
•  This 1970s Avon Patriots decanter comes in a nice box with era-appropriate NFL graphics.
•  I thought I'd seen just about every graphic representation of a helmet possible, and then I found this CBS/State Farm Falcons promo pennant.
•  Nice-looking 1970s New England Patriots promo stickers, from your local Mobil dealer.
• I think the Falcons decal is a little out of place on this 1970s Pro-Football Decorator Plaque from the Sears & Roebuck Company.
•  •  •  •  •
Chargers-redesign update: The results of my recent Chargers-redesign contest will run on ESPN on Feb. 7 — a week from today. Sorry about the delay, but my editors wanted to wait until after the Supe. But you can see all the design submissions now — check them out here.
•  •  •  •  •
Where there's smoke, there's fire deliciousness: Twenty-some years ago I had my first experience with one of those state-border fireworks emporiums. The place was packed with so much cool-looking stuff that I felt overwhelmed and ultimately left without buying anything.
I was reminded of that experience a few nights ago, when my friends Jon and Karen took me to the Euro Market, a big international supermarket in Astoria, Queens. There was lots of good stuff there (nuts, olives, beer, baked goods, canned goods, etc.), but I was entranced by the smoked meat section, which consisted of a long counter with a seemingly endless array of hanging protein. I was so entranced by it all that I neglected to take a photo, but you can get an idea of what's available in this video clip (not shot by me):
I was determined not to repeat my fireworks experience, so I snapped myself out of my blissful haze of wonderment and bought a few things (although, in retrospect, I wish I'd gotten more) — some smoked spareribs, a link of sudzuk (Balkan lamb sausage), and some suho meso (dried beef, sort of like a cross between corned beef and jerky) (click to enlarge):
And is it good? People, it is soooooooo good. I wish the internet had a smell-o-vision feature so you could smell the spectacularly smoky aroma. Mmmmmmmmm.
•  •  •  •  •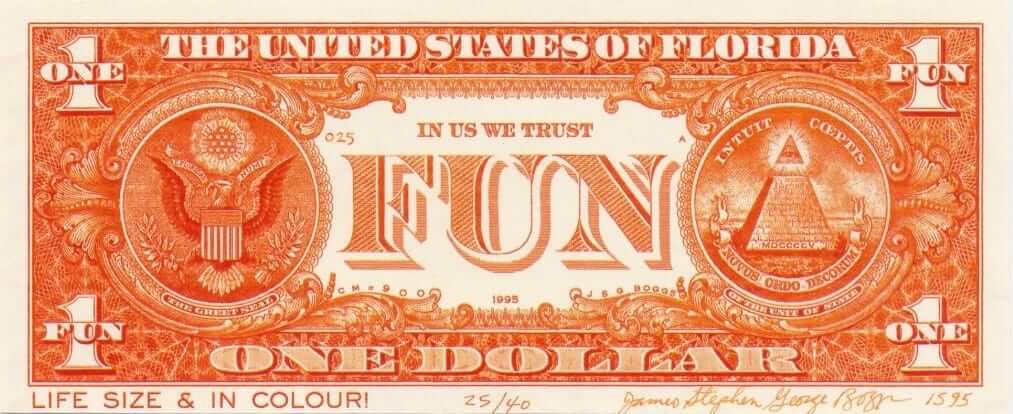 Click to enlarge
Good as gold: When I was a kid, my father used to tell a joke that went like this:
So this guy's walking down the street, and he comes to a guy standing on the corner with a mangy-looking dog, along with a sign: "Dog for Sale, $1,000."

"Wow," says the first guy. "A thousand bucks for that mutt? Good luck — you'll need it!" And he goes along his way.

A week later, the first guy is walking down the same street, and he sees the guy who'd been on the corner. "Hey," says the first guy, "whatever happened to the $1,000 dog?"

Second guy says, "I traded him for two $500 cats."
"¨"¨The point of that joke, of course, is that value is a very flexible concept. Really, it's whatever we say it is. But I never understood the full implications of that until about 25 years ago, when I learned about J.S.G. Boggs, an artist who specialized in making sly variations on various forms of currency (like the one shown above) and then tried to "spend" them at face value with various merchants. The kicker was that he always demanded the correct change as part of the transaction.
Boggs wasn't a counterfeiter and never claimed that his pieces — "Boggs bills," as he called them — were real money. His premise, which underscored the degree to which our financial system is based on suspension of disbelief, went something like this: "Let's say you have a $100 bill. It's a piece of paper, and you choose to believe it has value. Now here's one of my artworks, which happens to look a lot like a $100 bill. It too is a piece of paper, and it too has value. Why not believe that its value is $100, and we can go from there?"
If the merchant agreed, which happened more often than you might think, Boggs would take the change and the receipt from his purchase. Collectors of Boggs's artwork would then try to acquire all of the pieces of the transaction — the receipt and change (which the collector would purchase from Boggs) and the original artwork (which the collector would try to purchase from the merchant) — in order to assemble the a "complete Boggs," as it were. That may sound crazy, but no more so than the fluctuations of currency markets, stock portfolios, futures exchanges, and so on. As Boggs once said, "In exchanging money for art, we exchange one abstraction for another." Or, in some cases, we're exchanging an abstraction for a shipment of lobsters, as Boggs demonstrated in the photo below (which you can click to slightly enlarge):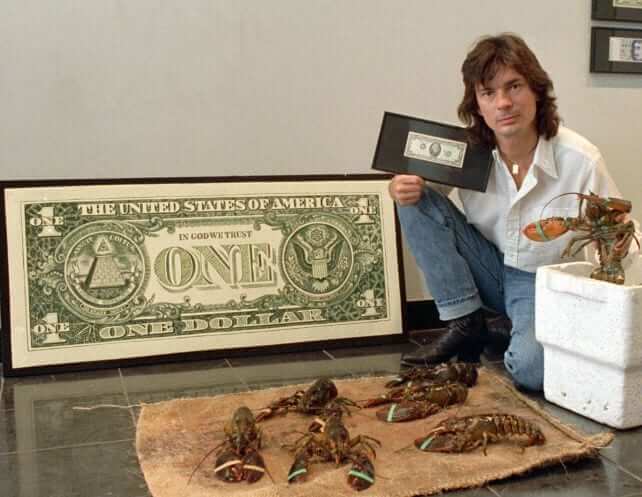 Boggs was arrested several times in various countries on counterfeiting charges. He was never convicted (an Australian court actually awarded him $20,000 in compensatory damages), although the U.S. Secret Service did succeed in confiscating a lot of his artwork for a while. At one point he went down to Washington to try to get his art back and stayed in a swanky DC hotel, where he paid his bill by making and "spending" more art, which the hotel proudly displayed in the lobby.
I first learned about Boggs via a sensational 1992 documentary about him, called Money Man. (My favorite part was when Boggs went to a bank and tried to open a savings account so he could deposit his notes. When the bank manager suggested that he simply put the notes in a safe deposit box, Boggs said, "Well, no — I want the account to earn interest.") Unfortunately, no video from that film appears to be available on the web. I did find this clip, from a recent Discovery Channel show about money, but you'll have to take my word for it when I say that this doesn't show Boggs at his best:
I never purchased any of Boggs's art, but I followed his career and admired the way he fucked around with capitalism. In 2000, he was the subject of a book, called Boggs: A Comedy of Values, which I reviewed for Fortune. (When I pulled out that review from my old clip file, I was amused to see that it started with the same joke from my father that I'd already put at the top of this blog section. I may not be original, but at least I'm consistent.) About 10 years ago I was disappointed to hear he'd been arrested on meth and weapons charges, which may explain why he looked so haggard in that Discovery Channel segment. More recently I'd lost track of him.
All of which is a really long-winded way of saying that I was very sorry to learn that Boggs died last week. He was only 62. He was one of my heroes, and it was great to get to write about him one more time. If there's an afterlife, here's hoping he gets to spend it by using his artwork to "buy" as many $1,000 dogs as he wants. RIP.
•  •  •  •  •
The Ticker
By Mike Chamernik

Baseball News: After weeks of hints, it's now official: The Rockies will have a lighter shade of purple this season. The club said that the previous shade had too much variance across caps, jerseys, and other equipment, and looked different under different lighting conditions (from Dan Cichalski). … Yan Gomes gave up No. 10 for new Indians teammate Edwin Encarnacion. Gomes struggled last year and welcomes a change to No. 7 (from Andrew Cosentino). … New uniforms for the Chunichi Dragons. Graveyard Baseball says the gradient uniform will be worn for four games this year. … Japanese players are getting accustomed to the slick baseballs that will be used in the upcoming World Baseball Classic. … Also regarding the WBC, here's what the USA and other countries will wear for the tournament (from Robert Hayes). … MASN reporter Dan Kolko and Nats OF Jayson Werth are known for their memorable postgame interviews, so the Potomac Nationals will give away dual bobbleheads of them in August. Also, the big league Nationals have packed their trucks for spring training (both from Tommy Turner). … Brandiose strikes again, this time with an angry baby sporting a five o'clock shadow. That's the new "Baby Bombers" alternate logo for the Scranton/Wilkes-Barre RailRiders, a Yankees affiliate (from Brian Sea). … On yesterday's date in 1967, the American League debuted a lightweight shirt that umpires could wear on hot days. Home plate umps, though, still had to wear coats (from @BSmile). … New alternate uniforms for the Hanshin Tigers.

NFL News: The lead singer of the X-Ambassadors wore an Adidas jacket for his performance during Super Bowl Opening Night yesterday, but with the Adidas logo covered up. Guess they couldn't cover up the triple-stripes on the sleeves (from @NYCKING).

Hockey News: Goalies are preparing for the new uniform policy that will be implemented this weekend. In an effort to boost scoring, goalies will have to wear slimmer pants with a contoured design and snug fit. … With the goalie pants about to change, here's an argument in favor of slimmer goalie pads as well (from Chris Flinn). … The White Bear Lake Bantam AA team in Minnesota wears white pants. "Not a good look, but the best I've seen it done," says Patrick Thomas. … The Ontario Reign will wear pink jerseys on Friday (from @GKG_77). … Paul Sabatini says all the players had the same pant shells with their team logo on them for the All-Star game. "My question is did the players all wear girdles and use the pant shell or were they just slipping on the pant shell over their existing pants? Didn't see any different color pants peeking out of the bottom. Which leads to how many players use a girdle and pant shells during the regular games?" … The Alaska Aces wore tie-dyed jerseys the other night. "This is the only pic I could find of them in action," says Brett Thomas. … "As usual, new redesigns for the CHL/NHL Top Prospects Game," reports Wade Heidt. "Noticeable difference this year is on the main crest. They are using the French 'LCH' logo instead of 'CHL," as the game was played in Quebec City this year."

NBA News: The Hornets will give away Kemba Walker Starting Lineup figurines next weekend. As far as I know, the once-popular toy has been discontinued for years. … Pistons fans will receive a lucite-encased mini Isiah Thomas jersey at the game next Wednesday. … Reader Cameron asks why home teams wear black arm and leg sleeves. "Seems like white on white would be more aesthetically pleasing," he says. I actually like the black accessories for a bit of contrast. What do you all say? … The rest of these are from Zach Loesl: The Grizzlies wore their sleeved MLK uniforms last night (and as you can see in that shot, JaMychal Green has been wearing a mask). … Remember how the GE logo had been added to the Celtics' backboard posts in the wake of last week's uni-advertising announcement? That logo has now been replaced by the NBA logo. … Speaking of backboard post ads, the Mavericks have four of them, and the Gatorade 'G' on the edge of their scorer's table. Meanwhile, the 76ers have the Geico logo plastered on their scorer's table in two different sizes.

College and High School Hoops News: A basketball coach in Ohio runs his own apparel company that outfits local high school girls' teams. Ballher Athletic Apparel allows schools to fully customize their uniform designs, unlike Nike and Adidas (from Tom Pachuta). … In the early 1990s, Georgetown players wore blank patches or American flags over the maker's marks on their jerseys, but during one game in March 1990, a few players had their Nike logos exposed (from Matthew W. Wilson).

Grab Bag: Nike and Adidas are among the companies that have issued statements opposing President Trump's immigration travel ban (from David Brown). …New uniforms for Phoenix Rising FC of the USL. Note the tilted ads on the left side of the shirt (from Mark Murray). … Mitchell & Ness is fully aware of how pricey its throwback jerseys are (from Phil). … New logo for McKeil Marine, an Ontario-based transportation company (from John Chapman). … This video shows how an automatic pinsetter works (from Brian Schmidtke). … An Iowa sportscaster wants clearer definitions of the differences between yellow and gold (from Luke Adland).