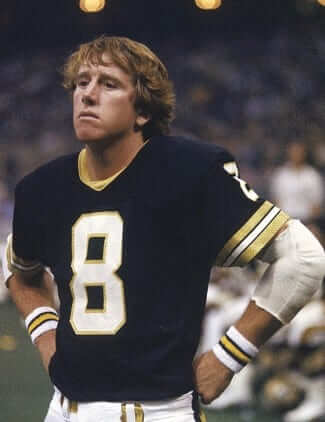 Longtime reader/contributor Gene Sanny recently got in touch to let me know about a really unusual facemask worn by former Saints quarterback Archie Manning (who's shown at right; dig those Saint-patterned wristbands!). If Gene had simply said, "Hey, look at this," it probably would've ended up in the Ticker and that would've been the end of it. But Gene's email included something that intrigued me: "I knew Archie Manning was notorious for wearing a ton of different facemasks throughout his career," he wrote, "but look at this!"
I hadn't realized Manning was known as a man of many masks (which is weird, because I grew up watching football during the prime of Manning's career and was pretty mask-attentive in those days), so I went back and looked at some old photos. And sure enough, it appears that Manning was extremely fickle regarding his facemask choices. Who knew? Well, Gene knew. But not me!
Some quick context: Manning played with the Saints from 1971 through 1982 — 12 seasons. But he sat out 1976 due to injuries and appeared in only one game in 1982. So for practical purposes, Manning played 10 seasons for the Saints.
Now, granted, anyone who's in the league that long will likely have lots of chances to change or upgrade his facemask, just by virtue of new designs becoming available, new advances in helmet/mask technology, and so on. Still, I found photos showing Manning wearing 10 different masks with the Saints (and that's not counting the weird one that Gene showed me), which seems like a lot, right?
And here's another oddity: The Saints changed facemask colors in 1976, going from grey to black. But from what I can see, Manning never duplicated any of his grey masks in black. So those 10 different mask designs I found (plus the 11th one from Gene) all have distinct bar orientations, irrespective of their color differences.
With that in mind, let's look at Manning's masks. Instead of going chronologically, I'm going to go from the simplest design to the most complex — in part because I'm not positive of all the game dates, and in part because in some cases I want to make stylistic comparisons from different years. Here we go:
1. Manning's simplest mask was a grey single-bar model: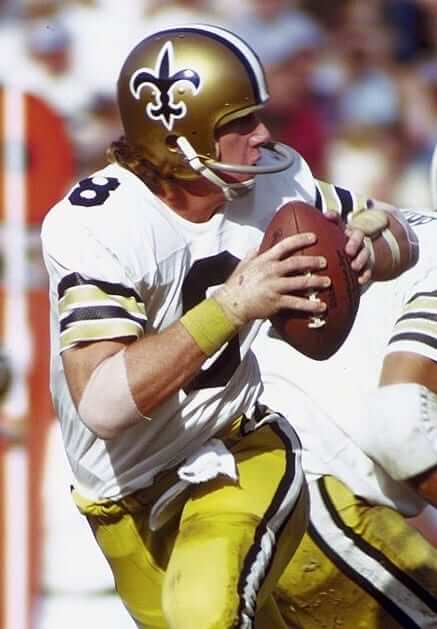 2. Manning also wore a grey mask that I'm pretty sure was a Dungard 207: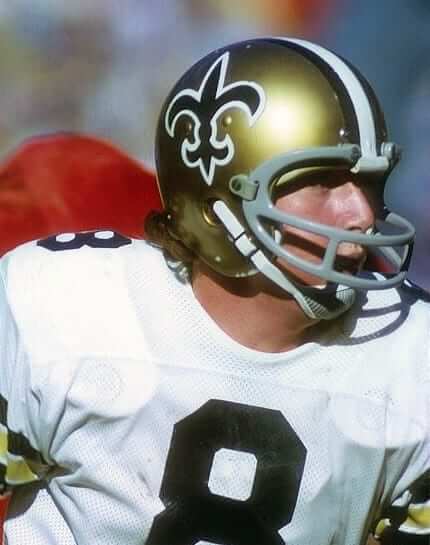 3. Later in his career, when the Saints had switched to black masks, Manning wore a different Dungard design. This one, I'm pretty sure, was the 205, which had less separation between the bars (also, note the team-branded waistband towel and the wristbands!):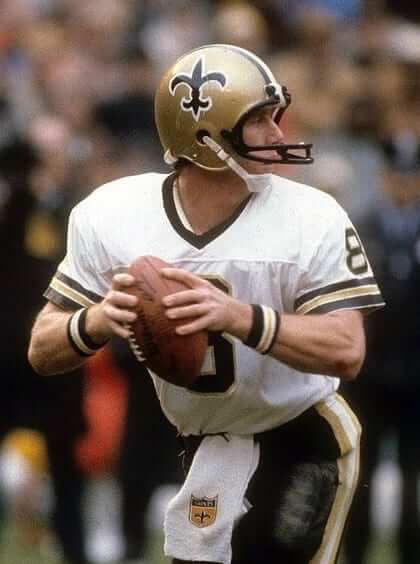 4. Going back to the Saints' grey-masked period, Manning wore a mask that I believe was the Schutt 710: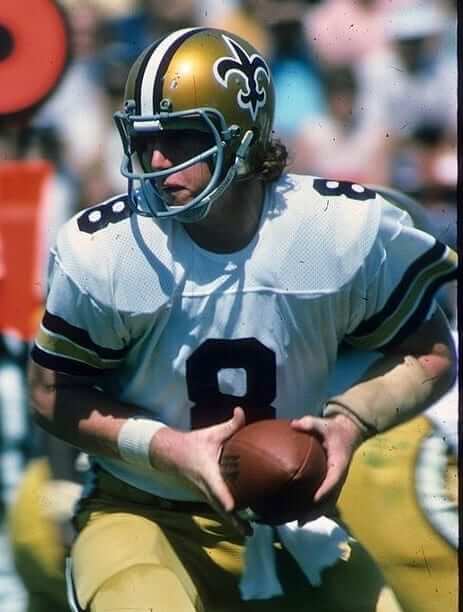 5. He later wore a similar but more boxy grey design, which appears to be a Schutt 1968 OPO Square Jaw: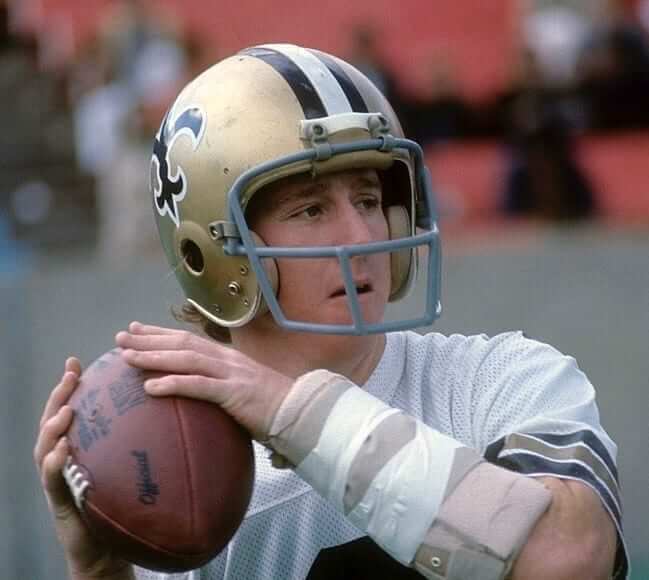 6. Manning later wore a similar design in black. This one was a little less boxy than mask No. 5, but also not quite the same as mask No. 4: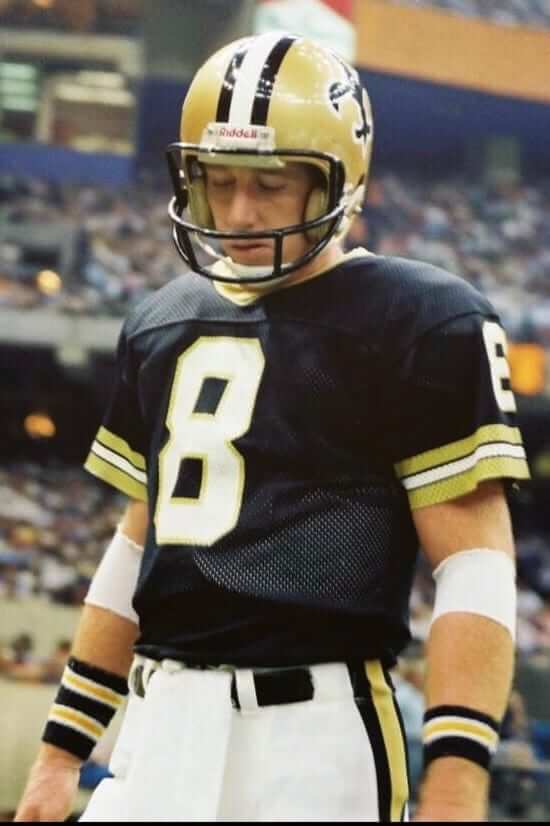 7. Manning also wore a boxier version in black — but this design had two horizontal bars across the top of the mask, instead of one, with a small vertical bar connecting them: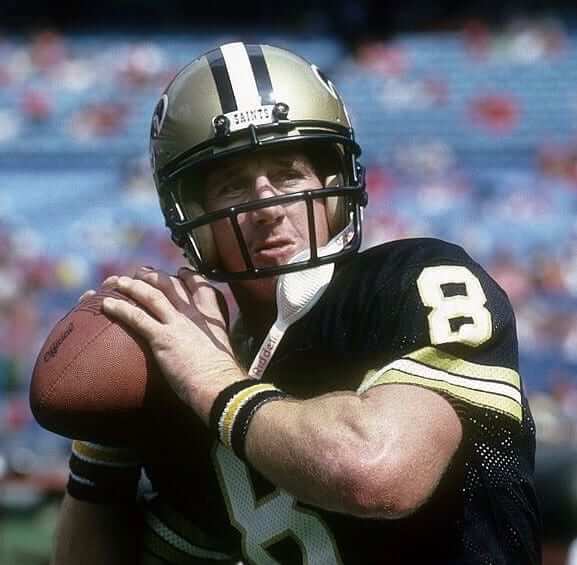 8. He also wore something very similar, but with three vertical bars connecting the top two horizontal bars: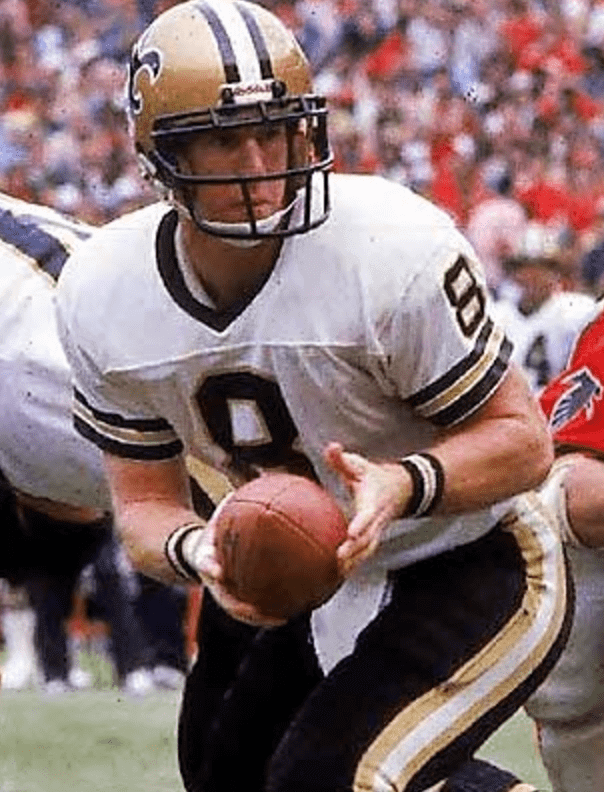 9. He also wore a version with two horizontal bars across the top and two horizontal bars across the center of the mask (sorry, this is the only photo I could find of this design):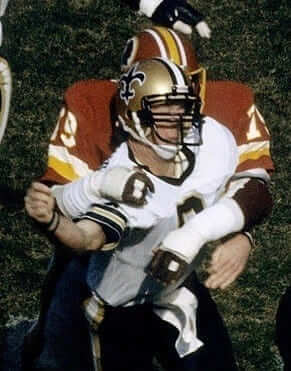 10. Manning also dabbled with a version of this mask that had two vertical bars connecting the top and center of the mask (apparently a Schutt Eye Glass OPO):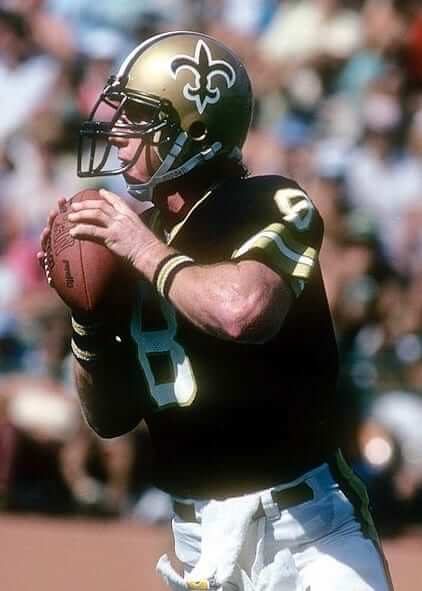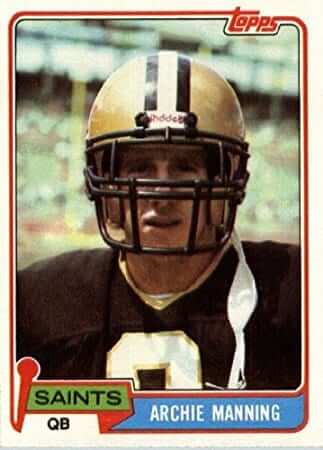 11. And now, finally, the mask that Gene Sanny sent me, which got this whole thing rolling. Behold Archie Manning wearing a lineman's facemask (a Schutt Double Wire JOP):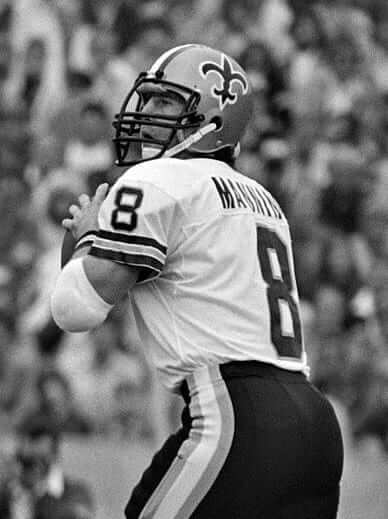 According to Getty Images (which is often wrong about dates), that's from a 1980 game against the Bears. Crazy, right? Can anyone think of any NFL quarterback ever wearing something as elaborate as that?
Update: Reader Chris Markham found a Chicago Tribune article about the game in which Manning wore the lineman's mask. Turns out Manning broke his nose in the second quarter after a hit from the Bears' Alan Page and switched to a larger mask during the game.
Here's the relevant portion of the article:
Manning insisted the broken nose didn't bother him in the second half nearly as much as the Bear defense that surrounded him with relentless pressure. "When my nose was broken I was dazed and couldn't breathe," Manning said. "I felt fine afterwards. The bird cage [protective face mask normally worn by linemen] I wore in the second half didn't obstruct my vision, but those hands waving in my face sure did."
Additional photos of Manning wearing this mask can be seen here.
Footnote: Manning finished his career with cups of coffee in Houston and Minnesota. Judging by the admittedly scant photographic record, it looks like he used mask No. 7, albeit in different colors, while playing for both of those teams: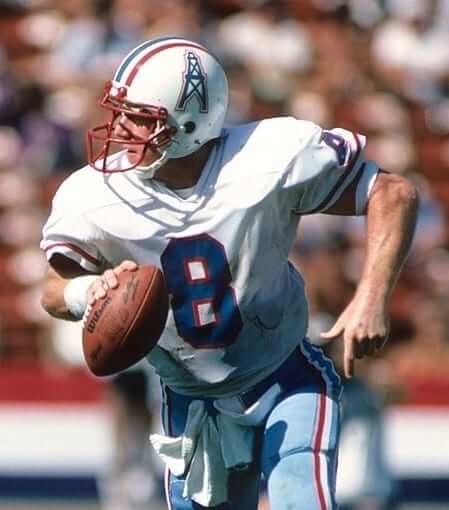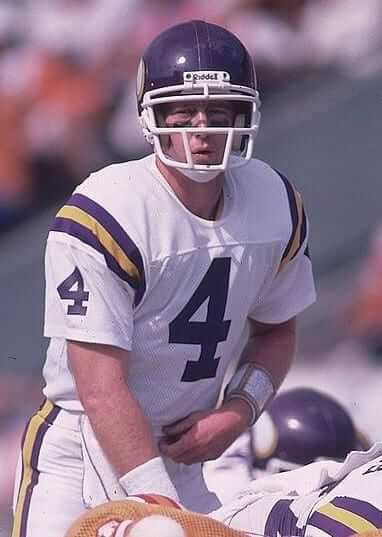 And there you have it. Did I miss any of Manning's NFL mask designs? Also, has any other player gone through as many masks as Manning did?
(Big thanks for Gene Sanny, whose offhand comment made today's entry possible; to Scott Johnston, for his assistance in identifying some of the mask models; and to our own Mike Chamernik for his assistance with some updated info.)
•  •  •  •  •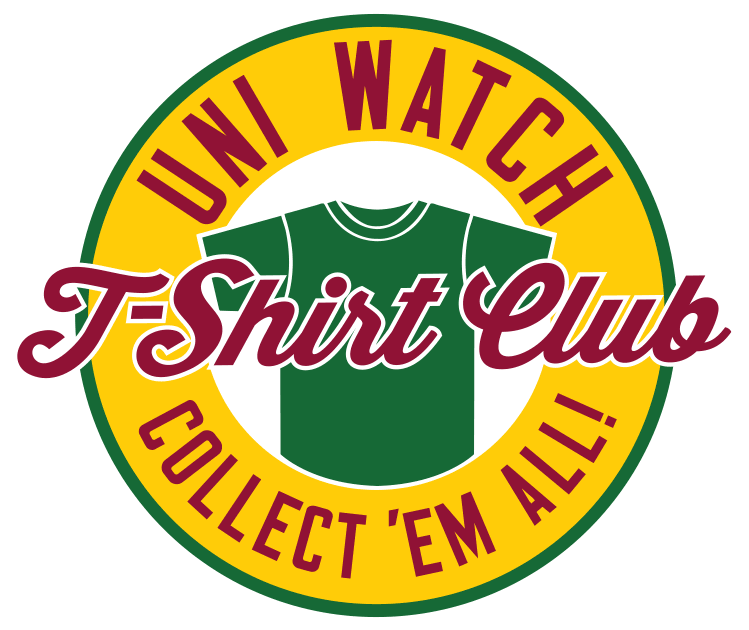 T-Shirt Club update: Many of you have been asking me if there will be a new round of Uni Watch T-Shirt Club tees for 2017. Answer: Yes! And while things aren't completely set yet, I can tell you this much:
•  For each of the past two years, we've done shirts that had a consistent design theme. This year I'd like to try something different. I've asked a bunch of artists, illustrators, and designers — all of them longtime friends of Uni Watch — to each take a crack at producing a Uni Watch T-shirt design. Stylistically speaking, the results will likely be all over the map, so we won't have any thematic consistency this year, but each shirt will still say, "Uni Watch," both literally and metaphorically. It'll sort of be like an "artist of the month" program (or every two months, or whatever).
•  I'm not sure how many shirts we'll do this year, because I don't know yet how many artists will be part of this. For now, I have five confirmed participants: Larry Torrez (the guy who designed my Twitter avatar); Rob Ullman (best known around here for his pin-up/jersey illustrations); Todd Radom (one of the sports world's foremost graphic designers); Scott M.X. Turner (the man who created our magnifying glass logo, and who's also designed every one of our 1,700-plus membership cards); and the pseudonymous Wafflebored (the guy behind so many awesome DIY projects). Bryan Molloy, who designed all of the 2015 and '16 shirts, will likely do a shirt this year as well, if his schedule allows. I'm a big fan of all these folks' work, and I'm excited to see what they whip up.
It's possible that some additional artists will come on board as the year progresses. So even if we start with, say, six artists, we might end up doing more shirts than that by the end of the year.
Speaking of which: Are you a talented artist, illustrator, or designer? Would you like to be considered as one of this year's T-Shirt Club creators? Are you a really obvious friend of Uni Watch who I have somehow overlooked for this project? If so, shoot me a note, along with some of your work (or a smack in the head, as the case might be), and we'll talk.
•  I'm fairly certain that this year's shirts will not have a T-Shirt Club sleeve patch (like we did in 2015) or jock tag (2016). I might have the individual artists include some sort of T-Shirt Club graphic or identifier as part of their designs — or I might not. That's one of several variables I need to get squared away with the artists. Actually, we could use some feedback here: For those of you who purchase the shirts, does having some sort of Club graphic make the whole thing feel more "official" in a way you find enjoyable? Is the graphic actually annoying and you'd be happier without it? Or do you not care?
•  In a related item: At the moment I'm leaning against having a "Collect 'em all" incentive prize. One reason for this is that I don't even know how many shirts we'll be doing, and it seems unfair to ask you to commit to buying a certain number of shirts when I can't even tell you how big that commitment will be. But getting rid of the year-end prize will cut down on the collectability factor, which I know many of you enjoy. Any thoughts on that?
•  Another variable: Who will produce these shirts? The one thing I can say for sure is that it will not be Represent. It may be Teespring, however. Or it may be someone else entirely. Still working that out.
•  The first shirt will likely be ready for ordering at some point in February. We'll make each shirt available for at least 10 days, and maybe longer.
I think that's it. More info soon.
•  •  •  •  •
LAST CALL "" Raffle reminder: Today is the last day to enter the raffle for the IceJerseys $100 discount code. Full details here.
Design contest reminder: I'm currently accepting entries for a "Redesign the Chargers" contest. Full details here.
• • • • •
Membership update: If your New Year's resolution was to finally sign up for a Uni Watch membership card already, there's no time like the present. You'll join over 1,700 other cardholders, including Alex Barfield, whose card (shown at right) is based on the Waco BlueCats. Never heard of that team? That's because they don't exist yet! But they'll start playing in 2018, and they've already released their uniform designs, and that's what Alex asked for. I think it's the first time we've done a card based on a team whose first game is still more than a year away.
You can sign up for your own custom-designed membership card here, you can see all the cards we've designed so far here, and you can see how we produce the cards here.
•  •  •  •  •
The Ticker
By Alex Hider

Baseball News:  Andrew Benintendi of the Red Sox will be wearing No. 16 this upcoming season. He wore No. 40 during his rookie year (from  Ethan Faust). … The Fresno Grizzlies have officially unveiled their 2017 Fresno Taco uniforms (from Phil). … Oklahoma State will wear seven different caps this season (from  Brian). … Looks like the White Sox will be marking the centennial of their 1917 World Series title with throwbacks.

NFL News:  Former 49ers TE Vernon Davis owns a Jamba Juice in Santa Clara, Calif., but he apparently can't use the Niners logo in photos of himself (from  Michael R. Carroll). …  Peter Fredrickson  sent along this video from a 1979 matchup between the Bears and Cowboys in Dallas. Anyone know why the star at midfield was surrounded by red stars? … The duckling statues in Boston's Public Garden have been decked out with Patriots jerseys.

Hockey News:  The NHL is reminding teams that goalies should be wearing the new, trim-cut pants that were discussed in the off-season. More on those regulations here (thanks, Mike). … The Amarillo Bulls of the NAHL will wear Star Wars jerseys on Saturday (from  Rovitz). …  Moe Khan  points out that the Canucks don't use era-specific color schemes on their retired number banners. … Looks like the makers of Good Will Hunting didn't want to fork over any cash to the Bruins of the NHL (from  Joe Z). … Dartmouth G Adrian Clark's mask features characters created by Dr. Seuss, who was a Dartmouth grad (from Tris Wykes).

NBA News:  The Warriors, Raptors, Rockets, and Wizards will have new Chinese New Year socks to go along with their CNY jerseys (thanks  Paul). …  The Lakers wore throwbacks last night (from Robert Hayes). … The Nets wore their grey alternates at home last night, creating a red vs. grey game against the Raptors (from Zachary Loesl). … The Warriors broke ground on their new arena with a bizarre choreographed dance routine (thanks, Mike).

College and High School Hoops News: The Immortal Ten is a group of Baylor basketball players who were killed in a bus accident in 1927. Last night, the Bears honored those 10 players on their jerseys (from  Austin Staton). … Bowling Green has some nice vertically arched NOBs (from Luke Schaffner). …  Sweet candy-stripe warmups for Latrobe High School (Pennsylvania) (from  Rich Donahue). … Texas A&M wore throwbacks last night (from John Urbina).

Soccer News: Yesterday's Ticker had the news about Juventus's new minimalist logo. Here's how eight other teams' logos might look if they went with a similarly minimalist approach (from Ted Arnold). … New away jersey for DC United (from John Muir).

Grab Bag:  New athletic logos for the DII school East Stroudsburg University (from  Andrew Garigliano). …  All Roanoke College athletic teams will wear a patch commemorating the college's 175th year (from  Jacob Clifton). …  Bill Gates and some other tech investors have filed a patent for a football helmet that would detect concussions (thanks,  Phil). … New lacrosse helmets for Washington. … Lots of old uniforms from Pepperdine's sports history are showcased in this article (from Phil).