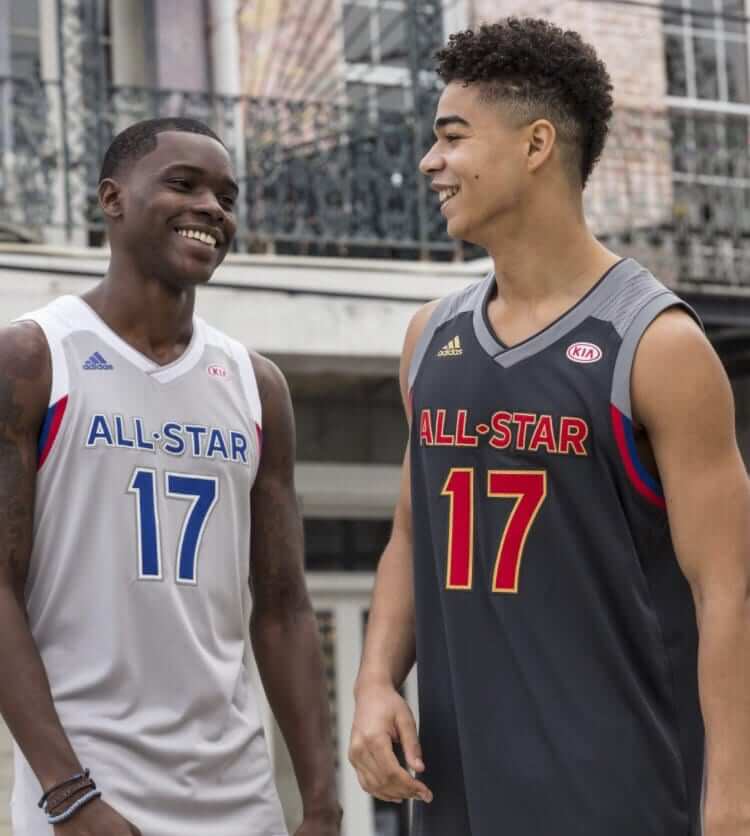 Click to enlarge
The NBA All-Star Game will be played in New Orleans on Feb. 19, and yesterday we finally got our first look at the uniforms. Ugh, black vs. grey — a complete snooze. We all know the game was relocated to New Orleans from Charlotte as a boycott response to North Carolina's "bathroom law," so they probably had to scrap the Charlotte-based unis they'd been preparing and then scramble to create a pair of replacement designs. Still, couldn't they have done better than this? They look like practice or rec league jerseys, or like something a kid would create with teambuilder software. Not a good one for Adidas to go out on.
The grey design is for the East and black is for the West. It's interesting that both jerseys have "All-Star" on the chest, instead of the standard "East" and "West" designations. Then again, the 2015 designs had no lettering on the chest, so anything goes.
Also worth noting: For the second straight year, the jerseys will carry a Kia advertising patch. Looks like it might be a bit smaller this time around, though: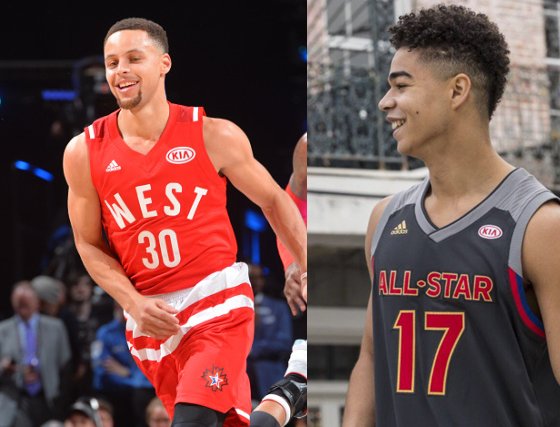 Here's the rear view, which has the uniforms' lone gimmicky element: drop-down NOBs.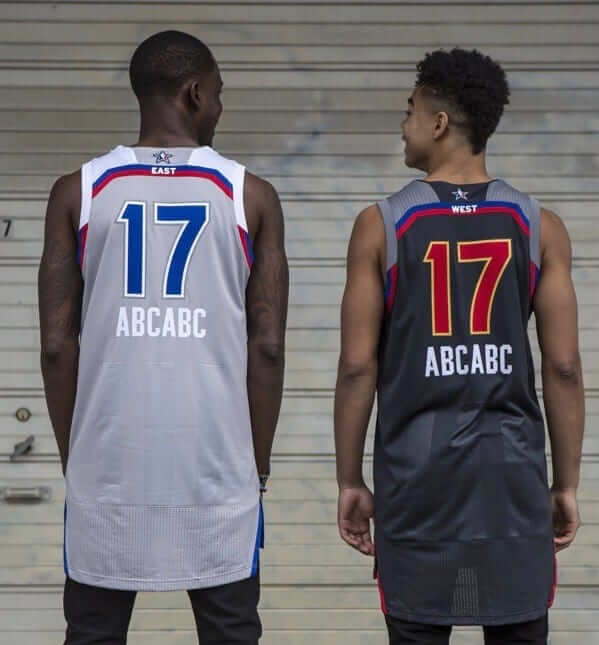 Interestingly, the jerseys actually showed up in video game leaks back in September. At the time, I thought the designs were so generic that I figured they were just placeholders. Turns out they were the real deal.
(My thanks to Travis Lane for the side-by-side Kia patch comparison.)
• • • • •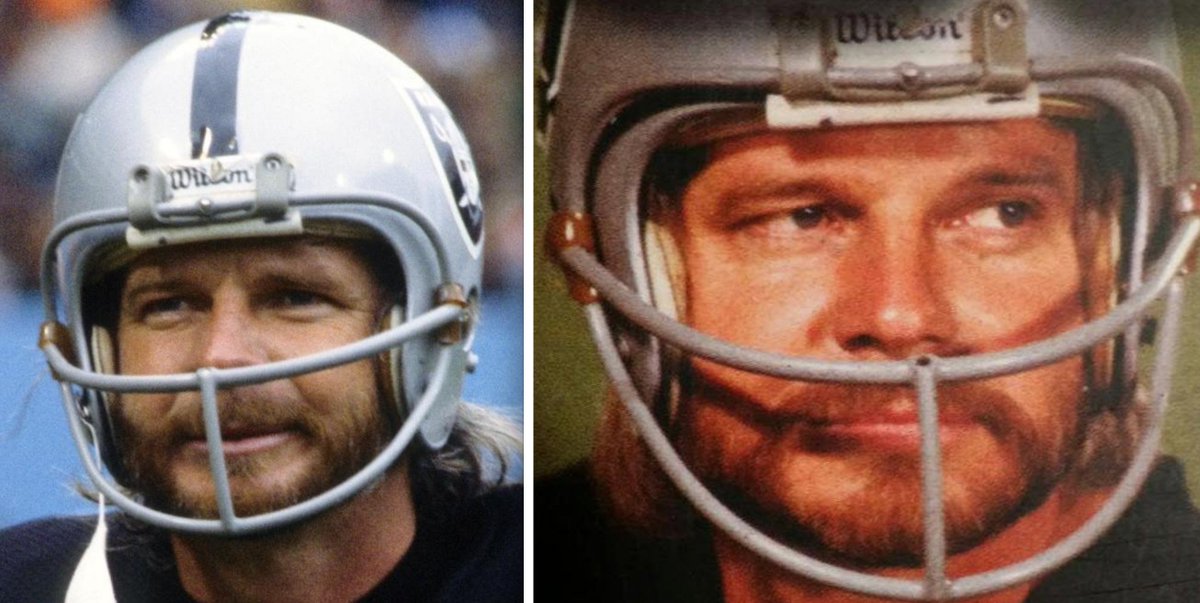 Click to enlarge
Friday Flashback: With the Raiders back in the playoffs tomorrow — their first postseason appearance since Super Bowl XXXVII in 2003 — my latest Friday Flashback piece over on ESPN takes a look at some quirks and eccentricities in Raiders uniform history (including Kenny Stabler's facemask, which had the scars from where the center vertical bar had been sawed off and removed, as shown above). Check it out here.
•  •  •  •  •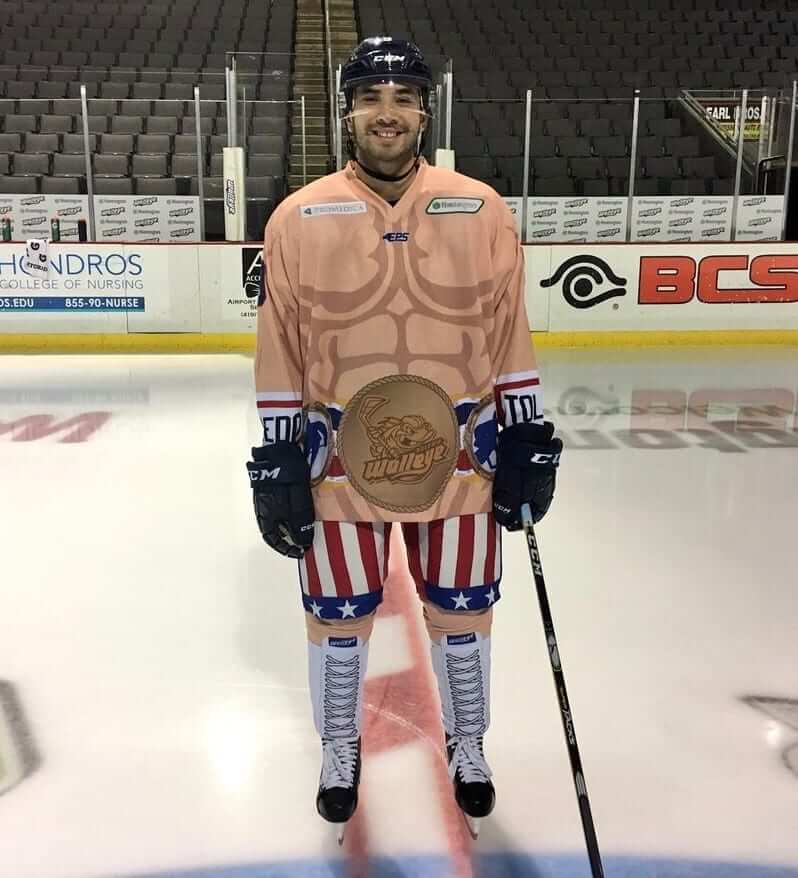 Click to enlarge
Yo, Adrian: The Toledo Walleye will be wearing this boxing-themed uniform for "Rocky Tribute Night" tomorrow. Pretty ridiculous, but anything's better than trotting out yet another Star Wars uniform, right? And mimicking the old Everlast-branded gloves cuffs on the sleeves is a nice touch. But it might've been better if they'd depicted black boxing boots, instead of white, on the socks. That way, the boots would merge with the skates.
In case you're wondering: All players on the Walleye roster are white. Probably for the best in this case.
•  •  •  •  •
Raffle reminder: I'm currently raffling off a custom-painted baseball bat from the Pillbox Bat Company. Details here.
• • • • •
The Ticker
By Paul

'Skins Watch: A high school in upstate New York has declined a set of throwback uniforms that had been donated by school alumnus because the throwbacks featured the color scheme that the school had used when its teams were called the Redskins. The named was changed to Red Storm in 2001. Key quote, from the school district superintendent: "Wearing a throwback jersey acknowledging our Redskin past does not support the district's effort to be an innovative, forward-thinking entity, demonstrating respect for the rights of others. We made the right decision to honor those who played under this nickname, but to leave this relic of a nickname in the past. We don't want to revisit this controversy. Declining the donation is an opportunity to reconfirm our commitment to move forward" (from Jude Seymour). … A new agreement between the state of Michigan and the Nottawaseppi Huron Band of the Potawatomi may help provide funds to underwrite the costs incurred by schools that want stop using Native American team names (thanks, Phil).

Baseball News: Back in 1989, Sports Illustrated asked various fashion designers to for their ideas on how to redesign baseball uniforms, with predictably laughable results (from BSmile). … The Down East Wood Ducks, a Single-A Rangers affiliate in the Carolina League, will unveil their new logo next Wednesday. I look forward to the inevitable Brandiose snarling-animal look (from Greg Gebhardt). … Several Adidas-outfitted schools have new throwbacks this year, including Miami, Arizona State, Nebraska, NC State, and Louisville. Look here, here, and here (from JC Crawford, Cory Lavalette, and @fiverse). … Latest college team to go with 3D helmet logos: Washington State. … In 1968, the Braves added pinstripes to their home uniform. But according to a short wire service item from January of that year, they were also planning to go with pinstripes on the road. I wonder if there's a pinstriped road prototype floating around somewhere (from newspaper researcher extraordinaire Jerry Wolper).

NFL News: A newly elected district attorney in Texas was sworn in while wearing a Cowboys jersey (from Tommy Turner). … Here's a 1977 photo of Oilers' LB Robert Brazile with "Dr. Doom" written on his arm pad (from Bill Kellick).

Hockey News: Stars C Radek Faksa's new gloves have his name misspelled (from Cory Head). … Those 1966 Blues prototypes that we've written about from time to time will finally be making their on-ice debut later this month, although not for a game. They'll be worn this weekend for a skills competition. Now they just need to bring back the trumpet prototype! (From Tim Holdener.) … Centennial patch placement update: The Blues are wearing the patch on their upper sleeve stripe. We also got our first look at how the patch will be worn on the following jerseys: Predators white, Sharks black, Kings black, Wild white, Hurricanes white, Blackhawks red, Blue Jackets white, and Capitals throwbacks. … The Bruins have added a "15" memorial patch for Milt Schmidt (from Jeff Israel). … You can get a ridiculous amount of NHL historical info in this handy enormous infographic (from Jeff Bryniarski). … Army had an outdoor game at Fenway Park last night, with new jerseys for the occasion (from Tony Fatula). … Firefighter-appreciation jerseys on Jan. 15 for the Manitoba Moose (from @Jay_Pea_R). … Very interesting 1968 article about whether helmets should be mandatory in the NHL (great find by Jerry Wolper). … Also from Jerry: Here's a shot of goaltending great Terry Sawchuk in the 1968 NHL All-Star Game.

Basketball News: Bucks G Giannis Antetokounmpo frequently wears "Never Give Up" wristbands (from Zachary Loesl). … Here's a good view of the NBA uniform guidelines that are posted in each team's locker room (from Douglas Ford). … The USC Song Girls still have the Rose Bowl roses on their sweaters (from Grant Young).

Soccer News: Oooh, check out the wavy stripes used on the Cherno More 2009-10 away jersey (from Trevor Williams). … Also from Trevor: "I just assumed the New York Cosmos were named after the astronomical term. I didn't know until a recent BBC podcast that the name is short for Cosmopolitan and takes inspiration from the Mets." There's more on that here. … The great designer and illustrator Stanley Chow has created a new project about soccer kits — really good stuff (from Iain Landon).

Grab Bag: There's a surprisingly popular sport at Orthodox Jewish yeshivas in New York City: floor hockey. … The Museum of Modern Art in NYC will have a program of short comedic films about sports training on Jan. 14. Should feature lots of old uniforms and athletic apparel (from my pal Karen McBurnie). … The next big player in the outerwear market is shaping up to be Amazon (from Tommy Turner). … Here's a brief cultural history of various types of non-sports uniforms (from my ESPN colleague Kevin Ota). … In the wake of that Kentucky high school backing off from its plan to call its teams the Stallions, Kentucky.com has some suggestions for other area schools that might want to consider name changes (from Josh Claywell). … The U.S. Army's new grooming and appearance regulations will allow observant Sikh and Muslim soldiers to wear turbans, beards, and hijabs. … A controversial strain of genetically modified apples have a new logo. … National Park Service officials say fears that the agency will soon start displaying corporate advertising logos at NPS properties are unfounded. Let's hope they're right. … Did you know pro surfers wear jerseys? They do! … Texas is considering a "bathroom law" similar to North Carolina's, which could have implications for the various high-profile sporting events held in the state.