As many of you are probably aware, there's a new book about the history of the St. Louis Cardinals' uniforms. I listed it in my recent holiday gift guide and gave away two copies in our recent year-end raffle. I've looked through my own copy but haven't pored over every word, so I missed something that reader Paul Gardner spotted.
Some quick background: 1964 was the year the Cardinals introduced their now-familiar red caps for home games. Up until then, they had worn navy caps at home and on the road, but in '64 they wore red at home while maintaining the navy caps on the road.
But here's the thing: According to the book, the red home cap for the '64 regular season had a blue "StL" logo. Then, according to the book, they switched to the more familiar white logo in the World Series.
Here are the two pages of the book that spell this out (click to enlarge):
As you can see in the center of the first page, the book claims that the blue logo on the red cap was used during 1964 regular season home games, with the white logo being used in the World Series. But the only photographic substantiation of this claim is a staged black-and-white photo of Lou Brock (upper-right corner of first page) and a context-less color close-up of the cap itself (top-center of second page). There are no game photos.
I had never heard of this red/blue cap before. Had I somehow missed the boat on it? I checked Dressed to the Nines, which, as I suspected, showed the cap with a white logo. But as we've learned over the years, Dressed to the Nines is not infallible, so I checked for game photos in three wire service databases. Unfortunately, none of them had a good shot of the Cards in a 1964 regular season home game.
So then I contacted my usual go-to guys for this sort of thing — uniform designer/researcher Todd Radom and Baseball Hall of Fame curator Tom Shieber. By coincidence, Tom had just been emailing with one of the authors of the Cards uniform book, Gary Kodner, so he looped him into our discussion.
After a lot of back-and-forthing among us, here's what emerged:
1. There are lots of 1964 photos floating around that appear to show a red cap with a blue logo. Most are in black-and-white, some may be from spring training, and none are from game action (if you can't see the slideshow below, click here; as an aside, the first photo shows outfielder Curt Flood with his jersey sleeves tailored v-e-r-y short):
2. We all agreed that these photos are interesting, but none of them qualified as a smoking gun — we wanted a game shot. We came closer when Gary provided this newspaper clipping showing Cards third baseman Ken Boyer wearing the blue-logo cap while standing in the dugout during a game on July 5, 1964: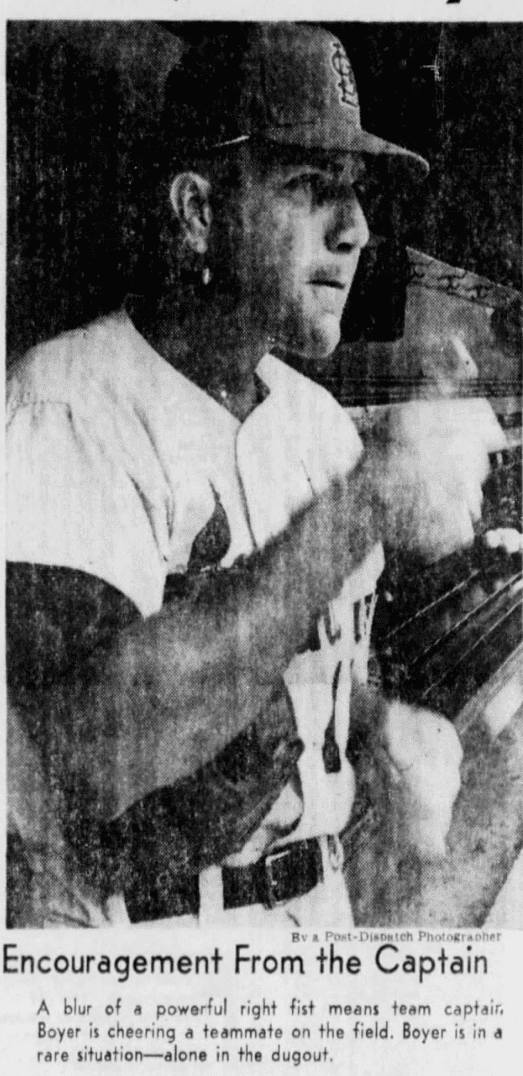 But while that shot was taken during a game, it didn't show Boyer on the field. We still wanted to find evidence of that.
3a. Tom finally provided the clincher with this shot of Bob Gibson from May 21, 1964. While the shot is a bit blurry, the cap logo definitely appears to be dark, not white (click to enlarge):
3b. Gary then provided a shot from the 1964 All-Star Game. It's a photo I've looked at many times over the years, because it shows Johnny Callison of the Phillies completing his home run trot after winning the game with a walk-off shot while wearing a Mets helmet. I'd never noticed that the photo also includes several Cardinals wearing the red cap with the blue logo (click to enlarge):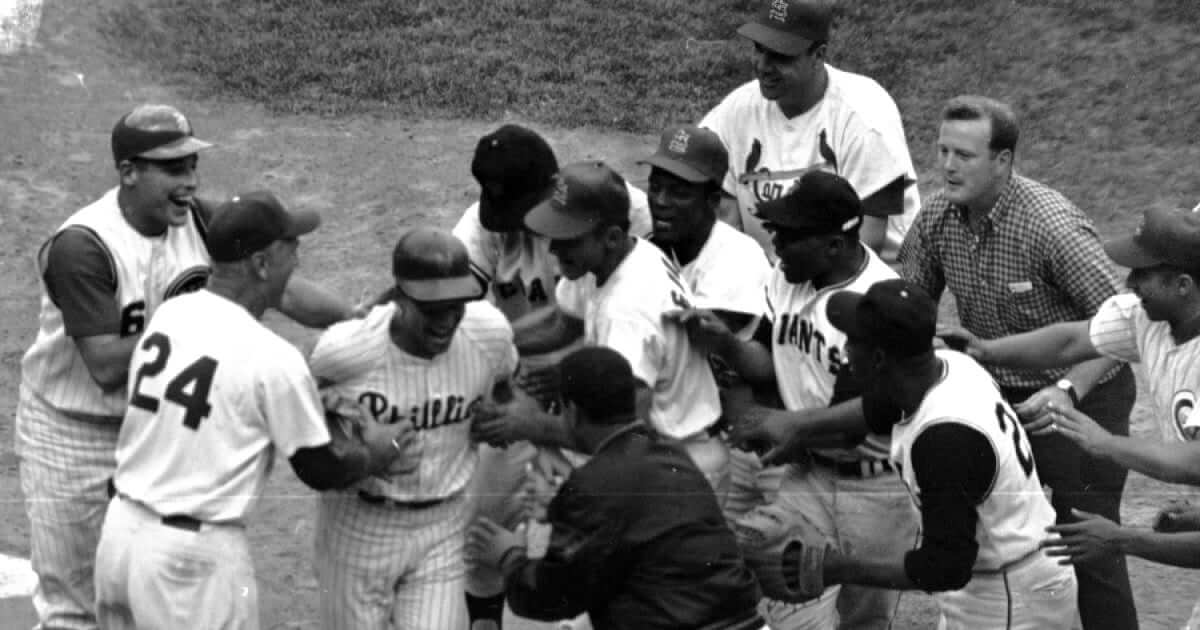 And from that same All-Star Game, here's a shot of Ken Boyer wearing a batting helmet that appears to have a dark (i.e., blue) logo (click to enlarge):
Granted, an All-Star Game isn't the same as a regular season game, but we already had the Gibson photo from May 21 and all the posed non-game shots. The All-Star photos seemed like good supporting evidence.
4. We had now established that the Cardinals did indeed wear a red cap with a blue logo during the 1964 regular season. But did they wear it for the entire season, and then switch to a white logo in the World Series, as the book claimed?
One part of this is easy enough to confirm: The Cards did indeed wear the white logo in the '64 Series.
Gary then found this shot of Cardinals manager Johnny Keane wearing the white logo on Aug. 25, 1964: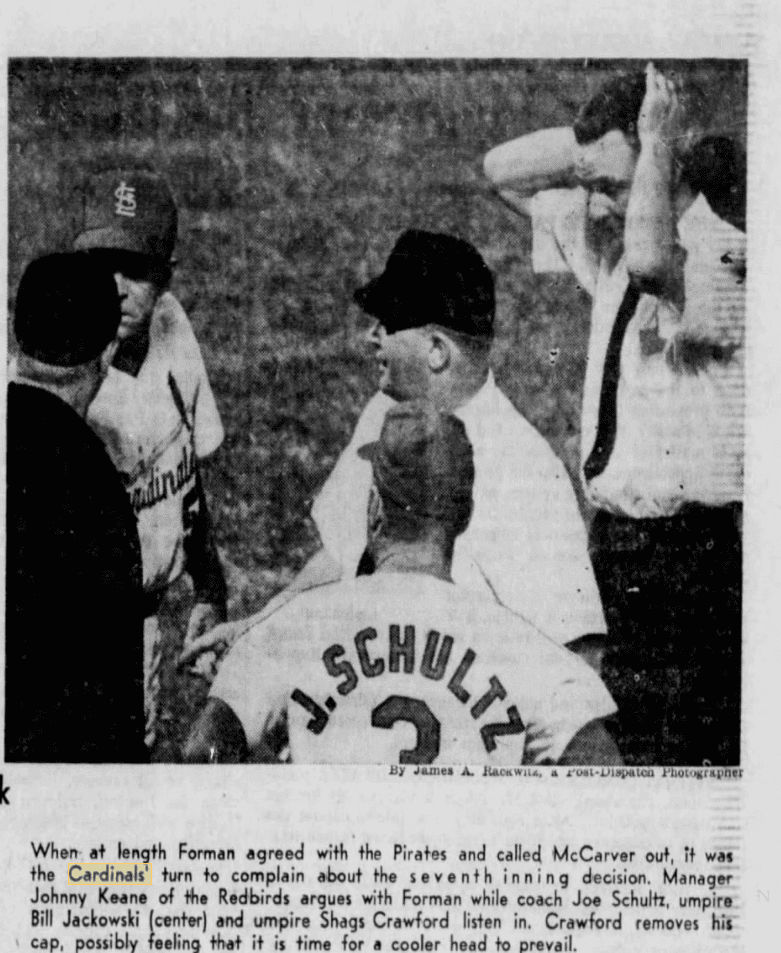 Now, Keane was the manager, not a player. Still, nobody in our discussion group was aware of Keane and/or his coaches wearing anything different from what the players wore. So based on this photo, it would appear that the Cardinals switched from blue logos to white logos at some point between July 5 (the date of the Ken Boyer dugout shot) and Aug. 25. Gary is still working to confirm the exact date, and the reason for the change. (As an aside, the Keane photo also shows coach Joe Schultz — who would later become the Seattle Pilots' first manager and have a starring role in Jim Bouton's seminal book Ball Four — wearing FIOB. That's presumably because the team's 1964 roster included pitcher Barney Schultz.)
5. In the course of our discussions, Gary produced this newspaper clipping from March 2, 1964, about the new red home caps. It doesn't mention the color of the logo, so it wasn't really germane to our investigation, but it's still interesting. Among other things, it mentions that Stan Musial's retirement was part of the impetus for changing to a red home cap:
Also of note: The final graf of that story says, "Most recent change in the Cardinals' uniform came two years ago [i.e., in 1962], when [general manager Bing] Devine decided that the Redbirds would become the first National League club to display the players' names on the back of their shirts."
So the 1962 Cards were the first NL team to wear NOBs! I had thought the Braves, who were still in Milwaukee in those days, held that distinction (although I no longer recall why I thought that). I mentioned this to Todd, who promptly provided a 1962 AP item on the subject: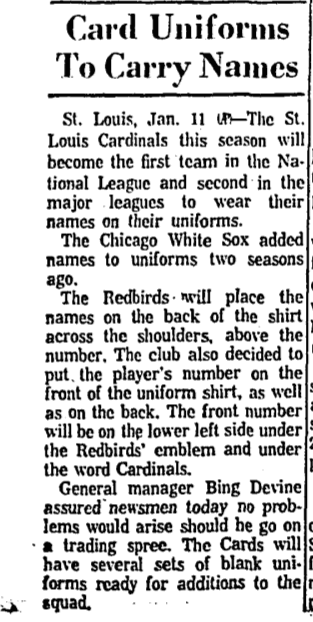 So we mostly solved a history mystery and got lots of other good uni-related tidbits along the way — all because reader Paul Gardner asked me about the book's reference to the blue logo. Big thanks to him for getting this ball rolling.
•  •  •  •  •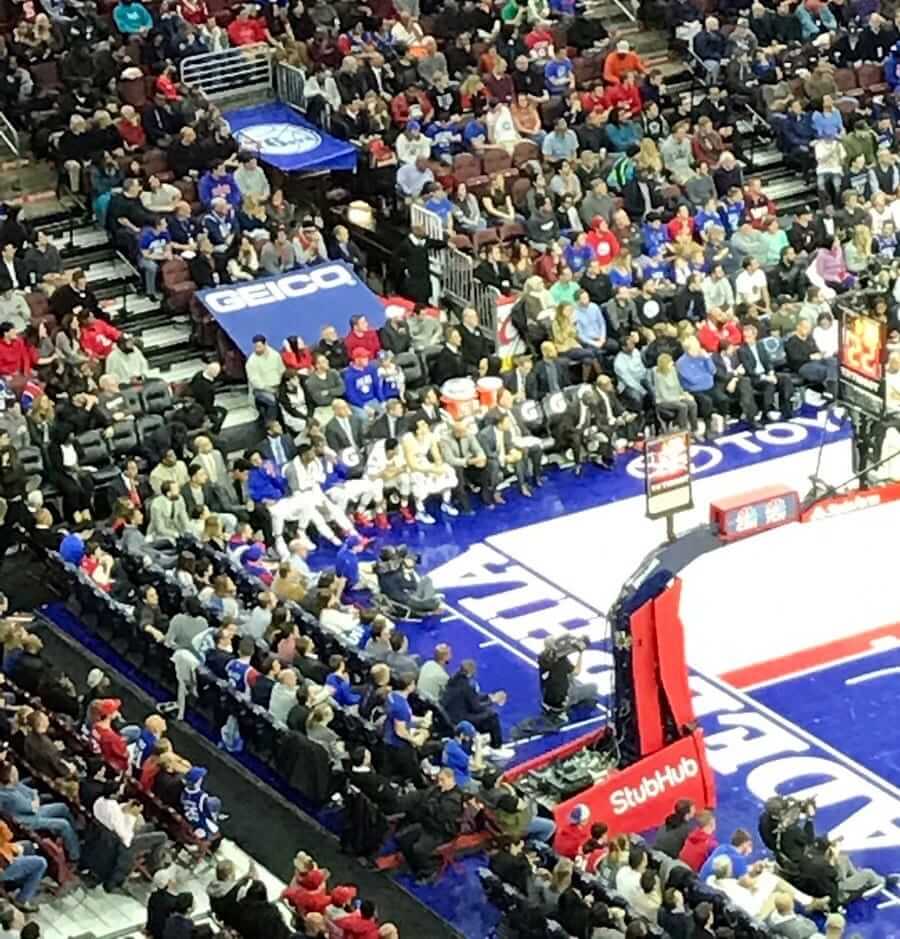 Click to enlarge
Idiocracy, continued: The 76ers, apparently not content to sell space on their jerseys to corporate sponsors advertisers, are now doing likewise with prime seating. That's a photo from last night's game, with a big Geico ad occupying a set of fifth- and sixth-row seats.
Yeah, I know — ha-ha, the Sixers stink, they can't even get fans to buy those seats, ha-ha-ha. But the reality is that this is yet another example of advertising spreading into every nook and cranny of the sports experience. It's also worth asking what would happen if you or I wanted to buy those seats and use them to showcase our own message promoting a given cause (like, for example, "Too Many Ads"). Would that be allowed? If not, why not? What if some fans sitting next to the Geico ad happened to be wearing Progressive or State Farm T-shirts — would that be allowed? If not, why not?
Then again, it could be worse. In 2014, Bayern Munich had fans dressing in white to form a Deutsche Telekom ad.
(My thanks to @hclint4444, Robin Griffiths, and our own Alex Hider for their contributions to this section.)
• • • • •
Collector's Corner
By Brinke Guthrie
Let's roll out the first Collector's Corner of 2017, shall we? Hope everyone had a good holiday season and that Santa was as good to you as he was to me. As we begin the new year, let's start out with this 1969-1970 NFL Appointment Year Book. Plenty of space to jot down your appointments, and it has the 1969 NFL schedule for those cool-named Central, Coastal, Capitol and Century Divisions.
Now on to the rest of the week:
• I don't think I knew the great Carl Eller played for the Seattle Seahawks after his legendary run with the Vikes. Yet here he is on a Seahawks promo drinking glass.
• Here we have a 1970s St. Louis football Cardinals helmet plaque, which looks like it's in pretty good shape. Made by Gresh Enterprises of Indianapolis. Always wanted a Cowboys one back in the day.
• This Philadelphia Eagles glass shows off that unique font they used back in the 1970s. And the classic kelly green and silver, too.
• This 1960s-1970s Packers jersey from Champion features No. 11. Didn't they usually just make jerseys with star players' numbers on them? I could see them doing a 5, or a 15, or a 31. But 11 is a mystery.
• Browns fans, it's been a long season. So treat yourself to some ice cream in one of these 1970s Dairy Queen promo helmets. Bengals fans, here's a set for you, too.
• Did the Brewers have a beaver as a mascot back in the 1970s? Or a gopher? This bumper sticker would seem to support that theory.
• Interesting rendition of the classic Cincinnati Reds "running man" logo on this 1976 pendant.
• Converse had their logo on one side of this 1960s-1970s vintage Chicago Black Hawks puck. It also says "Dist. by CCM" and "Art Ross Tyer."
• Here's a 1970s K.C. Chiefs "nap sack." I think they coulda made the helmet logo just a tad bigger, but that's just being nitpicky.
• Here's another Chiefs item: a book titled Quarterback Technique, from a rather intense Len Dawson.
• • • • •
New raffle for the new year: Our friends at the Pillbox Bat Company have generously agreed to give away one of their beautiful custom-painted baseball bats to a lucky Uni Watch reader. The winner will get to choose from any bat in the Pillbox catalog.
To enter, send an email with your shipping address and your bat choice to the raffle address by next Monday, Jan. 8, 7pm Eastern. One email per person. The winner will be announced on Jan. 9. Good luck!
• • • • •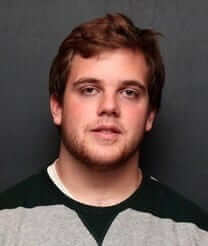 Uni Watch HR announcement: Back in May, Alex Hider (that's him at right) joined the Uni Watch team, creating the Tickers that run on Mondays. His work has been excellent, and I'm happy to announce that as of today, Alex is now compiling the Wednesday Tickers as well. Please join me in congratulating him on his expanded role here at Uni Watch.
With Alex's promotion, our Ticker schedule now looks like this:
• Mondays, Wednesdays: Alex
• Tuesdays, Thursdays: Mike Chamernik
• Fridays: Me
• Saturdays, Sundays: Phil Hecken
These daily assignments sometimes fluctuate, as we occasionally cover for each other or trade days depending on our personal schedules. (Mike, for example, has some outside obligations next week, so I'll be covering both of his days.) The Ticker is always bylined, so you can see who compiled it.
• • • • •
The Ticker
By Alex Hider

Baseball News: Check out all the awesome stuff at this souvenir stand in a vintage photo of old Comiskey Park (from Bob Andrews). … Lots of cool artifacts "" including an awesome neon sign "" at Joe Marty's, a recently restored sports bar in Sacramento (from Damon Hirschensohn). … BSmile found a photo of this 1923 World Series press pin. … The Sioux City Explorers have a new 25th-season logo (from Mitchell General).

NFL News: The Seahawks' new long snapper, Tyler Ott, will wear No. 69. Insert all the obvious jokes here (thanks, Mike). … This shot from 2012 shows that Washington repurposed Kirk Cousins's jersey when he switched his number from 12 to 8 (from Steve B.). … Michael Metzger points out that Dolphins QB Dan Marino did not have an NFL 75th-anniversary patch during the famous "Fake Spike" game in 1994. … Here'sa strange '90s mini-helmet collection: Mike Monaghan points out that the LA Raiders and Rams, the Phoenix Cardinals, the Jags and the Panthers never existed at the same time. … We may have seen this before, but a Bills lineman had non-matching pants striping during the team's miracle playoff comeback against the Oilers in 1993.

College Football News: Following up on yesterday's lede regarding William VanDeSteeg's odd NOB, it turns out that his college NOB at Minnesota was all-caps — sometimes with spaces and sometimes without (from Cork Gaines). … Reddit took on the task of ranking the uni matchups of the 2016-17 Bowl Season (from Ben Whitehead). … Clemson's football facility has a whole wall of cleat and glove options (from Harrison Huntley).

Hockey News: Expect to see the Devils wearing white at home on Friday against Toronto, in honor of Dr. John J. McMullen's induction into the team's ring of fame.. … Robby Fabbri of the Blues had blue tuuks on his skates during the Winter Classic Monday. For those (like me) who don't know what tuuks are, they hold the blade to the skate (from Matt Doyle). … There's a new sound at Rangers games, because Madison Square Garden has a new organ.

NBA News: The Warriors will break ground on their new San Francisco arena on Jan. 17 (from Brinke). … There's a new sound at Knicks games, because Madison Square Garden has a new organ. … Jimmy Butler of the Bulls forgot to take off his warmup shirt when re-entering the game Monday night (from Mike).

College Hoops News: Pitt will debut its gold unis for tonight's game against Virginia (from Adam). … This 1975 matchup between North Carolina and Clemson looks like a dandy in black-and-white. Imagine what it looked like in color! (From J. Huckel.)

Soccer News: Check out the fauxback jerseys Patrick Cummings created for the NASL's Indy Eleven. … The official mascot for the 2017 African Nations Cup is a black panther named Samba (from Mark Coale).

Grab Bag: Frederick Douglass High, a school set to open later this year in Lexington, Kentucky, has reversed its decision to nickname its teams the Stallions after complaints claimed the team name was inappropriate and sexist. A stallion is, by definition, a male, and female athletes didn't want to play under that name. The school will pick a new horse-themed name soon (from Josh Hinton). … You want to see color vs. color? Check out this cricket match that featured bright green vs. bright green.