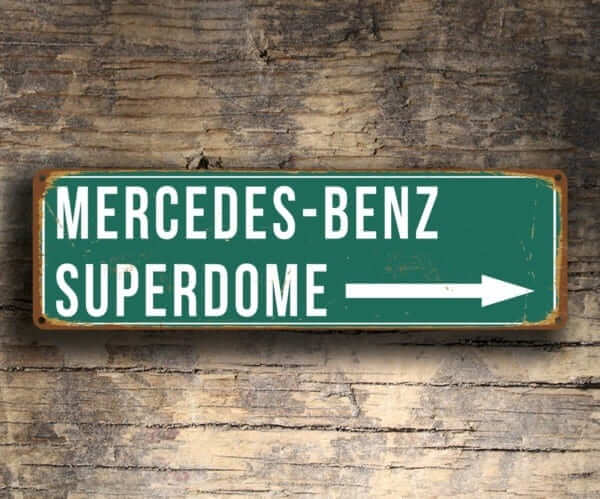 On Tuesday, while writing about the news that the Under Armour logo will begin appearing on MLB jersey chests in 2020, I said, "How can we avoid [the insidious influence of advertisers] in a realm like sports, where advertising is everywhere, from TV commercials to stadium naming rights? I'll have more to say about that "" and will be presenting you with a small defense mechanism "" in a few days."
Today is that day.
So: Back in May I wrote about a Trail Blazers fan who was annoyed that the Rose Garden had been renamed as the Rose Garden, so he devised a Chrome extension that automatically changed the new corporate name back to the old name. At the time, I wrote:
Imagine if we had additional extensions for all the other corporate-named venues out there "" how awesome would that be?

I'm not a software engineer, so I don't know anything about how to develop a Chrome extension, or how to make it available for people to install. But I bet some of you folks know something about that.
About two weeks later I got a note from a software-savvy reader named Patrick Nance, who said he'd be willing to take a crack at it. Even better, he was interested in having the extension handle more than just stadium and arena names. "In my mind," he wrote, "a fully featured product would have bowl game name support."
"I like the way you think," I wrote back. "Go for it."
A month passed, and then another, and eventually I forgot about the whole thing. But Patrick recently got back in touch with some good news: The Chrome extension is now ready for download and installation — and he's come up with a Firefox version as well. (Sorry, no Safari or IE.)
As you can see from those links, the extension is called Naming Wrongs (the same name that No Mas and I used for our line of "I'm Calling It…" T-shirts a few years back). Here are some notes:
1.  Unlike the program devised by the Trail Blazers fan, Naming Wrongs does not apply to the entire web. For now, it only affects ESPN, SI, Yahoo Sports, Bleacher Report, Fox Sports, Sporting News, USA Today's For the Win, NBC Sports, CBS Sports, and SB Nation (only the sbnation.com domain for now, not the individual sub-sites, but Patrick is working on that), along with the league sites for the NFL, NBA, NHL, MLB, and NCAA.
I initially asked Patrick to have the extension apply to Uni Watch as well. I figured if we were going to subject other sports sites to our scrutiny, we should also include Uni Watch. But Patrick pointed out that Uni Watch sometimes intentionally refers to corporate venue or bowl game names in order to make a point, and that the extension would make that impossible. So Uni Watch is not under the extension's umbrella, at least for now.
2. The extension automatically changes the names of many MLB, NFL, NBA, and NHL stadiums and arenas to their pre-corporatized versions, as follows:
Stadiums
Sports Authority Field at Mile High → Mile High Stadium
Jones AT&T Stadium → Jones Stadium
BB&T Field → Groves Stadium
FirstEnergy Stadium → Cleveland Browns Stadium
Mercedes-Benz Superdome → Superdome
Qualcomm Stadium → Jack Murphy Stadium
AT&T Stadium → Cowboys Stadium
O.co Coliseum → Oakland Coliseum
Hard Rock Stadium → Joe Robbie Stadium
New Era Field → Rich Stadium
Progressive Field → Jacobs Field
Guaranteed Rate Field → Comiskey Park
US Cellular Field → Comiskey Park
UFCU Disch-Falk Field → Disch-Falk Field
Globe Life Park → The Ballpark in Arlington
Rogers Centre/Center → SkyDome

Arenas
Rose Garden → Rose Garden
BMO Harris Bradley Center → Bradley Center
Oracle Arena → Oakland Coliseum Arena
Quicken Loans Arena → Gund Arena
Smoothie King Center → New Orleans Arena
Amalie Arena → The Ice Palace
Bridgestone Arena → Nashville Arena
Gila River Arena → Glendale Arena
PNC Arena → Raleigh Entertainment & Sports Arena
Scotiabank Saddledome → Olympic Saddledome
SAP Center → San Jose Arena
SAP Center at San Jose → San Jose Arena
Scottrade Center → Kiel Center
"There are some major grey areas with some of these places," says Patrick. "For instance, the Seahawks currently play at CenturyLink Field, formerly Qwest Field — but for the first two years of its existence, it was called Seahawks Stadium. I've lived in Seattle for more than eight years now and I've never once heard anybody say Seahawks Stadium. In fact, I more often hear people still call it Qwest, despite CenturyLink having been the name for several years now. I'll be interested to hear what the community has to say on cases like that."
3.  The extension also automatically changes the names of many college football bowl games, as follows:
Air Force Reserve Celebration Bowl → Celebration Bowl
Gildan New Mexico Bowl → New Mexico Bowl
Las Vegas Bowl presented by Geico → Las Vegas Bowl
Raycom Media Camellia Bowl → Camellia Bowl
AutoNation Cure Bowl → Cure Bowl
R\+L Carriers New Orleans Bowl → New Orleans Bowl
San Diego County Credit Union Poinsettia Bowl → Poinsettia Bowl
Famous Idaho Potato Bowl → Humanitarian Bowl
Popeyes Bahamas Bowl → Bahamas Bowl
Lockheed Martin Armed Forces Bowl → Armed Forces Bowl
Dollar General Bowl → Mobile Alabama Bowl
Quick Lane Bowl → Motor City Bowl
Camping World Independence Bowl → Independence Bowl
Zaxby's Heart of Dallas Bowl → Heart of Dallas Bowl
Military Bowl Presented by Northrop Grumman → Military Bowl
National Funding Holiday Bowl → Holiday Bowl
Motel 6 Cactus Bowl → Cactus Bowl
New Era Pinstripe Bowl → Pinstripe Bowl
Russell Athletic Bowl → Tangerine Bowl
Foster Farms Bowl → San Francisco Bowl
AdvoCare V100 Texas Bowl → Texas Bowl
Belk Bowl → Queen City Bowl
Valero Alamo Bowl → Alamo Bowl
AutoZone Liberty Bowl → Liberty Bowl
Hyundai Sun Bowl → Sun Bowl
Franklin American Mortgage Music City Bowl → Music City Bowl
Nova Home Loans Arizona Bowl → Arizona Bowl
Capital One Orange Bowl → Orange Bowl
Buffalo Wild Wings Citrus Bowl → Citrus Bowl
TaxSlayer Bowl → Gator Bowl
Outback Bowl → Hall of Fame Bowl
Goodyear Cotton Bowl Classic → Cotton Bowl
Rose Bowl Game presented by Northwestern Mutual → Rose Bowl
Allstate Sugar Bowl → Sugar Bowl
Chick-fil-A Peach Bowl → Peach Bowl
PlayStation Fiesta Bowl → Fiesta Bowl
BattleFrog Fiesta Bowl → Fiesta Bowl
Royal Purple Las Vegas Bowl → Las Vegas Bowl
"Admittedly, I swung a pretty big hammer on the bowl games," says Patrick. "For example, I changed the Outback Bowl to the Hall of Fame Bowl, despite the game being much more widely known, at this point, as Outback. Maybe I'll dial that back if I get enough feedback."
To get an idea of how effective the extension is, check out this page — first without the extension and then after installing it. Night and day!
Is a browser extension going to solve all our problems? Of course not. But it's a small way to fight back against — and liberate oneself from — the relentless incursion of corporate culture into every nook and cranny of our lives. It's also a good way to reclaim the older, pre-corporatized venue and bowl game names — and with them, I'd like to think, a measure of sanity.
The extension works well, won't mess up any other aspects of your browser, and is free. Go on — try it.
And now, allow me to anticipate some of your reactions by slipping into FAQ mode:
This is stupid. Naming rights deals for sports venues and bowl games don't bother me.
No problemo! We know this browser extension won't be for everyone. If it doesn't appeal to you, feel free to ignore it.
I understand what you're getting at with this project, but I think you're overreacting. Naming rights deals aren't evil — they're just business.
"It's just business" is often an accurate explanation for why something has taken place, but it is rarely a sufficient justification for why that thing has taken place. I don't want to get bogged down in that distinction here, but I've provided a more detailed exploration of that topic on this page.
I think what you're doing is wrong. Those companies paid a lot of money to have their names attached to those buildings and games, and you're making it all worthless.
Before I respond to that, let me ask you a few questions: When you watch TV, do you pay close attention to every commercial, or do you get up and go to the bathroom? When you DVR something and watch it later, do you watch the commercials, or do you fast-forward past them? When you're watching a web video, do you watch the entire pre-roll commercial, or do you click the "Skip Ad" button? When an ad pops up across a web page, do you thoughtfully consider it, or do you click the "X" in the top-right corner? When you're reading a magazine, do you look at every ad, or do you just turn the page and go to the next article? When you're driving on the highway, do you closely scrutinize every billboard, or do just drive past most of them without even noticing them? After all, those advertisers all paid a lot of money for those ads. By not engaging with the ads, you're making those expenditures worthless.
I trust you get my point. Just because advertisers have paid a certain price in order to get our attention does not mean they're automatically entitled to that attention. Our attention is not property that can be purchased and owned. It's ours to give or withhold as we see fit. This browser extension is a small way of withholding that attention from a very small subset of the advertised world.
You obviously just hate capitalism. What's up with that?
Oh, come on! For the past 20 years I've sustained myself by making and selling things (articles, media projects, T-shirts, membership cards, etc.), which means I've led a more capitalistic life than most people. But I think of capitalism as a mechanism or a tool, not a religion. And like all tools, it should make our lives easier and better. When it runs amok (or, as I like to say, when it succeeds too well), it can and should be reined in. Maybe you don't think the explosion of corporate-named sports venues and bowl games qualifies as "running amok," but I do. I see it as a symptom of something I've mentioned before: our disturbing transition from a market economy to a market society.
You're such a hypocrite. You claim to hate advertising, but your website is littered with ads!
Actually, I've never once — literally not one single time — claimed to hate advertising. What I have said many, many times, and will continue to say when the situation calls for it, is that I'm opposed to advertising spreading into places where it doesn't belong. Selling the name of something is insipid — it's part of our culture's descent into Idiocracy. Moreover, sports venues and bowl games have lots and lots of revenue streams. They don't need to sell their identities to get by. This website, by contrast, gives away its content for free. Its only way to raise revenue, at least for now, is by selling advertising space. If you think those two situations are equivalent, and that I'm therefore a hypocrite, well, you're entitled to your opinion. But I respectfully disagree.
That said, however, I've grown increasingly uncomfortable with Uni Watch's role in the world of internet advertising. For that matter, I'm getting more and more uncomfortable with the standard model of web content delivery, which has been a disaster for the industry I work in and is problematic in several other ways. I hope to have more to say about that in a month or two, but for now let's just say I'm exploring some new options.
Meanwhile: If you have feedback to offer about the browser extension — suggestions on names that should or shouldn't be changed, additional websites that should be covered, that sort of thing — feel free to get in touch here. (Please note that this is not the usual Uni Watch email address. It is a new address that's been created specifically for this project, so Patrick and I can both access it. Please use this address, not the Uni Watch address, for giving feedback on this project. Thanks.)
• • • • •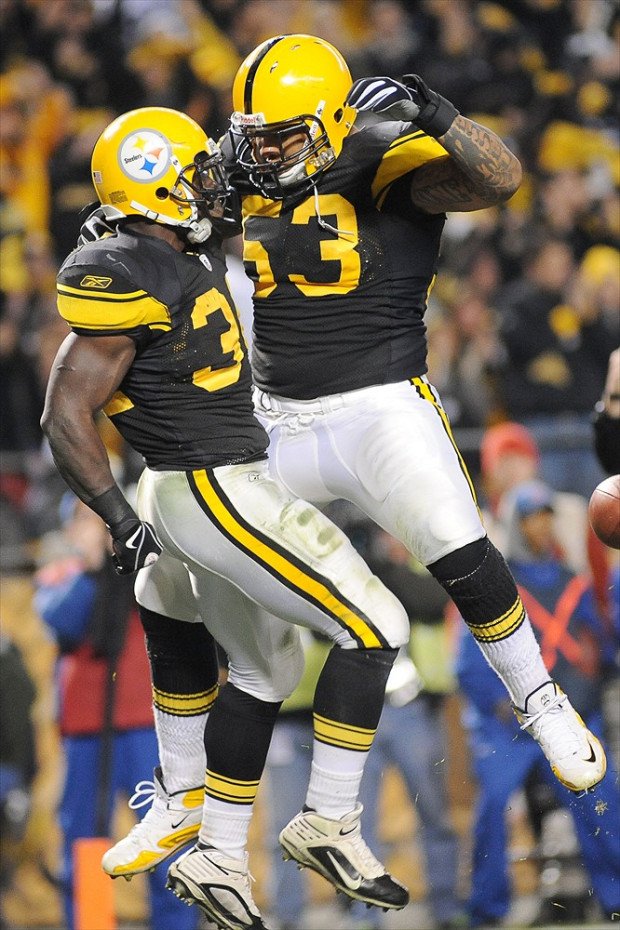 Friday Flashback: My latest Friday Flashback column on ESPN takes a look back at NFL throwbacks that have been worn in the past but are currently off-limits due to the one-shell rule (like the Steelers' 1962 throwback, shown above). Check it out here.
• • • • •
Click to enlarge
Thursday-night NFL report: Last night's NFL game featured the mono-red Chiefs vs. the mono-white Raiders. Of course, we've seen the Chiefs in blood-clot mode before (last night marked the third different sock design they've worn while going mono-red), so I'm more interested in talking about the Raiders.
As you can see above, Oakland went with black-outlined silver numbers. There's precedent for that in their uniform history, but it's not as simple as you might think. Here's the deal:
• In 1963 and '64, the Raiders' white jerseys had silver numbers with very thick black outlining (click first photo to enlarge):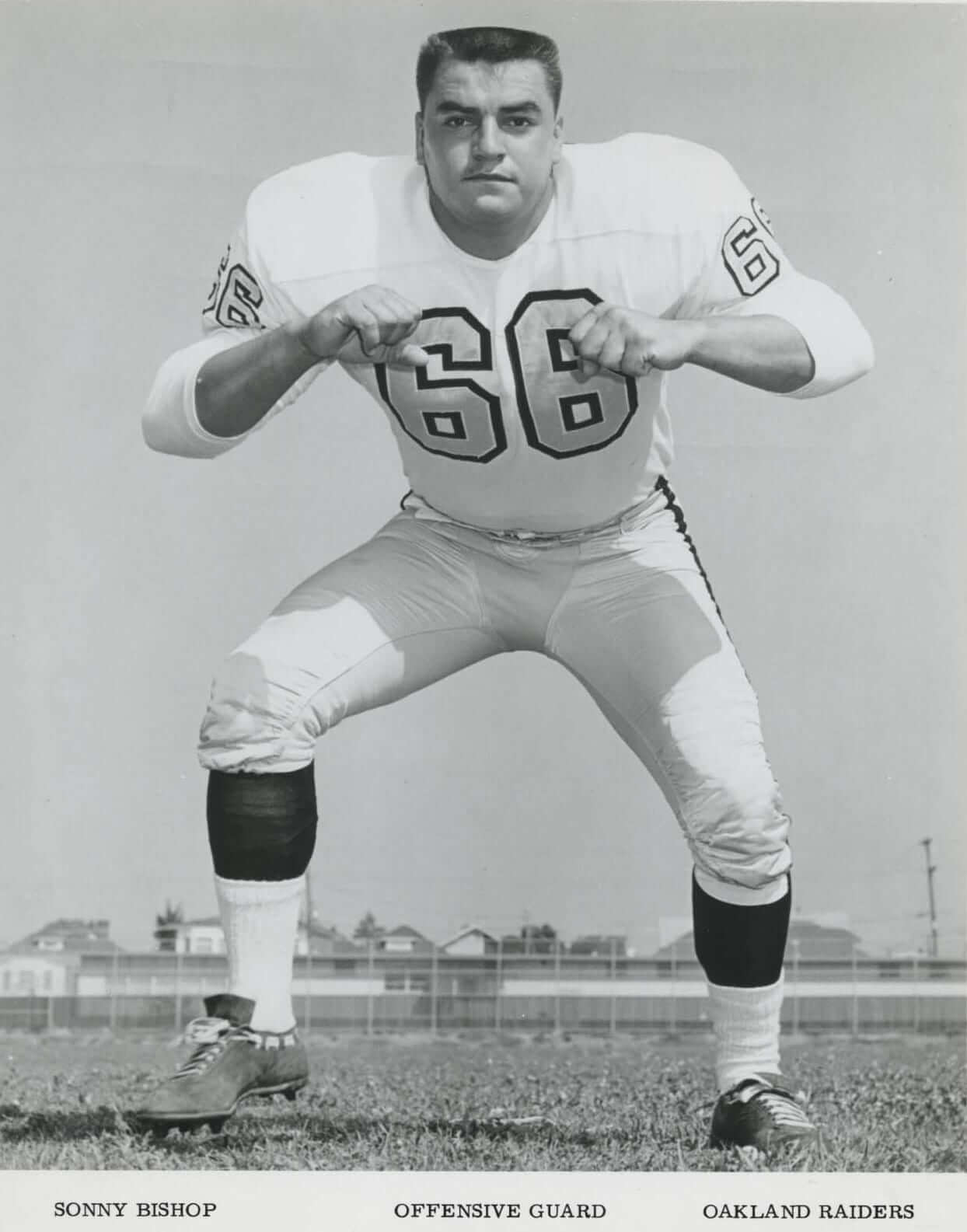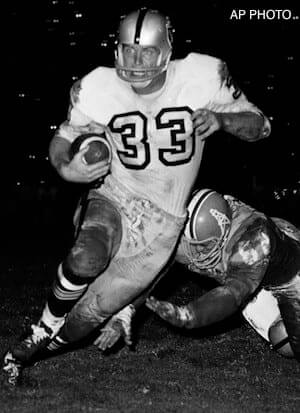 That outlining seems almost comically heavy, right? That design, with the thick outline, was reprised as a throwback in 2009 (click to enlarge):
The Raiders dabbled with silver numbers again in 1970, but this time the black outline was thinner (click to enlarge):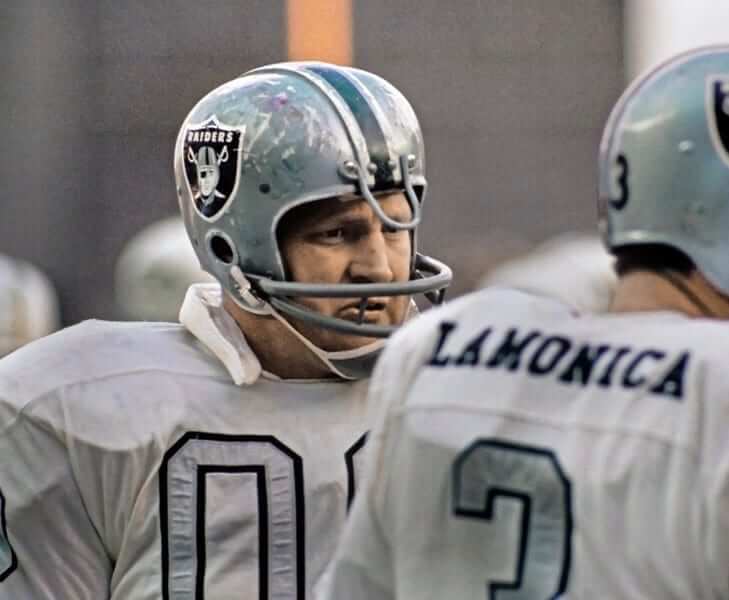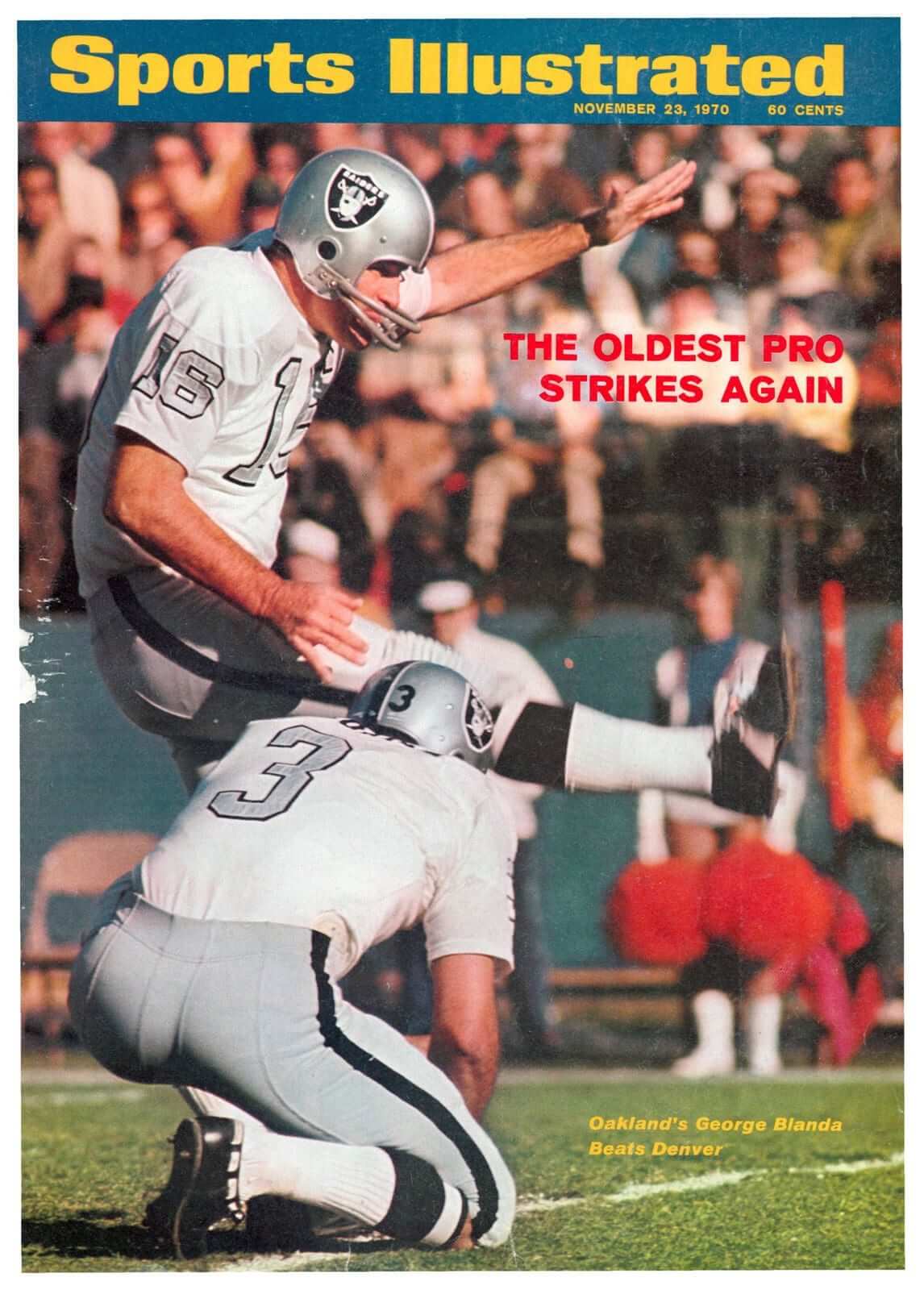 They revived this number style for a throwback set in 1994, but that uniform was actually a mash-up, because they used the 1963 helmet logo (with the light background on the shield) and the 1970 number style:
The 1970 version of the numbers — the one with the thinner outline — is the one they used last night: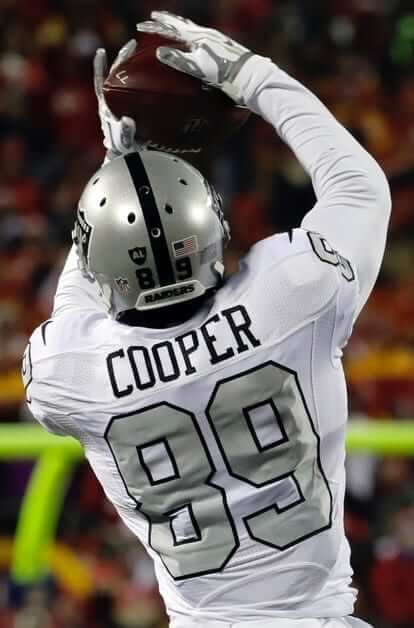 It doesn't look bad in that photo, but I actually found the numbers a bit hard to make out on TV. If the Raiders ever try silver numbers again, maybe they can find a happy medium between the thick and thin outlining.
• • • • •
Click to enlarge
Ho-ho-ho: One of our most cherished December rituals here at Uni Watch HQ is the annual arrival of baseball uni-patterned holiday cookies from longtime reader Elena Elms. This year she went with a Negro Leagues theme (a suggestion from her friend and fellow Uni Watch reader/contributor Tom Arnel). The teams are, clockwise from top left, the Brooklyn Royal Giants, Pittsburgh Crawfords, New York Cubans, Kansas City Monarchs, Detroit Stars, St. Louis Stars, Atlanta Black Crackers, Milwaukee Bears, Homestead Grays, and Baltimore Elite Giants.
I especially like Elena's execution of the Elite Giants design. A very nice script and bi-colored placket piping:
I'm happy to report that the cookies are, as usual, as delicious as they are attractive. Thanks so much, Elena — you're the best.
• • • • •
LAST CALL for the last 2016 shirt: Today's the final day to get the Uni Watch T-Shirt Club's last design of 2016. The design is a mash-up of uniform elements from all of our previous 2016 shirts (click to enlarge):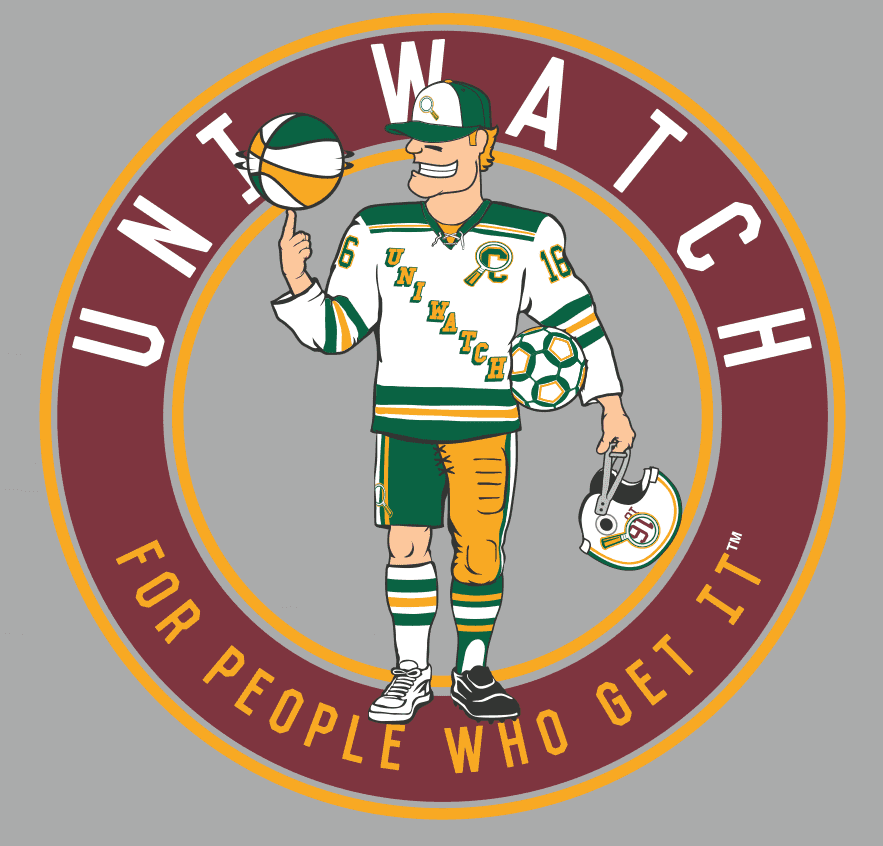 It comes in four color options — our usual grey, black, green, plus a new "military green" (that's what the manufacturer calls it, although I'd just call it light olive) — and is also available with either short or long sleeves.
If you've ordered all five of this year's previous shirts and also get this one, you'll be eligible for our year-end "Collect 'Em All" prize, which will be a patch based on the jock tag design used on this year's shirts. To qualify, please send me proof that you've bought all six shirts. The proof can either be (a) a photo showing all the shirts or (b) screen shots of the "Thank you for your order" emails you received from Teespring and Represent.
Once again, the new shirt can be ordered here. Thanks for your consideration.
• • • • •
The Ticker
By Paul

Baseball News: UT-Arlington's new softball unis look like something out of 1982, with racing stripes and elastic waistbands. … Clemson has switched its cap from New Era to Nike. … A friend of Marty Hick's decorates his Christmas tree with baseball caps — with the Hollywood Stars on top, of course.

NFL News: Washington DL A.J. Francis says he chose No. 69 "for exactly the reason you think." Classy (thanks, Mike). … Raiders WR Michael Crabtree suffered a torn helmet decal last night. We'll keep seeing more of this as the weather gets colder (from @RNs_Funhouse).

College Football News: Tomorrow's Army/Navy game will reportedly be the first game in NCAA history to use a football with colored laces (from cDubya242). … Another example of our move from a market economy to a market society: New Oregon coach Willie Taggart says he's going to restore the "Oregon brand." … Air Force will revive its "shark head" design for the Arizona Bowl (thanks, Phil).

Hockey News: The NHL says it has no plans to reconsider the Vegas Golden Knights' team name or logo, despite the team's trademark application rejection from the U.S. Patent and Trademark Office. The league and team are apparently proceeding under the assumption that the matter will eventually be resolved in their favor. … Check this out: Former Maple Leafs great Borje Salming in a Leafs softball uni (from Brian Wulff). … Ugly sweater jerseys for the Des Moines Buccaneers (from Robbie George). … The Sharks are giving away SF Giants-themed "Sharks" jerseys Saturday (from Jared Buccola). … More ugly sweater jerseys, this time for the Vancouver Giants (from Patrick Johnston). … New retro-themed Winter Classic pads, complete with waffleboard blocker, for Blackhawks G Scott Darling (from Marc-Louis Paprzyca).

NBA News: "A few months ago the internet blew up over a guy who dressed up in full Michael Jordan garb (uniform, shoes and accessories) to play pickup hoops," says our own Mike Chamernik. "MJ recently gave the guy a call and sent him a letter." … More trademark follies: You know how Jäegermeister's logo features a deer's head? They just filed papers opposing the Bucks' trademark (from Anthony Verna). … The Raptors used their Toronto Huskies uniforms and court design last night (thanks, Mike).

College Hoops News: Maryland freshman Kevin Huerter is the inspiration for a new logo for his alma mater, Shenendehowa High School East. … Wayne State's men's and women's teams will both be wearing a patch with Collin Rose's badge number for the rest of the season. Rose is the Wayne State police officer who was recently killed (from Chris Zadorozny). … The Buffalo women's team wore gold shoelaces for pediatric cancer last night.

Soccer News: If I'm understanding this properly, it appears that the French Football Federation has inked a new deal with Nike (from @Ry_Votro).

Grab Bag: Yesterday's Grab Bag included an item about a shop in Jerusalem that sells American sports T-shirts with the team names in Hebrew. In a related item, Matt Mosca was recently in Mexico, where he visited a boutique that had pro sports team ponchos. … Pantone says the hot color of 2017 will be a lime-ish shade of green. … The Washington Valor — that's an arena football team — will release their 2017 uniforms tomorrow. … New jersey for the Super Rugby team Lions, out of Johannesburg. "Significant upgrade over last year," says Eric Bangeman. … John Cena is hosting Saturday Night Live tomorrow, so the show WWE-ized its logo. … A Maryland man has been ordered to pay half a million dollars for his role in a counterfeit jersey operation. … Latest fad in Japan: a wearable blanket that looks like a school uniform.