Nice-looking game yesterday in Miami, as the Dolphins wore their throwbacks against the 49ers. Man, what I would give to see more NFL teams going with striped socks like these! Lots of additional photos here.
In other notes from around the league yesterday:
•  The Ravens went mono-black, and also had black end zones. (As an aside, I think the Bengals' uni combo in that game — white over black — is their most appealing look. Granted, that isn't saying much, but still.)
•  The Texans went mono-navy. (Also, if you look again at that photo, it looks like there was a sideline reporter at that game wearing a Boston Bruins jersey!)
•  The Falcons played the Cardinals, creating a battle of the awful pants striping designs.
•  Similarly, the Saints and Rams had a battle of the neck-roll collars.
•  The Titans added a "W.E.S." memorial decal for the victims of the recent Woodmere Elementary School bus crash in Chattanooga. Here's how it looked during the game.
•  The Seahawks wore white over grey. "First time they've done that this season," says reader Tim Dunn. "Maybe they should permanently retire that look: Their record in it is now 1-5."
•  Chargers wide receiver Tyrell Williams had an odd-looking situation on his left knee. I'm not sure if his pants were just riding up or what, but take a look:
•  Even by Bill Belichick's usual standards, his hat yesterday looked seriously ratty.
•  I couldn't find a photo, but Twitter user @twitrlesshane says Ravens fullback Kyle Juszczyk's name was misspelled as "Juszcyk" on his NOB. Anyone..?
•  No teams wore white at home yesterday.
•  Here's a list of players who protested during the national anthem.
•  Players participating in postgame jersey swaps included Jameis Winston (Bucs) and Russell Wilson (Seahawks); Adam Jones (Bengals) and Lardarius Webb (Ravens); T.J. Yeldon (Jags) and Marcell Dareus (Bills); Emmanuel Ogbah (Browns) and Romeo Okwara (Giants); Joe Haden (Browns) and Odell Beckham Jr. (Giants); Rashard Higgins (Browns) and Weston Richburg (Giants); Randall Telfer (Browns) and Devon Kennard (Giants); Alvin Bailey (Browns) and Robert Thomas (Giants); Corey Liuget (Chargers) and Whitney Mercilus (Texans); and Joe Barksdale (Chargers) and Duane Brown (Texans).
An interesting quirk, at least to me: With one exception — Weston Richberg — all of this week's jersey-swappers were black. That continues a trend of jersey exchanges being much more popular among black players. Granted, 70% of the league's players are black, so you'd expect any player trend to involve a predominance of black players. But the numbers here are overwhelming: I looked at all of this season's jersey-swap photos from three different wire services (Getty, AP, and USA Today) and found only five white participants other than Richberg: Zach Ertz (Eagles), Travis Kelce (Chiefs), Hunter Henry (Chargers), Nick O'Leary (Bills), and Cassius Marsh (Seahawks). Of course, there are lots of things that black people are more likely to do than white people, and vice-versa. I wouldn't have expected jersey-swapping to be one of them, but it apparently is. If anyone has any insights as to why that is, I'm all ears.
One final note: This was the final weekend of G.I. Joevember, so no more camouflage accessories for the rest of the season. Next Sunday, however, is when players will be permitted to wear custom-designed cleats promoting various charitable causes. I'll have additional coverage of that coming up this week on ESPN.
(My thanks to Andrew Cosentino and @Sean_buffalo for their contributions to this section.)
•  •  •  •  •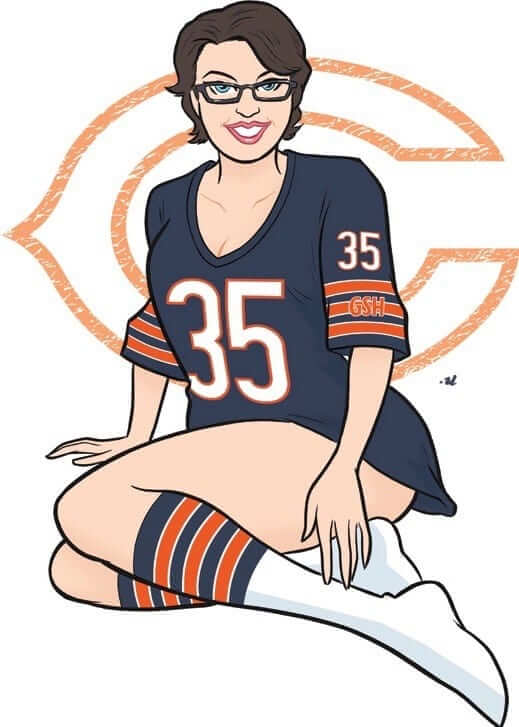 Holiday advertisers shout-out: As you may have noticed, we have several new advertisers for the holiday season. All of them are longtime friends of Uni Watch and deserve the extra attention I'm about to give them:
•  Uni Watch readers have been commissioning illustrator Rob Ullman to create pinup-style jersey-centric portraits of their partners — or themselves — for nearly a decade now. Want him to create a portrait like the one shown at right? Full details here.
•  Jeff Suntala's wonderful posters of baseball stadiums, which he produces under the name "There Used to Be a Ballpark," have been Uni Watch favorites for years. You can check out his full product line here, plus he's recently added something that these two prints showing all current National League and American League ballparks. Great stuff.
•  Our friends at Grey Flannel Auctions are currently running one of their excellent seasonal auctions. I'll take a closer look at some of the most notable auction items in an upcoming "Auction Action" post (possibly as soon as tomorrow), but you can get a head start by checking out the catalog here.
•  Attorney Anthony Verna has been advertising on the site for a few months now, but it bears repeating: If you have an intellectual property issue regarding trademark, copyright, or anything along those lines, Anthony is the man to see. I've consulted with him many times over years — sometimes regarding a uni-related topic I was writing about, and sometimes about my own legal affairs — and can personally testify to his expertise. You can find him here.
•  While we're at it: If you want to buy a membership card for someone but don't know which design the lucky recipient would want, we can help you out with that.
•  Also: If you're theoretically intrigued, just hypothetically speaking, in any of these designs, we can discuss.
• • • • •
The Ticker
By Alex Hider

Baseball News: Check out this 1973 Graig Nettles card. He was traded from Cleveland to New York after the '72 season, and Topps decided to just airbrush a Yankees logo over his Indians jersey from the year before. No pinstripes! (from BSmile).

Pro and College Football News: Good story on the history of the Duluth Eskimos "" one of the first NFL teams to use a logo (from Sam Bevins). … Looking ahead to next week, Penn State will be the designated home team in the B1G Championship, meaning they'll likely wear blue (from Johnny O.). … From Saturday: Louisiana-Lafayette went with an all-black look against Arkansas State (from Tom M.). … Saturday was not a good day for Virginia. After losing 52-10 to rival Virginia Tech, their equipment truck had some trouble getting home (from Damian Salas). … Here's every uni combination Oregon has worn over the last five years in one handy chart. … In that same vein, James Gilbert has a comprehensive record for every color combo North Carolina has worn since 2012. … Looks like the spotters had some problems during the Grey Cup last night (from Jon Horton). … Speaking of the Grey Cup, so many issues with this score graphic.

Hockey News: The Florida Panthers may have changed their logo this year, but they're still wearing the old leaping panther on their helmets. What's even weirder is that the helmets include the team's new alternate logo (from Jared Rosen). … No photo, but Max Wagner says that the Blackhawks dressed three alternate captains this weekend, and all three took the ice at the same time during a power play. … Speaking of the Blackhawks, they played an ugly white/gray matchup with the Kings this weekend. … Add Maine hockey to the small list of teams whose uniforms are made by New Balance (from Charles). … Tim Merkley has an awesome NHL-themed Christmas tree.

College Hoops News: They say you should play for the name on the front of the jersey, not the name on the back. But what about when the name on the back is unreadable, like with Nebraska's white-on-white NOBs? They're so hard to see that Keith Kost mistook them for lettering on an undershirt showing through to the jersey.

Soccer News: Those eco-friendly Real Madrid jerseys, made from recycled ocean waste, debuted the other day. Although the design included advertising and a shield, those graphics were hard to see during the game, which was played in the rain (from Santiago Rábade).

Grab Bag: A Gaelic football team in Ireland was all set to debut its new jersey design the other day. But due to an unexpected color clash, the jersey ended up being worn by the team's opponent (from Denis Hurley).