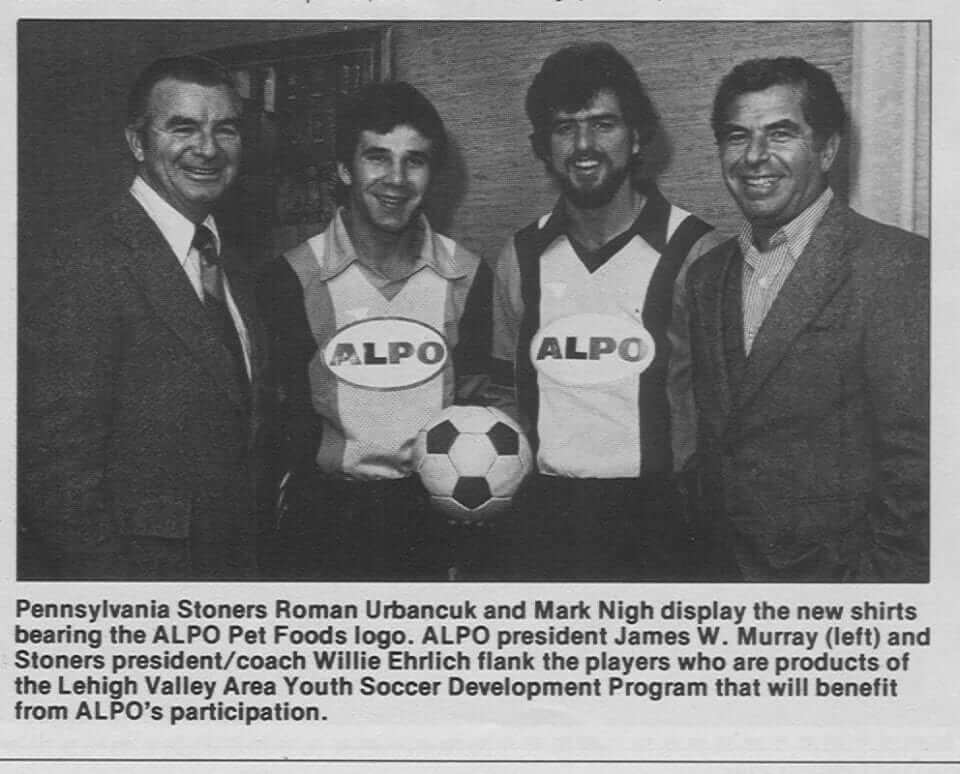 Click to enlarge
[Editor's Note: Today we have a guestwritten entry by Matthew Algeo, who's going to enlighten us regarding an early example of uniform advertising. Enjoy. "" PL]
By Matthew Algeo
When I was a tween, I was a huge fan of the Pennsylvania Stoners, an American Soccer League team based in Bethlehem, Pennsylvania. The team name was based on Pennsylvania being the Keystone State. When they won the ASL championship in the spring of 1980, I was as happy as I was when the Phillies won the World Series a few months later.
In 1979 or '80, the Stoners became one of the first North American pro sports teams to wear an advertiser's logo on their jersey (see above) — something English League teams had started doing just a few years earlier, in 1977. The advertiser was the dog food brand Alpo, which was based in nearby Allentown. ("Alpo" is an abbreviation for "Allen Products.")
I recently had a brief Facebook conversation with Bob Ehrlich, who was on the Stoners at the time and was the son of the team's owner, Willie Ehrlich. Here's what he had to say about the team's uniforms: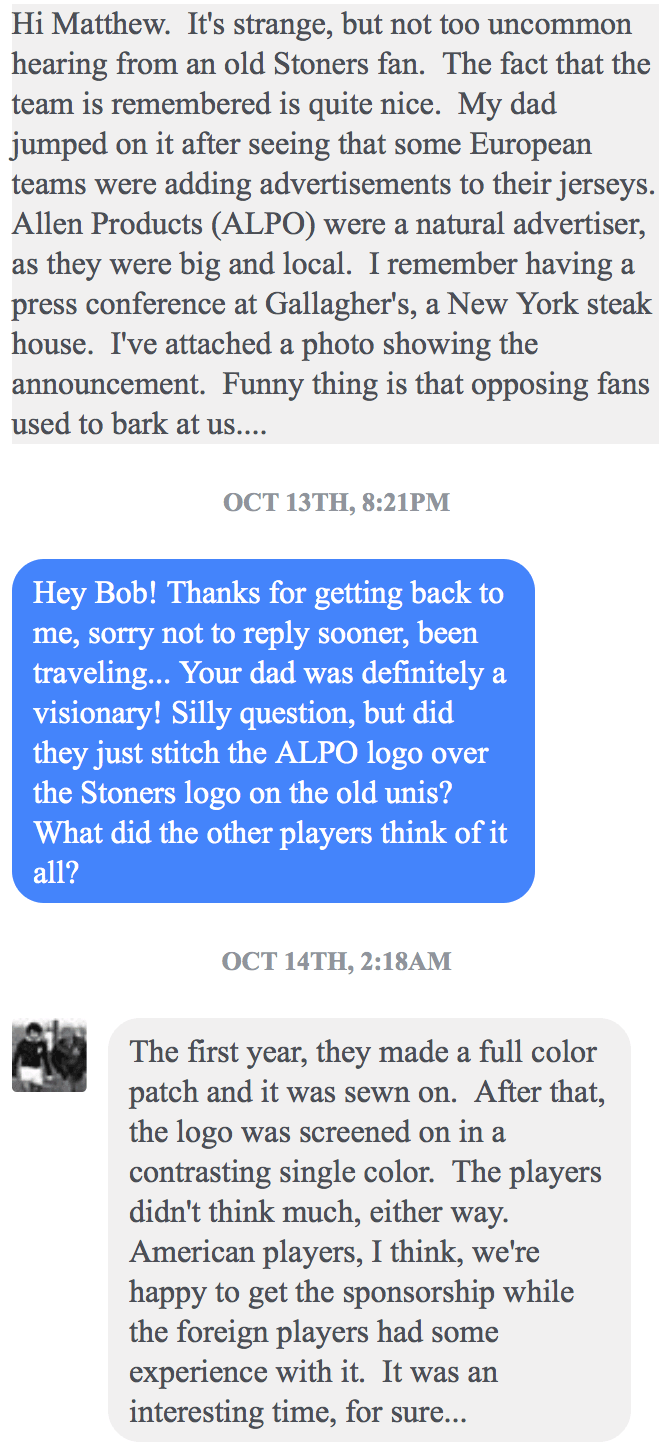 As for me, I thought having the Alpo logo on the team's jerseys was very cool. To me, it made the Stoners seem like a big league team. The ASL was the redheaded stepchild of the much more prominent NASL, but the jersey ad showed that the Stoners were on the cutting edge of American soccer, at least from my perspective. And although I've never owned a dog, if I did I would definitely feed it Alpo. So, in a weird way, I guess it worked: Advertising on a uniform has affected my behavior — or at least my potential behavior — as a consumer.
•  •  •  •  •
The Ticker
By Paul

Baseball News: The FBI has warned Cubs fans to be on the lookout for fake memorabilia. … Hallmark has made a Madison Bumgarner tree ornament that shows him wearing a white Giants uni, instead of cream. "He does bear a passing resemblance to Jesus," says Brinke. … Good story about the potentially great MLB ballpark that never got built in Montreal (from @GKG_77). … The spate of offseason minor league team renamings continues, as the New Orleans Zephyrs are now the New Orleans Baby Cakes. The name refers to the New Orleans Mardi Gras ritual of King Cake, which traditionally has a small plastic baby baked into it. So the team logo is, of course, a snarling baby — your basic boilerplate Brandiose treatment. More on that here. At least they have two different Pelicans throwbacks.

NFL News: Lots of classic 1960s NFL posters on this Pinterest page (thanks, Brinke). … Washington S Duke Ihenacho wants the team to go mono-burgundy for this Sunday night's game against the Packers (from Tommy Turner).

College Football News: The Fiesta Bowl has a new sponsor advertiser. The only good thing about that is that we won't be hearing Brent Musberger saying this one is "for all the Tostitos" (from Andrew Costentino). … Consume at your own risk: Here's one observer's ranking of this season's 15 best college football alternate uniforms (from Phil). … Throwbacks on tap this Saturday for Pitt (from James Gilbert). … Iowa QB C.J. Beathard has gotten his helmet back. It went missing in the celebration following the team's victory over Michigan last weekend, but local cops spotted a kid wearing it around town and retrieved it (from Josh Hinton).

Hockey News: "I'm a season ticket holder for the new Las Vegas NHL franchise," writes Kaine Messer. "I received an email from the team on Tuesday with a graphic that included gold, red, and black bars. A possible indication of the color scheme to be unveiled next week?"

NBA News: An auto repair shop in Virginia has a very Celtics-esque logo. … Here's a history of NBA jerseys in rap videos (thanks, Phil). … The Cavs wore red throwbacks at home last night, forcing the Raptors to wear white on the road (from Ilan Shields). … "As an eight-year-old, I attended a Timberwolves game at the Humbert H. Humphrey Metrodome in their inaugural 1989-90 season," writes Steven Lobejko. "I recent read an article that mentioned that they played several games that season at the Met Center in Bloomington when there were scheduling conflicts with the Twins/Vikings/Gophers. I don't have any memory of that, and Google Images turned up nothing. I would love to see any pictures out there of a Wolves game at the Met." Can anyone help with that? … One of the worst-looking NBA games in recent memory last night in Miami: the Heat's G.I. Joe costumes against the Hawks' quilted road unis (from Chris Howell). … Oh baby, love this old Miami Floridians pennant (from BSmile). … Back in 1949, long before federal law required every mascot to look ferocious or intimidating, the Chicago Stags ran this ad (great find by Jerry Wolper). … This is interesting: During the 1989-90 season, the Albany Patroons of the CBA had "ALBAN.Y." on their chests (from Chuck Miller).

College Hoops News: Manhattan went with an all-green court yesterday (from Colby). … Neon vs. neon in yesterday's Oregon/Baylor game (from Andrew Cosentino). … New BFBS alternate for Texas. "The front just has the Longhorn logo above the number," says Zack Becerra). … The Dayton hoops team flew south for a game against Alabama on Hillary Clinton's former campaign plane, with her livery still on the exterior (from Patrick O'Neill). … Belmont wore red last night for the first time in school history (from Jason Piland). … D3 Salisbury College gonig with sleeved jerseys and mismatched cummerbund shorts this season (from Travis Nardella). … Turquoise N7 uniforms on tap this Friday for Gonzaga (thanks, Phil).

Grab Bag: The newest MLS team, Atlanta United FC, has unveiled its inaugural uniform (from Josh Hinton). … In the wake of some people burning their New Balance sneakers due to a company exec's support of Donald Trump, a neo-Nazi blogger has declared that New Balance sneakers are now "the official shoes of white people" (from Tommy Turner). … New logo for Lyft. … Here's a video — 10 minutes long! — about Samford University's new logo (from B.J. Millican). … Check out the jerseys for this Canadian curling squad (thanks, Phil). … New license plate design for Illinois (from Anthony Zogas). … Three Manhattan buildings will no longer carry Donald Trump's name after residents petitioned to have the name changed. Key passage: "Tenants got a hint that change was afoot in late October when doormen told residents that they were being measured for new uniforms that would no longer bear the Trump name." … The uniform outfitter for six Aussie football teams has gone into receivership, which may force the teams to find a new supplier (thanks, Phil).