A TV commercial for an anti-stroke drug called Xarelta, featuring NBA legend Jerry West, began running back in August (see above; it seems to play better in Chrome than in other browsers, at least for me). I've seen it a few times but never really paid attention to it until last night, when I noticed that it includes a very clever moment: At the 53-second mark, West is shown autographing a photo, and there's a big NBA logo hanging on the wall in the background. That logo, of course, is based on West himself, and the photo he's autographing is the shot that was used as the basis for the logo.
The NBA, incidentally, has never formally acknowledged that West is the basis for the logo (although the logo's designer, Alan Siegel, has flat-out stated that he used a photo of West to create the design), yet they approved the use of the logo in this ad. Interesting — almost like a wink-wink thing.
•  •  •  •  •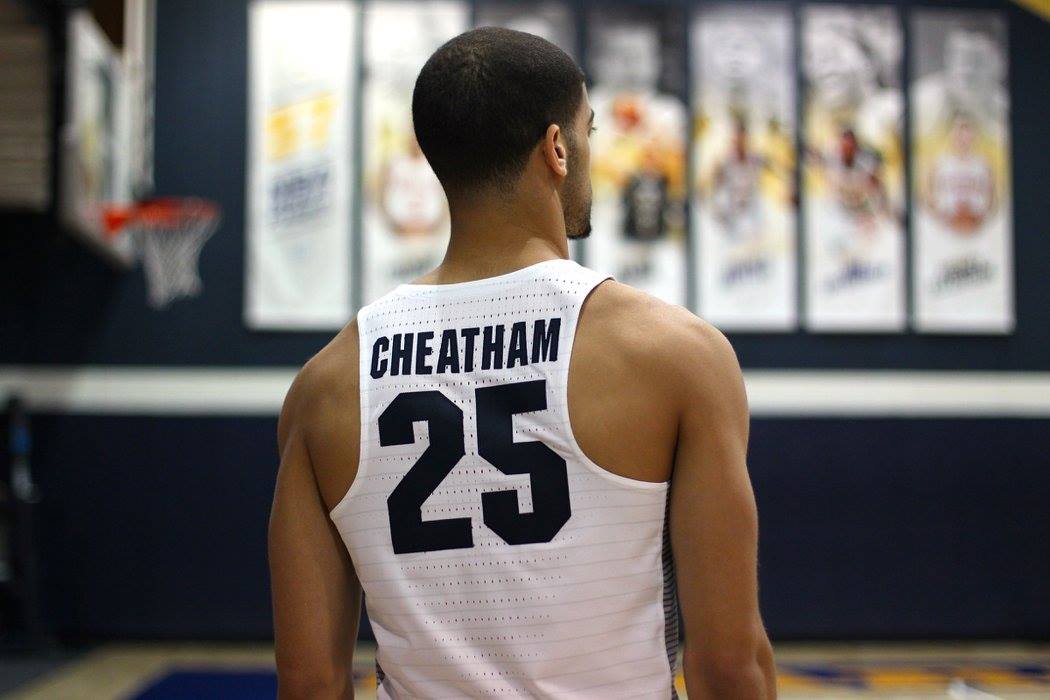 College Hoops Preview: My annual college basketball season preview is up now on ESPN. It covers over 160 schools, making it by far the largest season preview I've ever done for any sport. The big storyline this year is Nike's new slimmer tailoring template, which shows a lot of skin in the back (see above). Check it out here.
• • • • •
LAST CALL for the football T-shirt: This is the last day to order the Uni Watch T-Shirt Club's latest design, which comes in three color options (grey, black, green) and is available here. Here's the design: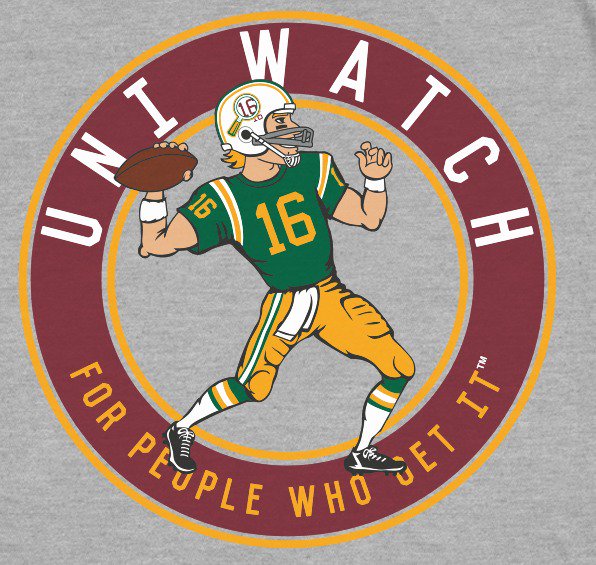 Again, the shirt is available for ordeing here. My thanks, as always, for your consideration.
• • • • •
#Nov8purple results: My thanks to everyone who helped document purple-clad TV reporters on Election Day (and especially to Chris Howell, who really went above and beyond). You can see the screen shots that people submitted here.
•  •  •  •  •
The Ticker
By Paul

Baseball News: New gloves for Northern Kentucky (from @The_Amish_Robot). … The Chicago Transit Authority is celebrating the Cubs' World Series victory by adding Cubs-themed rail cars to some of its lines (thanks, Mike).

College Football News: Here's what UNC will be wearing on Thursday against Duke (from James Gilbert). … A college player in Kentucky plays with a prosthetic leg — and even returns kicks! (Big thanks to Jason Hillyer.) … We had already talked about Eastern Michigan wearing Election Night helmets last night. Their opponent, Ball State, joined in by going with a stars/stripes helmet. … The Washington Huskies will wear these Veterans Day uniforms on Saturday. Each jersey will include the name of a veteran associated with the school.


Hockey and Soccer News: Military appreciation uniforms this Saturday for the Sioux City Muskateers (from Chris Palmquist). … Real Madrid star Cristiano Ronaldo has inked a massive deal with Nike (thanks, Brinke).

Basketball News: Here's a time-lapse video showing the construction of the Kings' new arena. … The Raptors will debut their Huskies throwbacks this Saturday night (thanks, Phil). … New Pat Summitt memorial patch for the Tennessee women's team.