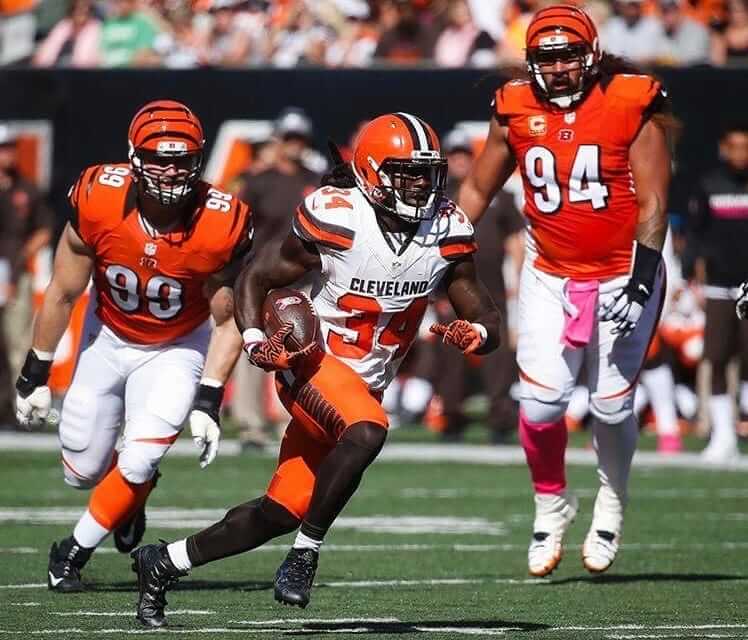 For most of today's photos, you can click to enlarge
Serious orange-o-rama action yesterday in Cincy, as the Bengals wore orange over white and the Browns countered with white over orange. Toss in the two helmets and you have the most orange-centric NFL match-up imaginable. I heard from a bunch of people who thought it was too much, but I thought it looked great — orange is an underutilized uniform color, and I liked the yin/yang of the two teams essentially wearing inverse versions of each other's uniforms. Additional photos here and here.
In other news from around the league yesterday:
•  The Falcons wore their black fauxbacks, which looked pretty good (additional photos here):
But the seemingly endless saga of Falcons' logo inconsistencies continues, because the team changed its helmet logo from the one that was shown in last week's promotional photos. Here, take a look — promo photo on the left, game photo on the right:
As you can see, the logo in the promo shot had the feather lines connected to the wing, while the feather lines in the game version were floating in space. This means neither the helmet logo nor the sleeve logo was era-appropriate, but at least they matched each other.
Incidentally, the Falcons caught us all by surprise when they unveiled the fauxbacks last week, because there hadn't been any previous announcement about them. But it turns out there was a hint: The ticket design for yesterday's game included a throwback logo, instead of the current logo.
•  The Dolphins wore their throwbacks. This is the part where everyone says, "They should go back to wearing that design full-time," and I don't disagree (additional photos here):
While the uniforms were sweet, I liked the diamond-patterned end zones even better:
•  In Philadelphia, the Eagles went mono-black, and the Vikings wore white jerseys for the first time this season:
•  In that same game, the Eagles gave the end zone logos a serious pinkification treatment:
•  The Titans went mono-navy.
•  The Jets went mono-green.
•  The Rams went mono-blue.
•  Washington's burgundy renaissance continued, as they wore their burgundy pants.
•  Speaking of Washington: NFL helmets aren't supposed to have any maker's marks, but Washington cornerback Josh Norman had a Rawlings logo on his nose bumper: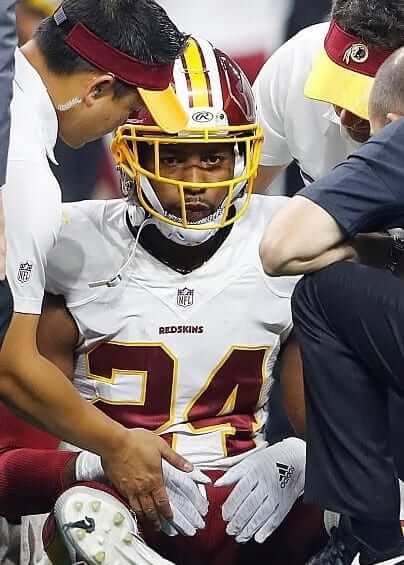 I checked to see if Norman had worn the Rawlings mark prior to this week — he hadn't. But he did have something written on his nose bumper for the Oct. 2 game against the Browns. It appears to have been "JNO":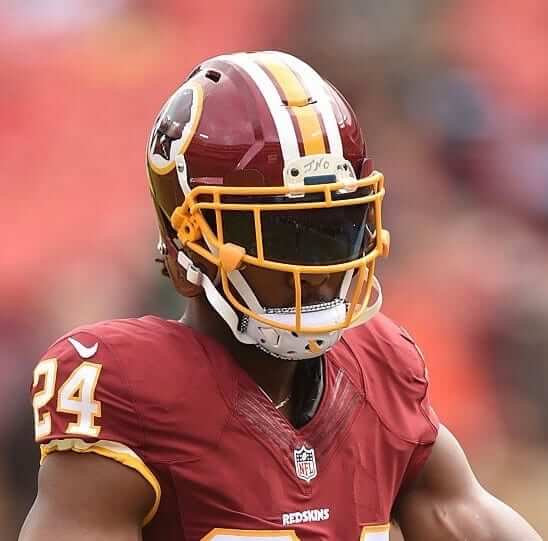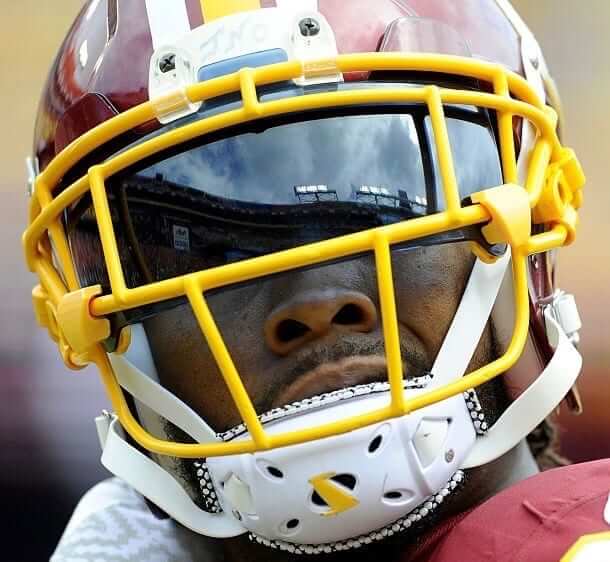 Anyone know what that's all about?
•  You don't often see a team wearing its alternate uniform on the road, but the Seahawks routinely choose road games for wearing their grey alternates, which they wore last night in Arizona. After looking at that design for five seasons now, my reaction is still the same as it's always been: It looks like a dirty white uniform that was laundered without enough detergent or bleach.
•  For Giants/Rams game in London, CBS kept using its Thursday Night Football graphics package. I get that it was the same production crew they normally use on TNF, but it still felt weird to see all the Thursday references for a Sunday game.
•  Only one team wore white at home: the Jaguars.
•  Players participating in postgame jersey exchanges included Derrick Johnson (Chiefs) and Kenny Vaccaro (Saints); Ahmad Brooks (49ers) and Howard Jones (Bucs); Allen Hurns (Jags) and Clive Walford (Raiders); DuJuan Harris (49ers) and Evan Smith (Bucs); JaCorey Shepherd (49ers) and Bradley McDougald (Bucs); Albert Wilson (Chiefs) and Wil Lutz (Saints); Charcandrick West (Chiefs) and Tim Hightower (Saints); Odel Beckham Jr. (Giants) and Todd Gurley (Rams); and Patrick Peterson (Cardinals) and Jermaine Kearse (Seahawks).
•  Here's a list of players who protested during the national anthem.
(My thanks to all contributors, including Braden Classen, Jack Daley, Charlie Kranz, @RJ24544, @SteveBCreations, @wd_4, and our own Alex Hider.)
•  •  •  •  •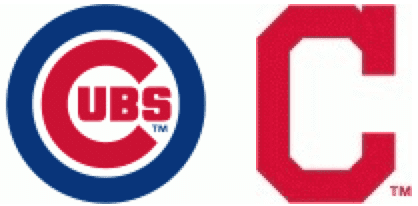 World Series Preview: With the two World Series teams now set, I've written a Uni Watch World Series Preview column for ESPN, breaking down some of the uni-notable details for each team. Check it out here.
• • • • •
StripeRite update: In case you missed it last Friday, I'm excited to share our latest batch of StripeRite socks with you.
The basic concept behind StripeRite remains the same: You want to show your stripes, literally and figuratively, but how can you do that when the stripes found on most stirrups and athletic socks are up around your calf, where nobody can see them unless you hike up your pants? Our own Scott M.X. Turner "" the guy who designs all the Uni Watch membership cards "" came up with a great solution to that problem: What if there were socks with the stripe patterns down by the ankle? That way the stripes would be visible as you walked, when you crossed your legs, when you put your feet up on your desk, and so on.
We were very happy with the response to the first batch of StripeRite designs. Now I'm happy to show you the second batch: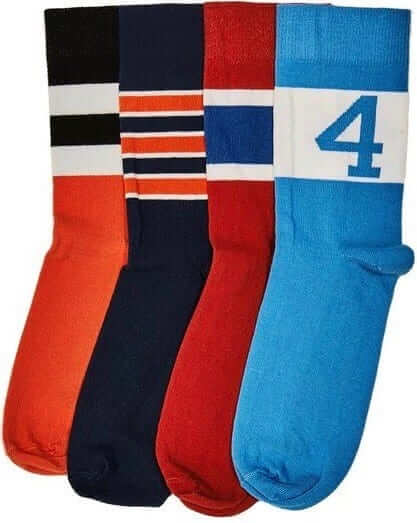 .

.
Nice, right? They won't be ready to ship until Nov. 21, but you can preorder them now. They'll definitely arrive in time for the holidays. The socks are available individually or as a four-pack. As always with American Trench product, the socks are made in the USA and shipping is free.
As promised, all the profits from sales of the first batch are being donated to the Jackie Robinson Foundation. A check for $4,451.25 is on its way to them now. Those first four designs are still available, and all profits from them will continue to be donated to the JRF.
Continued kudos to Scott Turner for coming up with the idea for these socks, and to American Trench honcho Jacob Hurwitz for executing Scott's concept so well. Again, you can preorder the new designs here, and the first batch is still available here. Thanks.
• • • • •
Click to enlarge
Best Summer Ever, continued: The Tugboat Captain and I recently had to break our long-running string of Last Summer Weekend Walks on the Beach (we were upstate for one weekend and busy with chores on another), but yesterday we picked up where we left off, taking a stroll in the Rockaway surf. The air and water temperatures were both fine, but it was sooooo windy, with gusts in the 40-mph range — the airborne sand really stung. Still, it was worth it. Man, what a gorgeous day:
Afterward, we checked out the scene at a Knights of Columbus that we'd been meaning to investigate. It's technically for members only, but nobody seemed to mind our presence as we split a bucket o' beers and watched football. Still, I tried not to be too loud while pointing out the various throwbacks and other uniform anomalies unfolding on the TV screens — seemed like the kind of crowd where that might not have been appreciated.
As we were leaving, a bunch of costumed kids were coming in for a pre-Halloween party being held in one of the adjacent party rooms. There was the usual assortment of ghosts, ghouls, witches, and so on, but none of them were as scary or horrifying as these two:
•  •  •  •  •
KRC update: The latest installment of Key Ring Chronicles is about a mini-flask. Check it out here.
•  •  •  •  •
The Ticker
By Alex Hider

NFL News: Late-'60s Rams DL Roger Brown was ahead of his time. When everyone else was wearing long sleeves, he had his jerseys tailored with short sleeves, to keep opposing players from getting a handhold. … Jim Moeller found a Jets shirt with an upside-down logo at Kohl's "" and it was still listed at full price!

College and High School Football News: Great piece from The New York Times about how some coaches go about awarding single-digit numbers, which are highly coveted by players (from Drew Stiling). … Utah State has a logo history at their newly renovated field (from Benji King). … Good luck telling these two teams apart! "That's St. Mark's School of Texas (the home team, in navy), based in Dallas, and the Texas Alliance of Christian Athletes (the visiting team, in gray, a "home school" team)," says Bud Brooks. "Apparently TACA only has this one uniform, no white jersey at all."

Hockey News: The Kings debuted their gray alternates on Saturday, and it looks like they'll be wearing special gray-trimmed gloves with the new sweaters. Compare to their normal gloves (from Wade Heidt). … Dustin Byfuglien of the Jets wore special skates for the Heritage Classic yesterday (from Andrew Paterson). … WGN used an old Maple Leafs logo in a graphic on Saturday (from Aaron Rusnak). … Jeremy Reeder spotted some construction equipment with Penguins logos. … The Rangers wore purple warm-up jerseys last night for Hockey Fights Cancer (from Alan Kreit).

NBA News: Looks like the Raptors will play on an alternate throwback court when they wear their Huskies throwbacks this season (from Mike Guterman). … Gorgui Dieng of the Timberwolves appeared to have a ghosted Adidas logo on his jersey during yeserday's preseason game against the Hornets. It was probably showing through from his base layer (from Alex Benezra).

College Hoops News: New uniforms for Mercer (from Clint Richardson). … Wisconsin will wear a memorial patch honoring head coach Greg Gard's father, coach Lamont Paris' mother, and former player Ab Nicholas (from Scott Hurley). … Speaking of, here's a full shot of those unis in action (from Jim Polzin). …

Soccer News: ITV in the UK is running a documentary called "Get Shirty," which follows the rise and fall of Admiral, a company that was an early player in the soccer apparel game. I can't find a way to watch it in America, but here's a quick preview (from Cort McMurray). … Here's what each team wore in the Premier League this week (from John Devlin). … With the MLS regular season coming to a close, we can close the book on this kit tracker (from Kyle Burkholder).

Grab Bag: Not even our food is safe from Pinktober (from Devon Kuckenbecker). … During yesterday's Bengals/Browns game, CBS ran a graphic saying the Indians last won the World Series in 1947. The Tribe actually last won it all in 1948 (from Marc Viquez).
•  •  •  •  •
Click to enlarge

What Paul did last night two nights ago: The feast shown above — pork chops, assorted wursts, sauerkraut, and German potato salad — was part of an Oktoberfest celebration that some friends and I attended on Saturday night at the very wonderful Danish Athletic Club in Brooklyn. As longtime readers may recall, about four and a half years ago I wrote about my first visit to the club, which at the time was on the verge of closing due to its membership literally dying off. Happily, the DAC has recently been rejuvenated by a new influx of members, which led to Saturday's Oktoberfestivities.
There was a German-style band and a German dance troupe. Some of the dance moves looked like they were straight out of the Ministry of Silly Walks, but whatever — it was all great.
At one point the dancers invited the rest of us to join them. Here's the Tugboat Captain with one of them (click to enlarge):
All in all, a splendid way to spend a Saturday night.