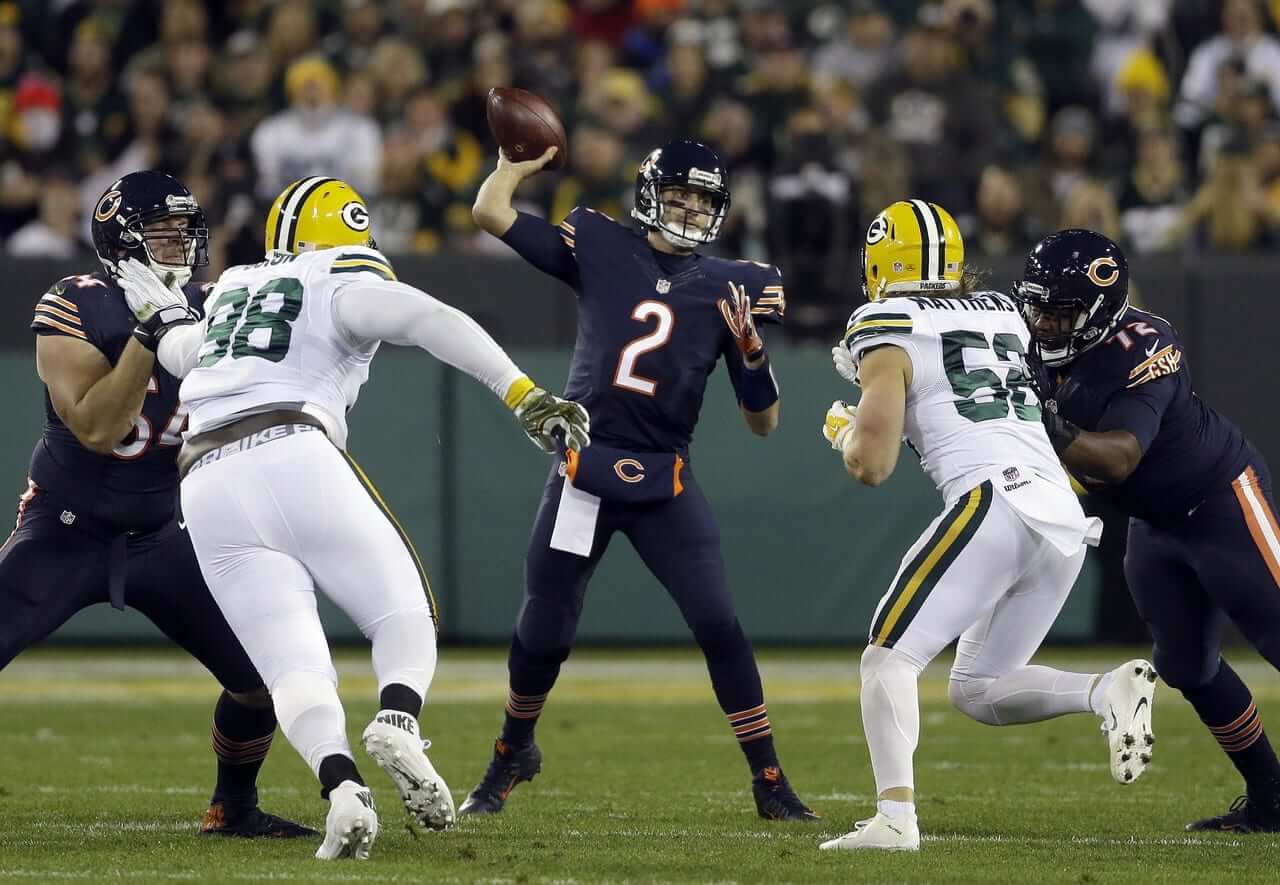 Click to enlarge
Disappointing game last night in Green Bay, as the mono-white Packers hosted the mono-might-as-well-be-black Bears. Not a good look for either team. Did anyone else think the Packers looked like they were at a yoga class or something? You can see lots of additional photos here, here, and here.
Imagine if they'd put the Bears in orange the Pack in green — would've looked way better, plus it'd be suitably autumnal. (Better yet, imagine if they'd just worn their regular uniforms, which would be, as it usually is, one of the best-looking games of the year.)
Some additional notes:
•  A few players tinkered with the mono look. For the Packers, wide receiver Randall Cobb had yellow sock stripes (or maybe just tape), Davante Adams had yellow shoes, and defensive back Ha Ha Clinton-Dix had pink shoes. For the Bears, wideout Alshon Jeffery had white shoes and defensive lineman Willie Young had orange shoes.
•  The Packers even extended the whiteout theme to their website.
•  According to the mighty Gridiron Uniform Database, the Packers had previously worn white at home only twice in the past 60 years. Those two games were both in 1989. Here's why they did it.
•  Had the Packers ever worn mono-white before last night? Yes! Green Bay had white road unis in 1956, '57, and '58, which were worn for the final time on Dec. 14, 1958, in L.A..
Next Thursday: Jags vs. Titans, which is a do-over of a uni match-up we already saw last year.
(My thanks to Chance Michaels and Bill Schaefer for their contributions to this section.)
•  •  •  •  •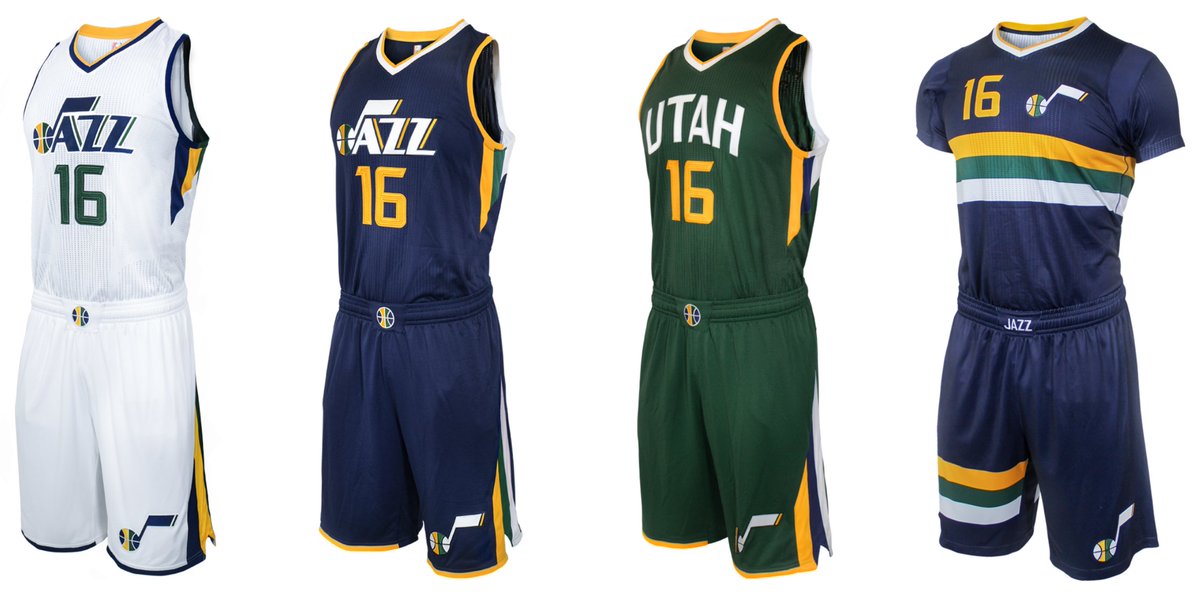 Click to enlarge
NBA Season Preview: The annual Uni Watch NBA Season Preview, with all of the changes for the upcoming season (including the Jazz's new set, shown above), will be out today. Check it out here.
•  •  •  •  •
StripeRite update: Big thanks to all of you who made the first batch of StripeRite crew socks, which were released back in July, such a big hit. As promised, all the profits from sales of that batch are being donated to the Jackie Robinson Foundation, and I'm pleased to report that they'll be receiving a check for $4,451.25 from American Trench. It mailed out yesterday:
.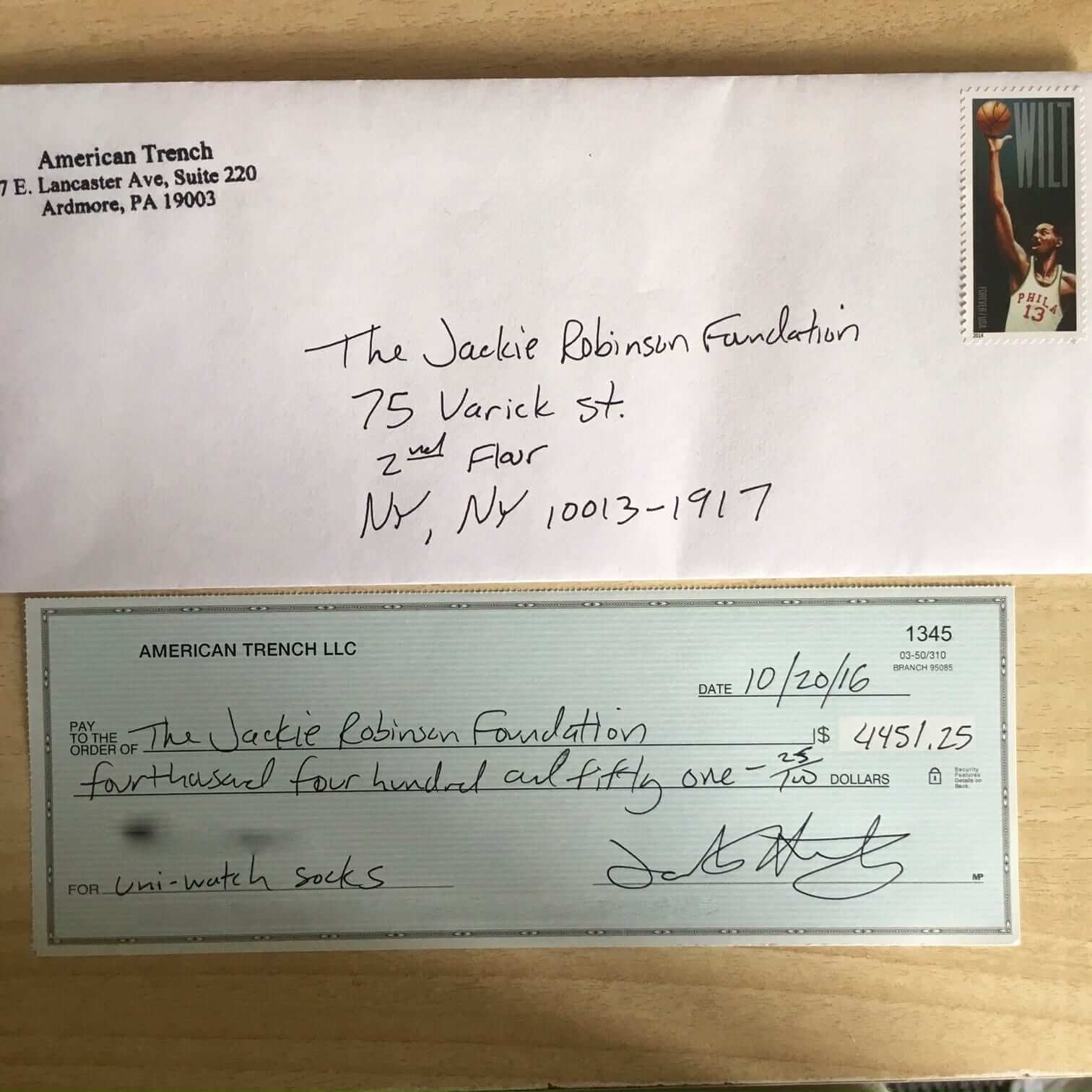 .
Those first four designs are still available, and all profits from them will continue to be donated to the JRF.
Meanwhile, I'm excited to share our next four designs with you — check it out: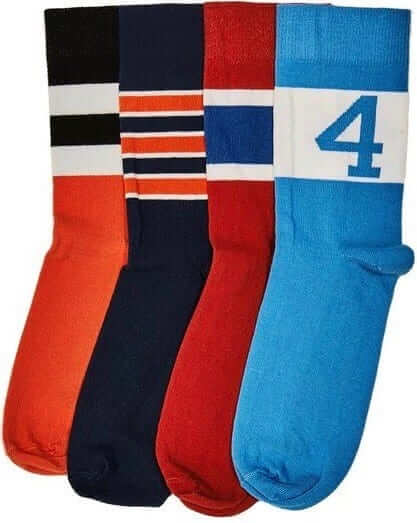 Nice, right? They won't be ready to ship until Nov. 21, but you can preorder them now. They'll definitely arrive in time for the holidays. The socks are available individually or as a four-pack. As always with American Trench product, the socks are made in the USA and shipping is free.
Continued kudos to Scott Turner for caming up with the idea for these socks, and to American Trench honcho Jacob Hurwitz for executing Scott's concept so well.
Again, you can preorder the new designs here, and the first batch is still available here. Thanks.
•  •  •  •  •
Membership update: A few more designs have been added to the membership card gallery (including Trevor Dinham's card, shown at right, which is based on the Windsor Lancers' helmet). I still have a few slots open on the current sheet and plan to send it to the printer on Tuesday, so people who sign up now will get their cards very quickly.
As always, you can sign up for your own custom-designed card here, you can see all the cards we've designed so far here, and you can see how we produce the cards here.
•  •  •  •  •
The Ticker
By Paul

'Skins Watch: The mayor of Toronto, who also happens to be a former CFL commissioner, says it's time for the Edmonton Eskimos to change their name (from Chuck Loads). … Chief Wahoo was controversial at least as far back as 1972 (thanks, Phil).

Baseball News: While looking for something else, I came across this shot from a 1960 Indians game. Note how the wishbone-C on the helmet doesn't match the one on the cap. Also of note: Umps in neckties! … A Broadway show made a set-design adjustment, changing a White Sox pennant to a Cubs pennant after someone pointed out that the story is set on Chicago's north side (from Jared Peterson). … There's a new book celebrating game-worn baseball jerseys. I've requested a review copy from the publisher, so I should have more info on this soon (from @SportsCollector). … Look at the sensational championship cufflinks presented to Cleveland player/skipper Tris Speaker in 1920! … Criminal Records — a record store in Atlanta — is selling Reds-themed T-shirts. … Dodgers C Carlos Ruiz wears No. 51, but he appeared to be wearing teammate Yasmani Grandal's catching helmet last night.

NFL News: But tell us how you really feel: NBC broadcaster Al Michaels referred to the Color Rush uniforms as "caca" during an interview the other day. … The Browns will wear white jerseys and orange pants for Sunday's game in Cincy. The Bengals will be wearing their orange alternate jerseys, so that will be a very orange-centric game. … New logo, and no more Snoopy, for MetLife. The new blue/green color scheme matches well with the Giants and Jets, who both play at MetLife Stadium. … Reprinted from yesterday's comments: In this 1968 footage of a Bears game at Wrigley Field, one of the end zones didn't fit entirely onto the field and had to be truncated (from Mart Guttag). … The Dennis Byrd memorial decal that the Jets wore on Monday night will be worn again this Sunday.

College Football News: Duke will wear "Battleship Gray" helmets on Nov. 5, as part of the festivities marking the 75th anniversary of the school's 1941 Rose Bowl appearance. Additional views here. The logo was used by the 88th Infantry Division — known as the Blue Devils — in World Wars I and II (from Robert Hayes). … New uni this week for South Dakota State. "It's their third week in a row with a new getup," says Tanner Butler. … Ball State's going mono-red tomorrow. … Flag-desecration helmet logo tomorrow for Marshall (thanks, Phil). … Also from Phil: Why are Boise State's 30-yard markers orange? Because it's the 30th anniversary of the blue turf.

Hockey News: Not sure why this wasn't announced until now, but the Bruins have designated last season's Winter Classic jersey as their new alternate (from Matt G). … Pinktober pregame warm-up jerseys next Monday for the Blackhawks (thanks, Mike). … The Rapid City Rush are wearing old-school Phoenix Coyotes-themed jerseys tomorrow night (thanks, Mike). … The Flyers raised a banner last night for former owner Ed Snider (from @Franny214920).

NBA News: Expect to see a lot of uni-specific sock designs this season. The Suns, for example, have six different jerseys with a corresponding sock for each one. … I heard back from the Hawks about their racing stripe design. Unfortunately, they have no records indicating who the original designer was.

College Hoops News: New uniforms for Dayton (from Detroit Don). … New road uni for Utah (from Trent Knaphus). … There's a lot going on in this shot of the North Iowa Area Community College women's team. First, the matching horizontal stripe patterns on the jersey and shorts. Second, always fun to see uni numbers on the shorts. Third, at least two of the players are rolling down their waistbands. Fourth, do those shorts have zippers? Looks like it. And fifth, the unis are by Russell, the headbands are a mix of Nike and Adidas, and I don't know what that logo is on the leggings (from Jesse Gavin). … This is pretty wild: The baseline from UVA's old court is being used as the floor in the snack aisle of a Charlottesville supermarket (from James Gilbert).

Soccer News: A Chilean soccer team has a badge design that looks a lot like the Pittsburgh Steelers' logo. If you scroll down to the responses to that tweet, you'll see why (from Mark Roberts). … Serious jersey mishap yesterday for Robin Van Persie. … Pinktober jerseys last night for Florida State (from Kyle Baker).

Grab Bag: For those of you who like to keep up with everything I write, I have four entries in The Village Voice's current "Best of New York" issue. … Hey look, a legitimate example of rebranding: The governing body for Canadian college athletics, which had been known as Canadian Interuniversity Sport, will now be known as U Sports (from Moe Khan). … New uniforms for the Japanese men's volleyball league (from Jeremy Brahm). … New logo for the Bozeman (Mt.) Public Library. … Hillary Clinton outfits for the three presidential debates were inspired by Death Row Records. Okay, probably not, but it's still pretty funny. … A truck competing in the Fred's 250 race at Talladega Superspeedway tomorrow will feature a "Trump/Pence 2016" design. … Rugby news from Eric Bangeman, who writes: "Anthony Foley, longtime player/coach for the Irish professional club Munster, was found dead in his hotel room last Sunday. Welsh club Scarlets are memorializing him this weekend with a number eight on the chest of their jerseys. Foley played eight-man for Munster during his playing career." … Here's why the PlayStation logo is now purple.