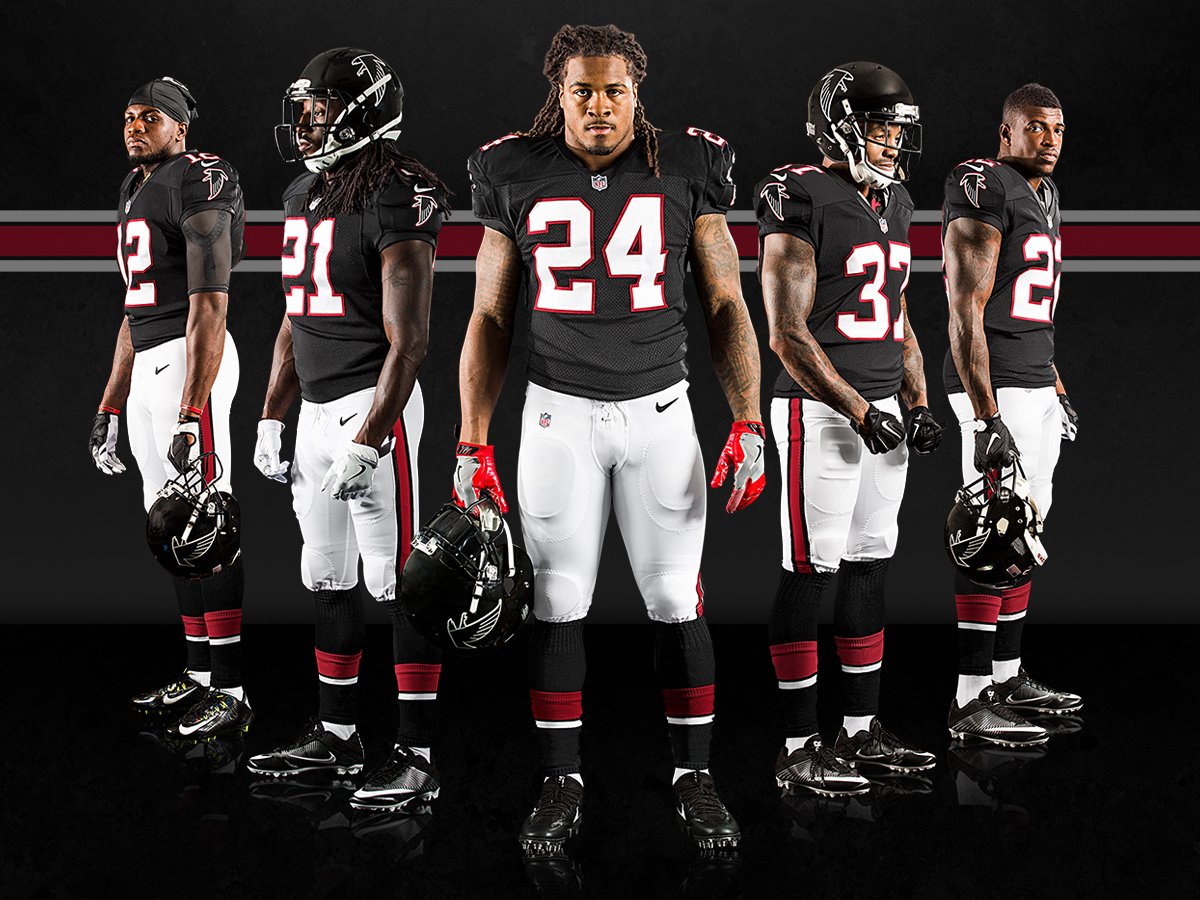 For all of today's photos, you can click to enlarge
Unexpected move yesterday by the Falcons, who unveiled a set of black fauxbacks that will be worn for this Sunday's game against the Chargers and again on Dec. 18 against the 49ers. There hadn't been any advance notice (at least not that I'd been aware of) about this design being on the docket for Atlanta. Here's some additional info and a photo gallery.
The uniform is a mash-up of several different elements. One thing at a time:
•  The jersey and pants are based on the team's inaugural 1966 design.
•  The '66 uniform had a red helmet, but they can't go that route because of the NFL's one-shell rule. So they're going with the black helmets that were worn in the late 1990s, when the team made its only Super Bowl appearance.
• The socks are, to my knowledge, brand-new. I like them — a lot.
Overall, a very nice design — clean, sharp, and a major improvement over their current primaries.
Meanwhile, remember my piece last month about the various inconsistencies between the Falcons' helmet logos and sleeve logos? How did they handle those elements on this uniform?"¨
First, let's look at the uniform's sleeve and helmet logos. Sure enough, they don't match — the feather lines on the helmet logo connect to base of the wing, while those same lines on the sleeve patch float in space:
Okay, so we've established that the logos don't match. But are they at least era-appropriate? Let's start by comparing the fauxback helmet to the helmet worn in the late 1990s — fauxback on the left, former Falcons quarterback Chris Chandler on the right:
They got that one right. Now let's compare the fauxback sleeve patch to a photo from 1966 — fauxback on the left, original uni on the right: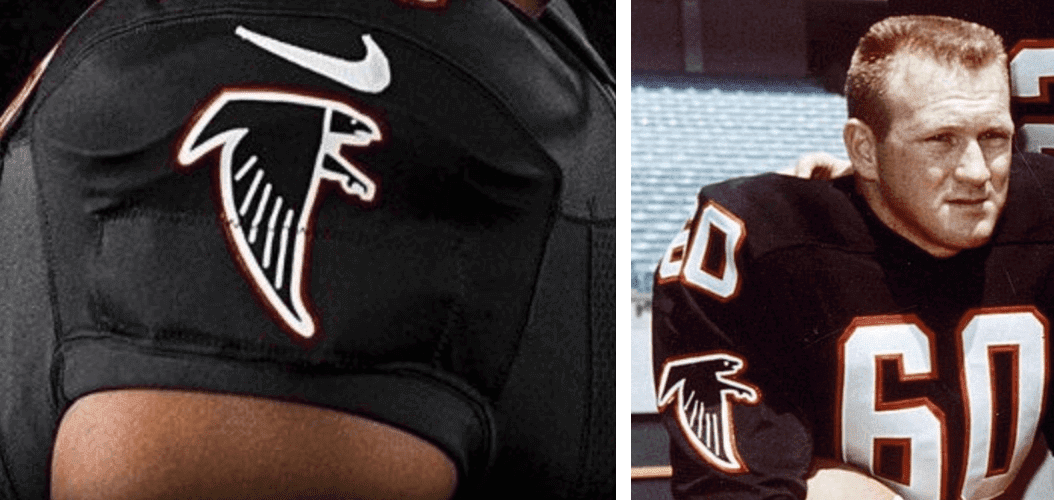 As you can see, they didn't match this one properly. The fauxback has that vertical white line separating the falcon's wing from the head and leg, which wasn't present on the 1966 original.
The thing is, if they had used the proper era-appropriate sleeve patch, the sleeve and helmet logos still wouldn't match, because the patch would have the floating feather lines while the helmet would have the wing-connected feather lines. Crazy!
But wait, there's one more thing to consider: The Falcons wore 1966 throwbacks from 2009 through 2012 (this was prior to the one-shell rule, so they were able to do a true 1966 design with red helmets). What did the sleeve patches look like for those throwbacks? Let's take a look: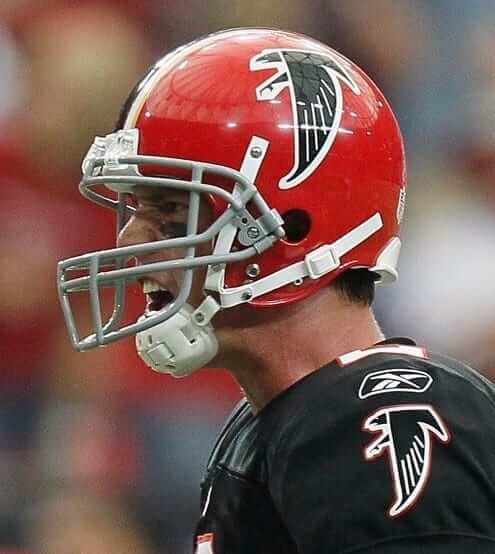 As you can see, they used the same improper sleeve patch for those throwbacks as they're using for the new fauxbacks. So if you like, you could say that at least they're being consistent in their era-inappropriateness.
• •  •  •  •
Slight delay: I had previously announced that my annual NBA Preview column would be running today. It has been pushed back a day. Thanks for your patience.
• • • • •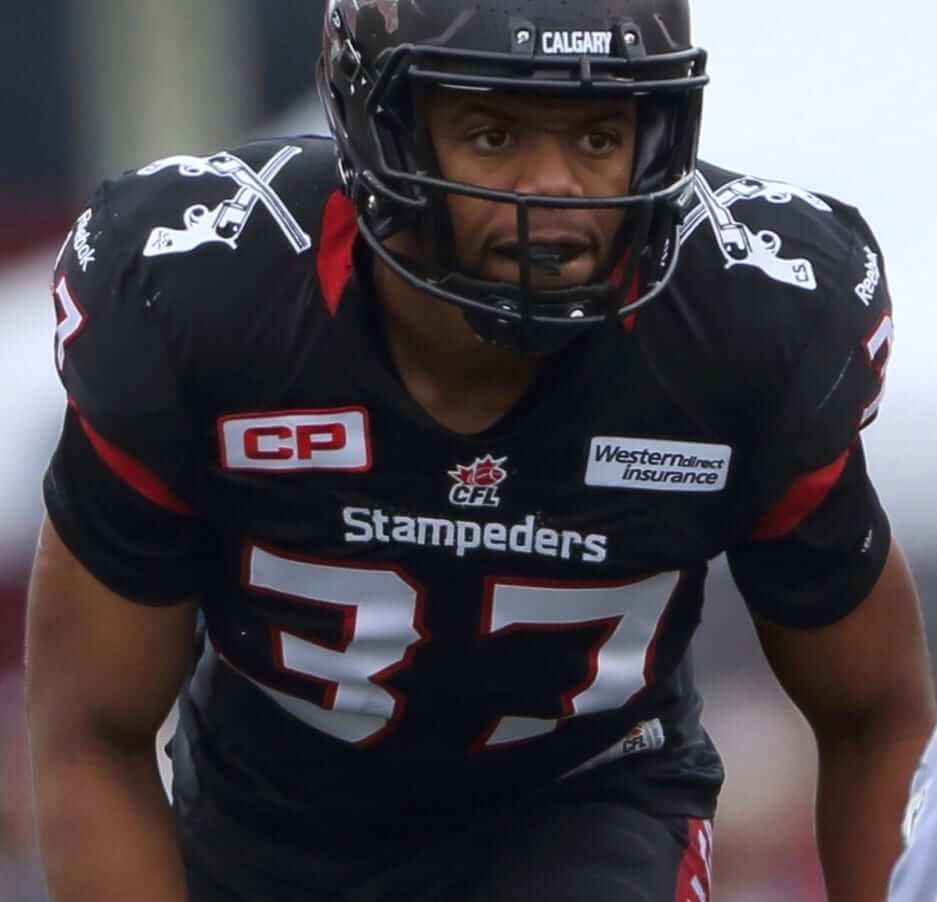 A uni-que memorial: The Calgary Stampeders of the CFL have a black alternate jersey, shown at right, that features a pair of crossed pistols on each shoulder. But now, in a very unusual uniform move, the team has announced that it will cover up the pistols for the rest of this season in memory of former defensive back Mylan Hicks, who was shot to death outside a Calgary nightclub last month.
It's not clear if the patches will be covered up or simply taken off. Either way, I can't think of another instance of a team removing something from its uniform as a memorial gesture, instead of adding something. Are there any similar examples I'm overlooking?
It's also not clear whether the pistols will be restored next year. A statement from a team exec said, "Following the season, we will review all options in regards to potential changes to the design of the jersey."
(My thanks to reader Ted Arnold for sending this one in, and to Mike Chamernik for flagging it for my attention.)
•  •  •  •  •
The Ticker
By Mike Chamernik

Baseball News: For the past 20 years, all World Series teams have worn the Series logo on the left side of their caps (first ones to do it were the Yankees and Braves in 1996). This year the logo will move over to the right side of the cap, because the newly added New Era logo now occupies the left side. … Looks like the Cubs' trainer was wearing Tiger Woods's personal logo last night (from Tm Larsen).

NFL News: The Dolphins will wear 1966 aqua throwbacks and play on a retro field on Sunday against the Bills (from Carter Mulvihill). … The Rams are in London for a game against the Giants on Sunday, so WR Brian Quick tried on some cricket gear and equipment. … An item in yesterday's Ticker had a link in the sidebar to a 1966 AFL game that was broadcast in color. "Seeing the Broncos in their '66 road unis with the orange helmet and sleeves was awesome enough, but the video opened with color footage of what I'm guessing was the 1966 AFL All-Star Game," says Eric Bangeman. "Nice shots of Jack Kemp playing for the East and Lance Alworth for the West." … Unlike Bill Belichick, 49ers coach Chip Kelly is fine with using tablets on the sidelines (from Brinke).

College Football News: Virginia Tech LB Anthony Shegog will wear the team's No. 25 jersey tonight against Miami. A different special teams player wears the number each week to honor coach Frank Beamer, who retired before this season (from Andrew Cosentino). … Also from Andrew, the Hokies painted their on-field wordmarks for the Maroon Effect game. Here's the endzone and ACC logo.

Hockey News: Which hockey team was the first to wear NOBs? Aside from a brief experiment by the New York Americans in 1926, NHL jerseys were NNOB until 1970, when Charles O. Finley brought nameplates to his California Golden Seals. But Kevin Vautour have found photographic evidence of the Red Wings wearing NOBs on their red jerseys during Bobby Orr's first game on Oct. 19, 1966. According to the usually authoritative NHLuniforms.com, the Red Wings didn't add NOBs at all until 1972, and didn't add them to their the red unis until 1977. "The league did not mandate the NOB's until a few years later [1977] and it may have been the only night Detroit wore this jersey because later visits to Boston this season did not feature the NOBs," Kevin says. … And given that Orr's first game was 50 years ago yesterday, Brian Codagnone sends in the game's score sheet. … The Jets' Connor Hellebuyck has a new mask design for Sunday's Heritage Classic against the Oilers. … The Caps honored goalie Braden Holtby for last year's NHL-record-tying 48-win season with an odd gift: a jersey with his No. 70 on the sleeves but No. 48 on the back (thanks, Stephen Krupin). … Anthem singers at Predators games wear jerseys with a musical note on the back (from Chris Howell). … North Dakota's women's team will wear pink on Saturday (from Patrick Thomas). … A rare set of trading cards, the complete 1971-72 Bazooka Hockey Panel collection, is up for auction (from Ted Arnold). … First and last grafs of this 1967 article discuss why Paul Andrea of the Penguins used white tape, instead of the usual black, on his stick (from Jerry Wolper).

Basketball News: The Kings launched Twitter and Instagram accounts that show photos of players' sneakers. … New home uniforms for Marquette. Aside from the heavy Jumpman influence, I like them a lot. … New throwbacks for Louisiana-Lafayette (from Cody Junot). … The 1948 Findlay (Ohio) High School basketball team wore striped socks and matching kneepads (from Luke Schaffner). … Here's some rare video of Charles Barkley wearing the Suns' 1968-92 uniform. "He only wore that uni for the 1992 preseason," says Eriq Griffith.

Grab Bag: Here's a rundown of the best and worst road kits (or "change kits," as they are known in the U.K.) in British soccer history (from Charlie Eldred). … The curbs will be pink at Martinsville for next weekend's NASCAR series races (from James Gilbert). … While pink-outs at the high school level may raise breast cancer awareness, pink gear sales usually do not financially benefit any breast cancer-affiliated causes (from Tommy Turner). … An artist's sports portraits, including a few drawn and painted large-scale classic trading card depictions, are on display at New York's Anton Kern Gallery (from Ted Arnold). … There's some talk about Wonder Woman needing a new outfit. … With more women entering fields like construction and welding, new companies are providing women's workwear.