Click to enlarge
We've known for a while that the Hawks would be wearing an early-'70s racing stripe throwback this season (Conrad Burry broke that news, along with the rest of this season's throwbacks, back in February). But yesterday was the first time the team acknowledged that they'd be wearing them, and we also got our first look at a photographs instead of mock-ups.
First, let's compare the throwback to the original: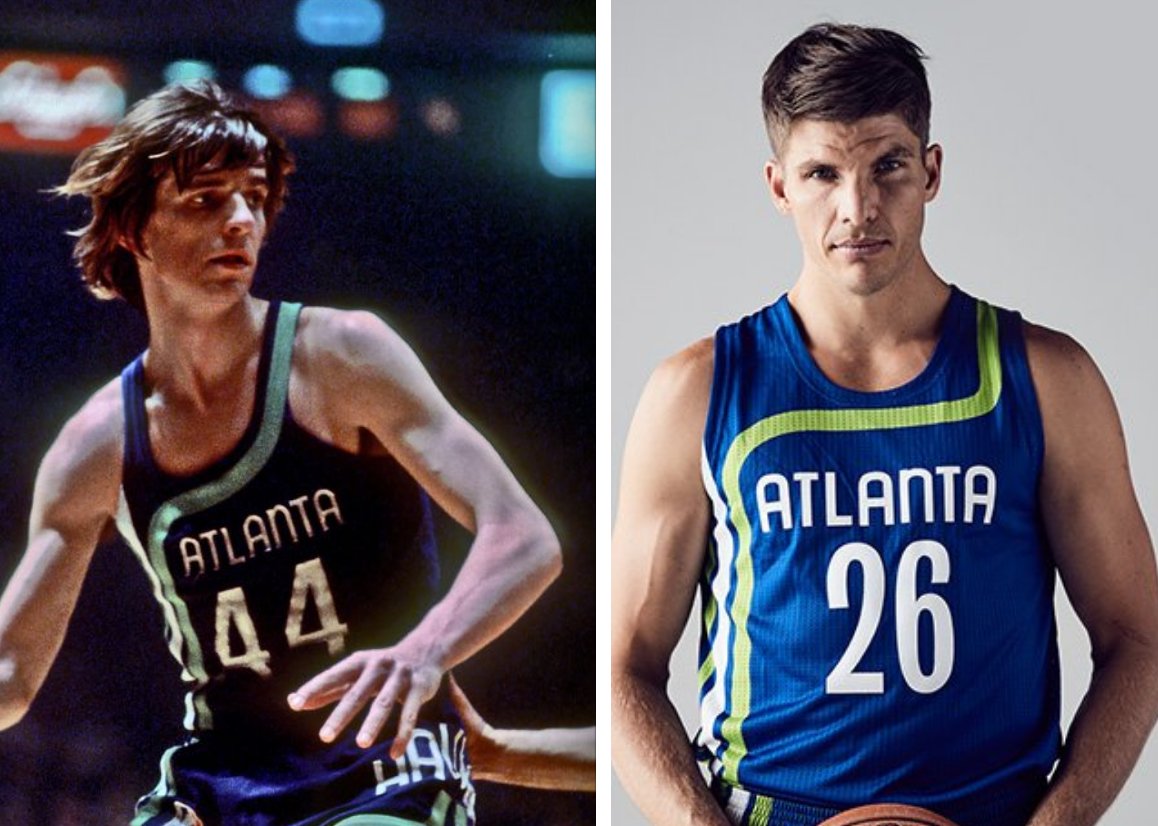 Not bad, although I find it a little disappointing that the stripe is so horizontal across the chest, with none of the original's graceful curvature. At first I just chalked that up to jerseys being cut wider nowadays (and players being bigger), but then reader David Dearing pointed out that Adidas had no trouble retaining the curvature on the Pacers' racing stripe throwbacks a few seasons back:
Given the Hawks' current infatuation with neon green, some folks have wondered aloud why they're going with the blue road throwback instead of the neon green home version. As it turns out, that Hawks already wore that design as a throwback in 2003, so maybe they wanted to showcase the blue version this time around (or maybe they're just taking mercy on our eyeballs).
I've always loved the racing stripe template. We even used it for the Uni Watch T-Shirt Club's basketball-themed design earlier this year. I've always associated the template with the Pacers and viewed the Hawks' version as a knockoff (maybe because a team with a racing-associated name like "Pacers" seems like a more natural fit for a racing stripe design), but the reality is that Indiana was actually copying the Hawks. The Hawks' website says they wore the racing stripe from 1970-72, while the authoritative Remember the Aba site says the Pacers wore it from 1971-74. Kinda crazy that such a distinctive design would be copied by another pro team (albeit in a different league at the time). It would be like another MLB team copying the tequila sunrise in the mid-1970s.
Who designed the racing stripe template anyway? I've never seen that story anywhere, so yesterday I contacted the Hawks and asked if they had that info in their archives. They're checking — stay tuned.
•  •  •  •  •
The Ticker
By Paul

Baseball News: Indians P Trevor Bauer, who had to leave Monday night's ALCS game when stitches on his fingers gave out, normally chooses to wear a grey jersey on the road, but on Monday he chose the navy alt. Why? So blood from his finger wound wouldn't show (from Mike Petriello). … The Braves' new stadium will include a brewery (from Andrew Cosentino). … Blue Jays starter Aaron Sanchez was still wearing a José Fernández memorial cap inscription yesterday. It's interesting to see that MLB decided, right from the start, to allow all of the DIY Fernández memorials. … Here's a pretty cool GIF that simulates a stop-motion pitching animation with baseball cards (from Mike Hillman).

NFL News: Here's some tremendous 1967 footage of the Steelers' "Batman" uniforms in action. If you skip ahead to the 1:40 mark, you can see that placekick holder Dick Hoak, No. 42, did not wear a facemask (from Adam Prince). … The Bengals willl wear their orange alts this Sunday (thanks, Phil). … Jimmy Lonetti likes the uniforms in this Geico ad. "I'd go so far to say the orange/black ones would be in the upper half of the NFL," he says. "The Bengals should definitely consider them." … The Broncos will wear their blue alts next Monday (thanks, Mike). … In case you hadn't heard, Pats coach Bill Belichick thinks sideline tablets are worthless. Oh wait, a company paid a lot of money to have its name mentioned in conjunction with that product, so let me rephrase: Bill Belichick thinks the Microsoft Surface tablet is worthless. Great brand exposure!

Hockey News: The Cardiff Devils — that's a Welsh team in the British Elite Ice Hockey League — are retiring No. 26. … Whoa, look at this tremendous 1967 L.A. Kings prototype! Never seen that before (from Eric Lichtenberg). … This is interesting: The Oilers revised one of their championship banners because a "5" was actually an upside-down "2" (from Chris Creamer). … This is interesting: The Penguins' equipment staff scans each jersey into a digital database. Do other NHL teams do this? What about other sports? (From Brian Merrifield.) … The Pittsburgh Post-Gazette has created a pretty good-looking Penguins jersey timeline (from Alex Iniguez).

Basketball News: A giant LeBron James poster in downtown Cleveland is being updated to include the gold championship jersey tab (from Kyle Mackie). … Lots of Warriors-related uni information in this piece, including the news that rookie Patrick McCaw chose No. 0 because he "had zero doubts into coming into the League and zero worries." … New uniforms for Dayton (from Detroit Don). … New road uni for Utah (from Trent Knaphus).

Grab Bag: Pinktober has spread to U.S. Navy fighter jets (from @BettieDavisFries). … Here's the story behind Target's logo. … New purple uniforms for Delta Airlines — the latest installment in their long uniform history (from Phil and Wolfie Browender, respectively). … David Firestone has written a piece about logo creep in auto racing.
• • • • •
Click to enlarge

What Paul did last night: Temperatures here in NYC have been unseasonably warm this week (yesterday topped out in the low 80s), so I was joined in the backyard by the Tugboat Captain and longtime Uni Watch pal Carrie Klein as we fired up the grill for a rare mid-October cookout. Felt just like late spring or early summer, except it got dark much earlier, leading to the nice coal-lit tableau shown above.
Our menu was nothing fancy — just burgers (with English muffins serving as the buns, natch) and corn corn on the cob. Here's how it looked with the benefit of flash: