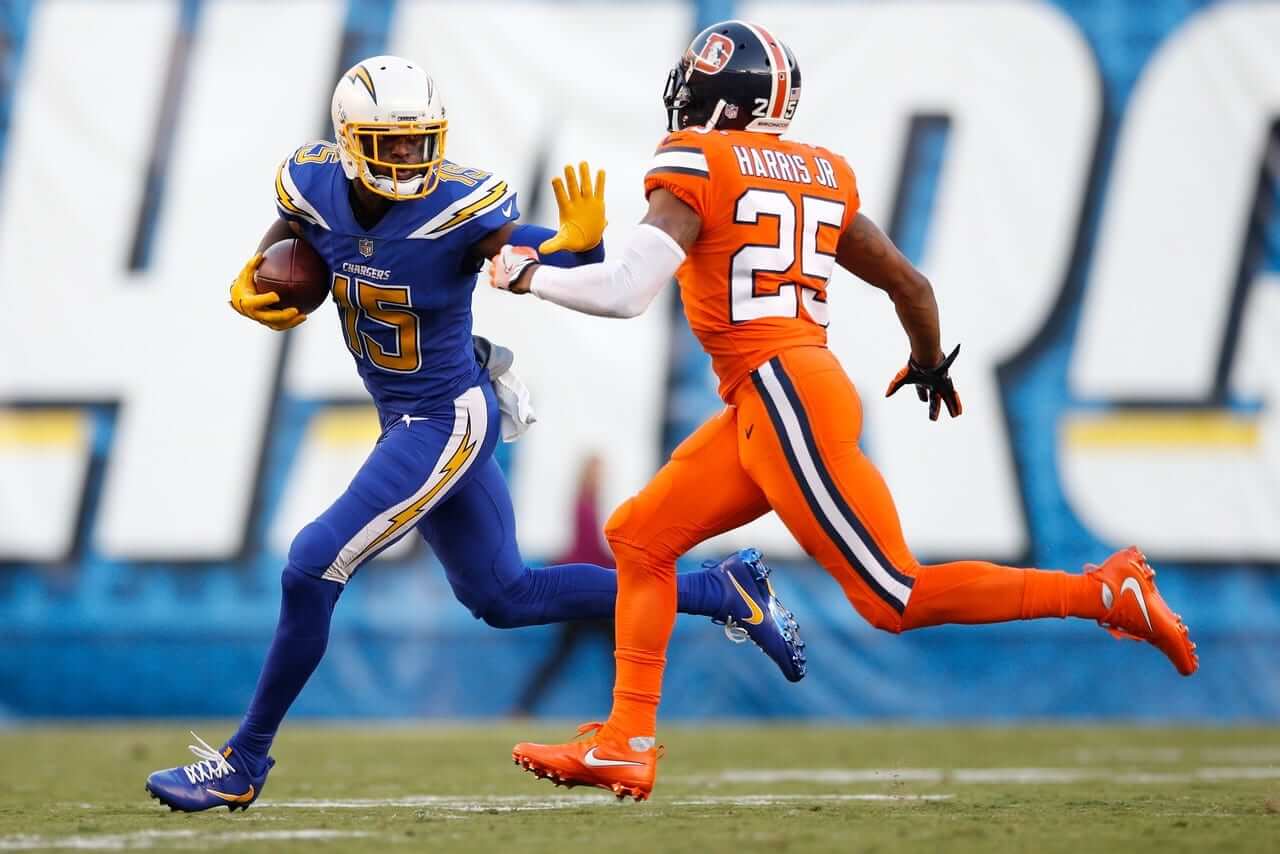 Click to enlarge
Now that's how it's supposed to work. After a bunch of Thursday-night games that all featured one team wearing white, we finally got a true color-on-color game last night. I caught some of the game at a bar (where I was attending a going-away party for longtime Uni Watch reader/neighbor/pal Marty Buccafusco, who's leaving town shortly — dang) and basically thought, "Eh, not bad." Here are some additional photos and highlight footage.
In a sign of progress, only two people emailed or tweeted me to say, "Isn't Denver's helmet violating the NFL rule?" I think people are finally learning!
Next Thursday's uni match-up, mono-blue Bears vs. mono-white Packers, will have the distinction of being Green Bay's first time wearing white at home since 1989, but otherwise has little to recommend it.
• • • • •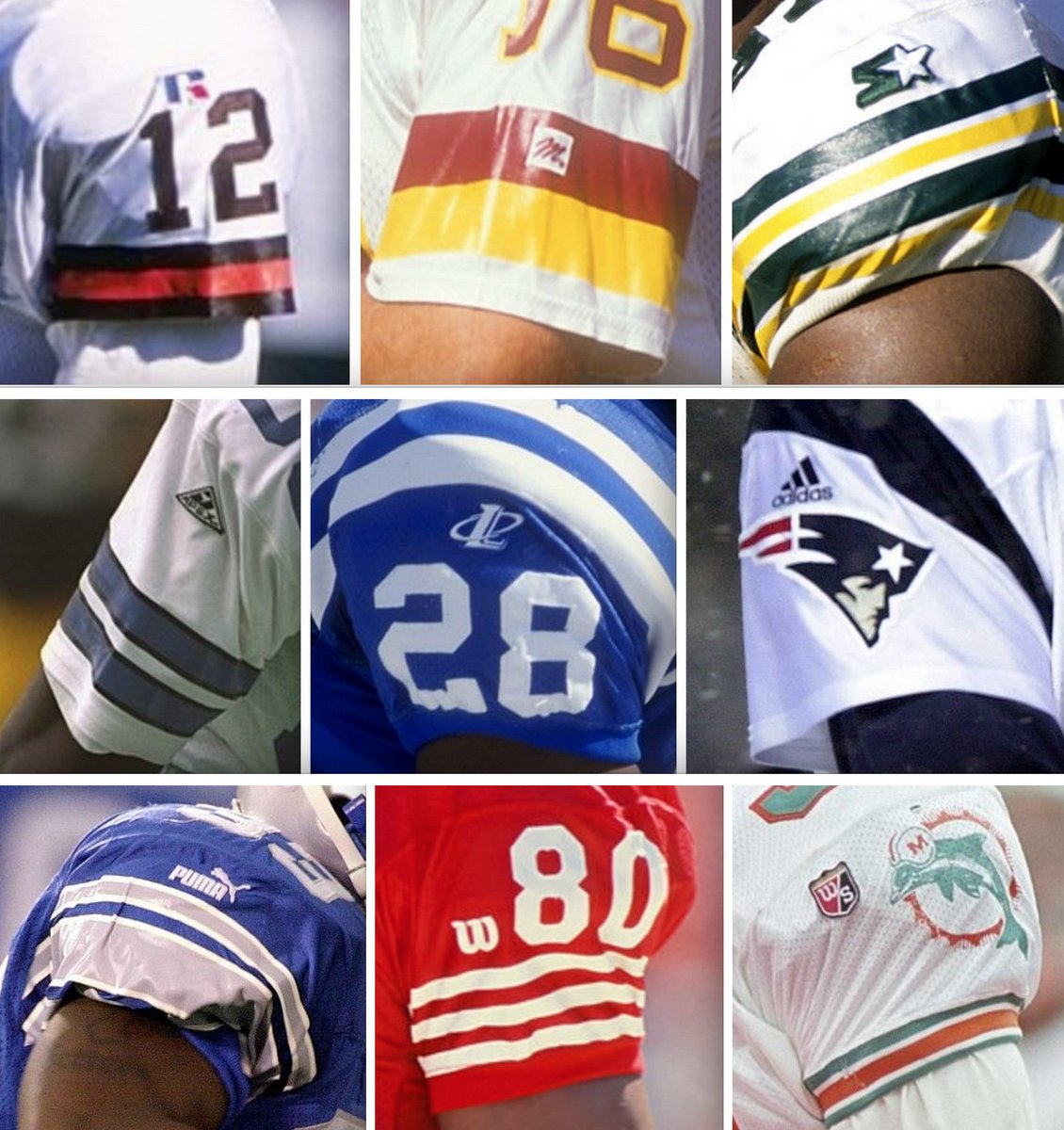 Click to enlarge
Friday Flashback: With the New Era logo now appearing on MLB caps, my latest Friday Flashback column on ESPN looks at the history of maker's marks on pro sports uniforms (including the surprisingly large variety of NFL examples that appeared from 1990 through 2000, shown above). Check it out here.
In case you're wondering, those logos are (left to right, top row to bottom): Russell Athletic, MacGregor, Starter, Apex, Logo Athletic, Adidas, Puma, Wilson, and Wilson Staff. Nike and Champion also appeared during the '90s. Teams were still cutting their own deals, so it was a free-for-all out there.
• • • • •
McClinton update: In Wednesday's entry about Curtis McClinton's oddly modified Chiefs helmet from Super Bowl IV, I included several quotes from helmet historian Curtis Worrell of Helmet Hut. He sent me a follow-up note yesterday, saying that the entry inspired him to try to re-create the bars that had been added to McClinton's helmet. The results look pretty sharp (click to enlarge):
• • • • •
The Ticker
By Paul

'Skins Watch: With the Indians and Blue Jays set to face off in the ALCS tonight, it's worth noting that longtime Jays radio announcer Jerry Howarth has not said the names of the Indians or Braves on the air since 1992. He also avoids phrases like, "They're having a powwow on the mound" (from Iain Landon). … The Indians' postseason success has also led to increased scrutiny for Chief Wahoo. … For last weekend's football game against Dartmouth, Yale created a program cover featuring a montage of Yale/Dartmouth program cover images from decades past. Those old programs were from the days when Dartmouth's teams were known as the Indians, and many of the cover designs featured indefensible caricatures of Native Americans. Yale officials ended up apologizing.

Baseball News: Did you know the Giants were considering a move to Toronto in the mid-1970s? Here's a prototype "TG" cap that was produced at the time. Further info on the proposed move here and here (from Tim Buckley). … A photographer at last night's Dodgers/Nats game was wearing a bike helmet. … Here's a new one, at least to me: Nats Park had electronic bunting last night (from Tyler Kepner). … With the Dodgers' victory last night, the NLCS will feature the only MLB team with a raised, rubberized batting helmet logo vs. the only MLB team with an embroidered batting helmet logo.

NFL News: Titans QB Marcus Mariota has his suits custom-made (from Wade Harder). … The Bills are going mono-blue this Sunday. … If you've been waiting for a new line of Dallas Cowboys underwear, today's your lucky day (from Tommy Turner).

College Football News: Louisville wil go BFBS tonight. Here's a close-up of the helmet. … Miami might get new green and/or black alts at some point down the road (thanks, Phil). … New "SEC Graduate" patches for two Florida players (from Moe Khan). … Here are this weekend's uni combos for LSU, NC State, and Wake Forest. … LSU's live tiger mascot died this week, so they're wearing a memorial decal for him. Has any other animal ever been uni-memorialized? (From Wesley Eustis.)

Hockey News: The Oilers appear to have changed the gloves that they wear with their orange alternate jersey (from Wade Heidt). … With goalie Mike Condon moving from the Canadiens to the Penguins, the Pens' equipment staff painted over the red stripes on his pads (from Jerry Wolper). … The Stars wore a helmet decal last night to honor the victims of last summer's Dallas police shootings. … The Penguins have updated their Stanley Cup championship banners (from Ryan Connelly). … Another cross-sport José Fernández memorial in Miami, this time by the Panthers. They wore that jersey during pregame warm-ups last night, and also added that helmet decal. … Meep-meep! Very nice new uniforms for the Tucson Roadrunners. … The Hurricanes have released their third jersey schedule (from Gabe Cornwall). … Justin Williams of the Caps was missing his helmet number during last night's game against the Penguins. … In that same game, Evgeni Malkin of the Pens was missing his alternate's "A" for part of the third period. "It was loose, so he just pulled it off his sweater and handed it to a ref, who stuffed it in his pocket!" says Rob Ullman (screen shot by Mike Reilly).

College Hoops News: New uniforms for Wake Forest. … New uniforms and court design for South Carolina (both from Joel Mathwig).

Soccer News: "TSG Sprockhövel of the Regionalliga West (German 4th division soccer, which is pro but just barely) wears the exact same jersey numbers used in MLS," says Bernd Wilms. "What's even stranger is that their kits are made by Erima, not Adidas. As far as I know, Adidas custom-designed that font for MLS in 2013, so there's no plausible reason why it should pop up in a German regional league." … Chelsea is switching from Adidas to Nike next season (from Steven Fitzgerald). … Here's one of those "What if soccer teams were actually American football teams?" projects.

Grab Bag: A local school board in Augusta, Ga., was deciding whether to allocate money for new marching band uniforms when a board member proposed that all band members, cheerleaders, and athletes wearing school-provided uniforms should be suspended if they don't stand for the national anthem. The motion was set aside to allow the board time to study how other districts are handling the issue. … Kansas State's logo will be featured on the hood of the Textron Aviation NASCAR for tomorrow's race. … Wichita State is selling a bunch of uniforms and other gear from various sports.